Nothing says Happy Fourth of July like this Red, white, and Blue July Jello Shots recipe! It's perfectly colorful, fun to make and equally refreshing!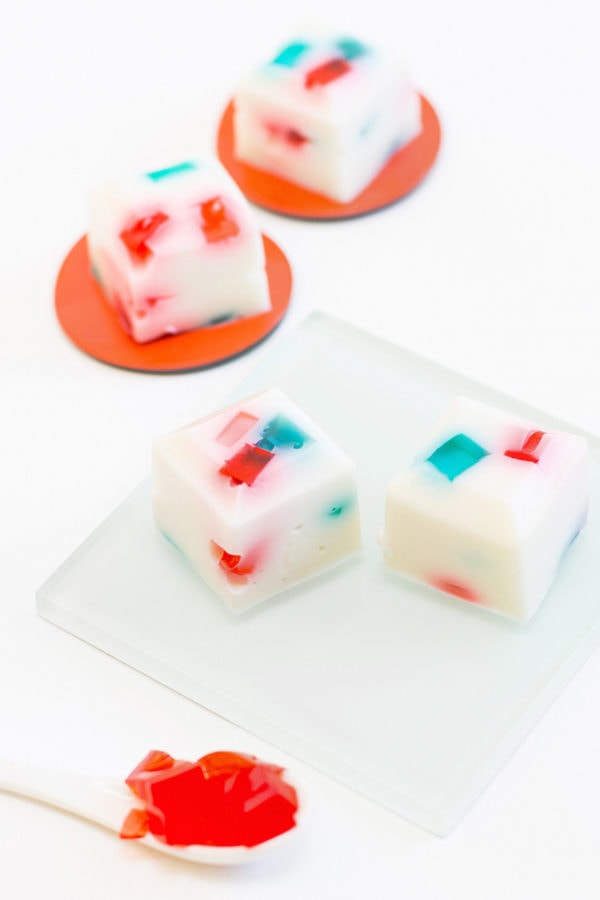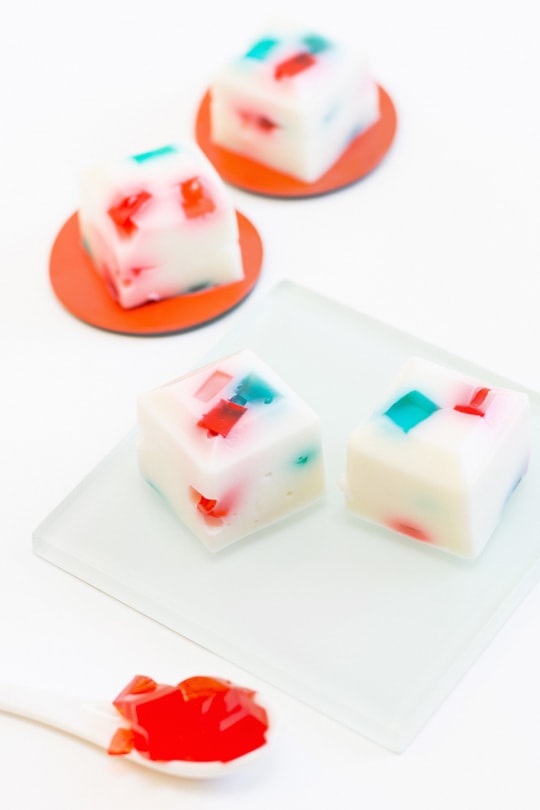 Does anyone else out there associate the Fourth of July VERY strongly with jello?
In this case, it's a dotted Red, White and Blue Jello Shots recipe that are fitting for this holiday!
We're pretty sure we've been served (or at least spotted) patriotic jello in some shape or form every 4th of our lifetime.
If you want to go jello this year, we strongly recommend this adult version: token Red, White and Blue Jello Shots!
There's just something about celebrating our independence that screams pure unadorned fun.
I mean, it's a holiday that comes with fireworks. So we can't be alone on this one!
Every year, even if we're not hosting the party, we're bringing something to share.
Since it's pretty hard to bring a liquid cocktail for a whole party (serving temperature and ice dilution are always issues), we love to come with boozy jello…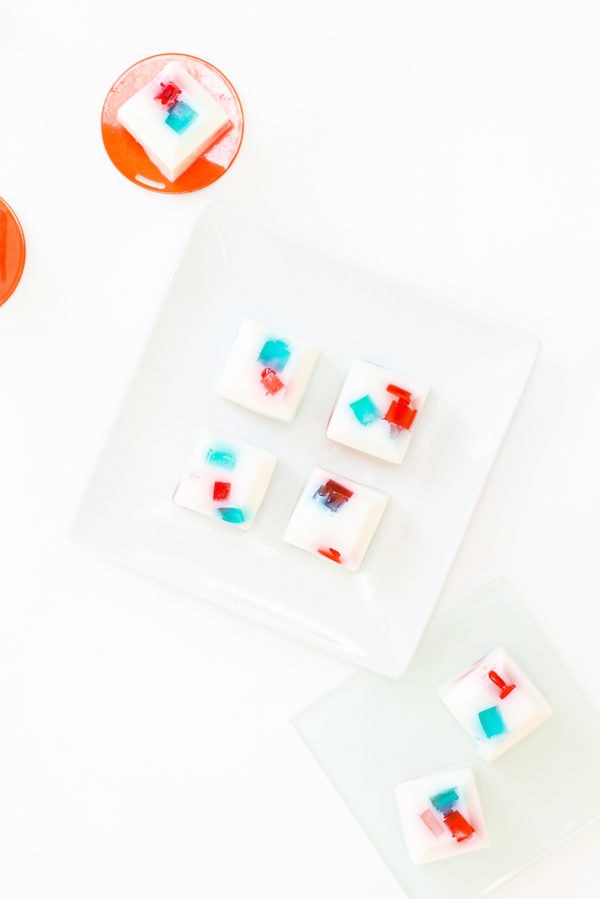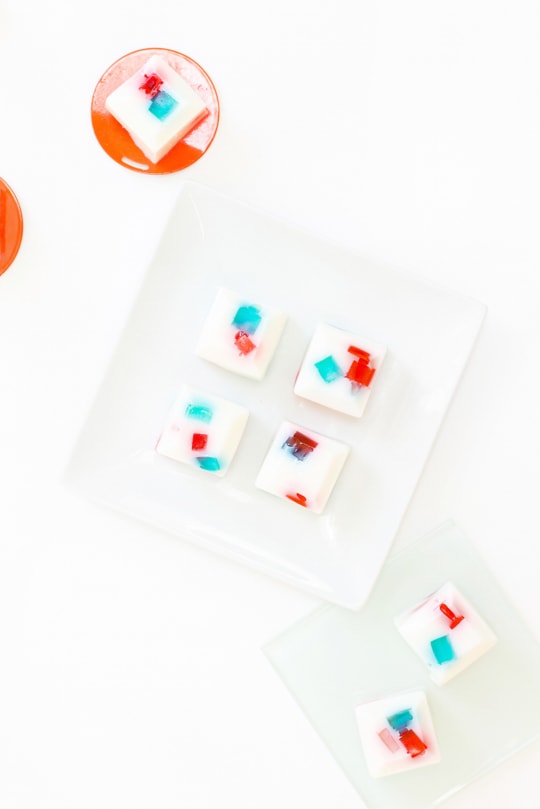 Red, White, and Blue Jello Shots | How to Make 4th of July Jello Shots
As you already know, we're ALL about recipes you can make ahead! Hence, our infamous Champagne Jello Shots!
Even better, these jello shots taste like an actual cocktail (not just throwing some vodka into jello mix, eek!).
They're a creamy, citrus-y summer refresher, almost like sherbet or an ice cream float.
The sweetened condensed milk gives it a creamy white base for the berry blue and red "broken glass" chunks of jello to pop through. It's a fun twist on your standard layered jello recipe.
It's retro for sure, but something about pops of color floating on a sea of white always looks enticing to us.
Don't get us wrong. We love the blue layered shot glasses that come with the season just as much as the next girl, but this seems a bit more impressive.
The colors can easily be switched up for any other occasion or holiday. You could make a red and green combination for Christmas jello shots or super dark purple and orange for Halloween jello shots too.
So wouldn't pink and blue be fun for a baby shower or gender reveal?!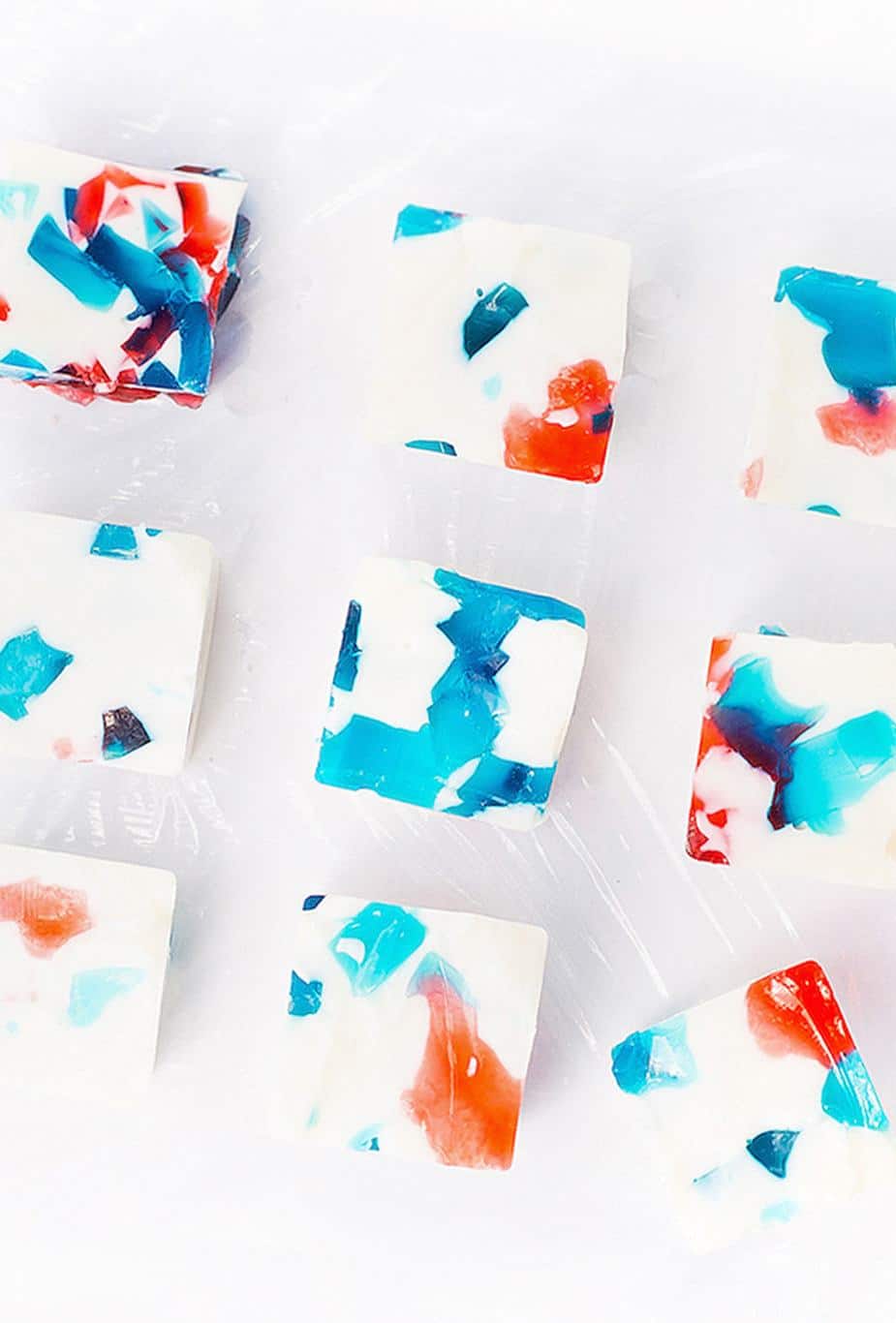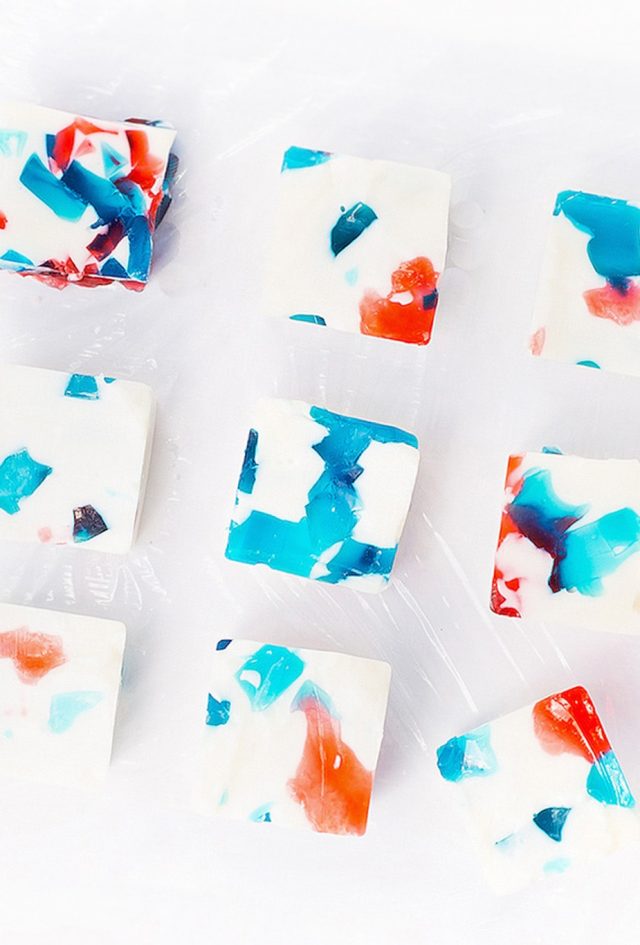 Where Can I Find The Red, White and Blue Jello Shot Molds?
You can find jello shot molds at your local party or grocery store.
Some of the most popular jello shot molds are star-shaped ones that come in 3 different colors.
If you're looking for something a little more festive, try finding a mold that is specified in the shape of the American flag.
What are Some Great Toppings for Jello Shots Besides Cherries?
Some people like to top their Red, White and Blue Jello Shots with whipped cream or a dollop of cream cheese.
Others prefer to add fresh berries like raspberries or blueberries.
You could also try diced strawberries or even pineapple chunks.
It's really up to you how you want to dress up your jello shots and with the endless options of jello shots out there, you can try something new or play it safe!
Can Other Alcohols Be Used in Place of Gin?
Absolutely! You can use all sorts of liquors to change up your jello shots.
Using vodka instead of gin will give the same results.
But you could also try using peach schnapps, Blue Curaçao (which will give it a blue tint as it does for the Blue Motorcycle Cocktail and Irish Trash Can), cherry brandy or even rum!
Play around with different alcohols to find out which one you like best.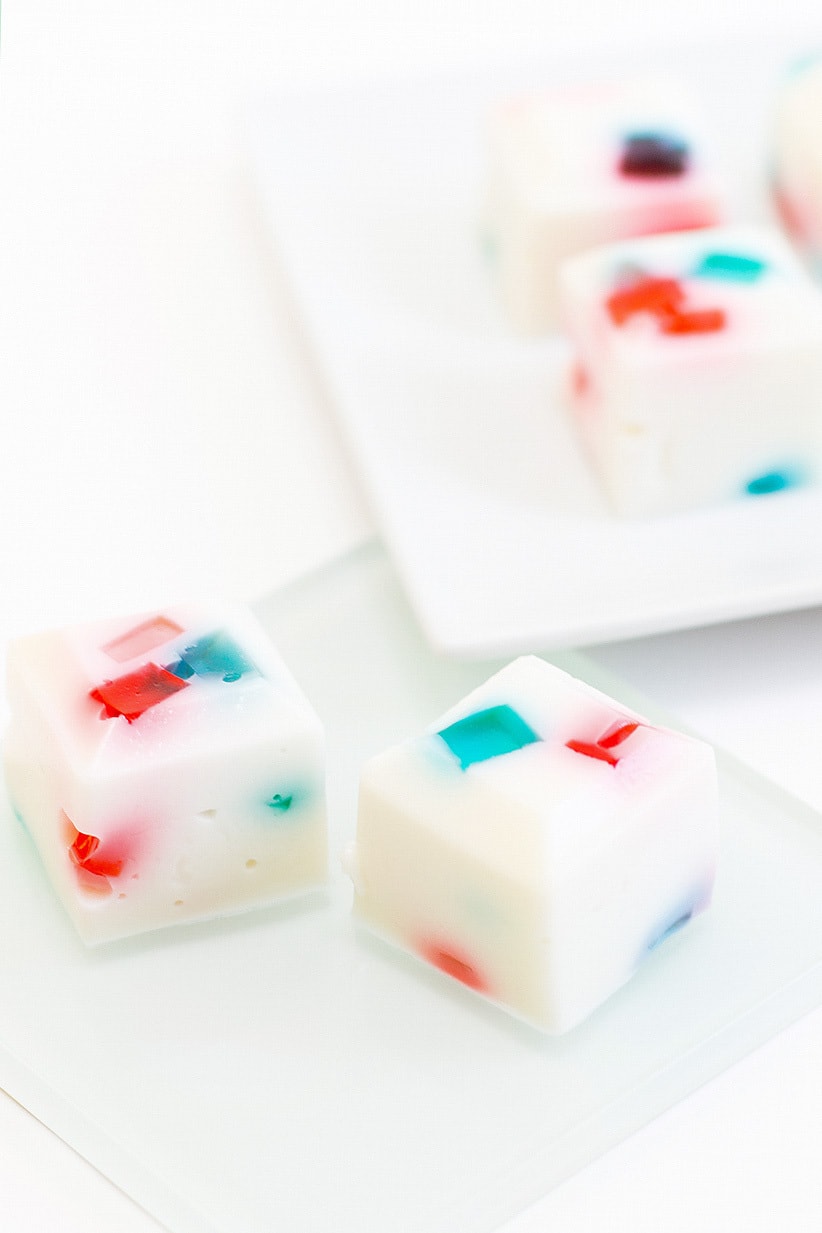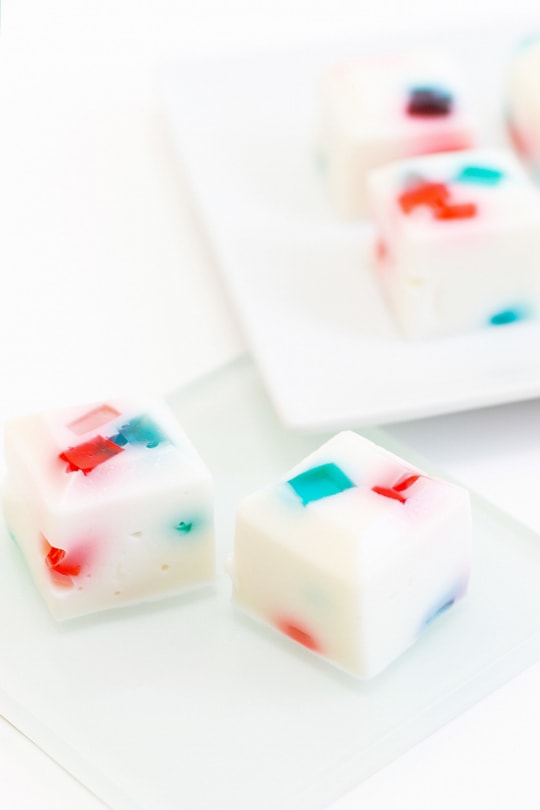 How To Store and Serve Fourth of July Jello Shots
Since you're likely to not want a lot of dishes to handle during an outdoor 4th of July party, it's best to either serve your jello shots in individual containers that guests can easily dispose of or serve them in individual slices on a chilled serving plate.
You can easily make these jello shots in advance and store them in an airtight container for up 7 to 10 days. That said, they're always better served fresh!
This particular recipe tastes extra yummy with a dollop of whipped cream on top, so keep that in mind if you're wanting a cute garnish for them as well.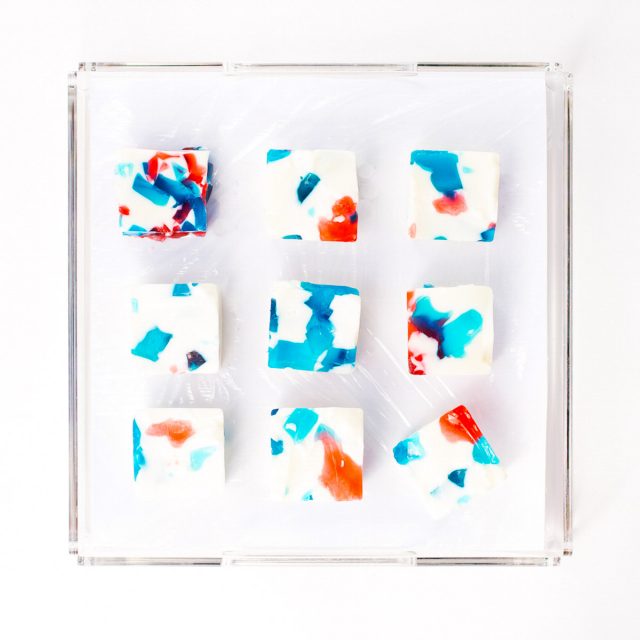 More Easy DIYs and Recipes for the Fourth of July
If you want to bring your A-game to your 4th of July party, these jello shots are definitely for you!
It's definitely much more of a statement contribution than glasses filling with beer. Who knew unflavored gelatine and a few cups of water could be so good?!
Okay, so maybe it's not THAT simple, but you get what we mean!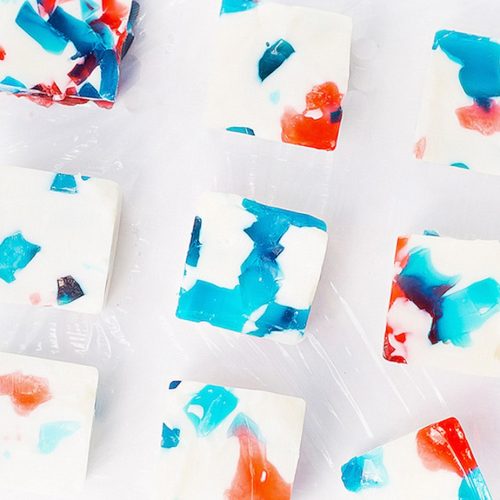 Red, White, and Blue Jello Shots Recipe
This festive jello shots recipe is perfect for 4th of July, Labor Day, or all things red, white, and blue!
Equipment
Medium saucepan

Loaf pans

Baking pan or ice trays
Ingredients
12

oz

gin

3

oz

lemon juice

freshly squeezed and strained

3

oz

lime juice

3

oz

simple syrup

1

can

low-fat sweetened condensed milk

5

envelopes

gelatin

1/8

tsp

kosher salt

Red and blue food coloring

Ice
Nutrition
Serving:
16
g
|
Calories:
141
kcal
|
Carbohydrates:
19
g
|
Protein:
2
g
|
Fat:
1
g
|
Saturated Fat:
1
g
|
Cholesterol:
3
mg
|
Sodium:
47
mg
|
Potassium:
15
mg
|
Fiber:
1
g
|
Sugar:
18
g
|
Vitamin A:
62
IU
|
Vitamin C:
4
mg
|
Calcium:
63
mg
|
Iron:
1
mg
Instructions
Combine the simple syrup, salt, lime, and lemon juice in a cocktail shaker filled with ice. Shake well, then pour the mixture into a medium saucepan and sprinkle with three envelopes of gelatin.

Allow the gelatin to soak for 2 minutes. Then, heat over very low heat, stirring constantly, until the gelatin is fully dissolved (for about 5 minutes).

Remove from heat and add the gin, stirring well to blend. Divide the mixutre into 2 bowls, then color each with red and blue dye. (I use the natural food dyes available online and at specialty stores like Whole Foods).

Pour into two very lightly greased loaf pans and chill until fully set, several hours or overnight.

Slice the red and blue jello loaves into small squares, then carefully mix them in a lightly greased 9 x 13 inch baking pan OR lightly greased silicone ice cube trays (my preference!) by spooning some of each color into each square.

In a separate bowl, sprinkle the remaining 2 envelopes of gelatin into 1/2 cup cold water. Allow the gelatin to soak for 2 minutes, then add 1 1/2 cup boiling water and stir until dissolved.

Add the can of condensed milk. Stir and allow to cool to room temperature but NOT set.

Pour cooled milk mixture over jello and chill overnight. If you used a baking pan, carefully turn out the jello, cut into blocks, and serve.

If you used ice trays, carefully turn out the jello but skip the cutting part!
KEYWORD:
red white and blue jello shots

Don't forget to share your Red, White and Blue Jello Shots with us on Instagram using the hashtag #sugarandclothloves. We always love seeing all of your creations! And if you're looking for more quick and delicious recipes you can find them all right here with a few bites to go along with them!
Quick & Easy Shot Recipes