As promised, we're bringing you one last hoorah before summer officially ends with Labor Day festivities! We're making it a good one, albeit a little late in the game, with our tips for how to throw the perfect rooftop BBQ party! You can recreate as little or as much as you'd like, but there are definitely some gems in here. Including, but not limited to, a giant inflatable flamingo pool, Barefoot Refresh, and snacks galore.
This probably goes without saying, but you don't technically need a rooftop for recreating these ideas either. Of course, if you're going for the wind blown hair look while you prep the grill, it's great!
It's also never a party until you've got your food and drink selections mapped out, so we'll start there…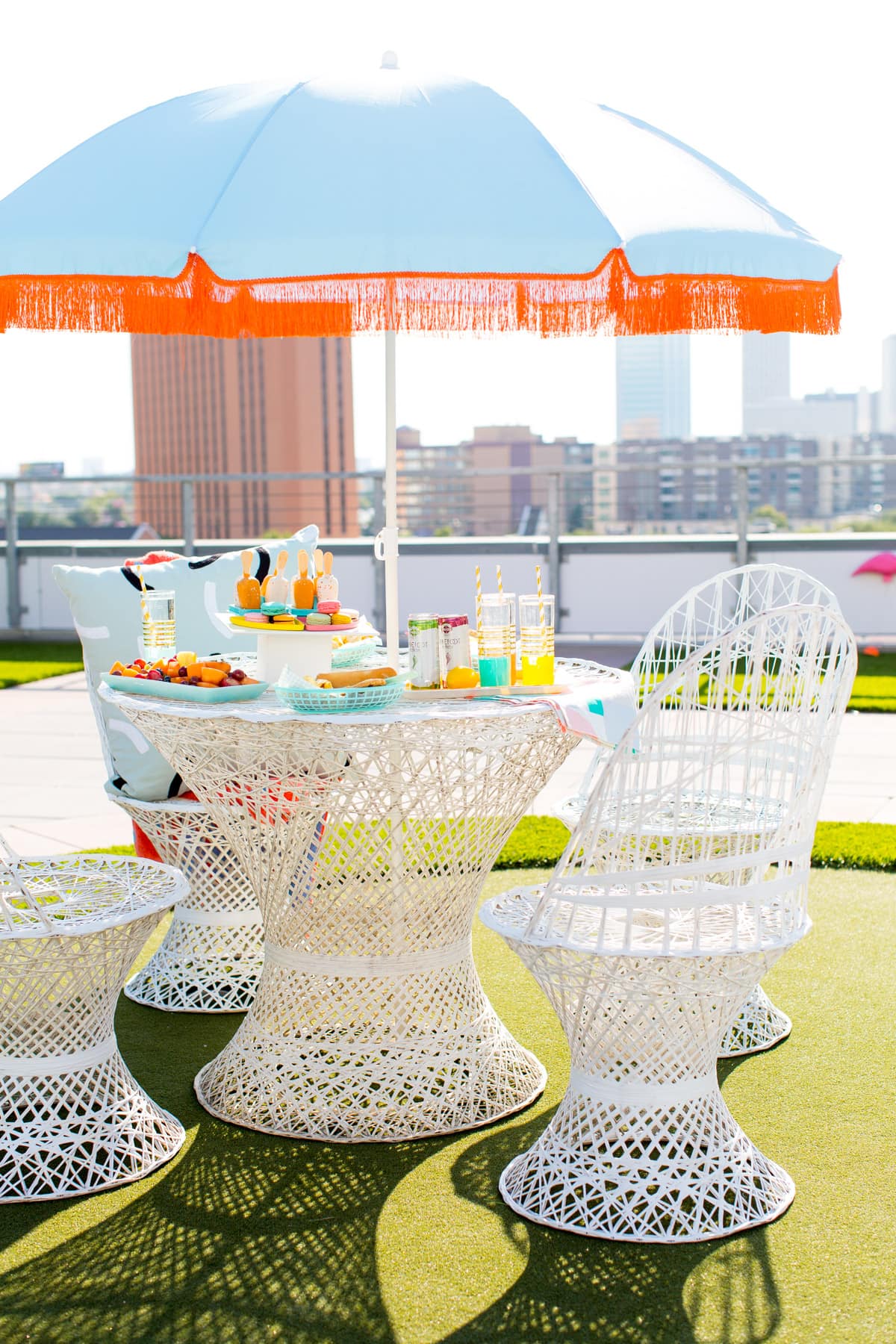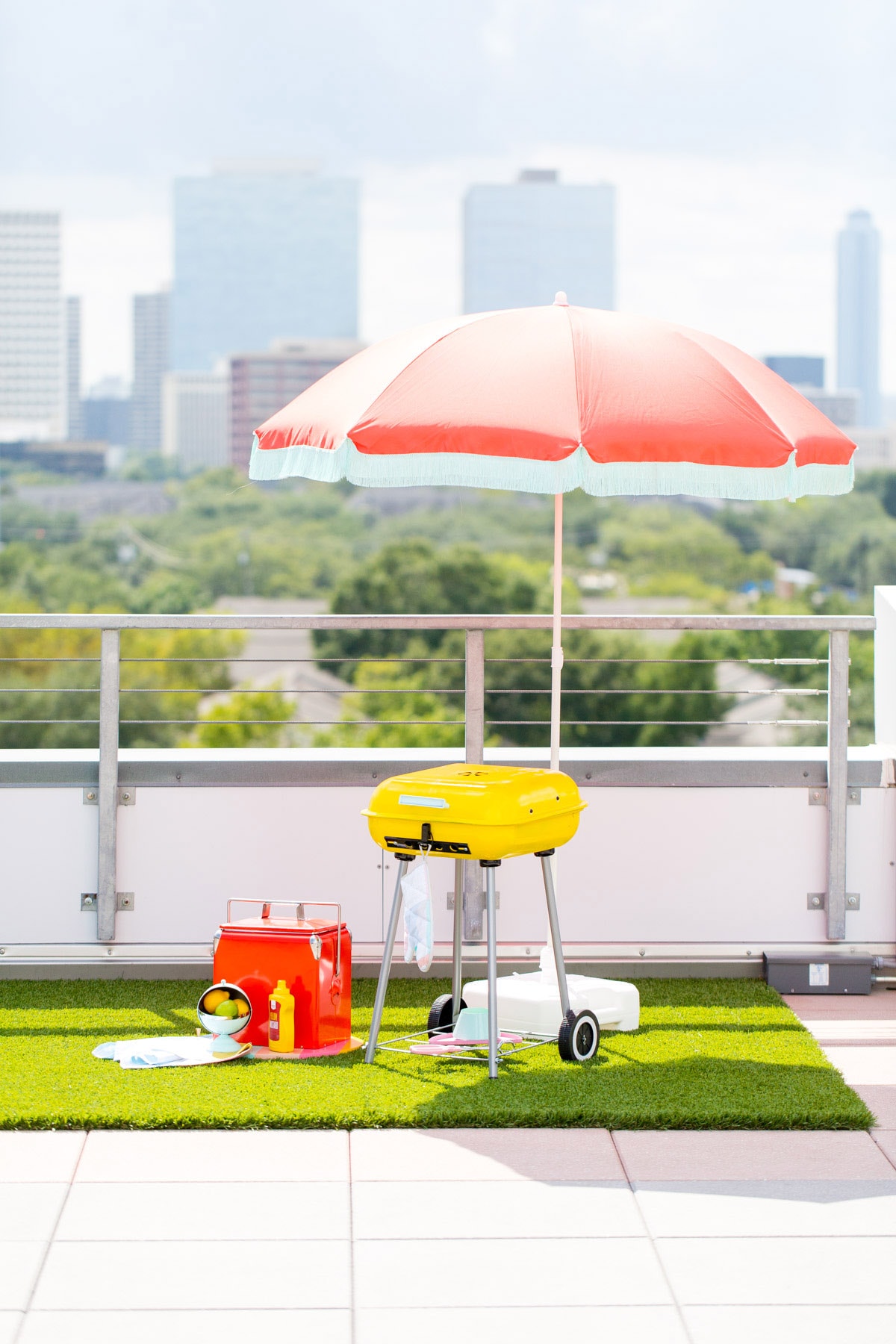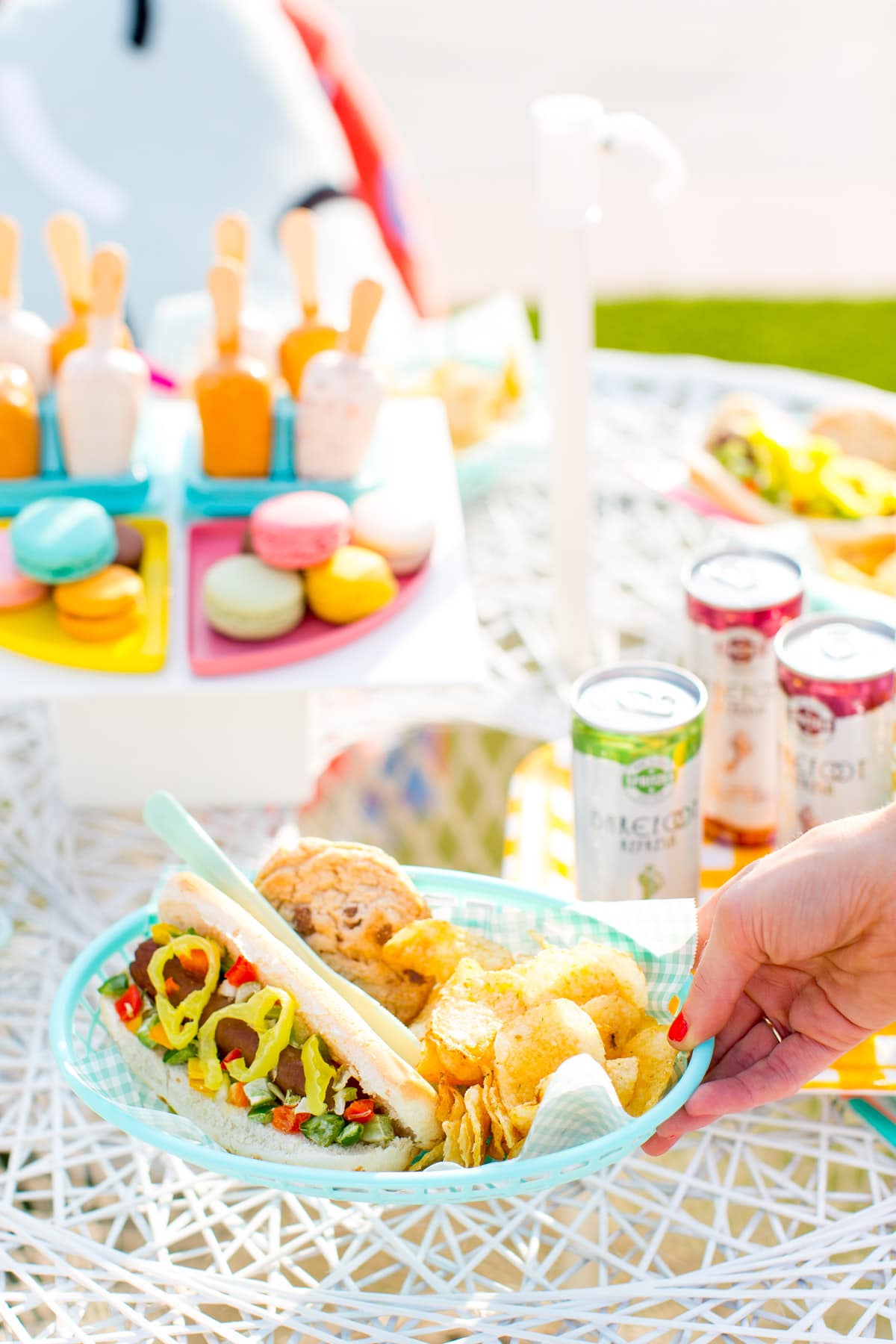 To keep things simple and glassware free (less accidents=winning!), we decided to go with cute plastic food baskets lined with patterned wax paper for easy prep and cleanup for entrees and desserts. We opted for the easy staples like hot dogs, burgers, chips, and a classic cookie for our grab and go baskets.
We also served the Summer Red and Crisp White Barefoot Refresh Spritzers chilled in single-serving cans which are super easy to take to any party location, plus they're easy to toss or recycle afterward. If you happen to land a rooftop with a real pool instead of… our inflatable flamingo pool (ha!), then they're even better suited since you can't always take open bottles along with you.
Considering it was approximately 100 degrees for our rooftop party in Houston summer heat, we can totally attest to how refreshing they really are. I don't even consider myself a red wine girl, but the Summer Red was my favorite!
For dessert, we had to have macarons there or it wasn't a Sugar & Cloth party! We also mixed it up with these giant popsicle shaped cake pops, and a watermelon and assorted fruit tray for a not-so-sweet treat.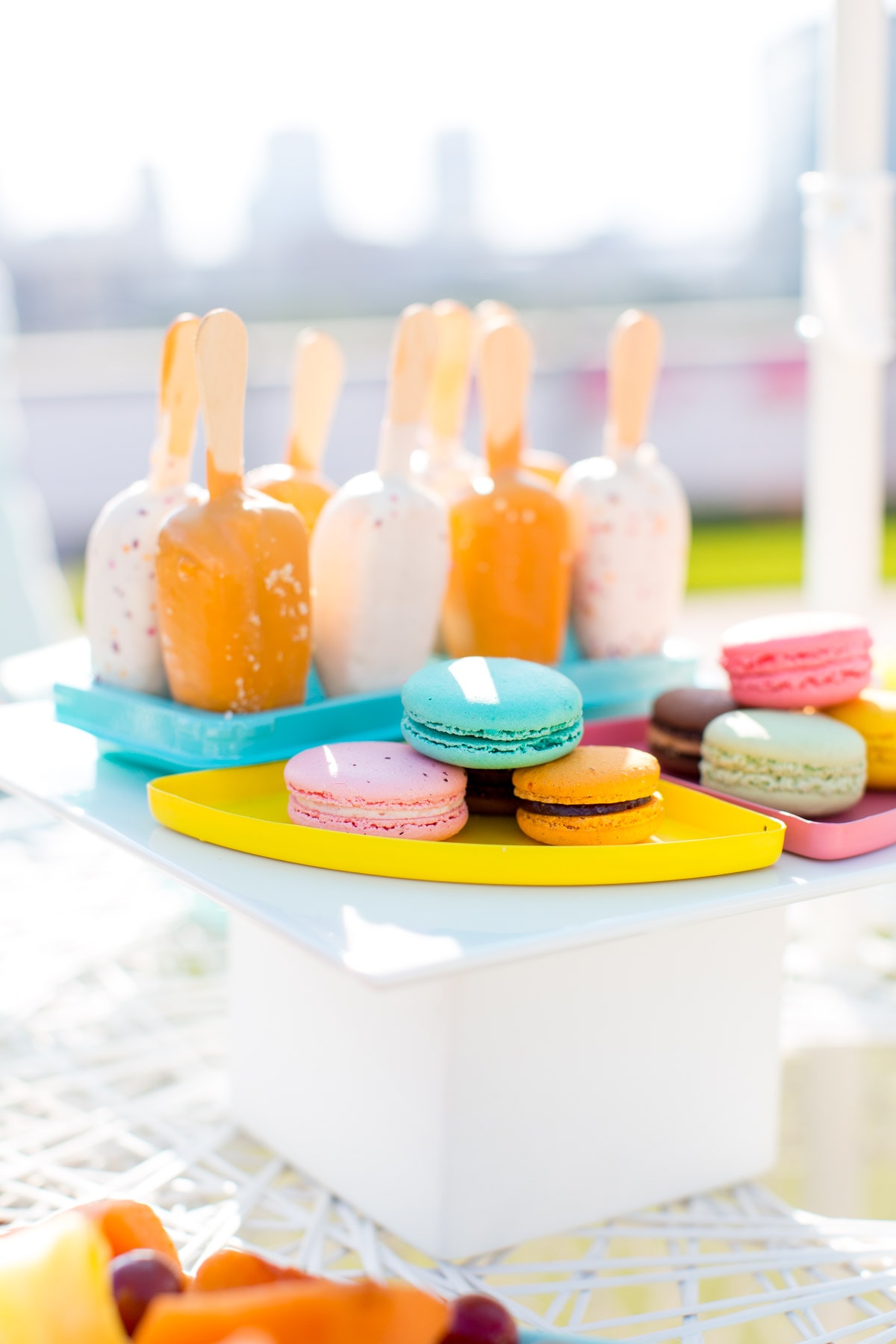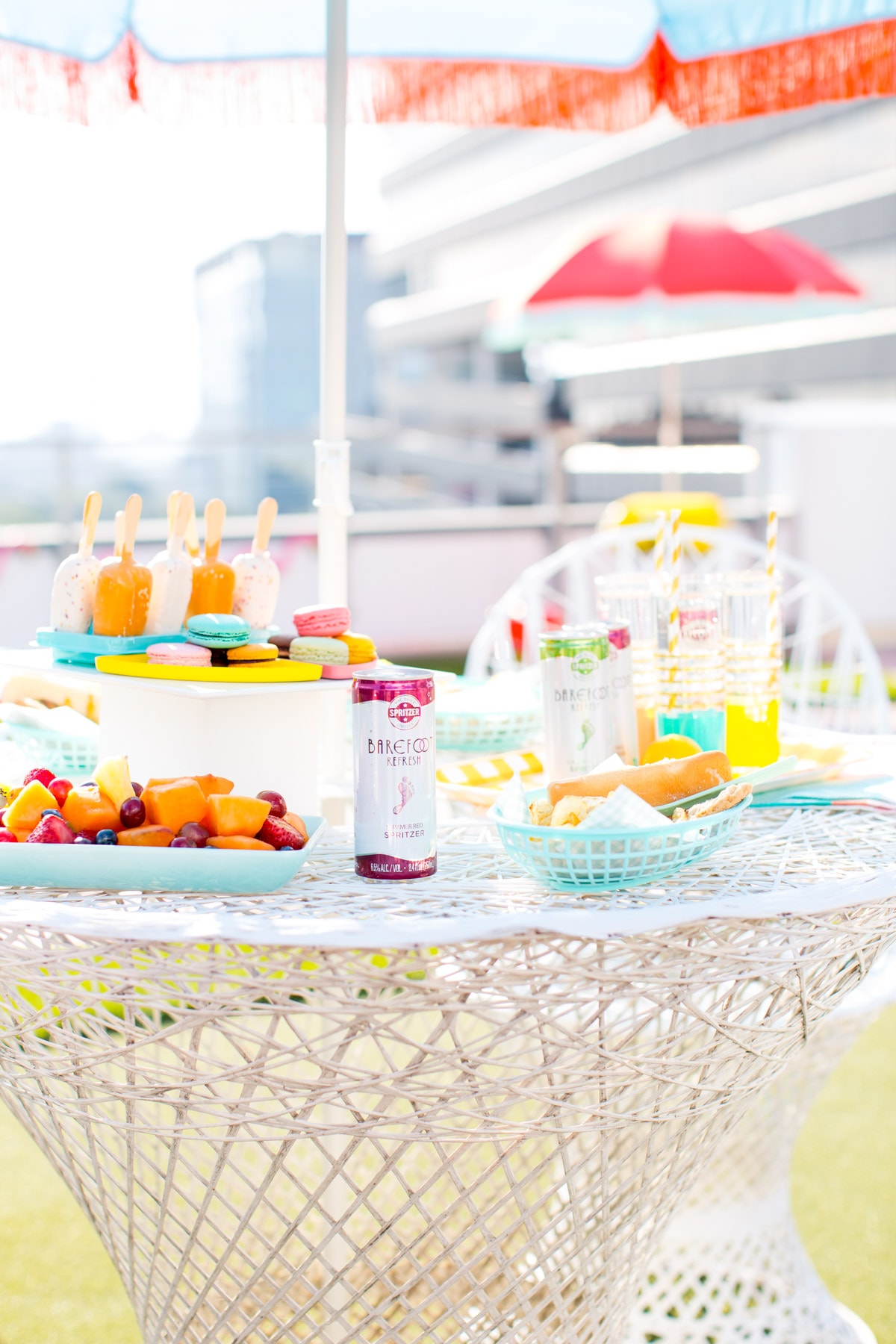 As an added DIY twist, we brought two grills for cooking. One stand-up grill for easy hot dog and burger requests, and one to make a  marshmallow/s'mores station with color coded dessert skewers.
I had trouble finding reasonably priced colorful grills, so instead we painted the outsides of them with high heat spray paint for a safe alternative with a little added flair.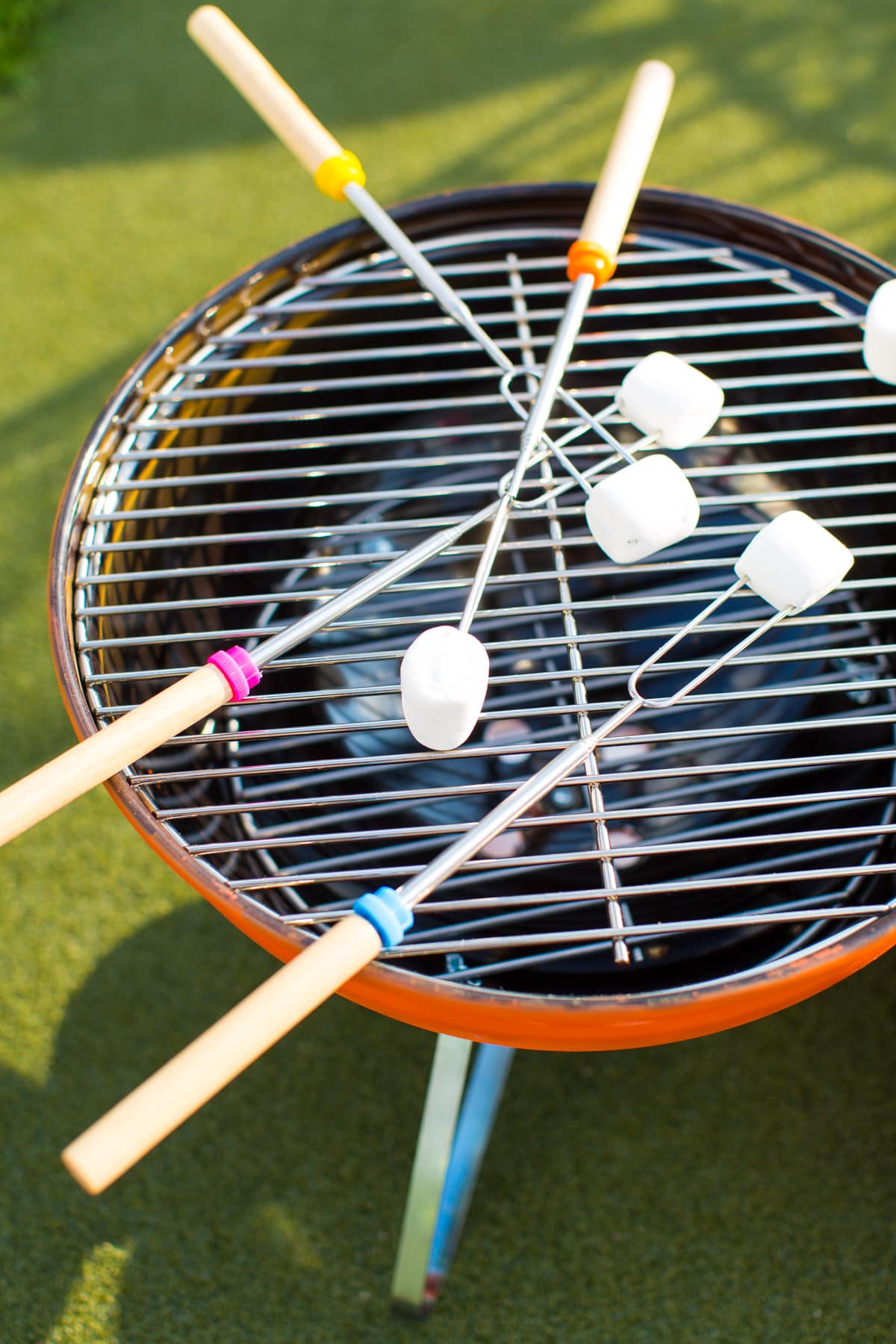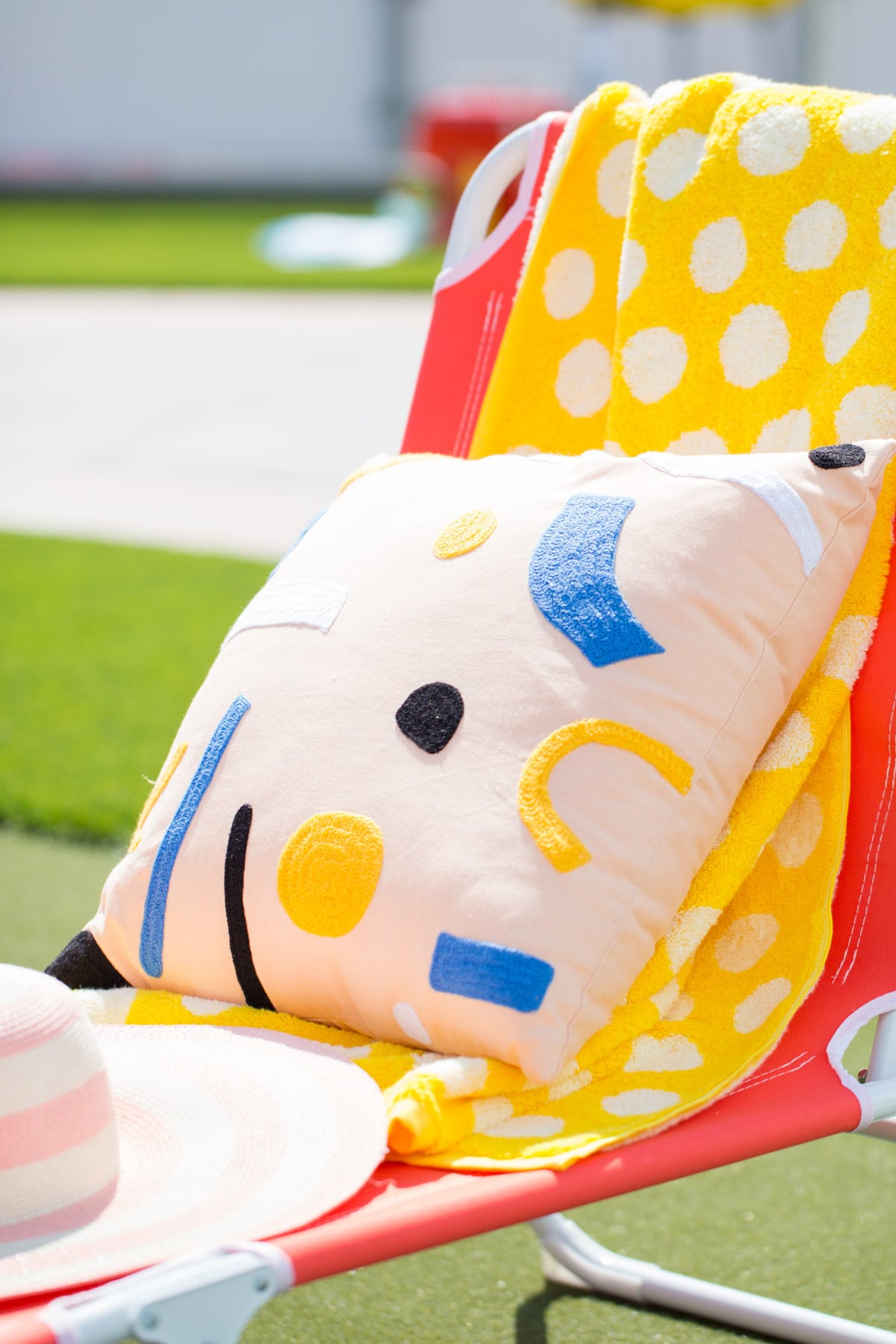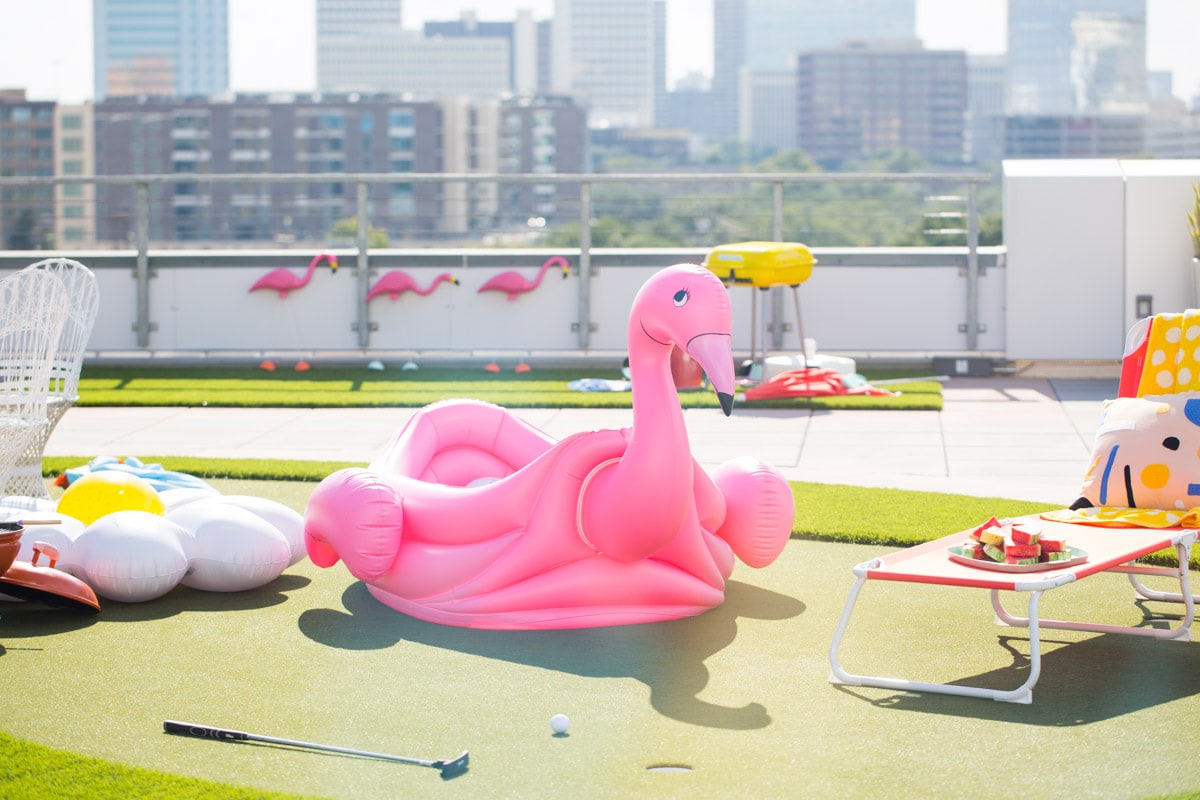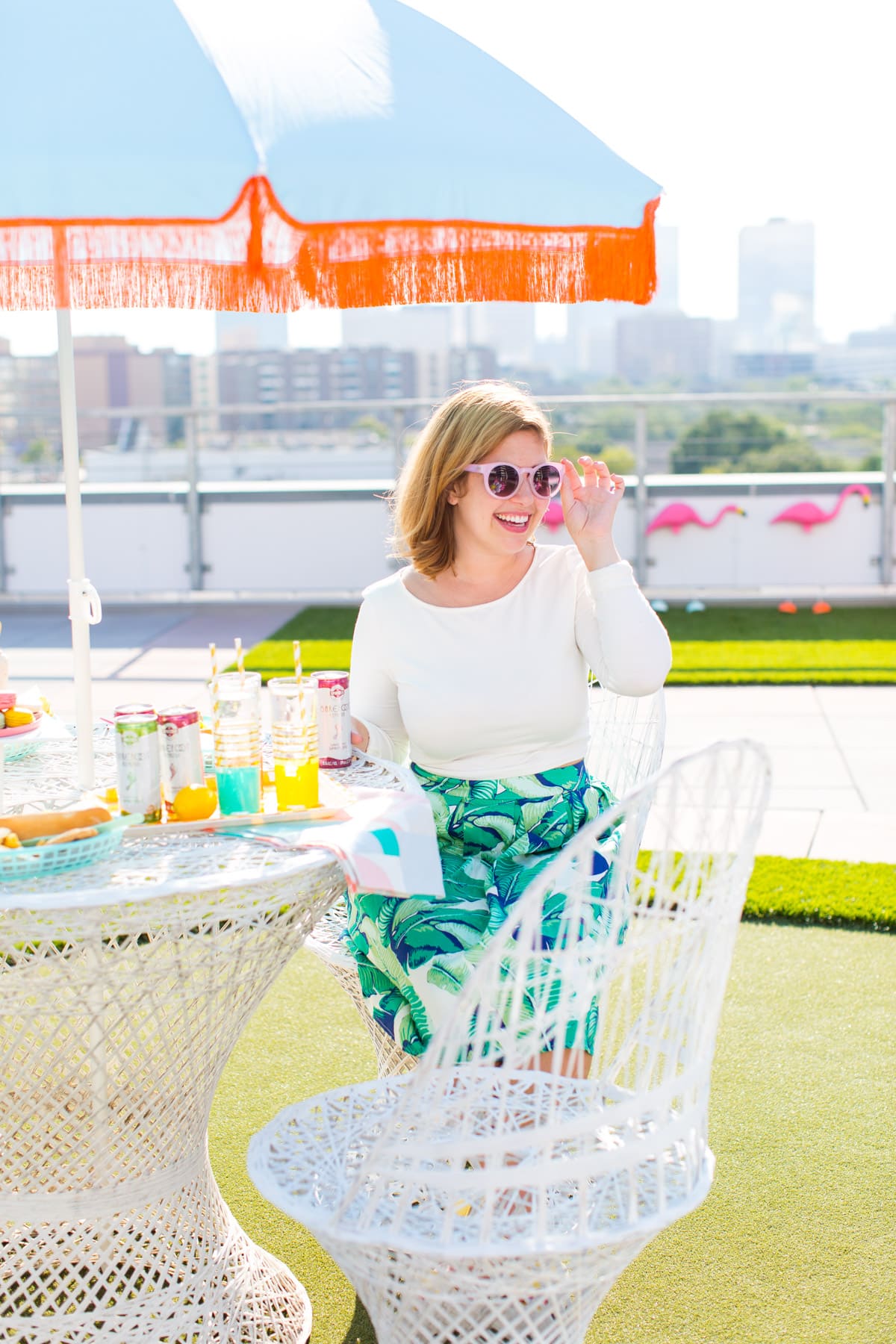 For decor, we let the furniture be the statement makers. We reused our DIY retro fringe umbrellas, and just so happened to score the coolest vintage mid century outdoor table set ever from Rus In Urbe. You don't exactly need much when you have a giant inflatable flamingo pool as your outdoor centerpiece. And don't be fooled, it holds WAY more water than you think!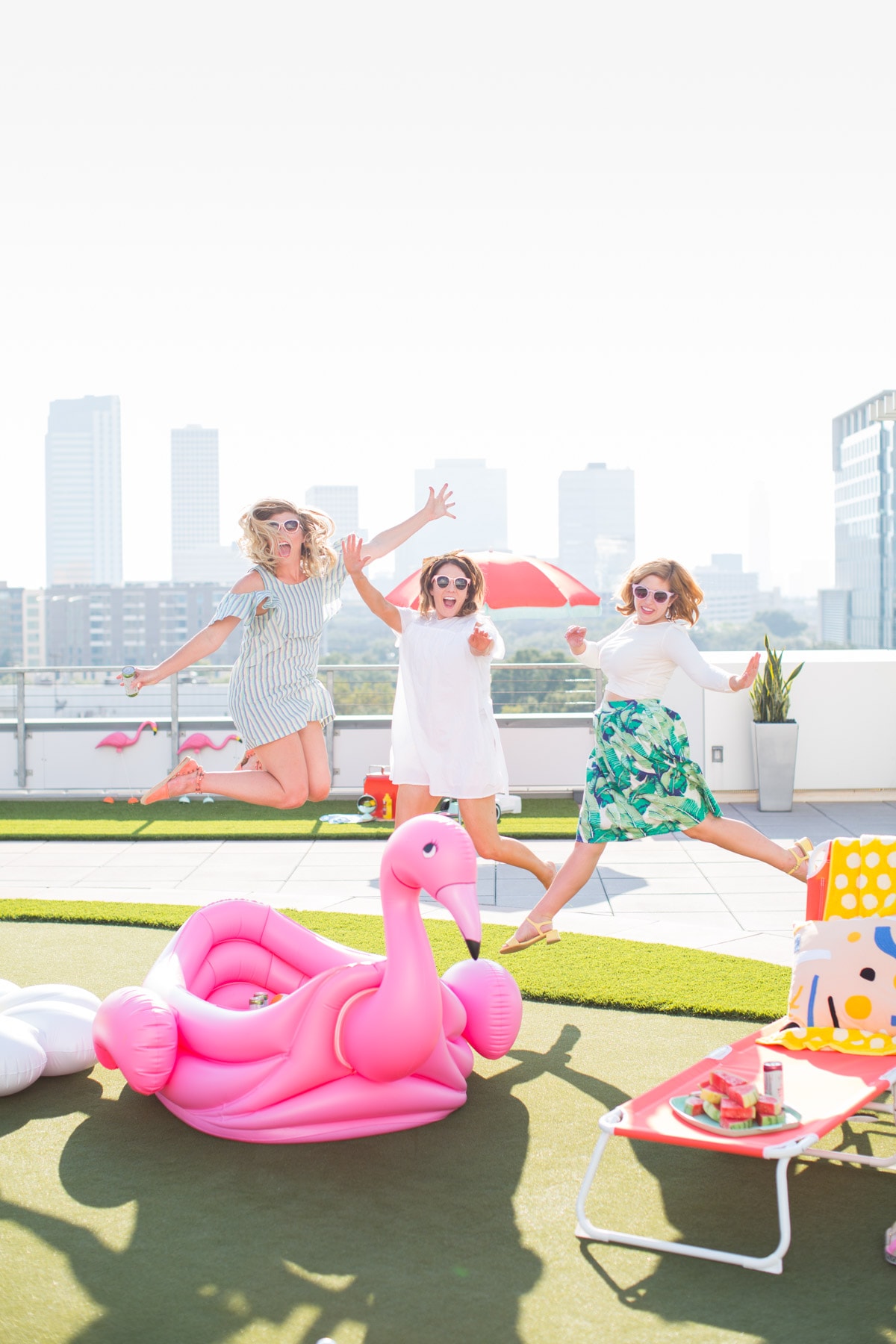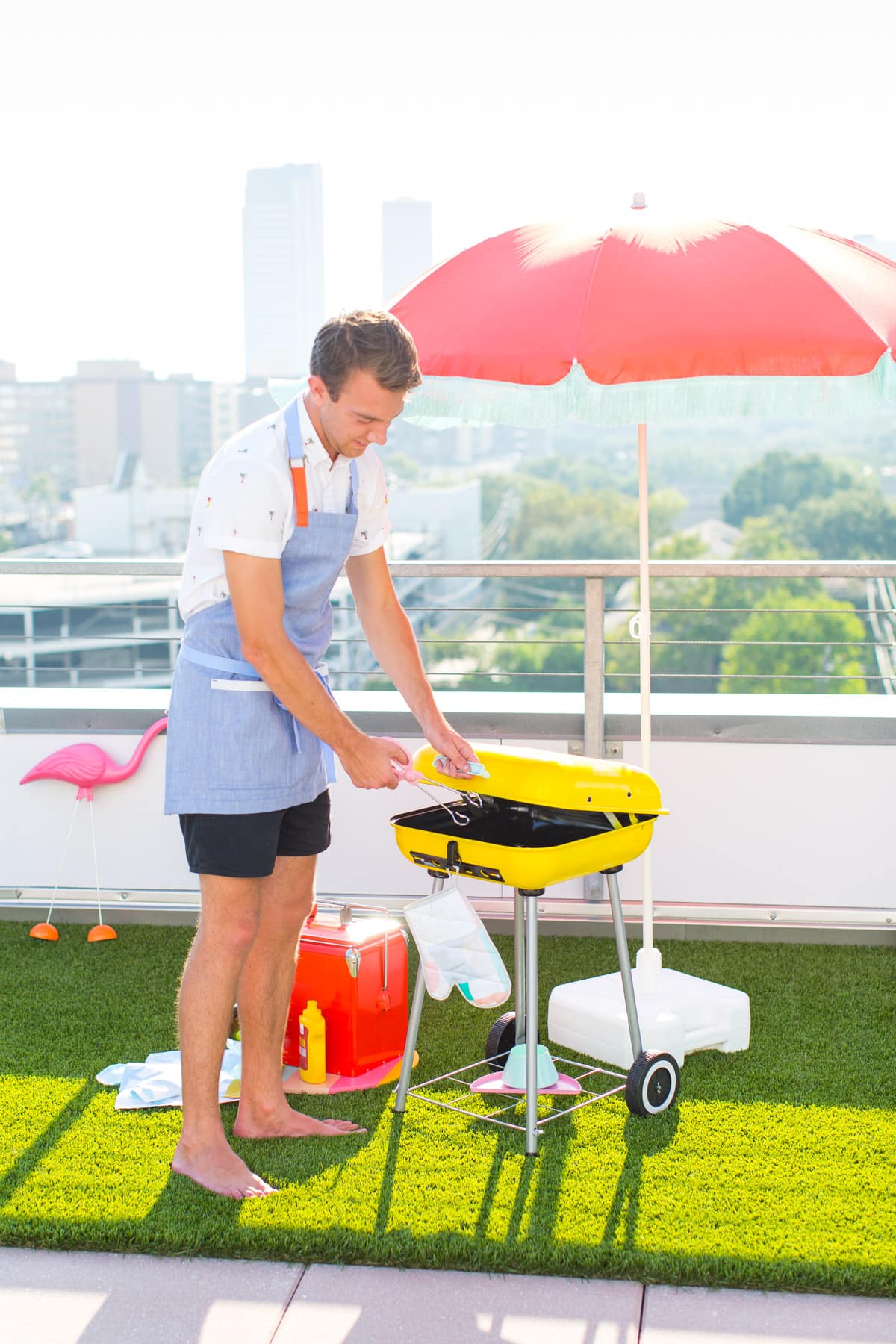 Once you've gotten food conquered, it's time for entertainment! Never mind the fact that I totally consider food entertaining, but you know what I mean.
As a play on the giant lawn games, I decided to make a jumbo flamingo tic-tac-toe board. Admittedly it didn't stand up all that well with the rooftop wind, so I altered the tutorial to use bigger "feet" for the flamingos to rest on. Needless to say, it's a better game for a non windy day!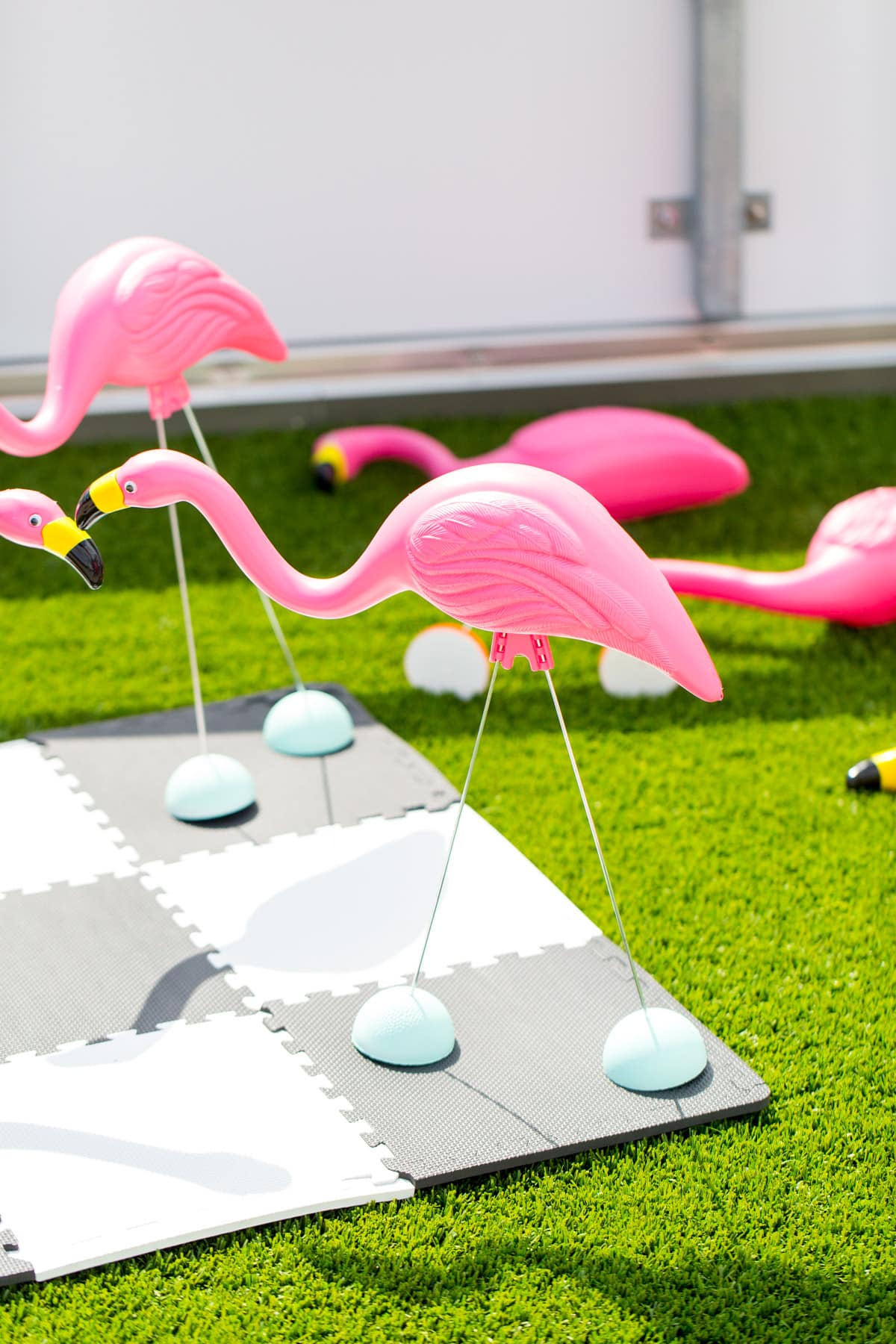 The checkered mat will serve as the tic tac toe board, and all you have to do is fit each of the 12″ squares together in place.
For the flamingos, you'll insert the metal rods for the legs, and then stick a foam semicircle match on the end of each leg, hot gluing them in place.
To mark the difference between X's and O's (or flamingos in this case), we painted the feet two different colors to tell them apart.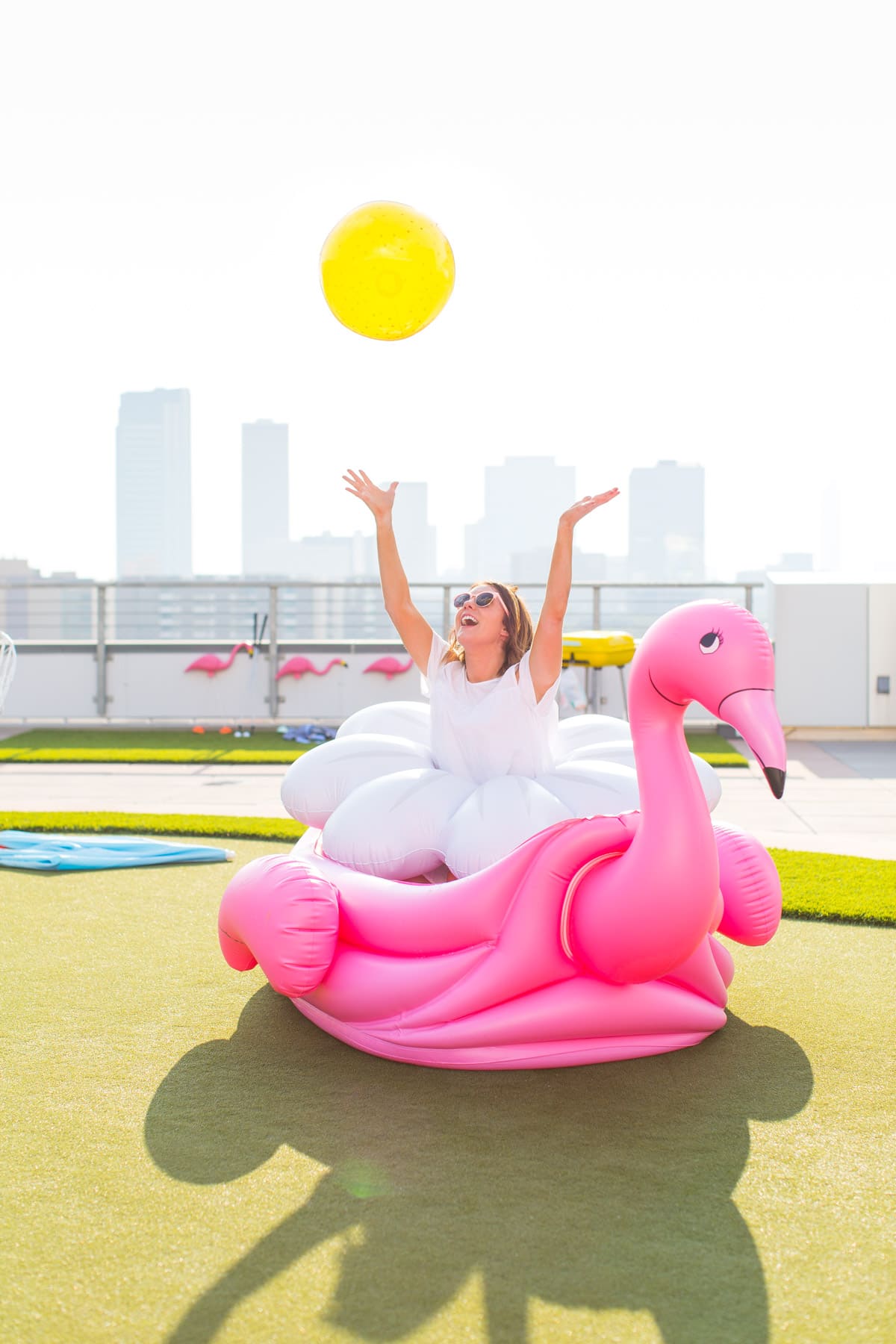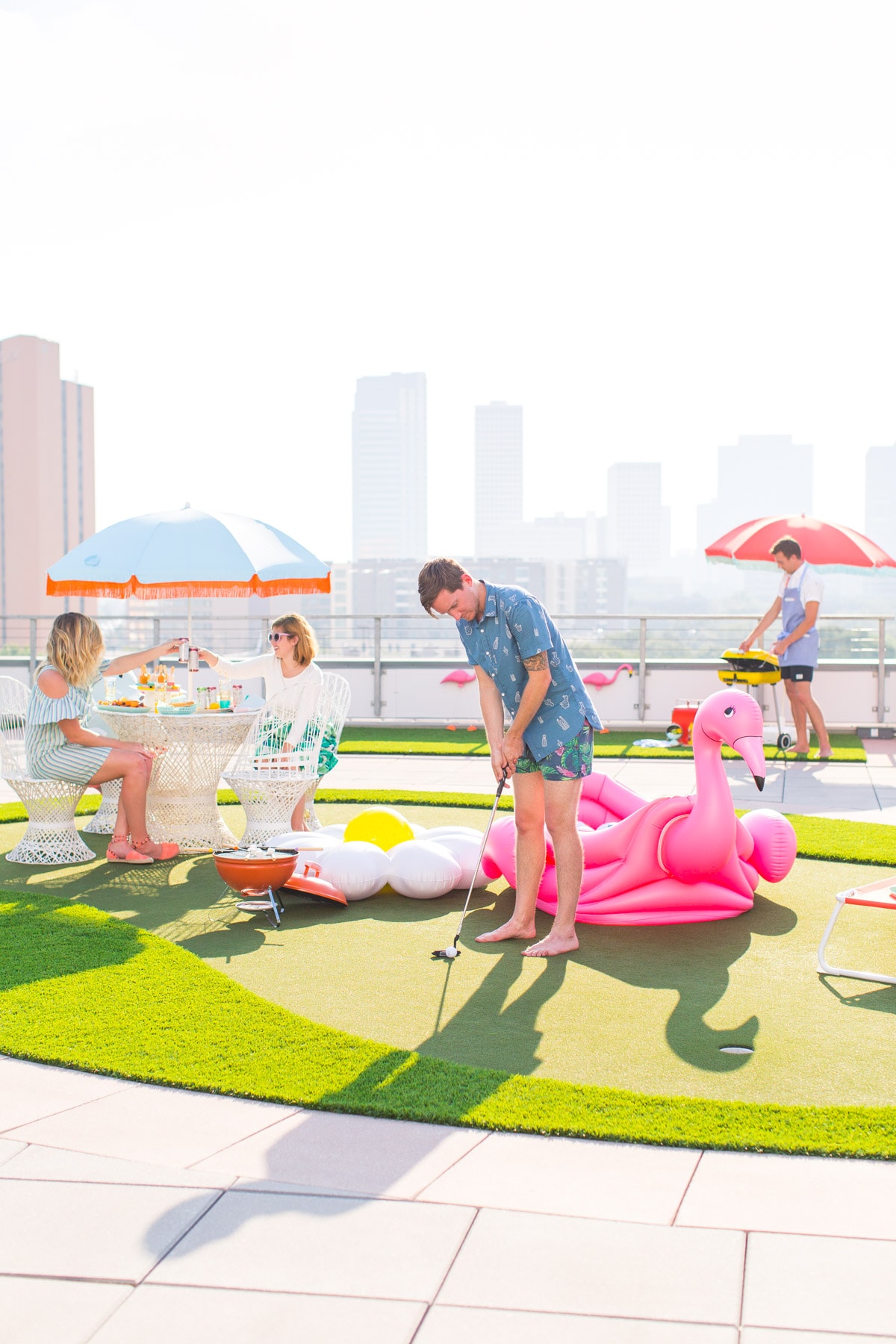 Bonus points if you can find a local rooftop with a putting green, too! No pressure, right?
Hopefully you all have an awesome long weekend, and have just enough time to squeeze in a few last minute BBQ ideas!
Sources — inflatable flamingo pool / Ikea watering can / light blue pool chaise / Marshall bluetooth speaker / colorful dessert skewers / black and white checkered mat /pink lawn flamingos / yellow gingham tray / tabletop weber grill / pink serving tongs / orange serving tray / mint melamine tray / pink flamingo stirrers / palm tree picks / daisy float set / beach balls / square standing grill / dusen dusen pillows and towels / Houston rooftop location at Integrate Agency
Thank you to our friends at Barefoot for partnering with us on this post!