I don't know how often you all try to name stuff, but sometimes I'm just at a loss. Normally I can come up with names for inanimate objects no problem! Random stuffed animals? Almost always named Petry. My car? Pri Pri.. short for Prius. But when it came to trying to find a shortened, cute name for this grilled pound cake with sweetened mascarpone and berries recipe… I got nothing. So I just went for the most anatomically (as in pound cake anatomy) correct option.
On a more relevant note, this is one of those recipes you can whip up in about ten minutes flat and requires no real measuring, aka my favorite kind of dessert! You can add as much as little of anything as you'd like, and as long as you don't completely char the pound cake, this is pretty fool proof.
Ingredients:
Your favorite pound cake recipe (or store bought)
Sweetened butter
Mascarpone cheese
Confectioner's sugar
Bonne Maman Four Fruits jam
Fruit toppings of choice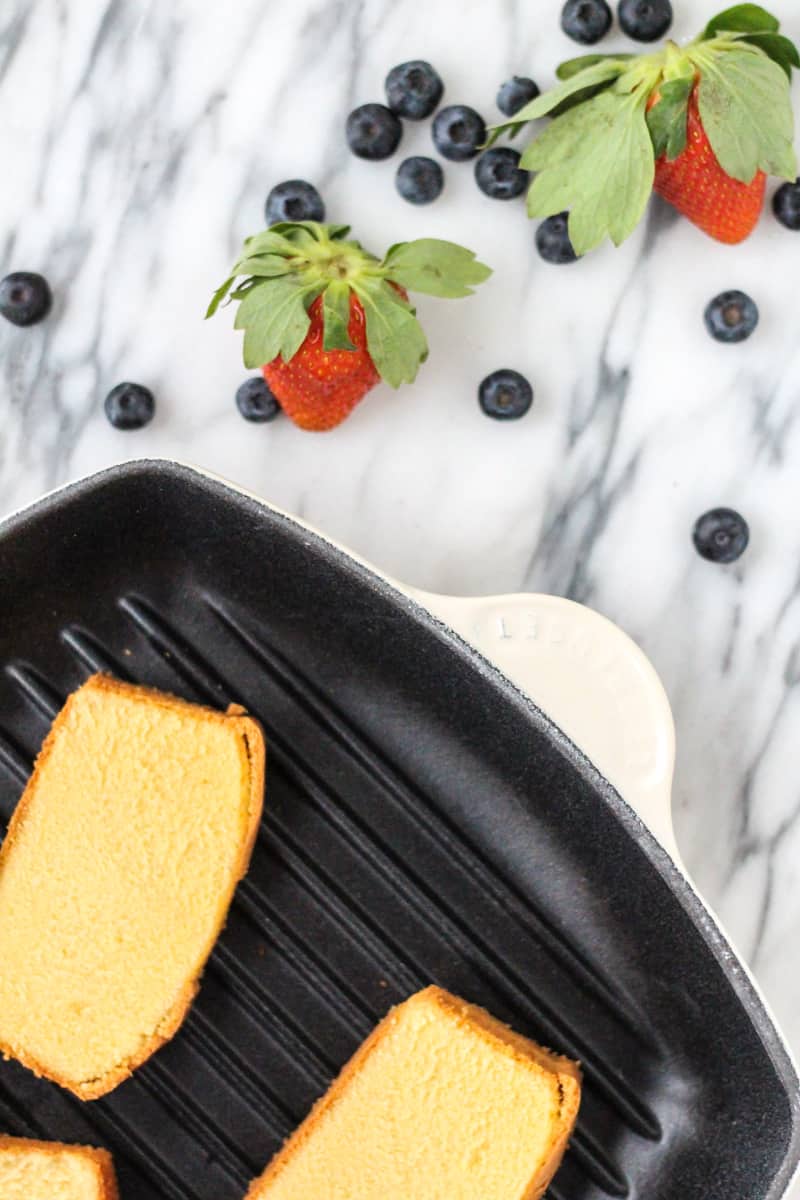 Slice the pound cake into inch and a half thick pieces and give them a quick brush with the sweetened butter, then lightly grill them just until their a warm brown and then flip to do the same on the other side.
Also, this was the first thing I'd ever made in my Le Creuset pans! Mix that with a good dessert and I was in heaven..
Next, mix about 3/4 of a cup of confectioner's sugar into the mascarpone cheese and stir. You can add more or less depending on how sweet you'd like it to be. I like a happy medium!
Then spread the cheese on the grilled poundcake slices, top with a small scoop of jam and berries, and serve immediately.
This post is sponsored by Le Creuset & Bonne Maman, pans and jam are c/o. All opinions and recipes are my own.