photos by Jared Smith
DIY Spiked Cotton Candy Recipe — In case cotton candy in general wasn't enticing enough, we're teaching you how to make spiked cotton candy!
Funny story though, as much as we've been busting out the cotton candy machine lately, it rarely, if ever, gets eaten because Jared hates it (weird, right?), and I would be running laps around our building if I ate it all myself.
Don't worry though, I'm great at using "taste testing" as an excuse, so it's all still tried and true!
In other news, I also want to mention that you can make cotton candy with SUGAR FREE candy, too. That's a game changer my friend!
P.S.- Shout out to my friend Rob for this genius concoction!…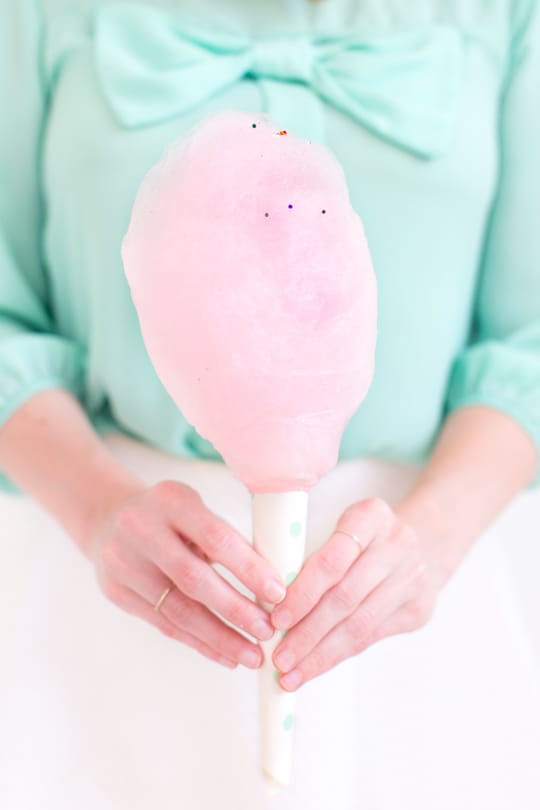 The first thing to note about this recipe/technique is that your cotton candy will only have about 50% of the alcohol content of the amount of liquor you use once it's fully prepped and spun.
I've determined this based on this table of how long it takes for alcohol to burn off, so this will obviously vary.
So for instance, if you're using two shots of vodka in sugar floss to make four batches of cotton candy, there's really only one shot split between four people.
DIY SPIKED COTTON CANDY | ALCOHOL INFUSED COTTON CANDY RECIPE
Floss Sugar (or sugar free hard candies by melting the candy and adding in vodka once it starts to cool)
Sheet pan (one for each color of cotton candy)
Vodka
The particular cotton candy maker we have (the one linked above) actually uses hard candy as well as floss sugar to make cotton candy, which is ideal for our spike cotton candy method.
First, you're going to fill a flat plate or sheet pan with a bit of floss sugar.
Then, add just enough vodka to it to make it the same texture as wet sand/sugar scrub. Stir it around so that all of the sugar crystal are covered.
Lay it out evenly on a cake pan to harden overnight back to dried sugar again. (Be sure to keep it away from hot/humid areas). You'll know it's ready when it's hard to the touch.
Since our machine makes hard candy cotton candy as well, we simply used a knife to chop up little pieces small enough to fit into the maker. But you could also put the crystal into a blender if you need finer pieces.
From here, you spin the cotton candy as usual. And then you're ready to serve!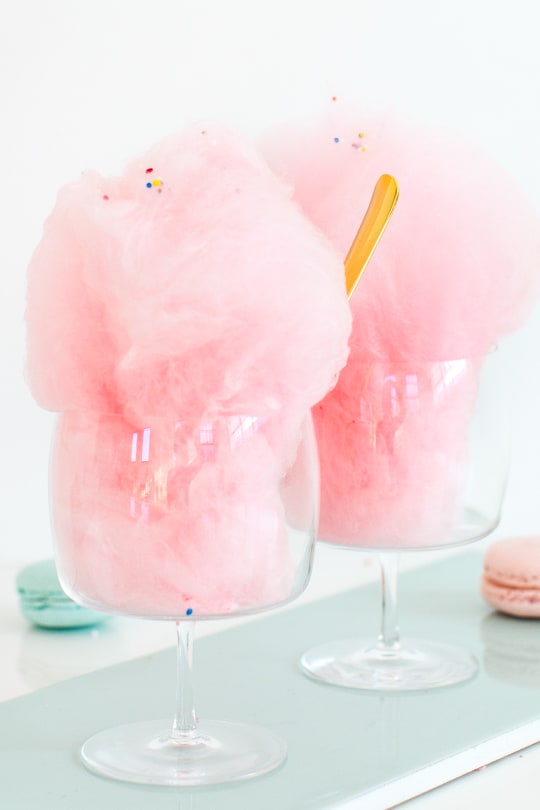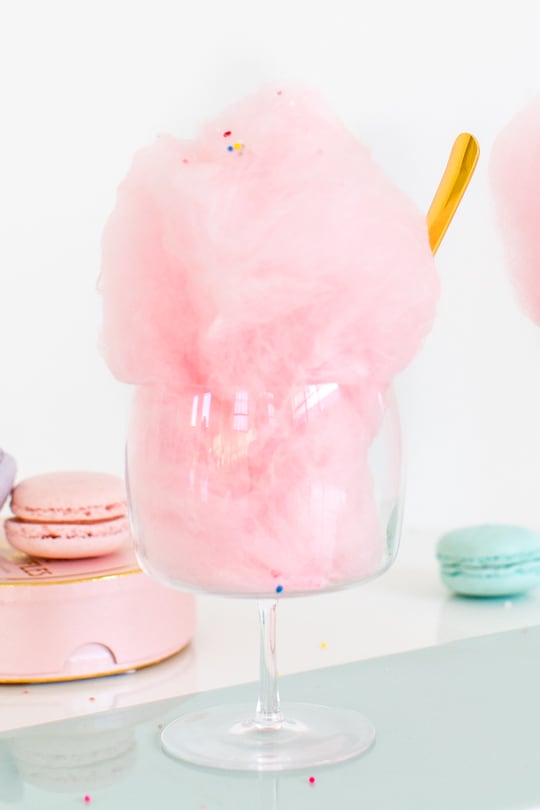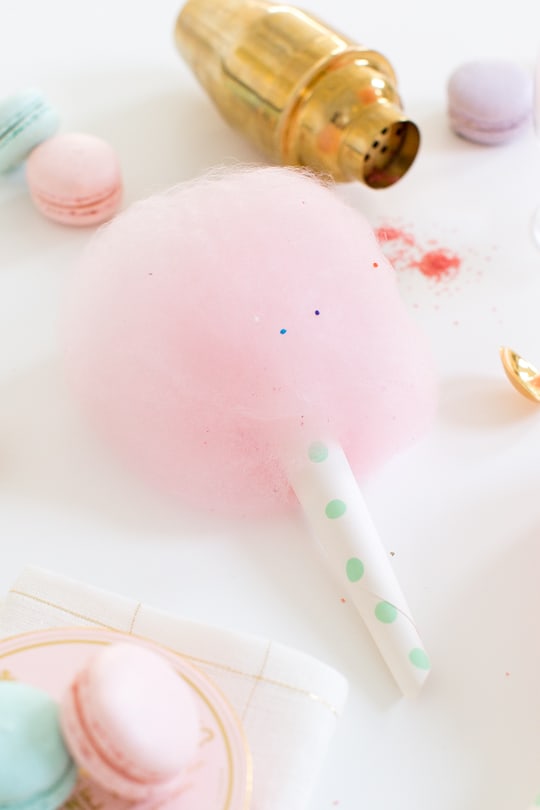 I was a little afraid that the alcohol would make the cotton candy even more sensitive to humidity or heat (especially in Texas).
But it actually held up just as well as any other cotton candy has!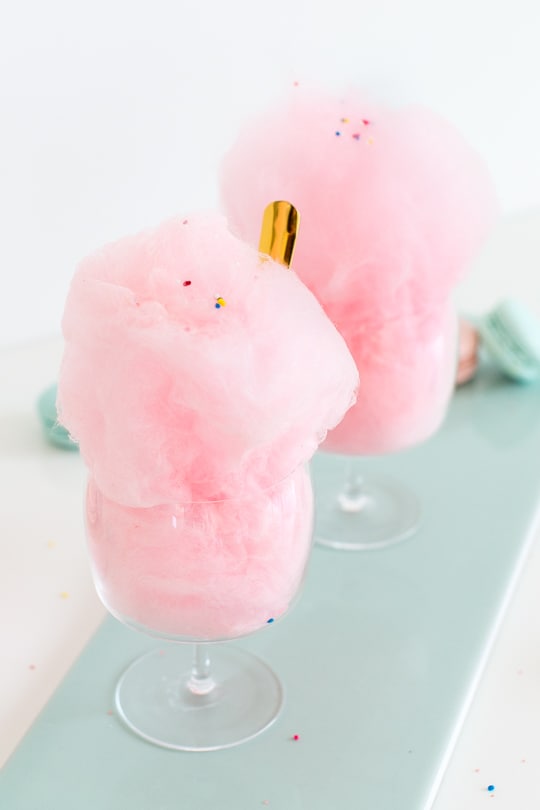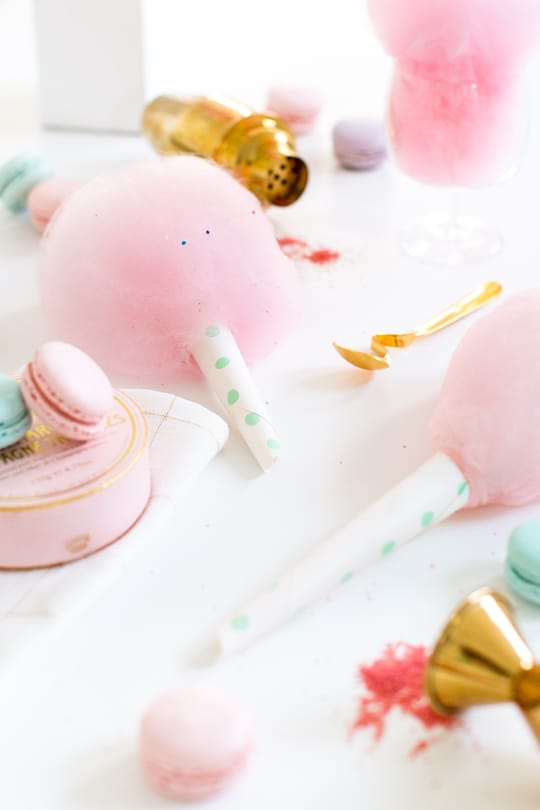 What do you think? Wouldn't your guests freak out if you had spiked cotton candy as your next party?!
Especially if you're making the sugar-free version for all of your figure-watching friends that usually turn a blind eye to cotton candy?!