Easy Dirt Dessert Recipe — This boozy dirt cup recipe is a twist on a childhood favorite, but you can easily leave out the liquor to make a traditional dirt pudding recipe for the kids, and a dirt cup cocktail version for the adults!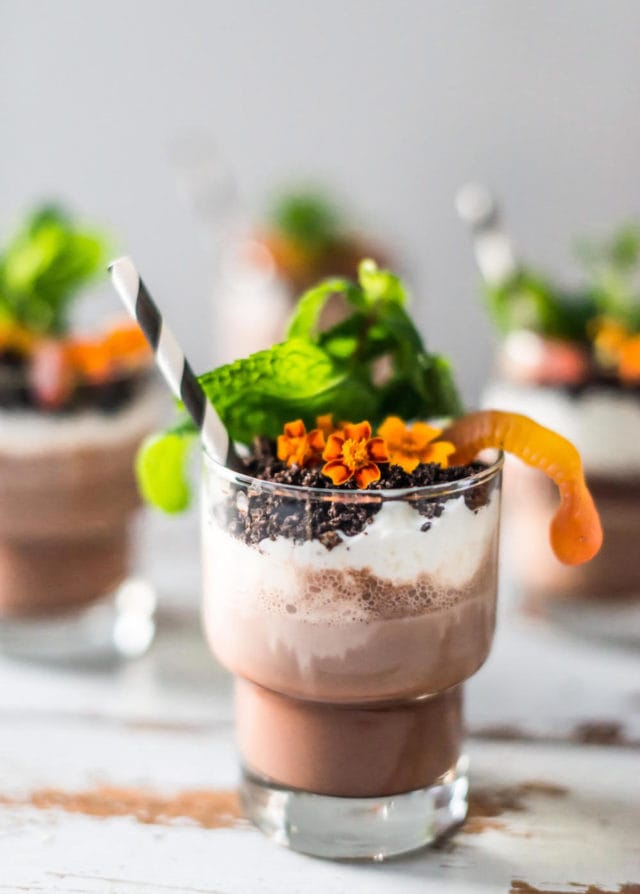 Have you ever had oreo dirt pudding when you were little or a go-to dirt pudding recipe for your Mom-life arsenal?
They're made with yummy chocolate pudding, gummy worms in dirt made from oreos, whipped cream, and chocolate cookie layers.
You got to love neon gummy worms poking out as if you had just scooped a cup from the garden versus whipping it up in your kitchen. They were always so fun, ick factor from eating "dirt" with "worms" and all!
I, Ashley, wanted to serve a spooky but chic cocktail at a Halloween party and was inspired by these nostalgic tricky treats. So I mixed up some layered dirt cups, but in cocktail form!
Even if you have never had the opportunity to eat these creepy-crawly childhood desserts, you can now enjoy them as a grown-up version with these Dirt Cup Cocktails!
I would say they are better than the real thing, but the booze might make me biased.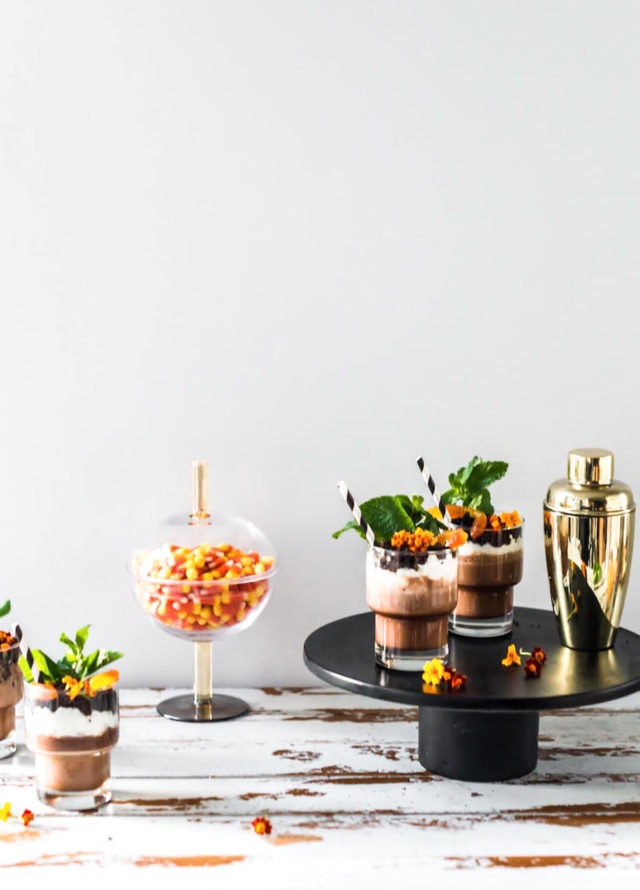 Worms in Dirt Dessert Recipe Tips
You can easily elevate the classic dirty cup adornments by adding edible flowers and mint to make it look more like a pretty potted plant than the typical childhood version.
I also found spiking the gummy worms are a fun way to add more boos (ha!). Be careful as I found out in college, gummy candy will suck up ALL the liquor it's soaked in and get slimy and really boozy unless that's what you want to go for!
When adding the cool whip cream, cover the entire circumference of the glass and then add the straw (I like to use black and white paper straws this time of year) before topping with the cookie crumbs.
This will keep the cookie from getting into the drink. It's fun to get the cookie, cocktail, and whipped cream all in one sip, but you don't want soggy pieces chilling at the bottom of your glass.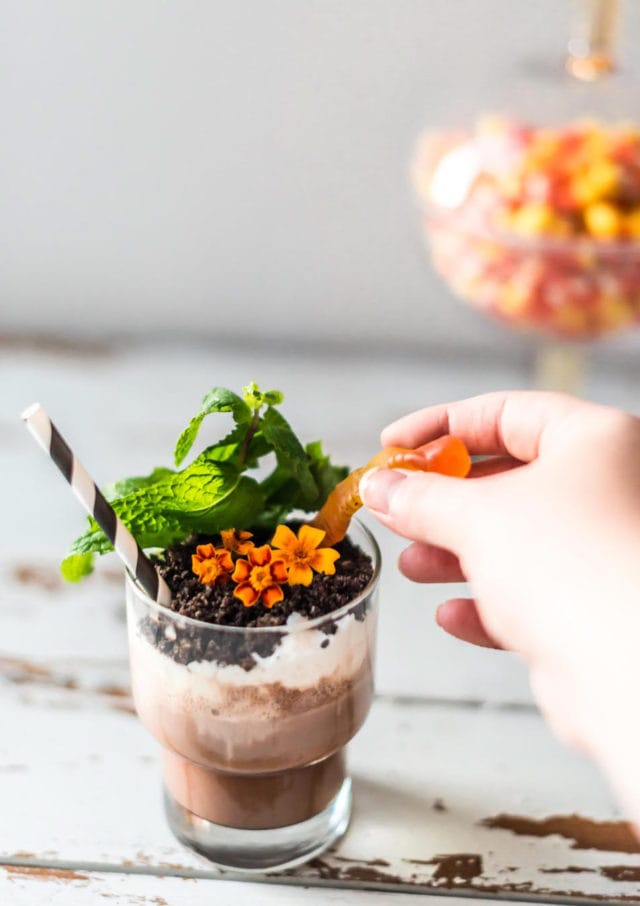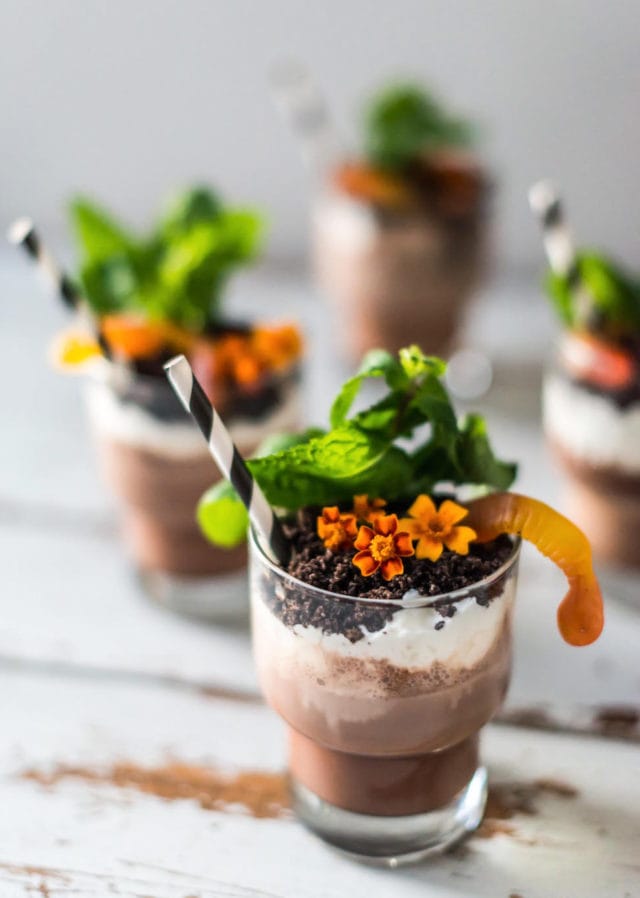 How to Make a Boozy Dirt Cup Recipe
Nothing says Halloween quite like worms in dirt, so we've got you covered!
You won't need anything fancy to recreate this boozy dirt cup recipe unless you want to bust out the food processor for the crushed Oreos, or trifle dish for serving.
There are ton of different dirt cake variations out there — some with instant pudding mix, french vanilla pudding, cool whip, whipped cream, and even a cream cheese mixture. Ours, however, is a very paired down version of this classic recipe.
For ours, we're using the following ingredients —
Crushed Oreos
Whipped cream (or substitute for a non-dairy whipped topping)
Vodka gummy worms
Edible flowers
Liquor
Sprinkle of powdered sugar (optional)
If you want to offer a *non-alcoholic version for party guests or kids, you can easily make these into dirt cup milkshakes!
Or you can also use a pudding mixture if you'd like a more traditional dirt cake, too — I provided the recipe for the regular recipe below.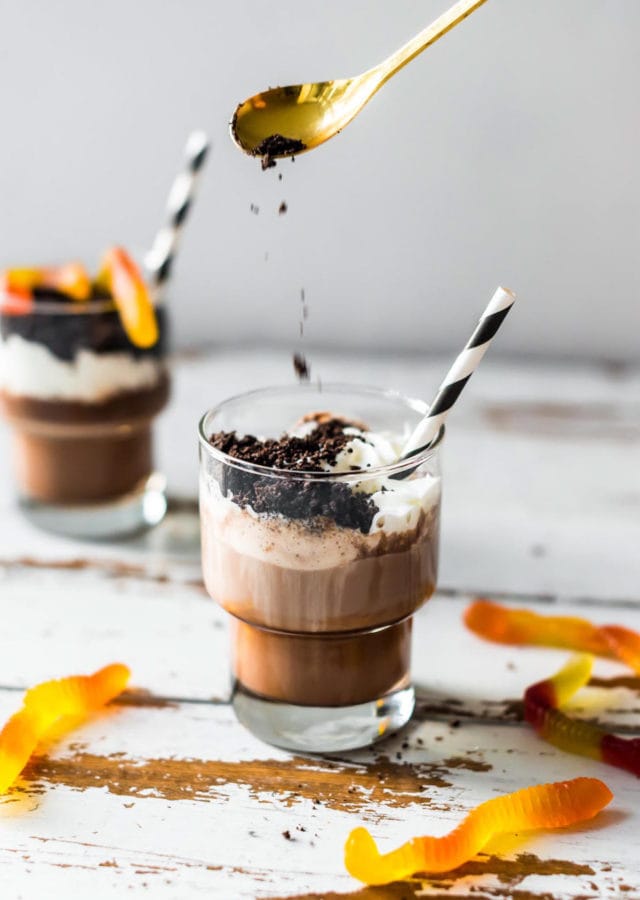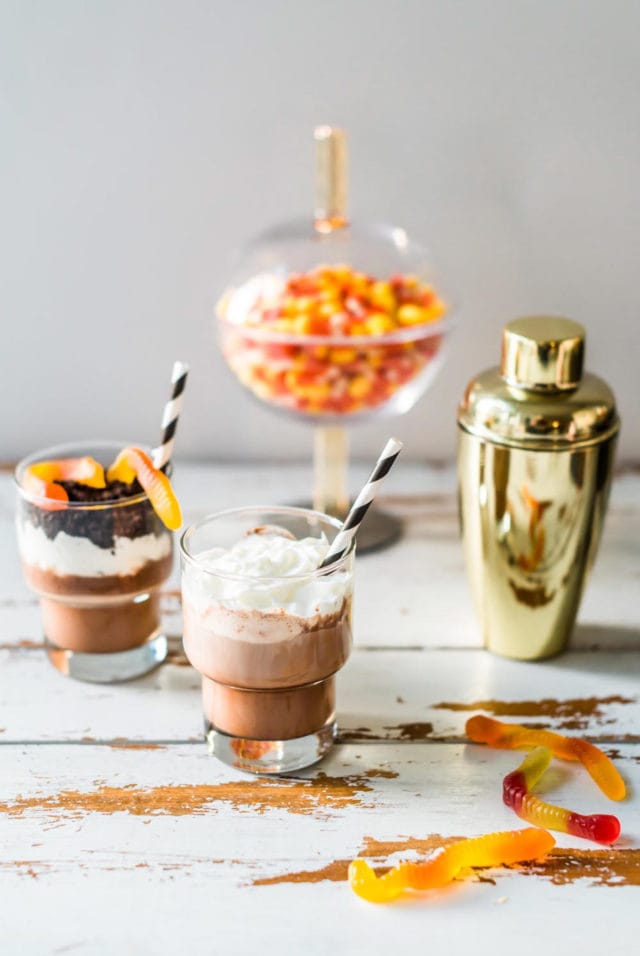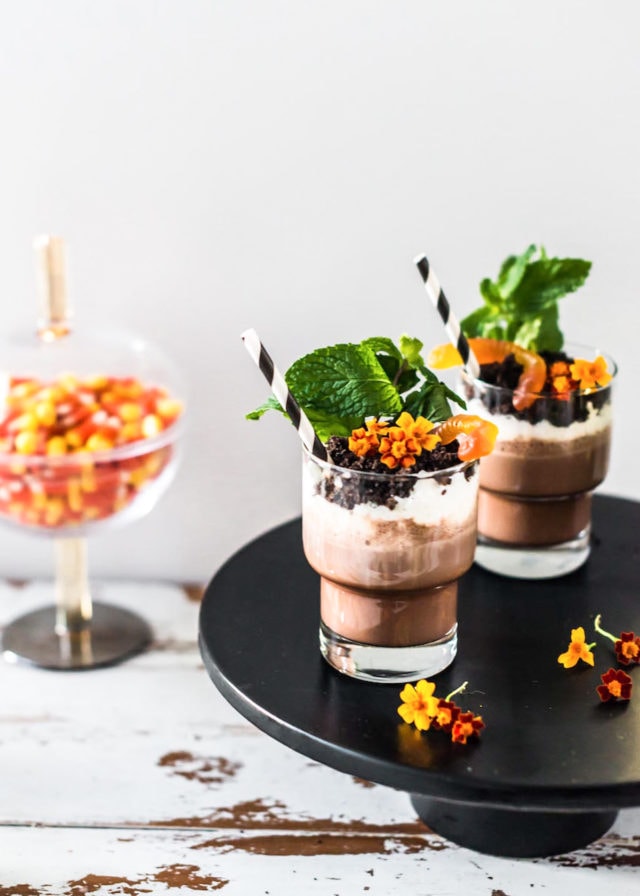 Halloween Party Ideas to Pair with a Dirt Dessert Recipe
Since we're no stranger to an easy Halloween recipe, DIY, entertaining idea, or Halloween costumes, I thought I'd put together a list of my favorite pairing recommendations!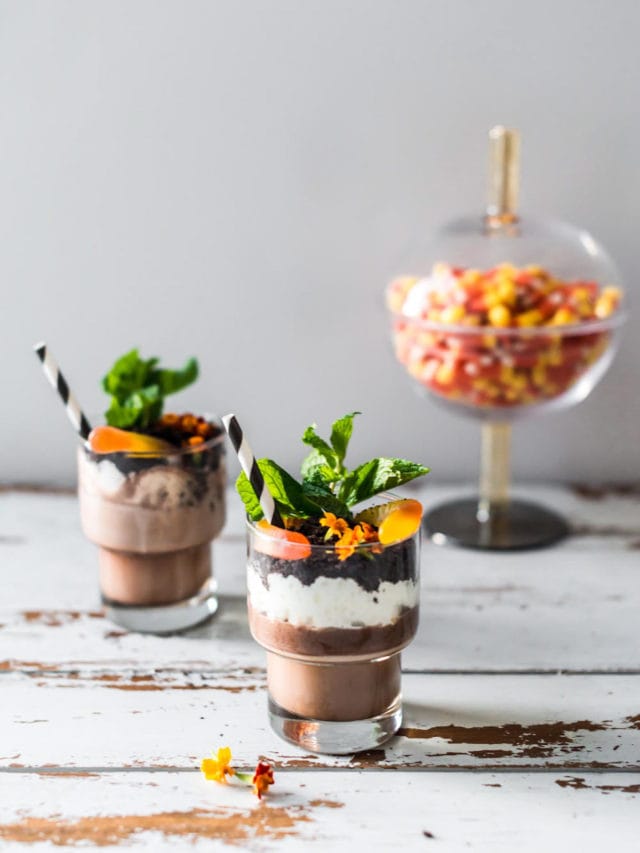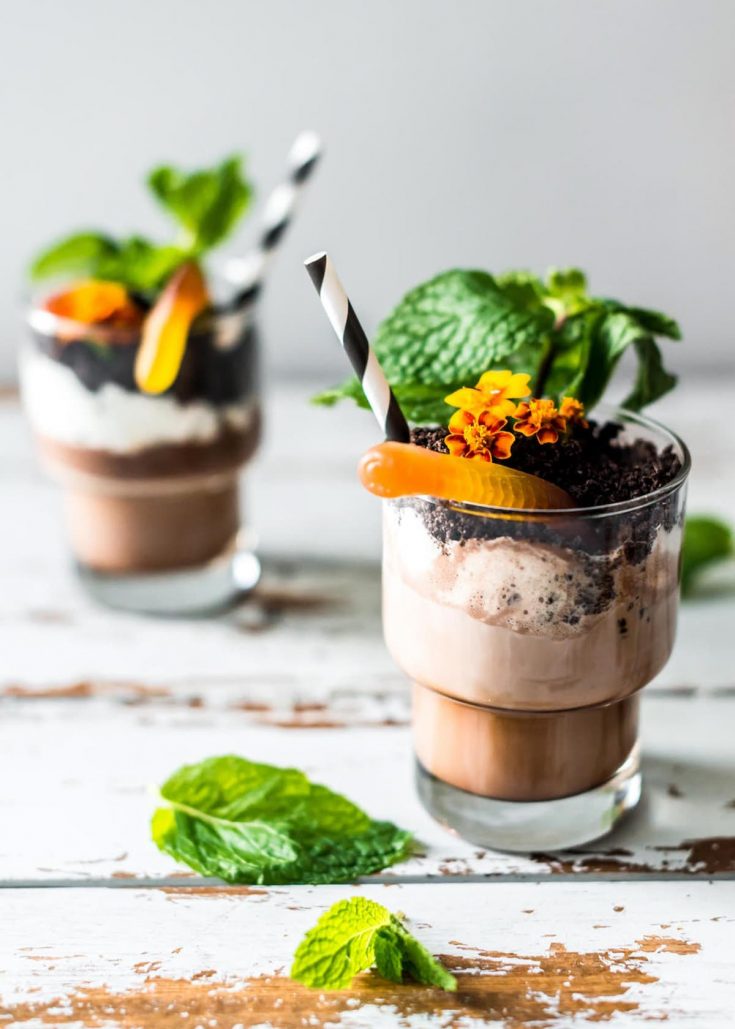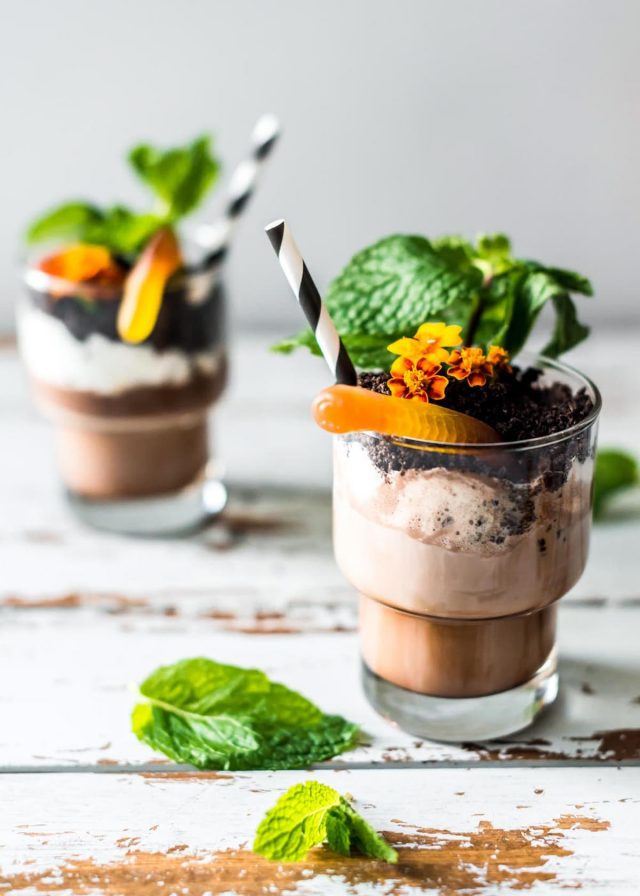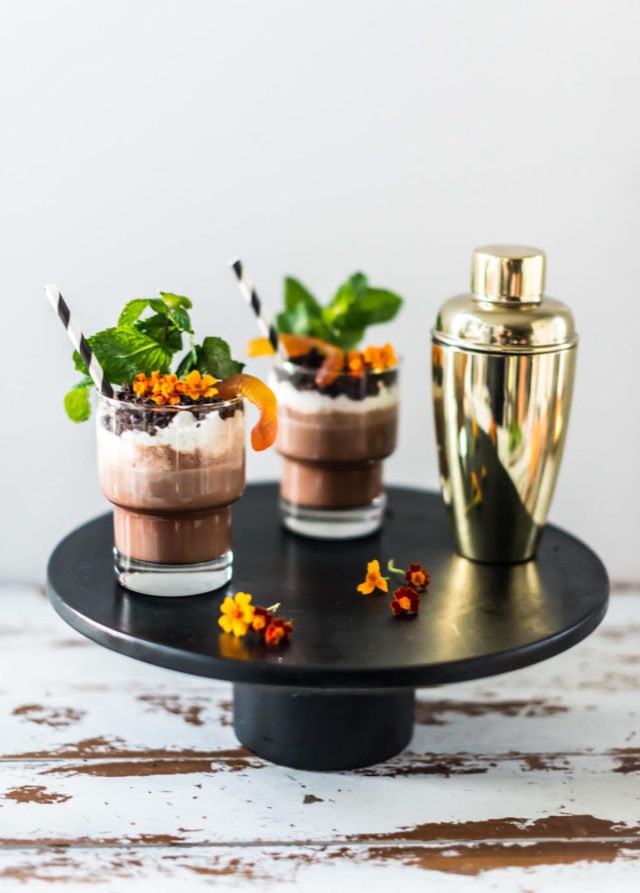 If you are looking for a creepy cocktail (or mocktail) to make for your Halloween soiree, then these Dirt Cup Pudding Cocktails will be the hit of any monster mash.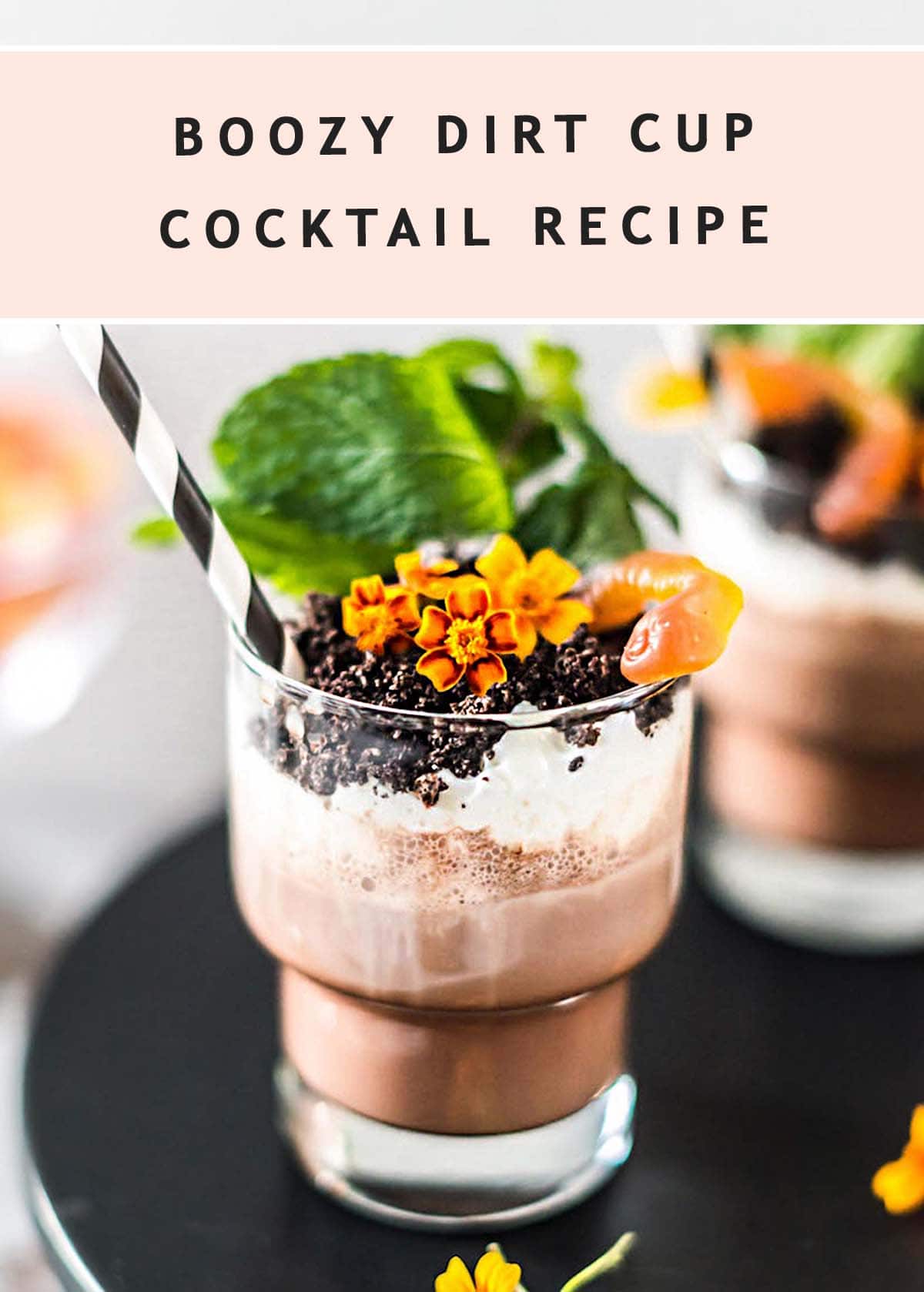 How To Make Easy Dirt Cup Cocktails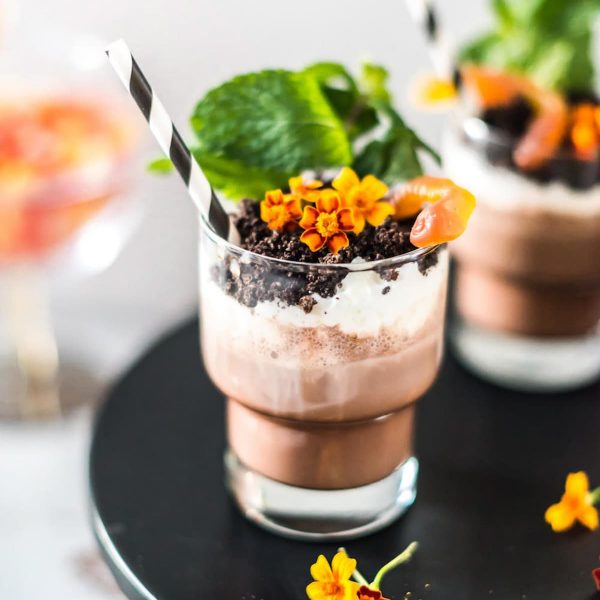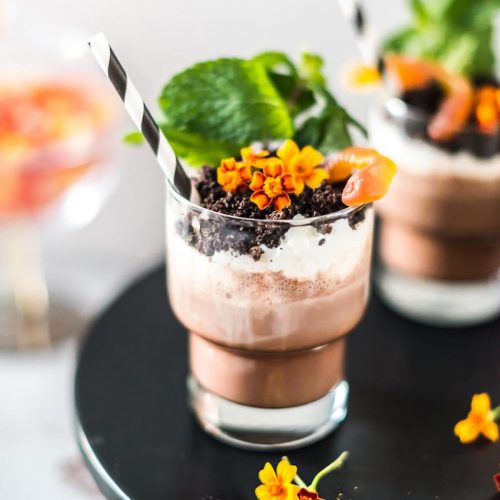 Dirt Dessert Recipe: Easy Boozy Dirt Cup Recipe
This boozy dirt cup recipe is a twist on a childhood favorite, but you can easily leave out the liquor to make a traditional dirt pudding recipe for the kids, and a dirt cup cocktail version for the adults!
Ingredients
3

oz

bourbon

3

floz

creme de cacao

3

floz

cream

6

tbsp

crushed chocolate cookies

1

tbsp

cocoa powder

4

gummy worms (or vodka soaked gummy worms!)

2

mint sprigs

edible flowers

whipped cream

chocolate bitters (optional)
Nutrition
Serving:
1
g
|
Calories:
589
kcal
|
Carbohydrates:
99
g
|
Protein:
9
g
|
Fat:
19
g
|
Saturated Fat:
7
g
|
Cholesterol:
4
mg
|
Sodium:
428
mg
|
Potassium:
273
mg
|
Fiber:
4
g
|
Sugar:
56
g
|
Vitamin A:
85
IU
|
Calcium:
20
mg
|
Iron:
8
mg
Instructions
Add gummy worms to a container and add vodka to cover. Let soak for a few hours

Add the first 5 ingredients into a shaker with ice. Shake and double strain into a glass.

Add whipped cream to the glass to just below the rim, being sure to cover the cocktail. Add straw and spoon crushed cookie on top of the whipped cream. Add mint and edible flowers to the cookie layer and finally top with the vodka spiked gummy worms.

*To enjoy as a non-alcoholic beverage, make it into a milkshake by blending 1 cup milk with 4 tbsp sugar and 2 tbsp cocoa powder in a blend. Add 4 cups vanilla ice cream and bland. pour into 2 large glasses.

Top with whipped cream then the crushed cookie layer. Add mint and flowers followed by regular gummy worms.
KEYWORD:
cocktail, desserts, drink, halloween, holiday, oreo, scary

Halloween Entertaining Ideas