Get ready to celebrate the Independence Day in style with these fantastic 4th of July craft ideas!
Independence Day is the perfect occasion to unleash your creativity and add a patriotic touch to your festivities. Whether you're hosting a backyard barbecue, attending a parade, or simply enjoying the holiday with loved ones, these DIY projects will help you create a memorable and festive atmosphere.
And don't worry. They're simple enough for you to still have time to bust a few out for a little added wow factor (without the time commitment).
From homemade decorations and themed crafts to delicious treats and dazzling fireworks displays, this collection of 4th of July craft ideas has something for everyone.
So grab your crafting supplies, put on your red, white, and blue gear, and let's dive into the world of Independence Day creativity!
4th of July Craft ideas
1 — DIY Kabob Stand
Creatively display your food on this DIY kabob stand. We love that it gives some additional height to your buffet spread. We used it for fruit kabobs, but it's also perfect for your chicken skewers, candy apples, cake pops and dessert kabobs.
All you need to do is drill holes in a wood block, and then decorate!
2 — Cake Topper Sparklers
Nothing says Fourth of July more than fireworks. Top your 4th of July desserts with these fun cake topper sparklers. This quick and easy project calls for skewer sticks, hot glue and cellophane. Plus, you can customize the colors to fit any holiday.
3 — DIY Snack Trays
How fun are these DIY Snack Trays? It's a cool Cricut Maker project that works for any summer party. Plus, they're perfect for serving nachos, French fries and more.
4 — Fourth of July BBQ Station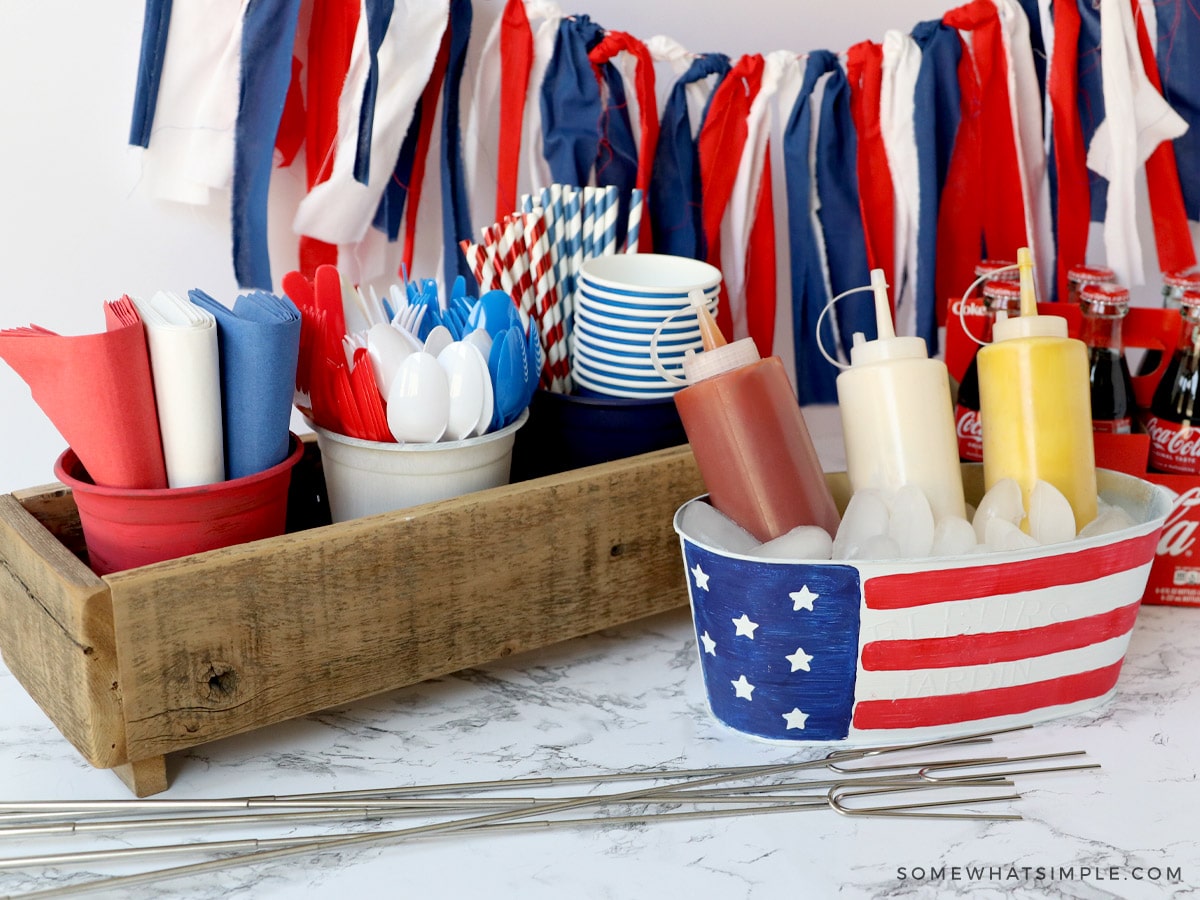 This Fourth of July BBQ station simply repurposes old planters and potters to create a festive condiment and serve-ware area. Then, follow the red, white and blue color scheme with some paint and a brush.
5 — Patriotic Bouquet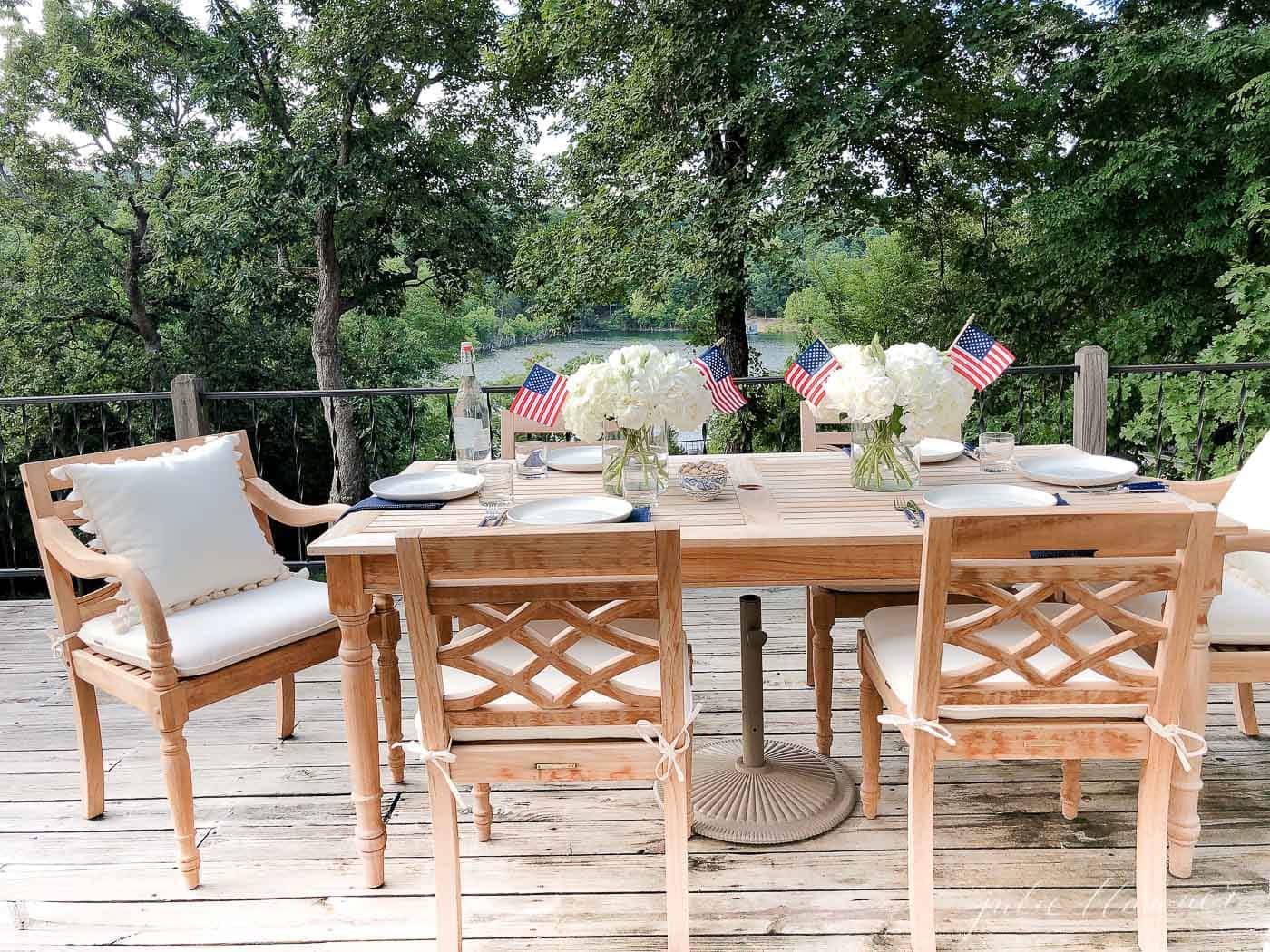 Honestly, this 4th of July craft idea is more of an easy hack. Recreate these patriotic bouquets by simply inserting mini American flags into your flower arrangements. And voila! You've got a festive centerpiece.
6 — DIY Painted Cocktail Glasses
These painted cocktail glasses will add just enough color to your celebration! It's a fun way to dress up your plain glassware. And you can just brush on abstract patterns so no real art skills are required.
7 — July 4th Crafts for Kids: Rocket Confetti Popper
These rocket confetti poppers make for a fun party favor and craft project that's easy enough for kids to partake in. You can set up a craft area as a party activity for your guests to do at your 4th of July party.
Just gather some cardboard box and tubes (like gift wrap, toilet paper roll, or paper towels), confetti, paint, blue painters' tape, barbecue skewers, red construction paper, and kitchen twine (for the faux fuses) to make your paper roll rocket.
If you're feeling adventurous for an even bigger craft project, you can have the adults make jumbo confetti poppers.
8 — Fourth of July Printable Sparkler Packs
Gift your party guests these Fourth of July printable sparkler packs. This easy DIY takes less than 5 minutes to assemble, and all you need to do is print out the free template from the tutorial.
9 — 4th of July Headbands
Another fun activity to set up is to have guests make their on 4th of July headbands. Provide them with headbands and fun craft items like fuzzy sticks, star cutouts, felt sheets, pom-poms and sequins.
10 — Fourth of July Ribbon Wreath
Decorate your space with a patriotic Fourth of July Wreath. Ribbon wreaths are very easy to put together since you are simply wrapping ribbon. You can whip up this festive home decor piece in one day.
11 — 4th of July Balloon Decor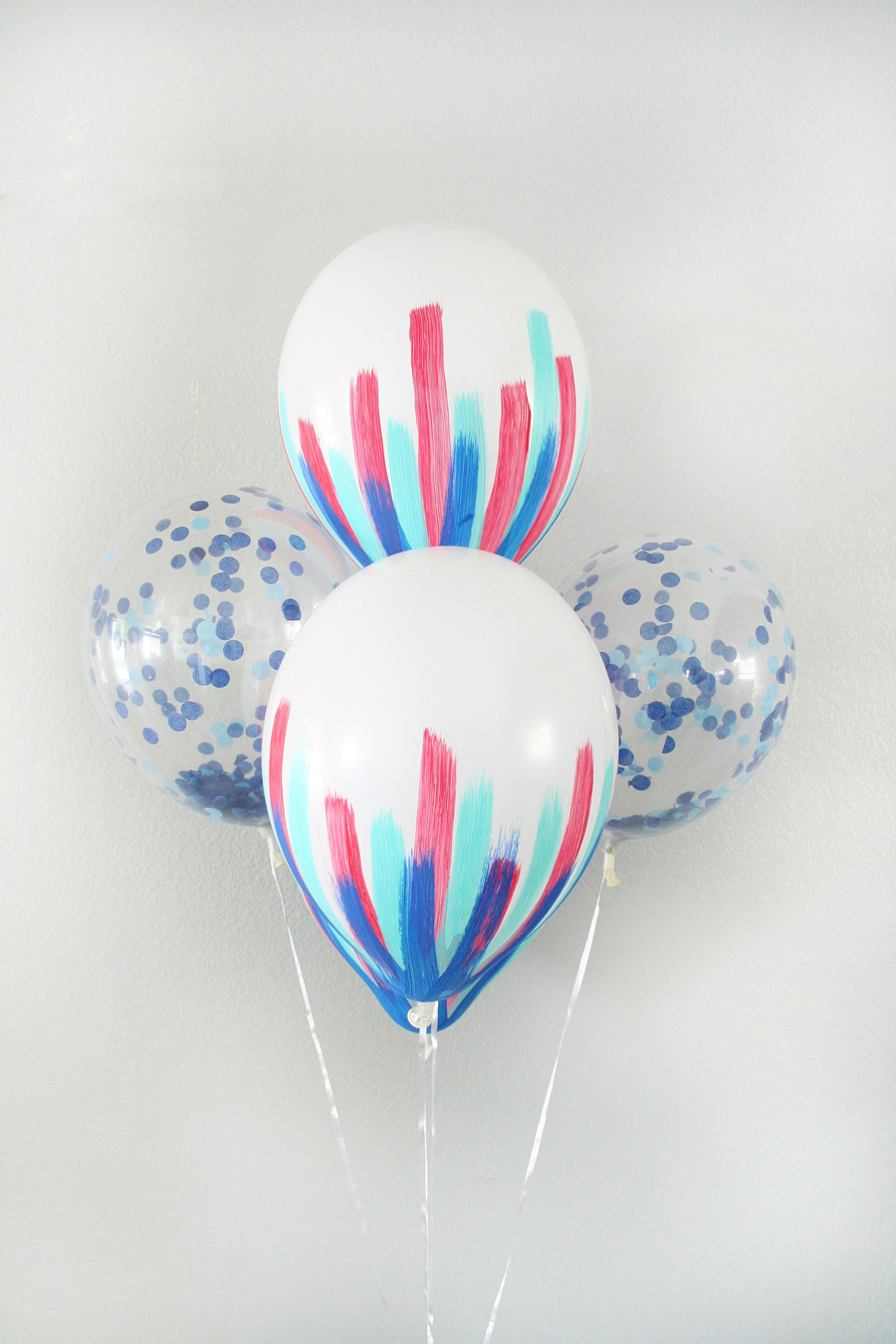 A party wouldn't be a party if you didn't have balloons. This DIY 4th of July Balloon tutorial shows how you can spruce up white balloons to fit the red, white and blue summer theme.
12 — 4th of July Woven Placemat
Hosting an Independence Day dinner? Make each guest their own DIY woven placemat from scraps of construction paper.
13 — Stained Glass Mason Jar
We always save our mason jar glasses because there's so many ways to repurpose them like serve frito pie out of them. Or recycle them into easy 4th of July stained glass mason jars.
They also function as some evening lighting. All you need to do is use some Mod Podge to stick on tissue paper stars. And if you don't have any jars at home, grab a few at the Dollar Store.
14 — French Fries Holder
This DIY French fries holder stander makes for a fun way to serve your food. And it doesn't only have to hold fries. Use it for popcorn or candy. If you really want to stick with the Independence Day crafts color scheme, then spray paint the holders red, white and blue.
15 — DIY Paper Fireworks Centerpiece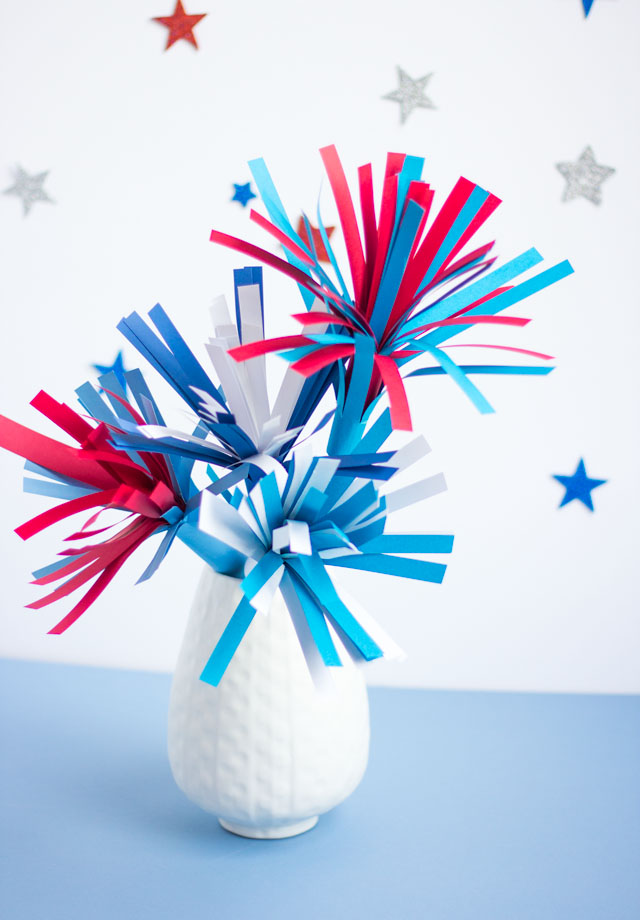 A 30-minute centerpiece that you can make ahead of time? We're in love with how easily you can make these DIY paper fireworks centerpieces.
16 — Watermelon Ice Cream Cone Wrapper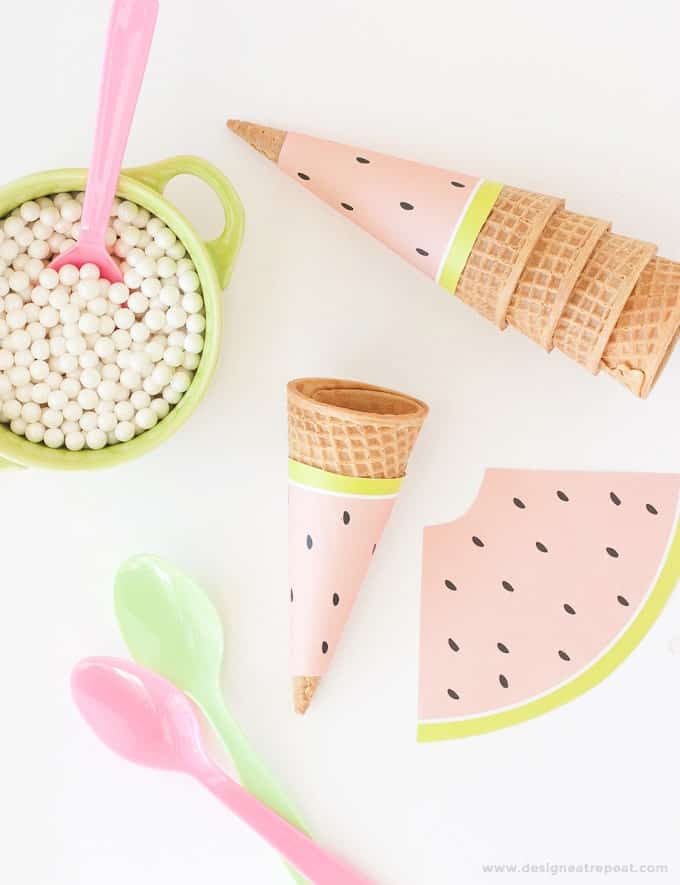 Add a refreshing twist to your Fourth of July celebration with a DIY watermelon ice cream cone wrapper! This creative and adorable project will give your ice cream cones a festive and summery touch. Bonus points if you're serving homemade ice cream.
17 — Honeycomb Ice Cream Garland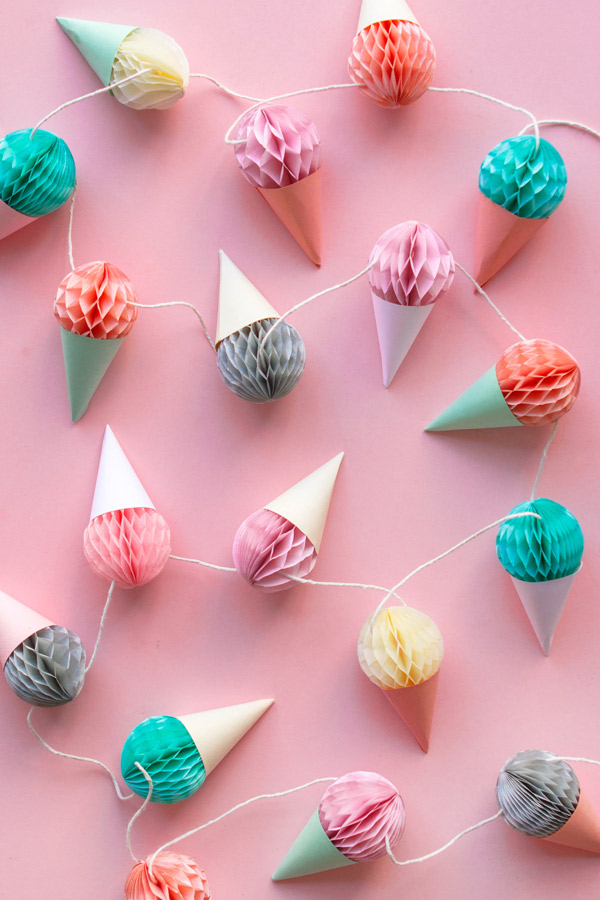 This fun and festive DIY ice cream garland decoration will not only add a pop of color to your patriotic celebration but also bring a cool and refreshing vibe to the summer festivities.
All you need to do is glue some mini honeycombs to paper cones, and then, string some twine.
18 — Giant Paper Flower American Flag
Create a stunning centerpiece for your Fourth of July celebration with a giant paper flower American flag! This eye-catching and patriotic DIY project will add a touch of elegance and patriotism to your decor.
We personally know that making paper flower backdrops can be easy yet very time consuming. BUT the finished project is well worth it if you're looking for some stunning party decor.
Party Hosting Ideas and Tips
More Holiday DIY's & Recipes