Now that Jared and I have been married for a looong, long time (today marks about a week) we're planning to implement some new traditions. One of my favorites is switching off planning date nights!
More often than not, we get stuck working late in the studio and while Jared is a pretty good sport about it, I think it's important to try to sneak a little fun into the day in and day out!
Naturally, my first instinct was french fries, hard soda, a movie, and quality time with my cat, Thomas…
To spice things up a bit, I whipped up one of our favorite recipes — parmesan garlic french fries and put them in the cutest DIY ombre stands.
After all, what's the point of having a DIY blogger as a wife if she can't let is shine in real life sometimes? But seriously.
The truth is the real hero of the night was Henry's Hard Soda. When they asked us to work together earlier this month, I immediately stashed away some of their new grape flavor, knowing what a soda addict Jared is and that he'd love the adult spin they put on one of his childhood favorites.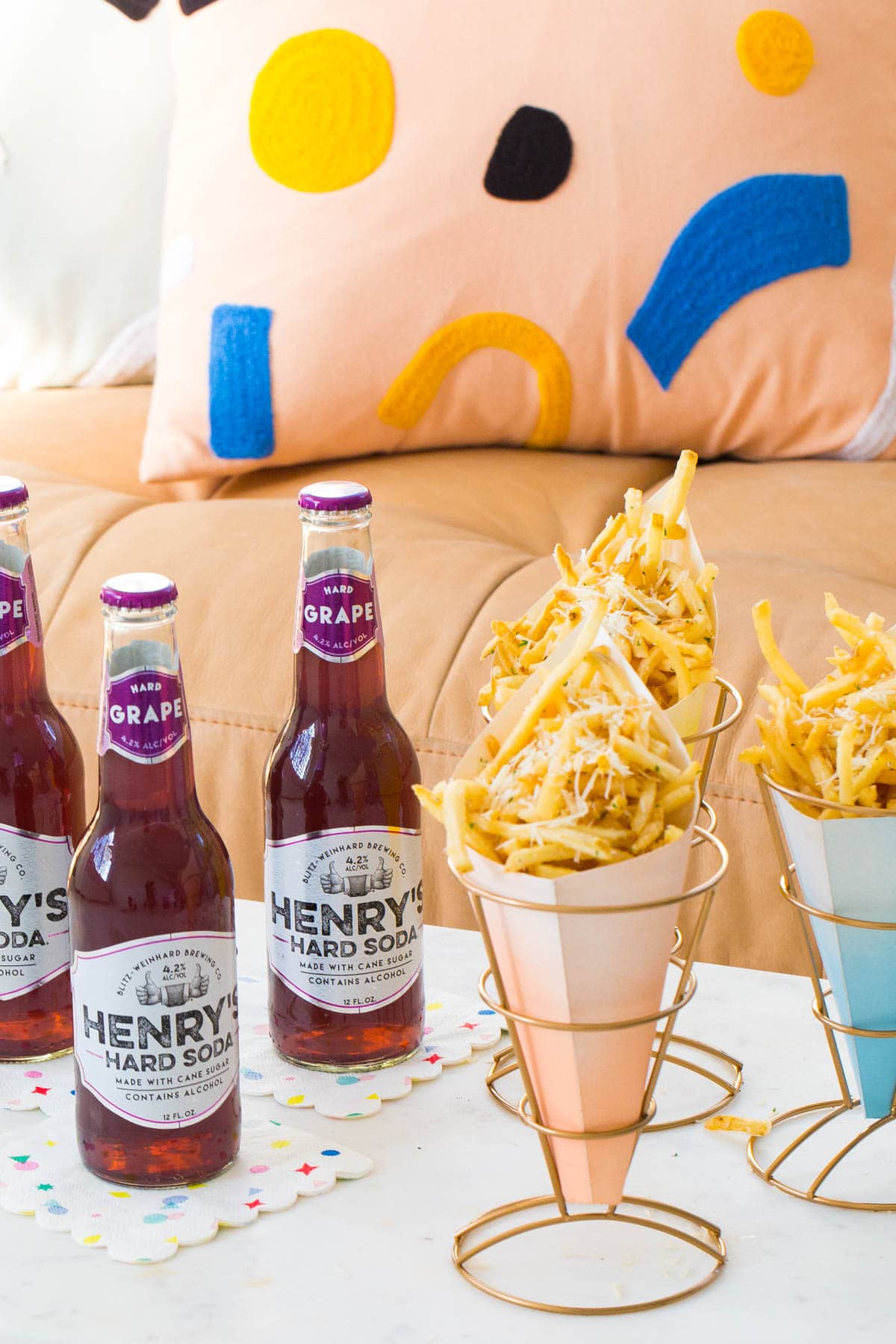 Turns out the flavor combination is actually really good (you're welcome, babe!) and now I'm on the hunt for their Hard Ginger Ale, Hard Orange Soda and Hard Cherry Cola, too. Plus, it doesn't hurt that they're all made from natural cane sugar!
Now for the fries to go with it, they're super simple to make and so are the DIY ombre fry stands—
To give the stands a little pizzazz, I spray painted these fry stands gold and used craft paint to ombre plain paper cones in fun colors.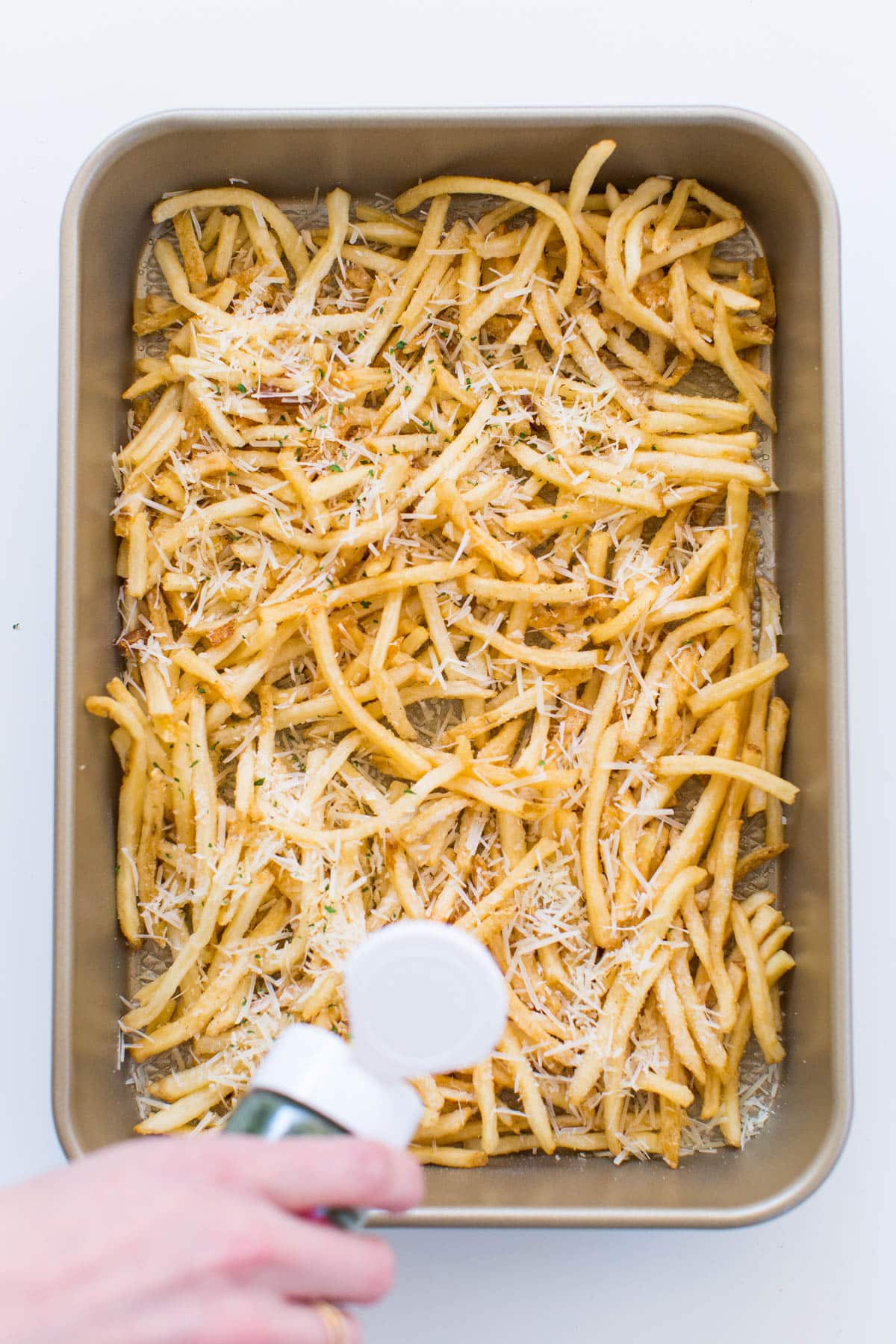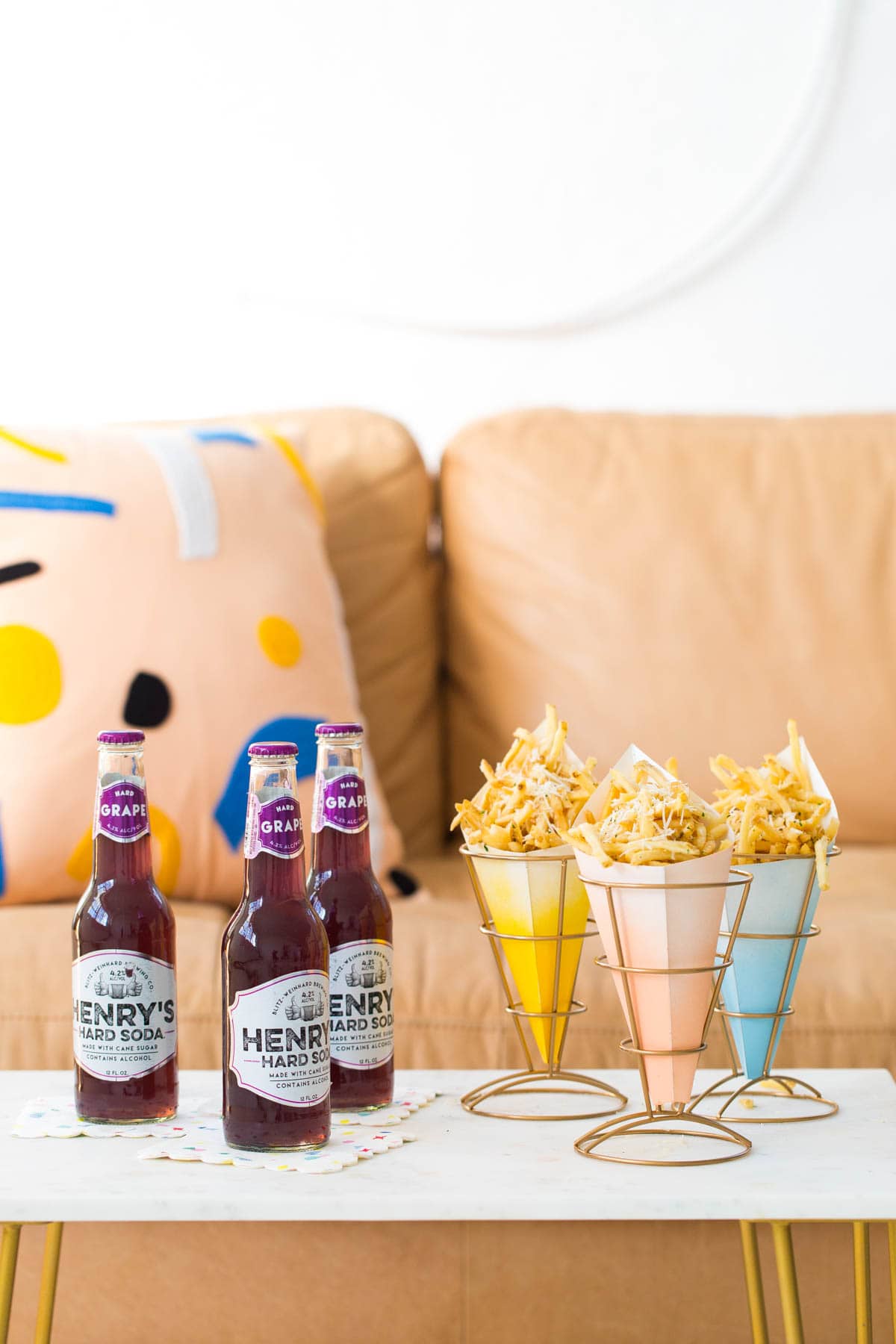 Did you all make any newlywed traditions that really stuck?! I'd love to hear them!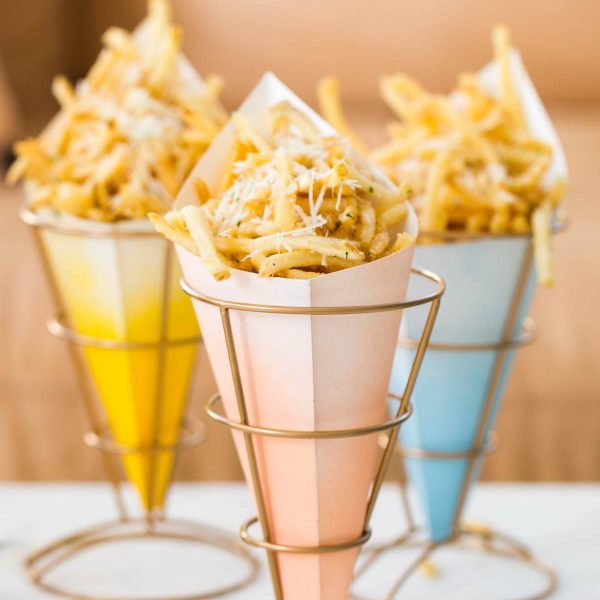 Parmesan Garlic French Fries Recipe
Parmesan Garlic French Fries
Ingredients
3

large potatoes

0.25

tsp

garlic salt

0.3

cup

freshly grated parmesan cheese
Nutrition
Serving:
1
g
|
Calories:
125
kcal
|
Carbohydrates:
20
g
|
Protein:
7
g
|
Fat:
2
g
|
Saturated Fat:
1
g
|
Cholesterol:
7
mg
|
Sodium:
276
mg
|
Potassium:
669
mg
|
Fiber:
4
g
|
Sugar:
1
g
|
Vitamin A:
65
IU
|
Vitamin C:
18
mg
|
Calcium:
131
mg
|
Iron:
5
mg
Instructions
Preheat oven to 450 degrees.

Skin and thinly slice three large potatoes.

Toss the sliced potatoes in a large bowl with a healthy amount of coconut oil spray and 1/4 teaspoon of garlic salt (or seasoned to taste), then evenly place in a single layer on a cooking sheet.

Bake for 20 minutes, flipping the french fries over halfway through for an even cripsness.

Remove from oven and sprinkle with fresh, grated parmesan cheese and serve!
KEYWORD:
appetizer, french fries, garlic, parmesan, recipe, snack, sugar and cloth