We're putting a frozen cocktail recipe spin on the childhood classic freeze pops!…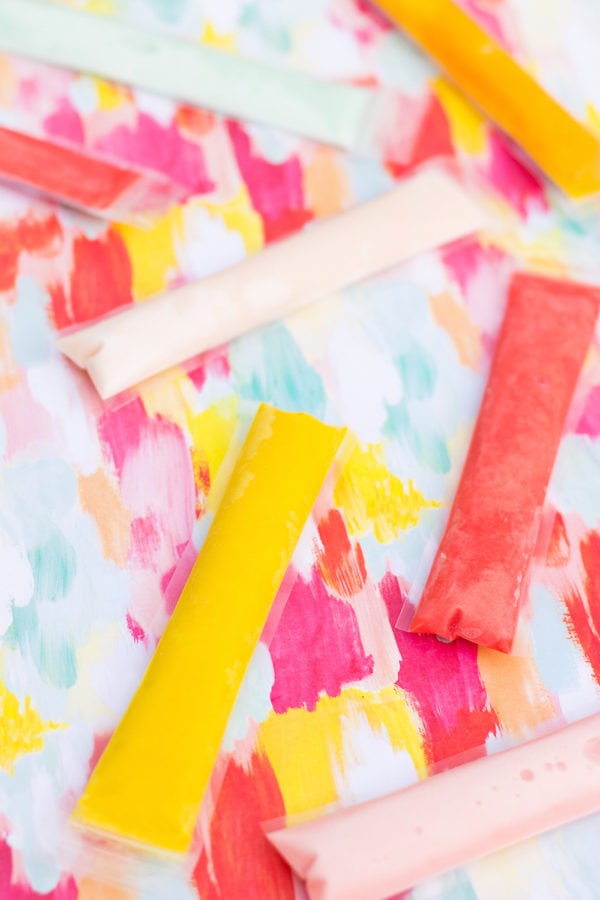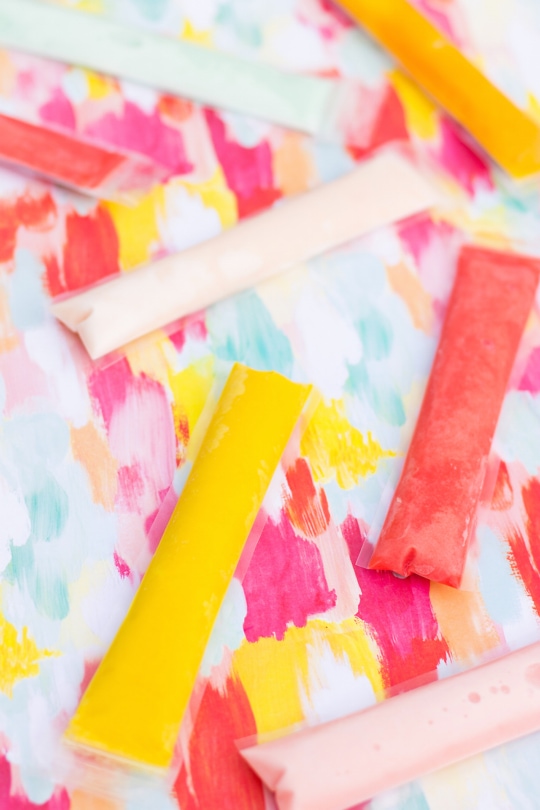 I can't even tell you guys how excited I was to stumble on homemade Fla-vor-ice pop molds in my grocery store. Did anyone else down two or three of these a day as a kid during the Summer?
Boozy popsicles or "pop-tails" are such a huge thing right now, and it's way past time to extend the trend into everyone's favorite childhood summer treat with these boozy coconut Fla-vor-ice freeze pops recipes!
Whether you're entertaining poolside or having a tropical theme party, you can serve this anytime.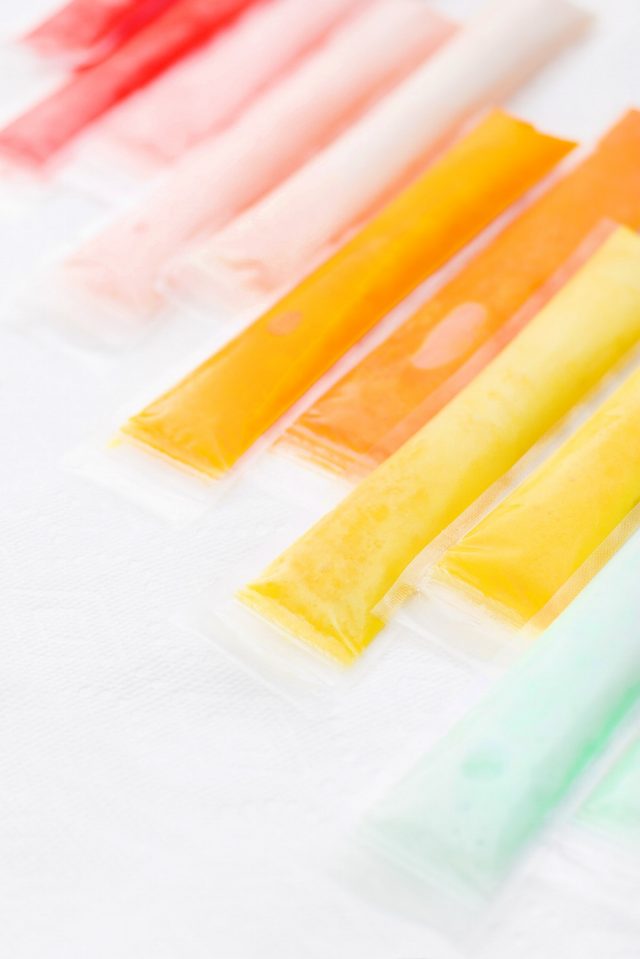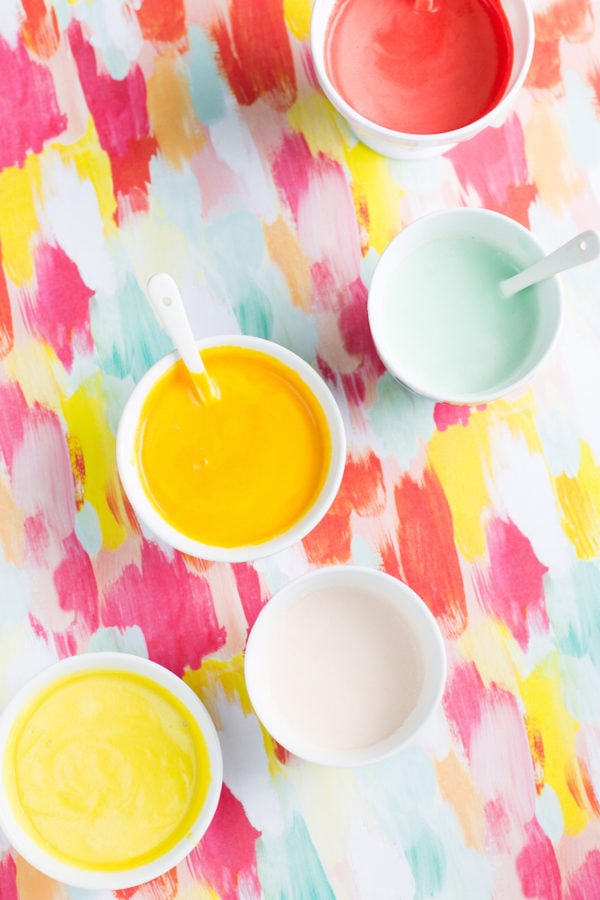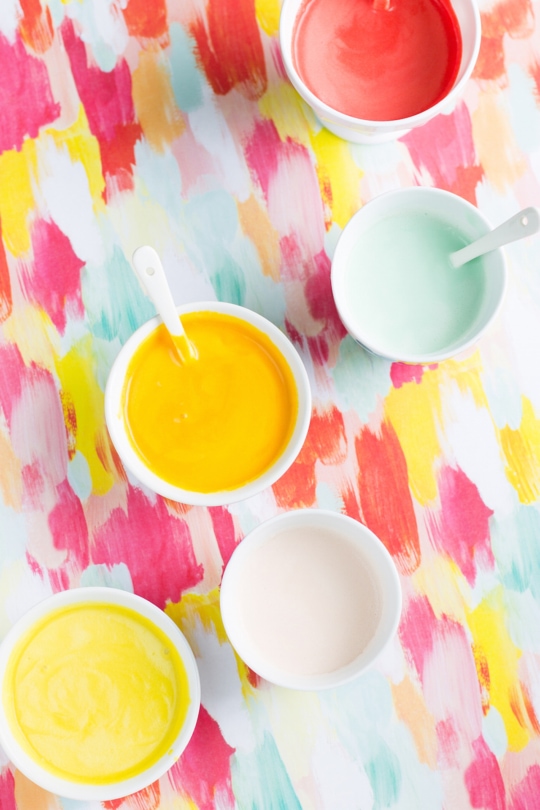 My mom kept an industrial-sized box of these plastic-sleeve popsicles in the freezer all summer long, and they'll forever remind me of little league games, swimming lessons, playgrounds, and the beach.
Now that I'm grown up (sigh), I, Colleen, love the idea of keeping these around for the adult version of summer fun — dinners on the porch, hanging by the fire pit, picnics in the park, and (still!) the beach.
My favorite thing about ice pops is that they don't melt all over your fingers like stick popsicles, so you don't have to consume them at the speed of light. You might want to, though — they're seriously addictive!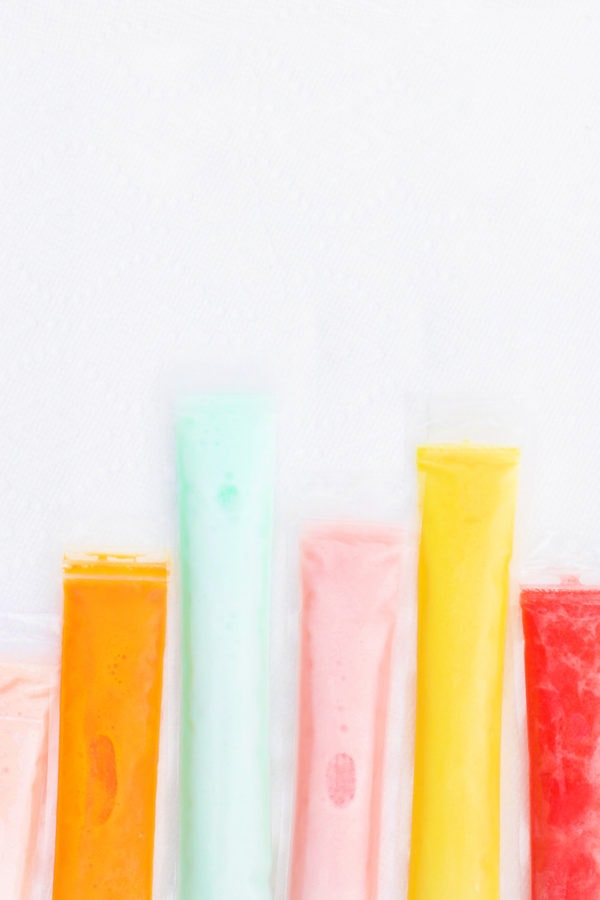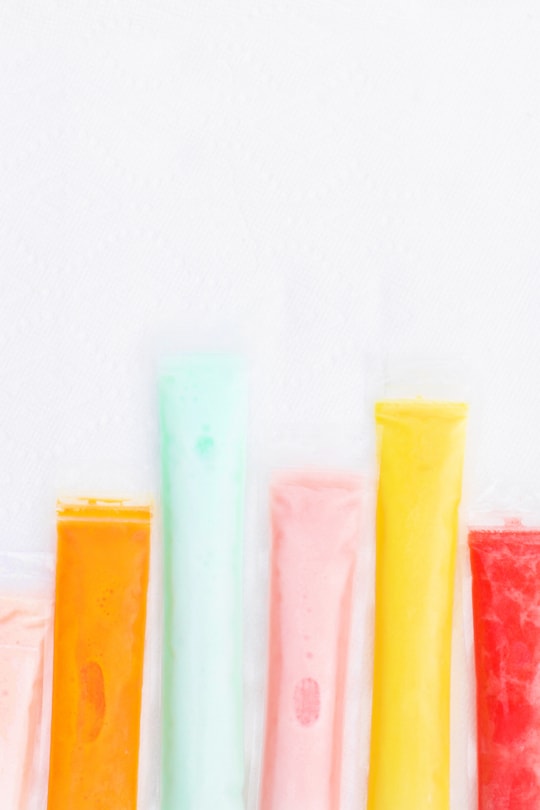 Ingredients Needed to Make a Boozy Fla-vor-ice Freeze Pops
Gin
Cointreau
Pineapple juice
Coconut milk (from the carton, not the can)
Heavy cream
Sugar
Kosher salt
Freeze pop molds/packets
Food coloring (optional)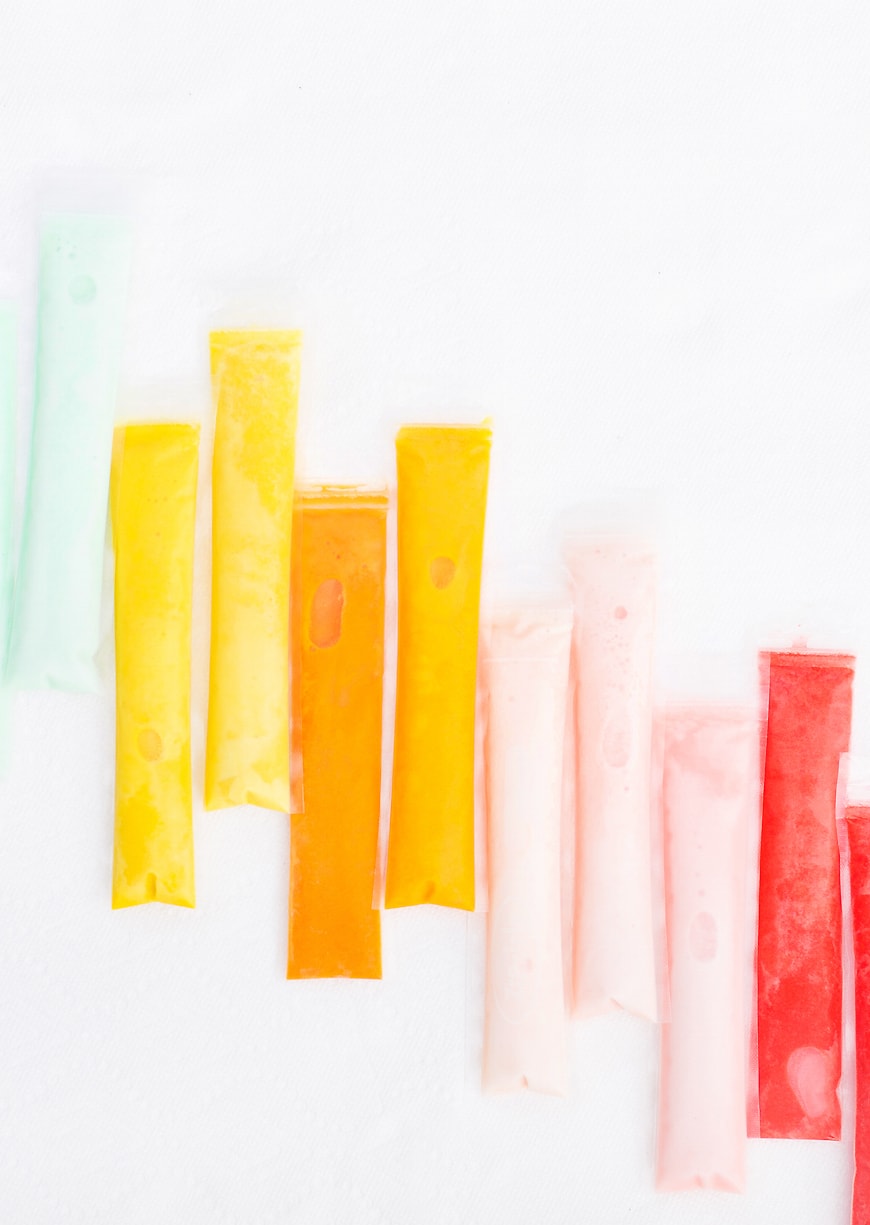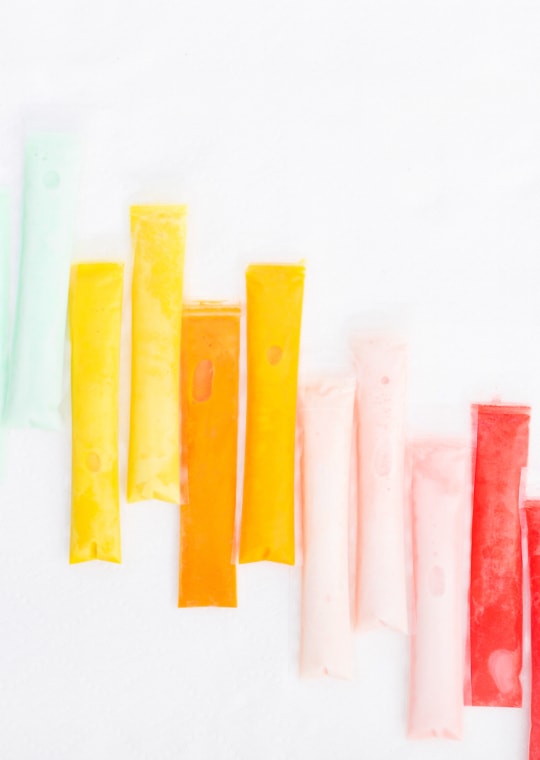 How to Make Boozy Fla-vor-ice Freeze Pops
Step 1 — Combine all in a blender and blend just until the sugar dissolves.
Step 2 — Divide and add food coloring as desired — I like to use the natural food coloring available online, at specialty stores, and at Whole Foods.
Step 3 — You can also try your own natural food coloring — use pomegranate or beet juice for red, turmeric for yellow, matcha for green, and red cabbage juice for blue.
Step 4 — Using a funnel, pour into ice pop molds and freeze overnight.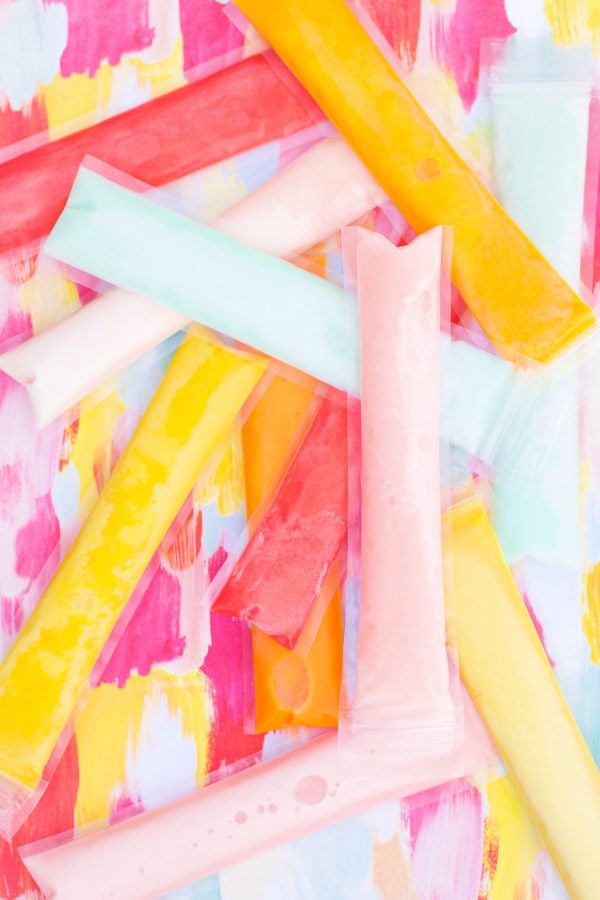 Pineapple and coconut are, of course, a match made in heaven, but you usually see them paired with rum.
Like this frozen lava flow recipe, it's a tropical cocktail made with coconut, pineapple, and strawberry rums.
While I LOVE me some rum, I find the citrusy, floral notes of gin really refreshing in these ice pops.
Vodka works, too, for the gin-phobes out there, or if you really need your rum fix, you can go ahead and swap that in as well.
If you love piña coladas or those coconut popsicles found on just about every ice cream truck, you really need to try these boozy ice pops!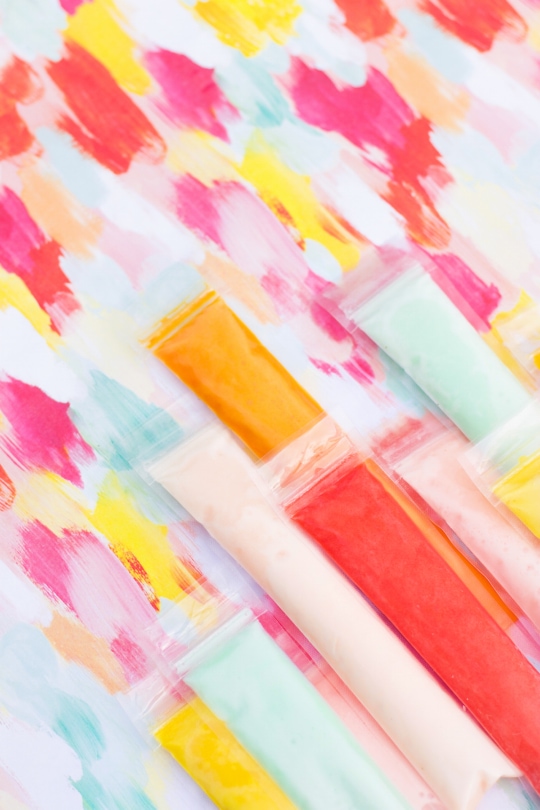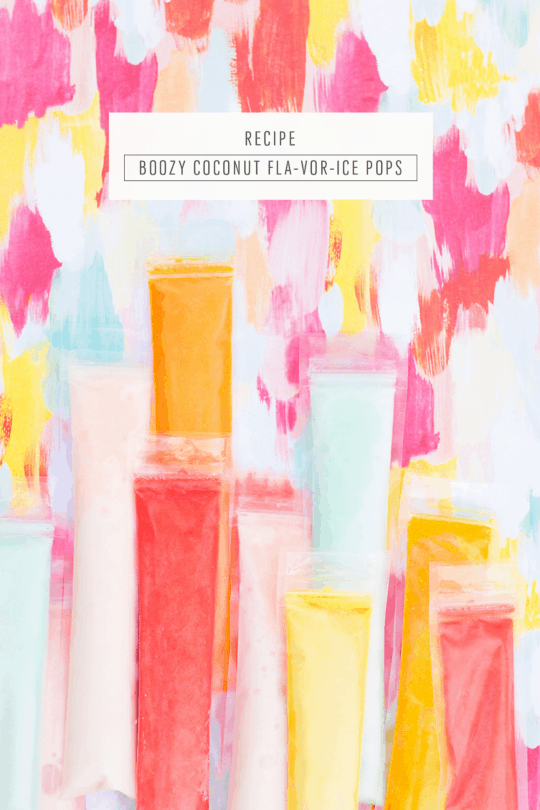 Once you taste these ice pops, you'll definitely want to try some of your other favorite cocktails in ice pop form. I, for one, am definitely going to be trying some daiquiri and margarita pops this summer!
I plan on having some of these babies in my freezer all season long for sudden dessert and cocktail cravings, and I will definitely stock them at all my summer entertaining gigs.
I LOVE cocktails you can make ahead of time for a crowd. Wouldn't these look awesome in a cooler for Memorial Day barbecues? Even in rooftop barbeques!
More Popsicle Recipes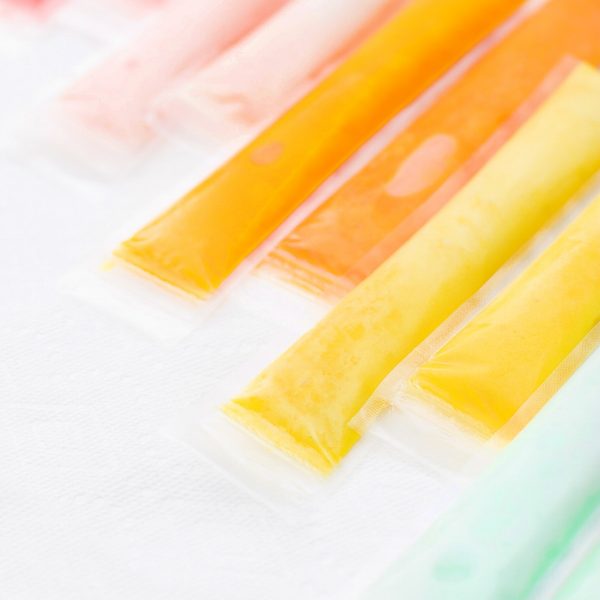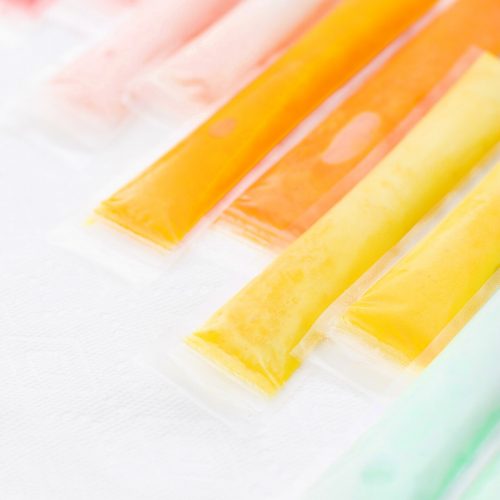 Boozy Coconut Fla-Vor-Ice Freeze Pops Recipe
These boozy coconut fla-vor-ice freeze pops are a play on the childhood classic!
Ingredients
4

oz

gin

4

oz

Cointreau

1

cup

pineapple juice

2

cup

coconut milk

from the carton, not the can

1

cup

heavy cream

1/2

cup

sugar

1/8

tsp

kosher salt

Food coloring

optional
Nutrition
Calories:
305
kcal
|
Carbohydrates:
20
g
|
Protein:
2
g
|
Fat:
20
g
|
Saturated Fat:
16
g
|
Cholesterol:
33
mg
|
Sodium:
47
mg
|
Potassium:
175
mg
|
Fiber:
1
g
|
Sugar:
18
g
|
Vitamin A:
350
IU
|
Vitamin C:
4
mg
|
Calcium:
26
mg
|
Iron:
1
mg
Instructions
Combine all the ingredients in a blender and blend just until the sugar dissolves.

Divide and add food coloring as desired.

Using a funnel, pour into ice pop molds and freeze overnight.
KEYWORD:
boozy freeze pops


Don't forget to share your boozy freeze pops with us on Instagram using the hashtag #sugarandclothloves. We always love seeing all of your creations! And if you're looking for more quick and delicious recipes, you can find them all right here, with a few cocktails to go along with them!