Easy Meatballs Recipe — Short on time? This easy meatballs recipe requires only 5 ingredients that you just throw in the crock pot!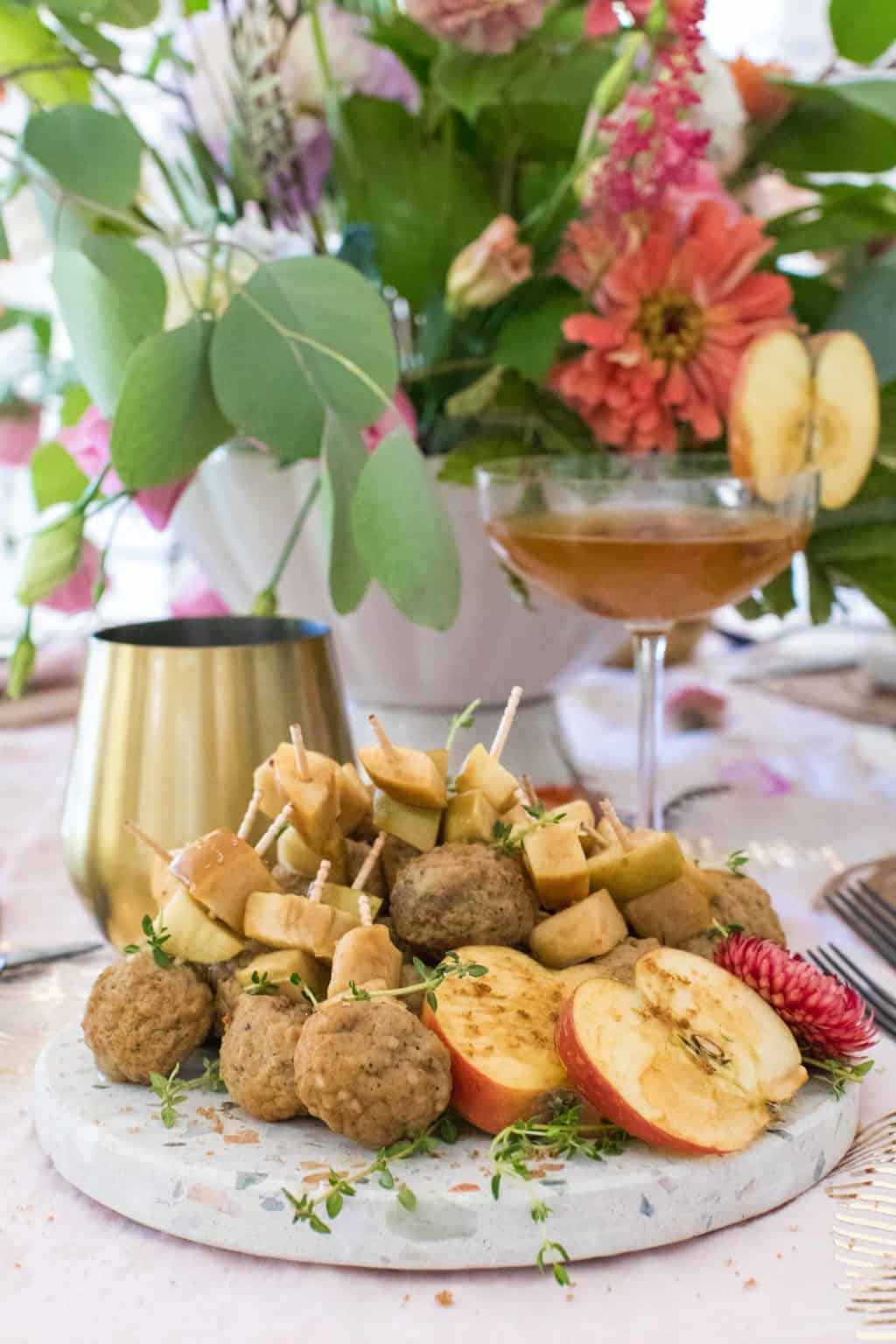 Have a last minute gathering? Meatballs are always my go-to appetizer and a crowd favorite.
And I'm not exaggerating when I tell you this recipe is quick and easy. There's no frying, no baking, no mixing bowls, and no browning!
You literally just throw the ingredients in a crock pot, and let your slow cooker do the magic.
Four hours later and voila! You have some juicy and tender appetizers for your tailgate, holiday party or potluck dinner.
Ingredients To Make Easy Meatballs
Frozen meatballs — This recipe serves 12-16 people as an appetizer. You'll need approximately two bags or 30-40 meatballs.
Apple cider vinegar — The vinegar gives the meatballs a lovely tangy taste, which complements the sweeter components of the recipe.
Grade A maple syrup — Did you know that maple syrup has a grading system? Grade A syrup is lighter in color and sweeter in flavor. Whereas Grade B syrup is dark with a strong maple flavor.
Brown sugar — Drizzle the meatballs when they are done cooking with brown sugar if you want prefer them to be sweeter.
Salt and pepper — for seasoning
Apples — We chopped 3 up for skewering. There's no need to peel them. You can also add in additional apple slices to the slow cooker to eat on the side.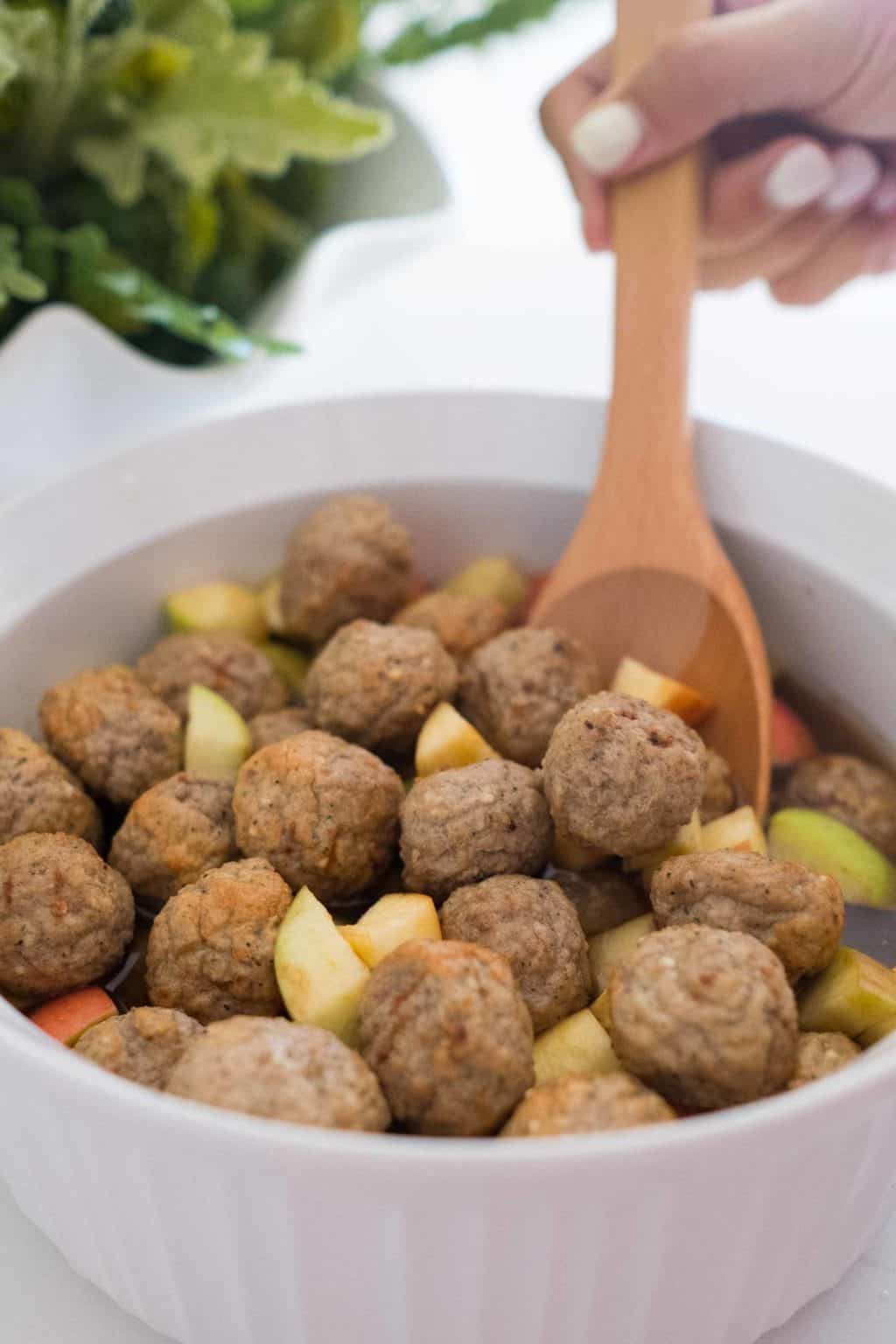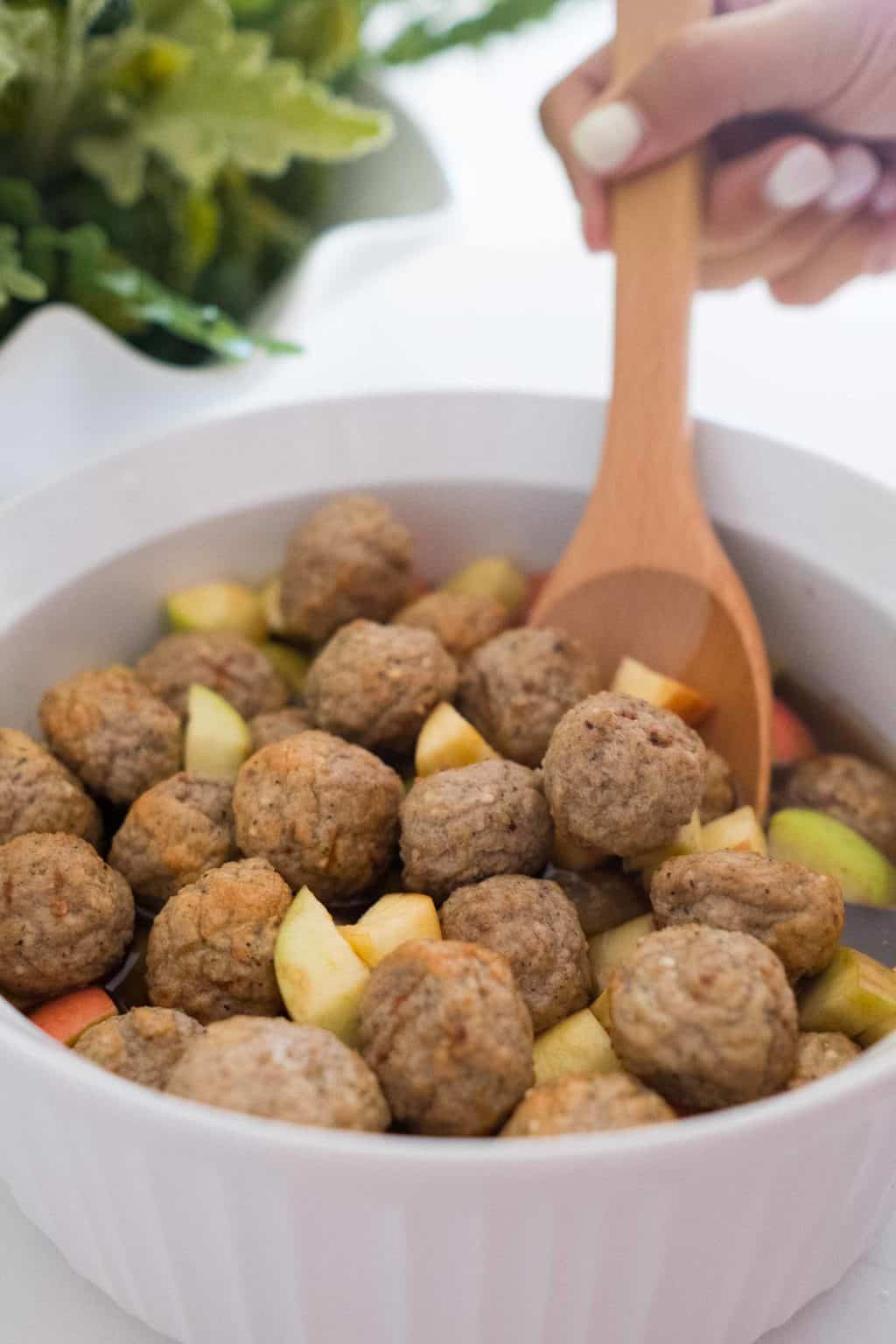 Different Types Of Meatballs To Cook With
Most frozen meatballs consist of ground beef or a combination of ground beef and ground pork. I personally prefer a combo.
There are also other healthier alternatives such as lean ground turkey or lean ground chicken.
Keep in mind that lean meats have lower fat content. If you want to serve turkey or chicken meatballs, add olive oil to the slow cooker. This way, they won't dry out.
And don't worry if you have dietary or even religious restrictions. You can easily find gluten-free, dairy-free, vegan, vegetarian and/or halal options.
Always check the nutrition information also because some store-bought meatballs can be high in saturated fat.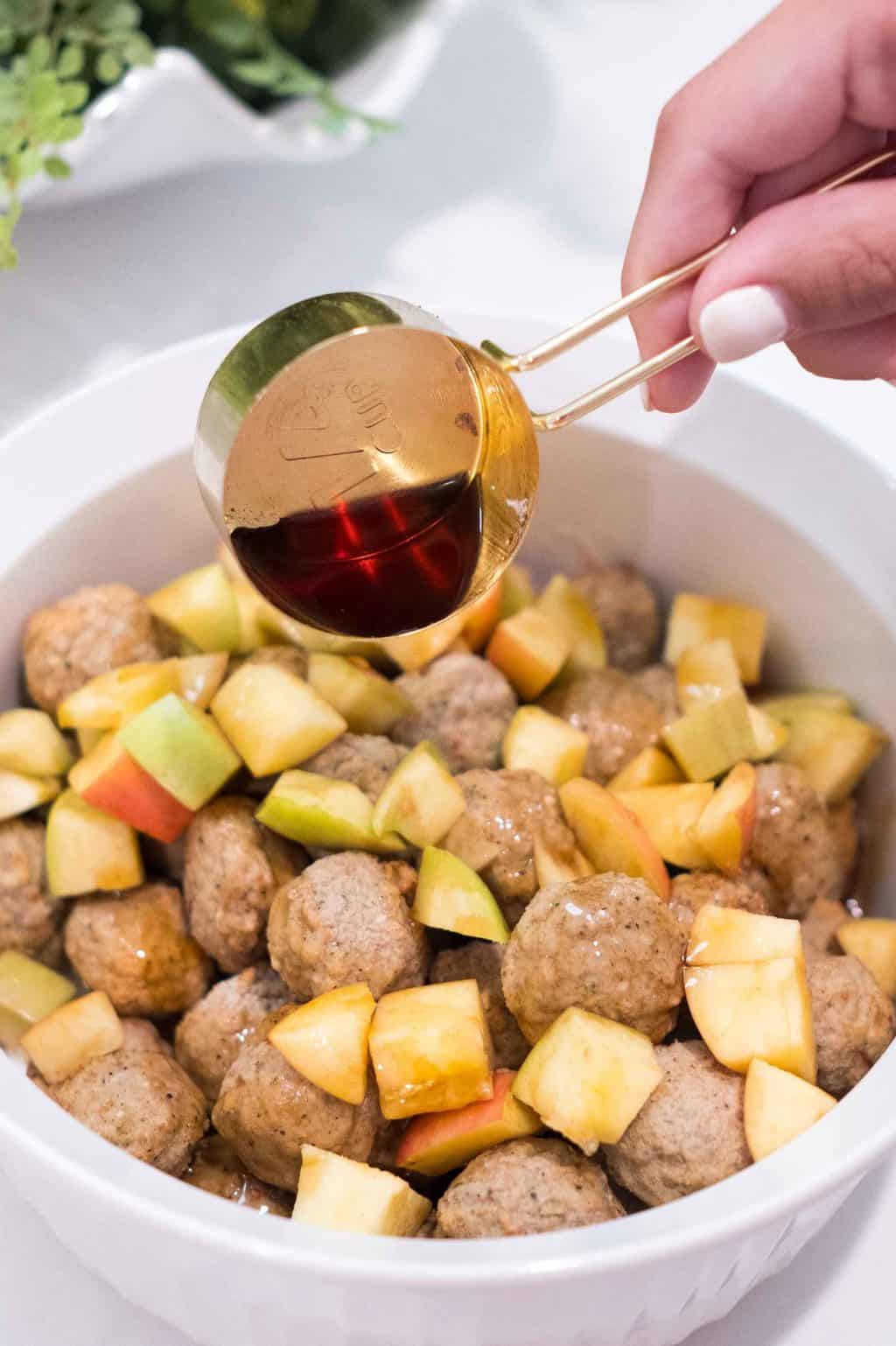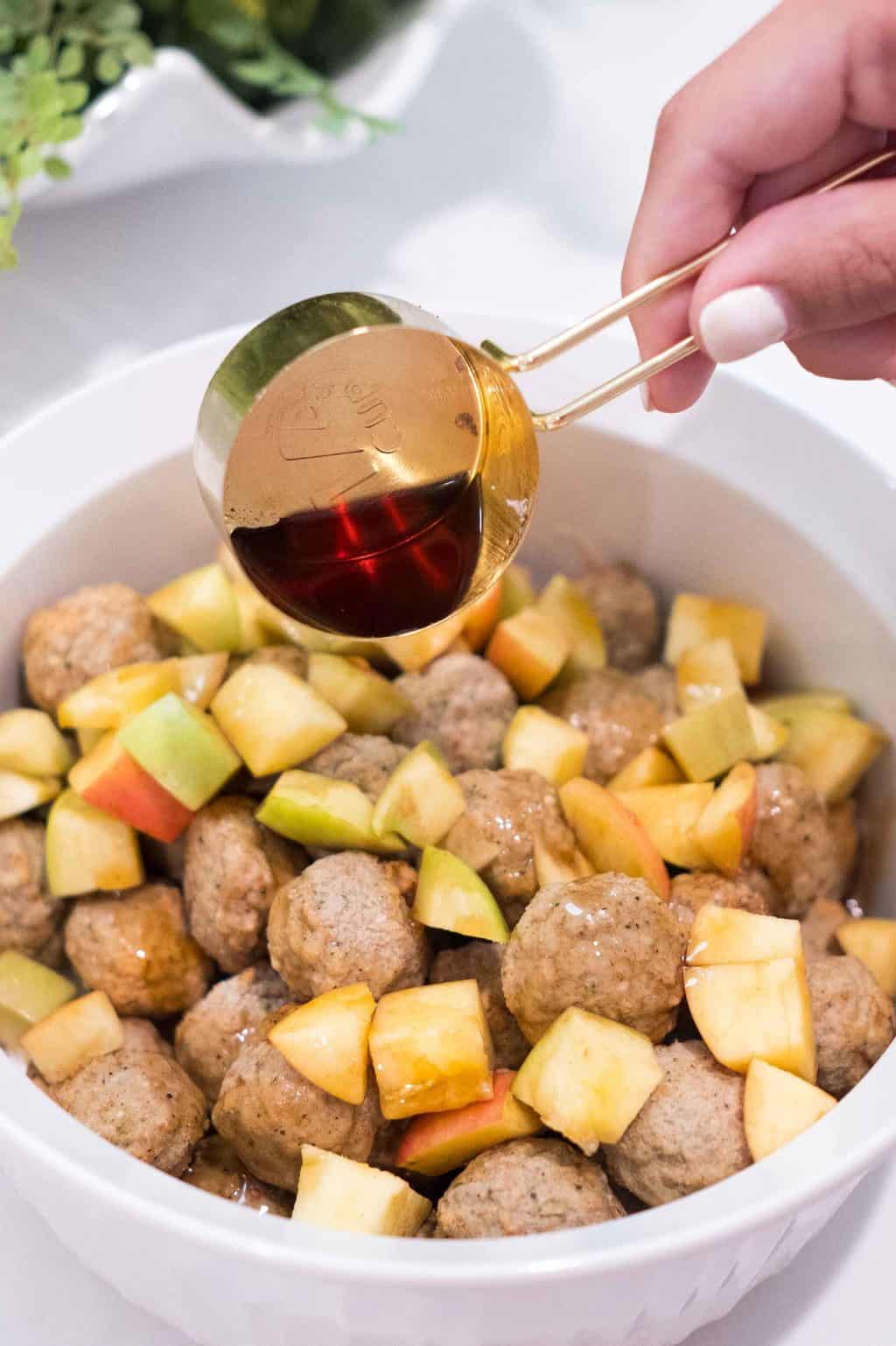 Using Homemade Meatballs In The Crock Pot
Life has been busy for us with the home renovation, a toddler and baby on the way. So using frozen meatballs is just soo convenient and quick.
But you can definitely make your own homemade meatballs with this recipe!
If you are using fresh or thawed meatballs, keep in mind that the dish will be done much sooner. You'll only need approximately 1 hour of cook time on low heat.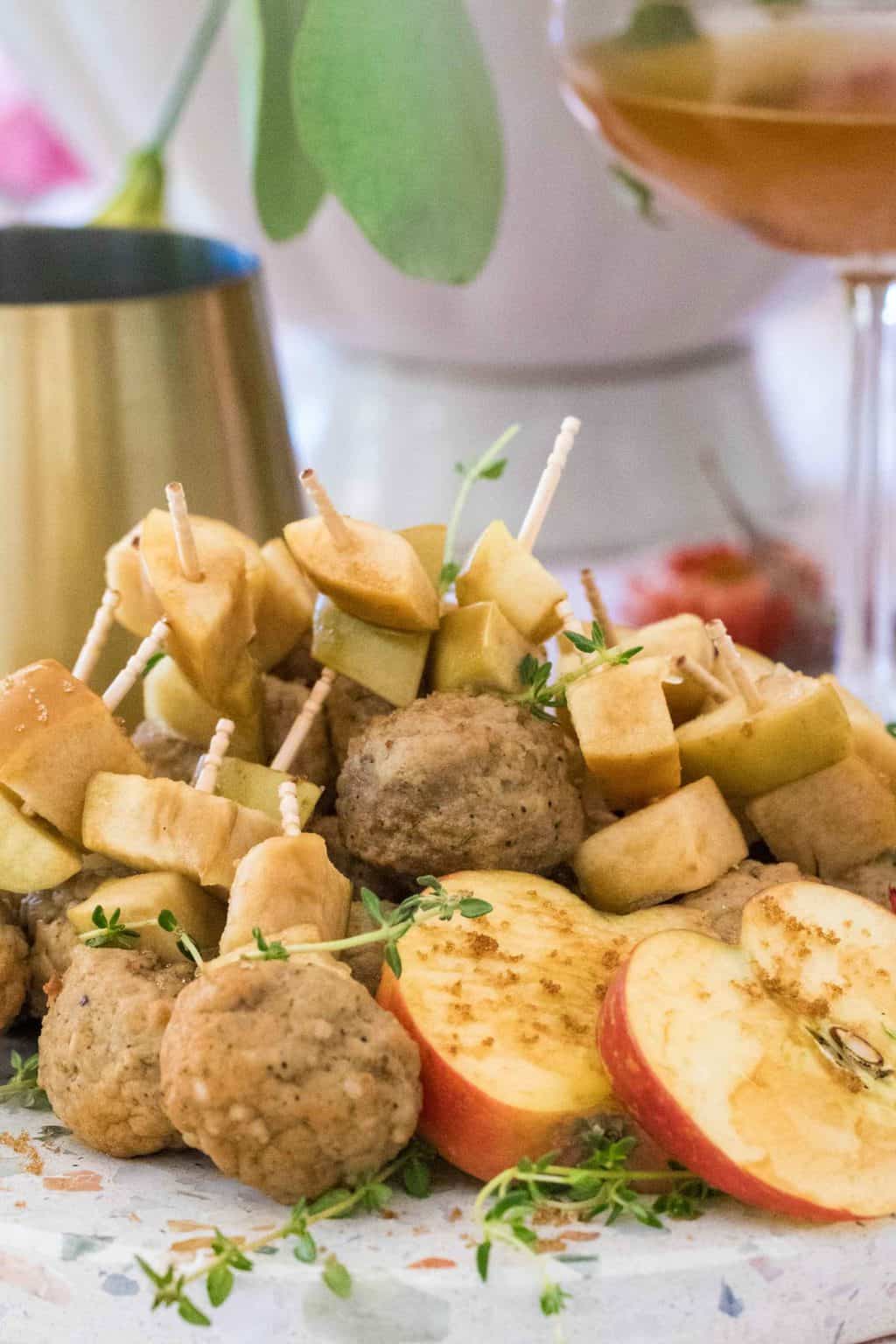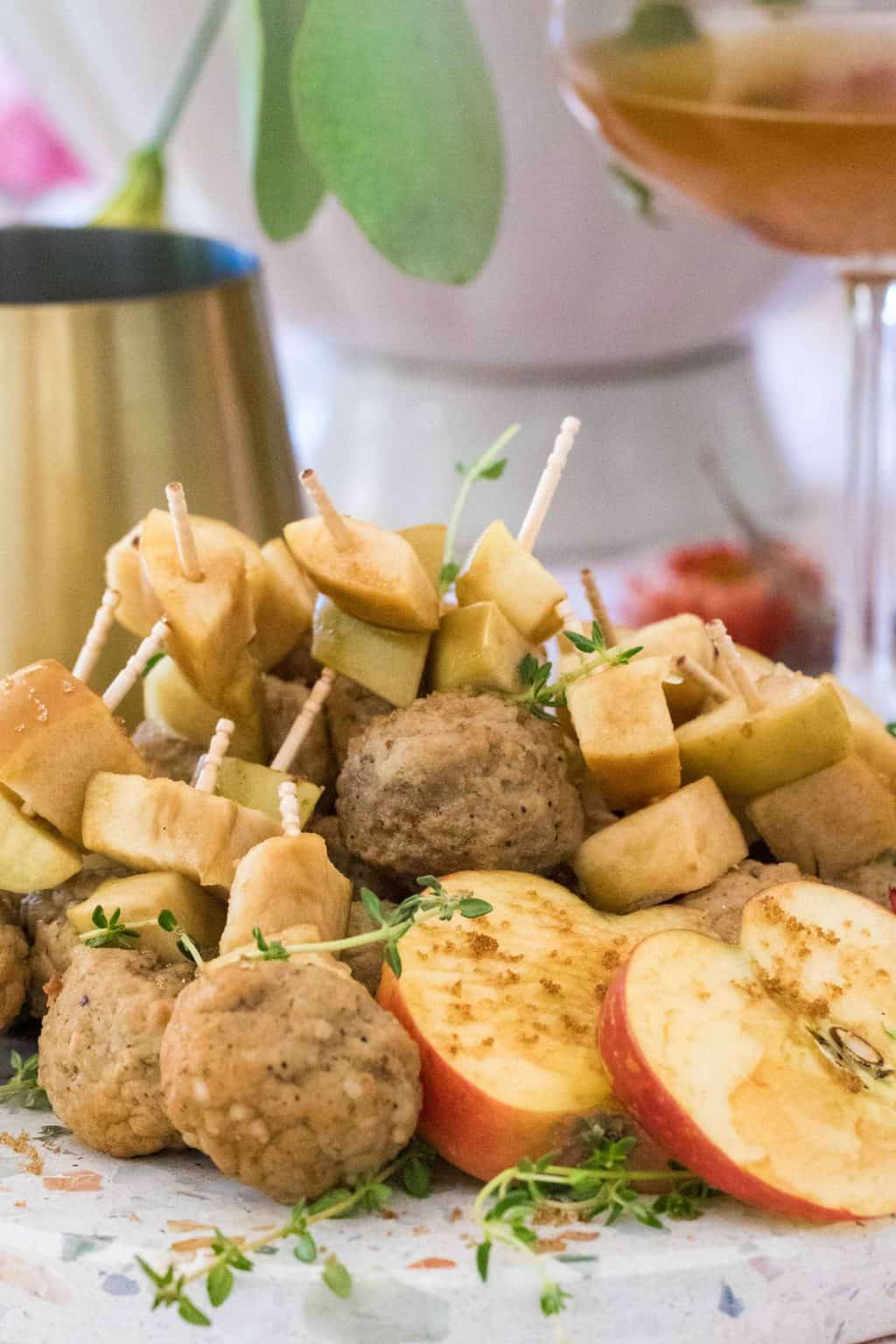 Do You Need To Precook The Meatballs?
The wonderful thing about slow cookers is that you do not need to precook meat. However, the only exception would be for raw ground meat.
If you are using raw homemade meatballs, they can go directly in the crockpot. But precooking raw meat does ensure that they will retain their round shape.
Can You Make Crockpot Meatballs Ahead Of Time?
This recipe doesn't require me to prepare it in advance since it is cooked in a slow cooker, so there's no rush in getting everything on the table. It can be made up to two days ahead, then heated in the slow cooker until hot and bubbly just before serving.
How To Make Quick & Easy Meatballs
1. Combine the meatballs, apple cider vinegar, maple syrup, brown sugar, and chopped apples into a slow cooker.
2. Cook the mixture on medium heat for 4 hours. Then, reduce heat to low to keep warm and to let the meatballs soak up additional juices.
3 Skewer them with an apple chunk. Next, drizzle with additional brown sugar to taste if you'd like to!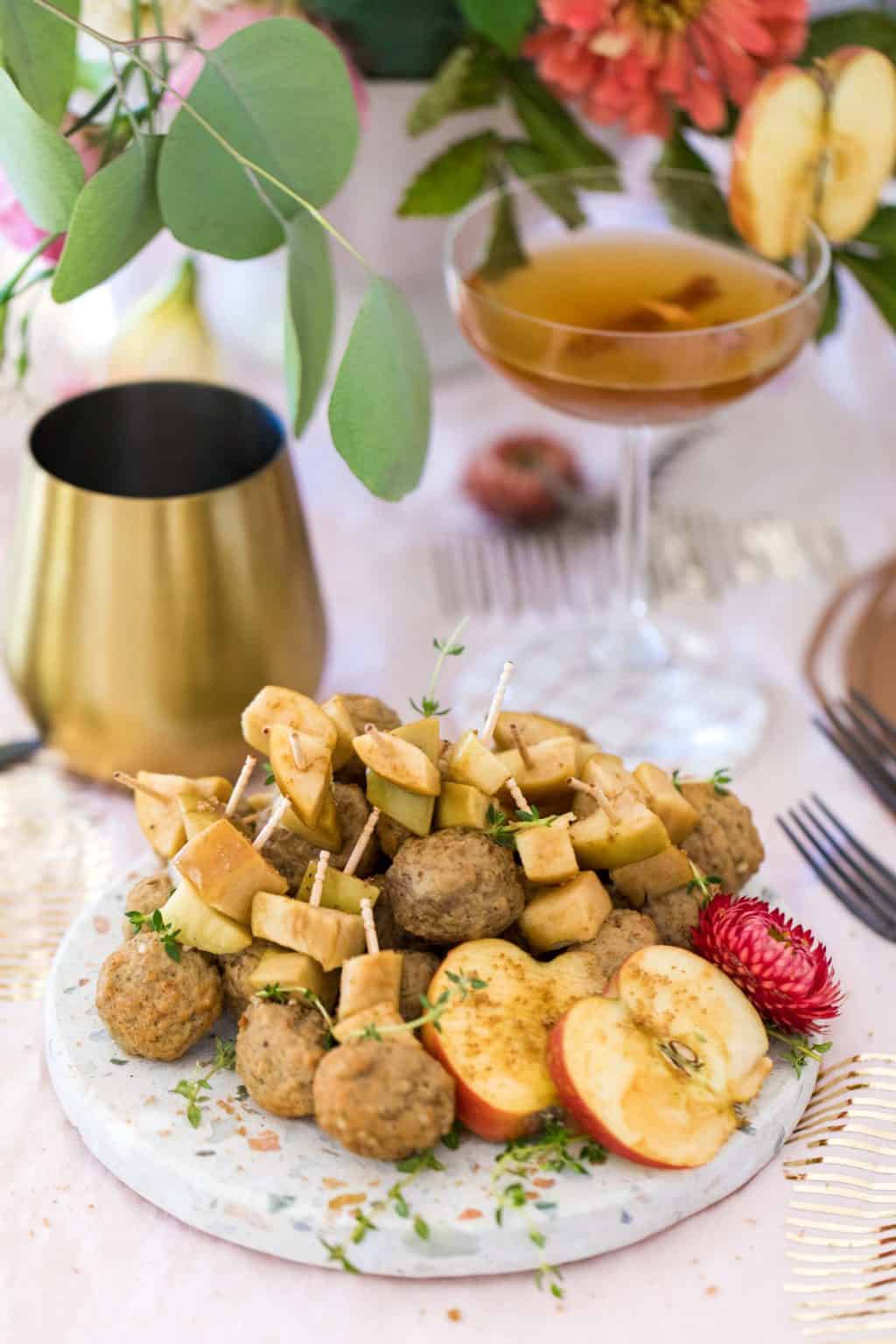 If You Have More Prep Time
This recipe seriously quick and easy because you literally throw all your ingredients into the slow cooker. But if time is not of the essence, you can add an extra step by browning the meatballs.
You can also place them on a baking sheet and broil them in the oven beforehand. By doing so, you'll get a nice caramelized crisp. It's totally worth that extra 10 minutes.
How To Make Easy Meatballs If You Are Short On Time
If your guests are arriving soon, cook the ingredients on high for 2 hours. Just make sure to switch the heat setting to low after the 2 hours so that you avoid drying them out.
I wouldn't recommend having them sit in the slow cooker. After 8 hours, it's best to transfer them to a large bowl.

Other Ways To Serve Apple Cider Meatballs
For presentation purposes, we prefer serving the meatballs on a skewer with its apple garish. Skewers make any appetizer quick to grab and quick to eat.
However, you can also serve this dish straight from the slow cooker. This way, they'll be warm throughout your whole party.
You can also make this easy recipe for:
Swedish meatballs
Spaghetti and meatballs pasta
Meatball sandwich with toasted hoagie bread, marinara sauce and mozzarella cheese
Mash potatoes and meatballs
Grape jelly and meatballs
Served with apples and/or sprinkled with parsley, parmesan cheese and/or bread crumbs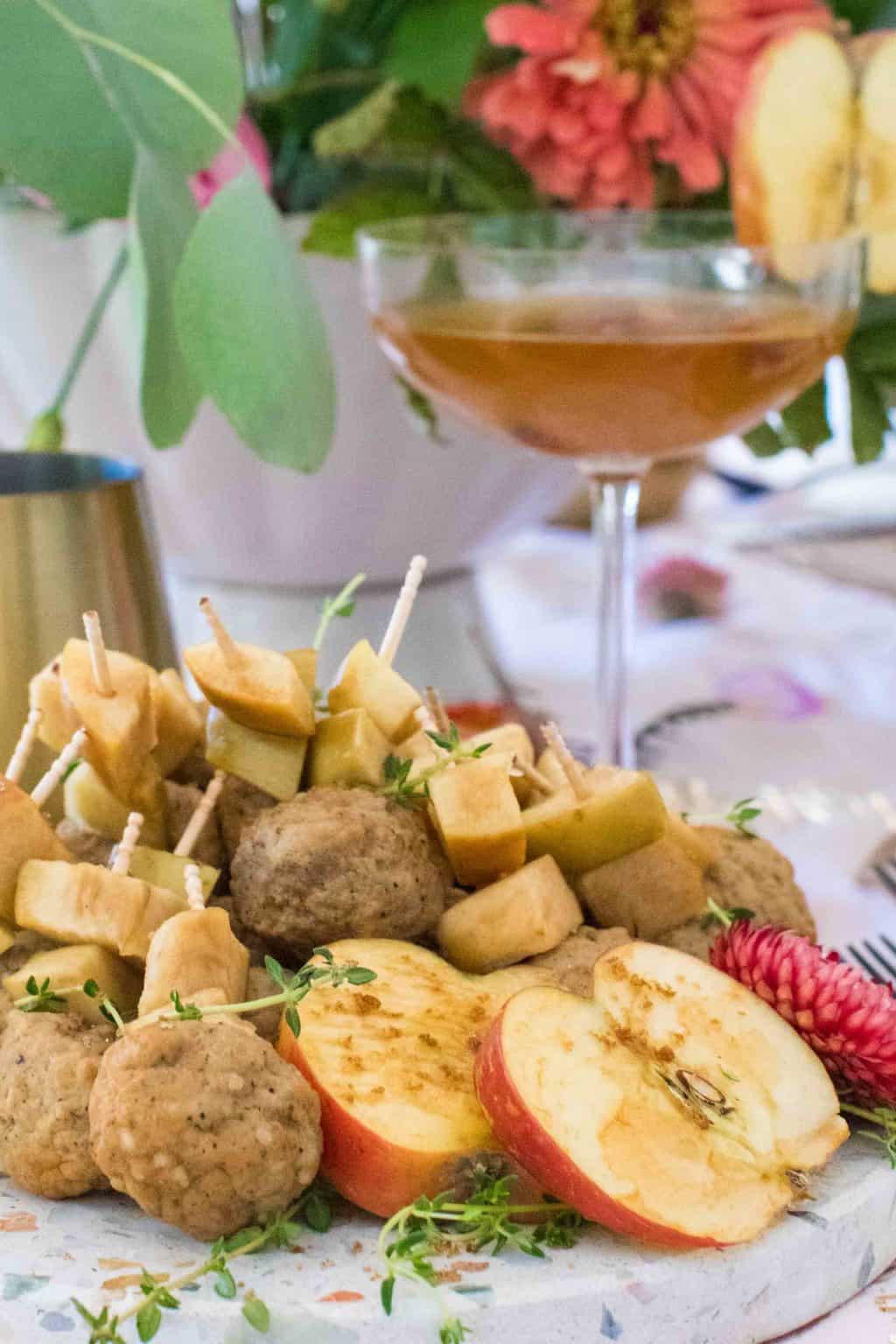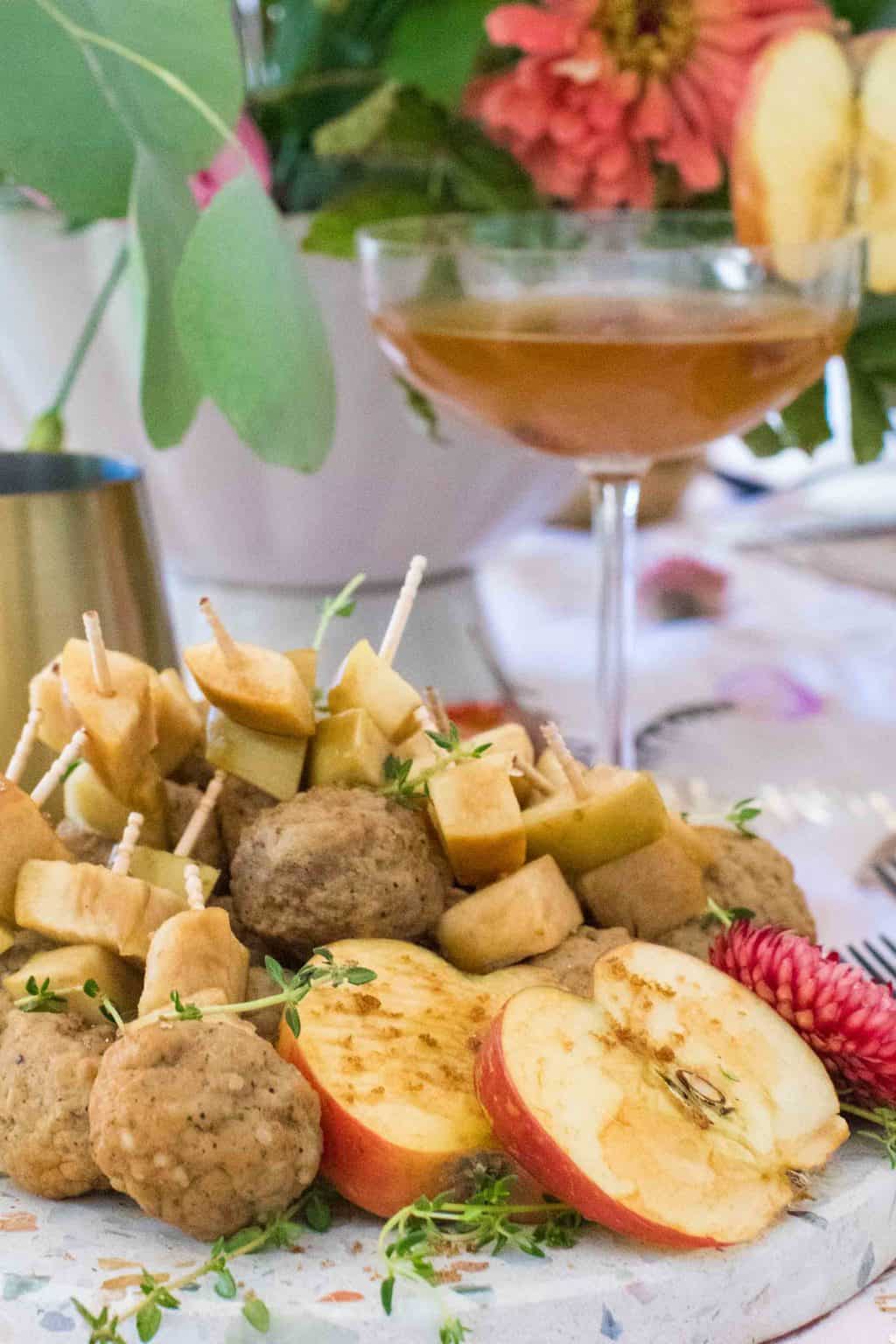 How To Store Slow Cooker Meatballs
If you're like me, I always make sure there's plenty of leftovers versus not enough food. This recipe is great reheated.
Make sure to cool any leftovers before storing them in an airtight container. They will keep in refrigerator for 7 days and in the the freezer for up to 3 months.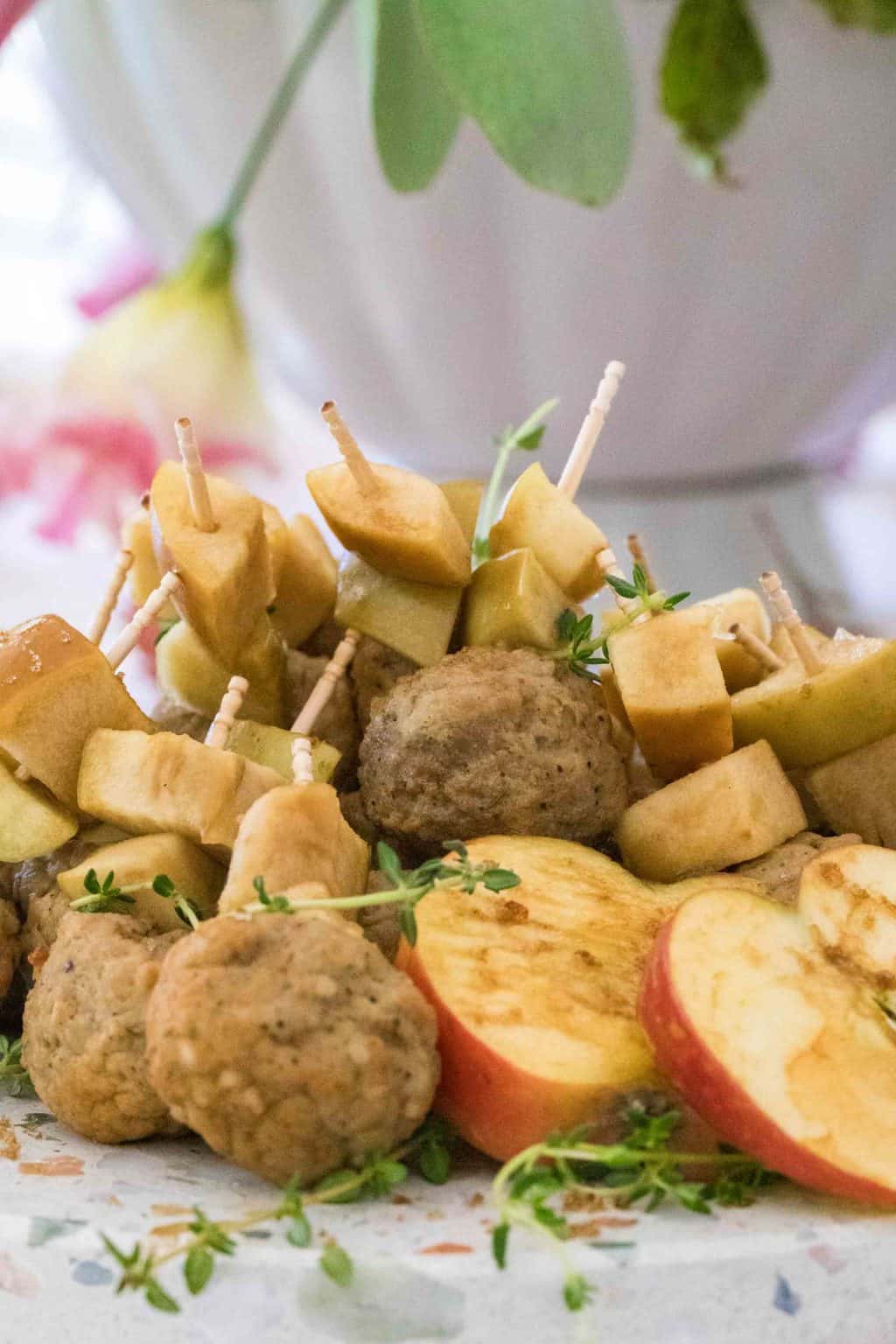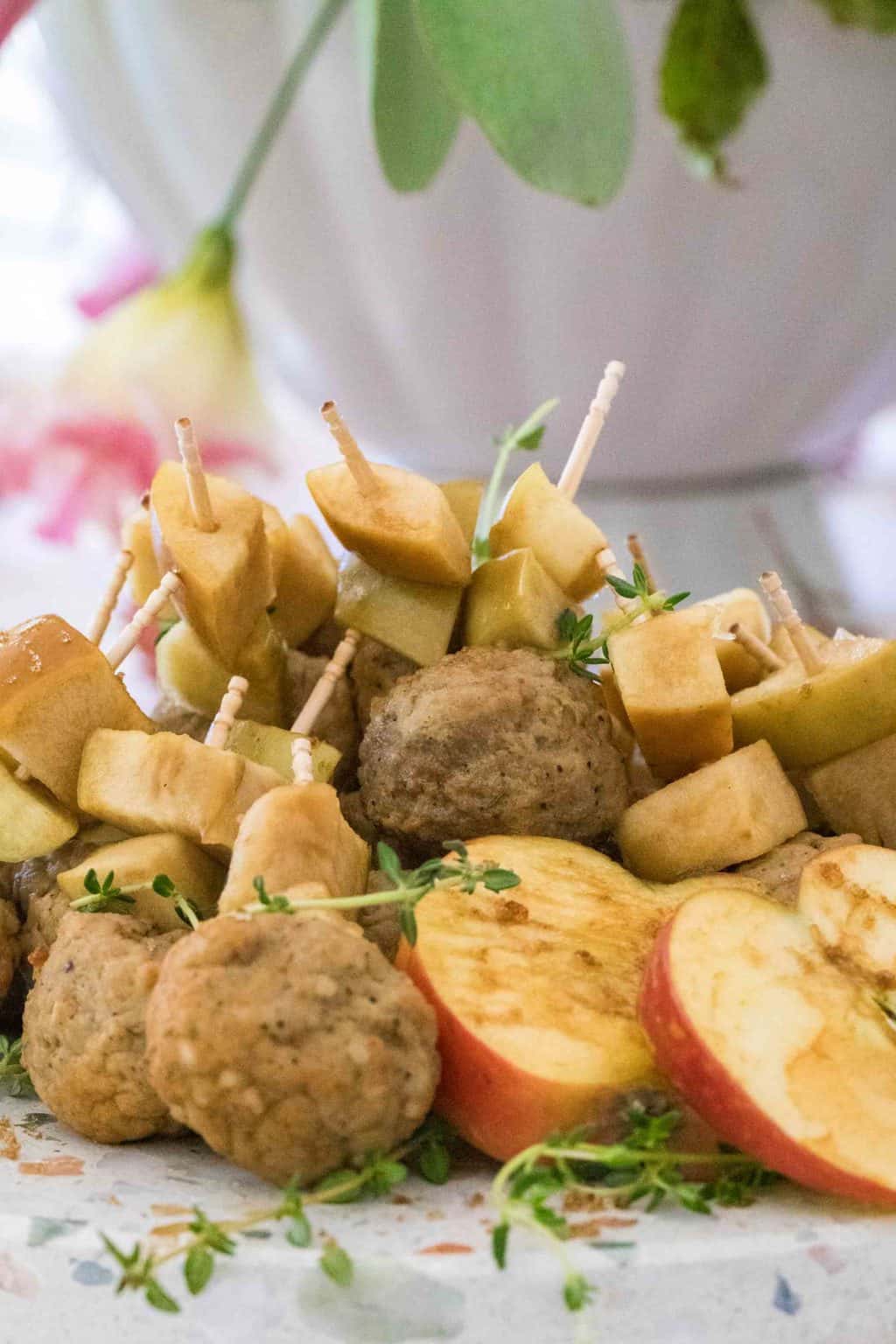 Appetizers & Drinks That Pair Well With Meatballs
Once you've got your dish cooking in that crockpot, you can start whipping up other bites and drinks. Here are some of our favorite recipes from the archives that would pair well!
Slow Cooker Apple Cider Easy Meatballs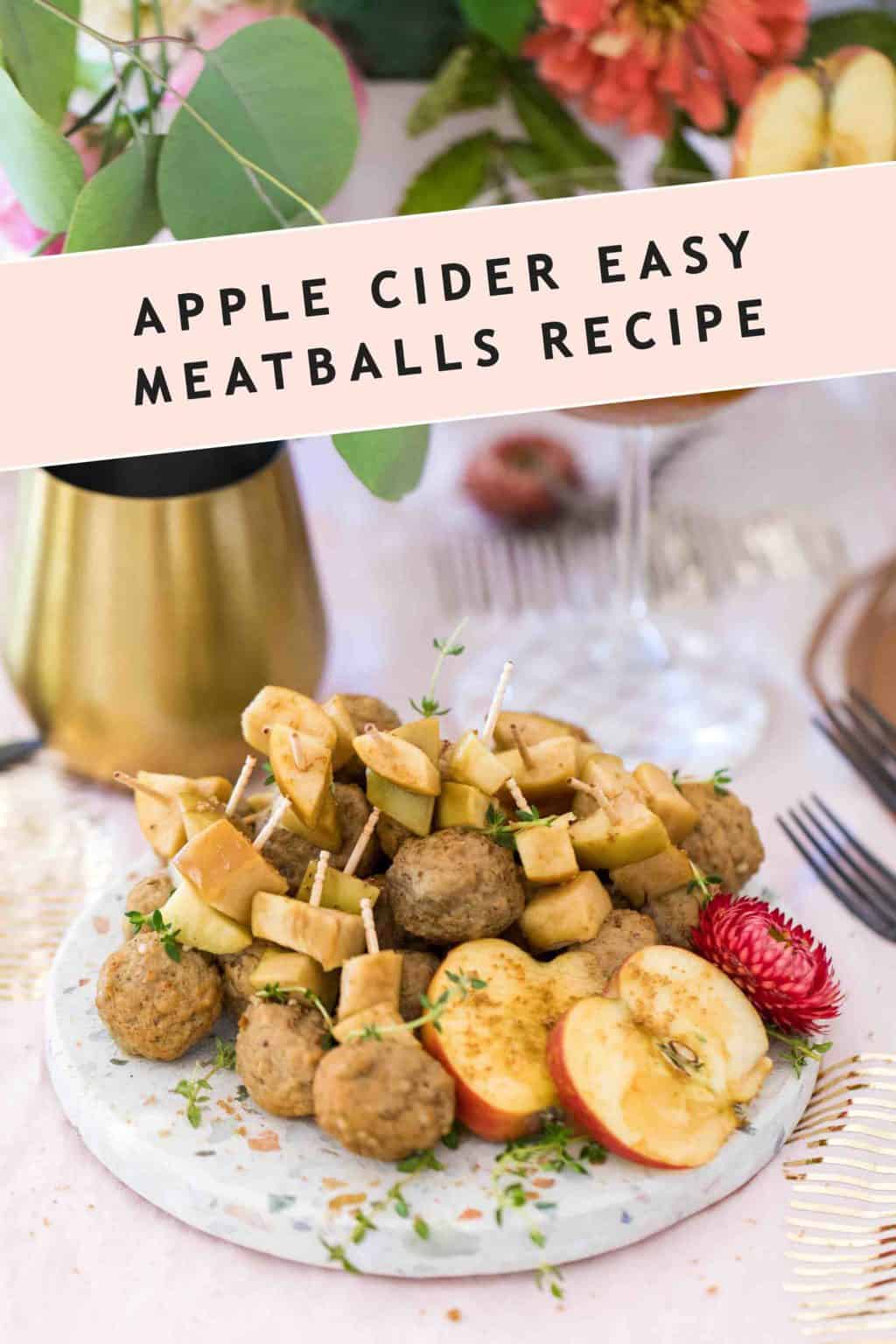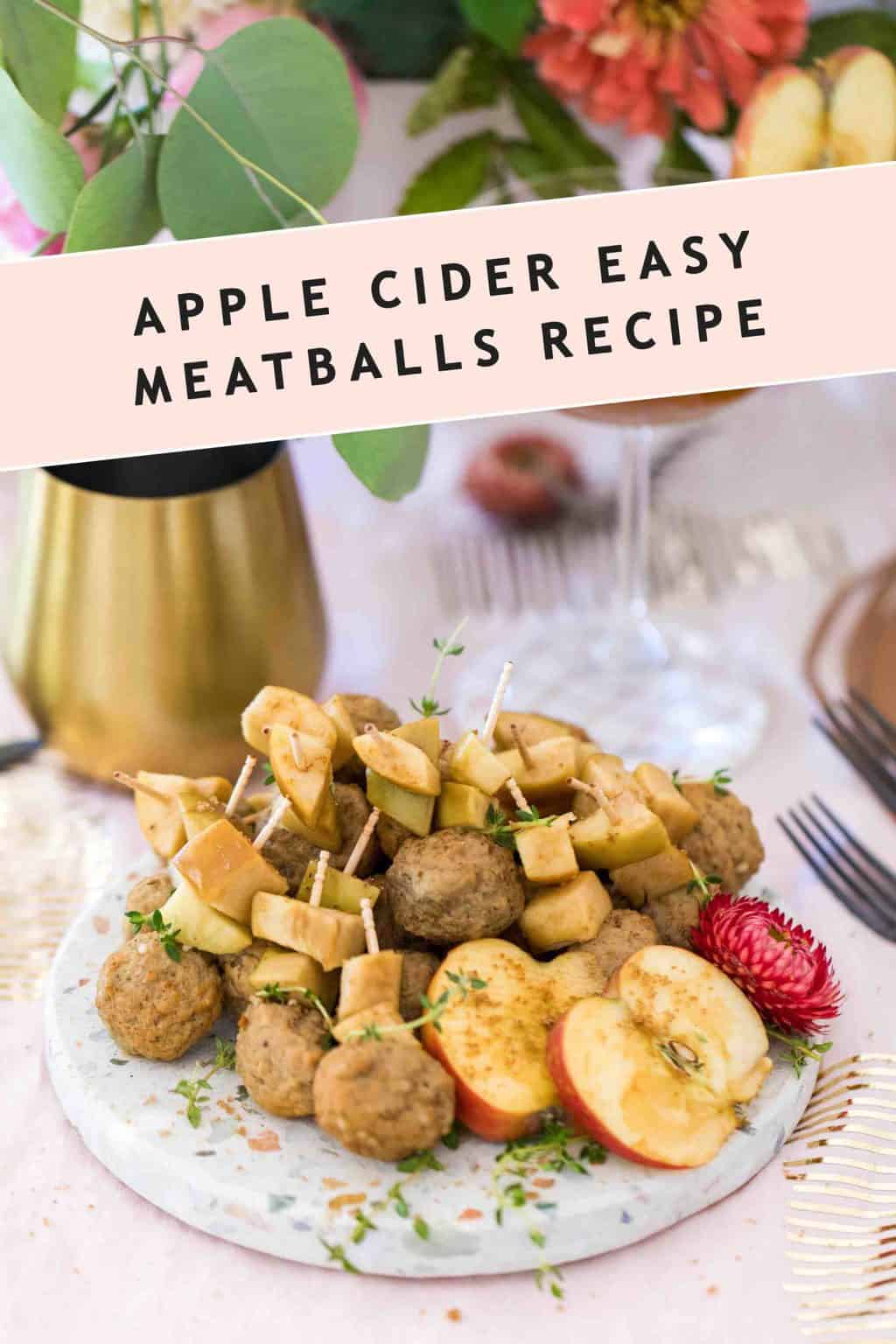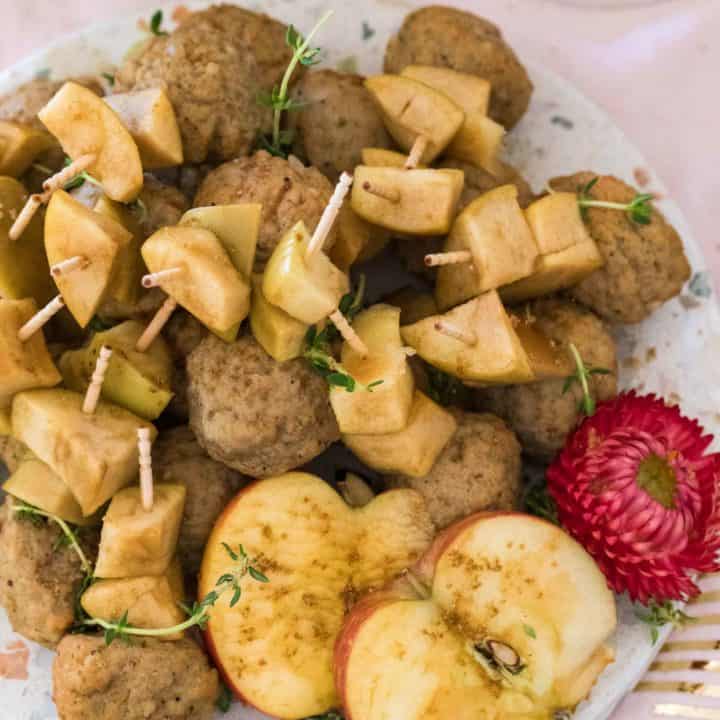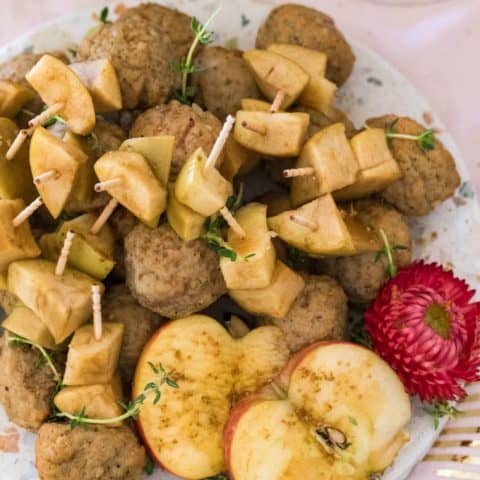 Slow Cooker Apple Cider Easy Meatballs Recipe
Short on time? This meatballs recipe only requires 5 ingredients that you just throw in a crock pot! Easy, right?!
Equipment
Slow cooker

Skewers

Food picks (optional for skewering)
Ingredients
30-50

frozen meatballs

approximately 2 bags frozen

2 1/4

cups

apple cider vinegar

3/4

cup

Grade A maple syrup

4

tbsp

brown sugar

dash of salt and pepper

for seasoning

3

chopped apples

for skewering onto the meatballs
Nutrition
Calories:
146
kcal
|
Carbohydrates:
18
g
|
Protein:
5
g
|
Fat:
6
g
|
Saturated Fat:
2
g
|
Cholesterol:
19
mg
|
Sodium:
19
mg
|
Potassium:
174
mg
|
Fiber:
1
g
|
Sugar:
16
g
|
Vitamin A:
18
IU
|
Vitamin C:
2
mg
|
Calcium:
27
mg
|
Iron:
1
mg
Notes
Serves 12-16 as an appetizer.
Instructions
Combine the meatballs, apple cider vinegar, maple syrup, brown sugar and chopped apples into a slow cooker. 

Cook on medium heat for 4 hours.

Reduce heat to low to keep warm and to let the meatballs soak up additional juices. 

Skewer the meatballs with an apple chunk and drizzle with additional brown sugar to taste or serve them straight from the slow cooker to keep warm as well. 
KEYWORD:
appetizers, apples, crock pot, meatballs, slow cooker, sugar and cloth

Don't forget to share your meatballs with us on Instagram using the hashtag #sugarandclothloves. We always love seeing all of your creations! Looking for more quick and delicious recipes? Find them all right here with a few cocktails to go along with them!
More Of Our Favorite Party Recipes