Try one of these amazing cool whip recipes today! From desserts to savory dishes, you're sure to find something delicious here.
Cool Whip is a fantastic addition to a variety of desserts. It's sweet, creamy, and light. Unlike traditional whipped cream, Cool Whip (also known as stabilized whipped cream) is an imitation whipped cream that keeps its shape and doesn't melt even in the summer sun and heat.
It has a longer shelf life than cream and can be easily frozen. Cool Whip is a delicious alternative to whipped cream for a variety of no-bake desserts and as a dessert topping.
With so many different ways to use Cool Whip, we compiled some heavenly Cool Whip recipes to try this summer or at the next potluck to take your dishes and desserts to the next level.
Cool Whip Recipes
1 — Homemade Cool Whip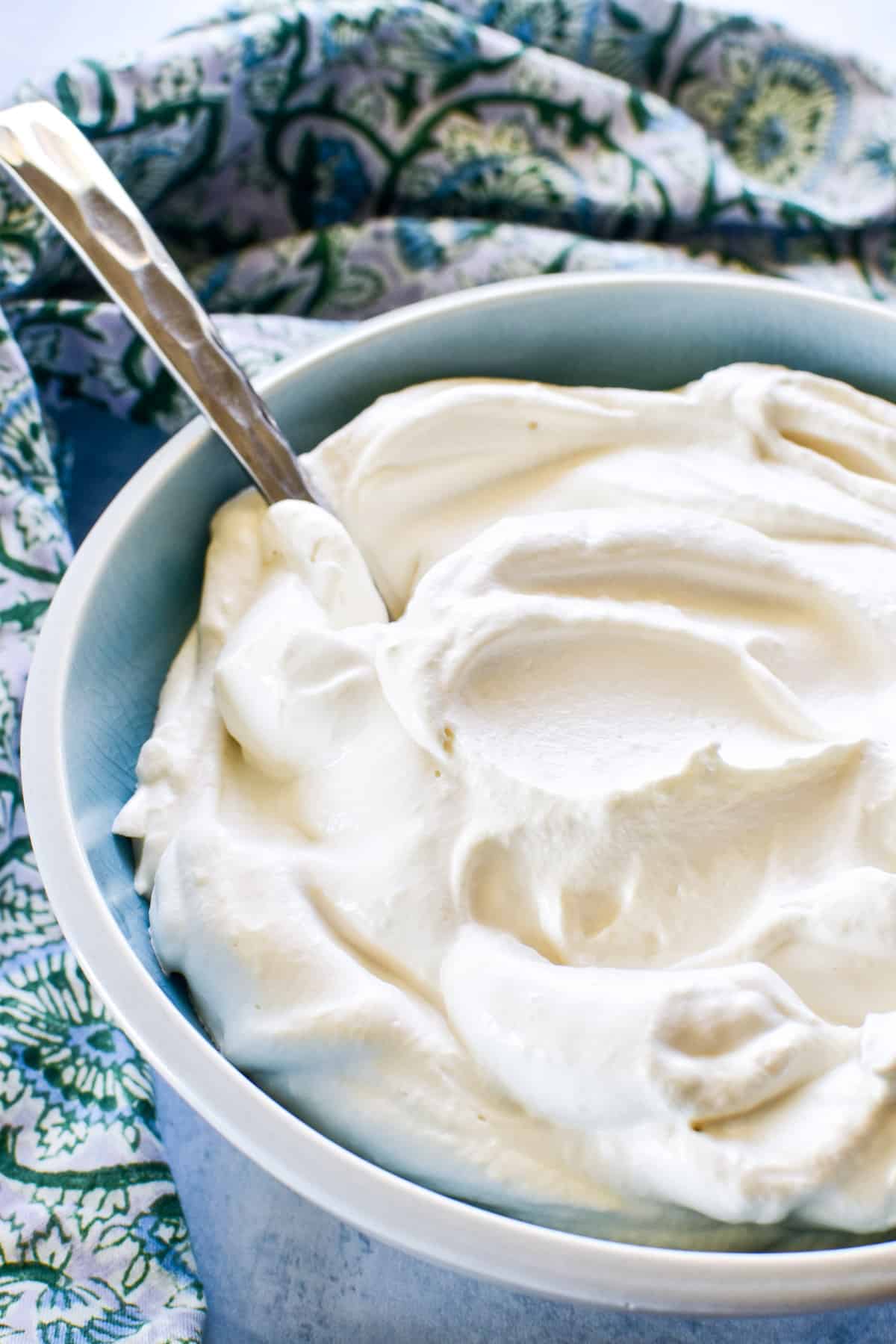 Although Cool Whip classically comes in that blue and white plastic cup, it's much easier to make at home than to go to the store. Plus, homemade just tastes better and takes away those harmful chemicals and ingredients.
This easy homemade Cool Whip recipe is made with just five simple ingredients: heavy whipping cream, powdered sugar, vanilla extract, a bit of gelatin, and some cold water. Easy as (no-bake) pie!
2 — Dirt Dessert Recipe: Easy Boozy Dirt Cup Recipe
Although this boozy dirt cup recipe calls for whipped cream on top, it's easy to replace that with Cool Whip for a slightly different texture and flavor. This dirt dessert recipe is a great play on a childhood favorite with a spiked version for the adults and a virgin version for the kids in the house.
3 — Cake Batter Oreo Cheesecake Dip Recipe
Close your eyes and imagine Oreos combined with cake batter and cheesecake. Does that not sound like a mouthful of caloric goodness?
This dip tastes just like cake batter cheesecake filled with Oreos and can easily be whipped up (no pun intended) in minutes. It can be served right away. If you put it in the fridge for a few hours, the Oreos soften and become cake-like. It is an amazing dip for pretzels, ladyfingers, or a variety of fruit like apples or cherries.
If you're a fan of Oreos and no-bake pies, check out our No-Bake Cookies and Cream Oreo Pie recipe too!
4 — Summer Fruit Tiramisu Recipe
Since this is a no-bake recipe, it's perfect to swap out the cup of whipped cream for a cup of cool whip in it. Plus, with no caffeine in it, this Summer Fruit Tiramisu recipe is great for those who don't want to have an after-dinner cup of coffee while getting all of the delicious flavors from tiramisu.
That said, the ladyfingers are soaked in booze, jam, and lemon juice, so omit the booze if you're making this for the family. A great aspect of this dessert is that you can use any fruit you like – fresh raspberries from the local farmers' market or that giant pack of cherries you found on sale at the store. Eat up!
5 — Fruit Dip
The only thing better than fresh fruit is a delicious cream or chocolate coating to go with it. This fruit dip is a great addition to any potluck or outdoor party in the summer since it can go an entire afternoon under the bright sun without melting or going bad.
The best part? This fruit dip is boozy and only requires three ingredients: Cool Whip, instant coconut cream pudding mix, and coconut rum. If you want to make it colorful, add in a drop or two of food coloring to match the occasion.
If this dip is for a baby shower or wedding party, add in some edible glitter, too!
6 — Strawberry Pie with Homemade Graham Cracker Crust
This is one of the more classic cool whip recipes — no-bake strawberry pie.
Mix up the filler ingredients and refrigerate until they are firm. Once you have made the pie crust, add in the filling and keep cool in the fridge for another six or so hours until it's firm. This is best made one day ahead of time to make sure that the pie is firm enough.
Top off this delicious pie with some sliced strawberries (check out the design we did on our Keto Strawberry Cheesecake), and a few dollops of Cool Whip for more flavor and design. Then, serve up and enjoy!
7 — Cookie Salad
Definitely not your everyday salad, but even more delicious (if you have a sweet tooth). This recipe piles together Cool Whip with some fruit and cookies to make a delicious dessert.
Although the recipe calls for one package of striped fudge cookies, you could easily swap them out for some chocolate-covered butter cookies or some classic chocolate chip cookies, depending on your preference.
8 — Banana Split Parfait
If you like banana splits or bananas for dessert, this is right up your alley! A parfait is essentially just layers of different foods in one pretty glass.
This parfait in particular layers bananas, coconut, and pineapple with Cool Whip in between the different layers for a delicious Cool Whip dessert.
The frozen whipped topping is perfect for Cool Whip since it doesn't lose its shape when it thaws as whipped cream does. It would go great with a coconut shake or a banana-peach smoothie (if you're really banana for bananas).
If you are counting your calories or looking for a low-fat alternative to dessert, this is the perfect recipe! Count away! Although, you won't have to count very high.
9 — Milky Way Brownie Cups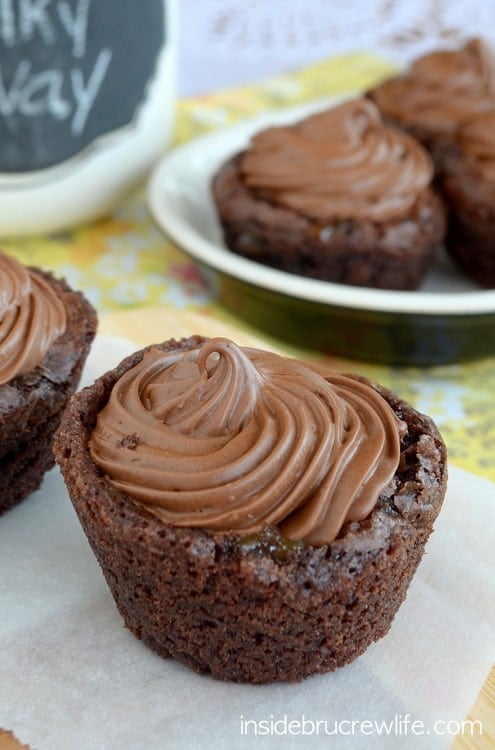 If you don't have time to make brownies or are looking for a step up from the basic brownies to bring to the next gathering, these are easy and definitely out of the ordinary. Filled with caramel and nougat topping, these brownie cups taste just like a Milky Way bar!
Just bake the brownies as per instructions on the box (or homemake some here!), and fill with a mix of melted chocolate chips and cool whip. Top with caramel nougats, and suddenly a typical brownie becomes an atypical brownie.
10 — Ice Cream Sandwich Cake
Ice cream sandwiches are the perfect dessert to cool down with but also get that after-meal chocolate hit you're craving. This ice cream sandwich cake is easier than pie to put together and will have everyone asking for the recipe.
Simply take a layer of ice cream sandwiches and put them in the bottom of a deep dish. Top that off with some cool whip, hot fudge topping, then caramel topping.
Repeat those layers of sandwich, Cool Whip, hot fudge, and caramel until the top of the dish. Top it off with a big layer of Cool Whip, dollops of hot fudge and caramel, and sprinkle with pecans. Freeze it for at least 30 minutes and take it out just in time to be devoured.
If you want to make this recipe entirely at home, it's easy to do. Make some chocolate cookies and sandwich them with some homemade ice cream.
If you want to change up the flavor profile, make some homemade snickerdoodle ice cream sandwiches or celebrate fall with snickerdoodle pumpkin ice cream sandwiches. Any way you make it, you can't go wrong!
11 — Apple Snickers Cool Whip Salad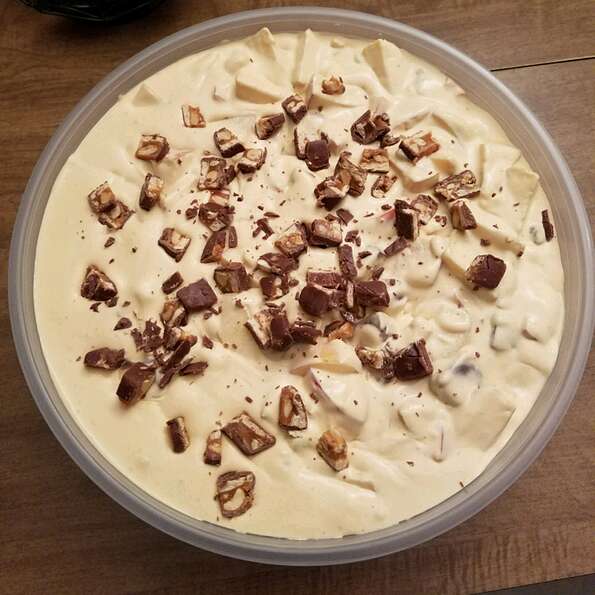 Salad doesn't have to be savory, and this apple snickers salad proves just that. It's delicious and sweet, but not too sweet. Plus, this recipe is easy to whip up with only 20 minutes from prep to finish.
It's a delectable combination of apples, Cool Whip, Snickers bars, and butterscotch pudding. The dream combo for anyone with a sweet tooth! Pair it with a fruit freakshake to give you an even fruitier flavor profile.
12 — Cool Whip Chocolate Eclair
Eating eclairs is easy. Making eclairs… not so much.
Luckily, this recipe is invented with that in mind. It tastes like an eclair, looks like an eclair, but takes way less time and preparation (20 minutes in total minus the chilling-in-the-freezer time).
If you want to change up this recipe a bit, try substituting soft-serve vanilla frozen custard in place of the pudding mixture.
If you're having a French-themed party, add in some easy French 76 cocktails to the mix, too!
13 — Creamy Layered Blueberry Ice Pops
These ice pops will be your new favorite way to cool down this summer without running yourself under a cold shower. They are delicious and can be customized to your taste. Replace the blueberries with blackberries or raspberries.
You can layer in rosemary, lemon zest, or vanilla flavoring between the blueberry and Cool Whip layers. It's easy to make, easy to take on the go, and a kid favorite.
14 — Lemonade Icebox Pie
If you are looking for a summer dessert that is refreshing as much as it is delicious and lightweight, this is a great option.
There is a definite lemonade flavor profile in the pie, but it also has a smooth and creamy consistency that makes it a perfect combination. It is easy as pie to make and even easier to finish the last bite.
When life gives you lemons, you make lemonade, right? Try out this Sparkling Mint Meyer Lemonade Recipe to pair it with your lemonade icebox pie!
15 — Berry Pistachio Pie
This berry pistachio pie is berry good! You can easily change it up from berry by using a different flavor of gelatin, like orange or vanilla, and use pecans or walnuts instead of pistachios.
You can either make your own graham cracker crust or use a store-bought one. It's easy to take this pie up a notch by using a chocolate graham cracker crust, too!
So whip up some cool food dishes with these Cool Whip recipes!
Dishes That Pair Well With Cool Whip
For more recipes that go great with a garnish of Cool Whip, check out a few of our favorites —