Snickerdoodle And Pumpkin Ice Cream Sandwich — This Snickerdoodle And Pumpkin Ice Cream Sandwich is the epitome of a treat! We're linking summer to fall with the recipe for these babies.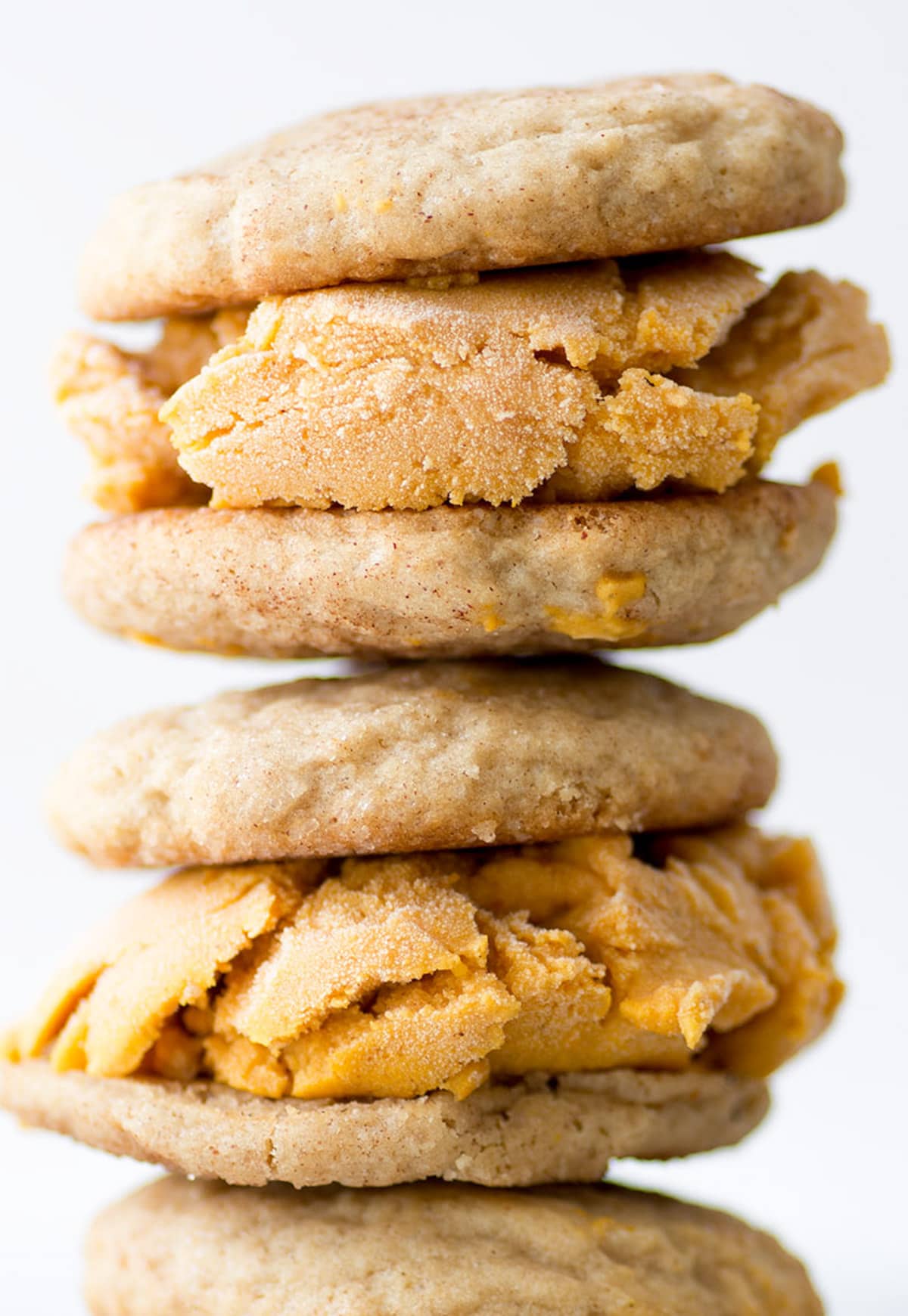 As a registered dietitian, I, Alex often get asked about tips to making a more healthy dessert or other indulgent item.
Of course, there are plenty of tried and true tricks out there — subbing in whole-wheat pastry flour, applesauce for oil, cutting down the sugar and using flaxseed eggs for the regular variety.
We've all heard them and I believe there is a time and a place for these replacements. But, for the most part, I prefer the real thing!
I'll take all the sugar, butter, and cream, please! I know, slightly shocking to hear from a nutrition professional. But I have my reasons…
First and foremost, the taste. Healthy treats often taste healthy, which is fine (if that's what I'm going for.) However, if I'm really craving a sugar-filled treat, raw date cookies just aren't going to cut it!
Which, brings me to my second point: If I am really craving a cookie and instead swap in a healthier treat, I'm less likely to feel satisfied.
So I'll either continue to eat more of the healthy treat than I planned or finally give into the real thing!
I see this all the time with clients, restricting certain foods until they finally give in, throwing portion control out the window, only to feel guilty later.
Allowing yourself to eat what you truly want is powerful and I believe you'll actually eat less of these unhealthy treats if you allow yourself to indulge once in a while.
So, these cookies are basically the epitome of a treat: Snickerdoodle And Pumpkin Ice Cream Sandwich.
It's the perfect way to link summer and fall; a cooling dessert with warm, comforting flavors.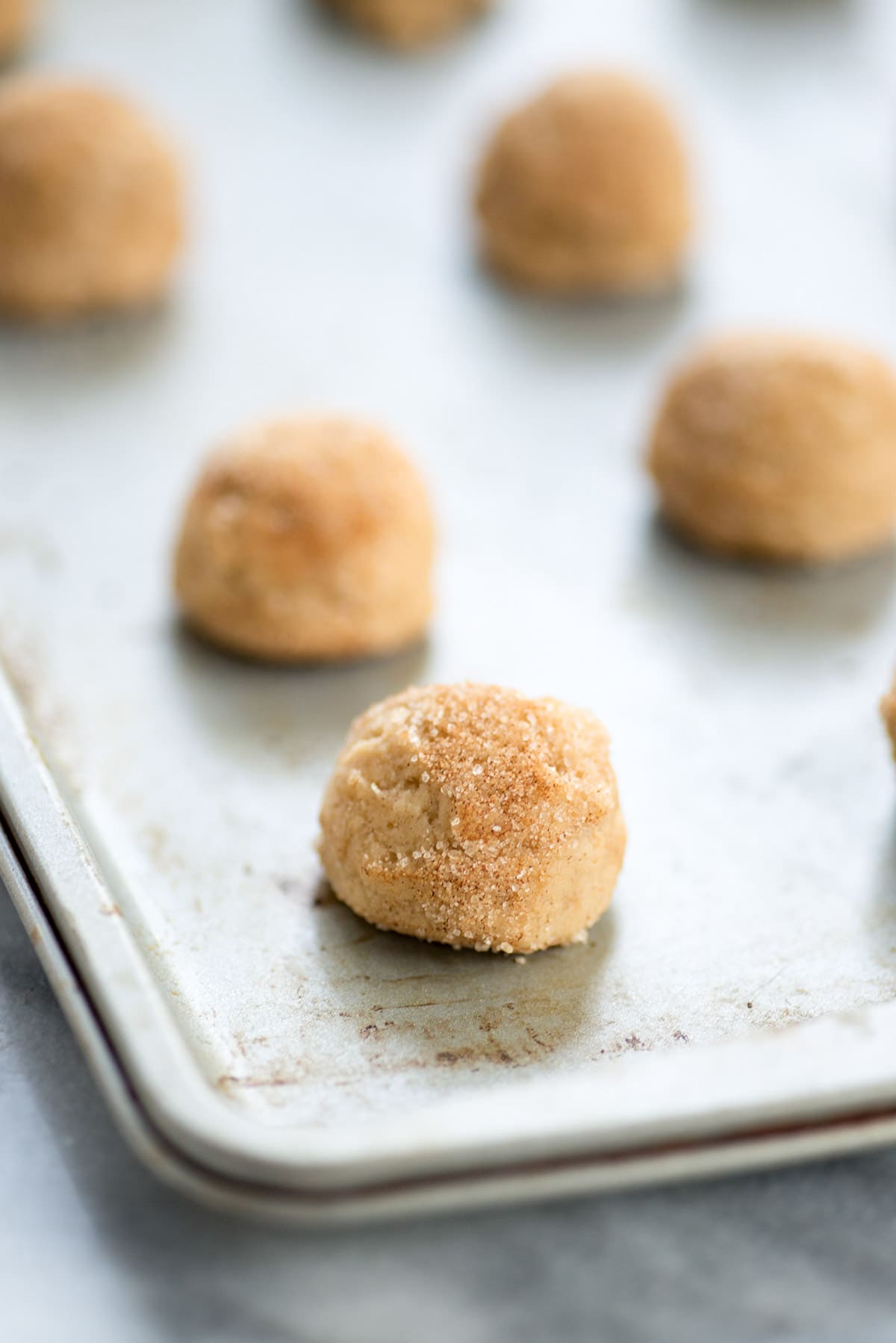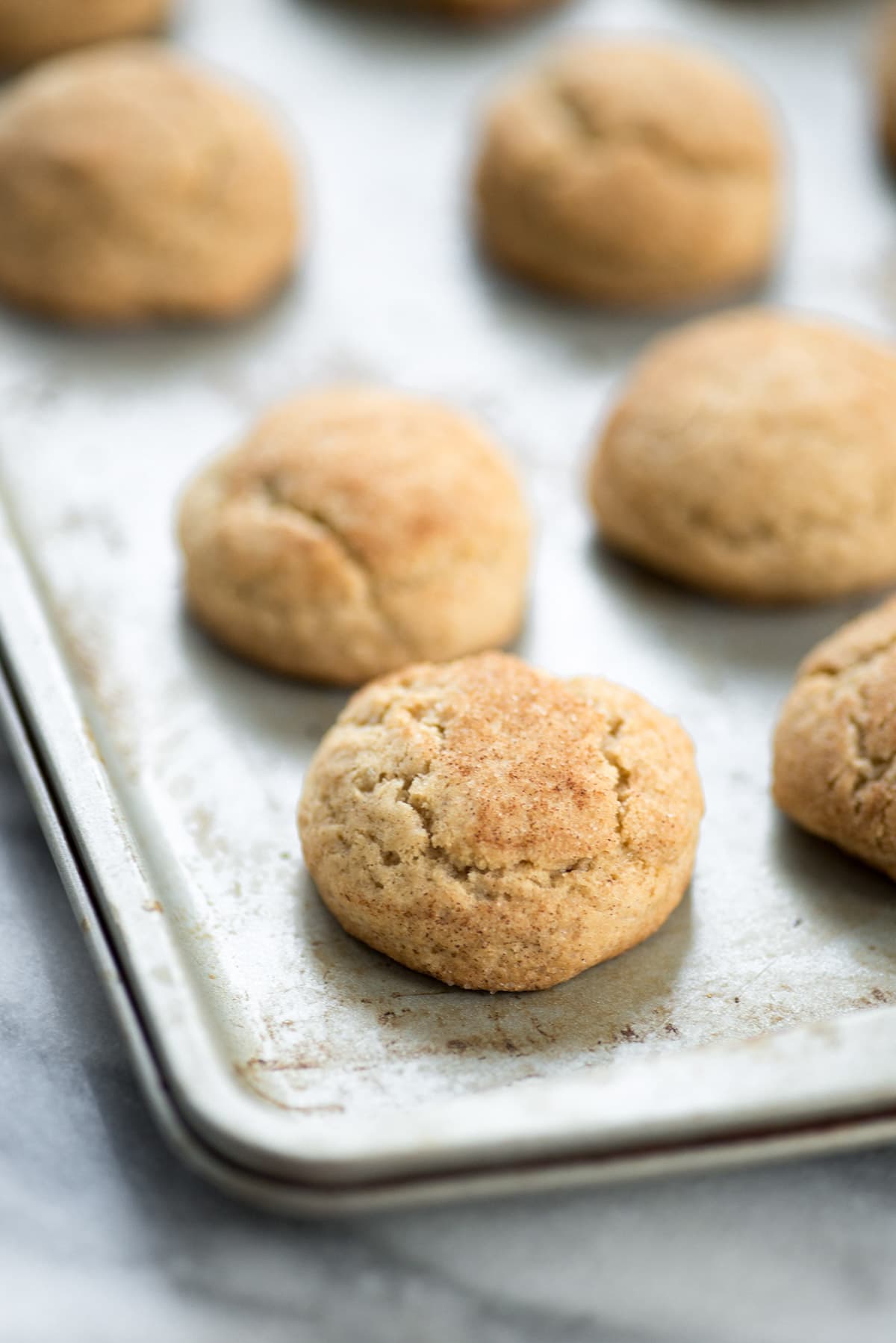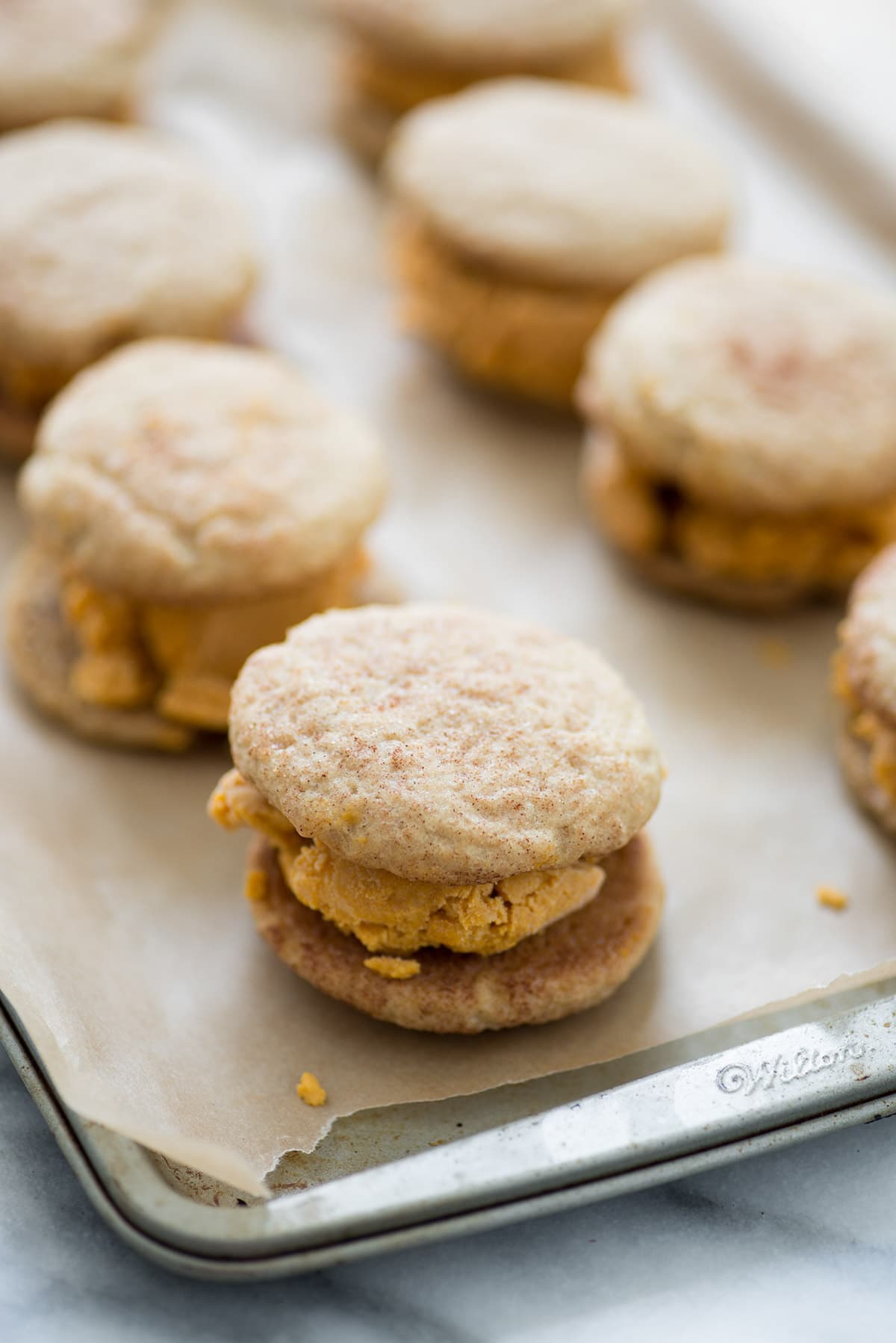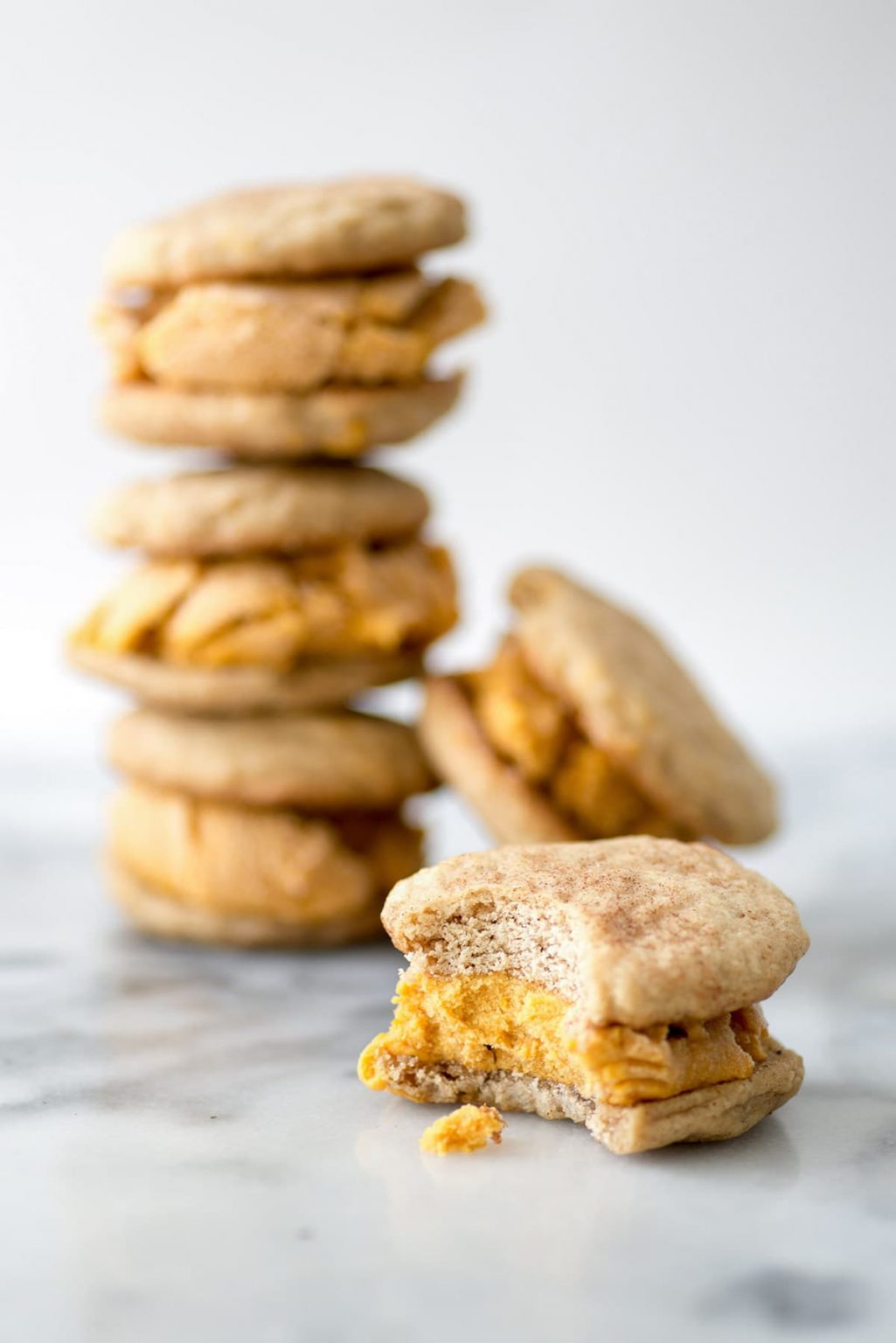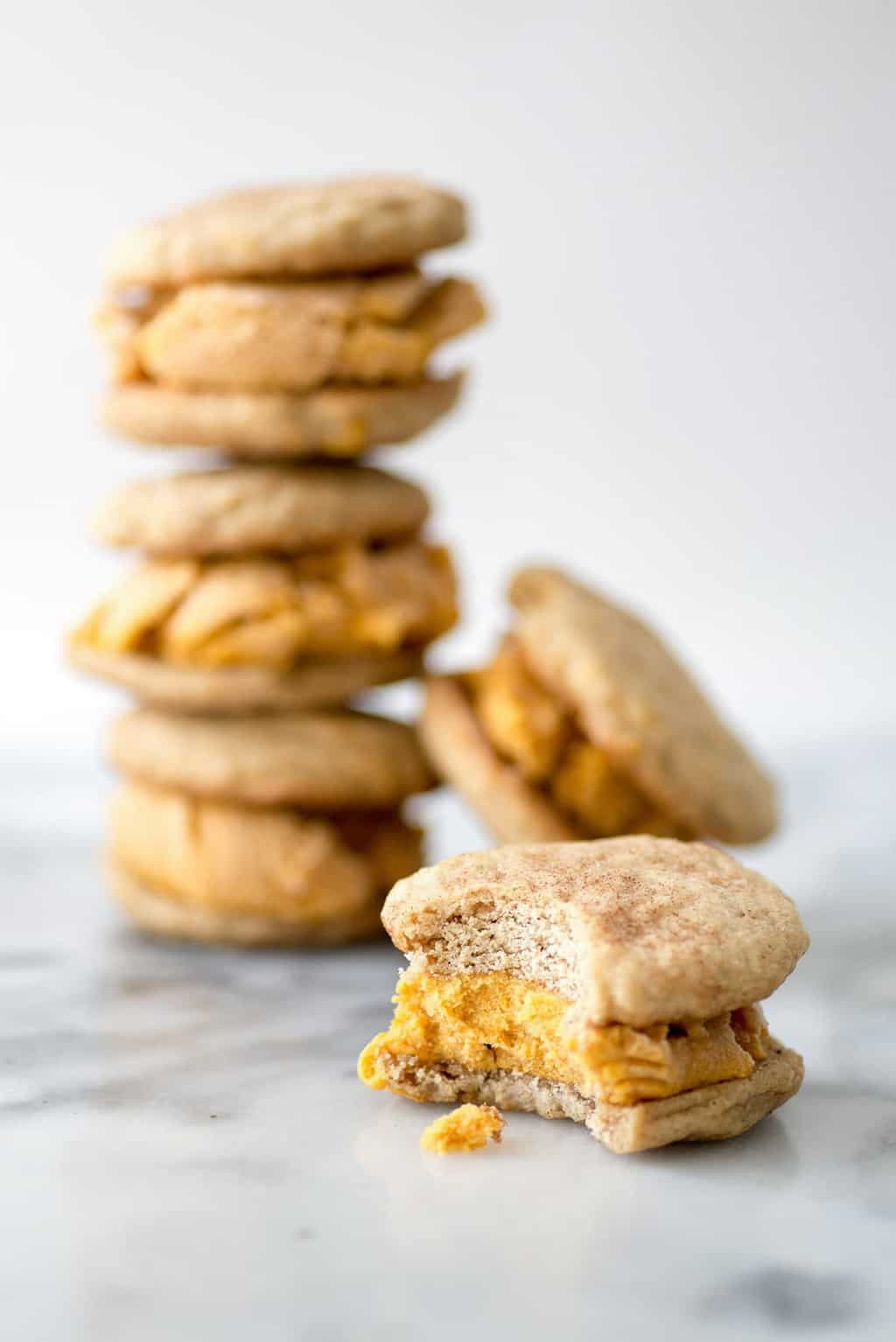 No healthy short cuts here. Just snickerdoodle cookies the way my mom makes them!
Plus, whole-milk pumpkin ice cream for added good measure and a built in portion control.
I made these guys slightly smaller than store-bought ice cream sandwiches. And they're the perfect way to indulge your sweet tooth without going overboard.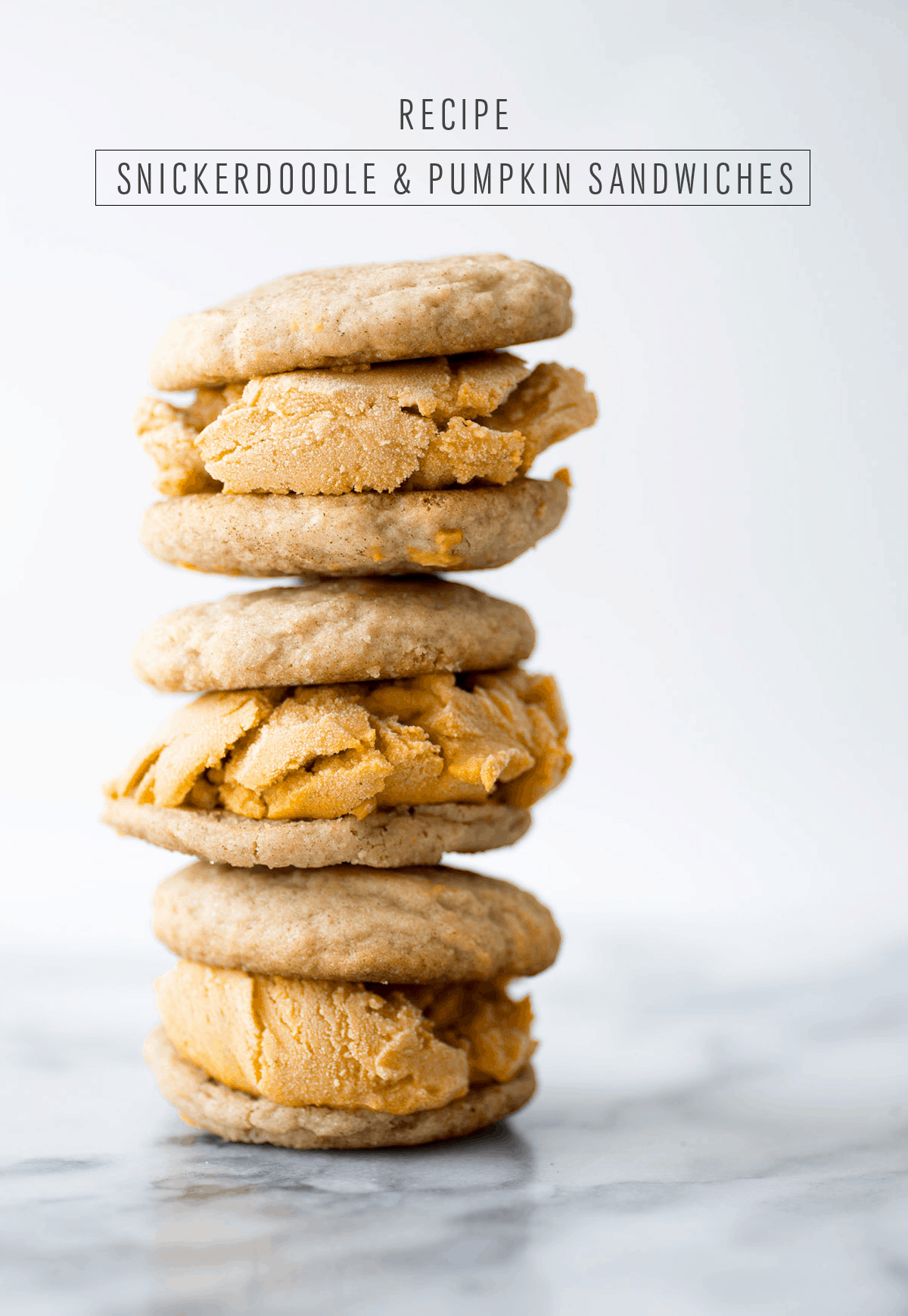 What is your go-to dessert when you're having a sweet craving? Do you prefer to go with a healthier option or indulge occasionally?
Snickerdoodle And Pumpkin Ice Cream Sandwich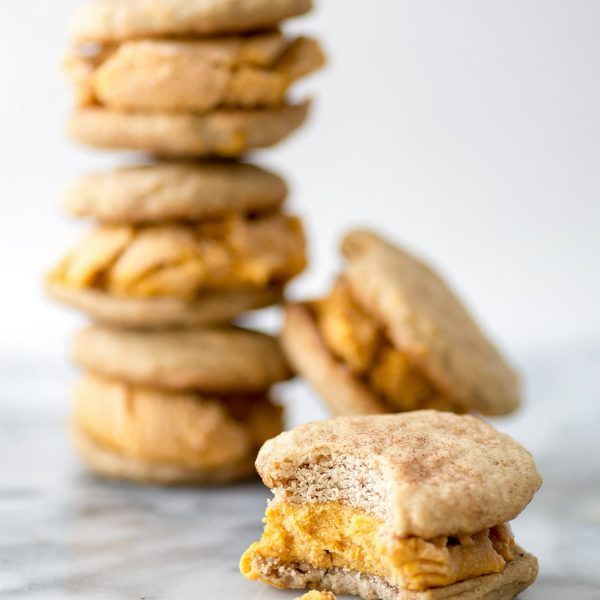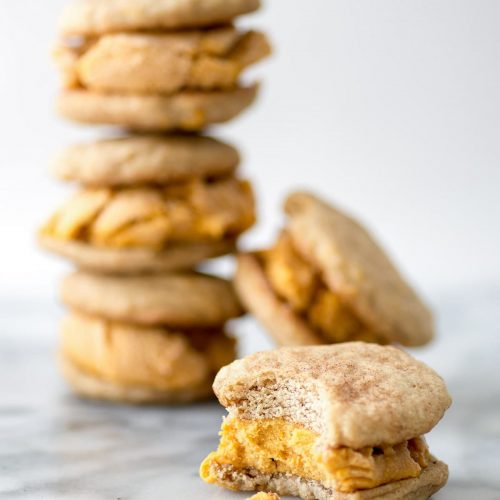 Snickerdoodle And Pumpkin Ice Cream Sandwich Recipe
Snickerdoodle and Pumpkin Ice Cream Sandwiches are the perfect way to link summer and fall; a cooling dessert with warm, comforting flavors.
Ingredients
Snickerdoodle Cookies
1

cup

butter at room temperature

1

cup

cane sugar (divided into 3/4 cup and 1/4 cup)

0.3

cup

brown sugar

2

large eggs

2

cup

all-purpose flour

1

tsp

cream of tarter

1

tsp

baking soda

0.5

tsp

salt

3

tsp

cinnamon (divided into 1/2 teaspoon and 3 teaspoons)

1

quart

pumpkin ice cream (store bought or homemade)
Homemade Pumpkin Ice Cream
1

cup

whole milk

1

cup

brown sugar

2

tbsp

molasses

1

cup

pumpkin purée (no pumpkin pie filling!)

1

tsp

cinnamon

1

tsp

ginger

0.25

tsp

freshly ground nutmeg

2

cup

heavy cream

1

tsp

pure vanilla extract
Nutrition
Serving:
1
g
|
Calories:
266
kcal
|
Carbohydrates:
31
g
|
Protein:
2
g
|
Fat:
16
g
|
Saturated Fat:
10
g
|
Cholesterol:
62
mg
|
Sodium:
190
mg
|
Potassium:
110
mg
|
Fiber:
1
g
|
Sugar:
22
g
|
Vitamin A:
564
IU
|
Vitamin C:
1
mg
|
Calcium:
48
mg
|
Iron:
1
mg
Instructions
Preheat oven to 400 degrees F. 

Place softened butter, 3/4 cup cane sugar, and brown sugar in the base of a stand mixer (or large bowl, using a hand-mixer). Cream the butter and sugar together until completely combined, for about 1 minute.

Beat in the eggs, one at a time. 

In a separate large bowl, whisk the flour, cream of tarter, baking soda, salt and 1/2 teaspoon cinnamon. Slowly add the flour mixture into the sugar mixture until just combined.

Lightly spray a cookie sheet with cooking spray. In a small bowl, combine the remaining 1/4 cup sugar and 1 tablespoon cinnamon. 

For sandwiches, you'll want the cookies to be uniform in size. I recommend using a tablespoon cookie scoop to form the balls. Scoop out cookie dough and roll in the sugar and cinnamon. 

Place on the prepared cookie sheet and flatten slightly. Continue with the rest of the batter, placing the cookies ~3" apart. 

Bake for 8-9 minutes until soft and tender. Ice cream sandwiches do better with a softer cookie, so watch your oven to make sure they don't become to crisp!

Remove and let cool completely on a wire rack.

Place the milk, brown sugar and molasses in a medium mixing bowl and whisk until sugar is dissolved, either by hand or a hand-mixer on low speed. 

Whisk in the pumpkin puree, cinnamon, ginger and nutmeg and stir until completely combined.

Slowly add in the heavy cream and vanilla, stirring until just mixed together. Place mixture in the fridge to cool for at least 1-2 hours.

Process ice cream mixture according to your manufactures instructions. 

To assemble the sandwiches, scoop ice cream onto a cookie half and place another cookie half on top. Gently press down to seal, then place on a baking sheet or freezer-safe container. Continue with the rest of the cookies, layering them in a single layer so they don't stick together. Freeze until set, about 30 minutes. 

Enjoy as is or wrap each sandwich in plastic wrap for longer storage in the freezer. Wrapped, they will keep roughly 3 months. Hope you enjoy these snickerdoodle and pumpkin ice cream sandwiches as much as I do! 
KEYWORD:
baking, cinnamon, cookies, desserts, healthy, ice cream, pumpkin, recipe, sandwiches, snickerdoodle, sugar and cloth

Don't forget to share your Snickerdoodle And Pumpkin Ice Cream Sandwich with us on Instagram using the hashtag #sugarandclothloves. Looking for more quick and delicious recipes? Find them all right here with a few bites to go along with them!