Spooky DIY Floral Halloween Bar Cart — A Halloween bar is a token feature at most parties and this DIY bar cart version has been dressed up with Halloween flowers that are equal parts spooky and pretty…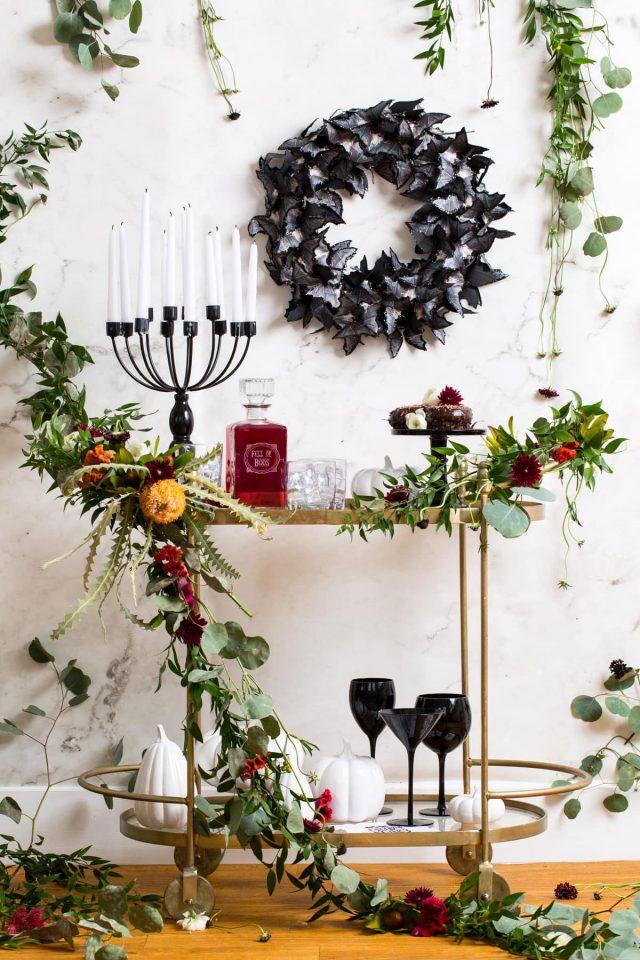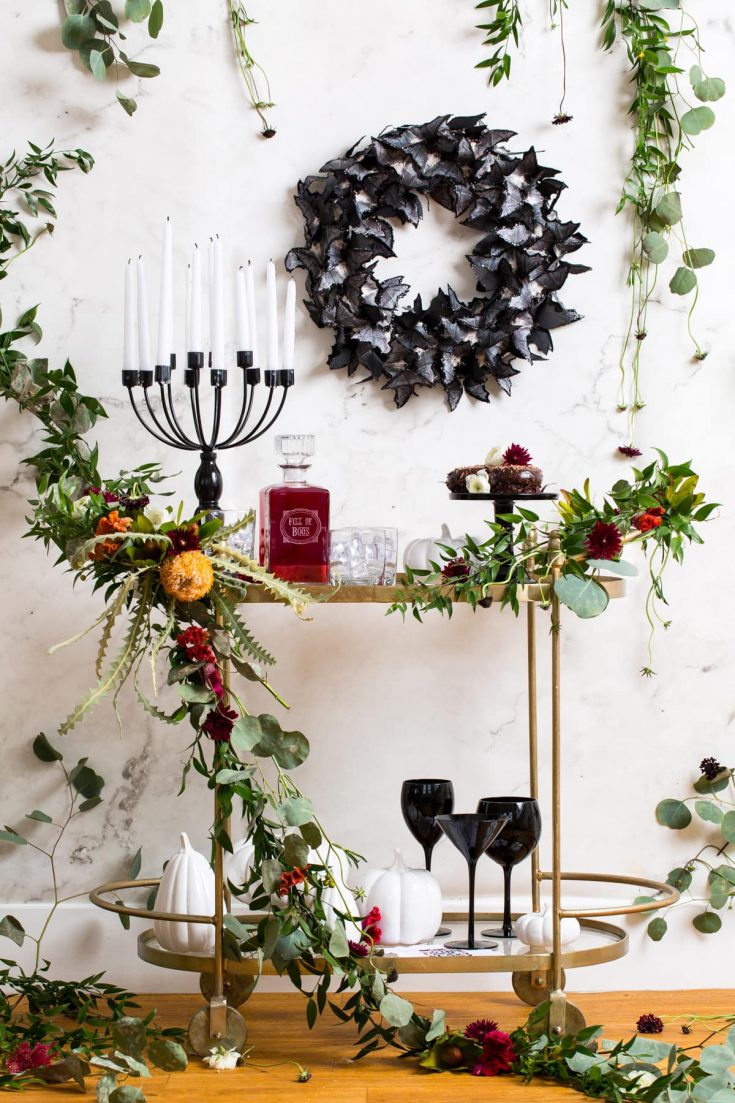 After quite a few years of entertaining, I think it's fair to say that most good parties revolve around one area in specific: the food and drinks!
So naturally, when I began to brainstorm new Halloween decor ideas, all of my very best ideas included a Halloween bar cart.
I had to take it upon myself to combine the boos (get it? Halloween?!) with another one of my favorites, flowers! Thus, a beautiful thing was born: this spooky DIY floral bar cart for Halloween…
To be fair, I'm well aware that when one thinks of flowers, the word "spooky" doesn't exactly jump into their mind.. But alas we found a way to incorporate some pretty blooms into our Halloween decor.
Here at Sugar & Cloth, we like to keep it minimal when it comes to Halloween decor (with a few pops of pantone color, of course!) and that means plenty of gold, cocktails, and candles.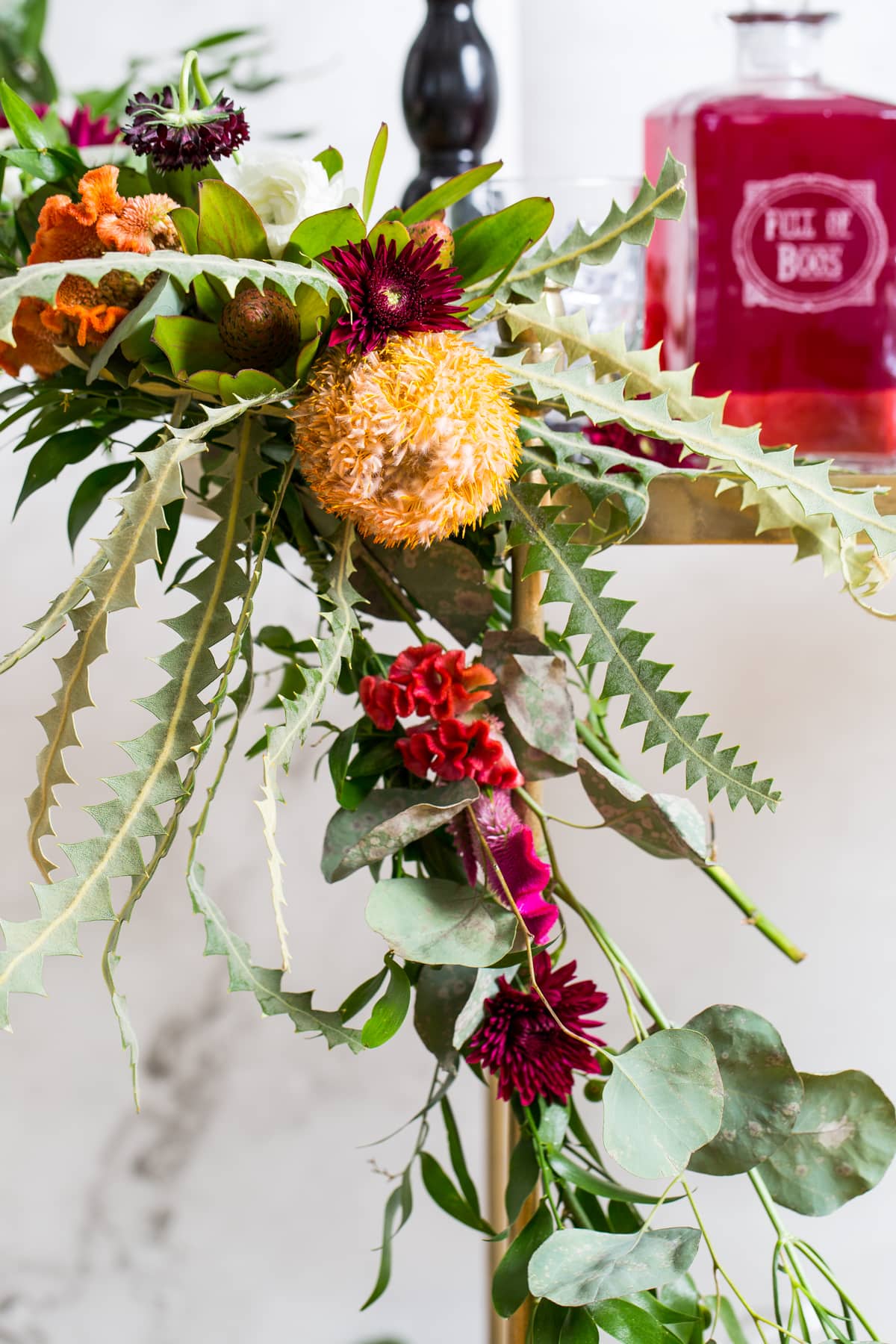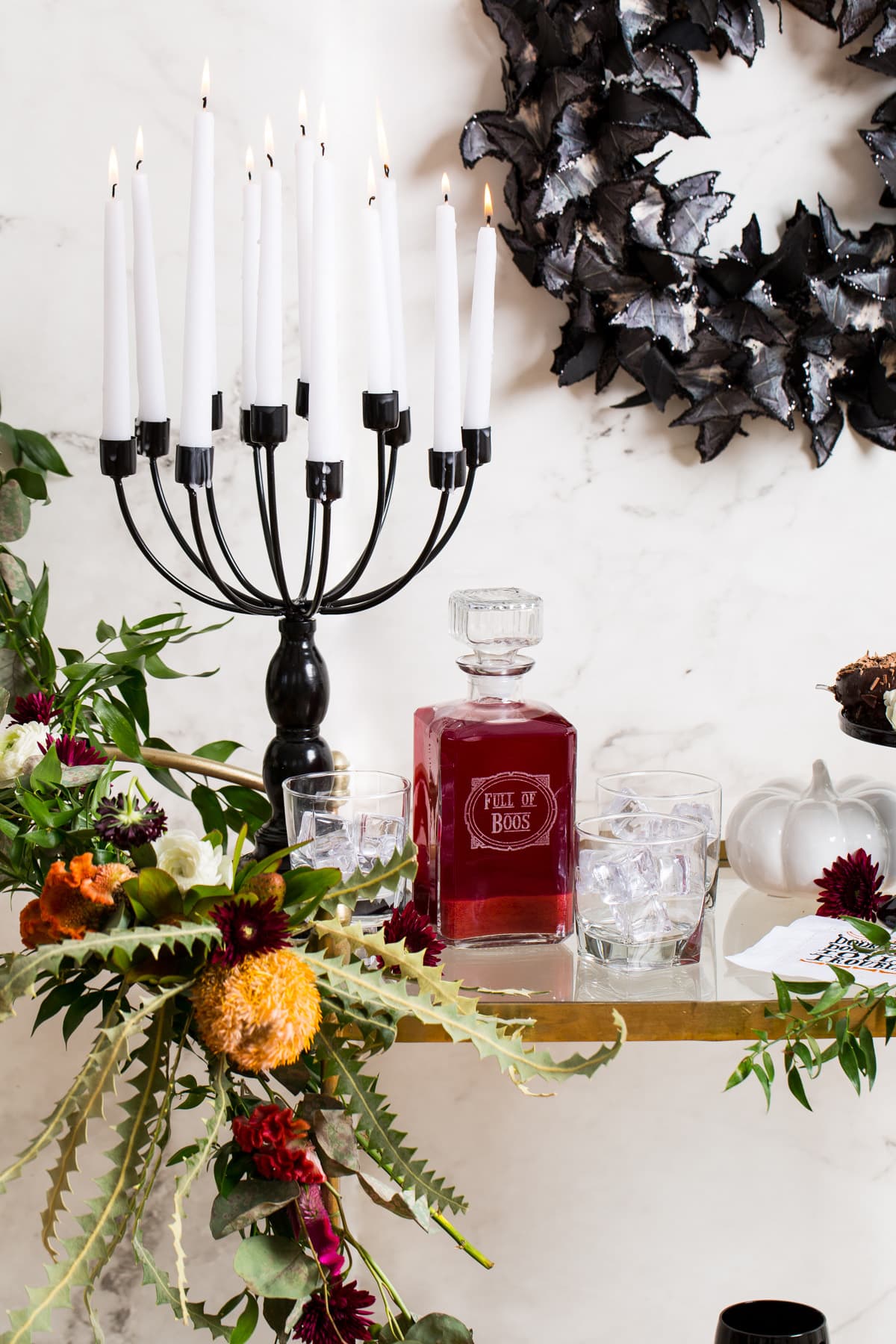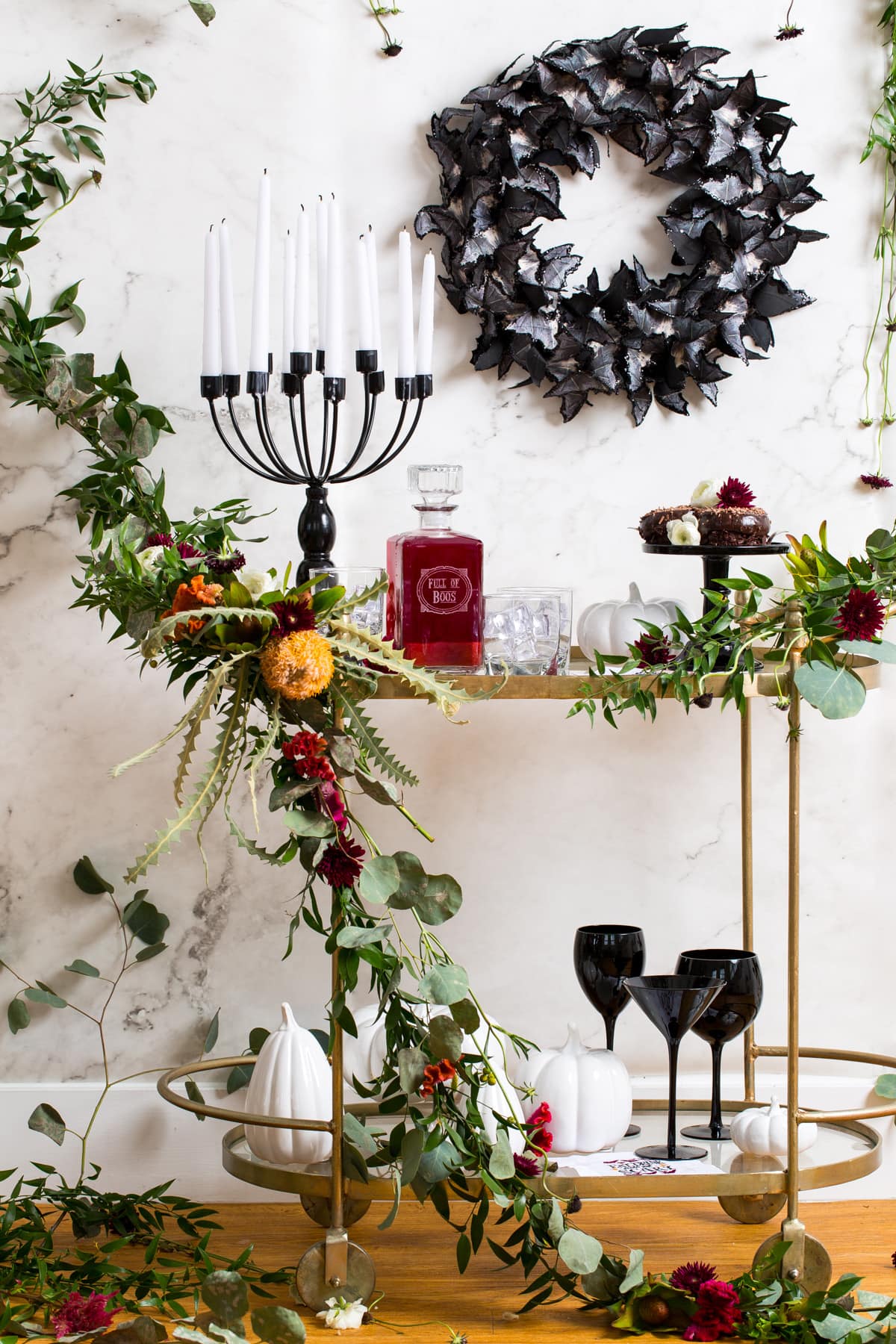 Spooky DIY Floral Halloween Bar Cart
Flowers of your choice! We chose silver dollar eucalyptus, white spray roses, Italian cuscus green filler
banksia, safari sunset leucadendron, pittosporum green filler flower, and atropurpurea black knight
Wire cutters
Cloth covered floral wire (so you don't scratch your pretty bar cart)
Small water tubes (optional to make your flowers really last)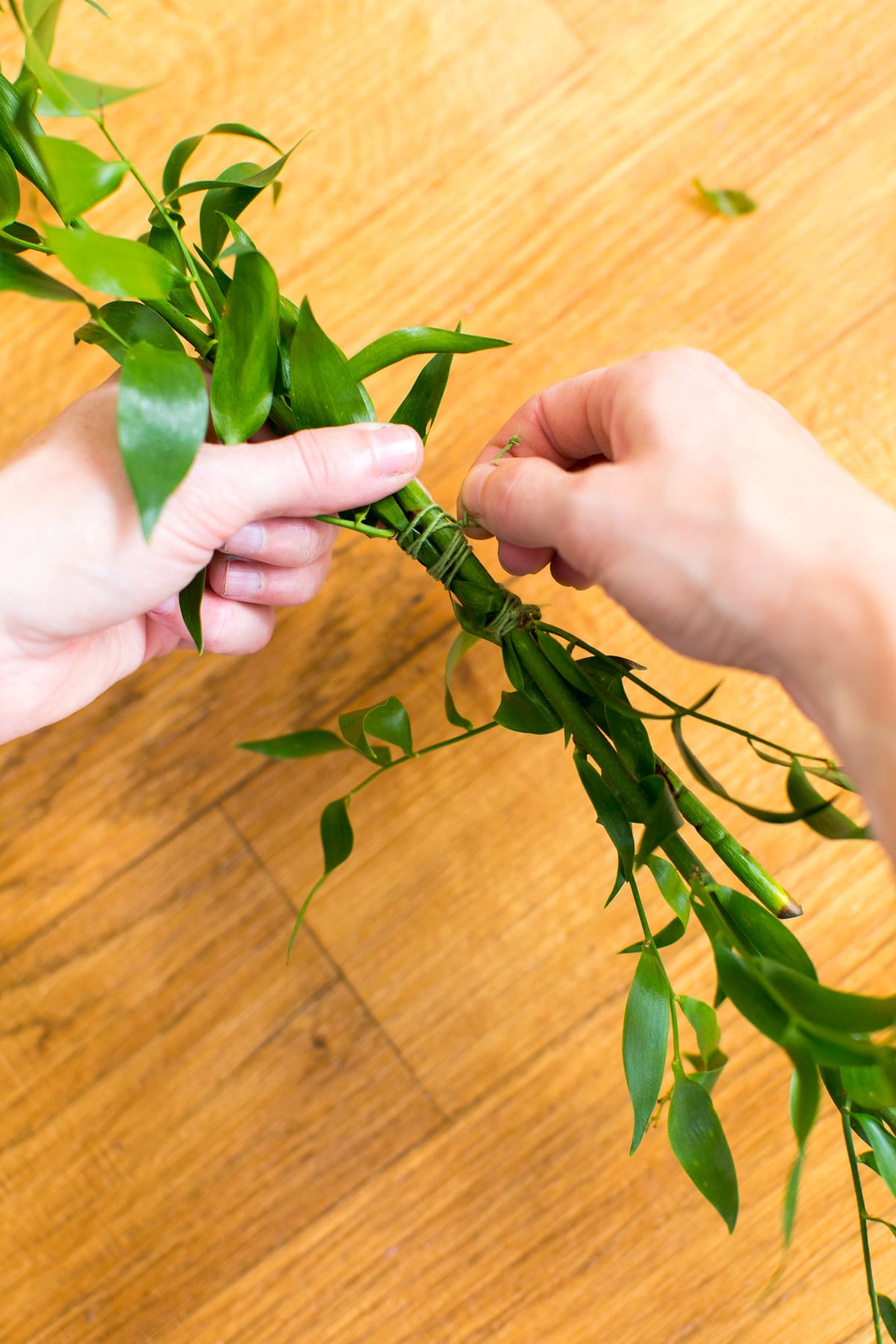 I started our spooky DIY floral bar cart by attaching the greenery that was going to be the biggest bulk of the decor.
I wrapped the cloth floral wire around to ends overlapping just a bit, then used additional wire to secure it to the corner of our studio bar cart.
I attached several pieces with the floral wire to make one long, swooping garland along the left side.
I even got a bit of a wild hair and decide to pin a few pieces to wall to cascade down around the space.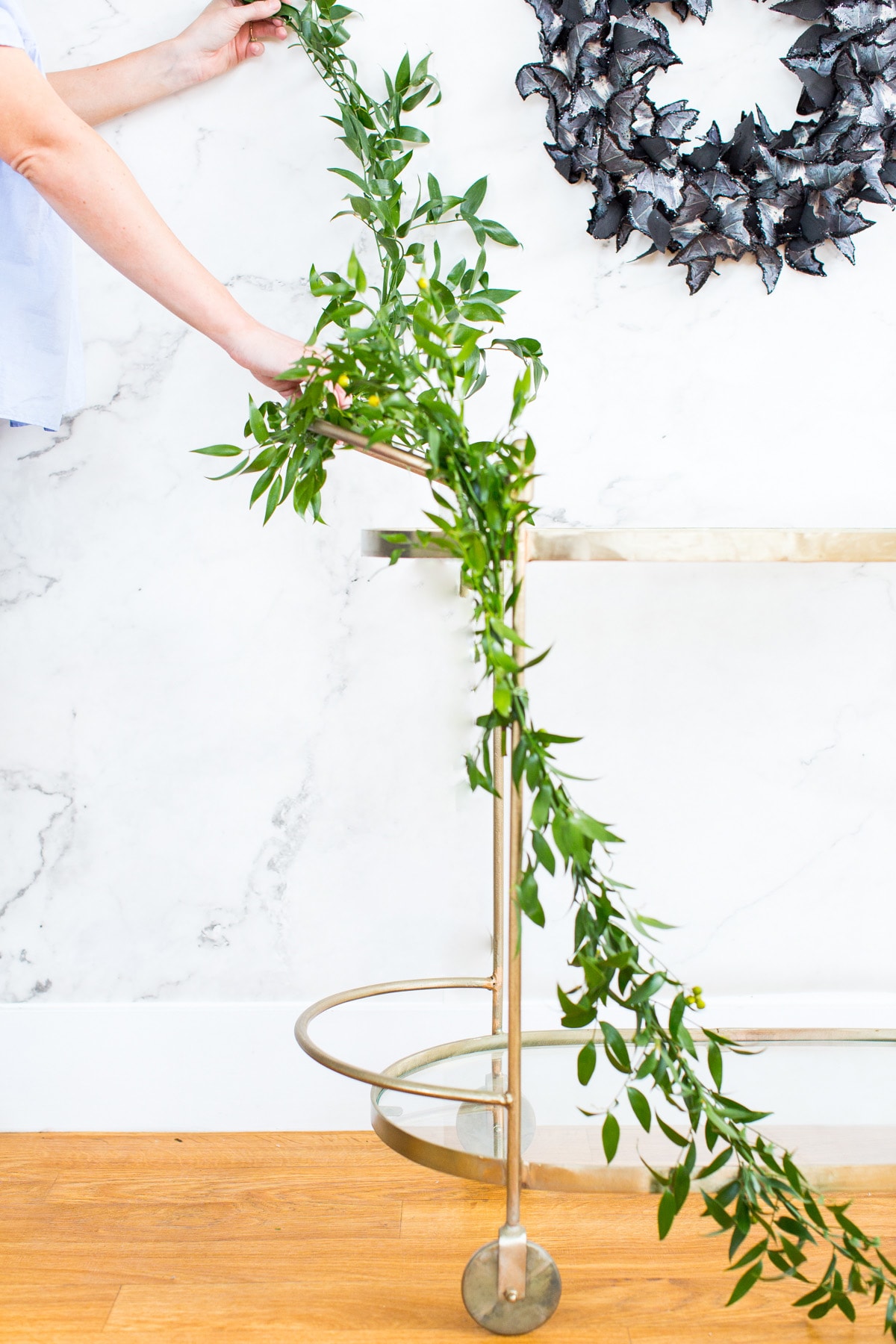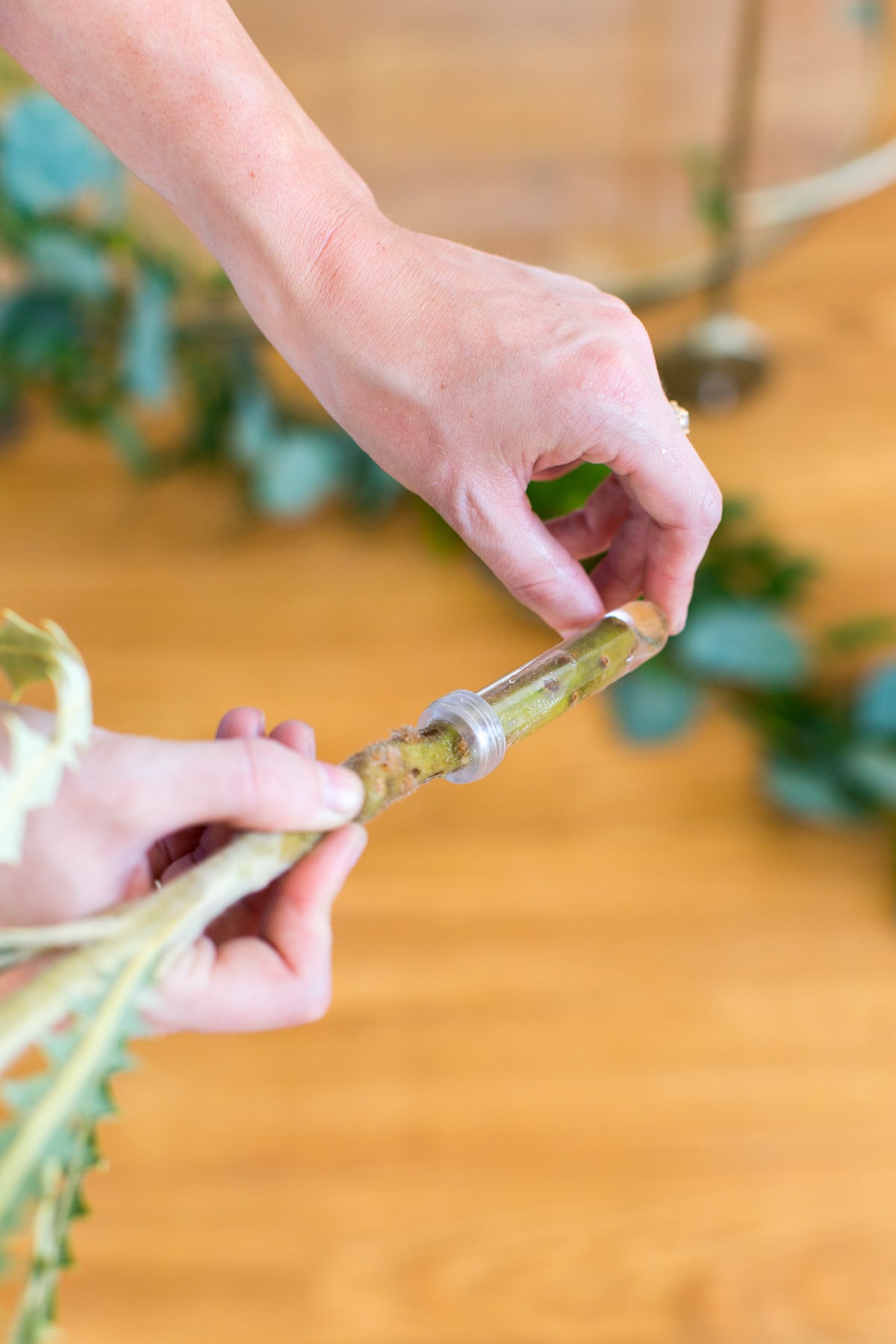 Once I had the base of the greenery secured, I attached our biggest banksia as a focal point flower after using a floral tube to keep it submerged in water since we were building our bar cart in advance and I wanted it to stay super fresh.
The big blooms covered up the floral wire to the garland looked seamless once it was finished.
I kept adding dark florals here and there until it felt nice and full, and just the right amount of spooky.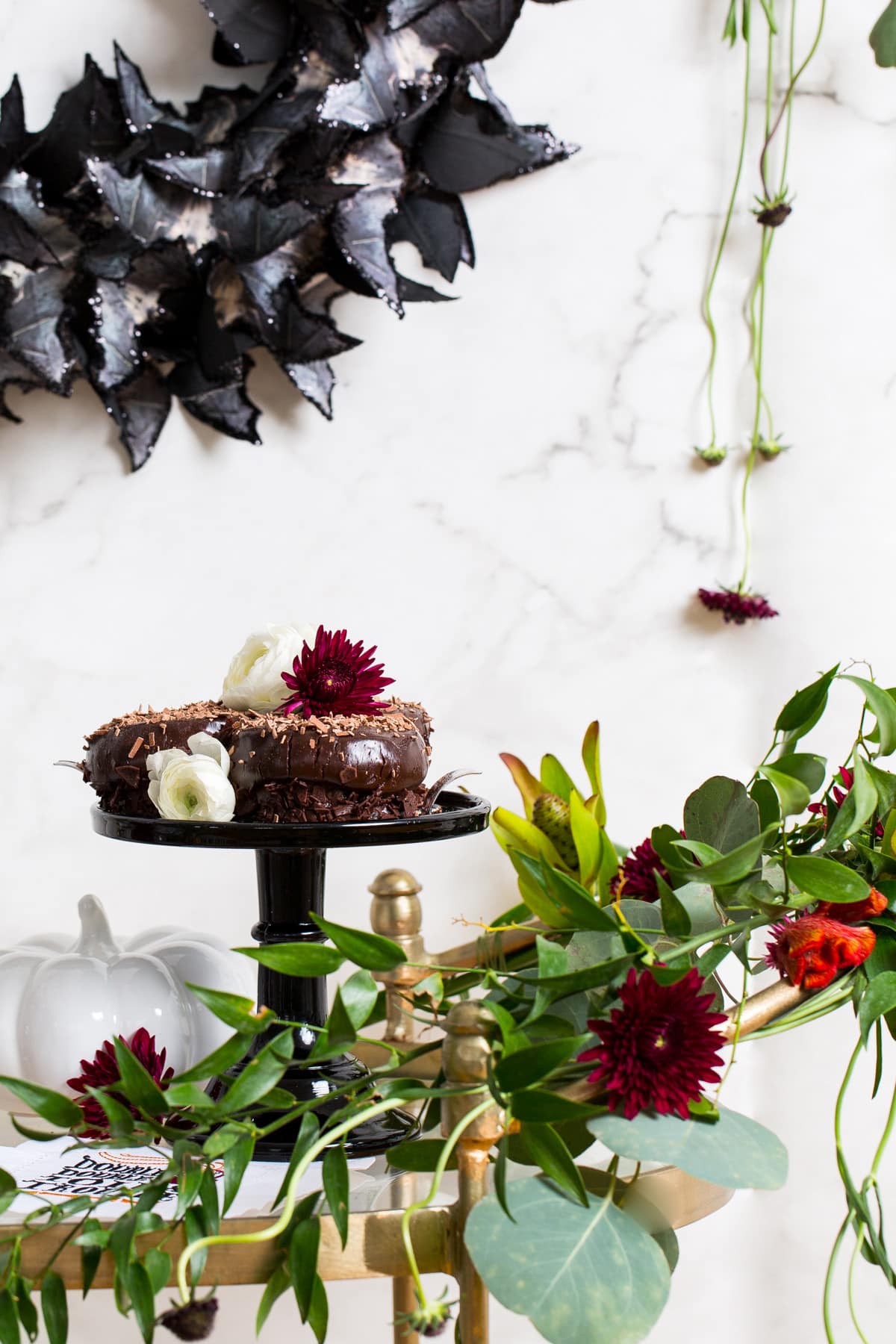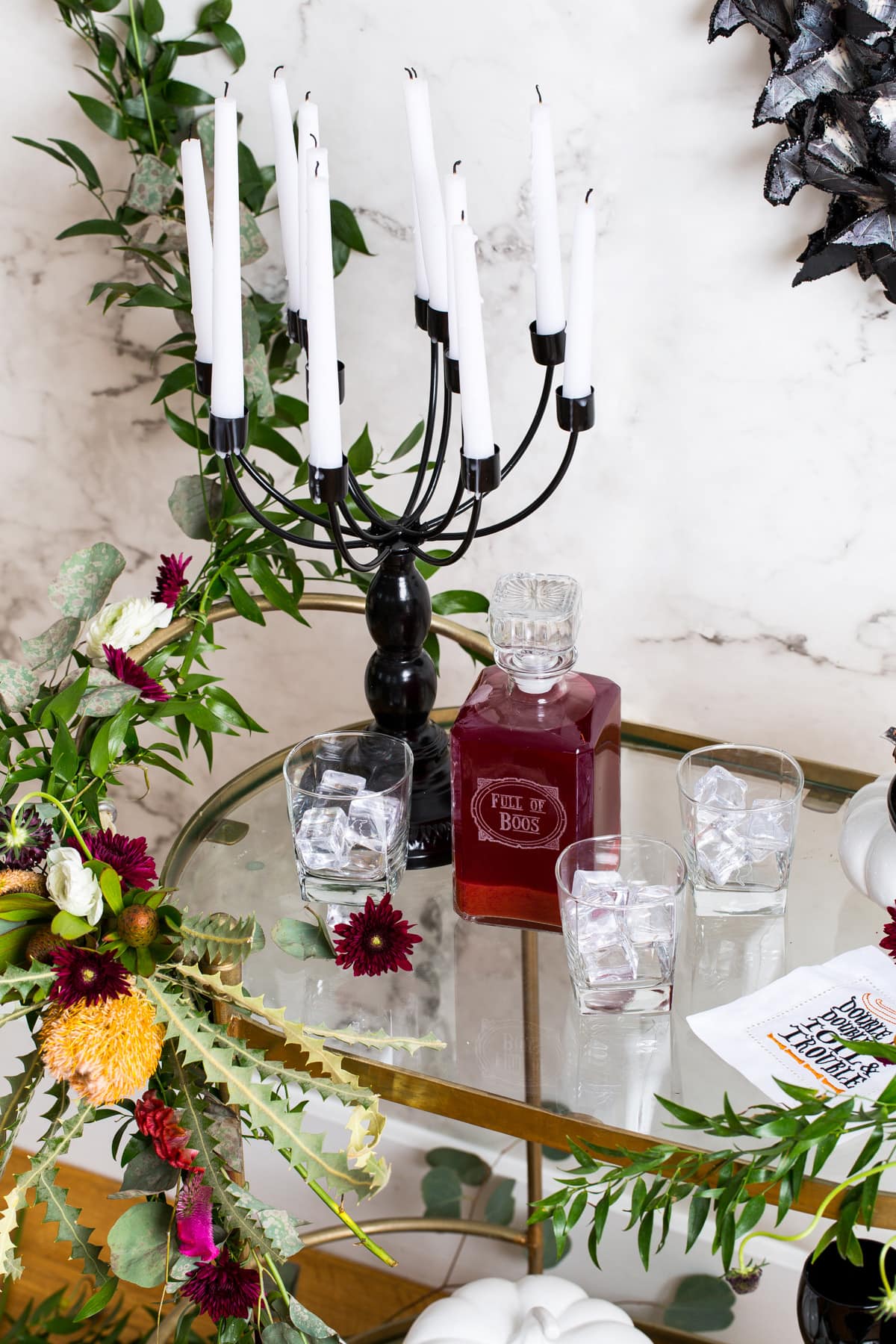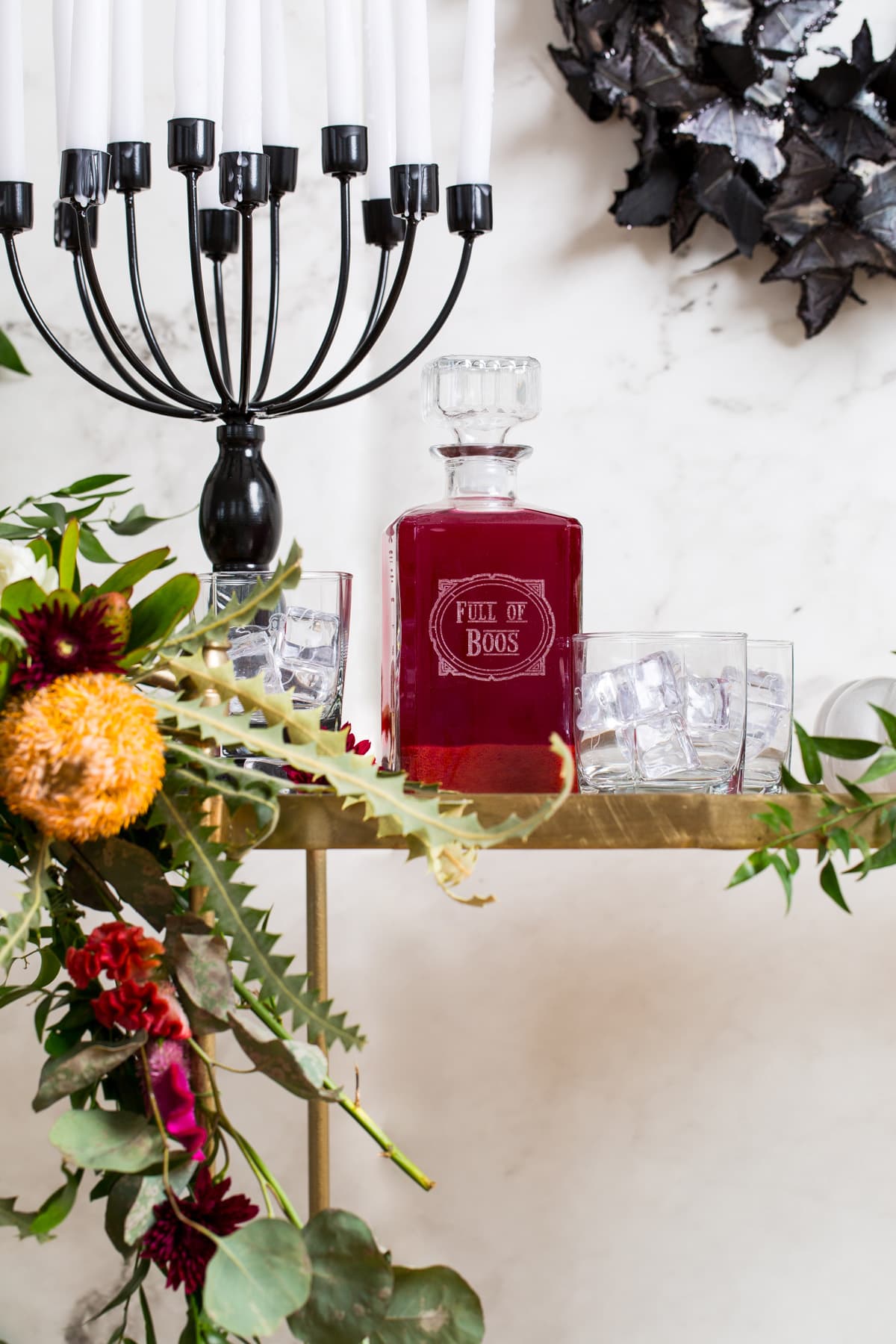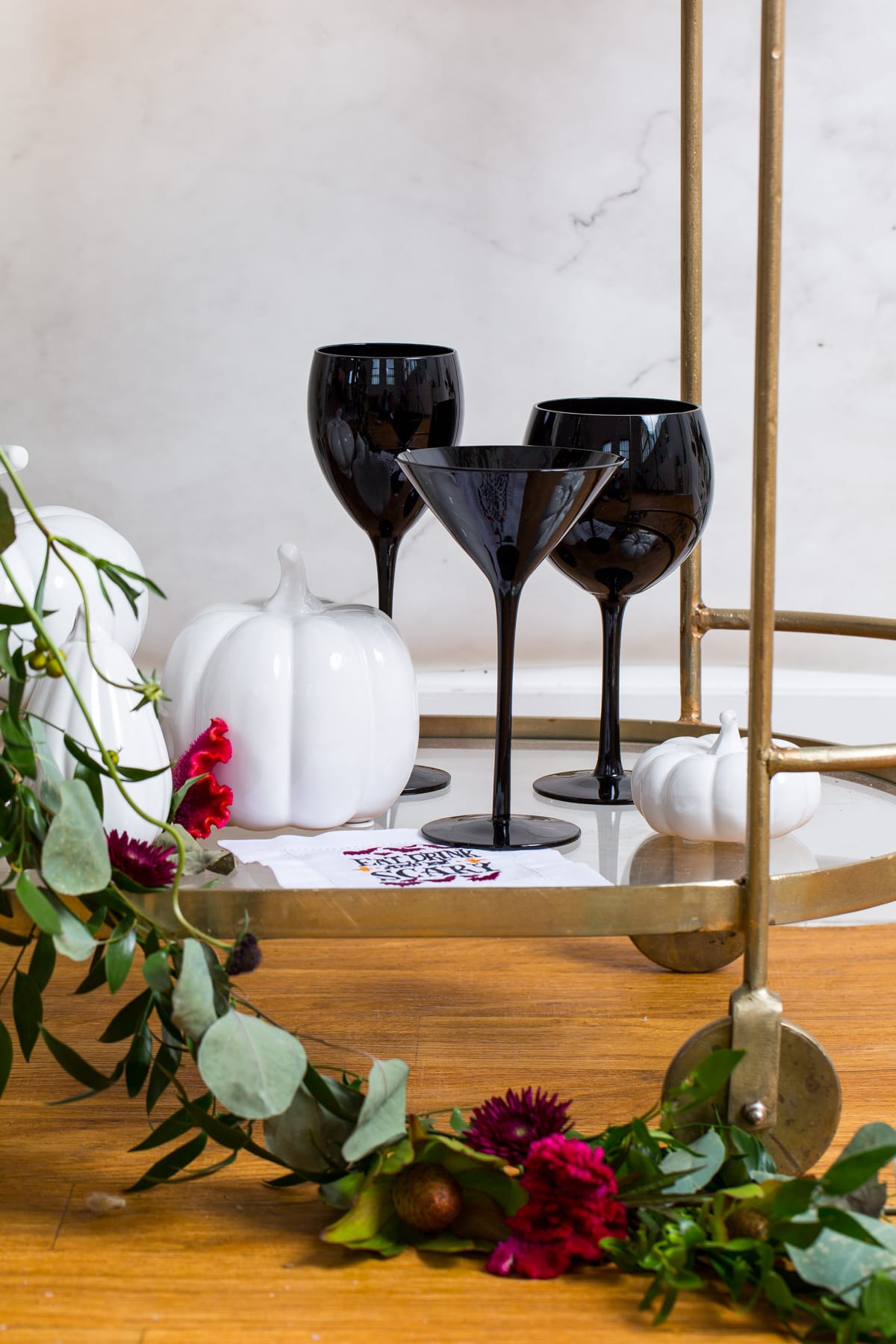 We really lucked out in the floral market when we saw this huge orange banksia! I don't think we could have scored a more perfect Halloween flower, especially with those jagged leaves…
Also, can we just talk about that hilarious decanter is?! It would also look great on our sophisticated Halloween table decor setting!
And in case you're looking for some Halloween costume ideas or fancy champagne jello shots to go along with your Halloween table decor setting, here are a few ideas for you —
Halloween Bar Cart Styling sources — Bar Cart / White Ceramic Pumpkins / Cocktail Glasses / Decanter + Glass Set / Cake Stand / Candelabra / marble wallpaper
Halloween Entertaining Ideas