Looking for ideas on how to decorate your front yard this Halloween? We've compiled a list of our 22 best DIY outdoor Halloween decorations.
Halloween is one of the best celebrations of the year. It's festive (fit for kids and adults alike) and allows for endless possibilities and creativity when it comes to decorations.
Whether you're looking to decorate your front yard last-minute with little effort or to win the neighborhood award for the most themed yard, these front yard DIY outdoor Halloween decorations are for you.
Plus, a lot of these ideas also make for great indoor Halloween decor!
Front Yard DIY Outdoor Halloween Decorations
1 — DIY Jumbo Candy
Halloween wouldn't be Halloween without candy. So these DIY candy project is the perfect festive door decoration. All you need are some foam, cellphone, ribbon and paint. Hang in some pumpkins, and your porch is all set!
2 — DIY Waterproof Outdoor Paper Lanterns
These DIY waterproof outdoor lanterns are so easy to put together and there are many ways to get creative by customizing each to how you like it.
If you're really in a pinch for time, take some store-bought paper bags, decorate them how you would like, and coat them with Mod Podge (making them waterproof).
If you have more time and energy, make your own paper bags. This second option allows you to customize the bags even more. For example, use orange paper and make jack-o-lantern bags or black and purple paper to create a witch-y bag.
The cool part about this DIY project is that it doesn't have to be only for Halloween. It can work for festive parties and special occasions alike.
3 — Glowing Pumpkin Lanterns
If you want to add some glow to your lanterns and have them light up your walkway for trick-or-treaters, try these glowing pumpkin lanterns. It honestly takes longer to make a bowl of cereal than to make these lanterns.
Simply take a plastic lantern (commonly used for trick-or-treating) and add in tap lights, flameless candles, or thick glow sticks (different colors would be extra festive). Once your Halloween pumpkin is glowing, hang it up, and voila!
4 — DIY Tin Can Ghost Windsock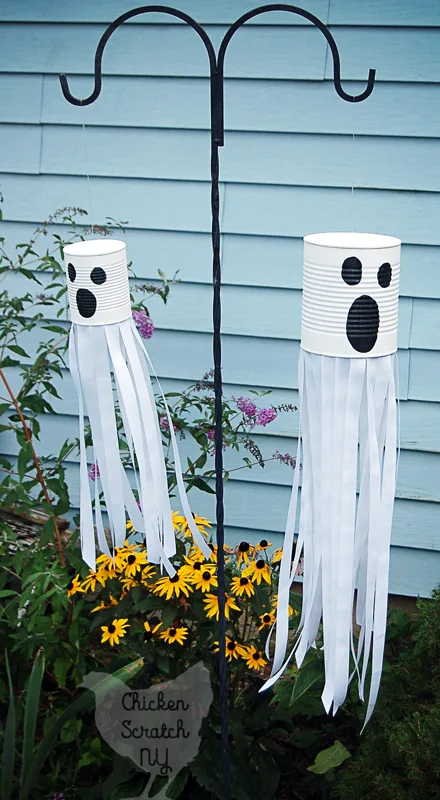 This DIY tin can ghost windsock is the perfect decoration if you don't want your yard to be super scary but also want to be festive. Plus, it's a fun and safe project for kids to do too. It's quick to put together as long as you don't spend too long watching the paint dry.
Starting with a tin can and some white and black paint, add on the white ribbon to hang off the bottom (to mimic the bottom of a ghost) and hang it up in the breeze.
While this project is difficult to make glow-in-the-dark, it's possible with layers (and we mean layers) of glow-in-the-dark paint.
5 — DIY Venus Flytrap Pumpkin Candy Holder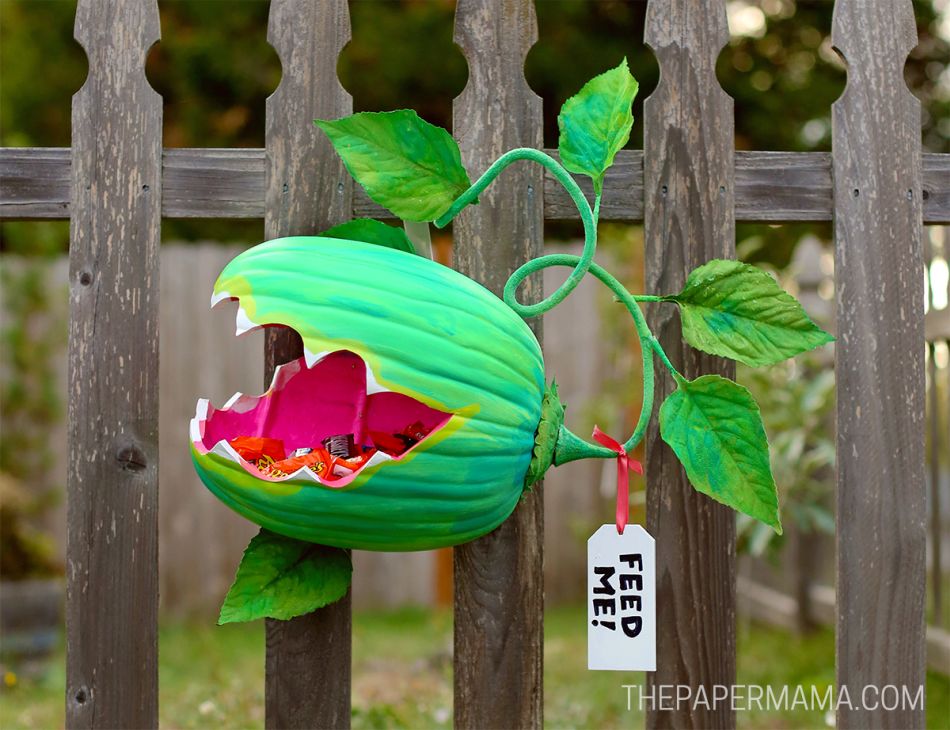 If you're tired of using the biggest bowl in the kitchen and maybe decorating it with stickers or Halloween decorations for candy handouts, fear no more.
Use that bowl for the popcorn to munch on while you wait between trick-or-treaters and instead use this venus flytrap pumpkin candy holder. Plus, you can hang it up, and people can grab their own candy. If you don't want to hang it, then opt not to use the hanger.
All you need to make this fun candy holder are a foam pumpkin, a hot knife, some paint (for the pumpkin), hot glue, a wreath hanger (to help it hang by itself), ribbon, some fake flowers with thick stems, and a wooden tag.
6 — DIY Eyeball Lights
If you're looking to spook up your lights this year, eyeballs are a perfect way. Not only are they the right shape, but they give off an eerie, very Halloween glow to your yard without frightening off any youngsters from trick-or-treating.
The eyeballs are made from painted ping pong balls with a small hole made to fit LED string lights.
You could get bigger bulb string lights and omit the ping pong balls. However, the ping pong balls will look more authentic and glow differently than the lights.
Use sharpies to draw/"paint" on the eyeballs. Use red to create a bloodshot look, yellow to create a very eerie Halloween look or purple to match a witch. Then, string them around your front door or in your tree.
And if you want to continue with the eyeball theme, check out our spooky eyeball donuts.
7 — Pumpkin Stenciling
Pumpkin carving is such a fun tradition. But if you're free-handing your carving or letting the kids take charge, that pumpkin sometimes turns out frightening… and not in a fun Halloween way.
Take charge of your pumpkin carving with these pumpkin stencils. They're printouts that you trace on the pumpkin and carve out. Easy as (pumpkin) pie!
8 — Flamingo Vultures
If your lawn has some pink lawn flamingos, don't take them down for Halloween! Instead, revamp them into themed vultures.
It's almost guaranteed that no one else on the block will have these as part of their decor. The main article you need for this project is spray paint (one can of black and one can of dark maroon) that is plastic-friendly.
Additionally, you need (and who doesn't?) some white feather boa to go around the neck. The transformation of these cute pink birds into frightening vultures is so neat! Everyone will be asking how you did it.
And if you're hosting a Halloween party, turn them into a ring toss yard game.
9 — Halloween Spider Web
Why TP with toilet paper when you can build a classy spider web yourself? Although it's time-consuming to string together, it's definitely worth it. This project is under $20 and made from clothesline string/rope.
It's around 20'x12′ in size and will add a very cool Halloween vibe to any yard. And if you're able to find a plastic giant spider from your local store, even better!
10 — Hanging Foam Bats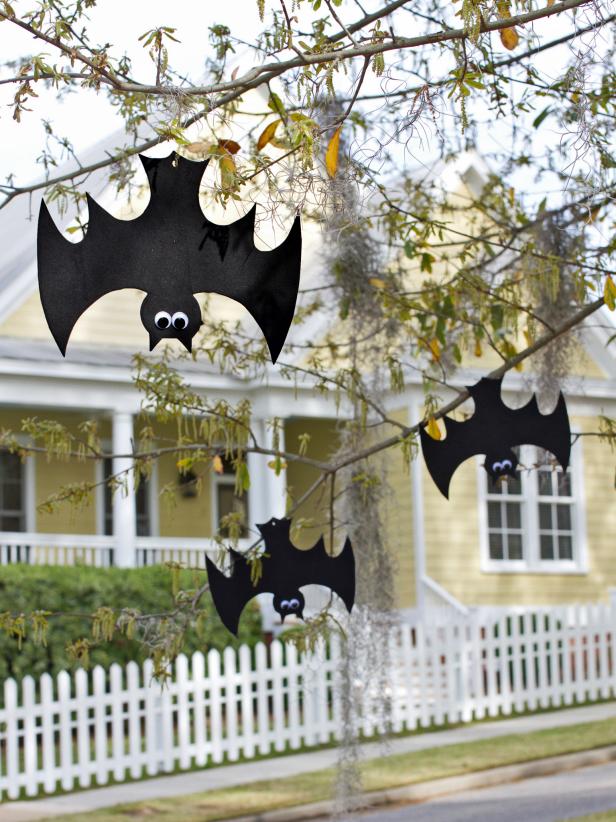 If hanging bats from the ceiling doesn't give you the heebie-jeebies, we're not sure what will. These hanging foam bats are so authentic you might even end up scaring yourself by accident by the end of the night!
This project is kid-friendly, easy to put together, and perfect for a trick-or-treating yard filled for a scary Halloween.
11 — Black Cat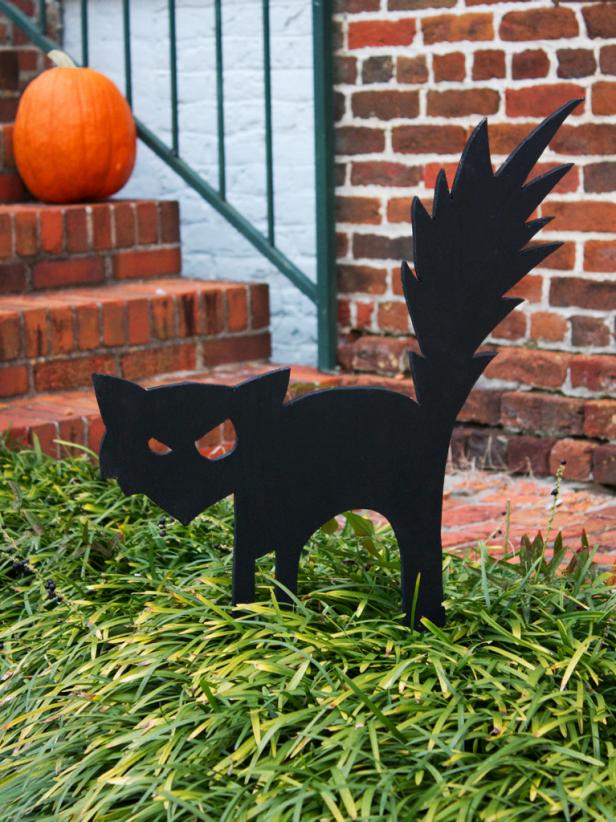 Black cats really get a bad reputation. Although they're known to bring bad luck, this DIY black cat is too cute not to put up.
Plus, if you make it with good intentions, surely that cancels out the bad luck, right? Made from plywood (big version) or paper with Mod Podge (small version), this little cat cut-out is perfect for helping you set up a slightly spooky yard.
12 — Yard Monsters
If you have a yard with trees and bushes, this outdoor project is for you. Rather than putting spider web all over them, which is difficult to take off and awful for the environment, try these yard monsters instead.
Akin to the Cookie Monster and Halloween mashed together, this project can be kid-friendly (although adults handle the glue gun) and can be reused year after year.
The eyes are made from foam disc cutouts (think Googly eyes in giant form). With black and white fabric making up the eyes. It's easy to customize to your taste and yard size.
13 — Halloween Skull Yard Signs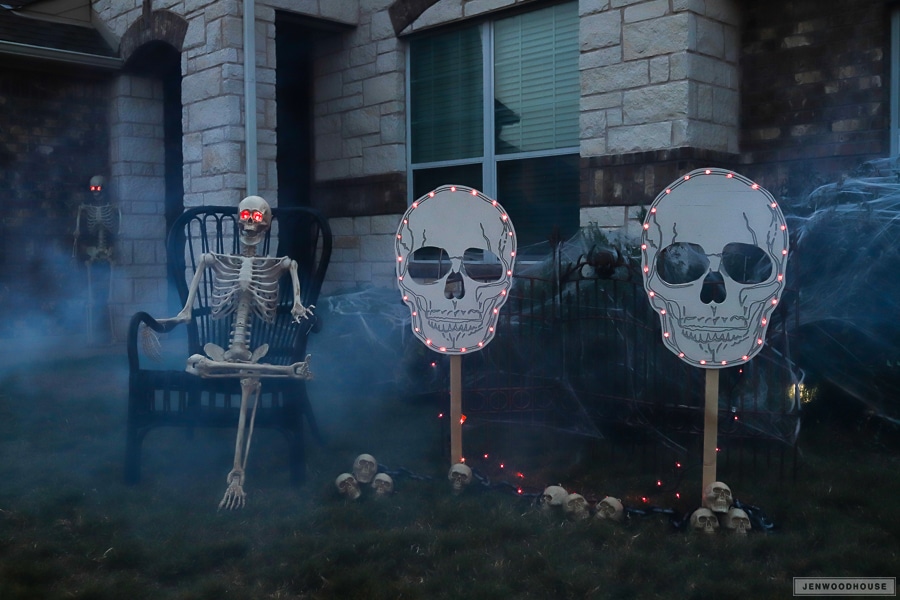 These skull yard signs look cool, but there is definitely time, energy, and effort put into them behind the scenes. This is a great project for people who have experience in woodwork or have an extensive toolshed. If you have a fog machine, use it to make your yard even more graveyard-authentic!
14 — Halloween Coffin Prop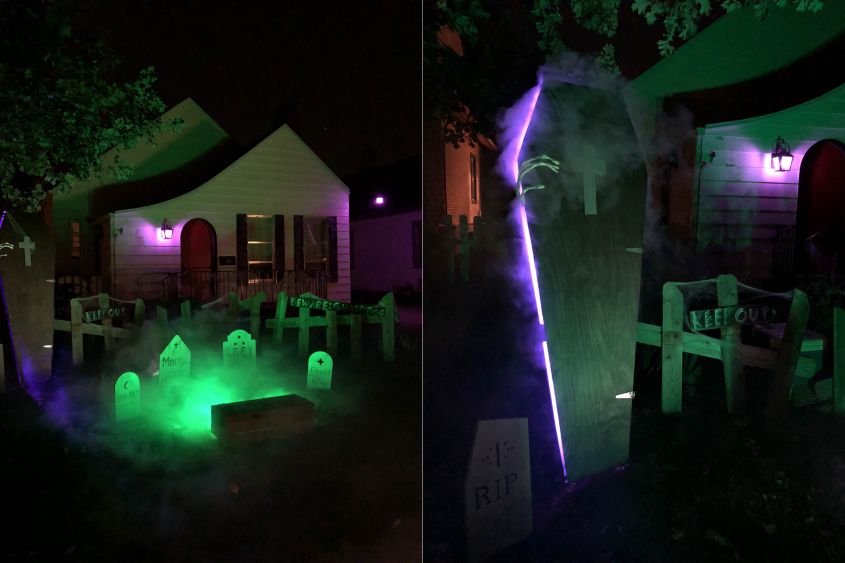 Not much can top creepy this Halloween than a glowing coffin (eek!). Made from cut-out plywood panels, wood planks, hinges, paint, and an LED light strip, this DIY Halloween project is definitely going to take your decorated yard up a notch.
15 — Packing Tape Ghost
It's hard to find a house that doesn't have three rolls of half-done packing tape. Help get rid of that by making this packing tape ghost. In three words, it's transparent, strong, and eerie.
Although it's not that environmentally friendly, plastic cling wrap and packing tape don't go bad, so they can be used annually in different ways.
Get into the "spirit" of Halloween by hanging this translucent ghost from any ceiling, tree, or post. Try to light it up from underneath for an even eerier vibe.
16 — Ghost Leaf Bags
If you're not ready to get rid of the endless amount of trash bags filled with fall leaves from your yard, try making them into ghosts by adding black cut-out eyes and propping them up around the yard. Easy, kid-friendly, and customizable!
17 — DIY Halloween Lawn Gravestones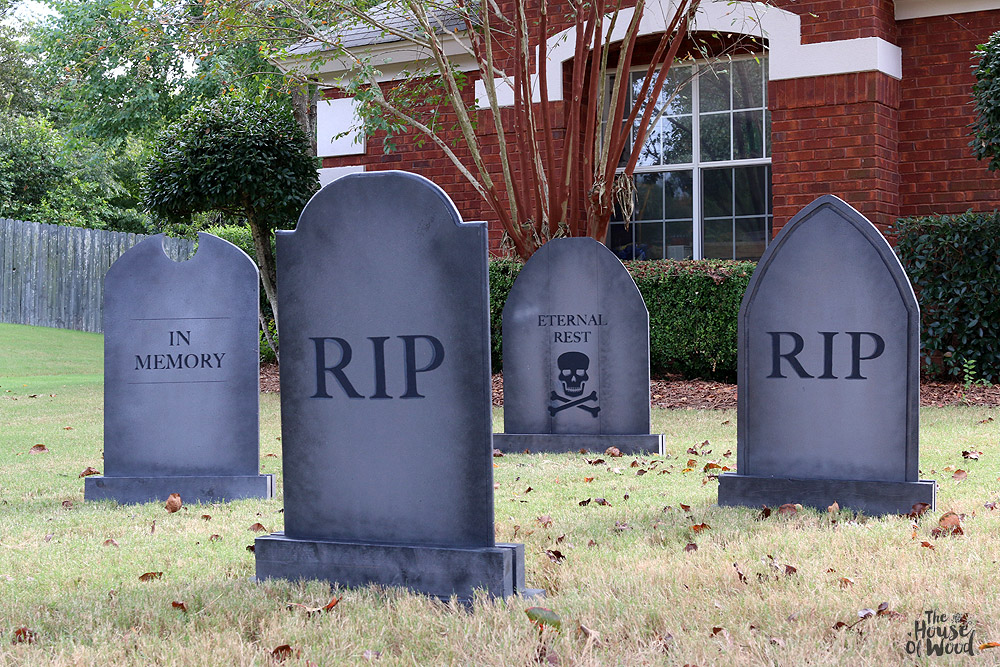 These gravestones are really cool but be warned that they take woodworking experience and knowledge and are definitely not a kid-friendly project. However, they will take your yard to the next level (or the grave!).
18 — DIY Halloween Witch Decor
These witches are perfect for a yard because they're in theme, but not so scary that they will deter away young trick-or-treaters.
Made from spray paint, empty bottles, and fabric, these witches are easy to make and easy to assemble. Now all you need is candy to hand out!
19 — DIY Floating Halloween Ghosts
Halloween crept up on you quickly? No pun intended. No worries! These 10-minute ghosts will help liven up your yard in time for dusk.
These ghosts are from foam balls on garden stakes with black construction paper for eyes. Then the white fabric is draped over, and voila! A ghostly sight indeed.
20 — DIY Halloween Cemetery Picket Fence
If you're looking to do something different with your yard this year, try adding a graveyard fence! Made from PVC pipe and scraps of wood, you can add in skeleton hands and some DIY gravestones or ghosts behind it to complete the theme.
21 — DIY Halloween Yard Sign
This yard sign is a great way to celebrate your favorite scary movies. Made from scrap wood and paint, this yard sign gives way to let your creativity and design skills shine! Lead the way!
22 — Sequin Pumpkin
Wanting to go more glam than scary? By just gluing on sparkly sequins, you've now got some chic and pretty DIY sequin pumpkins.
More Halloween Inspiration
Halloween DIY's & Recipes To Try