Looking for easy and simple Halloween decor ideas? Here's a list of some affordable, creative, & cute DIY decorating ideas that are sure to bring the spook.
Halloween is a great time to dress up, host events, and, most of all, decorate! Halloween decorations can be creative and inexpensive and completely transform your home from the ordinary to the supernatural.
We already did a roundup of our favorite DIY outdoor Halloween decorations. So here's how you can get the inside of your home holiday ready.
From spooky to silly, these 28 simple Halloween decor ideas will help you create spooky fun.
Simple Halloween Decor Ideas
1 — Lighted Pumpkin Topiary
Add some lighted flare to your decor with a DIY lighted pumpkin topiary for Halloween. This stacked structure can be placed indoors or outdoors.
2 — Spider Web Placemats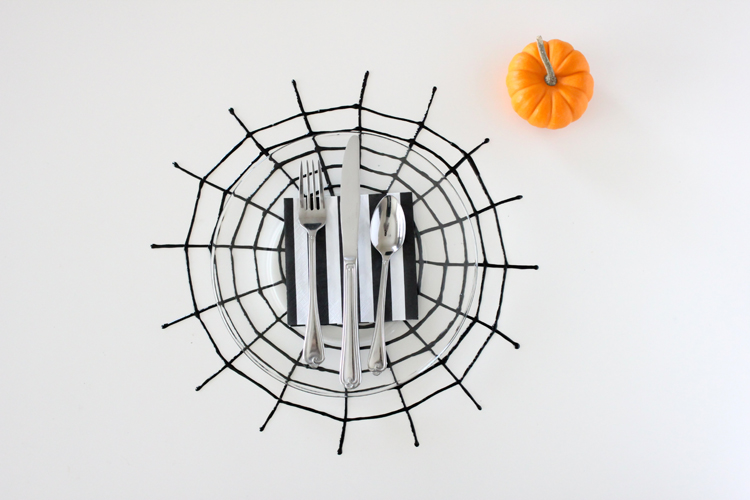 Instead of using a regular tablecloth, add a festive touch to your holiday table with DIY Halloween spider web place mats. This amazing placemat can be made with just puff paint, wax paper, and invisible tape.
3 — Coffin Tray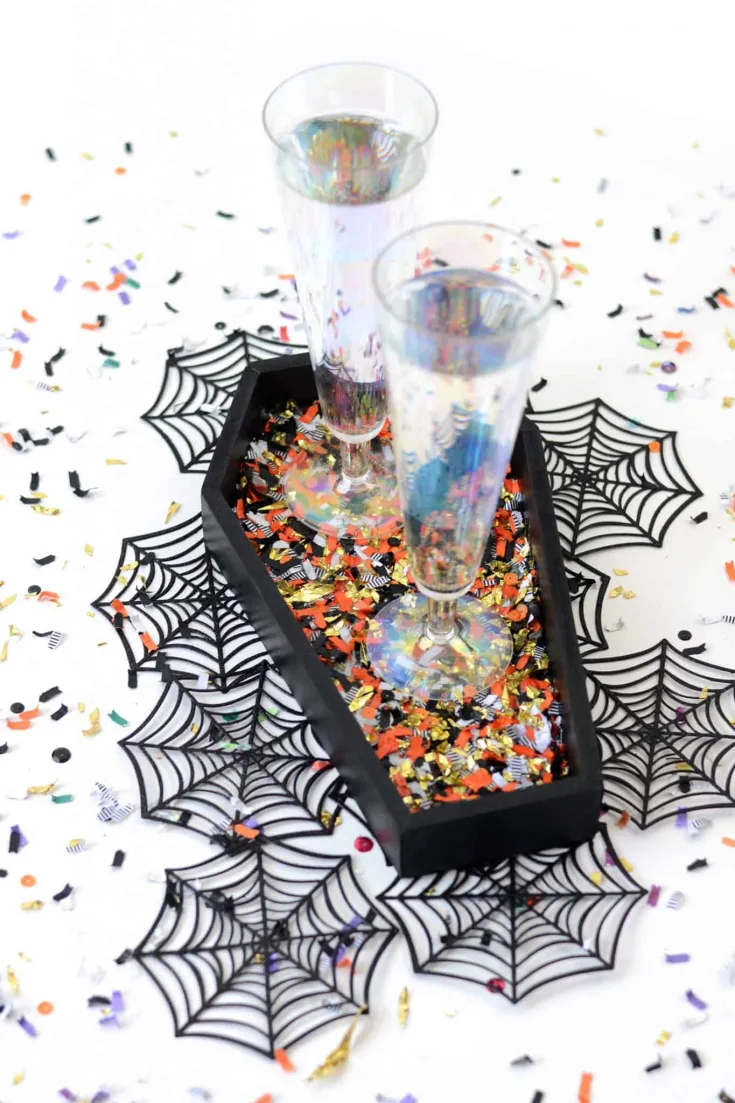 This coffin tray for Halloween is perfect for serving Halloween drinks and cocktails. It's spooky with a hint of cuteness.
4 — Pumpkin Decor for Your Halloween Glassware
This budget-friendly (and temporary) DIY pumpkin glassware decor transforms your regular glass drink-ware into a fun Halloween-themed bar. It only takes a few minutes to cut out the pumpkin's face from a black window cling material.
5 — DIY Floral Halloween Centerpiece
Looking for a solution to bring your dead plant back to life? This DIY floral halloweencCenterpiece utilizes a pumpkin as a vase. And then, spray a little bit of gold spray paint to expand those dead flowers' lifespan.
6 — Halloween Skull Centerpiece
Without a doubt, the creepy aspect of this Halloween skull centerpiece will give your guests the chills. Simply arrange the Spanish moss, miniature skulls, and bleeding candles around the metal wreath to create this haunting coffee table look.
7 — Skull Planter
If you are tired of using the same old skull for decoration, turn it into Halloween easy skull planter centerpiece. Then, display a unique houseplant.
8 — DIY Octopus Ladle
Here's a low-cost Halloween DIY animal leg ladle that will leave your guests wondering, "Why didn't we think of this?" Simple and quick, implement this idea by attaching the rubber tentacle of a toy octopus to the ladle.
9 — Sequin Polka Dot Halloween Pumpkin
Ran short on time and looking for last-minute Halloween decorations? This quick and easy sequin polka dot Halloween pumpkin is here to save the day.
Take some store-bought plastic pumpkins and sequins. Stick the sequins to the pumpkin in the shape of polka dots, and you're done.
10 — Spooky DIY Floral Halloween Bar Cart
Who would have thought your Halloween decor would improve by simply adding plants to your bar cart? Your party will surely be the talk of the town with a Spooky DIY floral Halloween bar cart.
11 — DIY Pumpkin Halloween Candy Bucket
Have you ever been so preoccupied with your children's Halloween costumes that you've forgotten about the candy basket?
Here's an easy last-minute DIY pumpkin Halloween candy bucket idea. Convert any ordinary bucket into a trick-or-treat bucket. Simply, cut out a leaf from construction paper and glue it to the bucket's handle, and you're ready to go.
12 — Halloween Candy Cart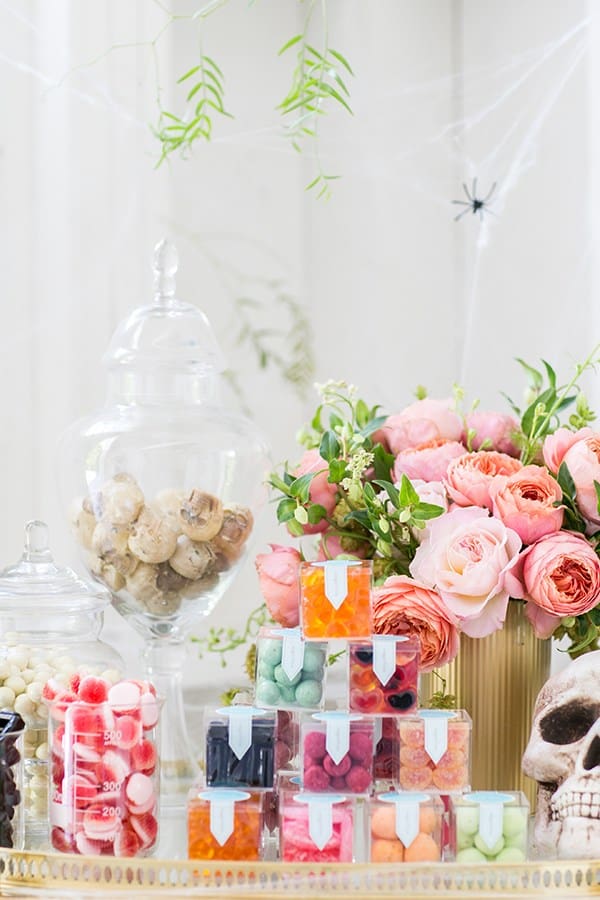 A Halloween candy cart is a convenient way to provide your guests with a variety of Halloween candy. You can create a scary vibe by arranging some mini skulls, witch hats or spiders on it.
13 — Printable Halloween Garland
14 — Halloween Spider Garland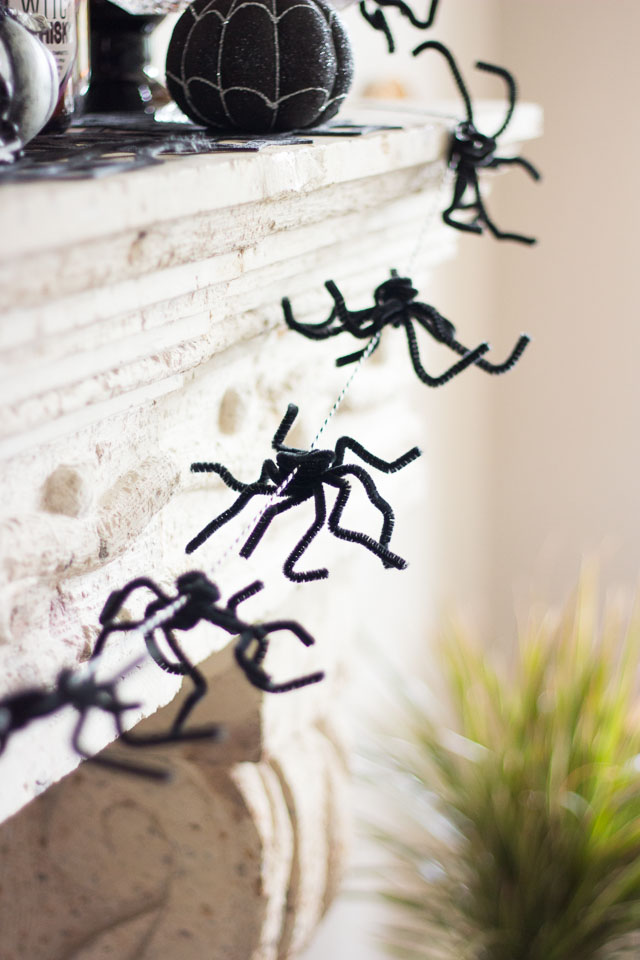 Make your own spiders instead store-bought ones with this Pipe Cleaner Spider Garland guide. Simply fold the pipe cleaners in half and bend the ends over to construct the spider legs, or attach them individually. Pass a string through the spiders, and they're ready to go.
15 — Paper Bats
Want to involve your children in decorating the house? Making Paper Bats for Halloween is a fun activity to do. Have your kids cut the paper bats and ask them where you want them to be decorated. You can even cut the bats into different sizes and then place them together.
16 — Halloween Skulls
Still confused about how to decorate those plain skulls you've been using for years? We have t3 fantastic ways to decorate Halloween skulls that will allow you to be creative and think beyond the box.
To make the skull stand out, you can use bright colors to paint various designs on it. Another option is to go wholly sparkling and cover the entire head in glitter. You can also customize it with amusing items like hot glue, a little cap or a mustache.
17 — Giant Spider Decoration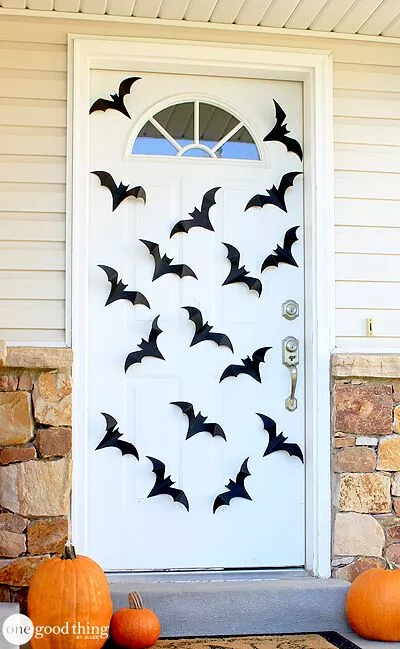 These DIY spider and bat Halloween decorations are simple, easy, affordable and only require three items. Start painting the styrofoam balls with black paint. Then, place the ends of the pipe cleaners into the styrofoam and bend them to appear like legs.
18 — Halloween Candle Holders
In this Dollar Store Halloween Candle Holders tutorial, turn old glass bottles into witch's potion collection with just some black paint.
19 — Ghost Balloons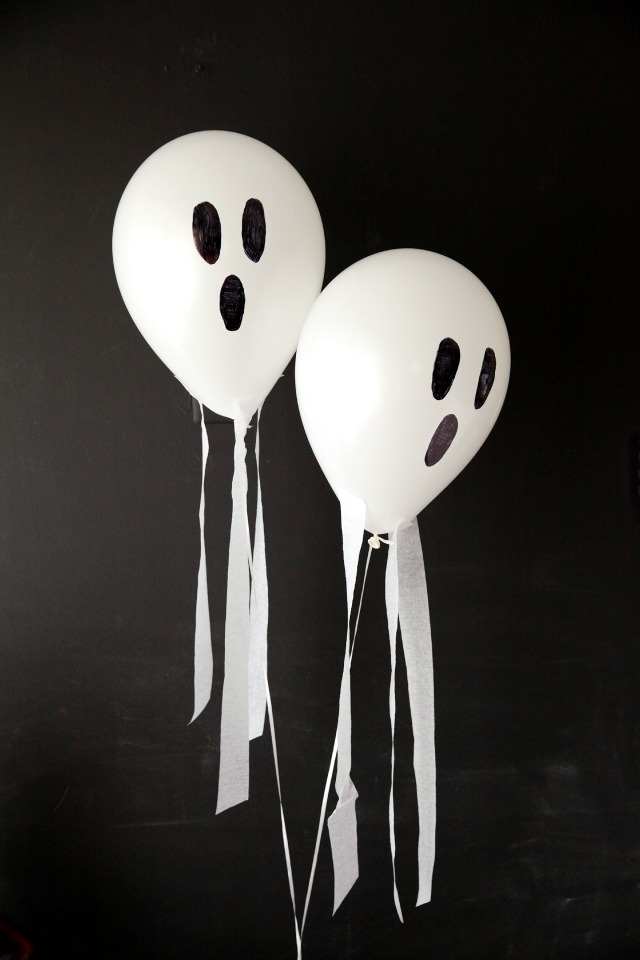 Thanks to this simple craft, give your plain white balloons a Halloween Ghost Balloons makeover. All you need are helium-filled white balloons, a permanent marker to make the face, and some crepe paper strips.
20 — Halloween Monster Wreath
Trust us when we tell you that this Halloween Monster Wreath idea is so simple. All you need to do is wrap feather boas around a wreath, and then, attach googly eyes to it.
21 — Lace Ghosts
If you are a person who enjoys making cheap and easy crafts, these DIY Space Ghost Decorations are for you. All you'll need to do is to wrap and tie the foam ball inside the lace fabric. Attach two pins to make eyes and stitch a string on top for hanging.
22 — Candy Corn Holders
Reuse your extra glass votives and turn them into candy corn holders. Just fill up the glass votive (or even mason jar) with candy corn, and place a tea light on top.
23 — DIY Mummy Pillow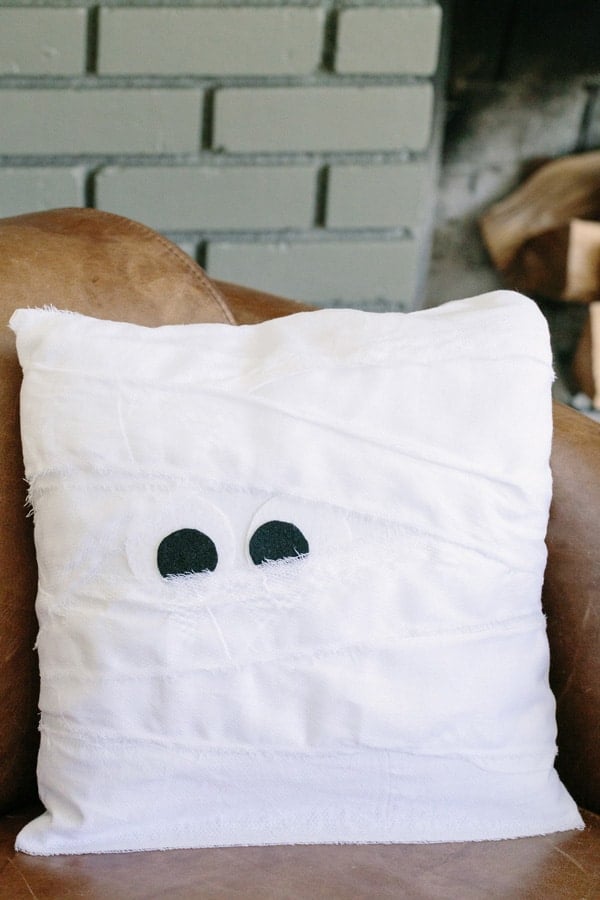 Make a lovely no sew DIY mummy pillow by cutting strips of cloth and winding them around a cushion. The best part about this DIY is that you can utilize old clothes and old materials like felt and cotton.
24 — Carved Pumpkins
Probably one of the most easy DIY Halloween decorations (and most common Halloween crafts) are carved pumpkins. This tutorial offers you tips and also a selection of free downloadable stencils of characters from the Addams family!
25 — Pumpkin Place Cards
Do you want to bring the festive vibe to your dining area as well? Mini pumpkins would be best for this idea. This could be easily done by decorating your dining table with DIY Pumpkin Place Card Holders.
26 — Halloween Dreamcatchers
This DIY Creepy Halloween Dreamcatchers will undoubtedly drive your nightmares away. It's really simple to attempt with stuff you already have at home. To make this, a web is woven onto the willow hoop. Then, add a few feathers, beads, or even a large focal plastic spider to give off that creepy vibe.
27 — Jack-o-Lantern Stair Riser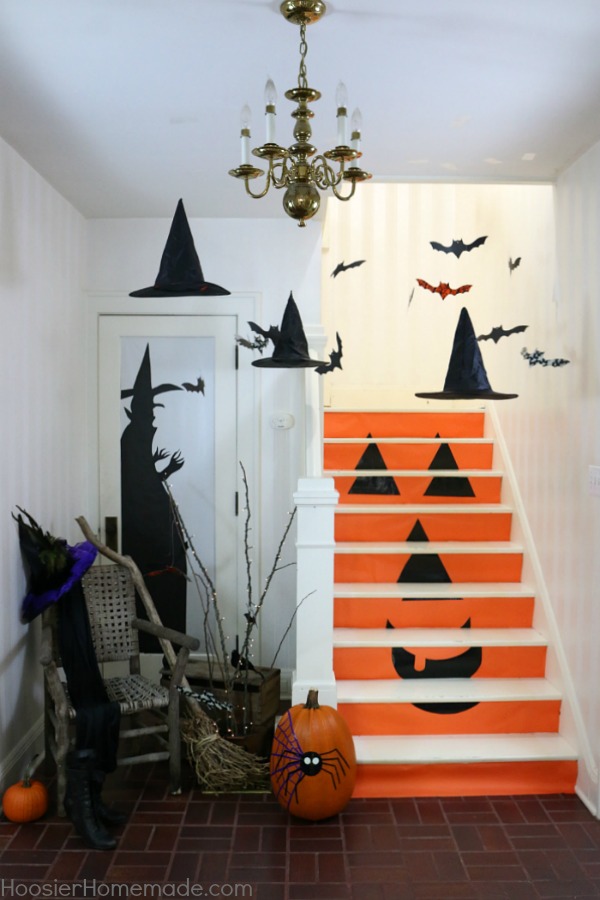 Give your home a dramatic entrance with this fun DIY Jack-o-Latern stair riser idea. A lot of times, the stair risers are forgotten. But there are so many creative ways to spruce it up.
28 — Floating Candles
This magical DIY floating candles idea was inspired by Harry Potter. Simply, paint some empty toilet paper rolls white. The flames are actually LED tea light candles with hot glue serving as the faux wax. String them from the ceiling for the floating effect.
More Halloween Ideas