DIY Halloween Candy Bucket — Every kid needs a good way to haul their Halloween candy, and these DIY Pumpkin Halloween Candy Buckets are super easy to make!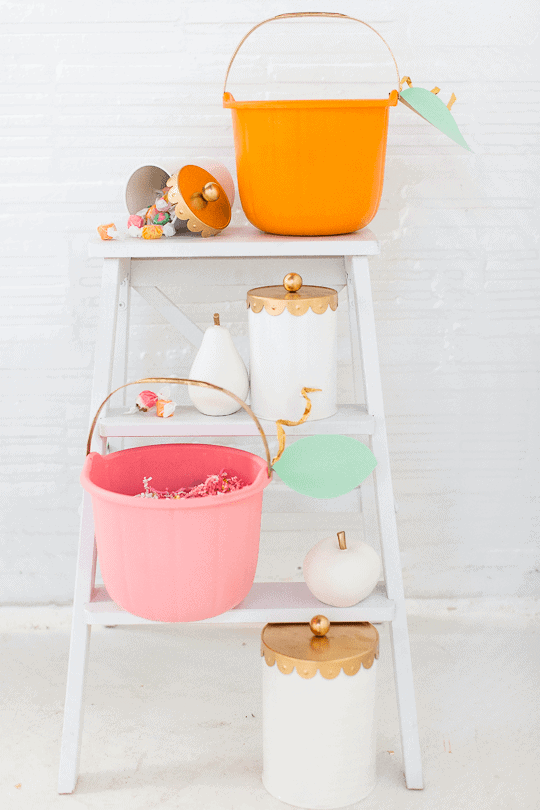 So I might have actually missed the trick-or-treating boat for a lot of you with my poor timing on this project. But our model was too cute not to post so I decided to anyways!
Besides, there is always next year if you're the kind of parent that likes to DIY any time before the night before something is due… I can't say that I'll always be that prepared. So far my track record is really against me on that one.
For those of you that are ready to cram in one last Halloween craft for your kids' sake, then this DIY Pumpkin Halloween Bucket has your name all over it.
For the rest of you that only have fur babies that require no candy buckets, you can stick with the Halloween macaron DIY I shared on Insta last night!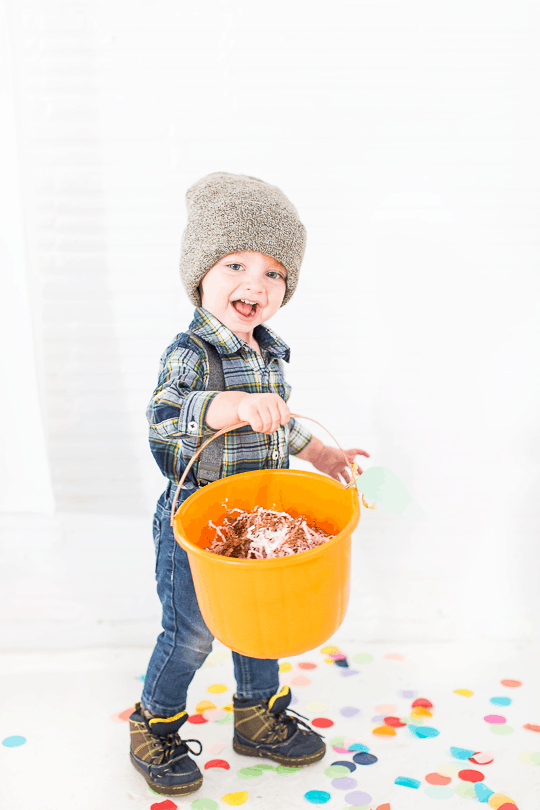 Materials And Tools Needed To Make A DIY Pumpkin Halloween Candy Bucket
Plastic bucket with handle
Plastic friendly orange and metallic gold spray paint — Make sure the spray paint you're using will bond to plastic, otherwise your child will be covered in spray paint chips.
Green construction paper for leaf
Gold crepe or construction paper for stem
Hot glue gun and glue
Scissors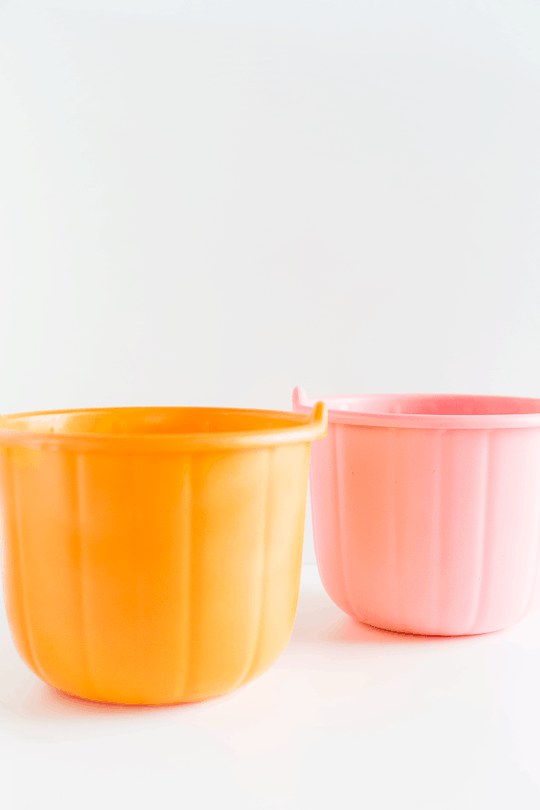 How To Make A DIY Pumpkin Halloween Candy Bucket
Remove the plastic handles from the buckets, and then spray paint them the colors of your choice.
While those are drying, use the metallic gold to spray the handles.
And let set until completely dry.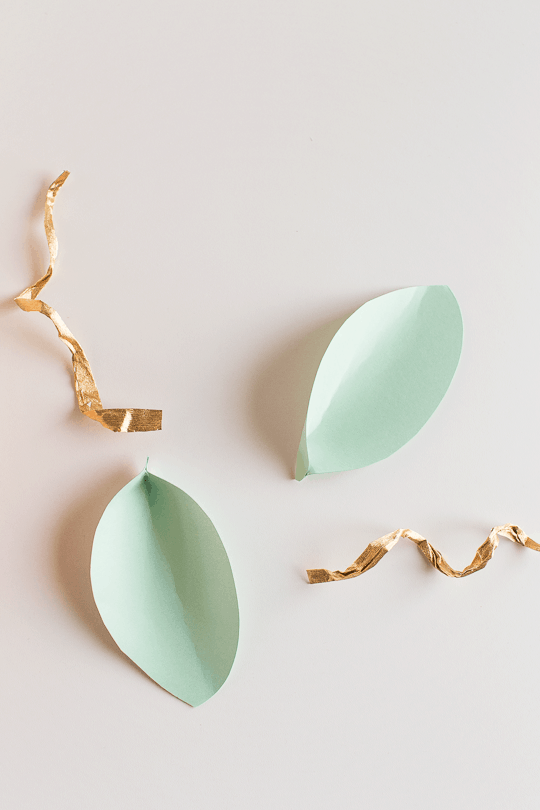 With the construction paper, cut out a leaf shape. Use a dab of hot glue to make the end come to a point for a 3-d effect with the leaf.
Then, glue the leaf to the side of the bucket.
Next, fold the gold paper into a long, skinny rectangle. And then, twist it around a bit to look like a stem.
Glue the stem to the bucket next to the leaf.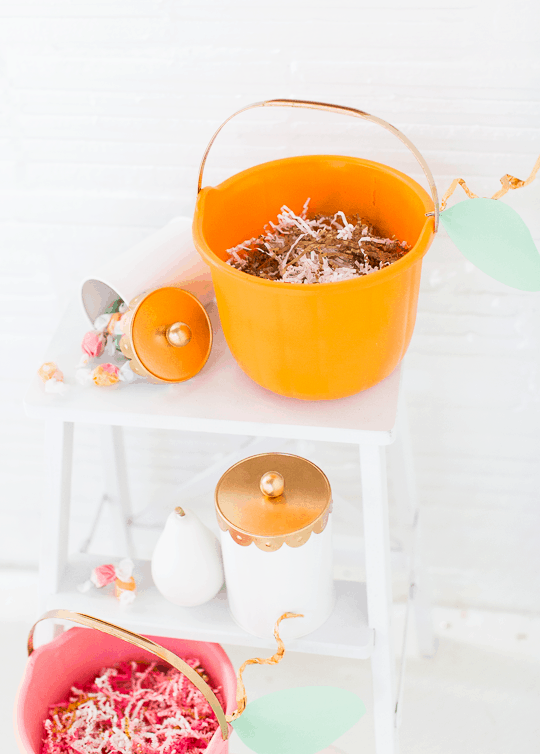 Once everything is assembled, reattach the handles and let them have at it!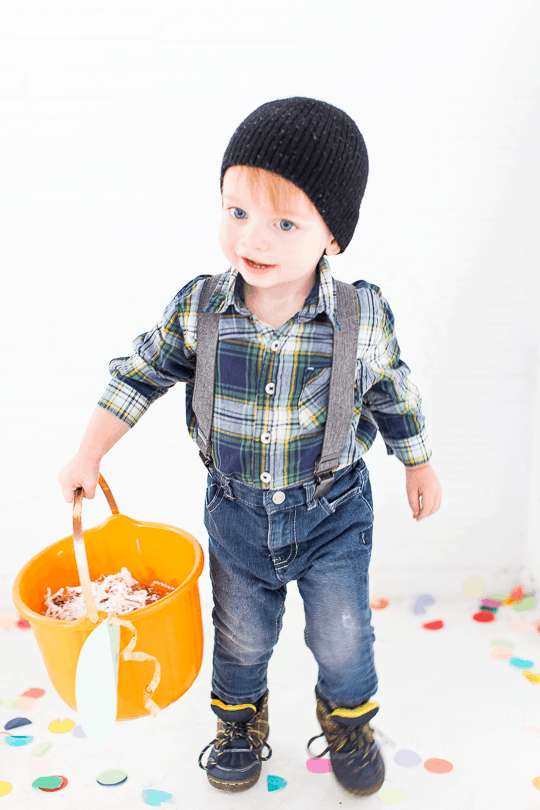 Also, I'd like to thank my new assistant Tiffany for having really cute offspring and being willing to let us force him to hold a candy bucket while dressed as a lumberjack in the middle of a Houston heatwave.
I've also come to the conclusion that with enough confetti around, it's actually pretty do-able to get kids to model just about anything. Who knew?!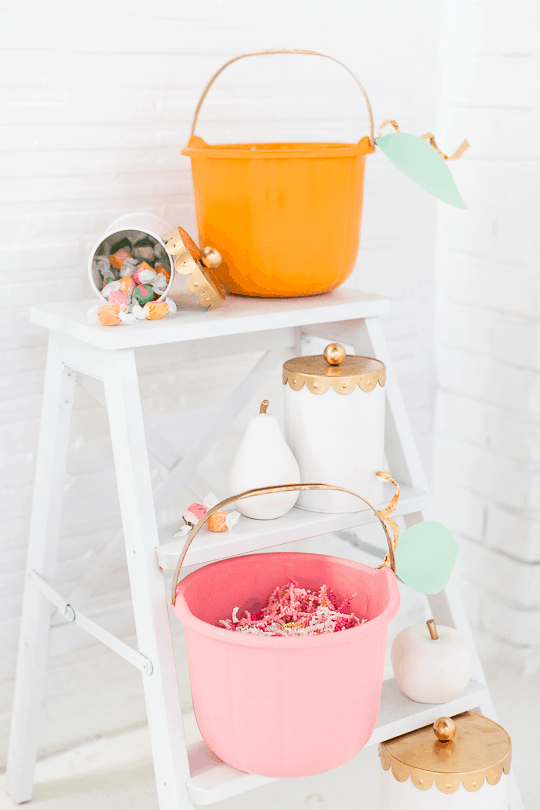 More Easy Halloween DIY Ideas
In case you're looking for some other Halloween DIY ideas, here are some of my favorites —
Halloween Decoration Ideas