Halloween Door Decor Ideas — Front door decorations are always a good idea, and we made this not-so-spooky setting that you can easily recreate just in time for your next Halloween party!…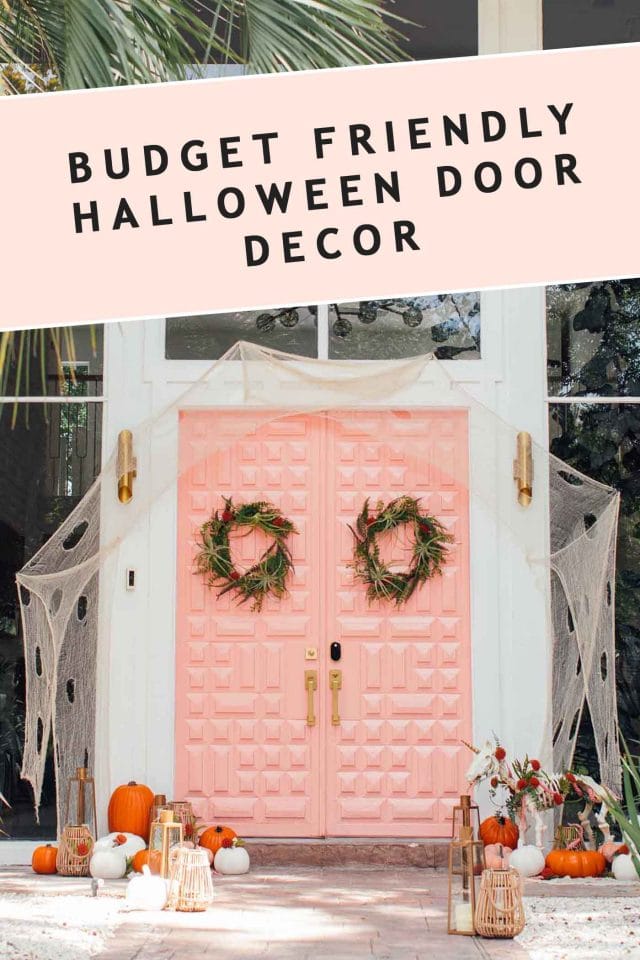 Happy pumpkin spice latte season, my friends! I'm so excited to share this easy Halloween front door decor with you!
Whether you're hosting your own party, expecting trick or treaters, or just prepping for the witching hour, these three easy DIY Halloween ideas are made with cheap Halloween decorations that you won't have to worry about being outdoors.
Before I dive into my tips and decor ideas, if you're looking for a really great resource for inexpensive decorations, I love Oriental Trading.
We actually partnered with them on the products we used for this Halloween door decor and I couldn't be more pleased with how it all came together!
Technically they have enough craft supplies, holiday decor, and all the things in between to keep you busy 365 days a year with home projects, but we'll just stick to the Halloween door inspirations for now…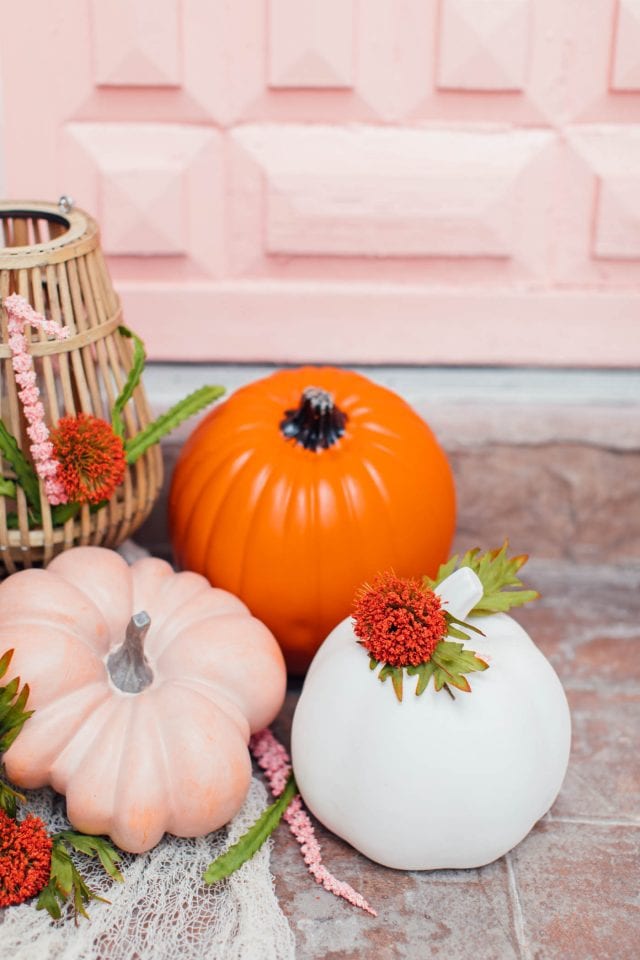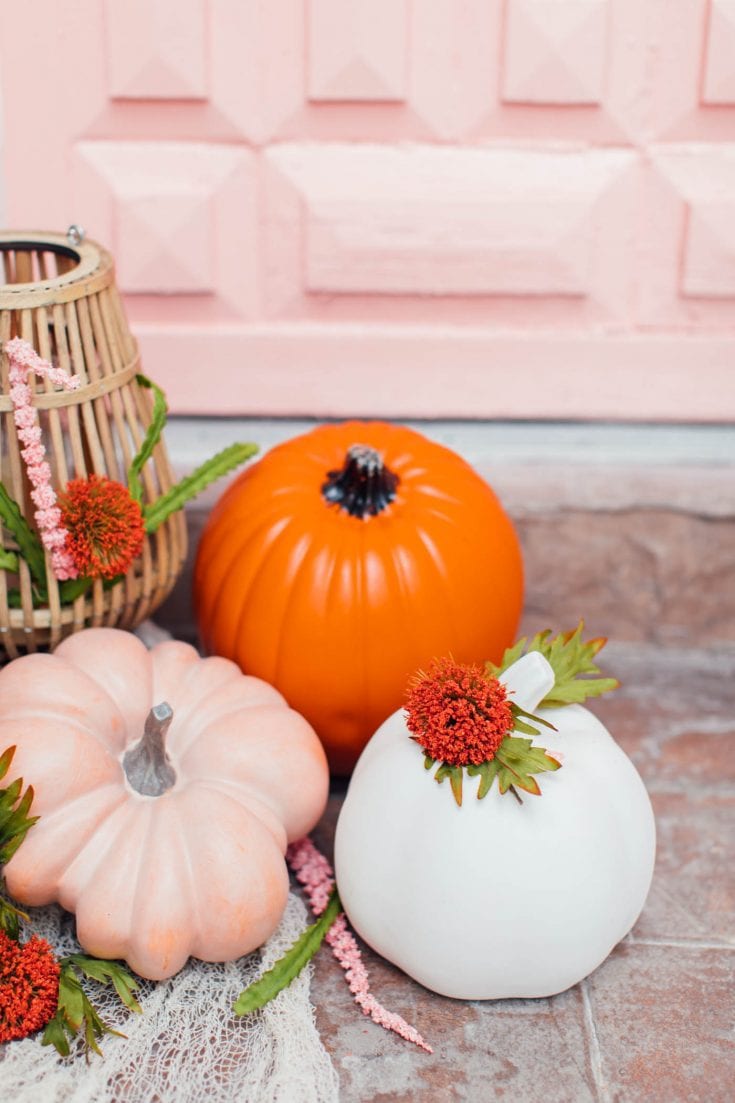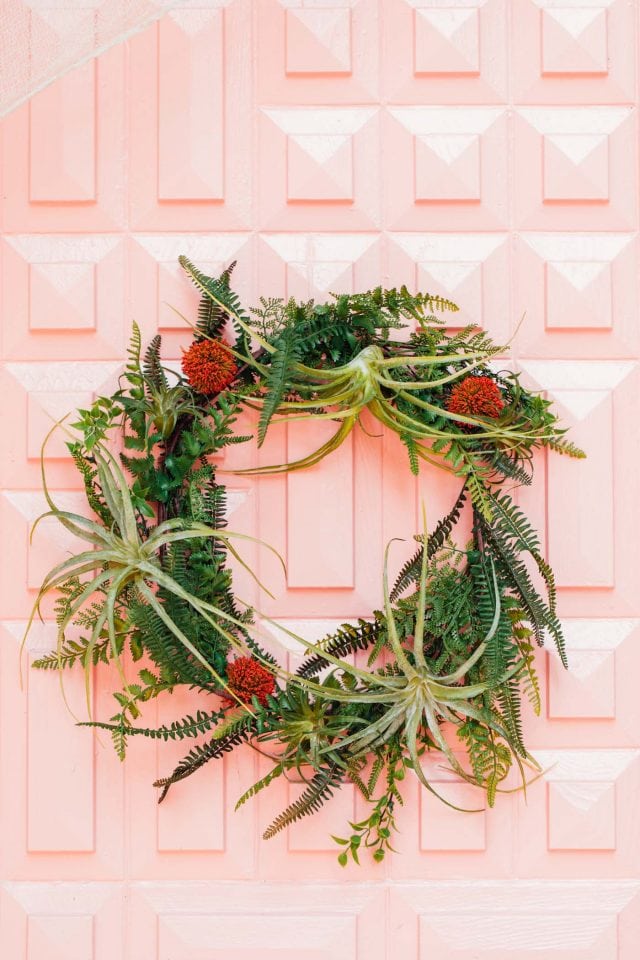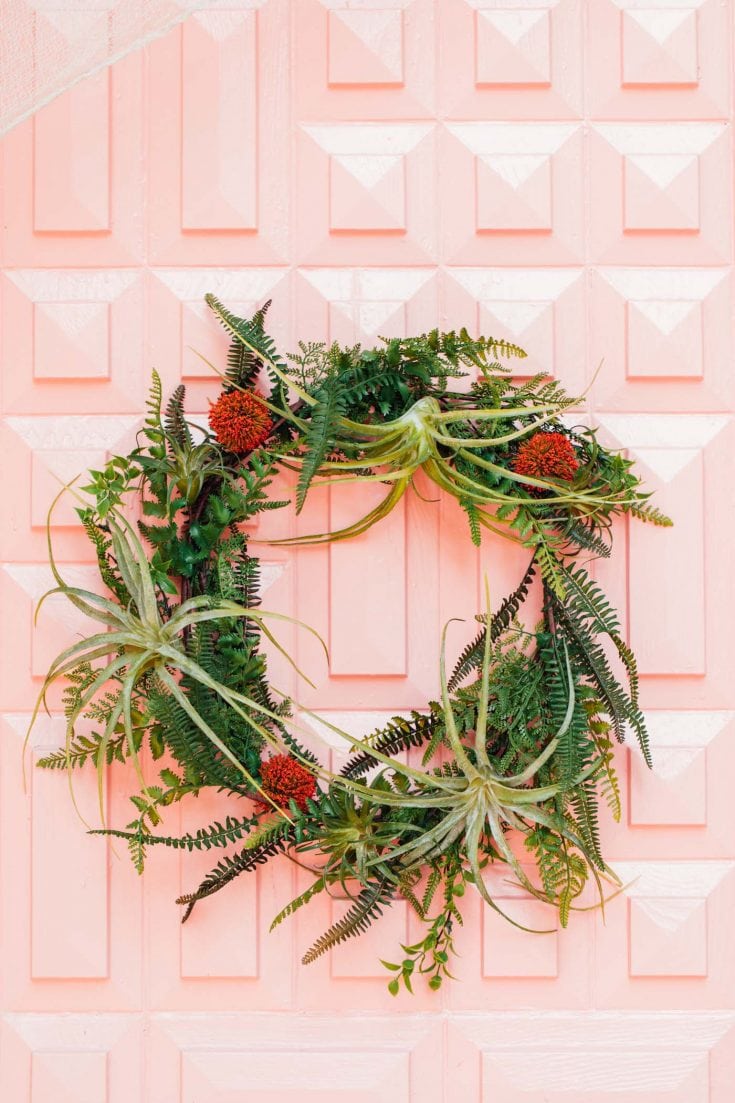 I always think that traditional door covers are the perfect way to get creative for Halloween, but the wood cut-outs on our front door won't allow for them easily.
It's kind of a bummer but it's also made me get creative on other ways to style our entryway for the holidays and seasons.
So instead, I tend to opt for statement wreaths for our double doors and then I work around that.
One front door decor item I loved straight away were these fern wreaths that felt equal parts pretty and creepy crawly.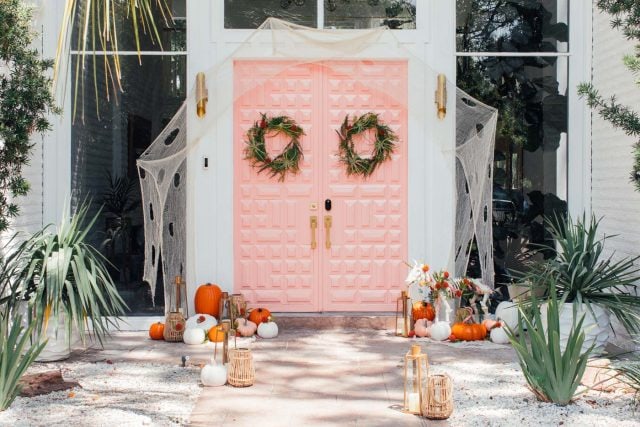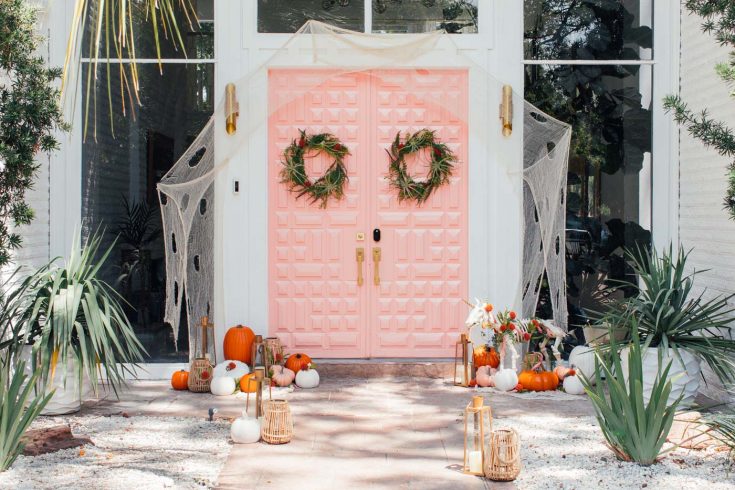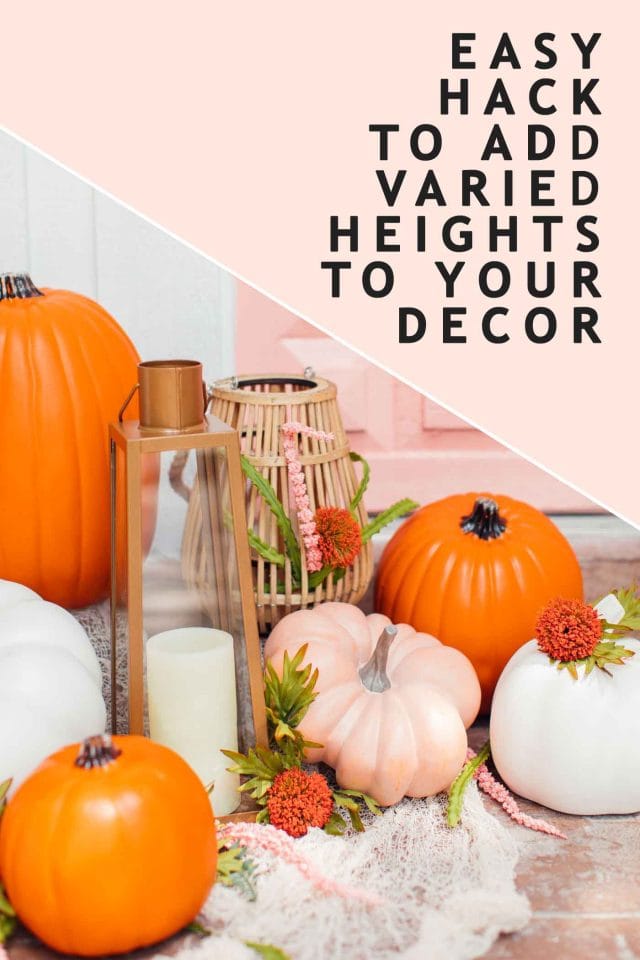 How to Add Height to Your Halloween Door Decor
When it comes to styling your front door, adding varying heights to your decor always helps make a big visual impact.
For instance, you'll notice that the pumpkins I used are close in size but some look taller than others once I put them in a cluster on each side of the entryway.
To create this look, I actually used cheap, $3 plastic party bowls to sit underneath the creepy cloth so that some of the pumpkins would be taller than others.
Since the bowls are plastic, they're totally fine to serve as outside decorations without weathering. Simply turn the bowl upside down so that the flat bottom is facing up, sit your decor on top, and you're all set!
If you're really worried about things tipping over too easily, you can also adhere them to the bottom of the bowl if need be!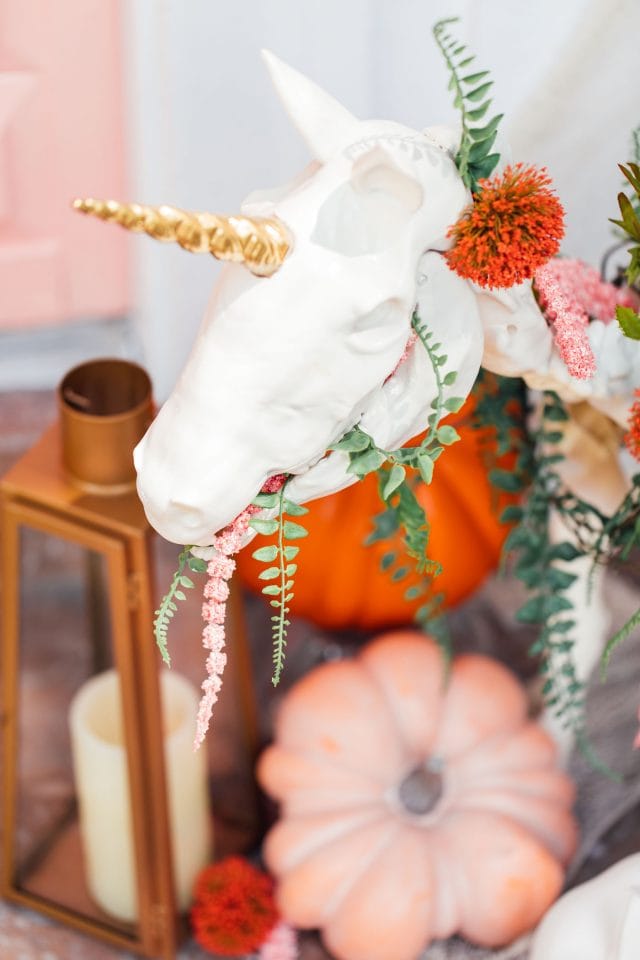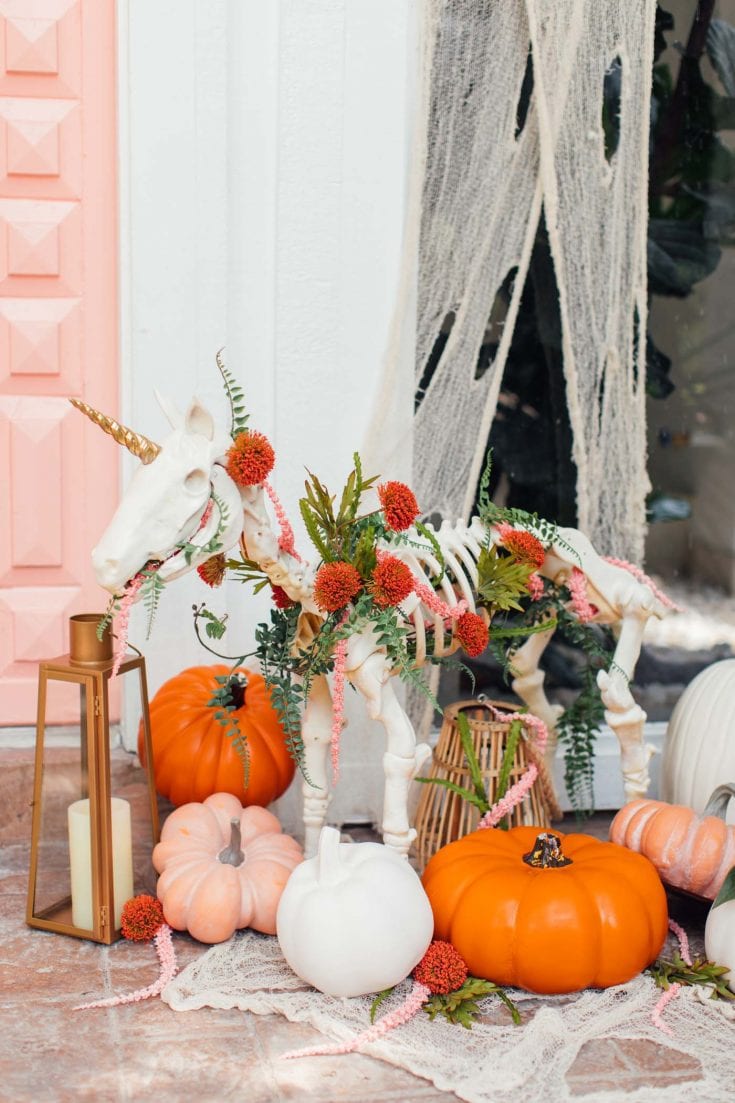 How to Style a Unicorn Skeleton Front Door Decor
While you may not have seen many unicorn skeletons floating around before now, I'm happy to let you in on the secret of where to find one right here!
I actually used white spray paint over the entire unicorn and then painted the horn an accent gold color so that it matched the rest of my Halloween door decor color scheme.
That said, you could paint any other color that you'd like, or just leave it as it comes in the weather effect. Either way, it's a playful addition, don't you think?!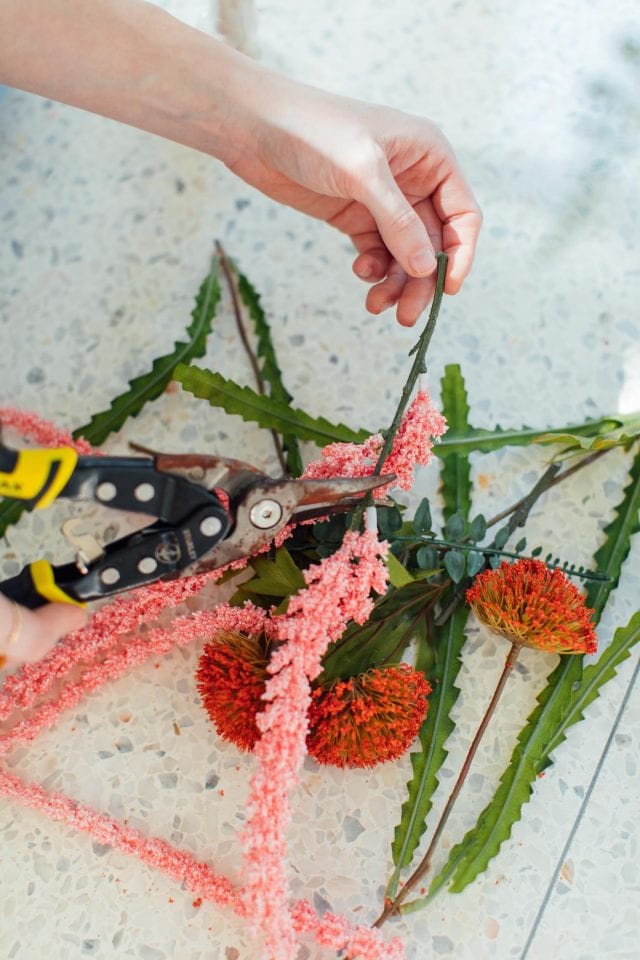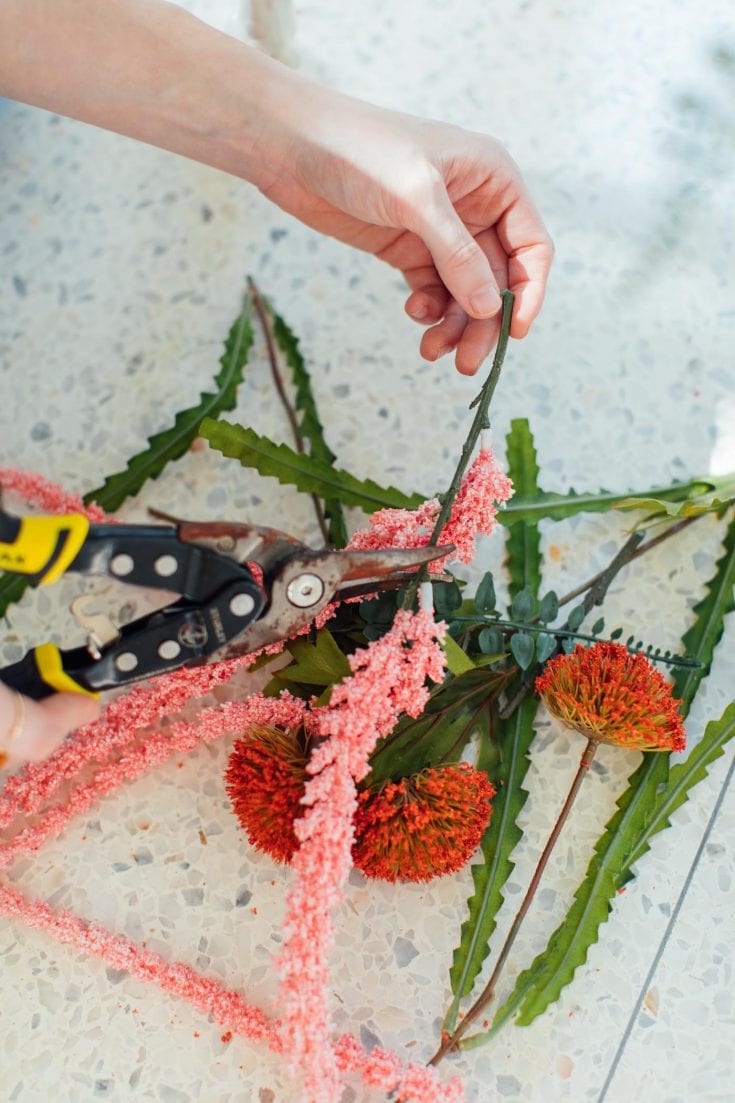 Once you've either painted the unicorn or left it as-is, you can get a little more creative with it in other ways if you wanted to.
While I love it without any extra accouterments, I wanted to add a few faux flowers to tie in the front door colors.
To do this, simply cut a few stems of faux flowers with wire cutters and weave them throughout the skeleton.
They should hold themselves in place by twisting two ends of stems together or by twisting a stem around one of the bones of the skeleton.
I used a similar concept for making this spooky floral Halloween bar cart, and I love the way it turned out!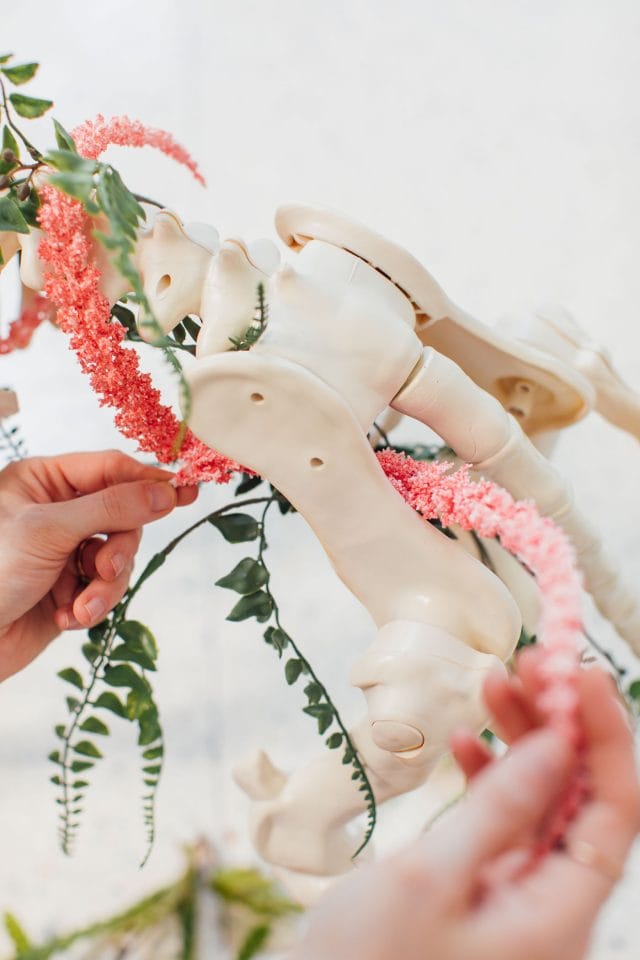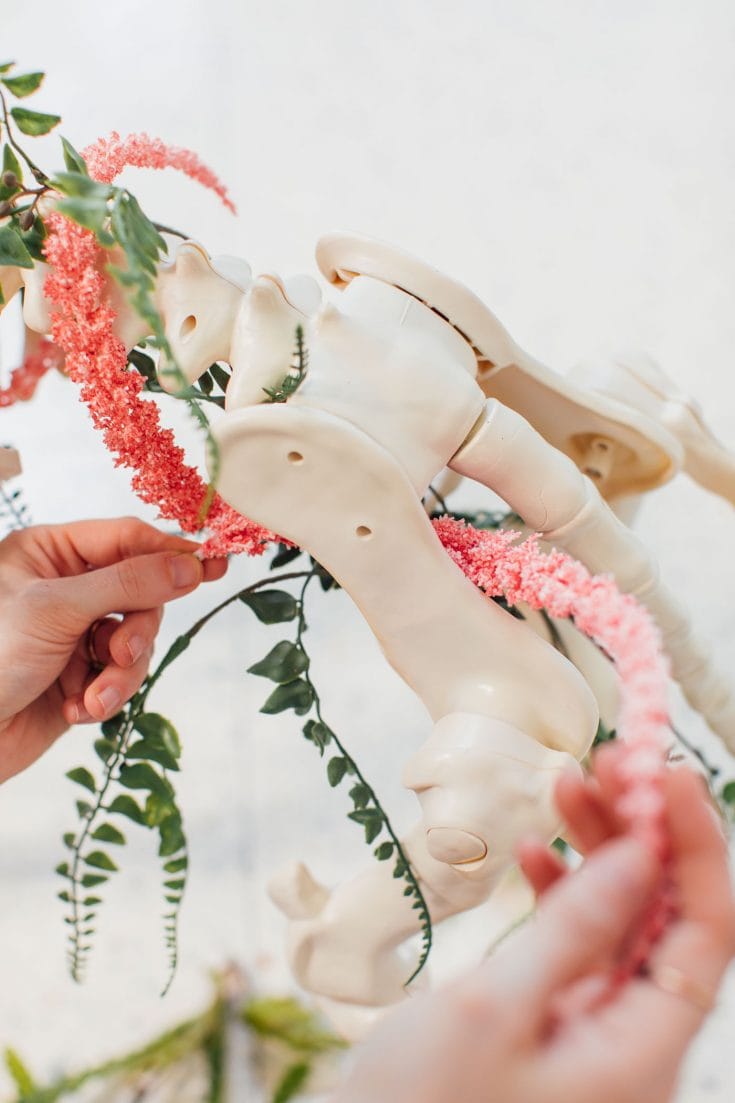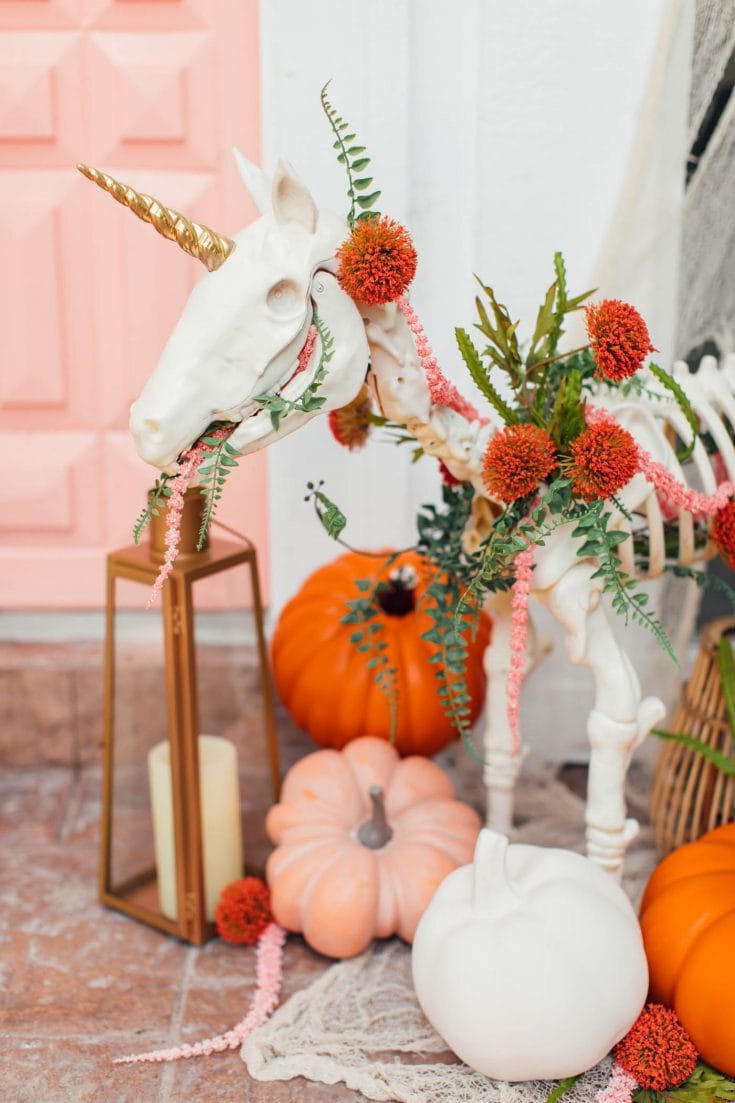 Easy Way to Hang Halloween Door Decor
One thing is for sure, no one wants to ruin their door frame from simply trying to have fun projects for the holidays here and there!
An easy way to hang Halloween door decor without damaging your property is to use heavy-duty, adhesive Command strips and hooks.
For instance, we hung our creepy cloth around the front door by placing clear adhesive hooks on the windows all around the door. Then simply draped the cloth around the door from the hooks.
If you're really nervous about how well the adhesive strips will hold up, you can also use small thumb tacks if you have a wood siding that allows that.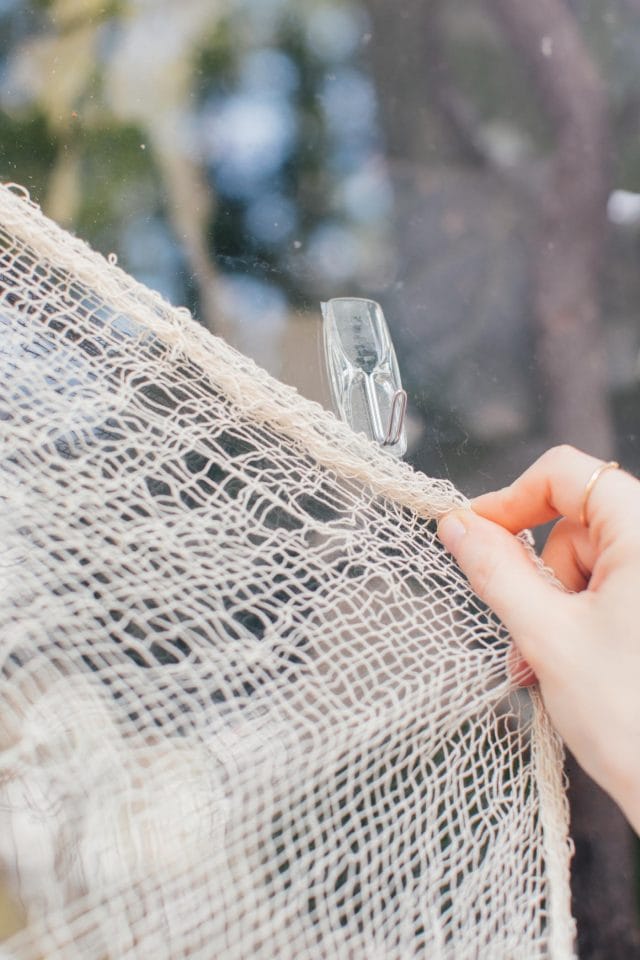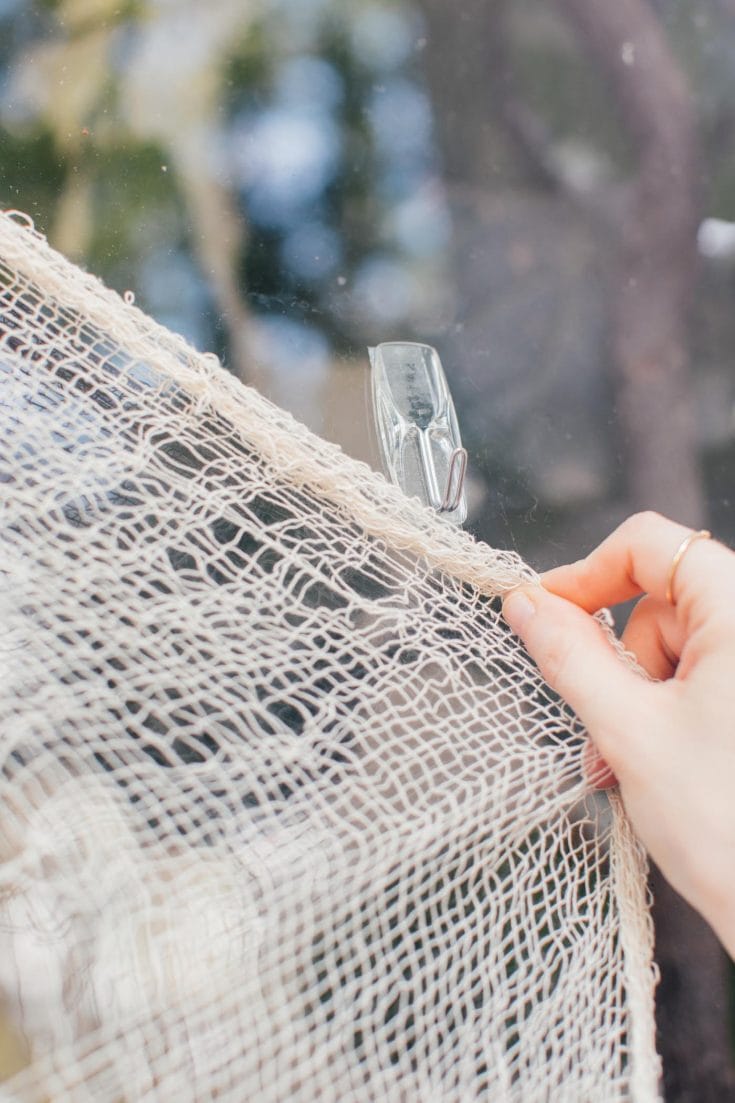 Ideas for Unique Outdoor Halloween Decorations
Aside from our creepy cloth, unicorn skeletons, and DIY risers from household items, there are a ton of other Halloween door decor elements you can play around with.
I'm not the biggest fan of scary decorations, so I tend to stick with things like jack-o-lanterns, Jack Skellington, outdoor candles, and shatterproof lanterns for lining the walkways.
Here are few other ideas to get your wheels in motion —
A playful spider and web entrance that wraps around the door similar to our hanging creepy cloth
Suspending a witch hat or two over top of the entrance so they look as though they're floating in air
Go all black and white for a monochrome Adams Family feel, similar to our Palm Springs Halloween decorations
Make a playful door monster similar to our monster cupcake toppers
While I wouldn't exactly encourage you to put the cute crepe paper decorations outside, the sky is pretty much the limit elsewhere!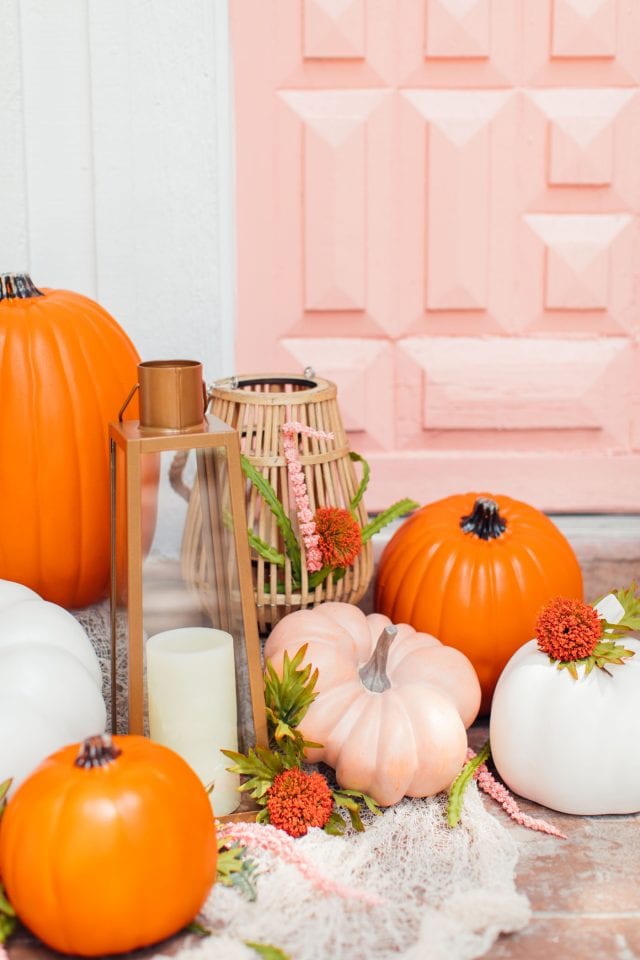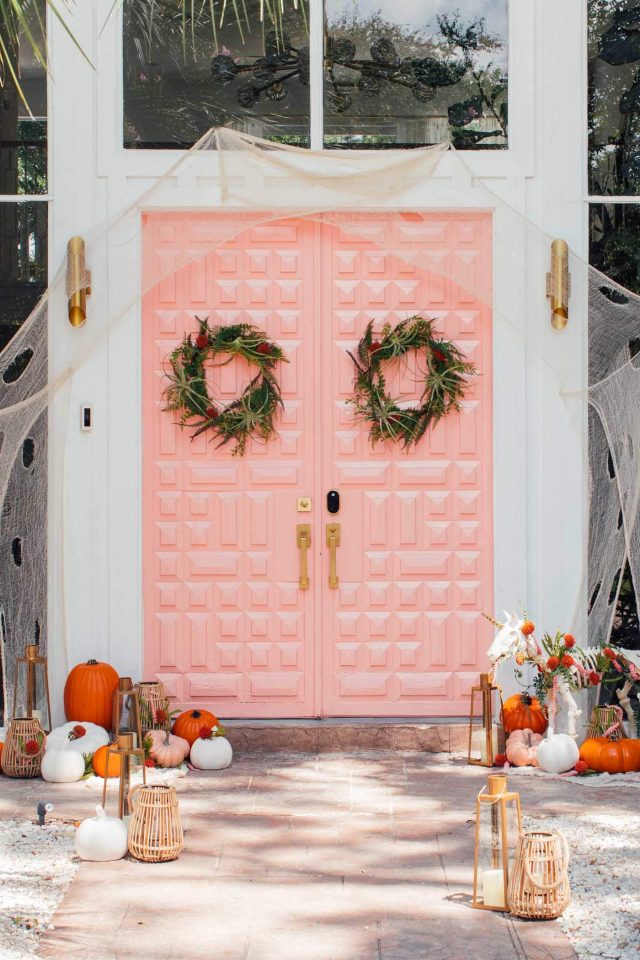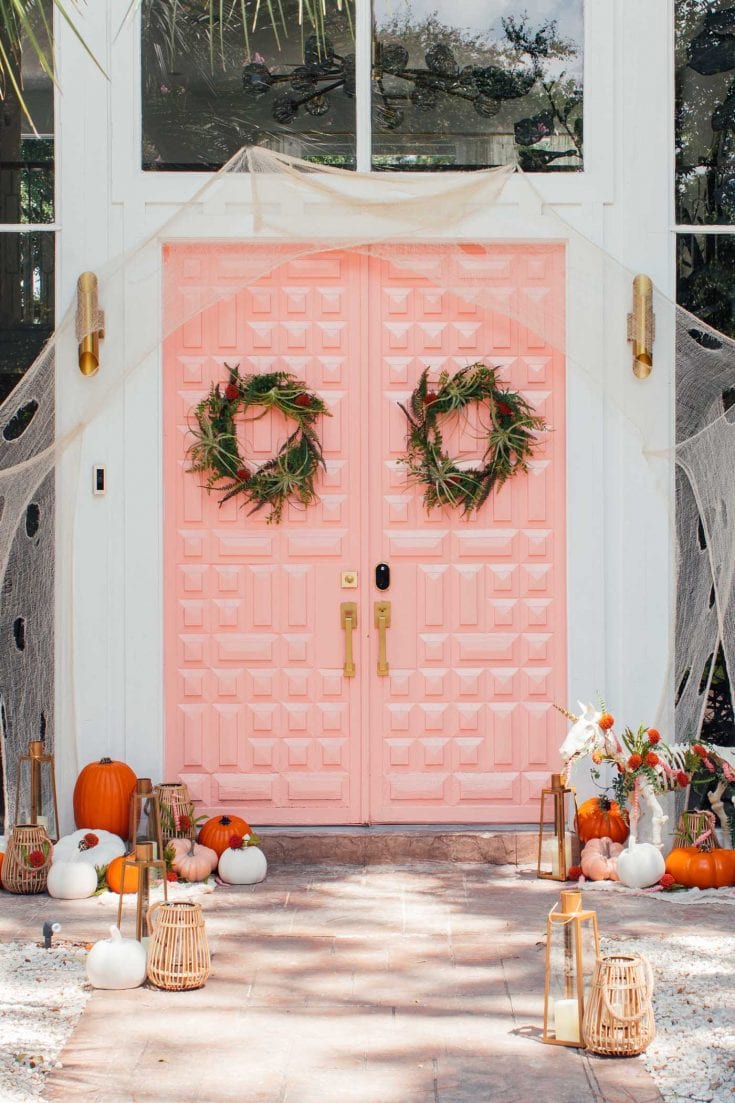 Can't you just picture yourself in Halloween wigs sipping a corpse reviver cocktail waiting on your party guests in front of your snazzy Halloween door decor, now?
And in case you're looking for more Halloween decoration ideas, cocktails, or recipes, you can see some of our favorites below!
See the links below to all of the styling sources for our front door decor below!
Halloween Decoration Ideas