If I could sum up this glass of deliciousness in one phrase, it would be "not too creepy, not too sweet". This classic zombie recipe is perfect for those of you looking for something slightly daring for your Halloween party, but aren't necessarily going waft dry ice over your bar setup the entire night to keep the creepy going. Though I think I can speak for both Robin and I when I say we'd give you serious kudos if you did!
I feel that I should warn you that this cocktail is not for the faint of heart when it comes to a tolerance level, it definitely packs a punch!…

Classic Don The Beachcomber version, 1934
Ingredients:
1-1/2 oz gold Puerto Rican rum
1-1/2 oz aged Jamaican rum
1 oz overproof Demerara rum
3/4oz fresh lime juice
1/2 oz fresh grapefruit juice
1/4 oz cinnamon syrup
1/2 oz falernum
1 teaspoon grenadine (pomegranate syrup)
1 dash Angostura bitters
1 bar spoon of Pernod or absinthe
Fresh mint for garnishing (optional)
Measure ingredients into blender and add 6oz crushed ice. Blend for 3-5 seconds until slushy. Pour into a Zombie glass and add more crushed ice to fill, if necessary. Garnish with fresh mint.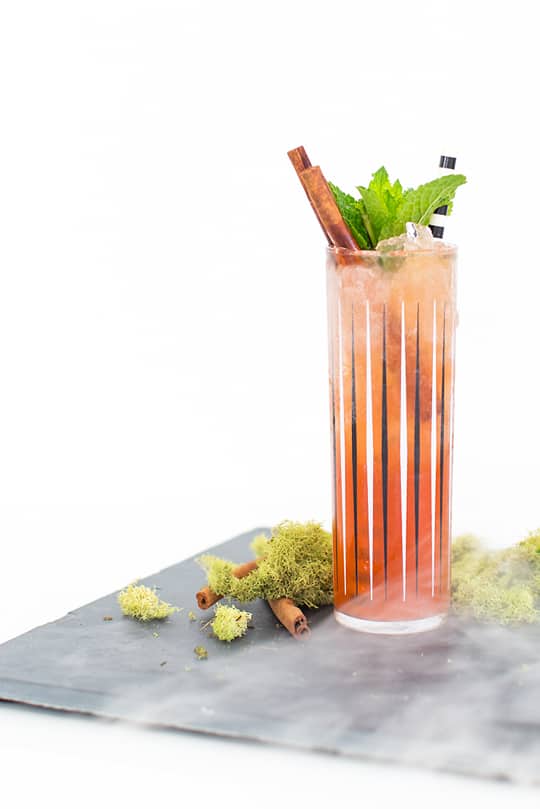 And a big thanks to Robin again for being our go-to cocktail connoisseur! Be sure to check out our other Halloween cocktails with her here and here! Have any of you made them yet?! The bubble boba one is still my fave!