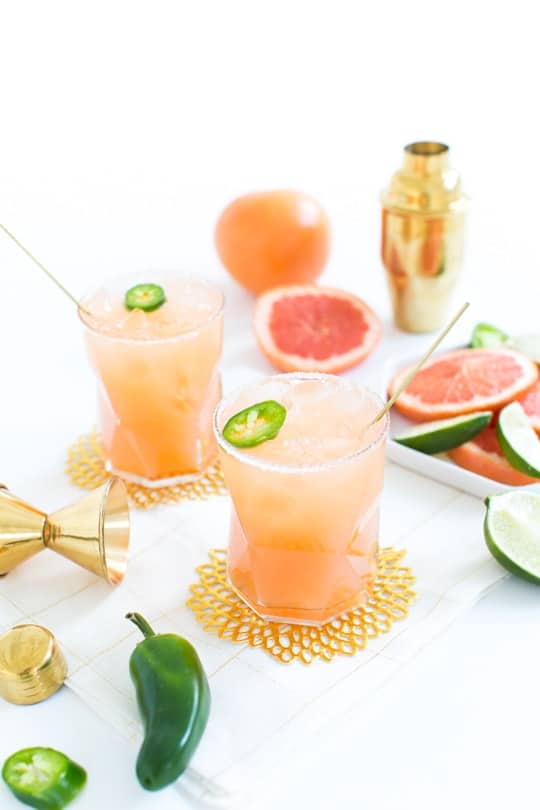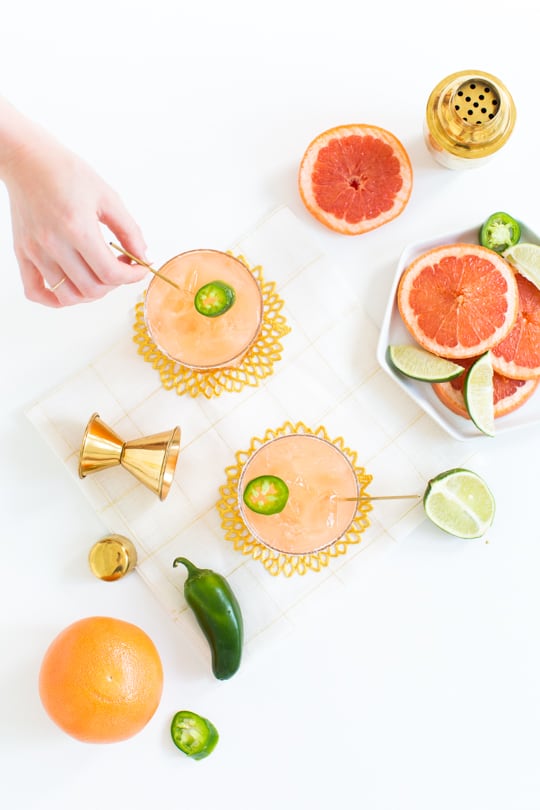 photos by Jared Smith
The good news is we've all made it to Friday again, and we're back with another #SipsForSummer cocktail for you to make this weekend! The bad news is I'm predictable enough (after this cocktail story) to still be on a spicy cocktail kick, and now I'm helping/forcing you to jump on the bandwagon, too, with this simple spicy paloma recipe!
Before you non-spicy lovers go running, you can always skip the spicy portion for regular simple syrup to make a traditional paloma, and it's as simple as mixing three ingredients together! Doesn't get much easier than that, right? I definitely plan on mixing up some of these for the game night we're having this weekend (yes, I'm still having game night at the ripe age of 27)…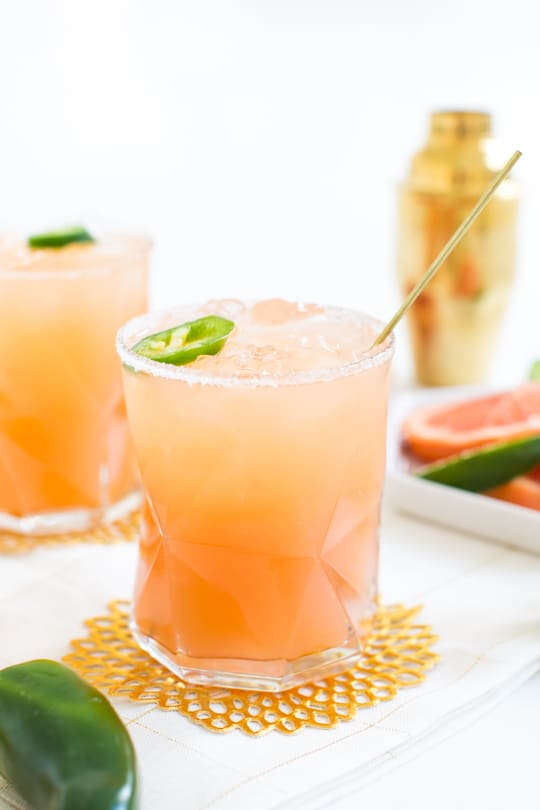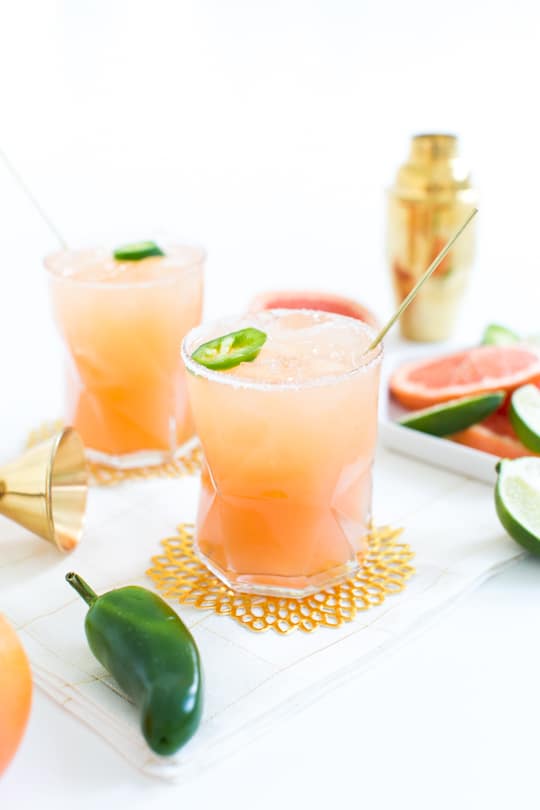 If you're not totally sure you're going to love this drink enough to go through the trouble of making your own spicy simple syrup, you can always take a simpler route and just add a jalapeño slice or two to the paloma recipe by itself to see what you think, first!
Ingredients for Jalapeno Simple Syrup*:
3 jalapeño peppers
1 cup sugar
1 cup water
– Prep the jalapeños by removing the stems, slicing into rounds, and then removing the seeds and membrane. You can leave the seeds and membrane intact if you're wanting it extra spicy, though!
– Next, bring the water to a boil and add in the sugar by continuously mixing until it's fully dissolved. Add the jalapeño to the sugar water and let it come to a boil again, then let it simmer for 10 minutes.
– Remove the mixture from heat and let it cool completely until it's back to room temperature and strain/remove the jalapeños from the simple syrup. Once it cool, it's ready for mixing cocktails!
*You can store your jalapeño simple syrup in an airtight container in the refrigerator for up to a month.

Ingredients for the Paloma (yields one drink):
1 oz. of tequila
3 oz. of fresh grapefruit juice, strained
1 oz. of jalapeño simple syrup
1 lime (you'll only need a squeeze!)
Splash of grapefruit soda water (we used La Croix but you can also use regular soda water)
1 jalapeño slice and sugar and sea salt mixture for garnishing
– If you're dressing up your rim, run a lime wedge across the top of your glass and dip it into the sugar and sea salt mixture before assembling your cocktail.
– Next, combine the tequila, grapefruit juices, spicy simple syrup, and squeeze of lime juice over ice in a cocktail glass, shake, and then strain and pour over ice into your dress glass.
– If you want an extra spicy version, you can top with a jalapeño slice with the membrane still intact, or remove the seeds and membrane for a mild (and cute!) garnish on top.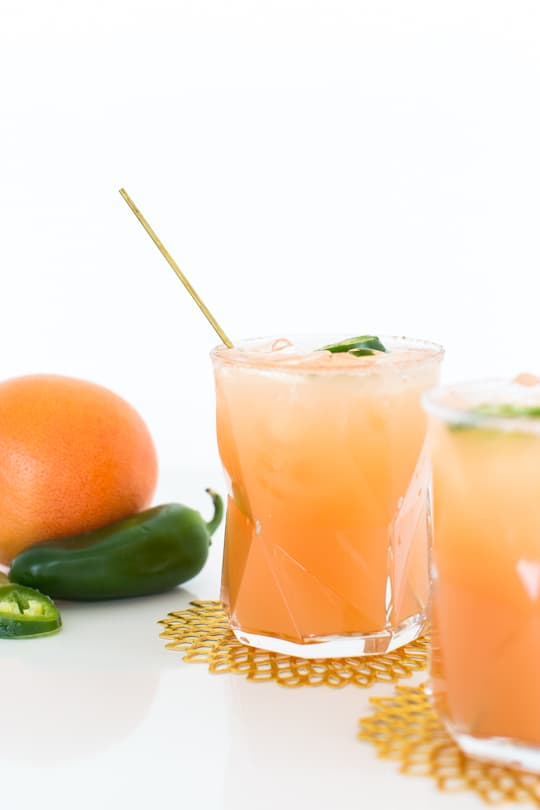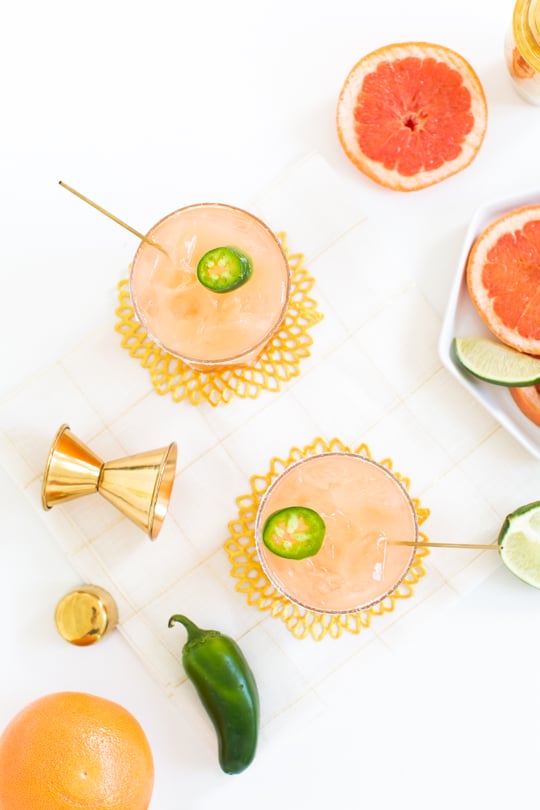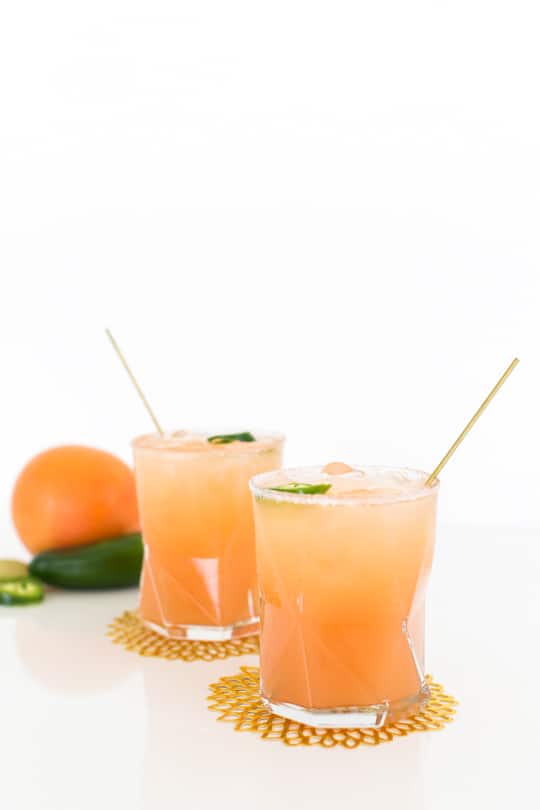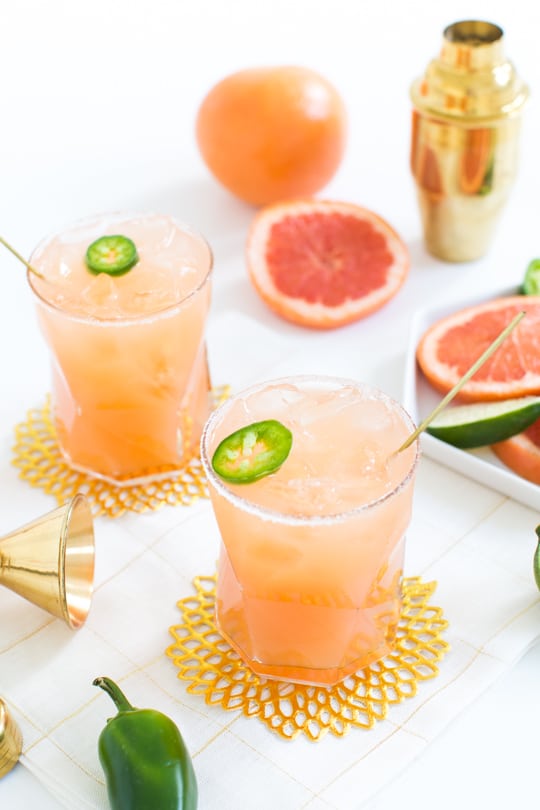 What do you think?! Are you down for trying a little bit of spice with your Summer sips? For my fellow spicy lovers, what are some of your other favorite drinks with a kick? I'm looking to branch out, so definitely link to your recipe for me to try!