This mint simple syrup is incredibly aromatic and a versatile additional to your drinks and baked goods.
It's incredible how easy and customizable it is to make simple syrup.
It is a great ingredient not just for cocktail making and sweetening drinks but also for baking.
And this mint simple syrup recipe is a delicious and refreshing variation of the classic unflavored simple syrup.
What Is Simple Syrup?
Cocktail making can call for expensive and difficult to find ingredients.
However, simple syrup is very easy to make at home and rather inexpensive. Which is a relief because most cocktail recipes call for syrup to sweeten the drink.
Syrup is used because it blends easier and more evenly. Whereas undissolved sugar (especially in cold drinks) will sit at the bottom of the glass.
It is a neutral colorless sweetener, ideal for infusing spices and herbs to add a new layer of flavor to drinks and cake.
One of the most delicious and easiest to make is mint simple syrup. But before we start, it's best to master the basics…
How To Make (Unflavored) Classic Simple Syrup
Ingredients Needed:
1 cup white granulated sugar
1 cup water
Simple syrup is made with equal parts of dissolved sugar and water. It can also be made by doubling the quantity of sugar to make what is considered a "rich syrup".
Instructions:
1 — On medium heat, bring water to a boil in a saucepan.
2 — Add the sugar and stir until completely dissolved.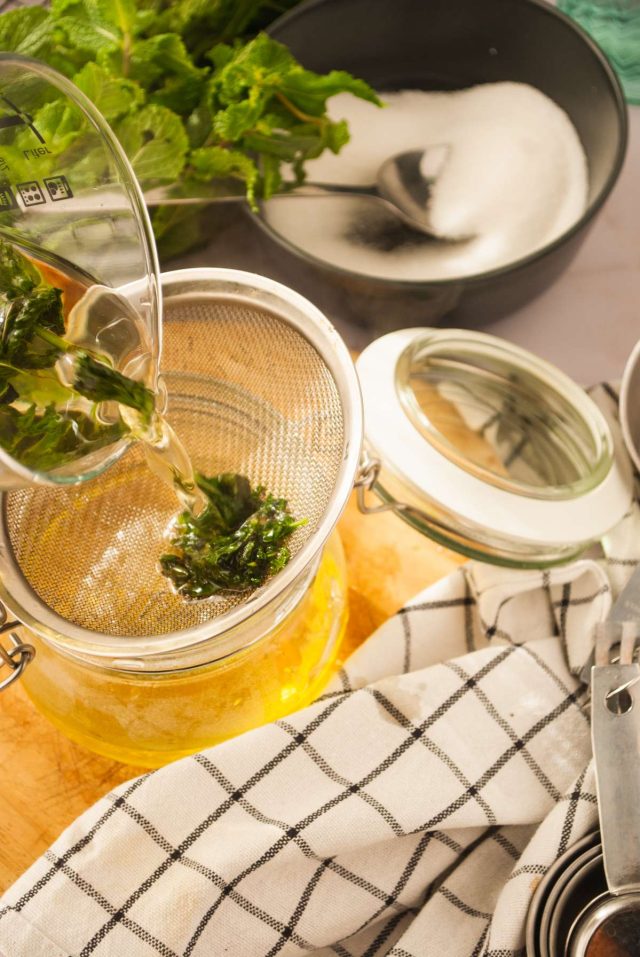 How To Make Mint Simple Syrup
1 cup of white granulated sugar
1 cup of water
1 cup fresh mint leaves (stems discarded)
Follow the same steps for making a classic syrup. But include a final step of adding in fresh mint leaves. And then, leaving it aside for a few minutes so it can be infused with the mint.
Useful Tools To Have On Hand To Make Syrup
Whether you decide to infuse your syrup with mint or with other spices, you'll need the following tools:
Measuring cups
Small saucepan
Fine mesh strainer
Crystal bottle or Mason jar for storage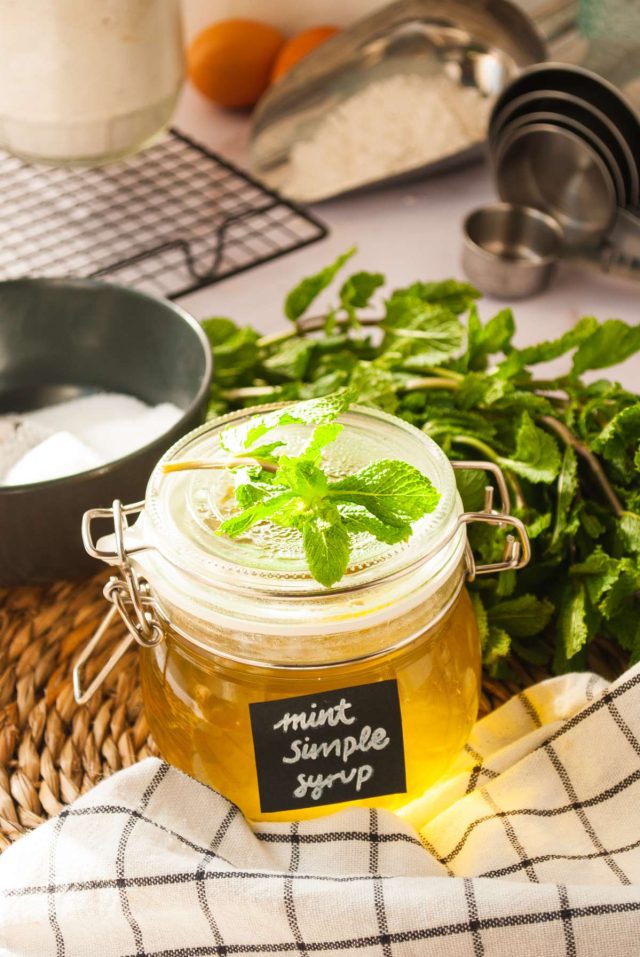 How To Make Simple Syrup For Cakes
When it comes to baking there's nothing sadder than a dry cake. And at some point, it has happened to the best of bakers.
To fix this problem, use syrup to moisten a dry cake! Infused syrups also adds a depth of flavor that compliments any cake recipe.
Picture cinnamon simple syrup for a vanilla sponge cake or this mint simple syrup in a chocolate cake!
The great news is that there's isn't a difference between simple syrup for drinks or cocktails or cakes.
Instructions:
1 — Make your simple syrup and let it cool down.
2 — Once it has reached room temperature, transfer it into a squeeze bottle.
3 — Lightly drizzle the cake with syrup.
4 — Let it sit for a few hours so that the flavors and moisture transfers to the cake layers.
5 — For extra moisture, poke a few holes into the cake with a toothpick before adding in the syrup.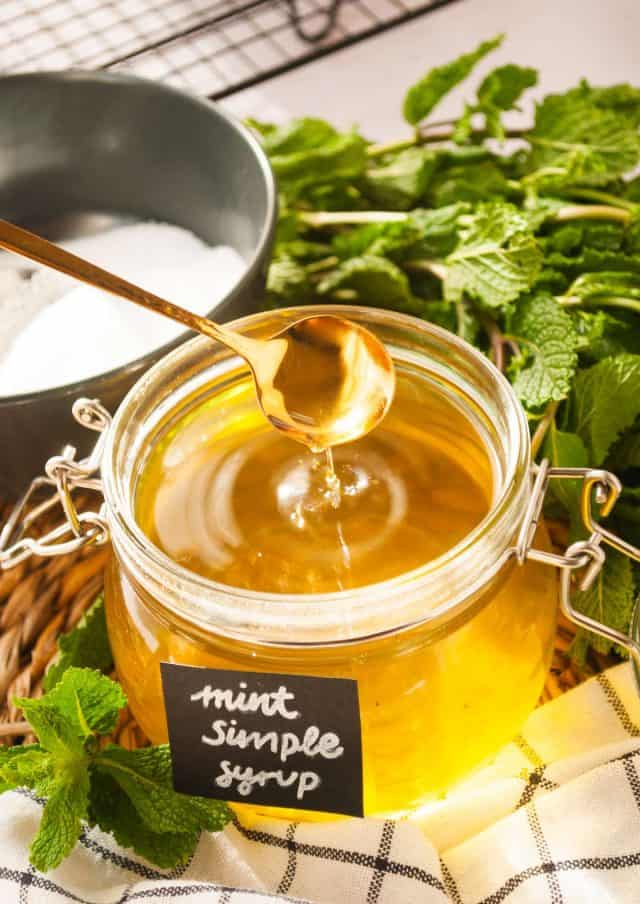 For more great infusing possibilities for simple syrups, check our a few of our other favorites below —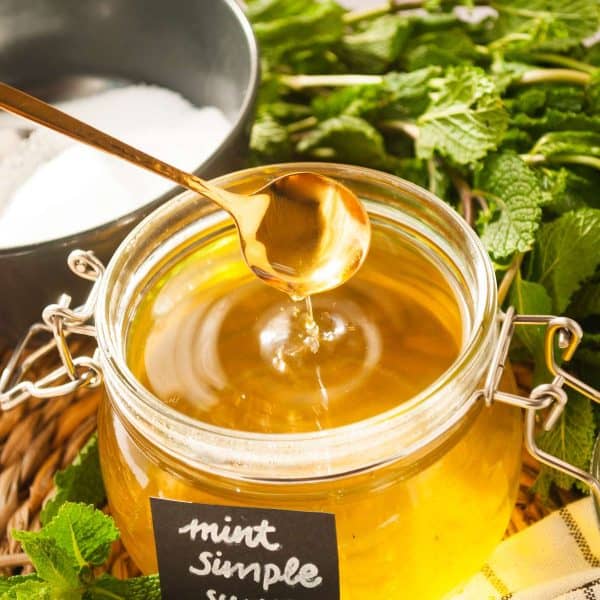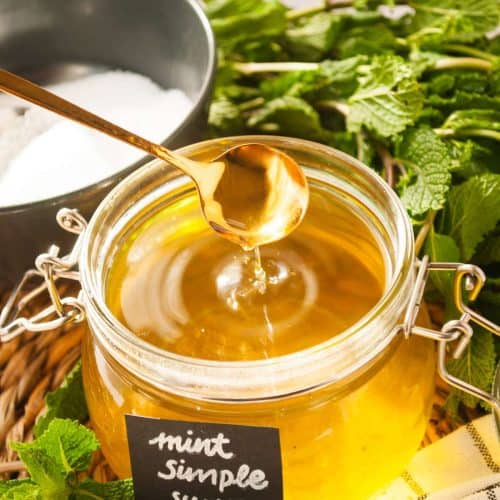 Mint Simple Syrup Recipe
An aromatic golden-colored mint simple syrup, perfect for cakes, teas or cocktails!
Equipment
Measuring cups

Small saucepan

Fine mesh strainer

Crystal bottle or mason jar
Ingredients
1

cup

white granulated sugar

1

cup

water

1

cup

fresh mint leaves

stems discarded
Nutrition
Serving:
15
fl oz
|
Calories:
403
kcal
|
Carbohydrates:
103
g
|
Protein:
1
g
|
Fat:
1
g
|
Saturated Fat:
1
g
|
Polyunsaturated Fat:
1
g
|
Monounsaturated Fat:
1
g
|
Sodium:
14
mg
|
Potassium:
130
mg
|
Fiber:
2
g
|
Sugar:
100
g
|
Vitamin A:
956
IU
|
Vitamin C:
7
mg
|
Calcium:
59
mg
|
Iron:
1
mg
Notes
Store in an air-tight container in the fridge or freezer for up to 1 month.

A couple of spoons will suffice to sweeten iced tea. 

The final product has a golden color and a very fresh and aromatic flavor, which goes really well for cocktails that use mint or, green tea, or mint tea. 

Try making it also with lemon peel to enhance its fresh flavor. 
Instructions
Prepare the fresh mint leaves by washing the mint and discarding the stems.

In a small saucepan on medium heat, pour in the sugar and water and bring to a boil. 

Stir well until all the sugar dissolves.

Lower the temperature, add the mint leaves and continue stirring. Cook for 1 minute.

Take it off of the stove and let it sit for 5 minutes so that mint essential oils and aroma can seep into the syrup.

Strain into a glass bottle or a Mason jar. Let cool until it reaches room temperature.
KEYWORD:
how to make simple syrup for cakes, mint simple syrup recipe

Don't forget to share your mint simple syrup with us on Instagram using the hashtag #sugarandclothloves. We always love seeing all of your creations! Looking for more quick and delicious recipes? Find them all right here with a few cocktails to go along with them!
Cake Recipes To Try Your Simple Syrup