Warm, sunny days are just around the corner which means it's finally Julep season! If you've never had a Julep before, then you are in for a minty treat. As any Southerner or Derby die-hards will tell you, Mint Juleps are not for the faint of heart. They are on the boozier side featuring lots of bourbon and not much else, but they are absolutely delicious and perfect to keep cool on a hot day.
I, Ashley Conway, made this color changing mint Julep with lots of crushed ice, mint, a color changing syrup (yes, seriously!) and some added lemon juice for a balanced and perfectly crushable cocktail recipe! And naturally, they'd be served with Sugar & Cloth's cute marble coasters and serving trays…
Where does the magic part come in? With a little science and help from a flower! The Butterfly Pea Flower originates from Thailand (you can get the dried flowers shipped online) where it is used in teas and dishes to create a color changing effect.
When citrus juice or other acidic ingredient is added to a drink or dish with the flower, it changes color! When the PH fluctuates, so does the color, changing from a vibrant blue to purple and finally to pink in some cases, giving the drink a "galaxy" like effect.
For this Julep, lemon juice is poured over the drink to make the butterfly pea flower change from blue to a pretty purple.
The flower actually doesn't add much floral flavor, but what it lacks in fragrance, it makes up for in it's "magic" properties.
To impress your friends with a boozy magic trick, mix up this Color Changing Magic Mint Julep at your next get together!
Ashley Rose Conway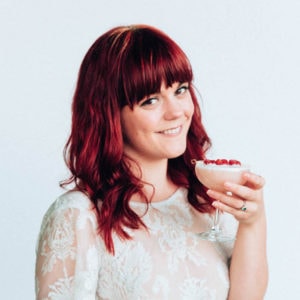 Ashley Rose Conway is head cocktail shaker, recipe developer, stylist & photographer over at Craft + Cocktails, a site devoted to the art of making & shaking.