Easy Raspberry Cake — A cute as a button easy raspberry cake. It's literally too pretty to eat with those raspberry dollops but we're not going to resist with this deliciousness.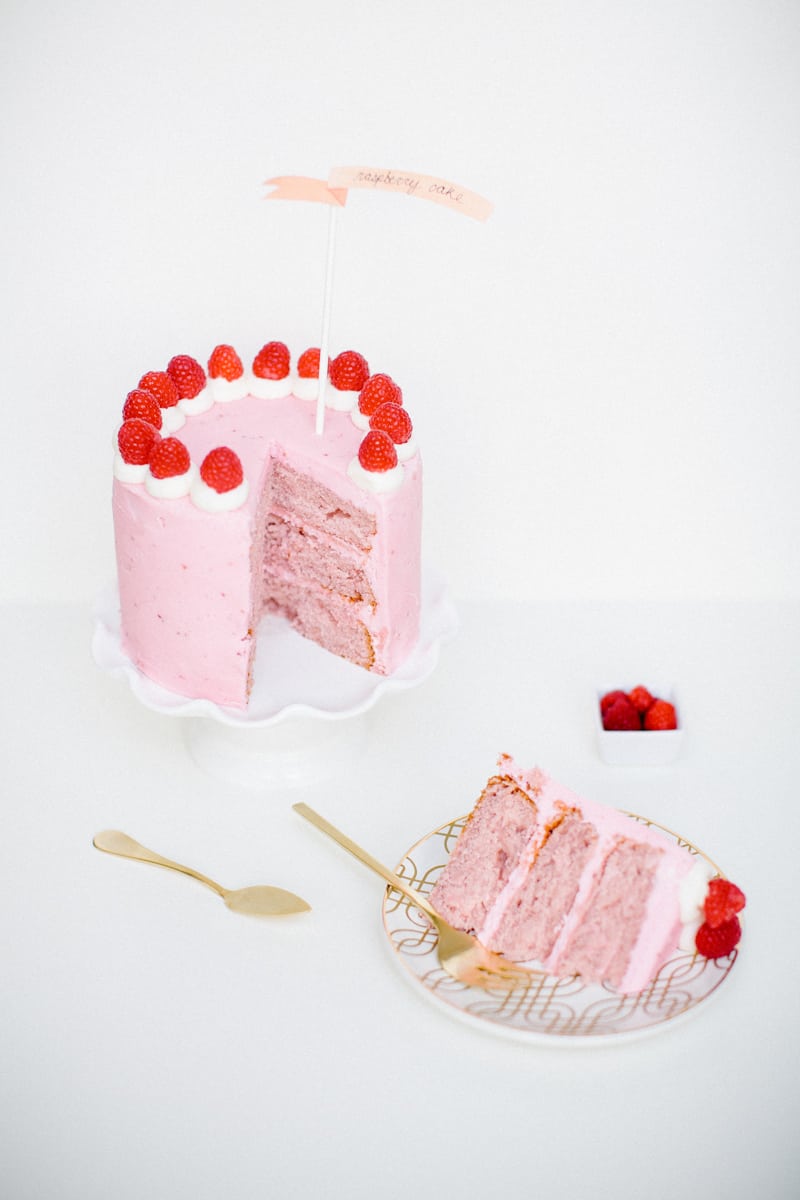 recipe by Kristina of Buttercup for the Easter Sunday dessert table
Hands down my favorite edible prettiness from my Easter Sunday dessert table was Kristina's raspberry cake. It literally was too pretty for me to eat!
And those little raspberry dollops… I just couldn't handle it.
Luckily, she's willing to share the wealth and give Sugar & Cloth readers a chance to be the talk of the gathering too by spilling the beans on her infamous raspberry cake!
Ingredients Needed To The Raspberry Cake
2 cups granulated sugar
2 sticks of unsalted butter
3 cups cake flour, sifted
2 1/2 tsp. baking powder
1 tsp. salt
3 eggs, room temperature
3 egg yolks, room temperature
1 1/2 cups whole milk
2 tsp. vanilla extract
1/2 cup raspberry jam or raspberry puree
red food coloring (optional)
Ingredients Needed To Make The Raspberry Buttercream
2 lbs. sifted powdered sugar
1 lb. butter, room temperature
1/2 cup raspberry jam
1 tsp. vanilla
red food coloring (optional)
fresh raspberries for garnish (optional)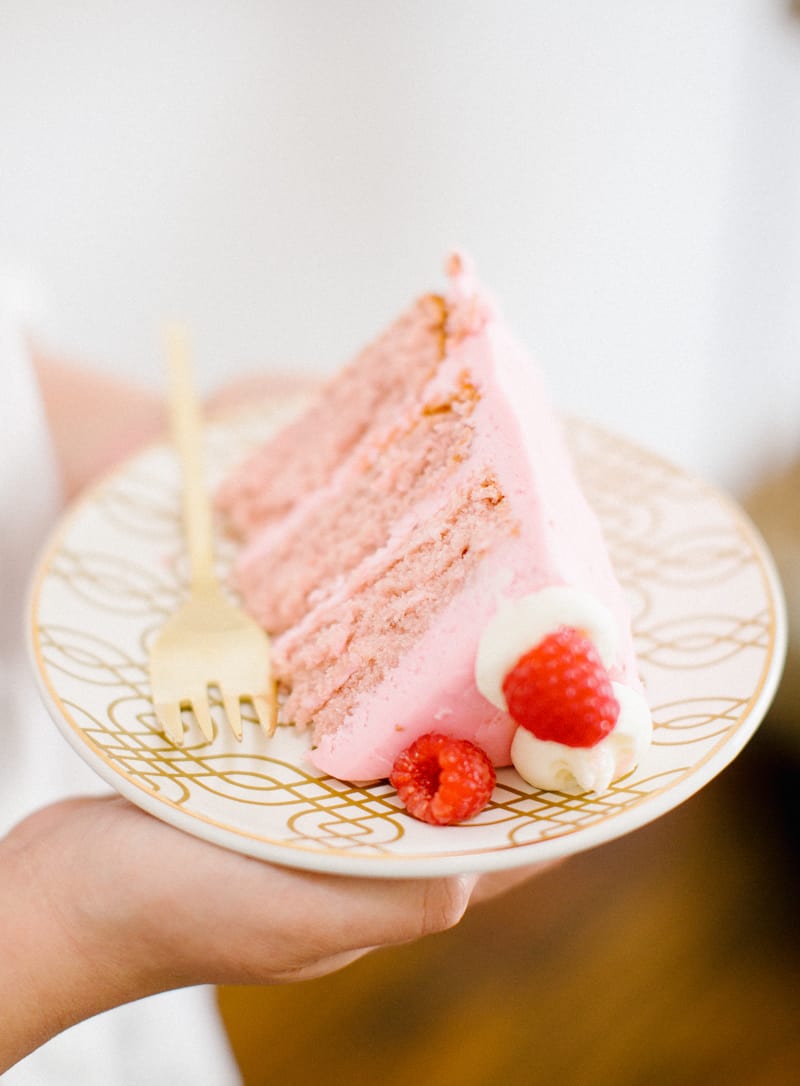 How To Make A Cute As A Button Raspberry Cake
Preheat oven to 350 degrees and butter, flour and line three 8″ cake pans with parchment. Set aside. Next, sift together cake flour, baking powder and salt. Combine vanilla and milk together and set both aside.
With a mixer set to medium, cream together butter and sugar for five minutes. Scrape down the sides of the bowl and add in the eggs one at a time waiting until they are each fully incorporated before adding a new one. This usually takes around 15 seconds per egg. Scrape down the sides of the bowl. Add in raspberry puree/jam and mix until fully combined.
In three batches, add in dry ingredients on low speed, alternating with wet ingredients. Begin and end with dry ingredients. Add in food coloring at this point if desired. Fold the batter a few times with a spatula to make sure all ingredients are fully incorporated and then divide batter into the three baking pans. Bake for 17-22 minutes, or until a toothpick comes out with a few crumbs. Trust your nose and keep a watchful eye after 17 minutes. When your house kitchen starts to smell like cake, it's probably getting close to done
For the frosting–
Beat butter on medium for 5 minutes and then lower speed to the lowest setting. Add in powdered sugar, two cups at a time, continuing to add more sugar after it becomes fully incorporated. Add in vanilla and desired food coloring and increase speed to medium and beat for two minutes or until the icing has lightened a bit.
Decrease speed of mixer to the lowest setting for two minutes to knock out some of the air bubbles. Stack cakes and ice as desired.
Enjoy!
styling and DIY's by Sugar & Cloth // photography by Kimberly Chau // desserts by Buttercup // illustrations by Lisa Chow // mint green and white cake stands and bunting c/o Minted // gold flatware and serving utensils West Elm