Stir up some frightful fun at your Halloween party with these devilishly delightful cocktail recipes.
Halloween is a time for spooky decorations, creative costumes, and indulging in deliciously eerie concoctions.
Whether you're hosting a Halloween party or simply looking to add some haunting flair to your evening, Halloween cocktails are the perfect way to set the mood.
From wickedly colorful potions to spine-chilling garnishes, these creepy libations will delight your taste buds and send shivers down your spine.
Get ready to mix up some magic with our selection of the most spooktacular Halloween cocktails that are sure to be the life (or should we say afterlife?) of any ghoulish gathering.
Frightfully Fun Halloween Cocktail Recipes
1 — Ghost Shots
Summon the spirits and add a spooky twist to your festivities with our chillingly delightful Halloween ghost shots. A bewitching concoction of ice cream, cake and Creme de Cacao, these Halloween shots might as well be a Halloween dessert too!
2 — Corpse Reviver No. 2
Evoke the spirits of vintage mixology with the Corpse Reviver No. 2, a classic cocktail that combines Lillet Blanc, gin, Cointreau and absinthe.
3 — Blackberry Dark and Stormy
Introducing our Blackberry Dark and Stormy, a spooky twist on the classic cocktail. Our addition of blackberries to the rum and ginger beer prompts an eerie dark hue.
4 — Shrunken Skull
Prepare to embark on a spine-tingling Halloween adventure with our Shrunken Skull, a bewitching Tiki concoction that'll send shivers down your spine. And beware because the simple syrup masks how potent this drink is.
5 — Grateful Dead
Some of the best Halloween drinks are the ones that appear magical. And the Grateful Dead is just that with its color changing mix of white tequila, gin, raspberry vodka, white rum, blackberry schnapps and Blue Curaçao.
6 — Transfusion
Summon a spellbinding twist to your Halloween soirée with the Transfusion cocktail, a bewitching brew that marries vodka's spirits with the zesty embrace of ginger ale and grape juice.
7 — Zombie Cocktail
Unleash a ghastly wave of flavor with the Zombie, a spine-tingling concoction that blends an array of potent rums, tropical juices, and a hint of eerie grenadine, creating a sinister elixir that's as deadly as it is delicious
8 — Poison Apple
Enter a realm of enchantment with our Poison Apple cocktail, a sinfully delicious concoction that marries the tart allure of crisp apples with a wickedly smooth brandy and cranberry juice. Think of it as if you're drinking a spiked apple cider!
9 — Dracula's Blood
This spooky Halloween cocktail, Dracula's Blood gets it creepy hauntingly crimson hue from the black cherry juice and grenadine. As dark and strong as it looks, it's quite fruity due to some light white rum and peach schnapps.
10 — Nightmare on Whisky Street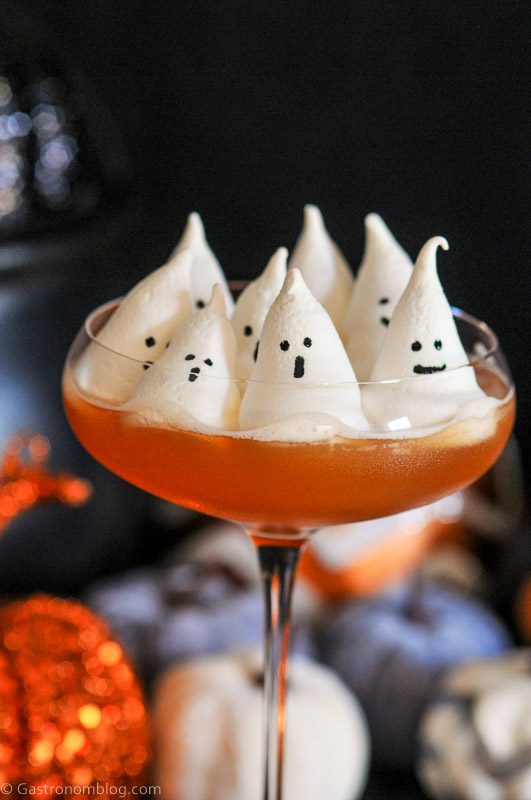 Its name, Nightmare on Whisky Street couldn't sound even more creepy. But this is one of the cutest Halloween cocktails with ghost meringues garnishes.
11 — Spooky Gin and Tonic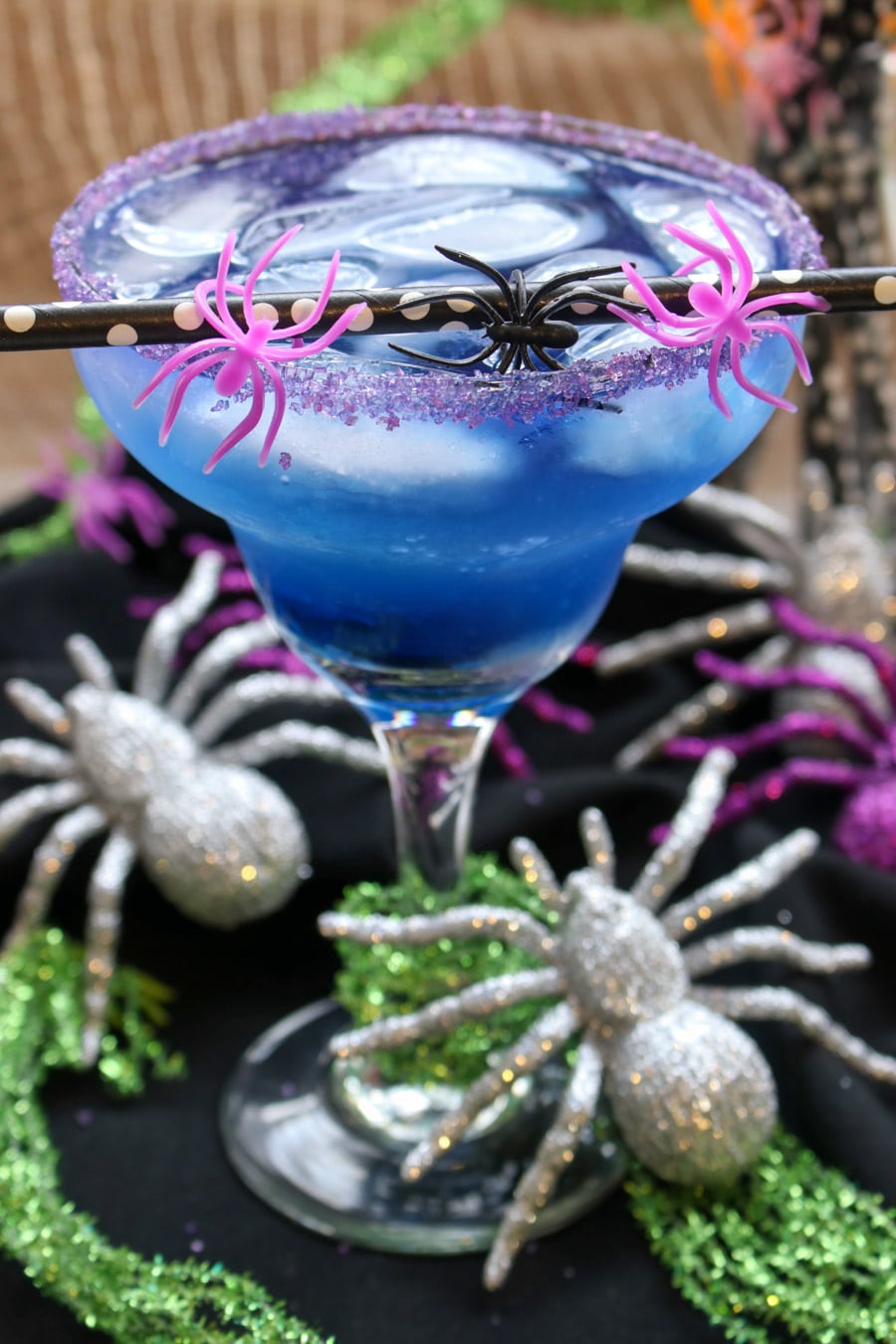 Raise your spirits with a Spooky Gin and Tonic, a bewitching twist on a classic. You've still got your gin, tonic water and squeeze of fresh lime juice. But this recipe also mixes in Blue Curacao and Cointreau.
12 — Halloween Bat's Guts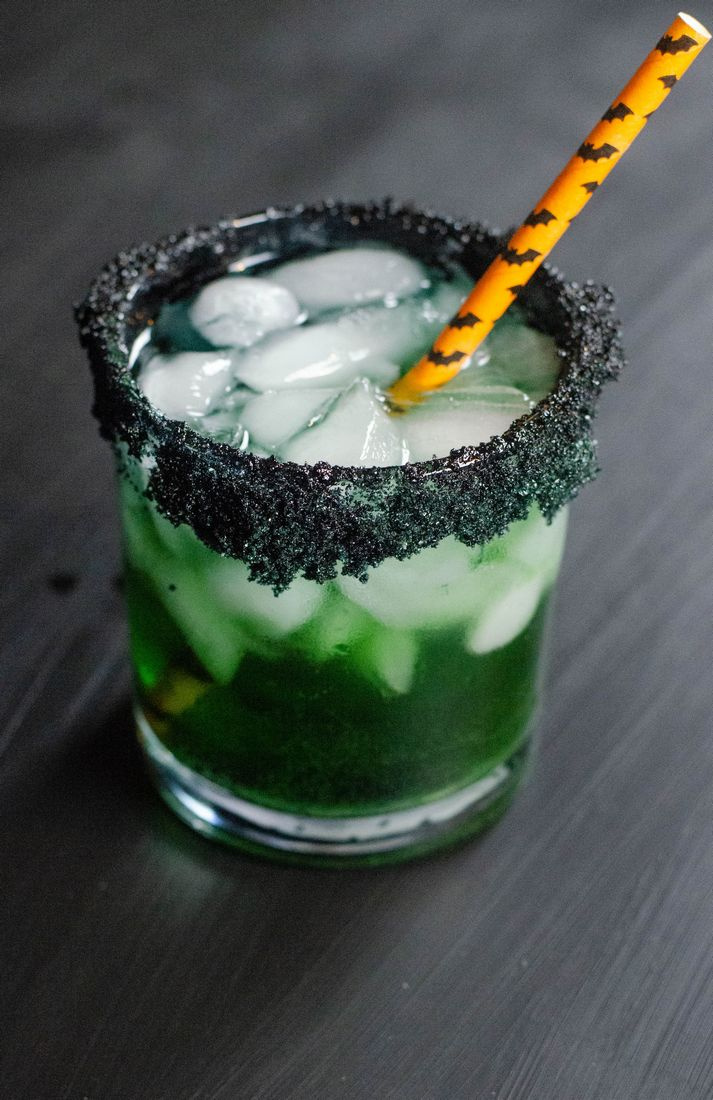 Prepare to be thrilled and chilled with this Halloween Bat's Guts cocktail. You don't even need a cocktail shaker to whip up this apple and melon liqueur based drink.
13 — Maleficent Halloween Cocktail
Your eyes aren't deceiving you. This Maleficent Halloween cocktail really is sparkling! All you need is some edible cocktail shimmer dust and gel food coloring.
14 — Vampire Cocktail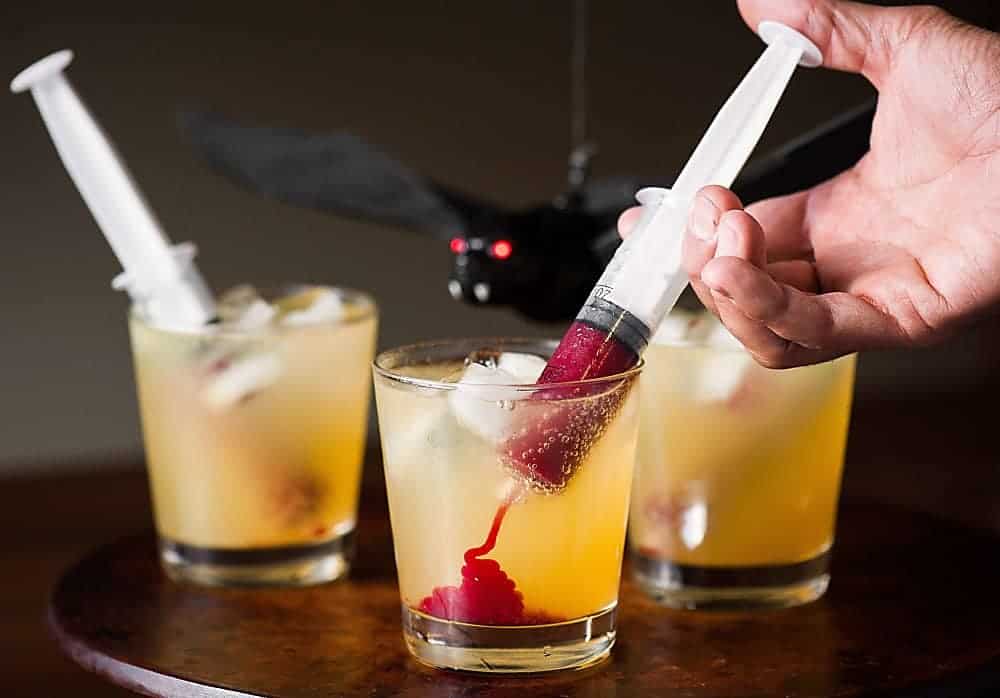 The Vampire is a combination of vodka and amaretto shaken with ice. Then, combined with orange juice and club soda. And finally, squeeze in some chilled raspberry puree that's filled in a syringe.
15 — Color Changing Purple People Eater
The Purple People Eater is one of those Halloween cocktails recipe that is theatrical. So make sure to whip this in front of a crowd because it will be a pleaser. It gets its magically color changing thanks to pea flowers. We also used this secret ingredient in our Butterfly Pea Flower Tea cocktail.
16 — Grave Digger
Featuring melon schnapps and tequila, the Grave Digger is another example of creatively using edible glitter to get that spooky look.
17 — Sparkling Spiced Pear Fireball Whiskey
Whiskey, vodka, peach nectar, fresh lemon juice, ground ginger, ground cinnamon and prosecco. There are so many elements to the Sparkling Spiced Pear Fireball Whiskey that make it so unique.
18 — Witch's Potion Margarita
Conjure up some fiendishly good fun with the Witch's Potion Margarita, a spellbinding blend of tequila and berries.
19 — Blood Orange Negroni
The Blood Orange Negroni is a bittersweet symphony of gin, Campari, and vermouth that is awakened by the vibrant allure of blood orange.
Halloween Punch Recipes for a Large Party
If you're hosting a large gathering, then we know that time is of the essence. So here are some easy Halloween cocktails that can be whipped up beforehand in a large batch.
1 — Pumpkin Punch
If you're a fan of pumpkin pie (who isn't?!), then you'll love our pumpkin punch. It gets its delicious pumpkin spice flavoring from cinnamon, ground cloves, spiced rum and pumpkin puree.
2 — Spooky Halloween Punch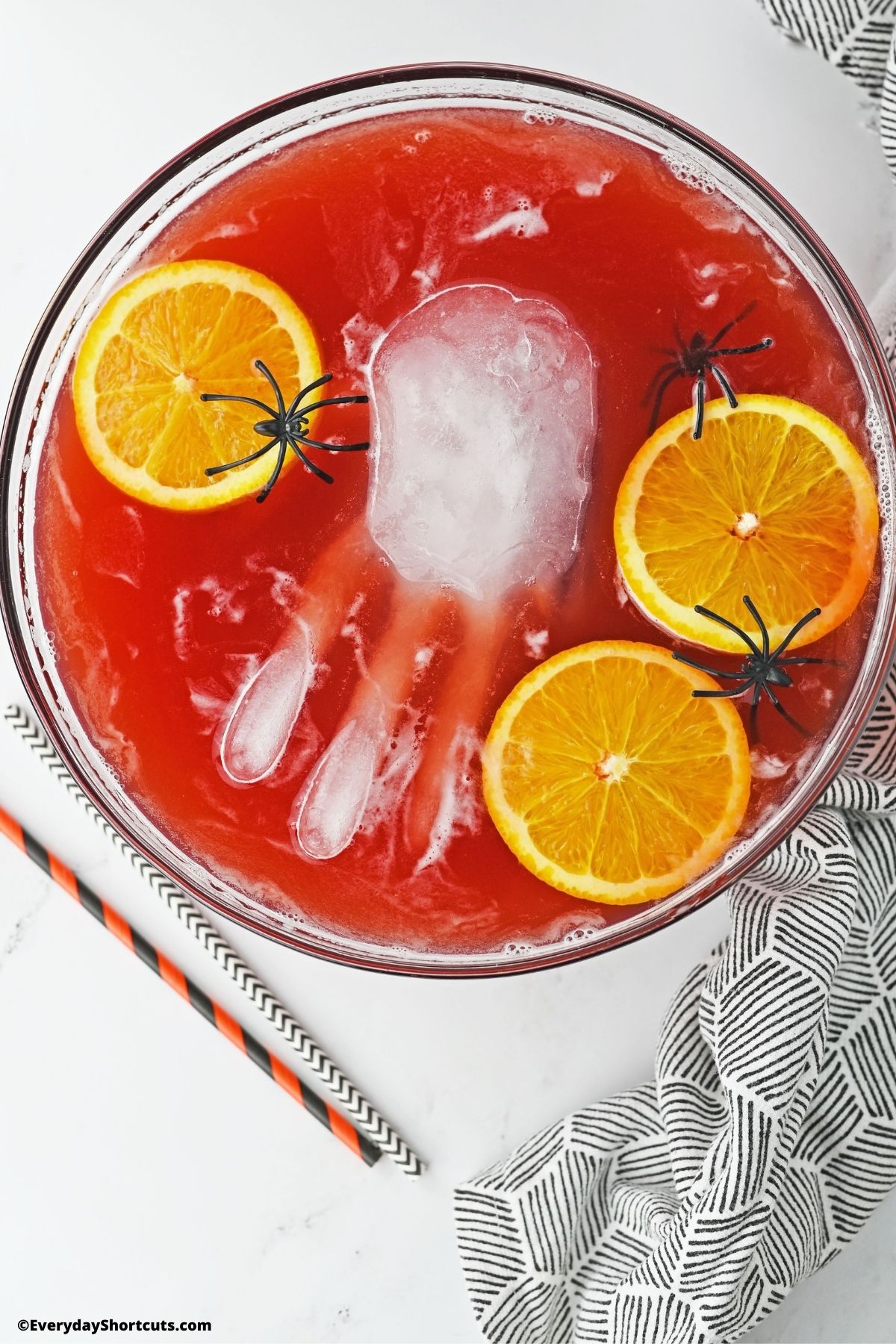 Orange soda, pineapple juice, vodka and cranberry juice combine into a spine-chilling concoction. The punch is kept chilled by frozen hand ice cubes, which can be used in all Halloween party drinks. Simply, use rubber gloves for your ice molds!
3 — Witches Brew Drink
The Witches Brew is a classic non-alcoholic Halloween drink for kids since its main ingredient is orange sherbert. However, as with any punch to turn it into an adult drink, just add alcohol!
4 — Green Halloween Sangria
Get the party started with a Green Halloween Sangria. Brewing it ahead of time is actually ideal for the limoncello, wine, vodka and apples to infuse. Then, top off your pitcher with some lychee eyeballs.
Easy Ways to Turn Any Drink into Spooky Cocktails
1 — Serve your drinks in Halloween themed glassware.
Honestly, you can turn all cocktails into Halloween themed drinks by simply serving them in festive glassware. Halloween is such a fun holiday so this is your chance to get creative. Turn Bloody Marys in shots by serving them syringes or test tube holders. Or serve beer in science beakers. (Just make sure they're food safe first!)
2 — Decorate your glassware.
You could also just simply decorate the glassware you already have with these easy and temporary DIY pumpkin decals.
3 — Create a Halloween cocktail stencil.
For sour cocktails with a foam top, get this tutorial on how to make a spooky cocktail stencil with the help of Angostura bitters and a spray bottle.
4 — Add an eerie fog effect with dry ice.
Learn how to infuse your cocktails with some smoky fog using the enigmatic power of dry ice.
5 — Garnish your cocktails with Halloween themed props and candy.
Having fun with your cocktail garnishes! Add in plastic vampire teeth, creepy spiders or eyeballs (real or faked by lychee and cherries). Or go the sweet topping right by adding in candy corn and vodka soaked gummy worms.
6 — Use Halloween themed ice molds.
Most of your Halloween cocktails need to be chilled. So kill one bird with two stones with some spooky ice shaped molds. For our Spiked Chai Latte cocktail, we found some fun skeleton ice molds.
7 — Brew your punch in a cauldron.
Serving your spine-chilling punches in a cauldron, creating an enchanting centerpiece that will leave your guests spellbound.
Halloween Costume Ideas
If you're gathering cocktail ideas, you're probably also on the hunt for Halloween costumes. Here are some of our favorite festive ideas below —
Easy Halloween Dessert Recipes