Get inspired with these creative Halloween costume ideas for adults, couples, and groups. From funny to spooky, there's something for everyone!
Halloween is a celebration of imagination and creativity. An opportunity to pretend to be someone else for the night. So if you're looking for some ideas for your costume this year, then look no further.
We've got everything from DIY costumes to store-bought costumes, and even unusual unique ideas if you're looking for something different.
Check out our list of the 40 best Halloween costume ideas for trick or treating and your festive parties.
Halloween Costume Ideas for Women
1 — Angel
Halloween and spooky go hand in hand, but that doesn't mean your costume has to be all blood and bones. Why not wear an outfit inspired by the spiritual world to balance the light and dark? Angel costumes are always a popular choice for Halloween. You only need a small white dress and glittery wings to make it heavenly.
2 — Classic Witch Costume
Witch Halloween costumes are always a hit. It is both captivating and scary at the same time. Plus, you can pick from a wide variety of unique witch outfits. Some people choose to dress up like a traditional witch, with a long black gown, a pointy hat, and a broom. Others choose to be more creative and try something more unique, like a cloak that will help them to disguise the witch's identity.
3 — Women of Marvel
Gather your girl squad this year and transform into female superheroes to save the world. You can step up your costume game with so many female Marvel heroes to choose from.
Dress as Captain Marvel, Black Widow, Scarlet Witch, or even She-Hulk (if you're feeling bold). You can add extra power to your costume by adding accessories accordingly.
4 — Medusa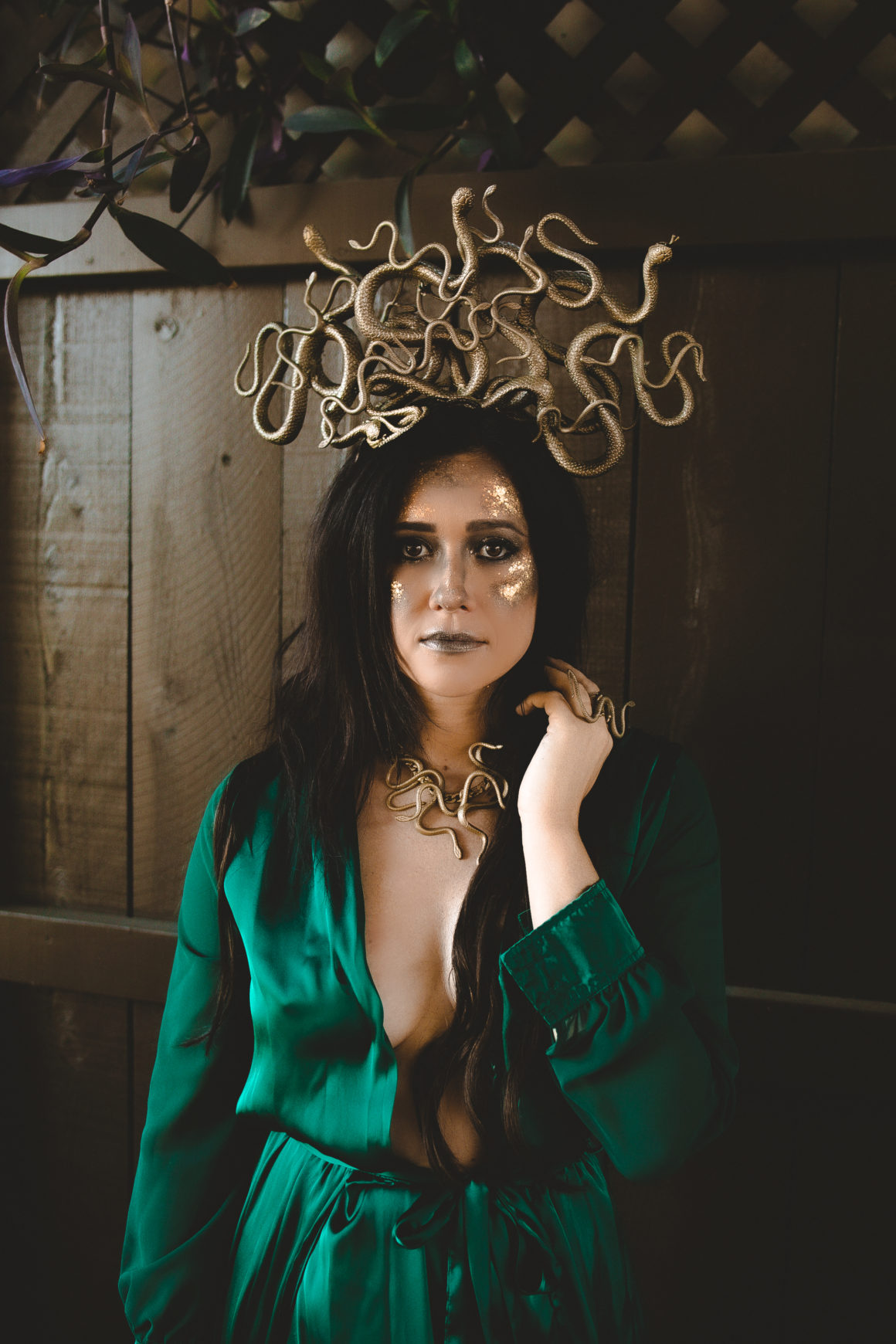 Medusa is one of the most iconic horror movie villains and makes an excellent Halloween costume. Not only is she visually stunning, she is also rich in symbolism and meaning.
For example, the serpent that forms the body of Medusa is frequently considered a symbol of transformation and change. You can make it even creepier by adding fake blood to the dress and snakes.
5 — Bridgerton Costume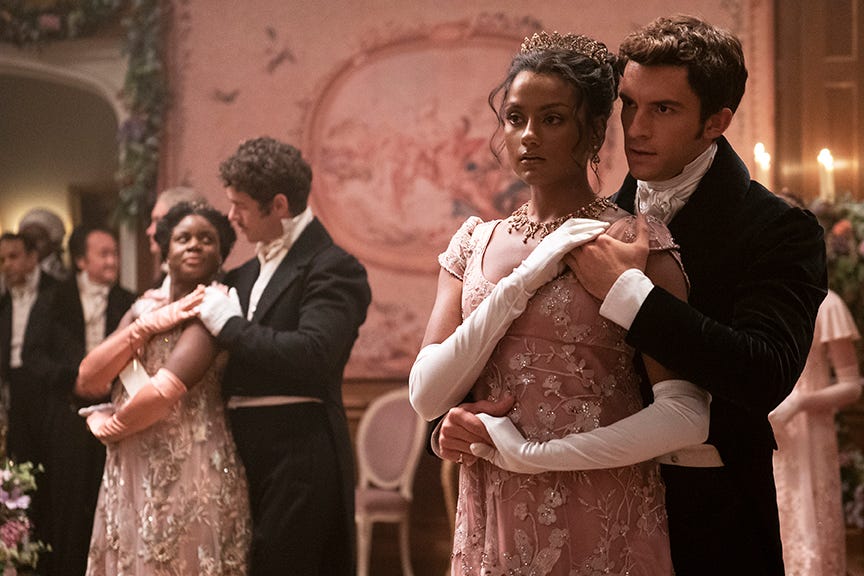 Who will be this season's diamond? It could be you if you dress up in Regency-era attire from the Bridgerton-inspired costumes.
There are a variety of different characters to choose from. Whether you wish to be the mischievous Lady Whistledown or the passionate Lady Bridgerton, there's surely someone that fits your personality.
6 — Creepy Clown
If you're searching for a horrifying Halloween costume, you might want to try dressing up as a killer clown this year. A creepy clown is always a popular choice for Halloween since it allows you to feel like you're in a horror movie scene. Give your friends a scare by finishing up this outfit with bloody accessories and makeup.
7 — Greek Goddess
Dress up as a Greek goddess to feel gorgeous and glorious. Some popular goddess costumes include the goddess of love, Aphrodite, and the goddess of wisdom and war, Athena. When selecting a goddess costume, consider your personal style and what will look best on you.
8 — Tinkerbell
If you're looking for a costume that will make you look adorable and fierce, try dressing up as Tinkerbell for this year's Halloween. She's a popular choice because she's cute, she's sassy, and she has wings! If you want to be more playful, wear sparkly accessories and a glittery green dress.
9 — Mean Girls
There's no denying that Mean Girls characters are some of the most popular Halloween costumes around. This year, dress up as the Plastics with your friends and make the jingle bells ring in October. All you need to pull off this look is some typical mean girl gear, such as a mean attitude, a cute Santa outfit, and a few dance moves.
10 — Ghostly Bride
To match the Halloween theme perfectly, try the Ghost Bride costume. It definitely has a scary quality to it that will give people goosebumps. To achieve the look, all you'll need is a lacy white gown, long white gloves, and an elaborate headpiece, such as a long veil.
Halloween Costume Ideas for Men
11 — Michael Jackson "Thriller" Costume
Moonwalk your way through the Halloween party dressed as Michael Jackson. This Halloween, put on the Thriller outfit, which is definitely one of Michael Jackson's most well-known costumes. Wear a sparkly red jacket, slim black pants, and sunglasses to be the King of Pop for the night.
12 — Mr. Incredible
If you like the Pixar movie The Incredibles, you'll enjoy this Mr. Incredible Costume. For all the guys who secretly wish they had superpowers and could save the world, this costume idea is excellent.
13 — Star Trek Costume
If you're looking for a costume that will bring nostalgia, then pick a Star Trek costume. This is a must-have costume for every fan of the iconic science fiction series. It not only looks wonderful, but it is also simple enough to pull off by simply purchasing the shirt and combining it with black pants.
14 — 'Men in Black' Halloween Costume
For a night out on Halloween, dress up like one of the Men in Black. Transform as your favorite movie agent in a black suit, white shirt, and black tie. Wear black sunglasses to give off a more classy vibe.
15 — Farmer Halloween Costume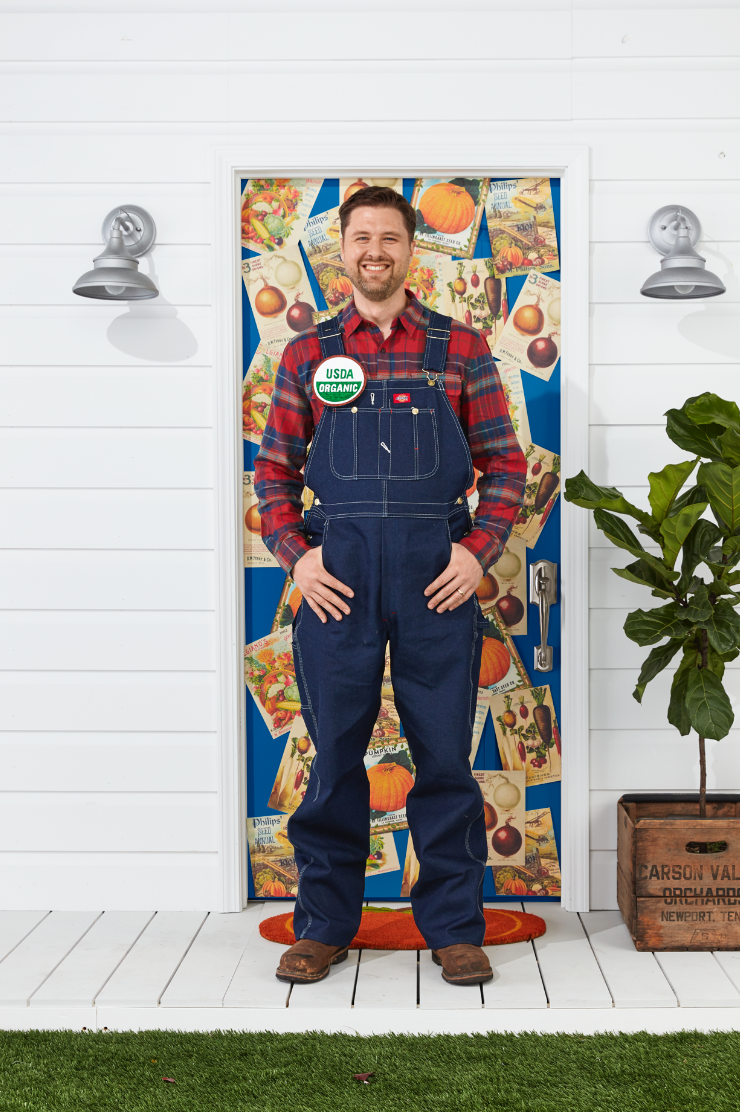 This Halloween, pretend you're a Farmer inspecting your pumpkin patch. All you will need is a t-shirt, a straw hat, and some overalls. This DIY Farmer Halloween costume is simple to put together and will look wonderful on you. To complete the outfit, add a pair of rubber gloves and boots.
16 — Where's Waldo Costume
Looking for a way to impress your friends at the Halloween party? Then Where's Waldo Costume will help you out. This costume is quick and easy to put together, and you can even wear them with your normal wardrobe. To achieve the classic look, wear a red and white stripe hat and sweater.
17 — French Chef Costume
The French Chef costume is ideal for anyone who enjoys cooking and eating. This outfit includes a white jacket, an apron, and a chef's hat. It's the perfect way to say you're proficient in your culinary skills without actually having to cook and prove it.
18 — Sherlock Holmes Halloween Costume
The Game is on! If you have a case to solve, Sherlock Holmes is the ideal costume for you. Wearing a trench coat and a fedora or deerstalker hat will make you look like the renowned detective himself. To complete the look, you may also require a pocket watch and a magnifying glass.
19 — The Good Doctor Halloween Costume
If you enjoy medical dramas, consider the Good Doctor costume. You can play the role of Dr. Shaun Murphy or Dr. Neil Melendez by wearing a white lab coat, a stethoscope around your neck, and carrying a medical bag.
20 — Forrest Gump Halloween Costume
Run your way to this year's Halloween party dressed in the Forest Gump costume. You may revisit this classic film by surprising everyone with a box of chocolates.
Wearing a check printed shirt, a two-button suit, and a pair of leather shoes will complete this costume. To add more detail, use a distressed red cap and a leather belt.
Halloween Costume Ideas for Couples
21 — Hungry Hippos
Trying to come up with a fun Halloween costume for your family? An interesting option would be this DIY Hungry Hippos Costume. This costume is based on a classic board game, The Hungry Hippo. To bring this simple and easy idea to life, all you need is to dye the hats and clothes a bright color. Then, make hippo hats for kids and adults.
22 — Pantone Color Combo Couples Costume
Cut a piece of white vinyl with a black sticker and attach it to the bottom of your skirt, as well as the jacket pocket of the men's suit.
23 — Andy Warhol and Marilyn Monroe Couples Costume
If you're a couple searching for a fun costume, consider an Andy Warhol and Marilyn Monroe. This costume is easy to put together and is sure to be a hit at any Halloween party.
To dress up as Marilyn Monroe, you will need a white dress, a blonde wig, and red lipstick. You'll need a crazy white wig, black spectacles, and a black turtleneck to complete the Andy Warhol look.
24 — David Bowie and Prince Couples Costume
A David Bowie and Prince Couples Costume is an excellent way to express your admiration for these two musical icons.
25 — The Grand Budapest Hotel Couples Costume
Wes Anderson fans, this one is for you. The Grand Budapest Hotel Couples Costume is here to save the day! You can pull off this look by dressing up as Agatha and Mendl's Baker outfit. Pro tip: don't forget the distinctive birthmark on Agatha's right cheek and Mendl's box to finish the look.
26 — Harry Potter Couples Costume
Use the Expecto Patronum spell to defend yourself against the Halloween ghosts. This year, you and your partner can transform into wizards by becoming Harry Potter and Ginny Weasley.
Wearing this Harry Potter couples costume will let you bring the Halloween magic to the party. All you need is a Hogwarts outfit and some accessories, such as Harry's spectacles, Ginny's red wig, and of course, wands. And for our Potterheads, we've also got the perfect gift guide for you.
27 — Ken & Barbie Skating Costume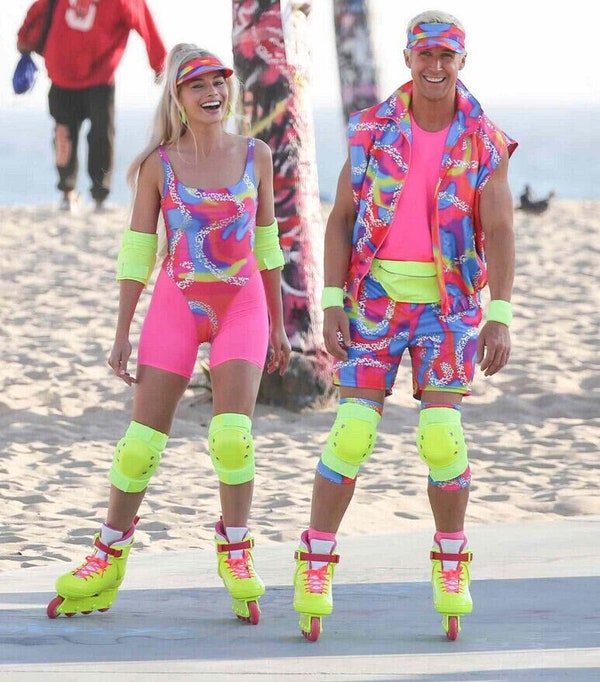 28 — Party Animals Couples Costume
Who doesn't enjoy a fun and easy Halloween Party Animal Costume? This costume is sure to turn heads when you and your partner walk into the Halloween party in fancy dress with animal masks.
29 — Pushing Daisies Couples Costume
If you're looking for an eye-catching couples costume, consider dressing up as the Pushing Daisies Couple. This Halloween, you two can dress up as Ned and Charlotte, who is a pastry chef, which brings his childhood crush back to life. You'll be able to create this look in no time with the help of this simple DIY.
30 — Mr. and Mrs. Fantastic Fox Costume
Did you get so caught up in decorating your house for Halloween that you forgot about your costume? Don't worry; we've got your back. For the Halloween party, dress up as Mr. and Mrs. Fantastic Fox. If you're short of time, all you need to do is wear fox masks on any vintage-inspired outfit from your closet.
Halloween Costume Ideas for Group
31 — Game of Thrones Costumes
It can be difficult to find a group costume that everyone will enjoy on Halloween. But everyone would agree on the Game of Thrones costume. This is a fantastic way to show your appreciation for the show. Dress up as Jon Snow, Daenerys Targaryen, or Arya Stark to bring the medieval world back to life.
32 — Teenage Mutant Ninja Turtle Costumes
Teenage Mutant Ninja Turtles group costumes DIY can be a great way to show your love for these crime-fighting ninjas. You can go all out with full costumes and accessories, or keep it simple with just a green shirt and some face paint. Whatever method you use, this Halloween costume is sure to be a hit.
33 — Stranger Things Group Halloween Costume​​​
Have a huge group? Then, dress up as the cast from Stranger Things. You can all have a great time putting the costume together and giving it an 80s feel. Don't forget to include the character's signature accessories when choosing them, such as Eleven's fake blood, Dustin's thinking cap, or Max's headphones. ​​​
34 — Minions Halloween Costume
Minions are adorable and hilarious, and they love bananas! And what better way to display your affection for them than to dress up as a group in Minions Halloween Costume? Put on some minion goggles, a yellow shirt, and some denim overalls to complete the look.
35 — M&M's Halloween Costume
Make your team dress up in M&M Costume for Halloween to showcase your passion for the candy. You can wear different colored M & M's T-shirts with denim jeans to depict an M & M package. To make it interesting, carry an M&M bucket filled with your favorite M&M candy.
36 — Alice in Wonderland
You and your friends can follow the rabbit into Wonderland by dressing up as the Mad Hatter, Alice, or even the Red Queen. Take the Halloween costume game to the next level by looking like the characters of Alice in Wonderland.
37 — Trolls Halloween Costume
Join the universe inspired by DreamWorks Trolls by dressing up as King Trollex, Poppy, and other characters.
38 — Encanto Halloween Costume
No one talks about Bruno, but we will. This Halloween, dress up your squad in Encanto Halloween Costume, looking like the amazing Madrigal family. Dress as Bruno, Mirabel, Isabella, or even Dolores to show off your love for this Disney film.
39 — Disney Princess' Costumes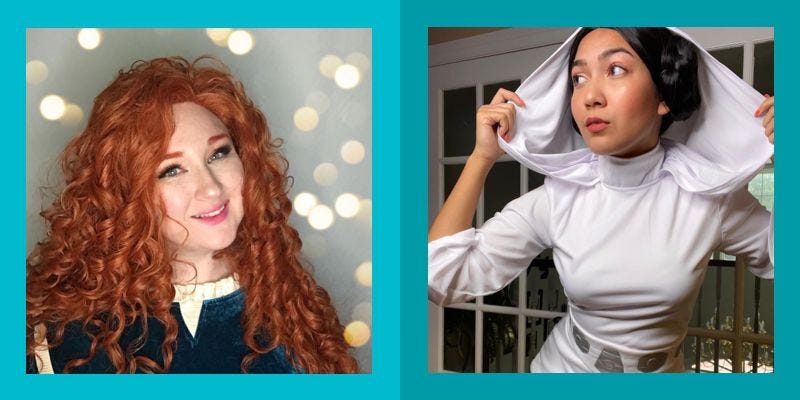 Channel your 5-year-old self's idols, and have your girl gang transform into Disney Princesses'. There is bound to be a favorite character that fits your style, whether you're dressing up as Cinderella, Snow White, or Rapunzel. Make it even more magical by selecting their signature accessories, such as Cinderella's golden glass slipper or Mulan's warrior armor.
40 — Gilmore Girls ​Group Costumes
If you and your friends are obsessed with the Gilmore Girls and can't get enough of them, try dressing up in their attire! From Lorelai to Rory, you can choose any look for this year's Halloween night. The best thing about the characters is that they dress like everyday people.
More Halloween Ideas