From spooky cupcakes to creepy cookies, discover the most delicious and frightfully fun Halloween desserts to satisfy your sweet tooth!
As the leaves change color and the air turns crisp, Halloween season is upon us once again. Nothing excites us more than coordinating family costumes and putting out our outdoor Halloween decor.
And what better way to celebrate this spooktacular time of year than with a delectable array of Halloween-themed desserts?
From creepy-crawly cupcakes to ghoulishly gooey treats, these spine-chilling sweets are sure to delight both kids and adults alike.
Whether you're hosting a haunted house party or simply looking for a festive treat to satisfy your sweet tooth or to go with your Halloween cocktails, get ready to sink your fangs into some wickedly delicious Halloween desserts that will leave everyone howling for more!
Easy Halloween Desserts Ideas
1 — Ghost Peeps Toppers
Elevate your desserts to a hauntingly delightful level with these ghost Peeps toppers, adding a whimsical touch to your sweet creations. We topped them (with a cooking torch) on macarons, but this would also make for a fun cupcake or cookie topper too!
2 — Boozy Dirt Cups
Get ready to indulge in a nostalgic treat with an adult twist. This boozy dirt cup recipe combines the childhood classic with a delightful kick of liqueur (and vodka soaked gummy worms) for a dessert that's sure to delight the grown-up palate. And of course, there is a mocktail version.
3 — Pumpkin Chocolate Chip Cookies
Embrace the cozy flavors of the season with these pumpkin chocolate chip cookies, where the warmth of pumpkin spice meets the decadence of rich chocolate in each delicious bite.
4 — Truffle Monster Toppers
Transform your cupcakes into delightful confectionery creatures with these truffle monster toppers, bringing a touch of whimsical charm and delicious indulgence to your sweet treats.
5 — Elegant Halloween Desserts: Dirt Worm Macarons
Experience a playful twist on a classic French delicacy with dirt worm macarons, where delicate almond shells meet rich chocolate ganache and gummy worms for a whimsical and decadent treat.
6 — Spooky Eyeball Donuts
Add a spooky and delicious element to your Halloween festivities with these spooky eyeball donuts, where powdered donuts are transformed into eerie edible eyeballs that are as fun to make as they are to eat. And honestly, this is more like a hack than a recipe that you can whip up in minutes since we used store-bought donuts.
7 — Halloween Ghost Shots
Elevate your Halloween party to a hauntingly good time with these chillingly delightful Halloween ghost shots, a whimsical and boozy concoction consisting of cupcakes and icecream that will spook and thrill your party guests.
8 — Monster Guts Mousse Cups
Get ready to satisfy your monstrous sweet cravings with our monster guts mousse cups. Though its name doesn't sound appealing, we swear these make for delicious Halloween treats. It's basically a delicious cool whip dessert with loads of Halloween candy.
9 — Petri Dish Jello
Turn your dessert table into a mad scientist's laboratory with these petri dish jello, where wobbly, colorful layers of gelatin replicate the look of microbial specimens for a fun and deliciously eerie treat.
10 — Pumpkin Popcorn Balls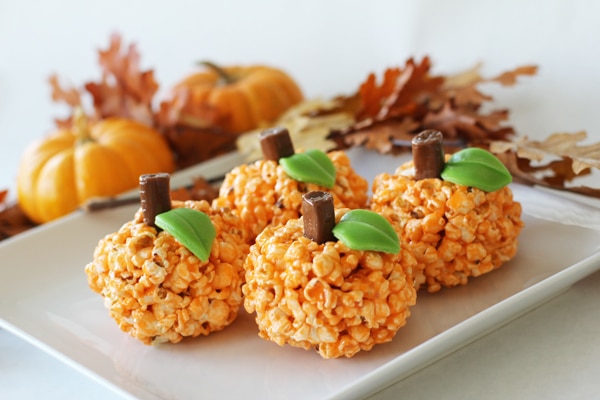 It wouldn't be Fall without some pumpkins. You can make these adorable pumpkin popcorn balls without ever turning on the story. A mini Tootsie Roll serves as the stem.
11 — Bloody Spider Web Chocolate Tart
Indulge in the macabre elegance of Halloween with a no-bake bloody spider web chocolate tart. It features an Oreo crust and dyed caramel is used for the bloody effect.
12 — Monster Mash Cookies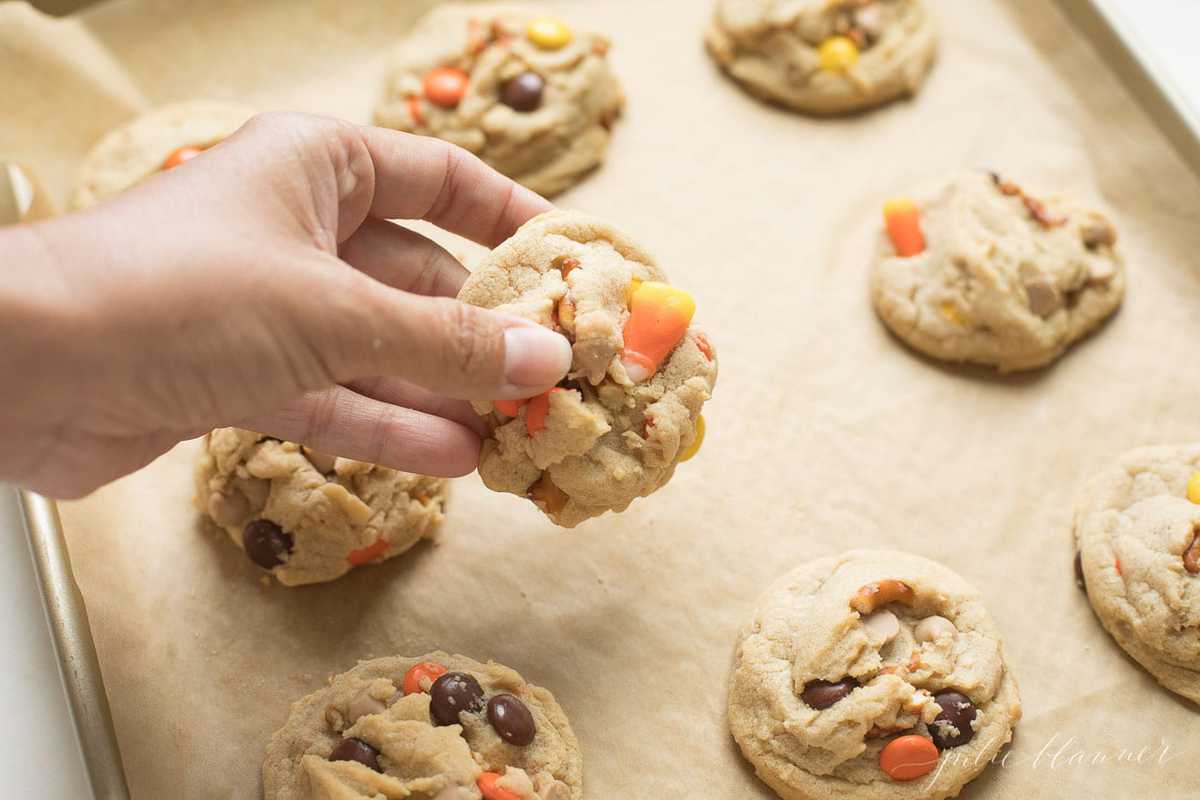 Get ready to unleash your inner monster with this monster mash cookies recipe, a whimsical and colorful treat that combines a medley of candies (like candy corn), sprinkles, and chocolate chips into each spooktacular bite.
13 — Pumpkin Hand Pies
Savor the essence of autumn with these pumpkin hand pies, where a flaky, golden crust envelopes a luscious pumpkin filling, creating a portable and delectable Halloween dessert you won't be able to resist. If you prefer apples, swap out the pumpkin filling for our apple filling from our apple hand pies recipe.
14 — Spooky Black Caramel Apples
Give your taste buds a thrill with spooky black caramel apples, where crisp, tart apples are dipped in jet-black caramel and adorned with chillingly delicious toppings for a Halloween treat that's both eerie and irresistibly sweet.
15 — Halloween Sugar Cookie Skull Cake
Delight in a hauntingly delicious Halloween sugar cookie skull. A sugar cookie crust forms a spine-tingling edible skull, topped with cream cheese frosting.
16 — Halloween Pumpkin Pie
Summon the spirit of the season with a Halloween pumpkin pie, a spooky twist on a classic dessert featuring a creepy, carved face that's as delightful to eat as it is to behold.
17 — Peanut Butter Spider Cookies Idea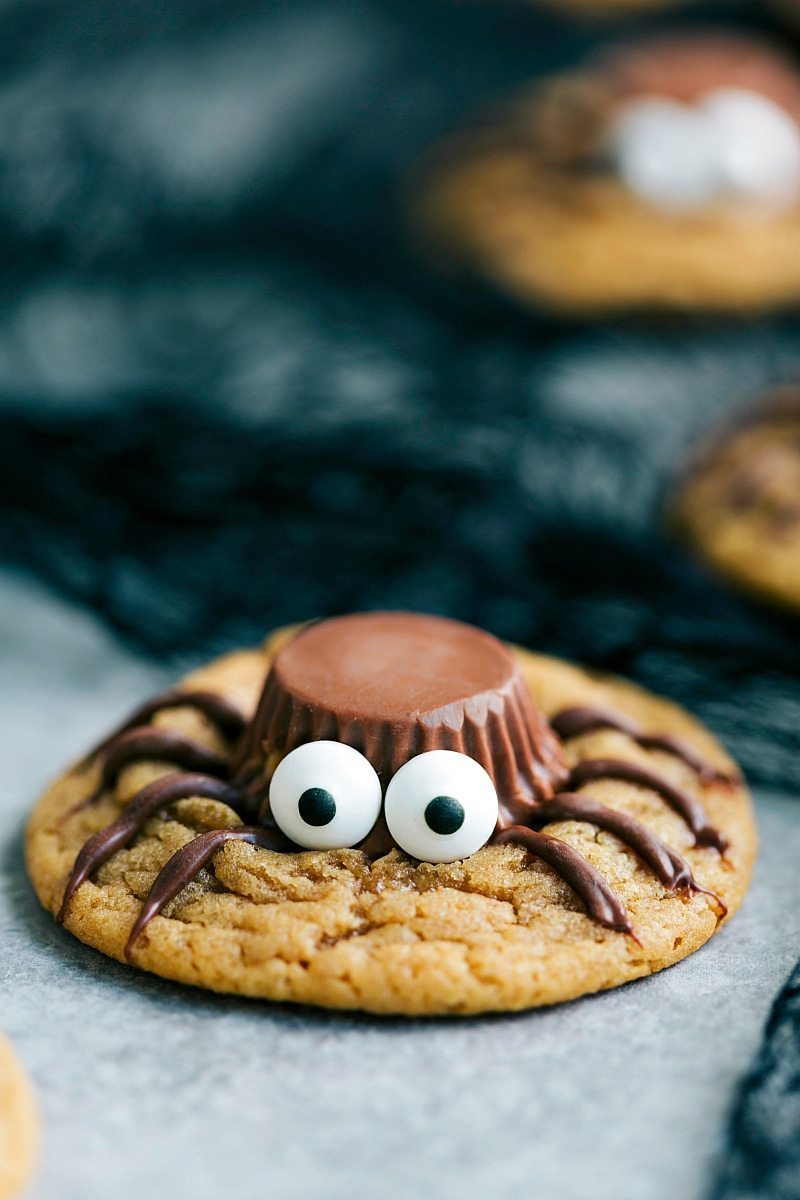 To make these festive peanut butter spider cookies, you'll need cookies. So gather your favorite cookie recipes like snickerdoodles, chocolate chip cookies, sugar cookies or even chocolate peanut butter cookies.
The spider's body is formed from miniature peanut butter cups. Then, add some candy eyeballs and draw the legs with frosting for some simple Halloween desserts!
18 — Healthy Halloween Dessert Platter
Vibrant fruits, wholesome treats, and a creative presentation combine to offer a guilt-free and spooktacular healthy Halloween dessert platter spread that both kids and adults will enjoy. It features some vegan, plant based and gluten-free treats.
19 — Frankenstein Rice Krispie Treats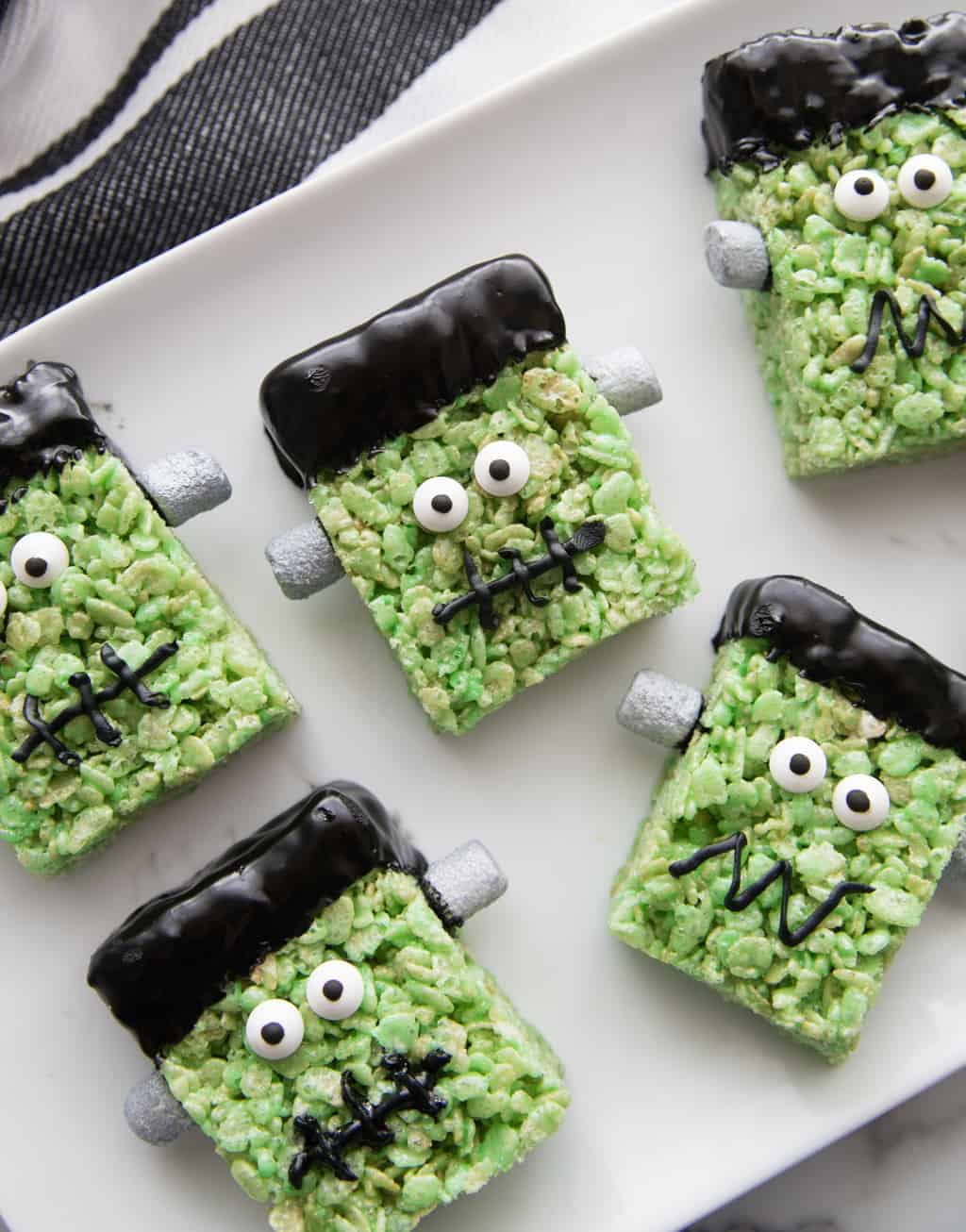 Bring a touch of monster mayhem to your Halloween celebrations with these Frankenstein Rice Krispie Treats, a playful and delicious twist on a classic favorite that's sure to be a hit with all your little ghouls and goblins.
20 — Ding Dong Bats
Take your dessert table to new heights of spooktacular fun with these Ding Dong bats, where creamy, chocolatey goodness takes flight in the form of adorable and delicious bat-shaped treats. These easy Halloween desserts take only 10 minutes to make.
21 — Ghosts in the Graveyard Chocolate Pudding Cups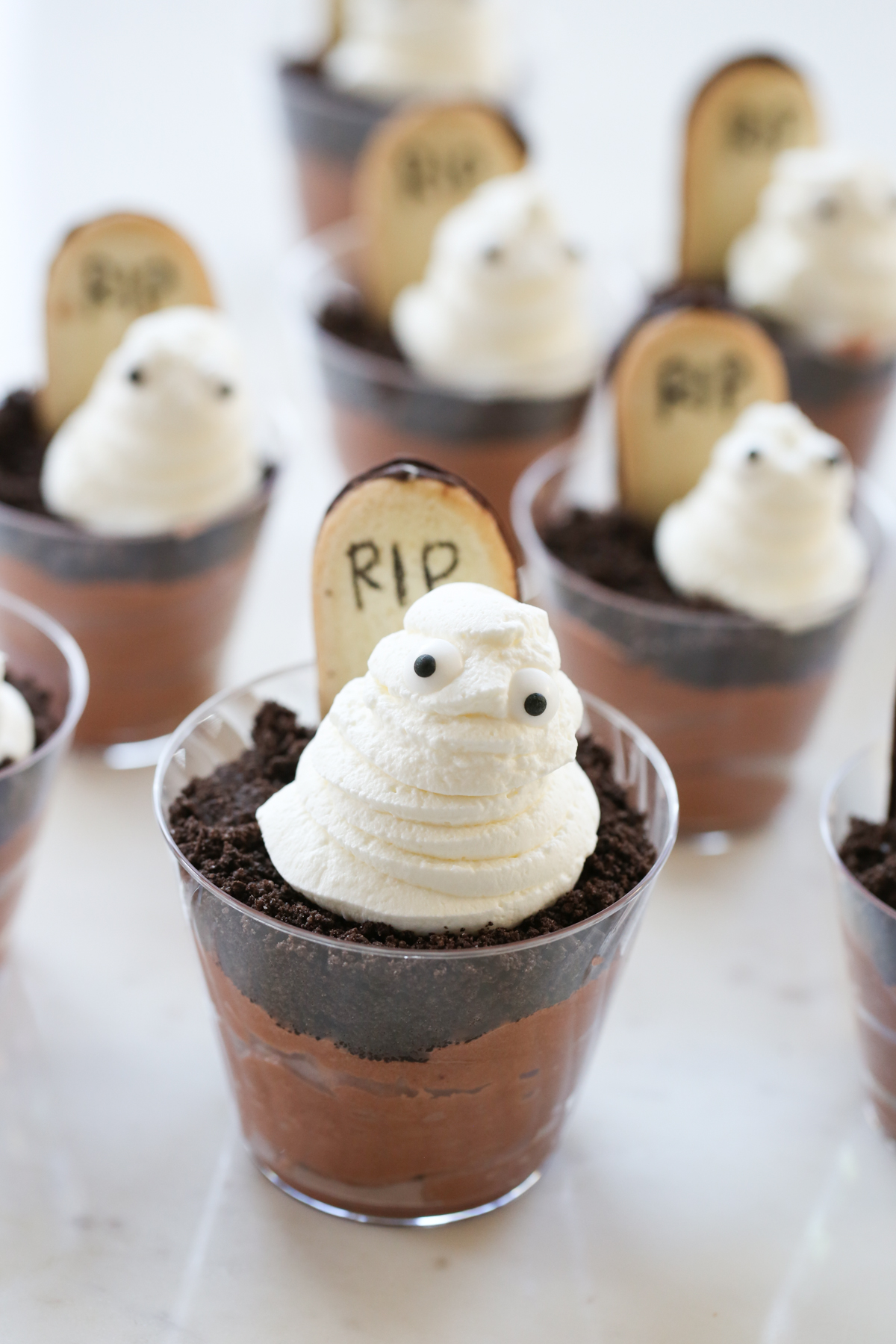 Halloween pudding desserts are always a hit. So create a hauntingly delicious dessert experience with ghosts in the graveyard chocolate pudding cups, where layers of rich chocolate pudding, crushed cookies, and whimsical marshmallow ghosts come together to delight both kids and adults alike.
22 — Mummy Brownies
Unwrap a spine-tinglingly scrumptious surprise with our Halloween mummy brownies, where gooey brownie goodness meets whimsical white chocolate mummy wraps, making it the perfect eerie yet delectable treat for your Halloween festivities. For a vegan take, use our vegan brownies recipe instead.
23 — Halloween Cookie Dough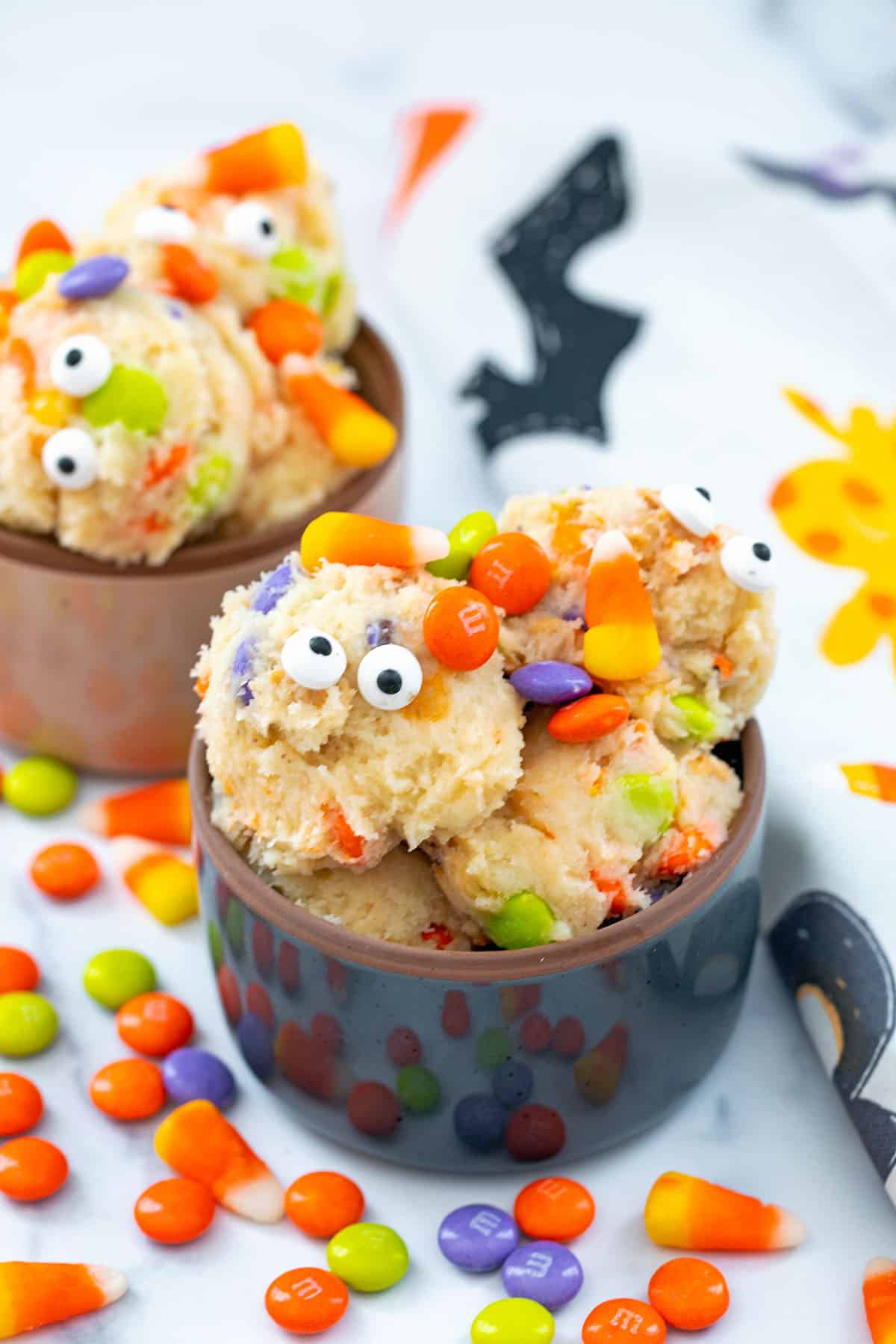 Embrace the sweet side of Halloween with this spooktacular Halloween cookie dough recipe, a delectable and edible concoction filled with festive candy pieces (including your favorite Halloween candy, candy corn).
24 — Halloween Pretzel Rods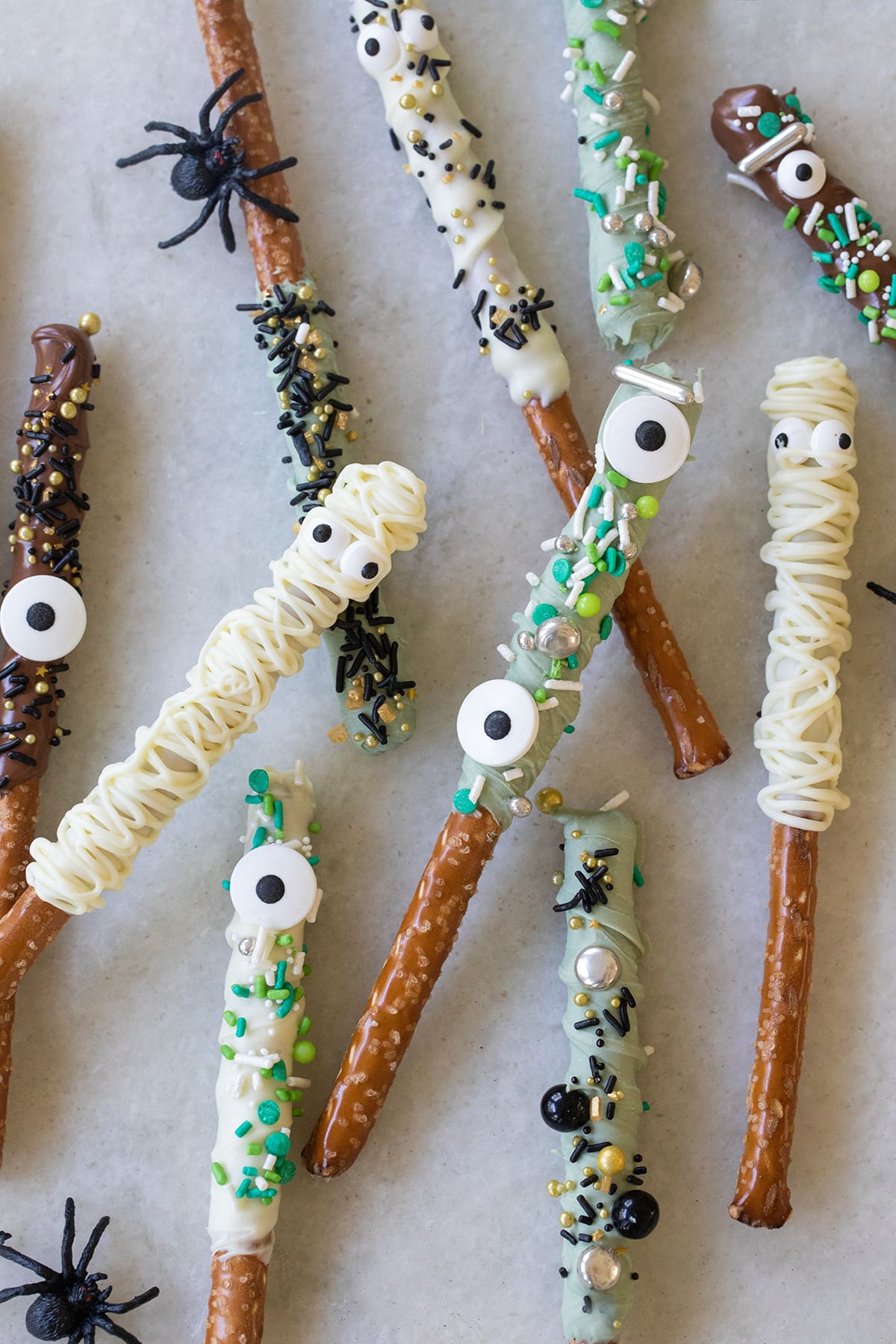 For an interactive dessert idea, set up a table for your guests to make their own Halloween pretzel rods. They can create their own spooky creatures or replicate these mummy, monster, witch hat rods.
25 — Witch Cupcakes
Add a touch of enchantment to your Halloween festivities with these witch cupcakes, where wickedly delicious flavors and creative decorations brew up a spellbinding treat for all your little witches and wizards. The hats are made of waffle cones and licorice Twizzlers form the hair.
26 — Vegan Spooky Desserts: Green Witch Finger Cookies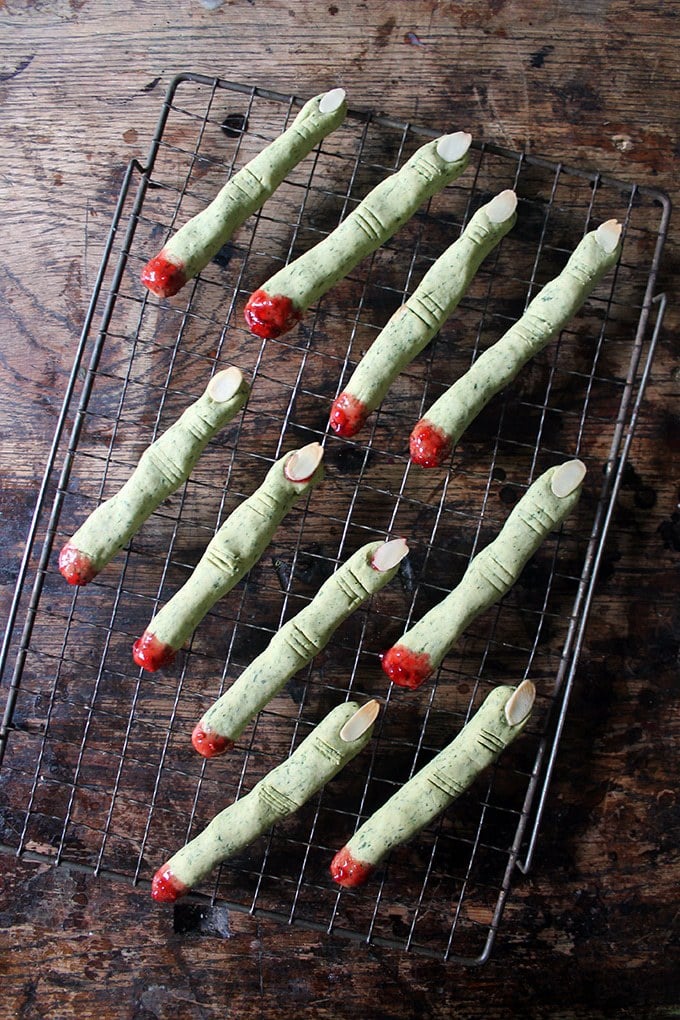 Craft an eerie and delectable delight with green witch finger cookies. These ghoulishly realistic witch fingers are hauntingly delicious. Can you guess how this recipe gets the green hue? Nope, not food coloring but pureed spinach! It's a natural dye that you cannot taste.
27 — Halloween Charcuterie Board
This spooktacular charcuterie board is artfully arranged to provide a wickedly delicious selection of candy and thematic treats. This also makes for a fun Halloween decor centerpiece.
28 — Spooky Halloween Marble Cake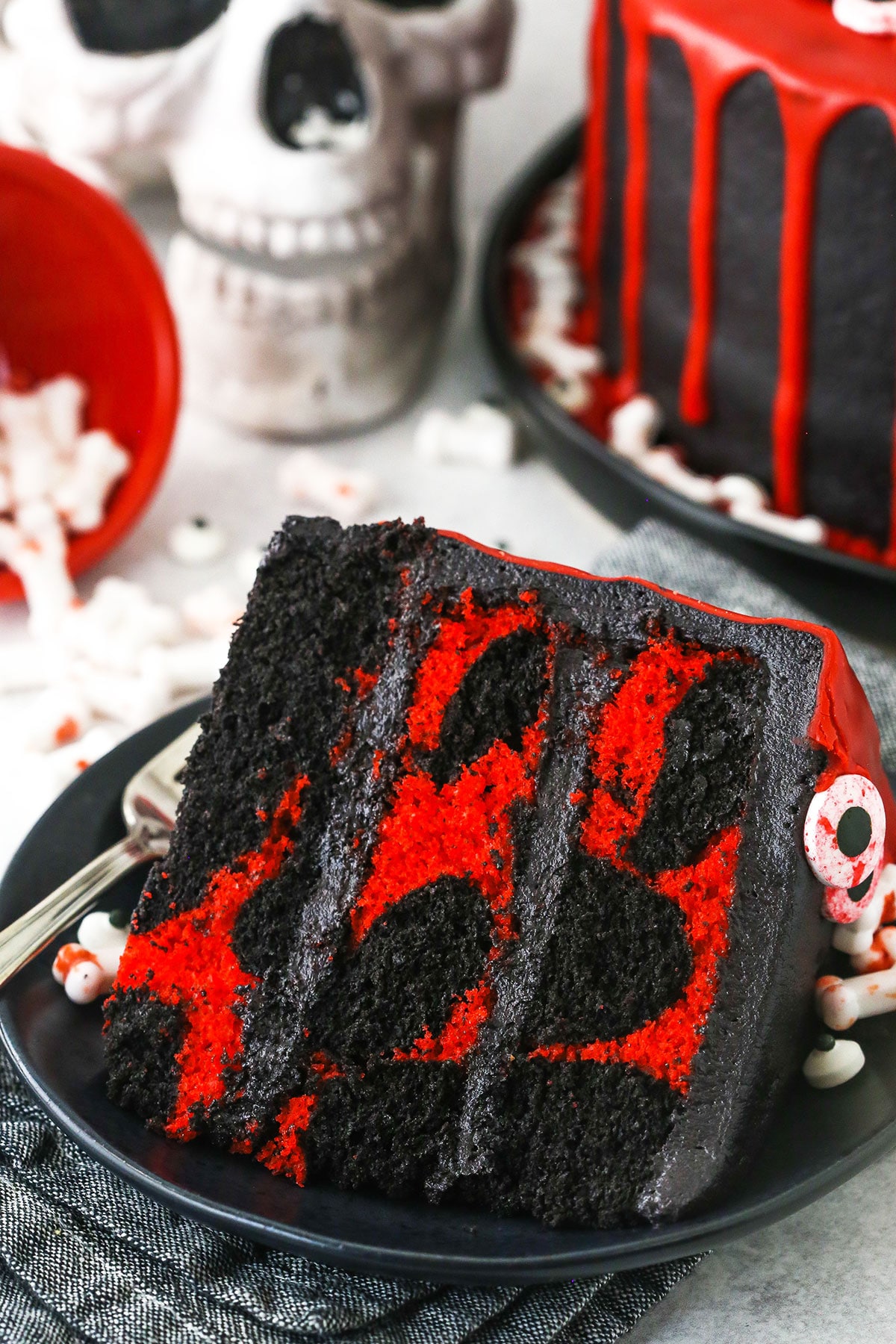 Prepare to cast a deliciously eerie spell with this spooky Halloween marble cake recipe, where swirls of dark chocolate and red vanilla dance together in a hauntingly beautiful and delectable dessert.
29 — Halloween Cake Pops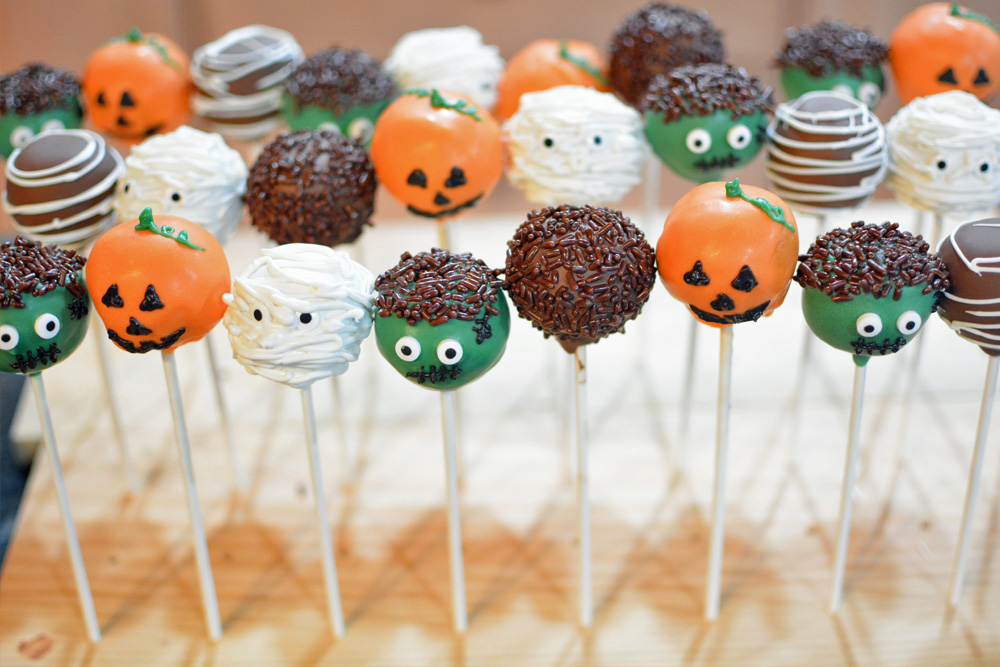 Indulge in bite-sized bursts of Halloween delight with these Halloween cake pops, where moist, flavorful cake is lovingly crumbled, transformed into adorable themed pops, and dipped in decadent coatings for a spooky yet sweet treat. Display them on a DIY fruit kabob stand.
30 — Halloween Whoopie Pies
Experience the ultimate Halloween treat with these spooky and scrumptious Halloween whoopie pies, where soft, cakey cookies sandwich a hauntingly delightful filling, making them a must-have for your festive dessert spread. This is a great example of turning regular recipes into Halloween dessert recipes by simply adding festive Halloween colors.
31 — Halloween Cheesecake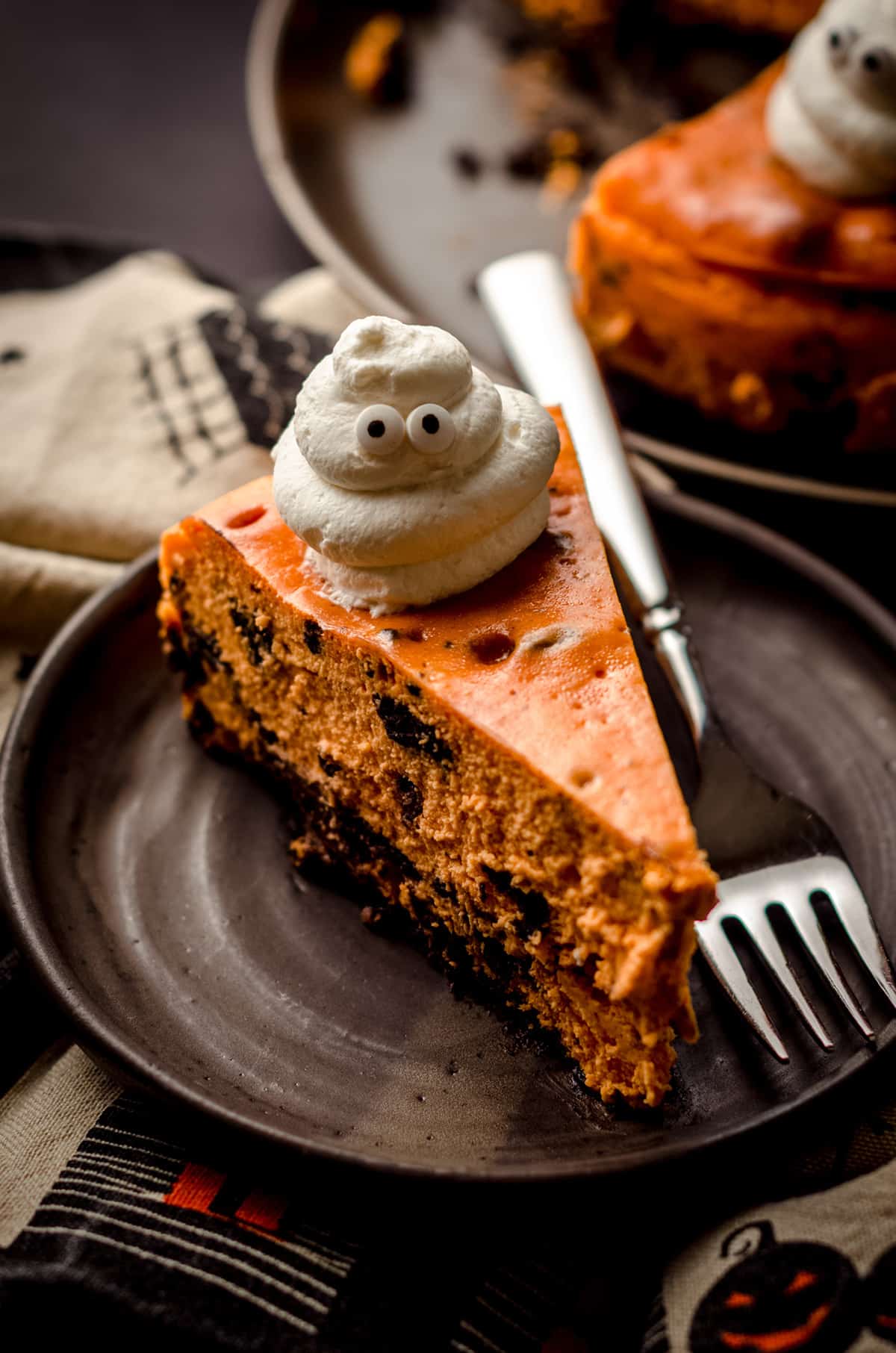 This wickedly delightful Halloween cheesecake, where creamy, indulgent layers of cheesecake meet spooky decorations for a dessert that's as visually enchanting as it is delicious. This recipe simply takes a basic cheesecake recipe and tints it orange. Then, top it off with whipped cream ghosts.
If you're ever making any cheesecake, don't forget about the water bath technique to avoid it from cracking.
Halloween Costume Ideas
So now that you've got a lot of Halloween dessert recipes, we hope you have your costumes also covered. If not, check out all these fun costume ideas below —