Check out these simple Halloween costumes for guys that are perfect for anyone who wants a last-minute costume that's still totally awesome.
Halloween, like any holiday, comes with big fans who go the extra mile to celebrate or those who only participate because they have to.
For Halloween, that might mean not having a costume and then needing to attend a Halloween party last minute and being unsure of what to wear.
Fret no more with these 21 easy Halloween costumes for guys
They are easy to whip up, and most don't require more than what you already have in your closet!
Easy Halloween Costumes for Guys
1 — Johnny Bravo Costume
View this post on Instagram
Live with your mom, are extra muscular, wear sunglasses, and don't have the most successful dating life? Maybe you're Johnny Bravo!
Regardless of what you are like, this costume consists of a black T-shirt, tight skinny jeans, spiked-up and gelled hair, and sunglasses.
That might have even been what you wore today! This Johnny Bravo Halloween costume couldn't be easier.
2 — Arthur Costume
View this post on Instagram
Ready to bring out your inner nerd and anthropomorphic aardvark? This easy Arthur costume is for you.
Find a yellow or orange long sleeve shirt or sweater, round glasses, and some big ears.
Mouse ears will do the trick since aardvark ears are a little harder to come by.
3 — Marty McFly Costume
View this post on Instagram
If you are a Back To The Future fan but don't want to hassle with makeup or invest in crazy and expensive costumes, this Marty McFly costume is the perfect alternative.
This costume is simple to put together and looks exactly like the movie.
Grab an orange vest, denim long-sleeved shirt (to go under the vest), a blue and white plaid shirt, and jeans, and finish the outfit off with white sneakers.
They don't have to be super clean. You are time traveling after all so dirty sneakers are a-okay.
Your future is whatever you make it, so make it a good one with this easy Marty McFly Halloween costume.
4 — Pizza Delivery Man Costume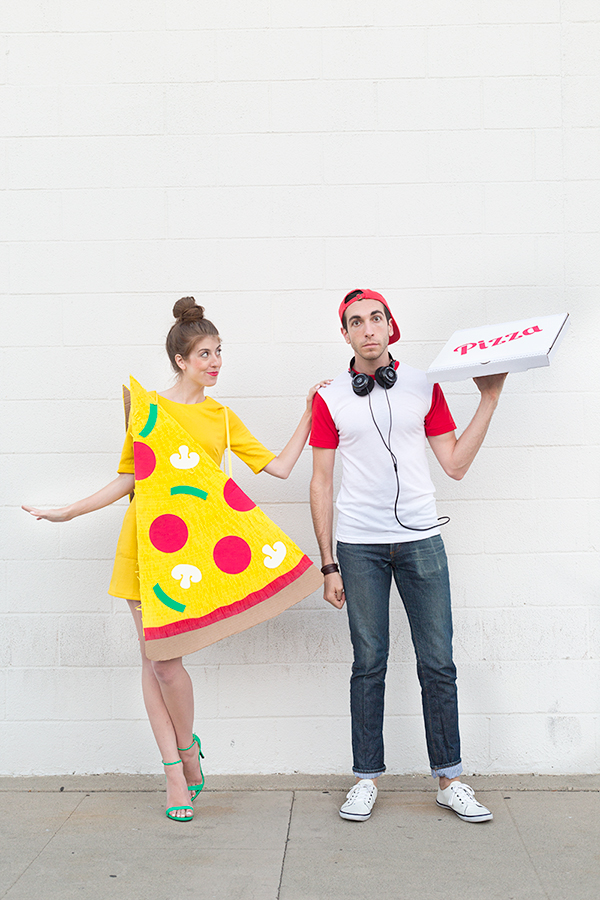 This costume works just as well as a singles costume as it does a couples costume.
This costume is a great way to use up old clothes too. Pizza boys aren't known for wearing pricy jeans or clean, unstained shirts.
So grab up an old T-shirt, some jeans, sneakers, a hat, and some headphones for a great pizza delivery man costume.
Pro tip: You can carry around an empty pizza box or step this costume up a notch and use a pizza box with real pizza inside and eat a slice whenever you want!
5 — Star Trek Costume
Live long and prosper with this great Star Trek costume.
Although you can get the shirt quickly for under $30 from Amazon, you can also DIY this costume with a yellow shirt and an iron-on patch.
Pair the outfit with all-black attire underneath, and you are all set to fly off!
6 — Men in Black Halloween Costume
Ready to drag out that black suit you never wear? This Men in Black Halloween costume is a great excuse!
You'll look sharp as a tack and have a great time.
Just make sure to use a white collared shirt, a blue striped tie, and your favorite watch to wrap up the outfit.
7 — Jack Pearson from This Is Us Halloween Costume
View this post on Instagram
If you are ready for an easy costume, this is it.
Grab some black shoes, dark jeans, a golden brown button-up shirt, and a mustache.
Bonus points if you can grow the mustache yourself!
8 — Lumberjack Costume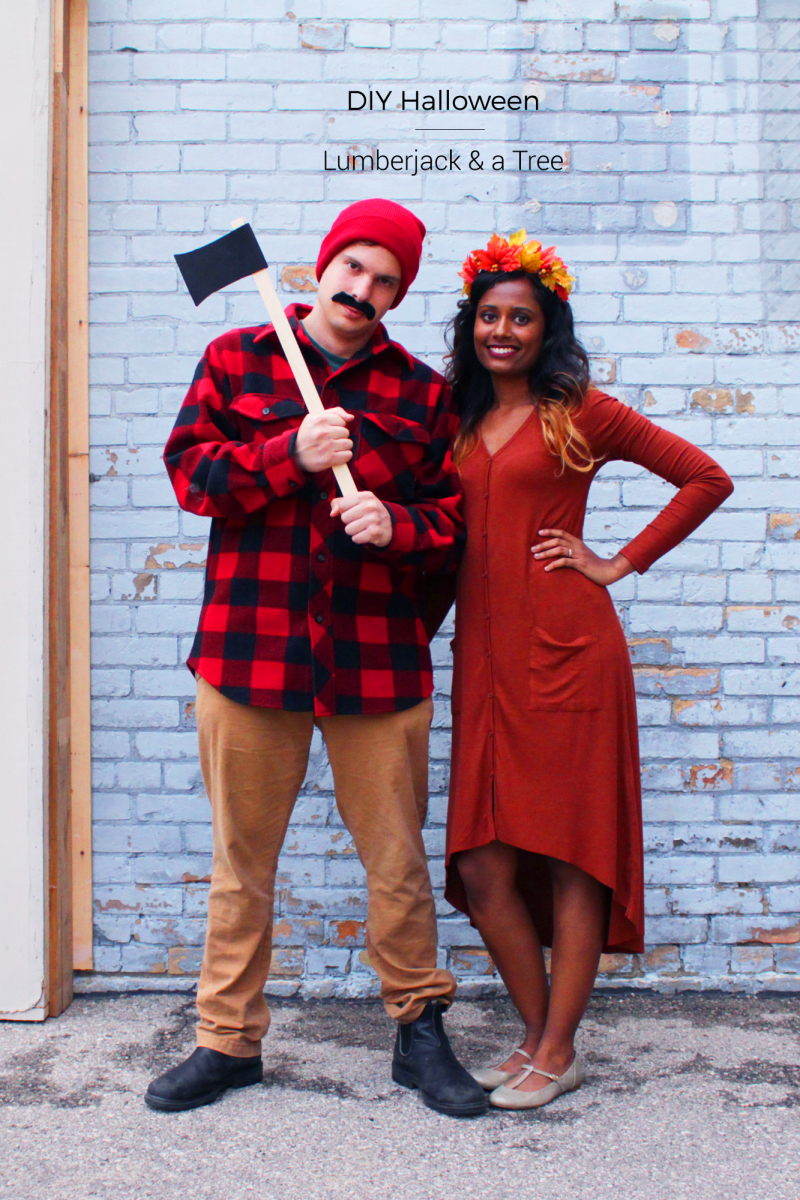 If you have an ample flannel collection and are not sure of the state of the world?
Before you run off the grid, try out being a lumberjack first this Halloween.
This lumberjack costume is incredibly simple with just your favorite flannel, a pair of jeans, and some good boots.
If you feel like growing a big beard, mustache, or getting a fake plastic ax, all the better!
9 — Remote Worker Costume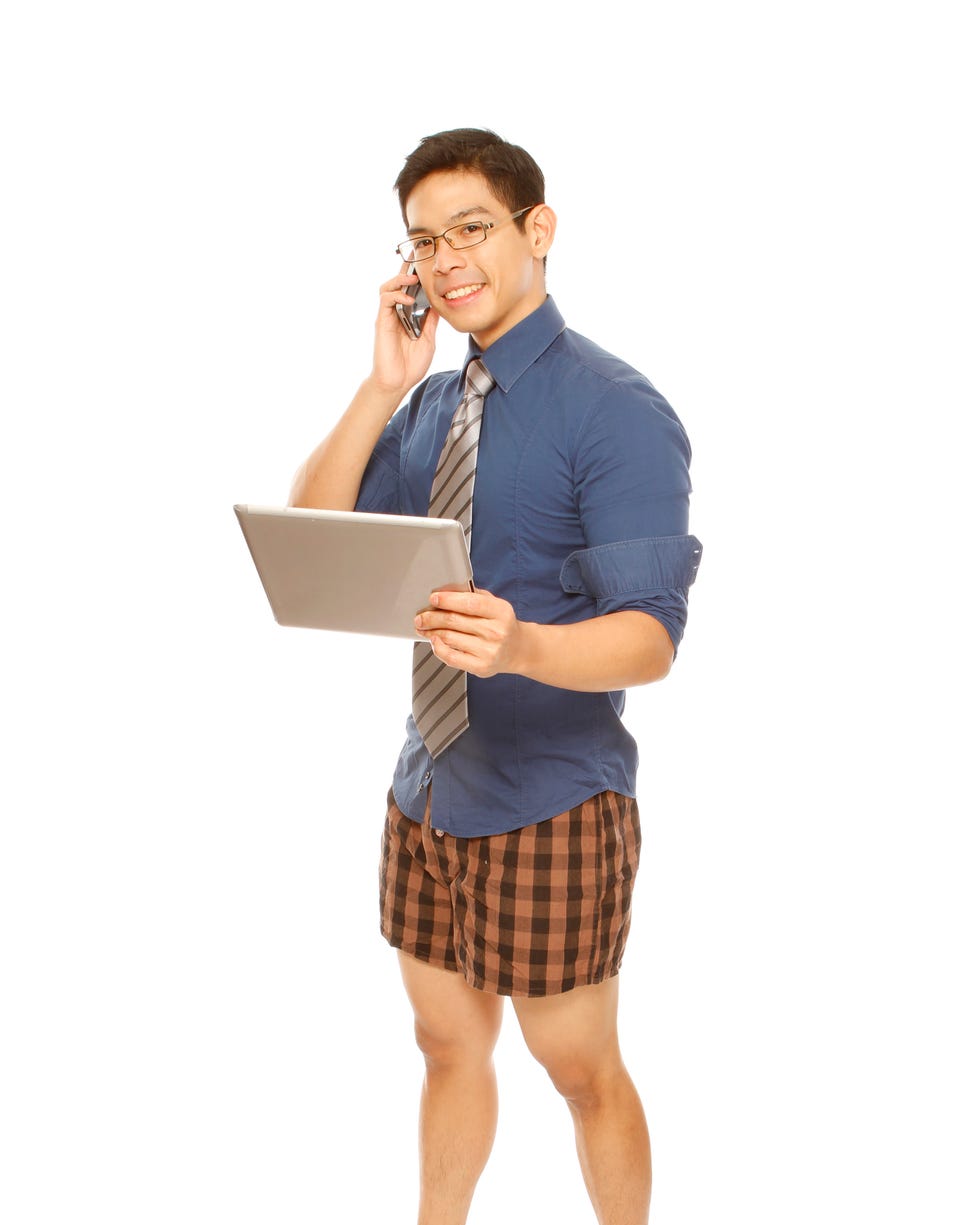 Are you a work-from-home or remote worker? This remote worker costume is a perfect way to represent that!
We know that only the top half of us has to look professional in Zoom calls.
So whip out those boxer shorts or pajama pants, tie, and button-up shirt for a costume that is sure to get a few laughs.
Take this remote worker costume up a notch with slippers or comfortable socks for your feet and earbuds, a silly coffee mug, or a tablet to accessorize.
10 — Farmer Halloween Costume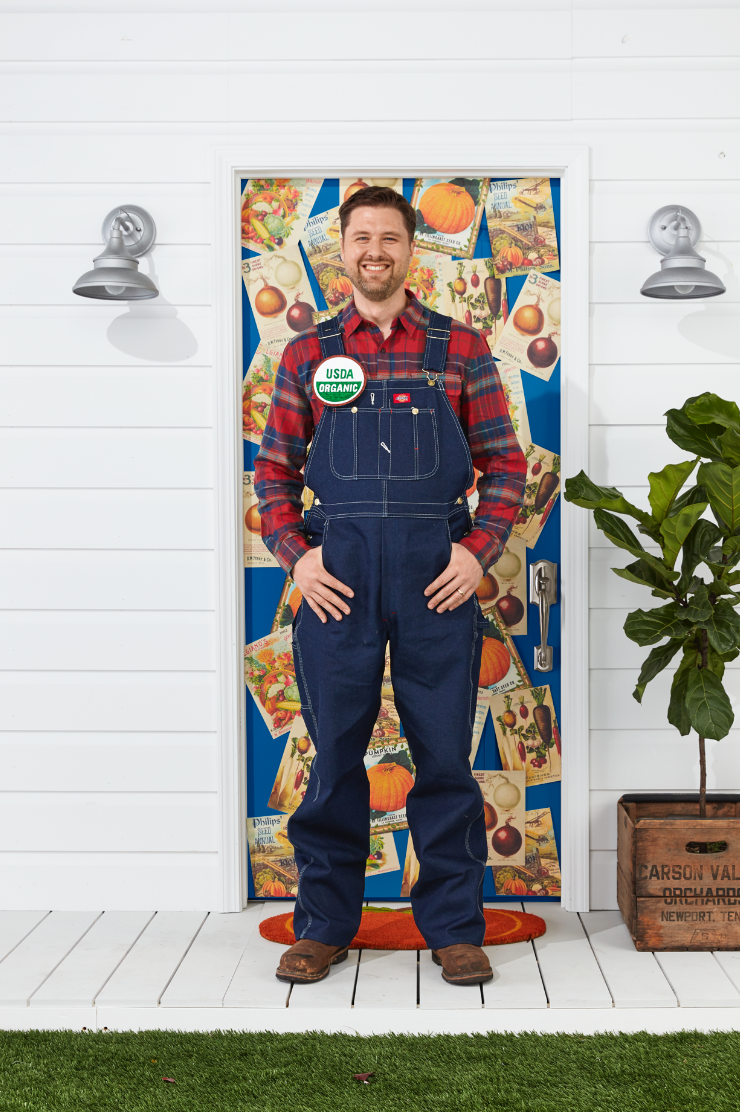 This farmer Halloween costume is perfect for those who have a big family.
If you are a farmer, kids and animals can dress up as other farm animals to stay in the theme.
Even if you are doing this costume alone, this Halloween costume is definitely worth it, thanks to how easy it is to assemble and fun it is to enact (get a midwestern accent for bonus points)!
All you need is a button-up shirt (not new), work boots, overalls, and a straw hat!
11 — John Dutton from Yellowstone Halloween Costume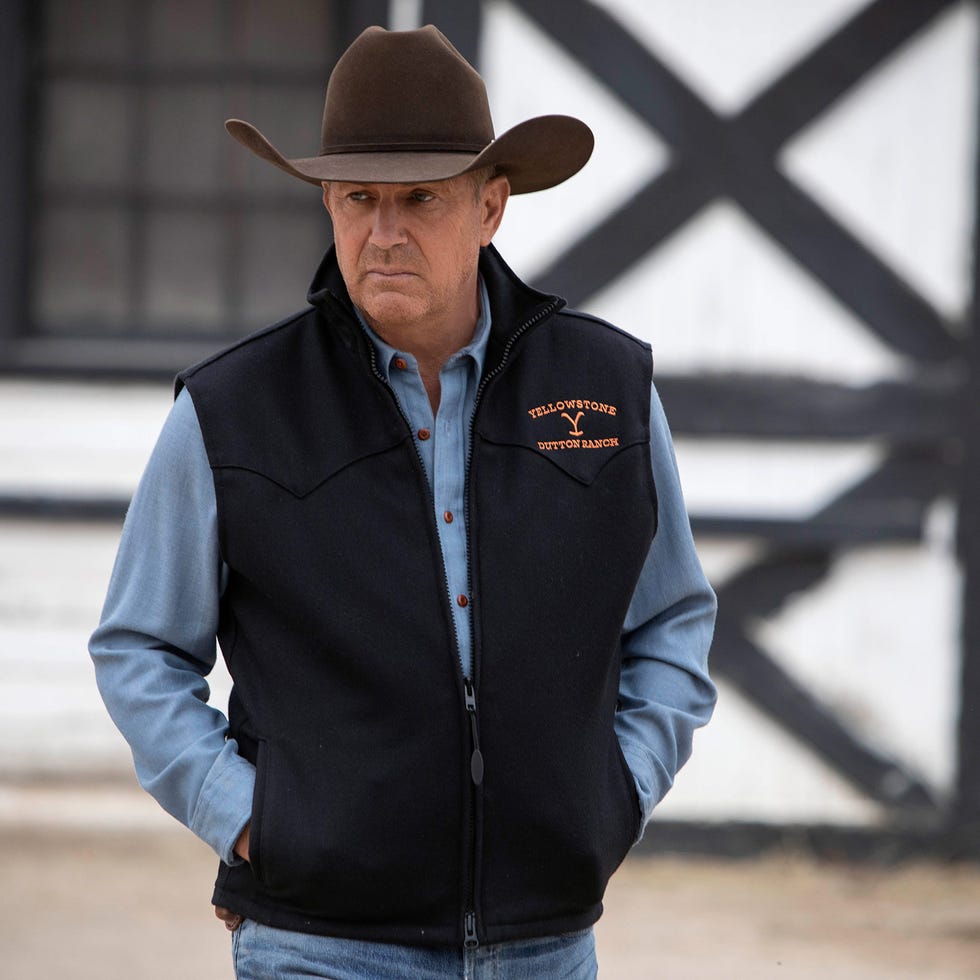 Get ready to go Wyoming Wild with this John Dutton from Yellowstone Halloween costume.
If you live on a ranch, this will be the easiest costume for you (next to Rodeo Cowboy, of course).
Just bring out your best western get up — jeans, cowboy boots, cowboy hat, big belt buckle, and a Carhartt-like vest.
12 — Property Brothers Halloween Costume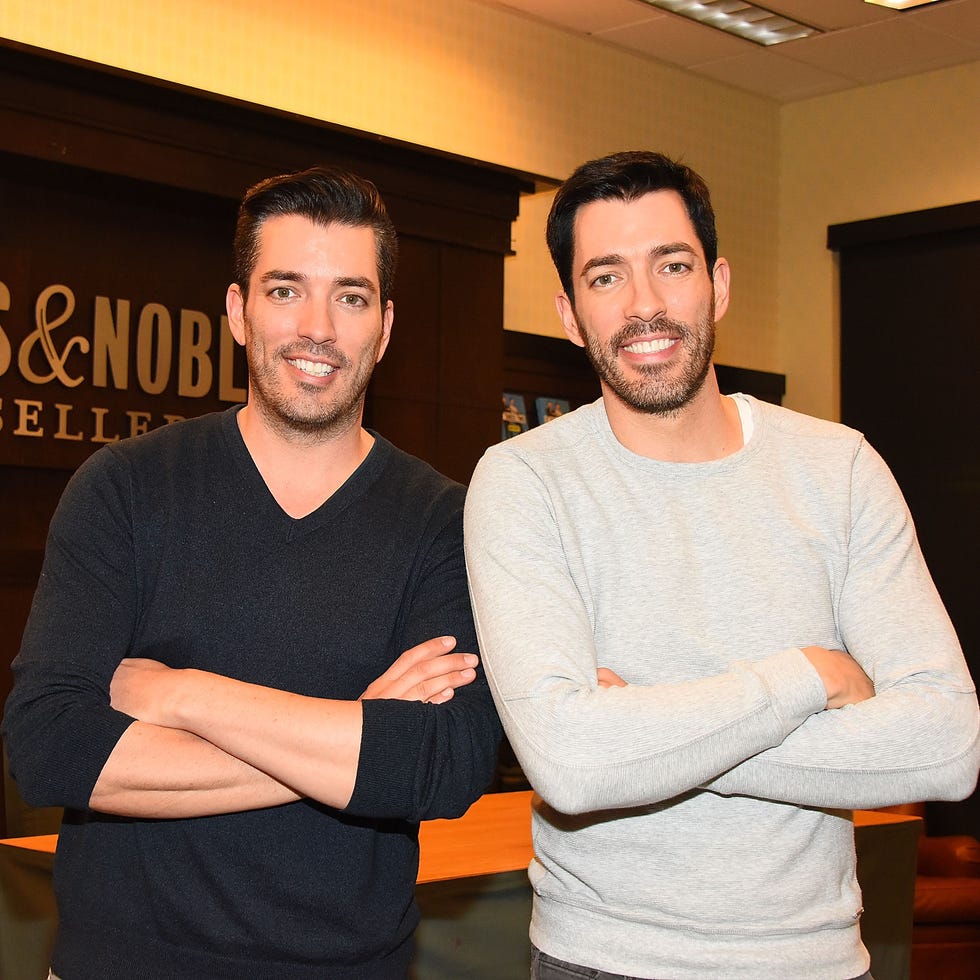 Whether you're alone or have a brother or friend to dress up with, this Property Brother's Halloween Costume couldn't be simpler.
Grab a tight, good-looking shirt, add a "Drew" or "Scott" nametag, and grab some home improvement tools like a hammer, toolbelt, toy sledgehammer, or wrench.
Easy to put together and costs nothing to make. What could be better?
13 — Forrest Gump Halloween Costume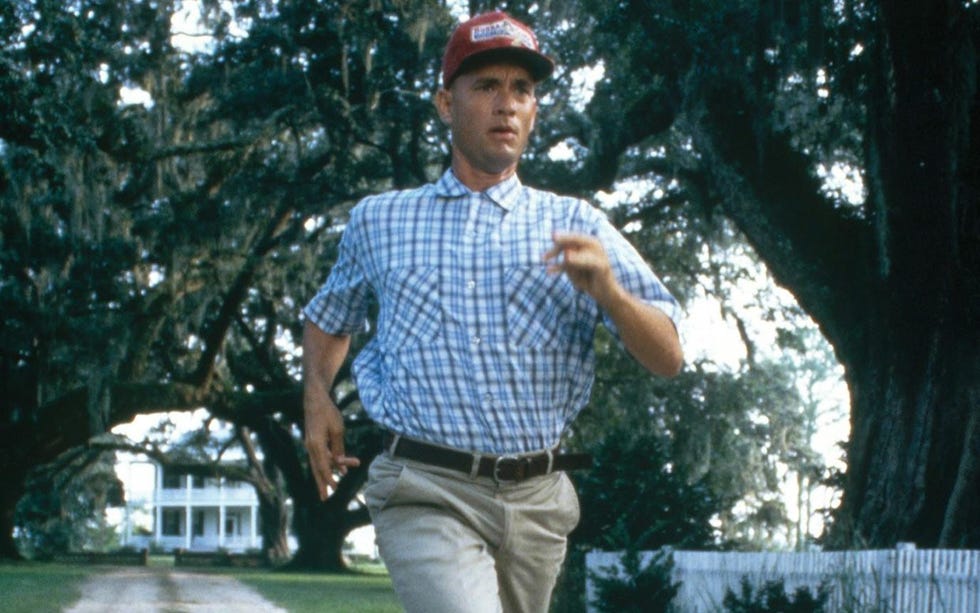 If you're a firm believer that life is a box of chocolates and you never know what you're going to get, why not dress as the man himself for Halloween in this Forrest Gump Halloween Costume?
Grab a red hat, sneakers, long khakis, and a short-sleeve plaid shirt.
Got a box of chocolates on hand? Bring it and hand everyone chocolate at the party!
So "run, Forrest, run" to put together this easy, last-minute Forrest Gump costume for the Halloween party tonight you forgot you had.
14 — Error: Costume Not Found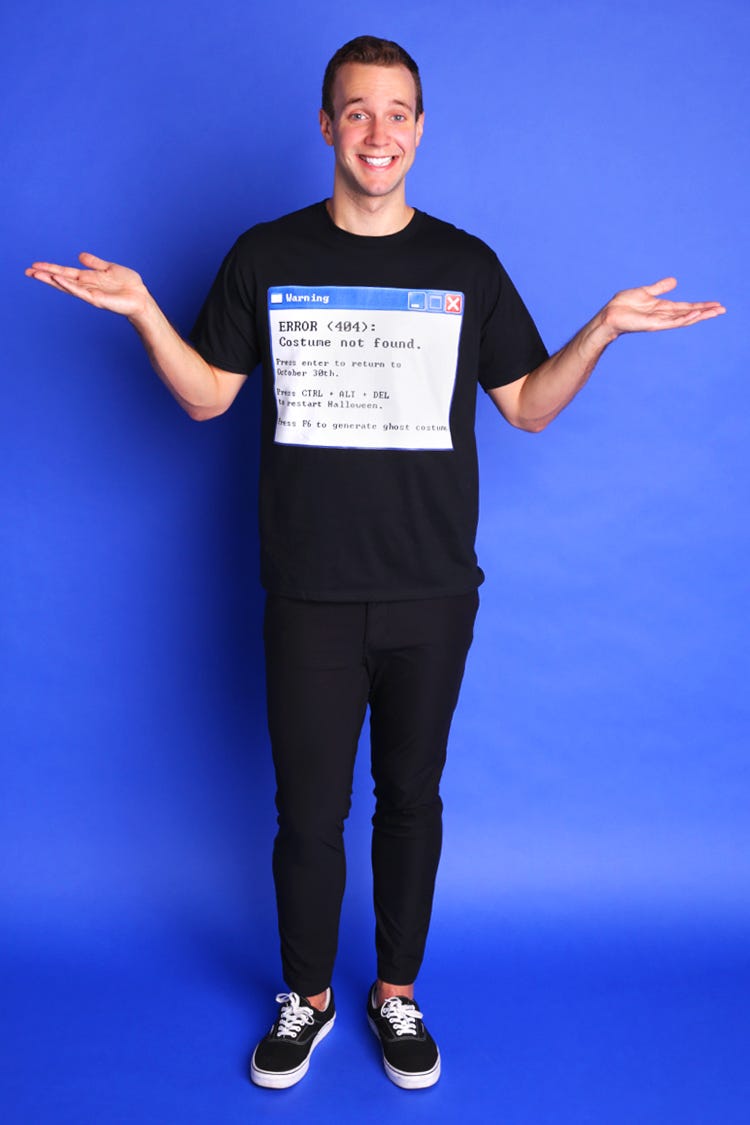 Turn that unwillingness to find a costume into a costume itself!
This Error: Costume Not Found is perfect for the guy who needs a last-minute costume but doesn't want to put in any effort at all.
15 — Magic Eight Ball Costume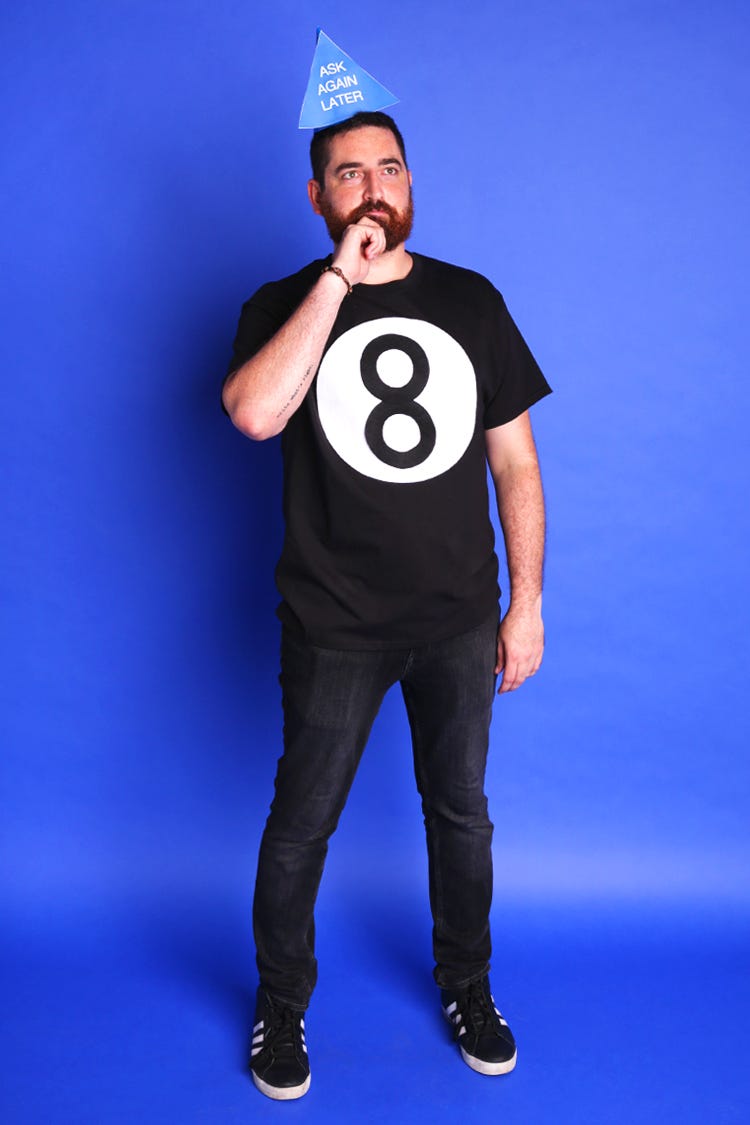 This Magic Eight Ball Costume is worth the time and effort to make it.
Simply cut various triangles and put them together into a cone hat, and put an '8' on a black shirt.
Easy as one, two, eight!
16 — Cereal Killer Costume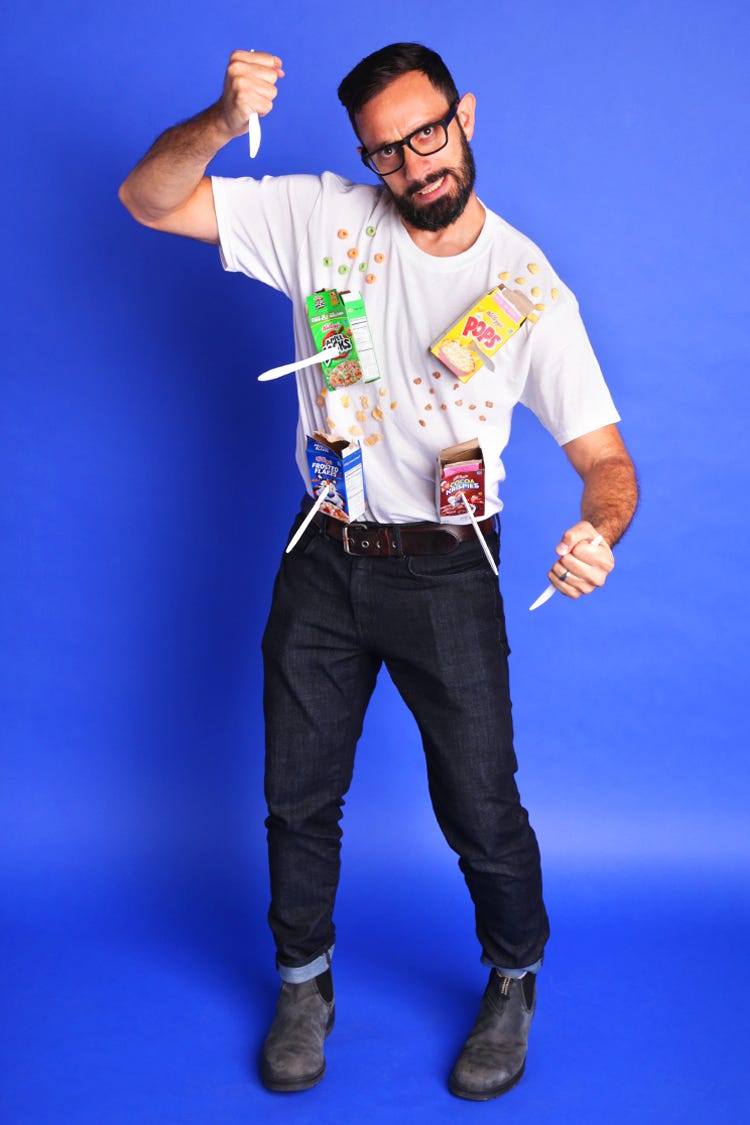 If you like crime and eat a lot of cereal, don't throw out the boxes.
Grab a t-shirt, cut up the boxes, and paste (glue, sew, or safety pin works) them onto the shirt.
Add some plastic forks and fake blood, and you're set!
Poke some spoons through the boxes and add red nail polish around the hole on the box for the added effect of this costume.
17 — Clark Kent/Superman Costume
Never hurts to be a sexy superhero!
For this simple last-minute-friendly Clark Kent/Superman Costume, just get a Superman t-shirt online or at your local store and wear some civilian clothes over it.
Add glasses and a reporter's notebook and pen to accessorize, and you're ready to take on Halloween and save the world!
18 — Beer Pong Costume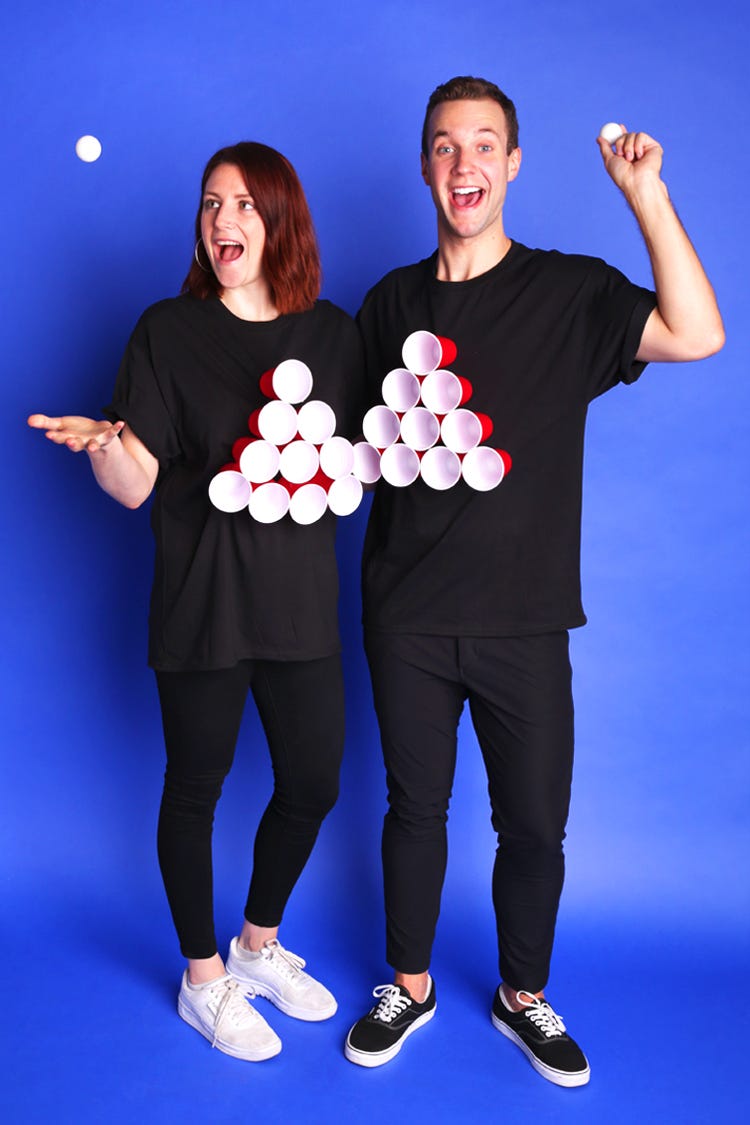 For a costume that is clever and interactive (if you want it to be), this Beer Pong costume will do the trick.
Grab a green shirt (to resemble a ping pong table) or a black shirt that you have on hand.
Grab some cardboard and attach/glue red Solo cups to it and hang the cardboard around your neck if you can attach the Solo cups to the shirt, even better!
Get ready to truly be the life of the party!
19 — Danny Zuko from Grease Costume
Want to look like Greased Lightnin' this Halloween?
Look no further than this great Danny Zuko from Grease costume.
Whip out your black leather jacket, a white T-shirt, black pants, and some hair gel for this supersonic, chill-filled Halloween costume.
Don't forget to bring along some warmed-up vocal cords in case you get a song request or two.
20 — Lucas from Stranger Things Costume
Make Eleven proud of you this Halloween with this Lucas from Stranger Things Halloween Costume.
You probably have jeans and a white t-shirt on hand, but run to a second-hand store for a red jacket and blue-striped polo shirt.
Fingers crossed you find Will this Halloween!
21 — Pantone Color Costume
It doesn't get any easier than this Pantone Color Costume idea.
You're literally just sticking vinyl letters to a suit! And although this was originally a group costume idea, it works as a single look also.
22 — Bansky Flower Bomber
Recreate Banksy's famous Flower Bomber street art. By simply painting an all black outfit. Just don't forget the bouquet!
Other Halloween Costume Ideas