Looking for couple and dog Halloween costumes? Here are some awesome ideas to get you in the spooky spirit this year!
This Halloween, be the life (not the death) of the party with these adorable, easy, DIY couple and dog Halloween costumes. They're from a wide range of classic ideas, are easy to customize, and don't cost a lot to put together.
So have a fang-tastic night with these spooktacular couple and dog Halloween costumes. Happy Haunting!
Couple and Dog Halloween Costumes
1 — Bubble Bath Dog and Owner Costume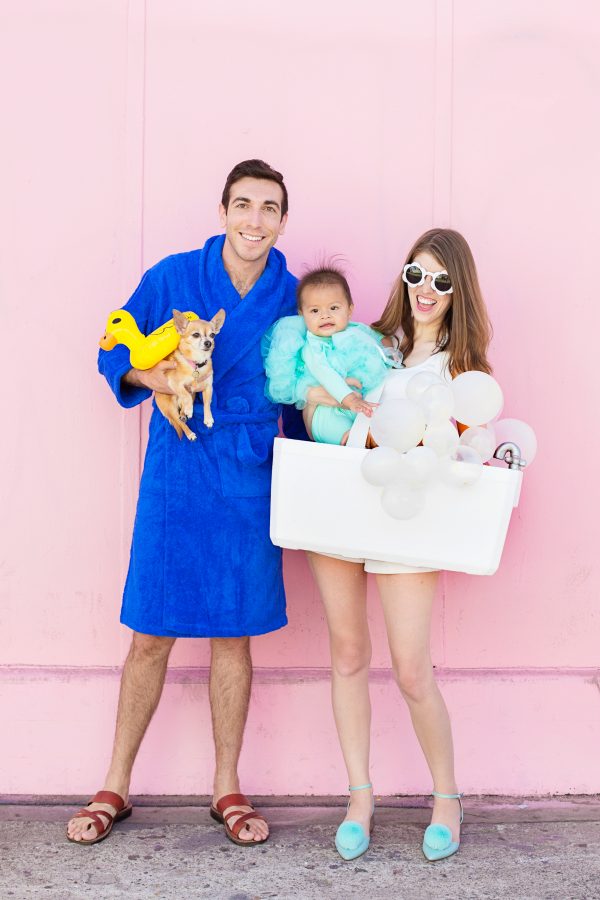 Keep it clean with a bubble bath dog and owner costume that is sure to be the bubbliest costume on the block! If you can track down or DIY your own yellow duck suit for the dog – even better!
Or switch it up and make the baby the duck and the dog the loofah. Either way, you're bound to have a great time in these comfortable DIY costumes.
2 — Little Red Riding Hood and Wolf Costume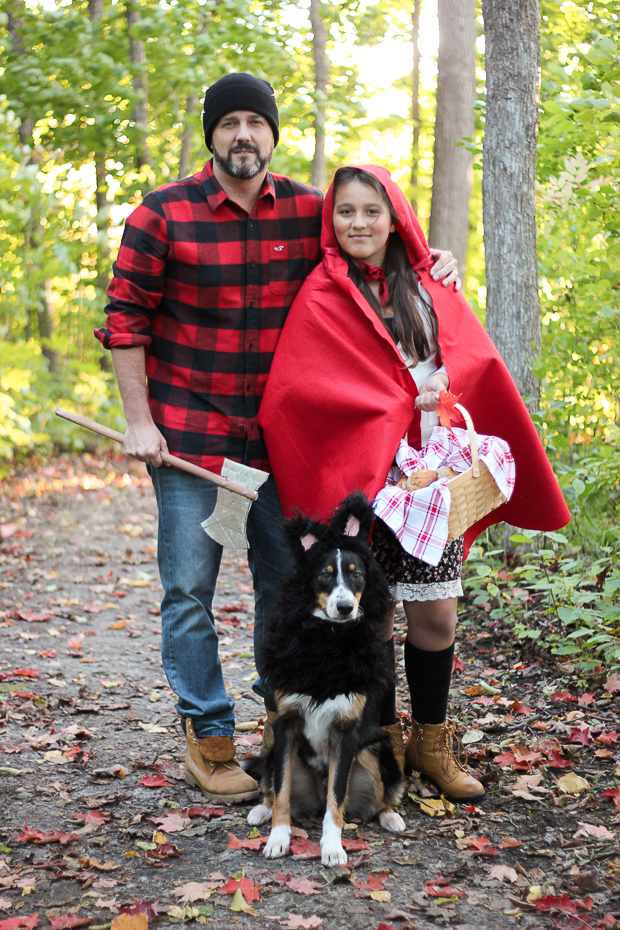 If you're looking to dress up your little "wolf" of the family, why not make them an actual wolf? This costume is easy for everyone in the family to whip together easily.
The more difficult pieces would be a wolf costume for the dog (if necessary) and a red cape for Little Red Riding Hood. So don't worry about what big teeth Grandma has, and instead, enjoy your Halloween night with this classic Little Red Riding Hood and wolf Costume.
3 — Up Costume
If you have a partner who acts like an old man, make them one this Halloween and include your silly dog too!
This Up Halloween costume can be complicated to DIY if you're new to building cardboard houses, but it is easy to change up depending on your skill level.
If you're great at sewing, try making the house into a dress or t-shirt instead. If the dog costume is a bit too complicated to throw together at the last minute, make your dog Doug the Dog instead. Either way, adventure is out there!
4 — Star Wars Costume
View this post on Instagram
If you want the force to be with you this Halloween, try this Star Wars costume. This costume is the definition of easy to throw together at the last minute.
The dogs only need head adornments, and the humans only need themed-face masks. Bonus points if you have light sabers on hand already!
5 — The Flintstones Costume
View this post on Instagram
Yabba dabba doo! This costume could be for you! It's easy to put together. It just involves cutting up some fabric for the male part and gluing on some black fabric to an orange dog shirt.
The blue dress for the female role couldn't be simpler! If you have a bat to carry around, even better!
6 — Garden Gnome, Flower and Bee Costume
If you're all about gardening and nature, this is the costume for your family. Each costume (the male gnome, the female plant, and the dog bee) is all laid out with materials and instructions to complete the costume.
And although there are definitely costumes to buy online to complete this set, it's much more fun to throw it together yourself!
7 — The Incredibles Costume
"Everyone is special, Dash," and this Incredibles costume, without a doubt, makes you special. It's an incredibly easy costume to throw together – even last minute – and won't break the bank or clock.
With orange or red t-shirts for everyone, add black masks and some cheap logos you can order online. Throw it all together, and you will look incredible.
8 — Krispy Kreme Donuts
Donut forget to take a look at this delicious costume. It's so authentic you might forget it's not real! It's easy to put together since a lot of the costumes can be found in a Krispy Kreme store.
Tip: if you're near a Krispy Kreme, you can get free donuts if you go in wearing the Krispy Kreme Donut costume!
9 — Monsters Inc Costume
In the famous words of Mike Wazowski, "I'm going to be a Scarer!" and so are you! This Monsters Inc costume idea gives you the how-to for Mike, Sully, and Boo (for the dog).
A lot of what you need you probably already have — a blue T-shirt, green or black leggings, and a dog vest.The rest, like the felt and eye headband for Boo, can be found easily at the craft store and put together in a couple of hours.
So get ready to go back to school (or Monsters University) with this great costume.
10 — "Wizard of Oz" Costume
View this post on Instagram
"Toto, I've got a feeling we're not in Kansas anymore." Regardless of where you are, this Wizard of Oz costume will take you and your dog to the windy midwest.
It's easy to put together for the female and the dog roles. It just needs a blue dress and braids, while the dog needs a lion's mane. The male role can be the Tin Man or the scarecrow.
It's easy to switch it up too. If you have a black dog, make them Toto. If the dog is good at wearing party hats, paint it silver and have them be the Tin Man.
The possibilities are endless. So if you're ready to hear "I'll get you my pretty, and your little dog too!", this is the costume for you.
11 — Mickey and Minnie Mouse and Pluto Costume
If you already spend a lot of money on your dog and want to dial it back but still want to have an amazing costume this Halloween, this Mickey and Minnie Mouse and Pluto Costume is perfect.
Pluto (since he's already a dog) only needs a blue-collar. For the human/mouse costumes, black clothes with a red tutu and mouse ears from the store will do the trick! Easy and cheap to throw together at the last minute.
12 — "Mary Poppins" Costumes
Want to look Supercalifragilisticexpialidocious this Halloween? This Mary Poppins Costume should do the trick! This classy costume combination is great because regardless of how many babies or dogs you have, everyone can participate!
13 — Space Exploration Costume
Ready to be out of this world on October 31st? This costume is easy to throw together for the whole crew, and you definitely won't find anyone else on the block wearing it.
14 — S'mores Halloween Costume with Dog
You're gonna want s'more of this costume! It's simple to do with cardboard cutouts. And the dog's costume won't be as annoying as hats and booties (unlike with other costumes). Have some chocolate, graham crackers, and marshmallows ready. Making this costume might make you hungry!
15 — Airline Costume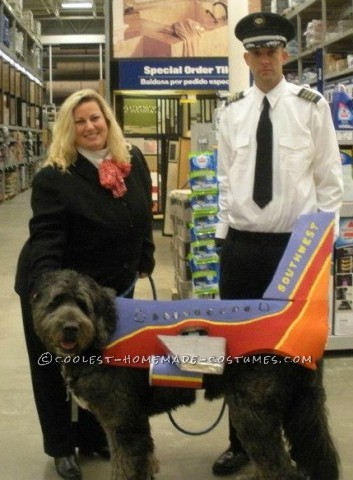 Get ready for take-off with this airline costume. This costume is great for a bigger family because there are so many parts to play, from pilots and flight attendants to TSA and ground patrol.
Plus, who doesn't love the image of an airplane dog?
16 — 'Rufferee,' Basketball Player, and Cheerleader
If you're a sports person, this is the perfect chance to whip out your favorite team's jersey and cheer them on in spirit!
With the help of pom poms, a basketball (or try a football or soccer ball if that's more your style), and a dog referee costume, you're in business!
17 — Alice in Wonderland Costume
We're all mad here, right? And if you're mad enough to have two dogs, this Alice in Wonderland costume will work out perfectly!
This costume contains outfit ideas for Alice in Wonderland, The Mad Hatter, Tweedle Dee, and Tweedle Dum. This does require a bit more hands-on work with the dog hats and throwing the different parts of each costume together.
But once it's finished, you'll be so popular you couldn't get lost in Wonderland if you tried.
18 — Cinderella, Prince, and Fairy Godmother Costume
View this post on Instagram
If you're looking for a classic costume with a hint of drama and romance, this is the one. The female or the dog could be the fairy godmother.
While this project does require some sewing to DIY, it's also easy enough to buy online. Regardless of how to put it together, just make sure the shoe fits!
19 — Sweet Tooth Matching Dog Owner and Dog Costume
This Sweet Tooth costume idea is for all you, sugar addicts (which includes us)! It's a lot of hot glue and spray paint and lots and lots of pillow stuffing. But it will surely be a hit. You can DIY your own cotton candy or carry around a spiked cotton candy.
20 — Skeleton Costume
Other Halloween Costume Ideas
Halloween DIY's & Recipes To Try