For some ooey gooey deliciousness, check out these delicious recipes with marshmallows. From classic takes like s'more pies to creative twists like sweet potato nachos, there's something to satisfy any sweet tooth!
The best recipes with marshmallows don't have to be simply s'mores or Rice Krispie treats (even though we'll take one of those any day).
There are lots of creative things you can do with this fun ingredient. So dig in because we've got the best recipes with marshmallows!
Measuring Marshmallows
To start off, marshmallows are easy to find in the store and online. They're also incredibly easy to make at home and not full of harmful chemicals.
And adding marshmallows to a recipe definitely takes your dish up to the next level.
If you do buy store-bought marshmallows, the conversion rate is:
— 1 cup of mini marshmallows = 2.5 jumbo-sized marshmallows
— 1 cup of mini marshmallows = 9 regular-sized marshmallows
S'mores
Probably the most famous of all recipes with marshmallows is the infamous s'mores recipe. Aptly named for being so delicious that you always want some more of it.
While the original recipe uses graham crackers, chocolate squares, and a marshmallow, there are a lot of different ways and variations to make your perfect s'more.
Instead of the usual graham cracker, try using the famous British cookie, Digestives.
Digestives come in different flavors and are healthier than a normal graham cracker in many ways.So you can have a chocolate Digestive with more chocolate on either side for an extra chocolatey s'more.
Or sub the graham cracker for a cookie as we did with our cookie s'mores recipe.
Instead of the usual milk chocolate, try different types like white chocolate to cookies and cream. Honestly, you can't go wrong with any type of chocolate!
If you want to change up the marshmallow component, try using flavored marshmallows like strawberry with a raspberry chocolate bar on top for an extra fruity s'more.
Recipes with Marshmallows
Creative S'mores Recipes
1 — Toasted S'mores Rice Krispie Treats
This sweet treat is a play on the two classic recipes with marshmallows — s'mores and Rice Krispie Treats. With minimal time and 5 ingredients, you've got yourself the perfect dessert.
2 — S'mores Pie
Dessert in dessert. What could be better? This pie recipe is gooey and crunchy, chocolate-filled and rich as can be in taste.
It has a graham cracker crust and is filled with chocolate and toasted marshmallows.
It's so delicious and saves you the time of having to roast each marshmallow to a perfect golden brown before eating it.
Just cut a slice and dig in!
3 — S'mores Bars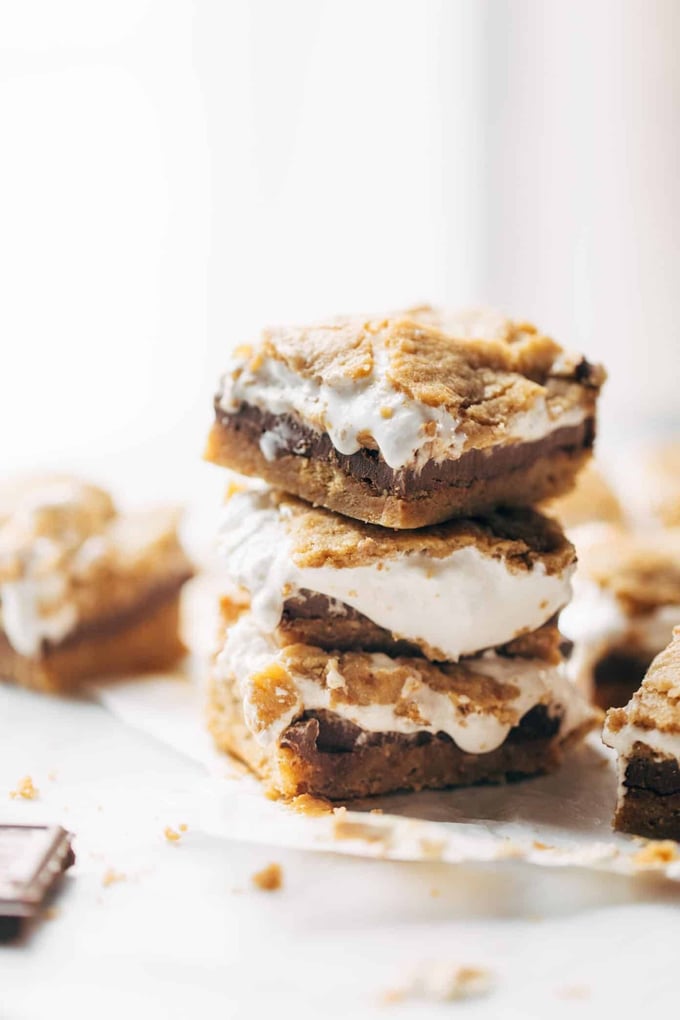 If you don't have access to a nice fireplace and don't want to use a candle to make a golden brown s'more, these s'mores bars are the next best thing.
There's a cookie dough base, peanut butter inside, and a graham cracker crumb topping.
Pro tip: let it cool off before cutting it so that the slides of each slice are neat and not too gooey to eat. Although, isn't getting messy part of the fun of s'mores?
4 — Deep Fried S'mores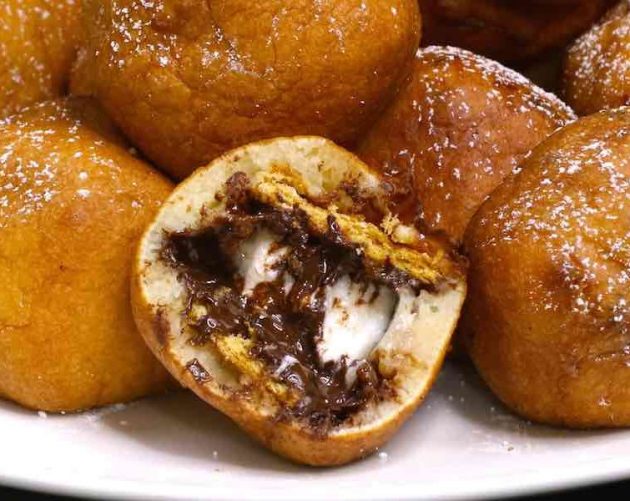 You can deep fry just about anything, and it will taste delicious. These deep-fried s'mores are nothing short of fantastic.
They're fluffy on the inside thanks to the combination of marshmallow and melted chocolate but golden and crunchy on the outside thanks to the deep friend graham crackers.
5 — S'mores Banana Boats
Banana boats are a classic dessert that deserves more recognition. The banana acts as a bowl or carrier for the toppings and additives.
Add in marshmallows, chocolate (syrup is fine, but also try some crumbled chocolate flakes), and crumbled graham crackers. We're already drooling!
6 — Christmas Cookie S'mores
Swap out those graham crackers for cookie and you've got yourself a cookie s'mores! This fun idea sandwiches a toasted marshmallow between a truffle chocolate bar and sugar cookies.
Creative Rice Krispie Treats Recipes
7 — No Bake Cereal Bars
8 — Chocolate Rice Krispie Treats
Chocolate makes everything better, right?!
This Chocolate Rice Krispies Treat recipe calls for chocolate Krispies AND chunks of chocolate to be mixed into each treat.
If you're a super chocolate lover, try adding some melted chocolate into the marshmallow while it melts, drizzled on top of the treats when they cool, or both!
If you want to add something but don't want more chocolate, try salted caramel, whisky caramel, or a fruity sauce like this raspberry glaze.
9 — Granola No Bake Pizza Cups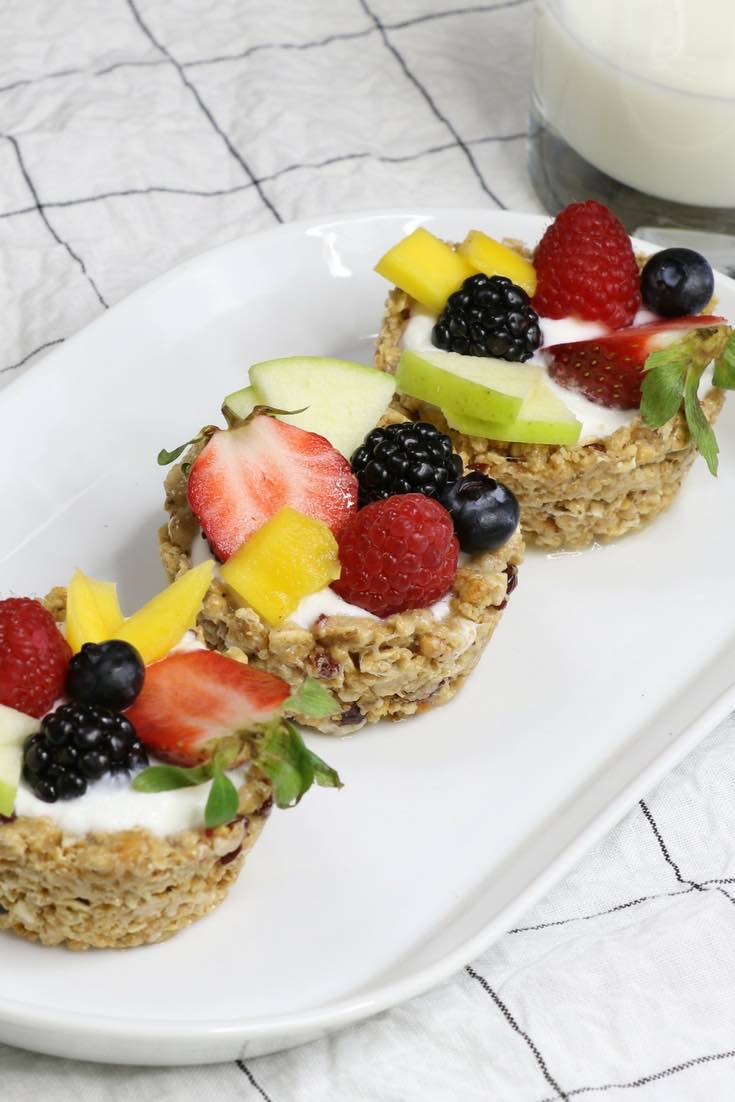 No-bake is the best when kids are running around the house hungry and grumpy.
These granola pizza cups are easy to make, easy to serve, and even easier to gobble down.
Similar to Rice Krispies treats, the base of these is melted marshmallows with your favorite granola or oats.
When it's well mixed together, pack them into a muffin tin, and the granola mixture acts like a crust.
Fill each tin up with your choice of toppings: sweet marshmallow filling and chocolate pieces or yogurt and your favorite fruit.
Homemade Marshmallow Recipes
10 — Spiked Peeps
If you've got a sweet tooth and want to indulge in some delicious Easter nostalgia while retaining your grown-up card, you really need to try these boozy Spiked Peeps!
This popular adult recipes shows you how to easily make your own marshmallows.
We love that it can work for any festive holiday. So you can even purchase pumpkin molds for Halloween and heart molds for Valentine's Day!
11 — Marshmallow Sauce
Who needs hot fudge or caramel when you have a creamy marshmallow sauce?
This delicious sauce takes only 15 minutes to whip together with just three ingredients. It's fantastic over brownies, drizzled over ice cream, or spread on chocolate cake.
So, if you're looking to make your desserts pop, then look no further!
12 — Edible Marshmallow Paint
As if kids aren't messy enough, their love for paint and mess can be unbearable. Luckily, this paint is edible, so they can have their fun and eat it, too!
You can get several servings out of one regular-sized bag of marshmallows, which makes it cheaper than what you would find in a store for regular finger paint.
Instead of cleaning up a mess in a sink, just lick your fingers!
Sweet and Savory Recipes with Marshmallows
13 — Sweet Potato Poutine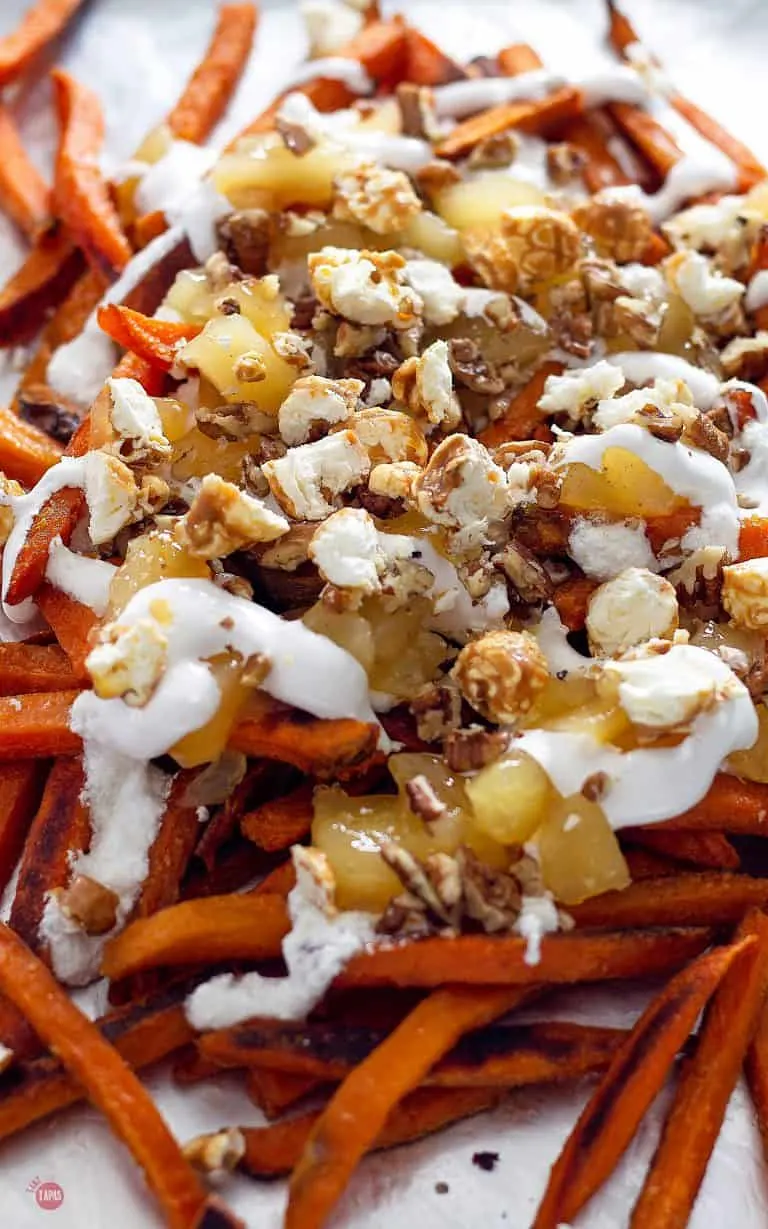 This poutine recipe is so much more than a regular sweet potato pie. It has sliced apples on the side and is filled with sweet potatoes, apple pie filling, marshmallow fluff, and crunchy caramel corn. Did someone say "yum"?
14 — Sweet Potato Nachos
Sweet potato nachos make for a quick and easy sweet and savory snack or party appetizer that you can literally make in less than 20 minutes from opening the bag to taking them out of the oven.
15 — Apple Nachos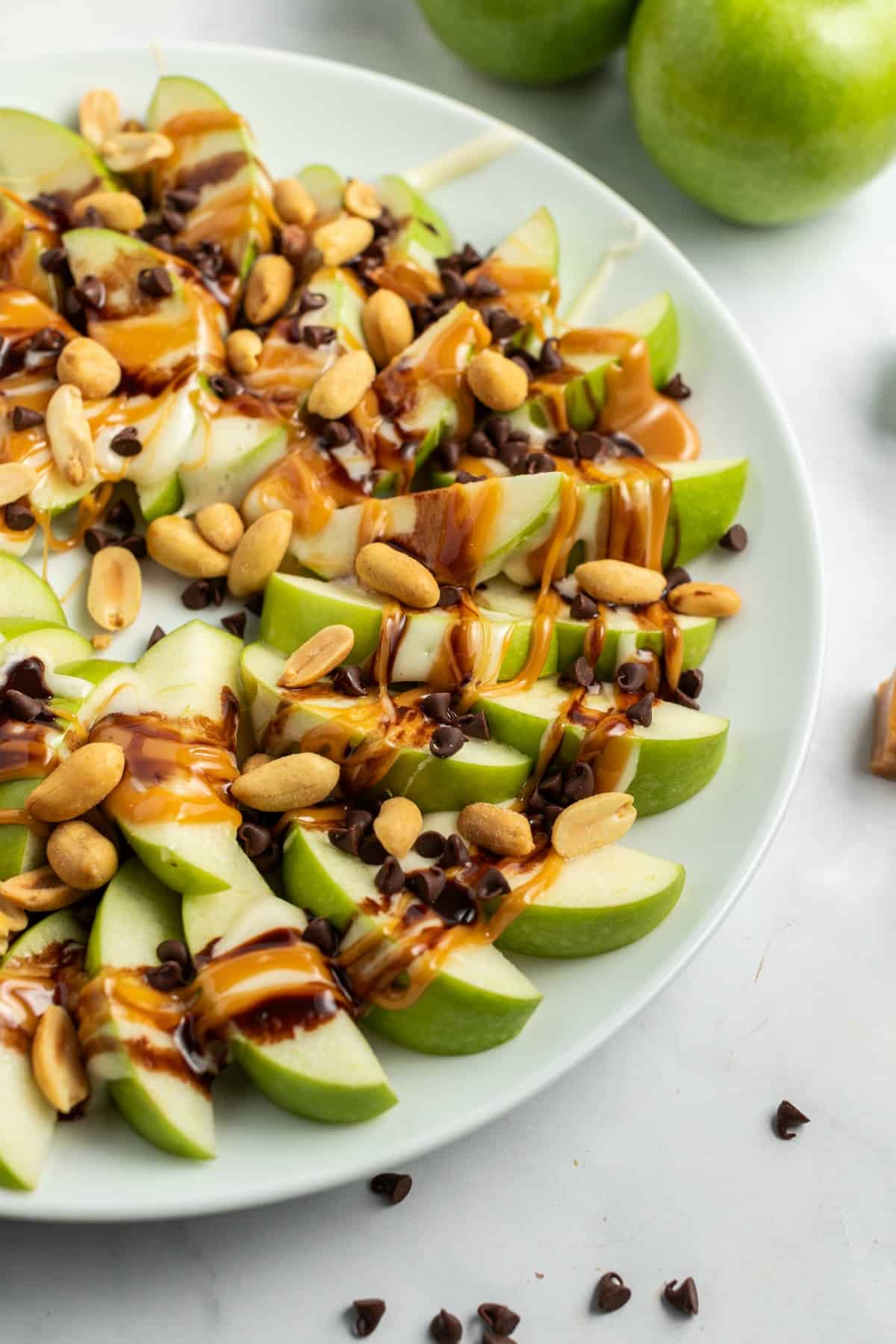 These apple nachos take the messiness out of caramel apples.
Layer sliced apples into a dish and cover in caramel and marshmallow sauce for an extra sweet treat.
If you have leftover apples and caramel, make some apple cobbler, candy apples, or some homemade apple cider.
Snacks and Desserts
16 — Cranberry Fluff Salad
This salad is as red and festive as it is delicious. It's easy to make, easy to keep, and works as well as a dessert as it does for a side dish.
With its sweet and creamy flavors, it might just be your new go-to.
17 — Chocolate Dipped Marshmallows
These chocolate-dipped marshmallows are as great for a party as they are as gifts.
After finding the stick you want to use (think "theme"), dip them in your choice of melted chocolate.
For Christmas, try making them into marshmallow snowmen with sprinkles for eyes and buttons.
And For Saint Patrick's Day, use white chocolate dyed green and add gold sprinkles to the top.
For Valentine's Day, rose chocolate or even a pink marshmallow will do the trick. With so many options, the sky's the limit!
18 — Mexican Hot Chocolate Cookies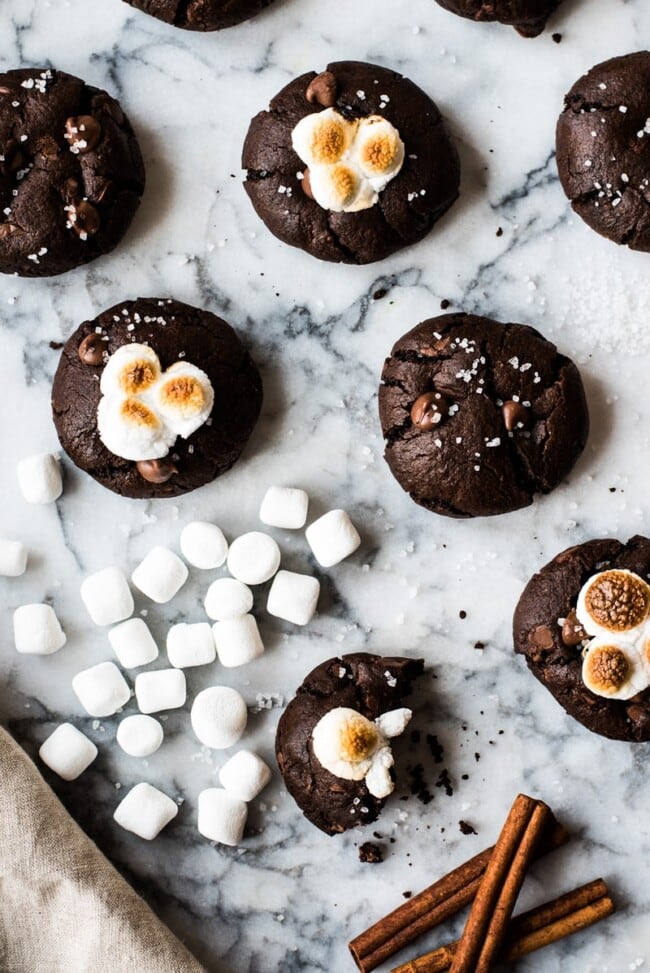 There's nothing quite like Mexican hot chocolate with its cinnamon and cayenne pepper flavors and deep chocolate taste.
This cookie recipe uses sugar cookie dough and gets double the chocolate from the Mexican cocoa powder and the melted chocolate chips that go in it.
Then, add broiled marshmallows on top. It's like drinking a nice cup of hot cocoa but in the form of a cookie.
19 — No Churn Grasshopper Pie Ice Cream
This no churn ice cream combines the boozy chocolate goodness of grasshopper pie and delicious ice cream all in one scoop.
A cup of marshmallow fluff swirled into the recipe is the secret ingredient to intertwining cookies and cream.
Drink Recipes with Marshmallows
20 — Toasted Marshmallow Ice Cream Shot
This shot recipe starts out with homemade toasted marshmallow ice cream and evolves into a boozy, delightful shot.
With just one sip, you'll forget you aren't next to a campfire in the woods.
21 — Frozen Cookies and Cream Martini
Mini marshmallows are the secret ingredient to achieving this cute polk dot look for this Frozen Cookies and Cream Martini.
22 — Toasted S'more Martini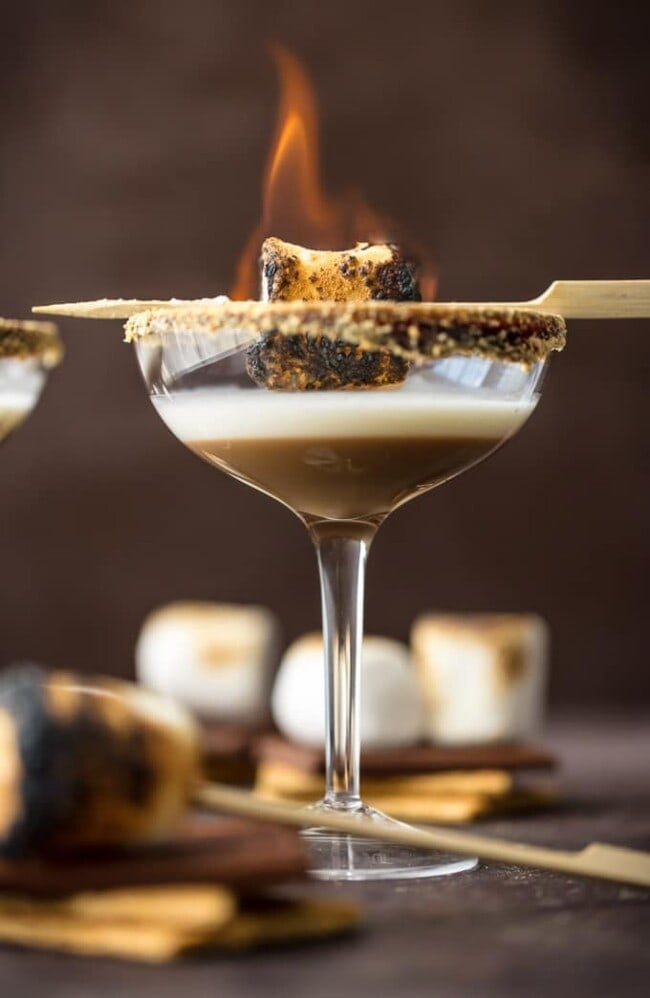 This martini is every bit delectable as it is exquisite.
It layers in chocolate liqueur, marshmallow vodka, and layers of cream. The rim is made up of crushed graham crackers.
You can easily top it with a stick of tiny marshmallows in place of the traditional olive martini or a giant toasted marshmallow over the top of the glass.
23 — Marshmallow Mule
Moscow mules are a classic and sturdy drink. As good as ginger beer is, it's hard to beat the ginger and marshmallow simple syrup that's homemade for this Marshmallow Mule.
Before serving, light the marshmallow topper on fire. And then blow it out for an extra crispy and delicious topping.
More Sweet Recipe Ideas
More Easy Snacks and Sides Options