Mug cake recipe — Sharing an easy vanilla, chocolate and funfetti mug cake recipe that bakes in the microwave in just under 1 minute!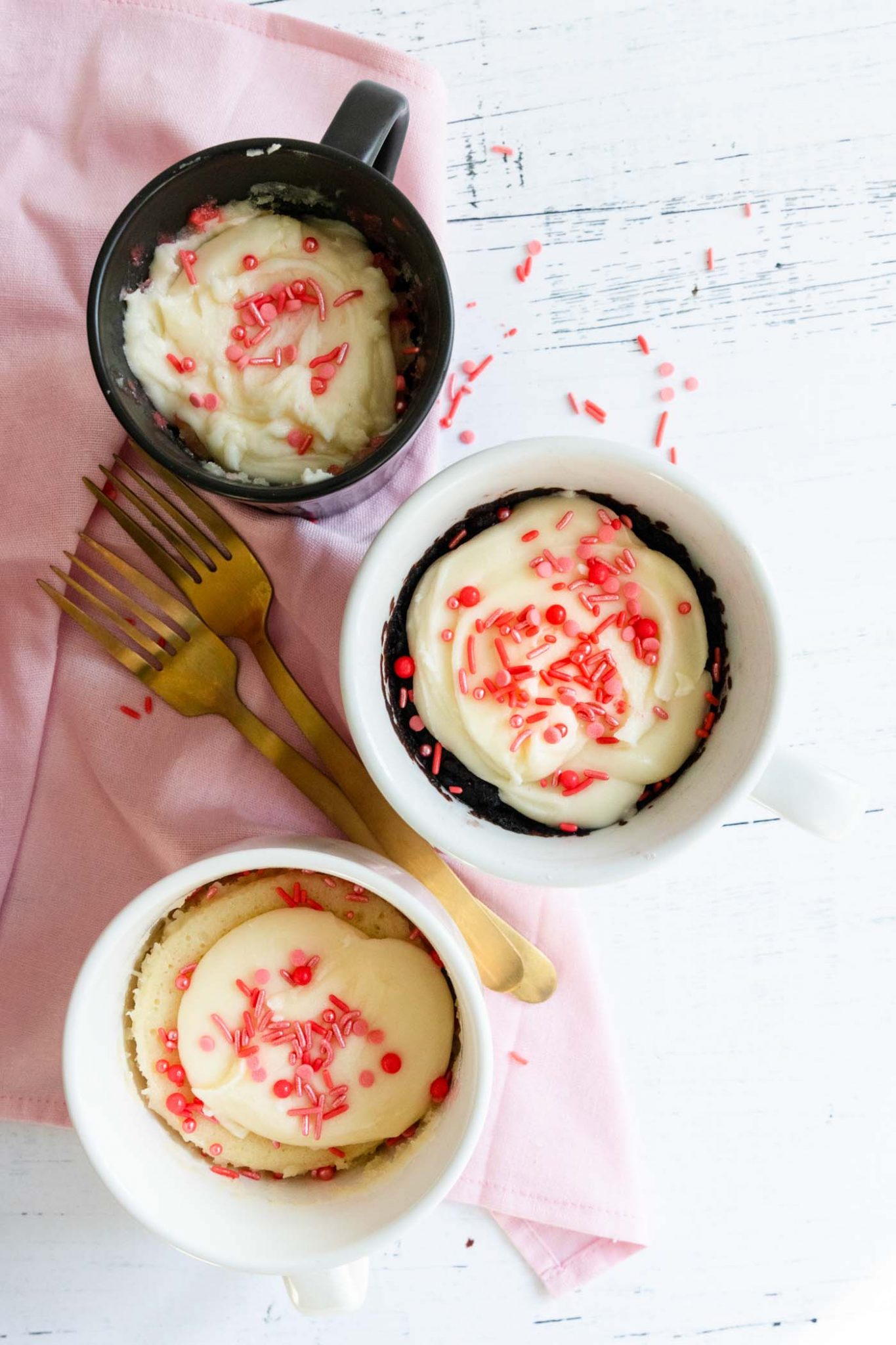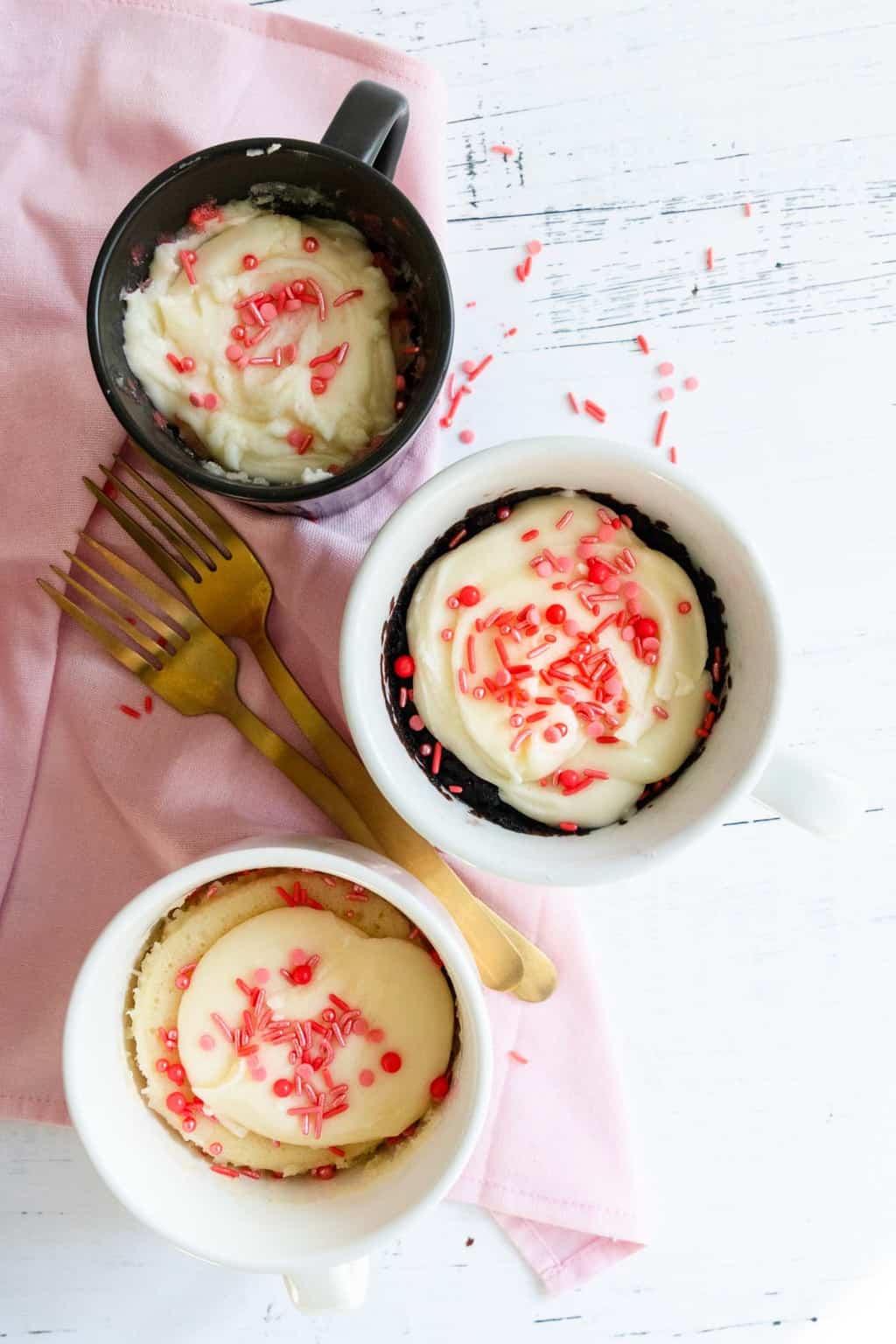 Sometimes, you just need some cake, right? But the craving doesn't always hit at the right moment.
Maybe you just need a dessert for one or don't have time to haul out the cake pans and turn on the oven.
Or maybe you just don't have the time to wait for all of the baking, cooling, and frosting a standard cake requires.
Those are the times when I, Rebecca like to break out my big, cozy mug and make this microwave mug cake recipe.
It's ready in a matter of minutes and uses pantry and refrigerator staples that you most likely have on hand.

What Is A Mug Cake?
Mug cake is literally a cake that bakes in the microwave. So it's easy to make and easy to clean up, and even better, it is made from scratch!
And no, you do not even need a fancy microwave. It takes about 10 minutes to prep and a minute to bake. It may not be the prettiest in presentation, but mug cake definitely is an instant gratification dessert.
What You'll Need For This Mug Cake Recipe
The ingredient and equipment list for making a cake in a mug is pretty simple!
You'll need a 12 to 14 oz. microwave safe mug, a few measuring spoons, and a small spoon for stirring.
The simple ingredients are butter, sugar, baking powder, all-purpose flour, salt, milk, and vanilla extract.
Notice that the usual eggs and oils (not even even canola or coconut oil) are missing? Most mug cakes do not require eggs (which is perfect if you have an egg allergy). Omitting the egg and oil makes for a more light, fluffy and moist cake.
If you want a chocolate mug cake, I've included a variation with cocoa powder. Oh, and a sprinkles version if you're in the mood for funfetti!
This basic mug cake recipe is basically a great starting point for a lot of fun creative variations to suit your every mood and whim.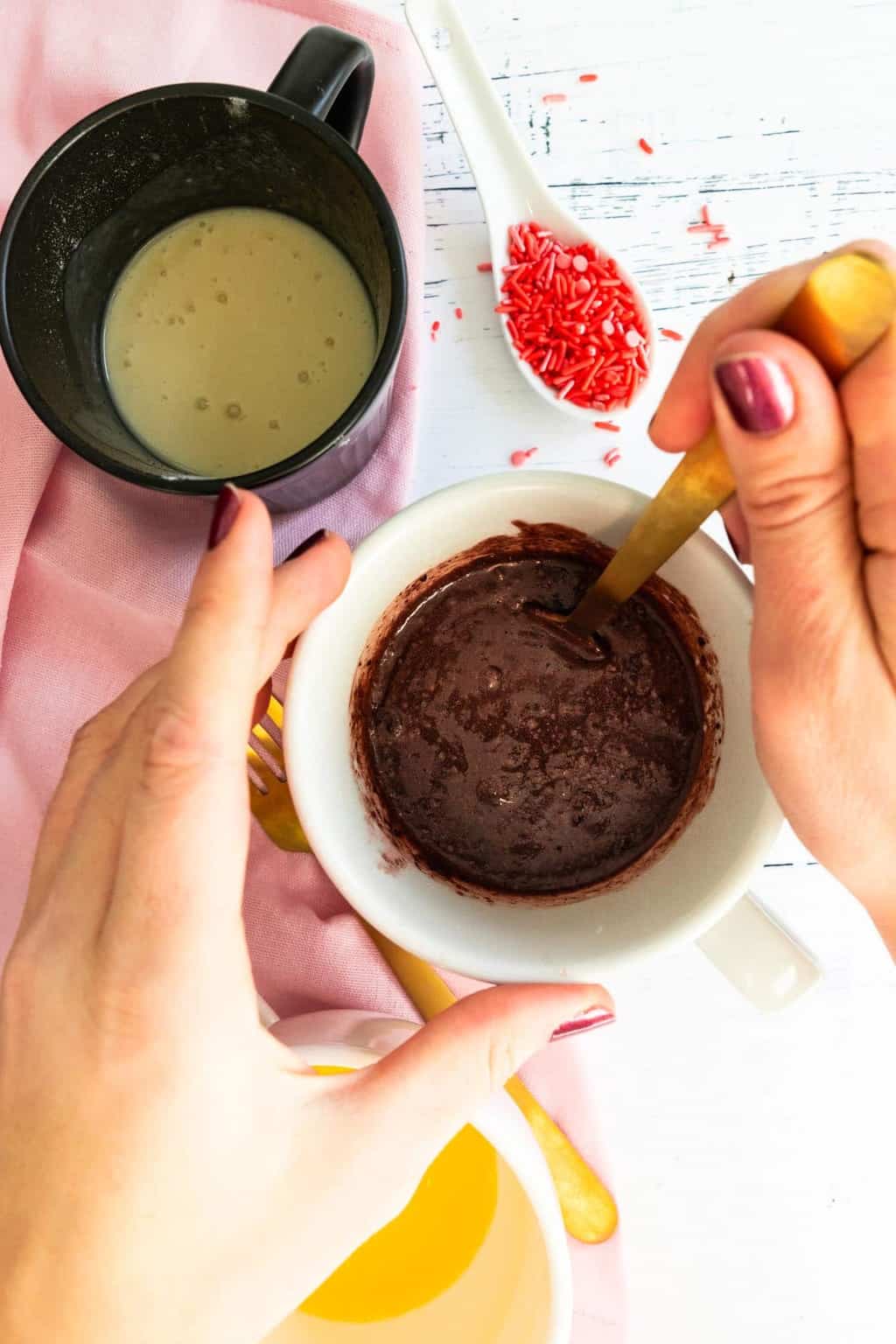 How To Make a Microwave Mug Cake
Begin by getting out all of your ingredients and your mug.
Melt the butter in the bottom of your mug.
Once the butter has melted, add the flour, sugar, milk, vanilla, salt, baking powder and salt and stir until it's well mixed.
For my funfetti mug cake recipe below, the only extra step would be to also stir in sprinkles.
The batter will be fairly thin. It may look like there is not enough batter in the mug. But it will rise when it's baking.
Place the mug in the microwave and cook on high for 45 seconds to a minute.
I like to check mine after 45 seconds. And if there are any spots that look raw or doughy, continue cooking it in 15 second increments until they have baked.
Also, remember that different microwaves have different power levels, so your mug cake can take up to 2 minutes to bake.
Carefully remove the mug cake from the microwave. It can be hot to the touch. Allow it to cool for a few minutes, then add any toppings you would like.
Mug cakes are best enjoyed while still warm.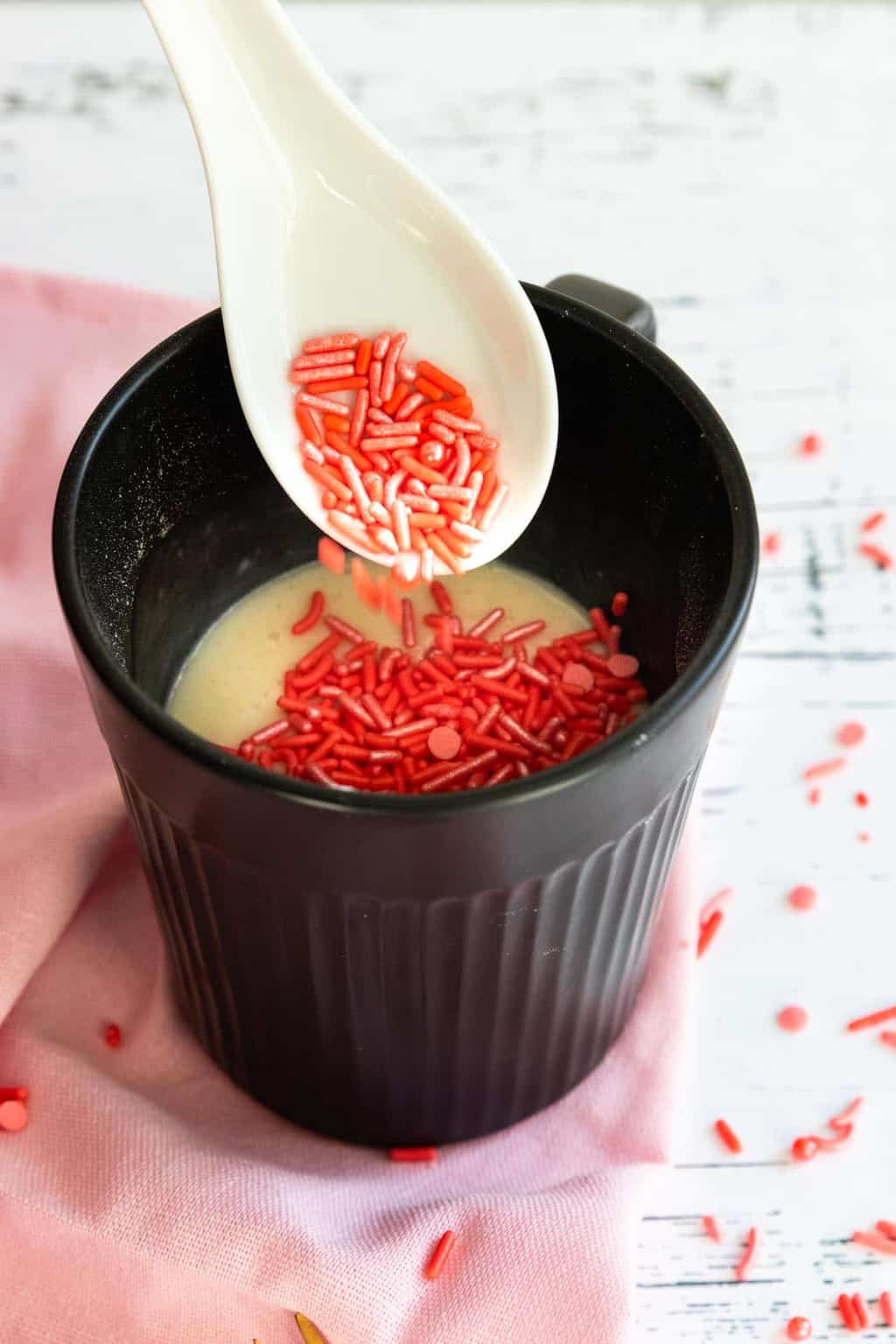 Recipe Notes and Tips
Cooking tips: To make sure they cook properly, only microwave one mug cake in at a time. Mug cake recipes are not mean for even small batches.
How to avoid spillage: Cooking times may vary depending on your microwave strength. However, I recommend cooking on high for 45 seconds. If the mug cake still seems doughy, continue cooking in 15-30 second intervals. For first timers, placing a plate underneath your mug in the microwave just in case you get any spillage and until you figure out the right times.
Prepping the batter: While these should be enjoyed while still fresh and warm, the use of baking powder means that you can mix the batter up the day before you want to bake them.
Frosting ideas: I've included a recipe for frosting, but you can get creative with the toppings. Whipped cream, ice cream, sprinkles, or chocolate or caramel sauce are all great ways to top off your microwave mug cakes.
Mug cake recipe add-ins: Mix-ins are another way to make your mug cake unique! Chocolate chips, chopped candy bars, or nuts can take your mug cake to the next level.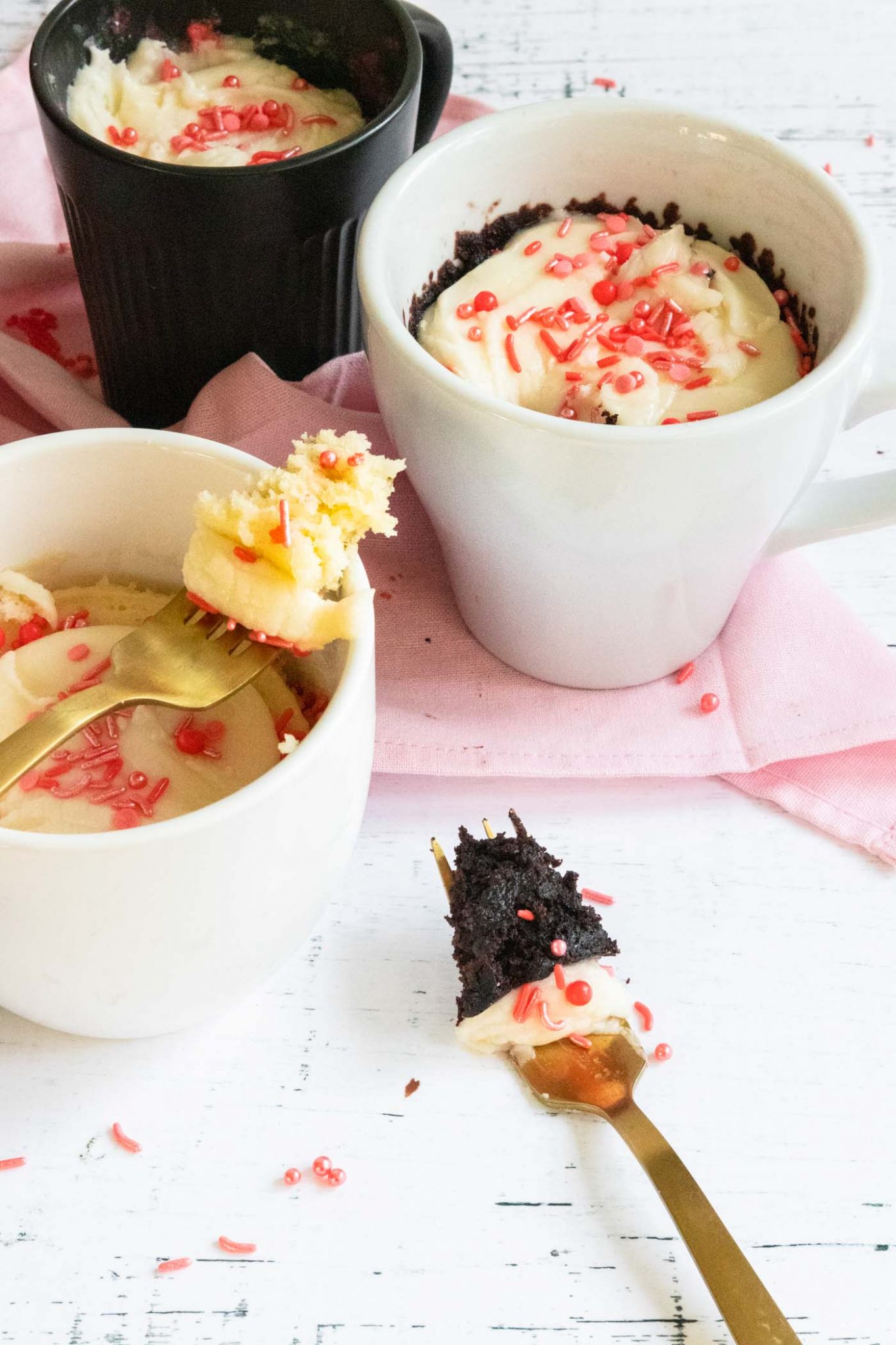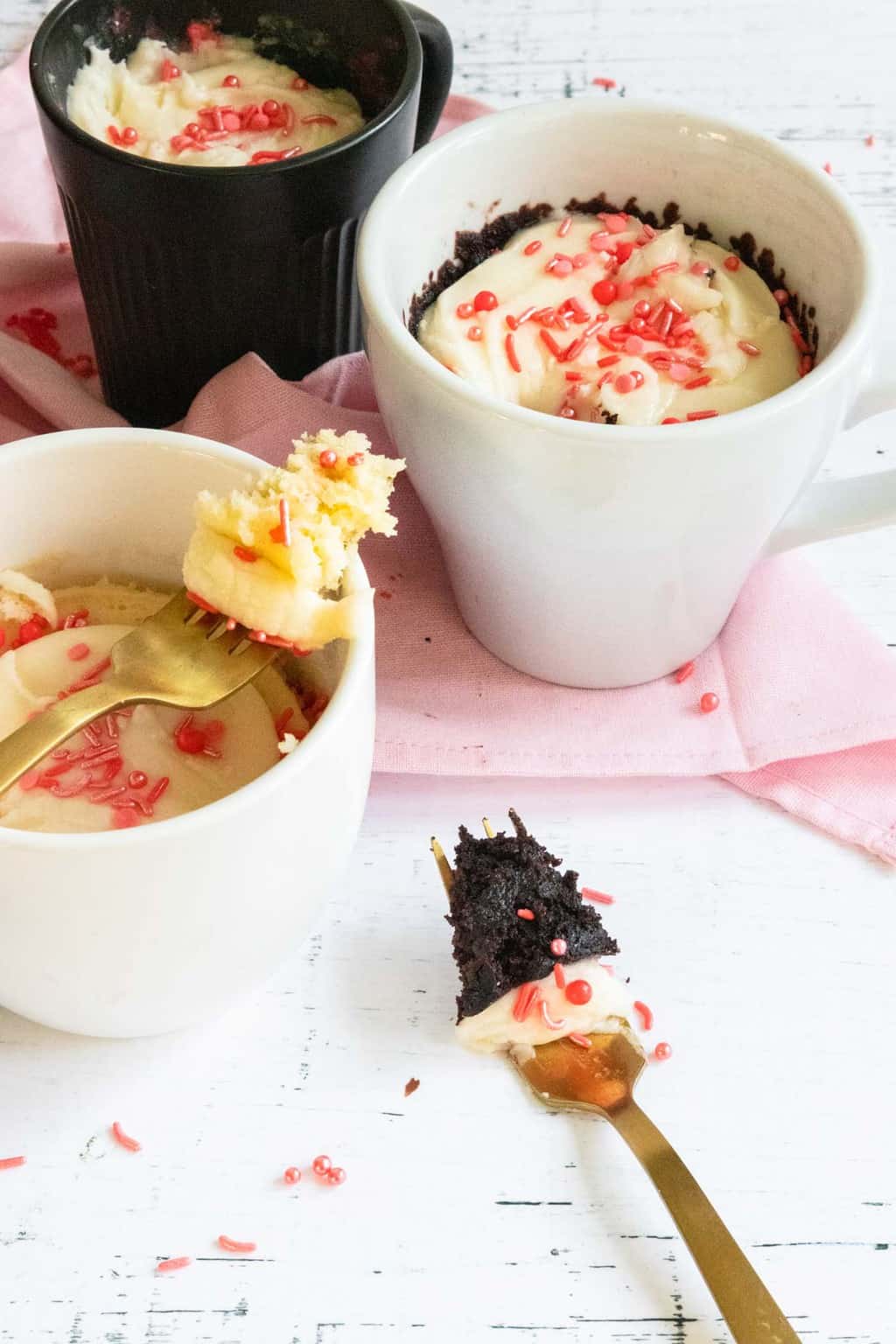 More Easy Cake Recipes
Looking to satisfy your sweet tooth even more? Check out a few of our favorite cake recipes from the archives below —

Vanilla Mug Cake Recipe
Chocolate Mug Cake Recipe
Funfetti Mug Cake Recipe
Don't forget to share your microwave mug cake with us on Instagram using the hashtag #sugarandclothloves. Looking for more quick and delicious recipes? Find them all right here with a few bites to go along with them!