There are few things better than a really good frozen drink when it's toasty outside. The only thing that makes it even more enticing is when it has edible polka dots in it! I mean, what the cuteness?!
This frozen cookies and cream polka dot martini recipe is literally the cutest martini you'll have all summer, I'm sure of it.
We teamed up with International Delight to share how we tried our hand at whipping up a mixed drink with their newest International Delight OREO® cookie flavored creamer, and it turned out so, SO good. In my humble opinion, of course.
Plus you can make this into a frozen mocktail by substituting the vodka, just promise not to ditch the polka dot marshmallows okay?
It took us about 2 hours to figure out how to make them stick to the glass easily and I need you to pinky swear it was worth the effort…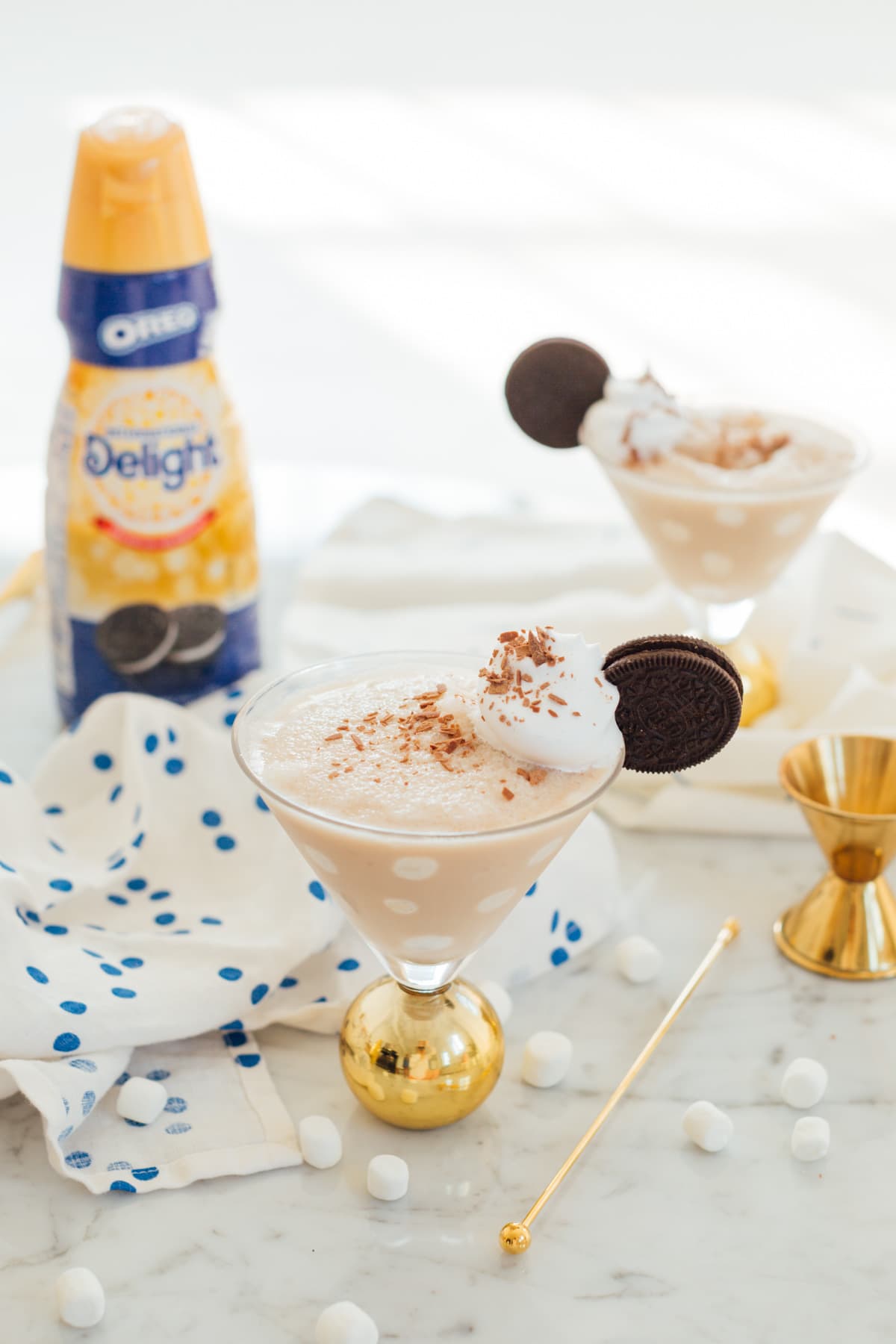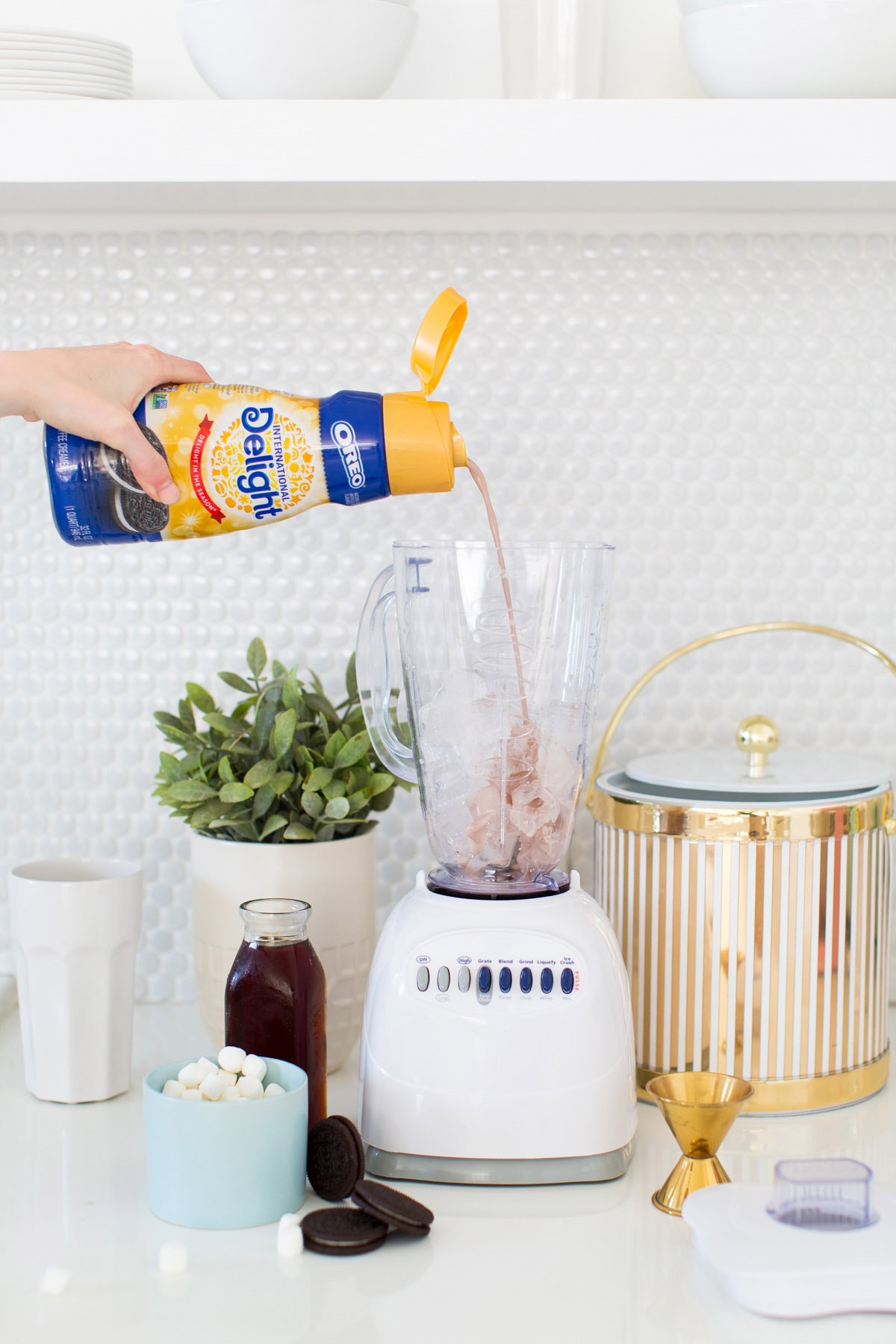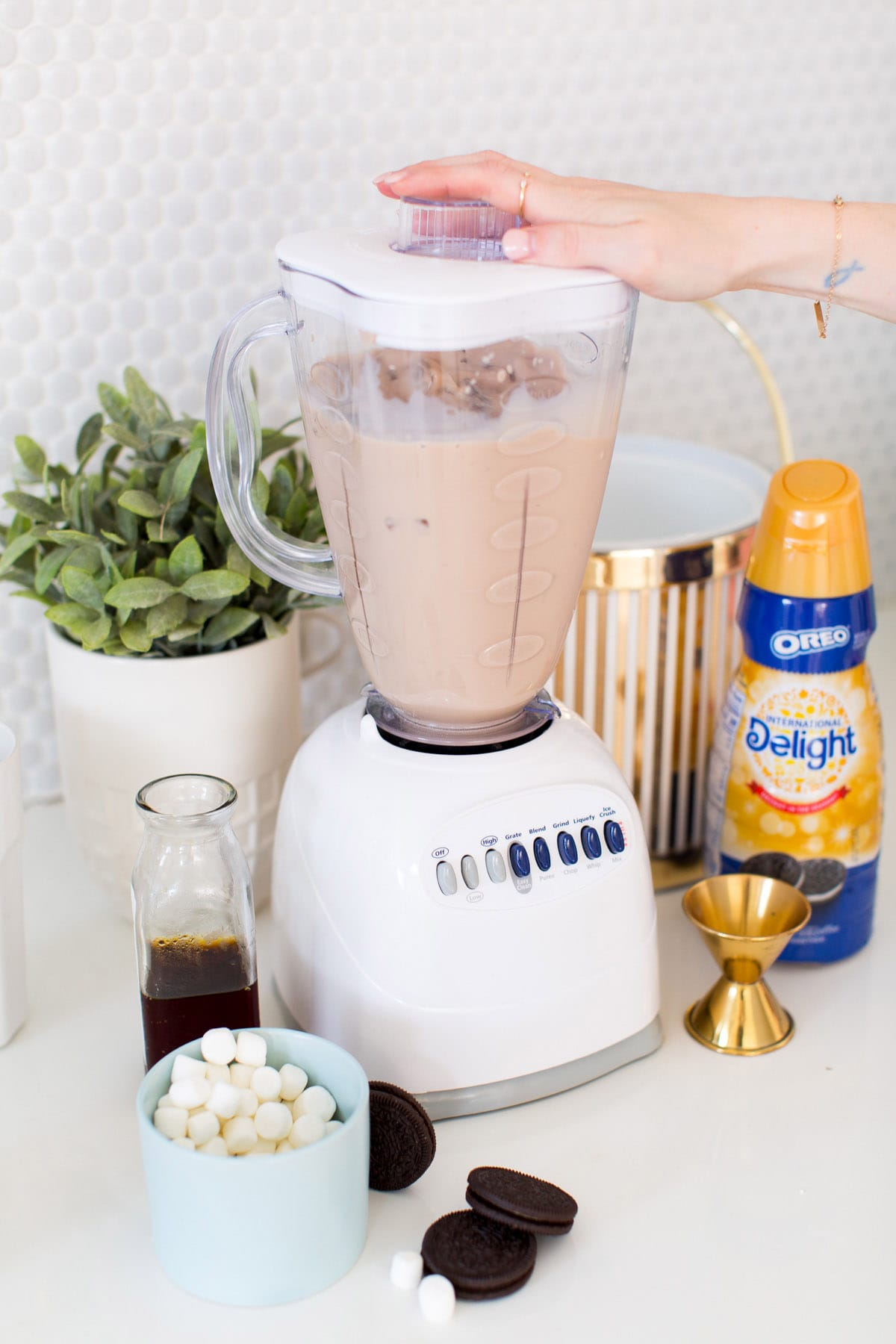 In a land where we have dunked OREO® cookies into glasses of milk for more than 100 years, you can now pour this delicious flavor into your martini.
Just in case you want to prep several martinis at once, it's easy to scale the recipe to combine them in the blender to make four cocktails at a time like we did.
Just be sure to serve them right away for optimal yumminess.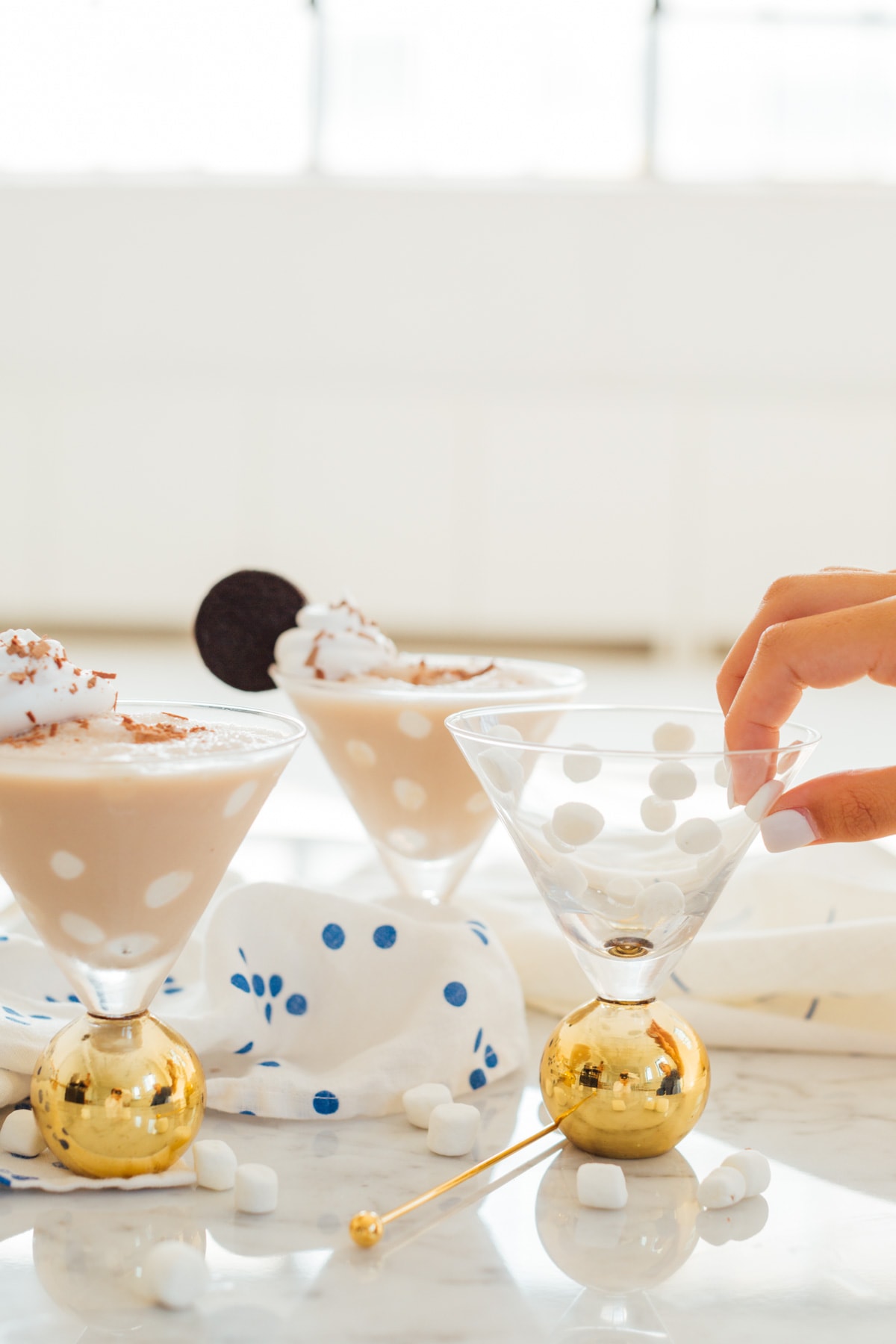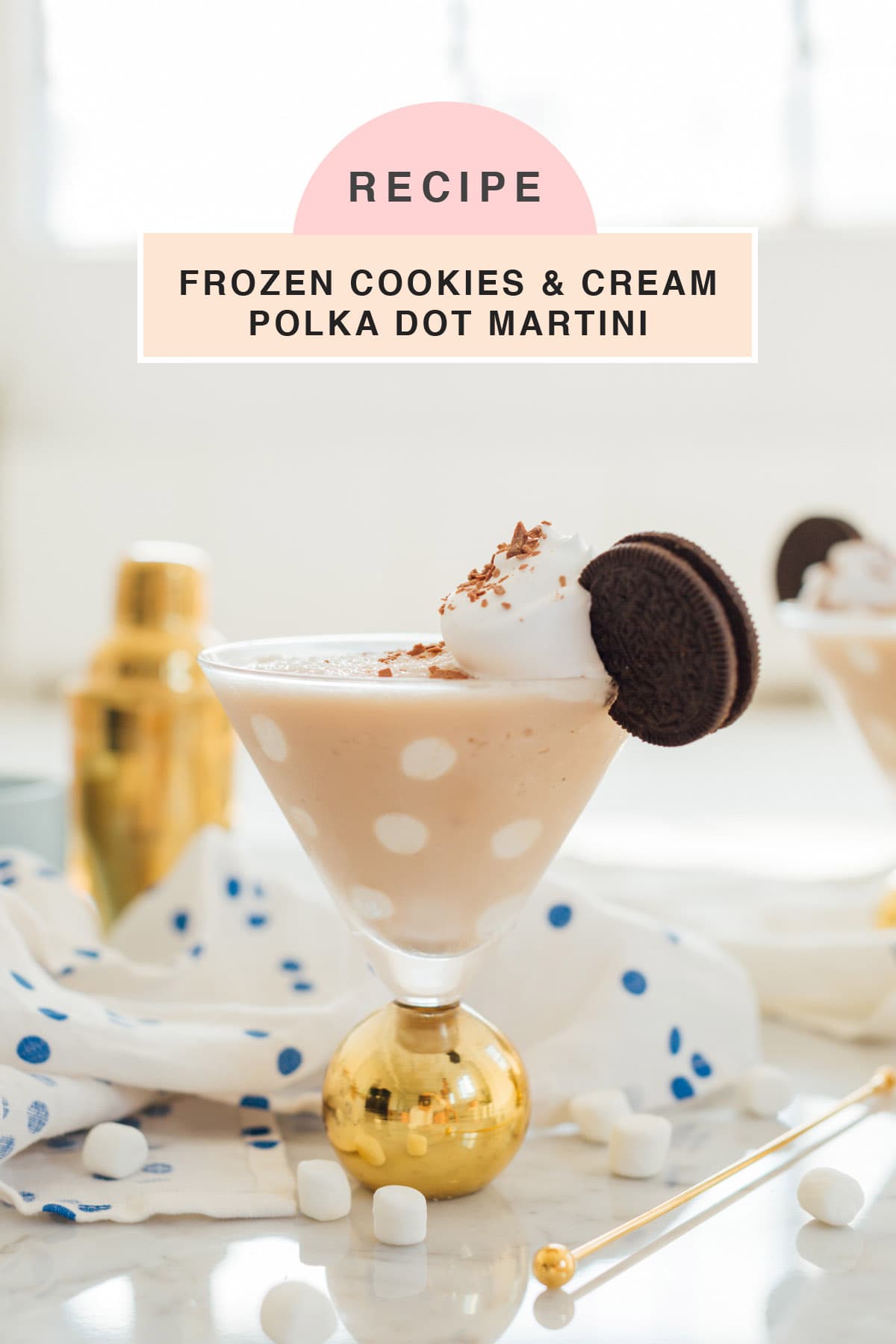 I love the way the polka dots look in this fun martini glasses that I snagged online, don't you?! Be sure to tag us in your weekend happy hours when you remake these bad boys!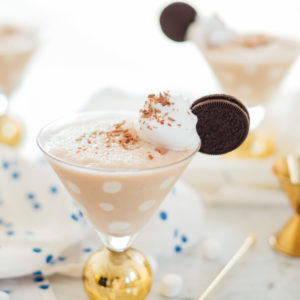 Print Recipe
Frozen Cookies & Cream Polka Dot Martini Recipe
Ingredients
1

oz

International Delight OREO® cookie flavored creamer

1.5

oz

vodka (for a mocktail, sub this for a scoop of vanilla ice cream)

1

oz

cooled coffee (optional, replace with addition creamer if preferred)

1.5

cup

ice

mini marshmallows for making "polka dots"

OREO® for garnishing
Instructions
Blend the International Delight OREO® cookie flavored creamer, vodka, cooled coffee, and ice into a blender until the ice is evenly slushed.

To make the marshmallow "polka dots" in the drink, cut mini marshmallows in half and stick to the inside of the martini glass.

Fill the martini glass with the blended cocktail, and garnish with a dollop of whipped cream and an OREO®.
Thank you to International Delight for partnering with us on this post! Sugar & Cloth has chosen to donate 5% of all sponsored campaigns to charity, which you can read more about right here.