If you're looking for some stair riser ideas, look no further! We've got creative ways to decorate your stair risers that are sure to inspire.
One of the most overlooked spots in homes are the stairs, which is ironic considering that they are in most houses and can be a great focal point for decorating.
So we compiled our favorite stair riser ideas. Some are subtle, some are bold and some are even temporary for those who can't commit!
The Best Ways to Decorate Stair Risers
1 — Add a Subtle Pattern
This DIY Modern Stair Treads & Riser project is the perfect upgrade from carpet. The subtle chevron pattern differentiates this DIY from regular white stairs renovations.
2 — Use Peel and Stick Wallpaper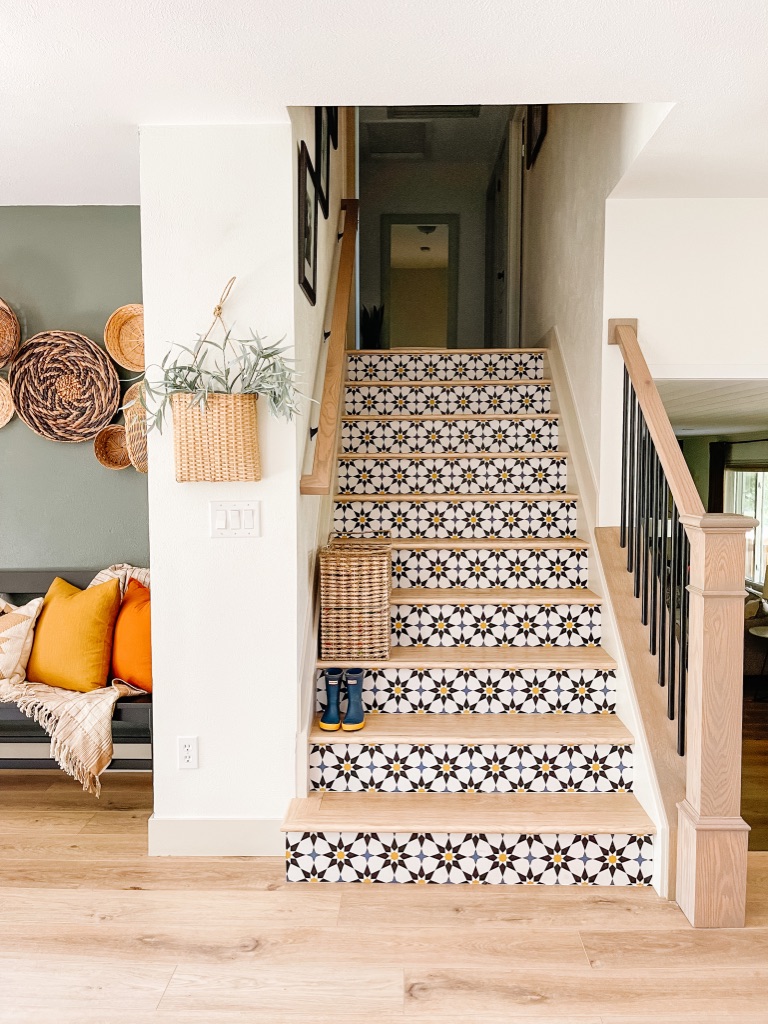 Accomplish the look of painted stairs without all the labor by using peel and stick wallpaper. We love how this DIY Stair Riser with Wallpaper makeover features a bold statement print.
The best thing about using peel and stick? It's temporary so you can easily change it out, and it's great if you're in a rental home!
3 — Hide Storage In Your Stairs
A home can never have too much storage! This DIY Hidden Drawers Staircase cleverly stows away items that you do not want your guests to see.
4 — Create Your Own Removable Decals
If you want to design your own pattern, you can easily do so yourself with a Cricut by following this Removable Stair Riser Decals tutorial.
You can then use the same design to create other fun things on the Cricut like matching DIY Coasters and a matching DIY Table Runner.
5 — Stencil in Faux Tile
Photo by Dawn Nicole
Most stair risers are made of wood so if you prefer tile, there's no need to learn how to tile. Just purchase a stencil and a can of paint to give your staircase a DIY Faux Tile Upgrade!
6 — Ombre Stair Risers Idea
Here's a throwback to our Sugar & Cloth ombré stairs. We painted a gradient of multiple colors, but you can even stick with one hue to compliment stair treads and risers!
7 — Install Tile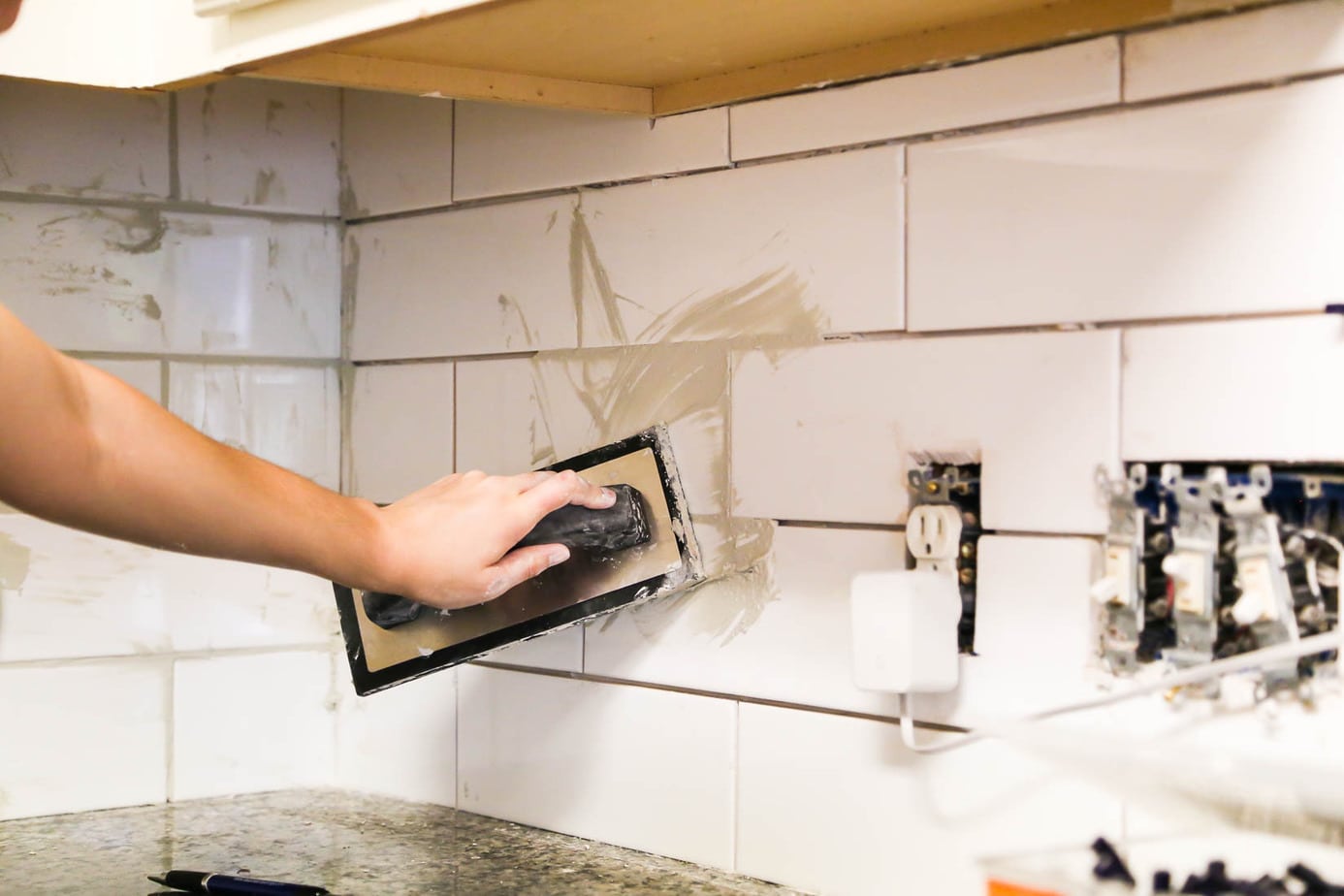 If you are looking for a more permanent stair makeover, check out this post on how to tile backsplash. This technique can be applied stair risers.
8 — Tape a Design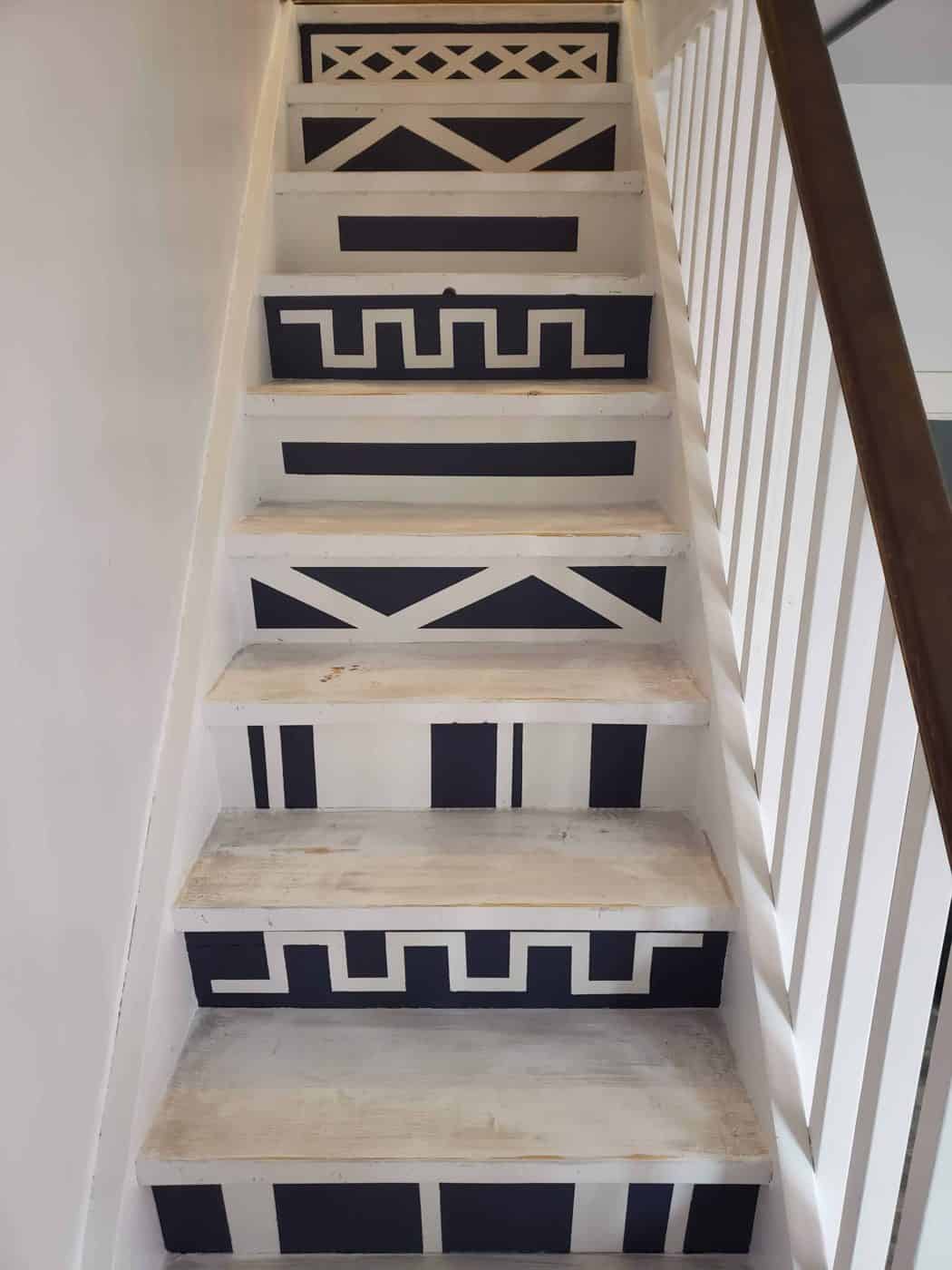 Another way to achieve a one of kind design is to simply use tape. This painted stairs and treads DIY accomplish the clean lines though painter's tape!
9 — Add Rug Runners
Pick out a runner of your choice and start stapling! This stair riser idea is a great way to add in a touch of textile. Plus, it prevents those scary slips and falls.
10 — Rip Off the Existing Carpet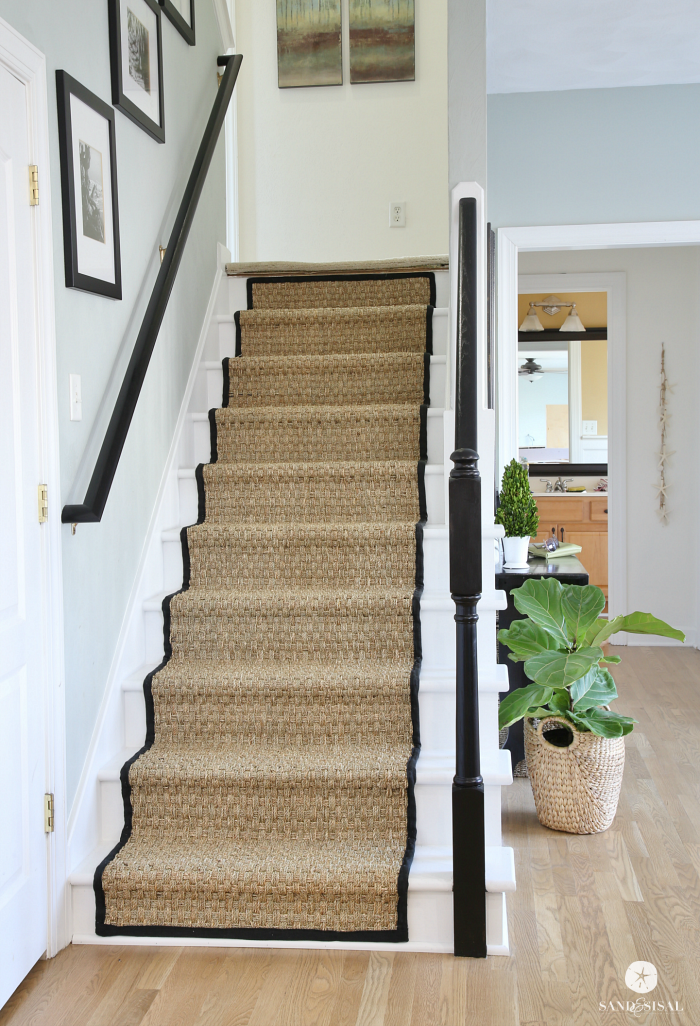 Carpet can get dirty so easily. So rip it off, add a coat of paint, and a Seagrass Runner makeover for a timeless look! We especially love how durable woven seagrass is.
11 — Try Faux Wood Vinyl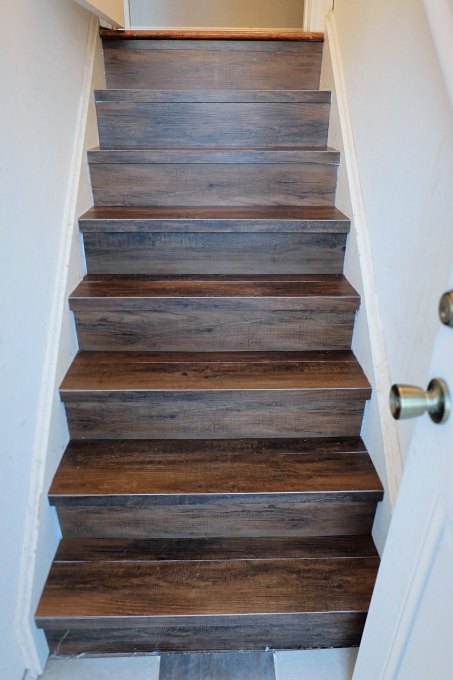 No need to stop your home renovations when it does not exactly fit into the budget this month. This Faux Wood Vinyl revamp is durable alternative to actual wood and cost only $45!
12 — Display Quotes to the Stair Riser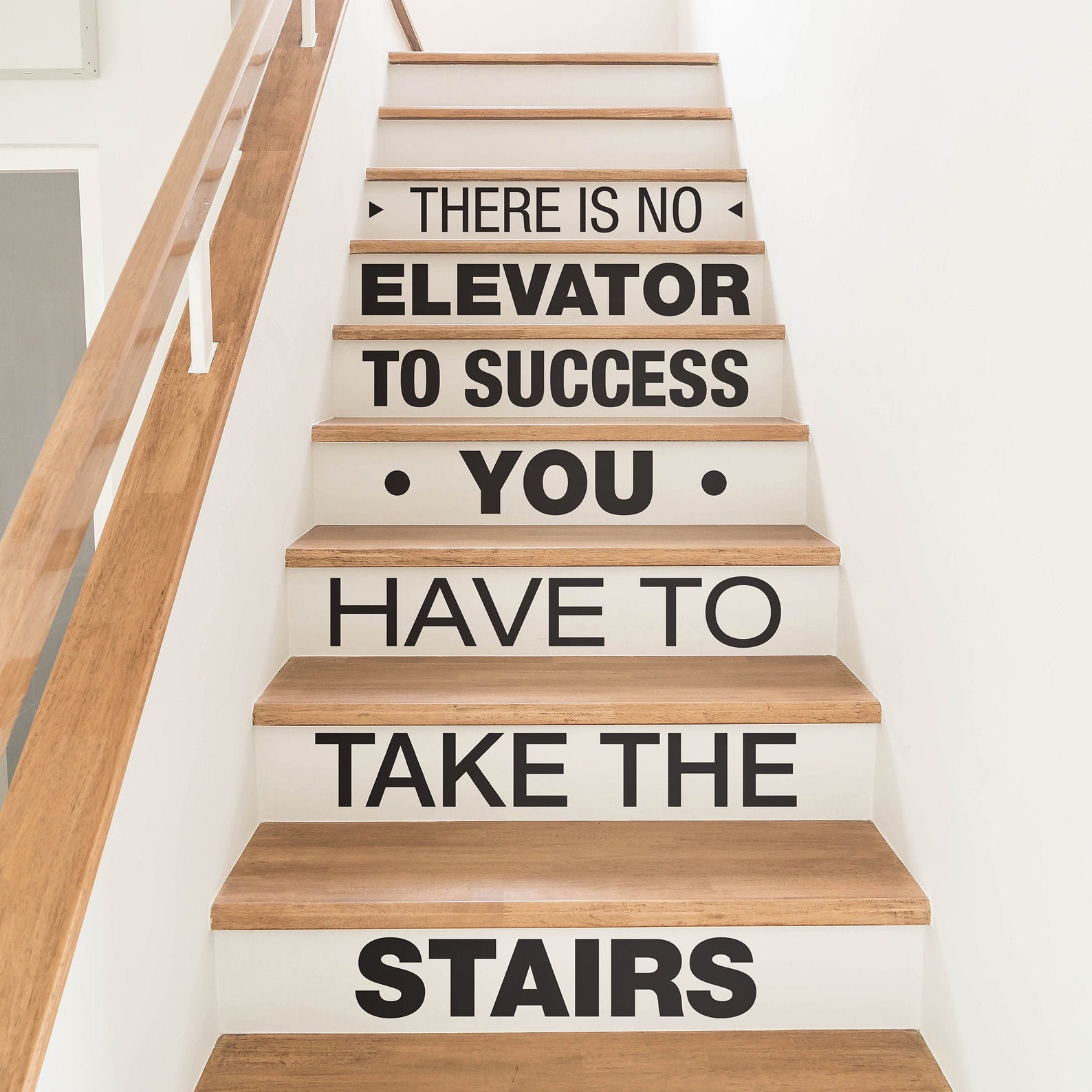 Give your stairs a refresh with some motivation stair riser decals. You can even customize your own colors.
13 — All You Need is a Can of Paint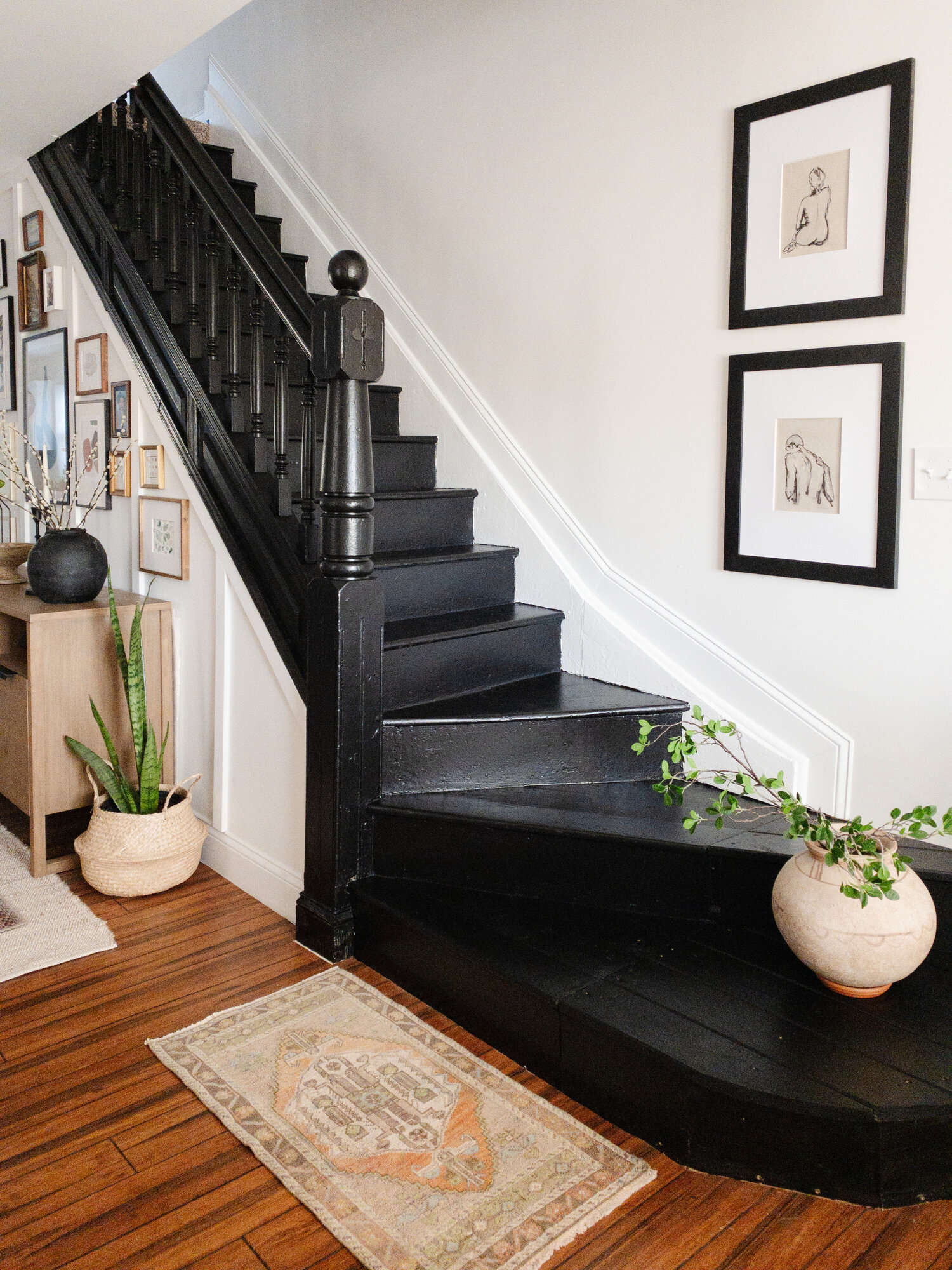 If you are looking for low-cost decorating ideas for your stairs, chose a paint color of your choice and start brushing! We love this sleek black look from this DIY stair project.
14 — Touch of Copper
Unique home decorations are the ones your guests will remember! This DIY Copper Stair Risers and Wood Trees is a balance of classic and modern.
15 — Apply a Complete Picture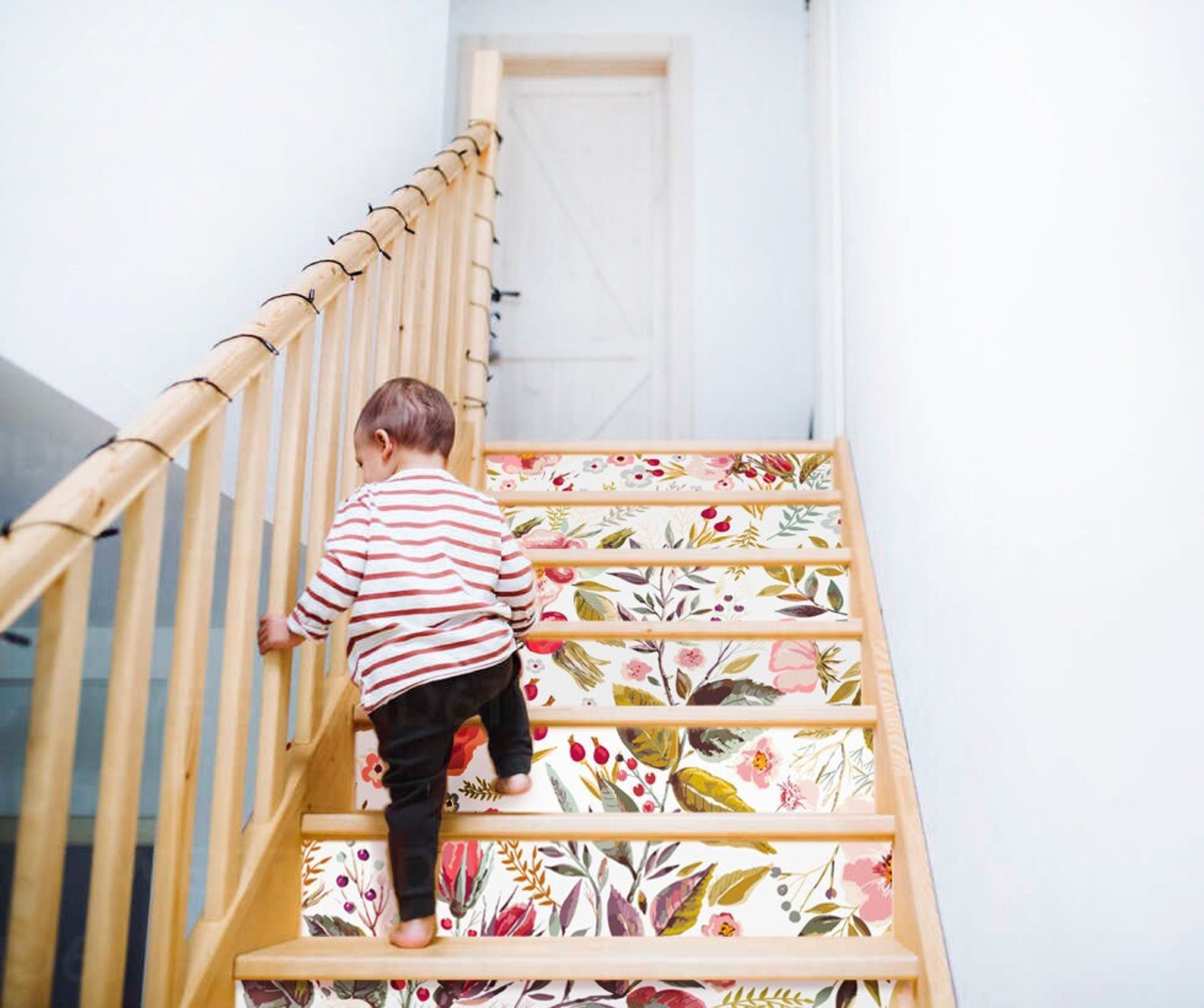 We've seen stair riser ideas with their each own individual design per riser, but we also love the idea of having each stair riser as part of one complete picture or design.
Once you finish applying this floral stair riser decal, it looks like one complete painting. Opt for a more subtle and vintage design this sketch peonies decal.
16 — Update Your Outdoor Stairs
This outdoor stairs makeover is a great reminder to not forget about your outdoor stairs. They are used everyday and viewable to everyone so why not make a statement?
Go for a timeless pattern and a bold color to draw your guests into your home! And while you're at it, give your front door a makeover too!
18 — Adhesive Floor Tiles
In our garage apartment renovation, we utilized adhesive floor tiles for the kitchen backsplash. They're waterproof and so easy to install and can also be used for an easy stair riser makeover!
19 — Add In Texture Details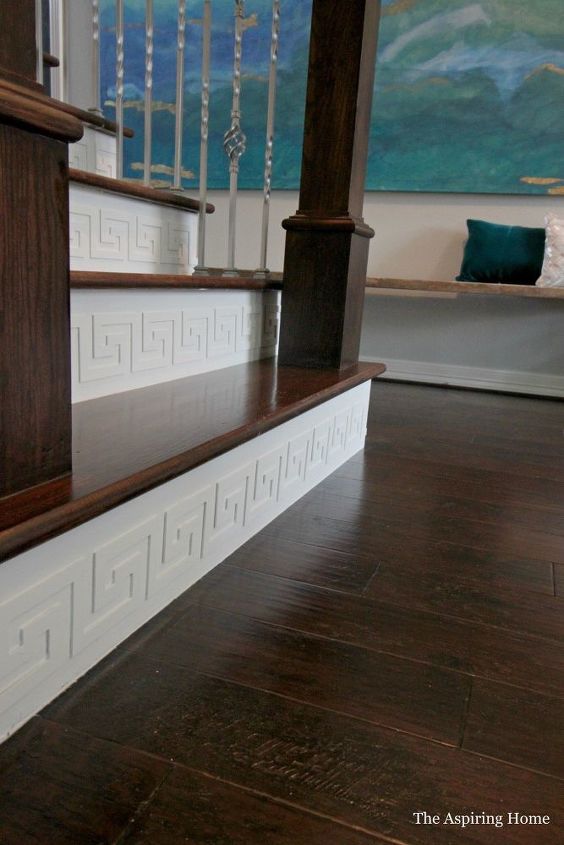 Design our own pattern overlay to add texture to your staircase! Simply glue it down and apply a couple coats of paint. Beauty is in the details and this DIY will definitely add a creative touch to your home!
20 — No Stair Risers At All
At our old house we had floating stairs and loved how they kept our space so open! They were also so much easier to clean than traditional stairs!
More Decorating Inspirations