After almost a year of hardcore house renovations, I've grown to REALLY enjoy a quick weekend project. What can I say? I obviously love something with quick satisfaction. We've pretty much covered the entire house as far as updates go, but the front entry and back patio have been totally neglected.
Since we have a townhome there aren't too many options we have as far as entryway updates go thanks to HOA, but our previous front door situation was in dire need of fixing. The bottom left corner of the door jamb was rotting, there were knicks and dings in the door from the previous family, and there was just a lot of dark red that needed to go. Schlage approached us about partnering to share their Schlage Custom™ Door Hardware and Schlage Sense™ Smart Deadbolt, and I was all "YASSSS!".
All of our entry doors (both at home and the studio!) had the keypad smart locks on them previously because we are forever misplacing our keys. Plus it made it super convenient for people to housesit for us at home and for interns to get into the studio without needing a key. Basically, we're diehard fans.
The custom hardware options and Smart Deadbolt were new to us though, so Jared is all too excited about us getting techy on you, haha! A double bonus here is that Jared has become super handy over the course of the last 500,320 projects we've done…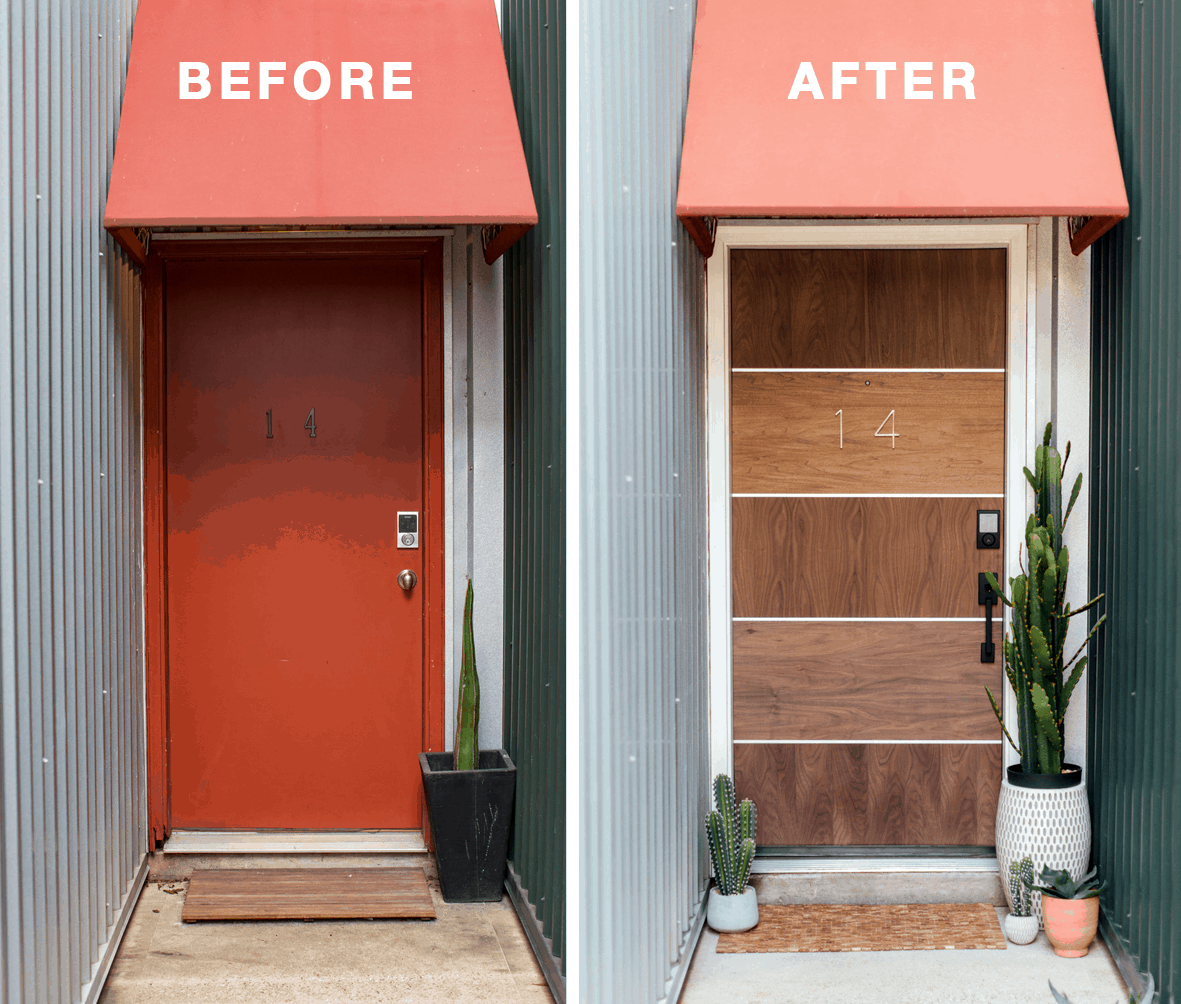 The beautiful thing about entryway updates is that it doesn't always take much to make a big impact on curb appeal. For us, all we really needed to do was update the door and doorframe, power wash the sidewalk (also Jared's newest favorite hobby lol!), and update the planters and plants. I'm not going to lie to you, I gave up and used fake plants… feel free to judge.
We picked out the new door design first and then chose the Schlage hardware based off of that after visiting Lowe's to get an idea of finishes and features in-person. I'm the world's biggest fan of ordering online, but when it comes to major house decisions, seeing things in real life makes all the difference, don't you think?
Once we "test-drove" some options in store, if you will, we decided to go with the Century Trim in Matte Black for the front door and to replace the rest of the knobs in the house.
Jared installed the new hardware in the existing holes that were pre-drilled in the new door. Setting up the keypad and Bluetooth access codes with the Schlage app is surprisingly easy. I like the idea that you can let someone in the house remotely from anywhere using the app in case there was ever an emergency, etc. It gives me peace of mind for my fur kids!
Plus you can set up to 30 access codes for different people (also why we love it for the studio!) and see who has used their code to access the space.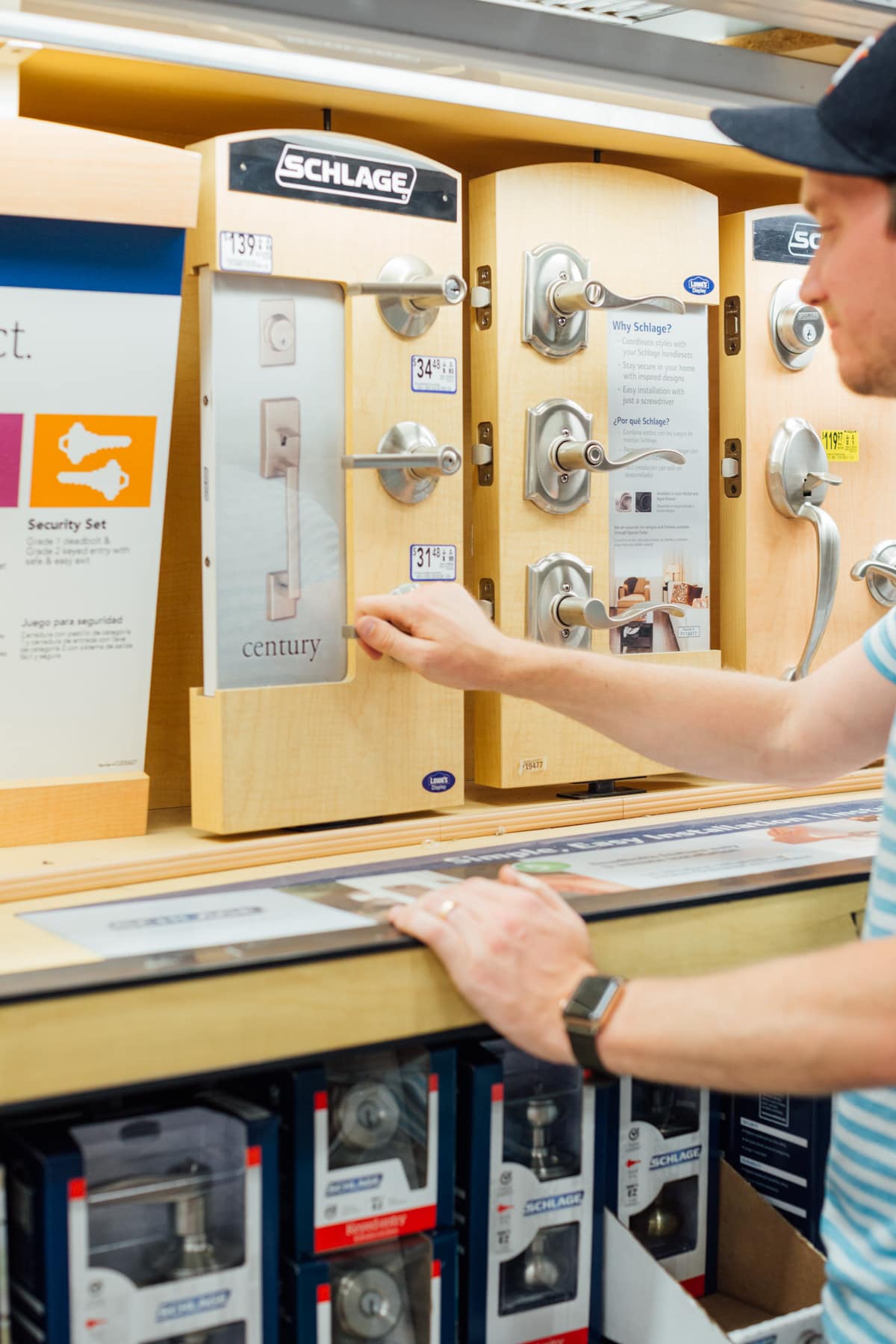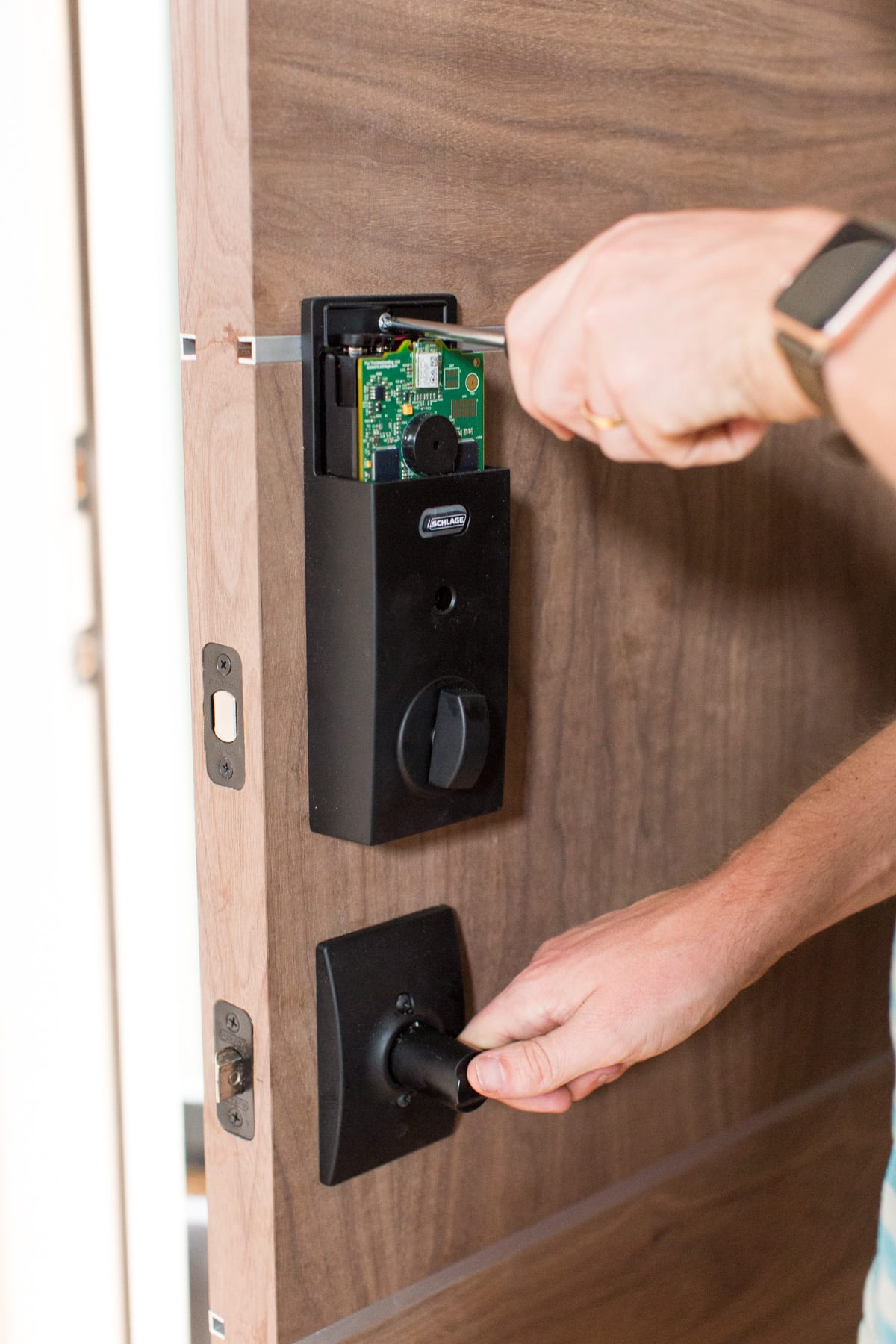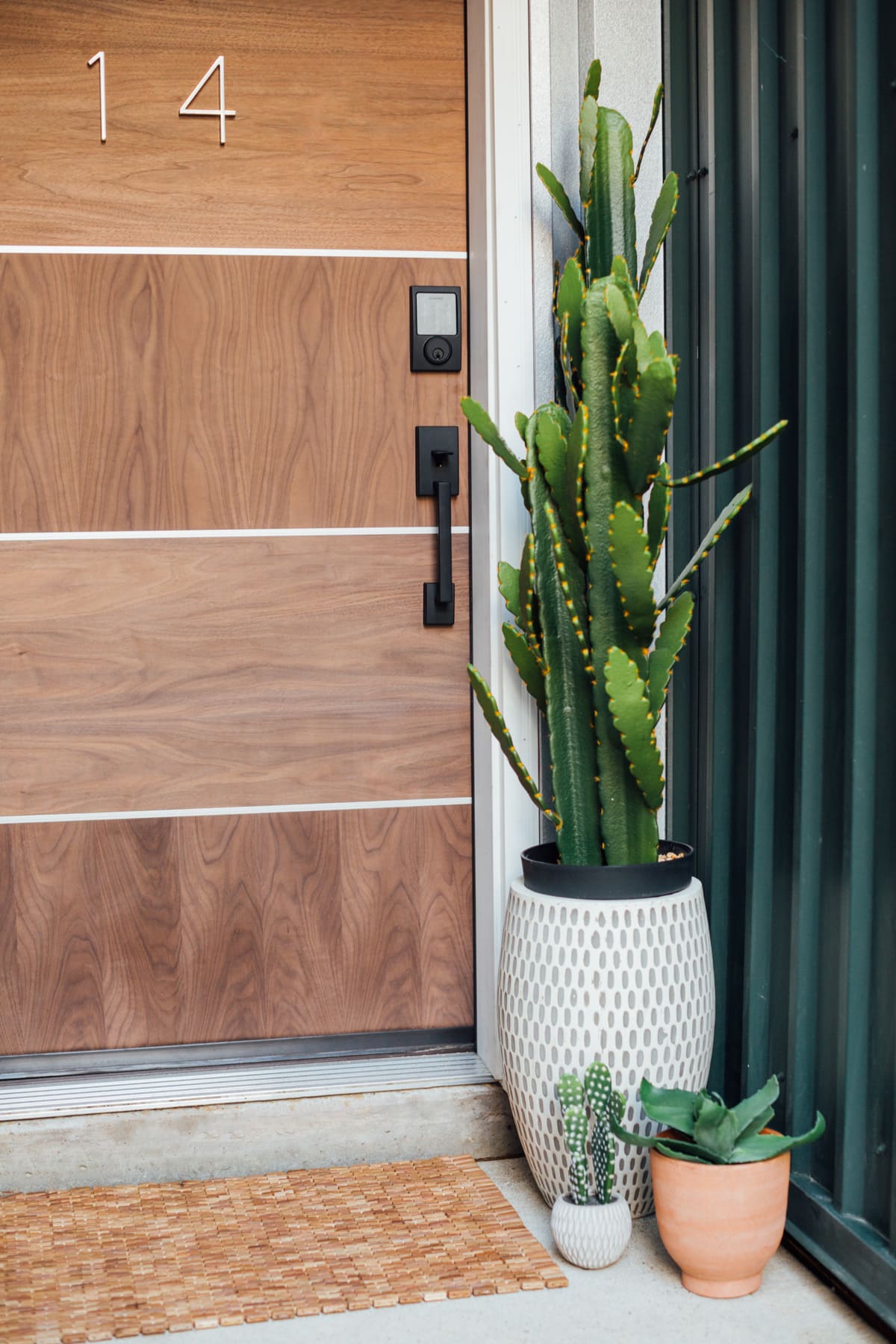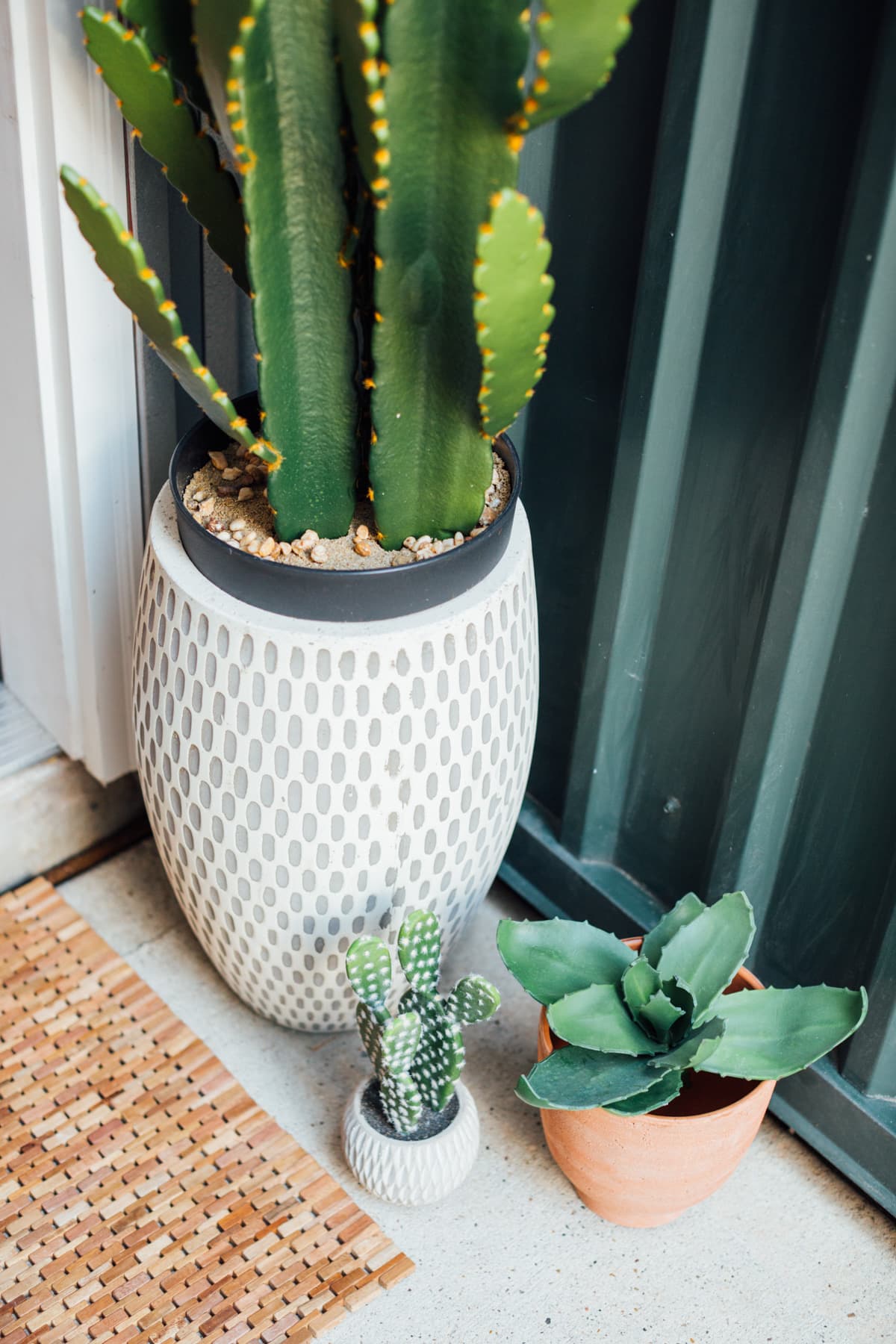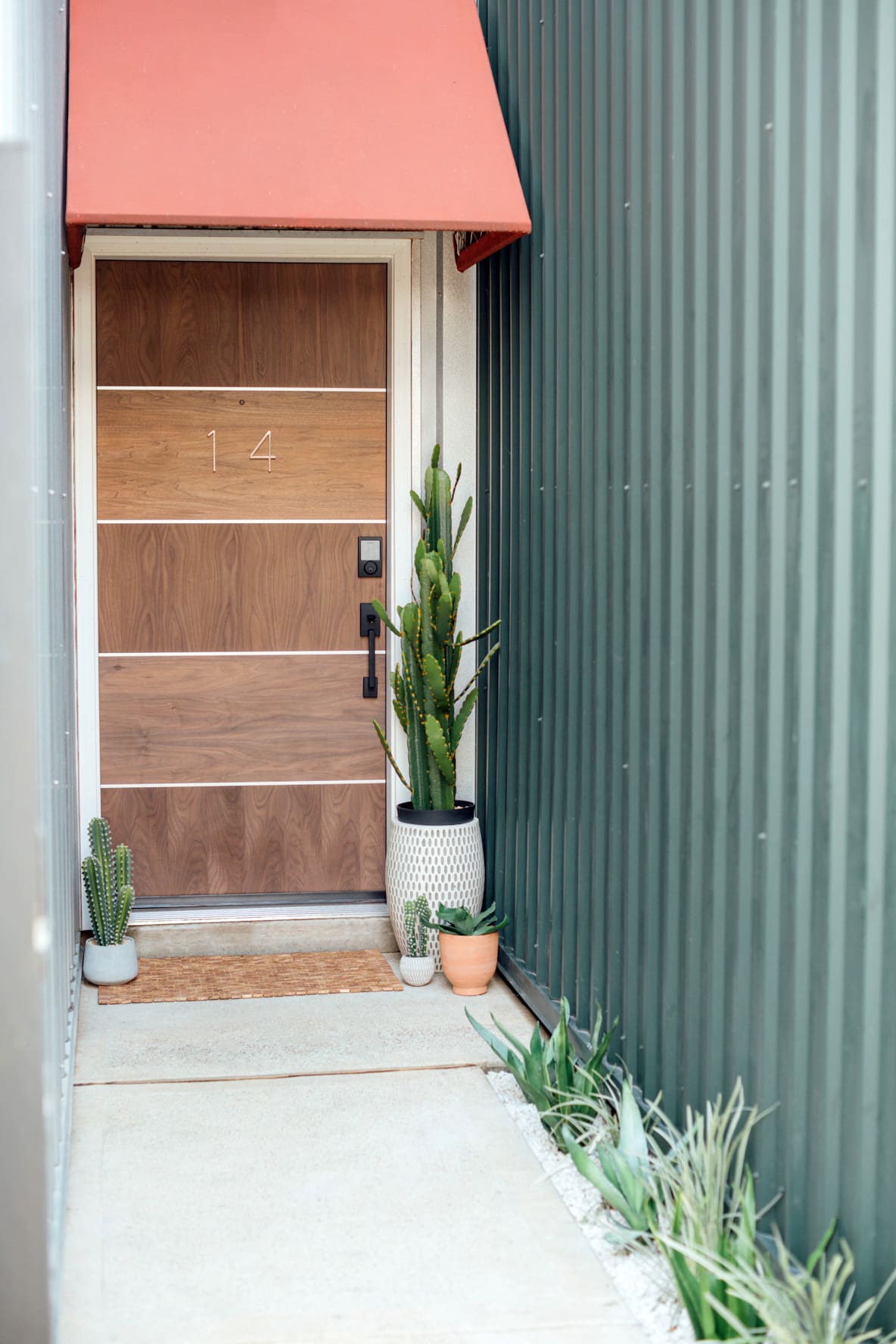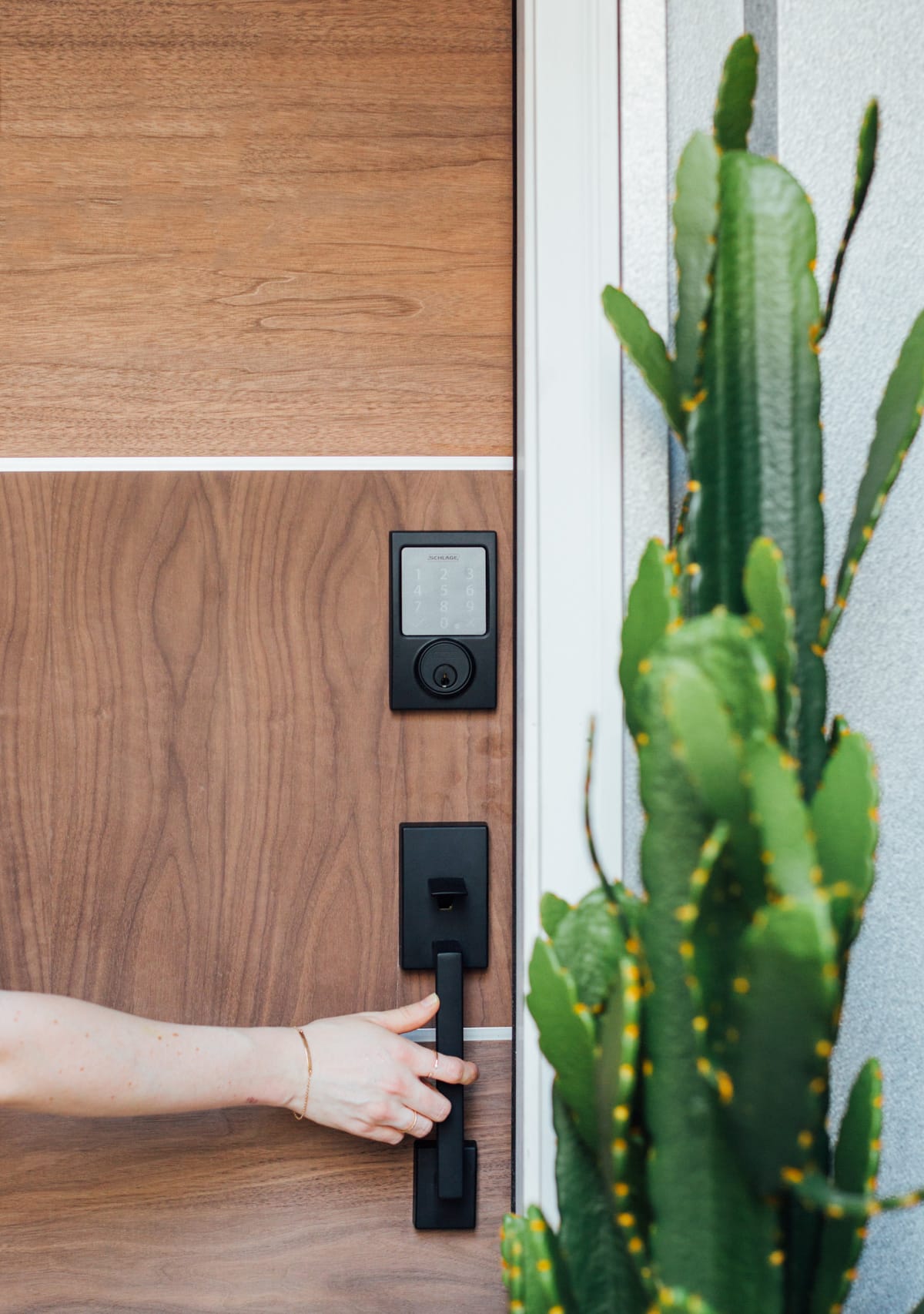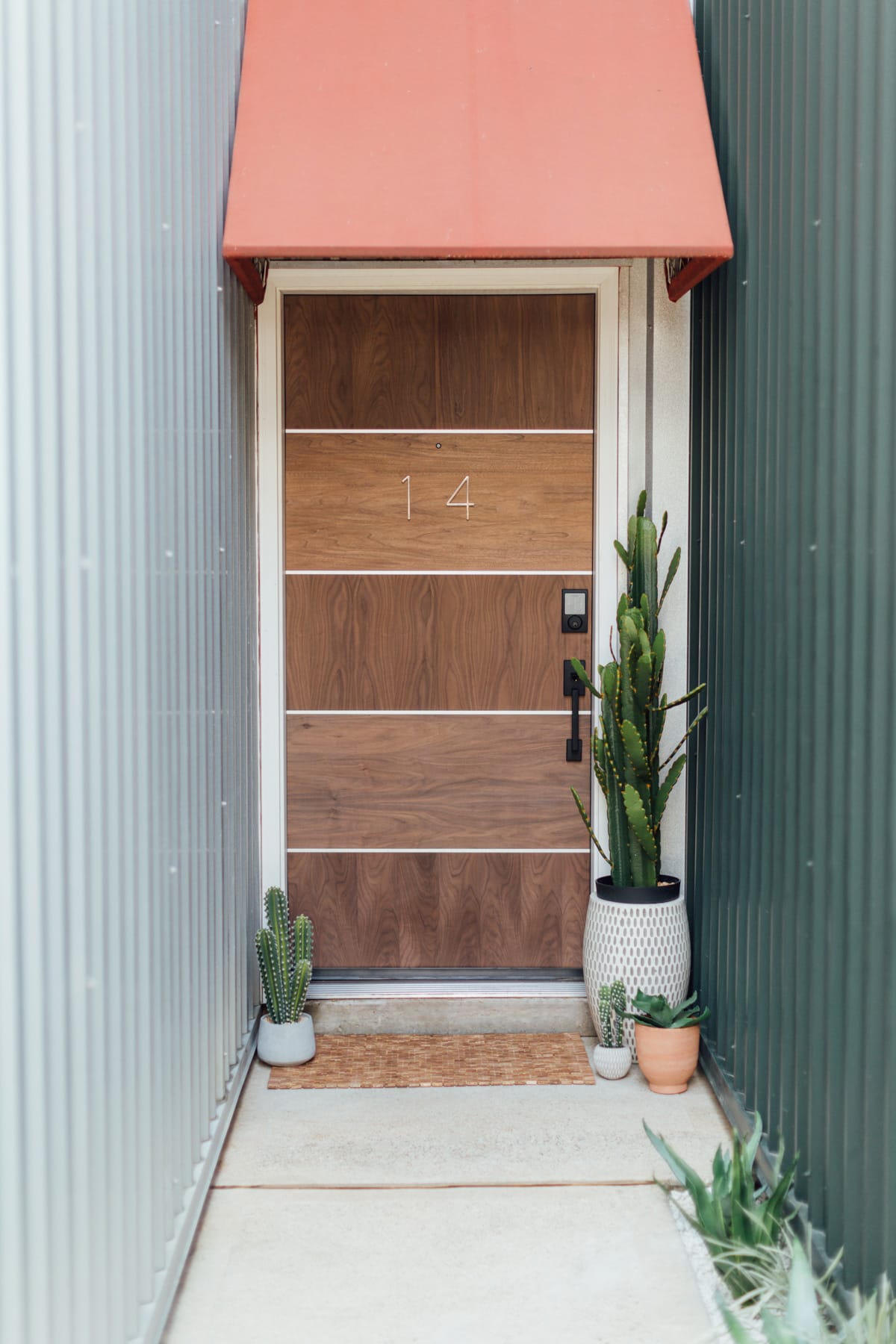 After we conquered the door and hardware, it was just a matter of deep cleaning and a few aesthetic updates. I think it made a huge difference though, don't you?!
Schlage is running a pretty legit promotion at Lowe's between now and 6/20 if you want to snag your own smart locks. Fellow creatives with studios, this is totally up your alley, trust me! Plus you can enter the Make it Happen Giveaway for a chance to win daily prizes that will help you tackle all your summertime projects.
Sources: Schlage Custom™ Door Hardware and Schlage Sense™ Smart Deadbolt | Modern American Walnut door | planter 1 and planter 2 | doormat | modern house numbers | large dark green faux cactus | large prickly pear faux cactus | small faux cactus with cement planter | greenery stems for the rock
Thank you to Schlage for partnering with us on this post! Sugar & Cloth has chosen to donate 5% of all sponsored campaigns to charity, which you can read more about right here.