Check out these easy front porch decorating ideas to make a warm and inviting entrance. We've chosen cozy, rustic, and modern designs that fit any setting.
First appearances make a difference whether we like something or not.
And that rule applies to your house as much as it does to yourself.
When the front porch looks unkempt and dirty, it makes the home feel uninviting and unclean.
However, when the front porch is kept up, colorful (if you want), and cleaned up, it transforms your house and the overall feeling.
Not sure how to change your porch but know you need to?
We've got you covered with the 21 best front porch decorating ideas to make a warm welcome to any home.
Front Porch Decorating Ideas
1 — Painted Front Porch
A painted front porch is a happy front porch.
A fresh paint job can do wonders.
So keeping your front porch painted and looking unchipped is essential to any good-looking front porch area.
Love to paint? Paint your brick house and the walls in the guest room, or even personalize your bowls with a new paint job.
2 — Front Porch Swing Bed
Looking good doesn't mean you're comfortable (for example, high heels).
However, when you're able to be comfortable AND look good, that's when you've really won.
Having a front porch swing bed is a great way to keep your front porch comfortable and stylish, prompting you to spend more summer nights outside than inside.
3 — Best Plants for Your Porch and Patio
Plants are a great addition to any home, indoors or outdoors.
Keeping life and your front porch filled up with greenery is a great way to make your outdoor areas more inviting to guests.
Even if you don't have a green thumb, there are some great, nearly unkillable plants out there you can use. Such as —
They look great. But if you have animals around, keep them out of their reach since they're extremely toxic to our little friends.
They grow great in low light and bathrooms. So if you have an outdoor bathroom or area that often gets wet, keep it there.
Also, unfortunately, not animal friendly.
Also known as the "swiss cheese plant," this plan is great if you want to add some stylish leaves to your decor as well as more green color.
Absolutely fantastic for any dry climate.
As pretty as it is and for as much neglect they can handle, this plant is poisonous to animals. So be aware if you choose to use it.
If you have a sunny front porch, this is the perfect plant for you. Jade loves light and can survive year-round outside (depending on extreme temperatures, of course).
Not sure how to style them? Check out some great planter ideas.
If you can't keep grass alive but want to style your walkway, try these faux grass stepping stones instead.
4 — Makeover Your Porch Stairs
Take the stairs that lead to your home and make them lead your guests in style.
Of course, the stair colors can be anything that matches your home, window trim, or personal favorite colors.
5 — Farmhouse Style Summer Porch
Grab an old bike, some wooden boxes, and metal pots for this farmhouse-style summer porch idea.
It's easy to customize with what you have on hand and can be changed depending on the season.
6 — Succulent Wall Planter
Have a small front porch or outdoor areas but want plants?
When you can't build out, build up, and that's exactly what this succulent wall planter does.
Try using different planters on the wall to style your planter even more such as these copper planters and organizers.
7 — Wine Barrel Planter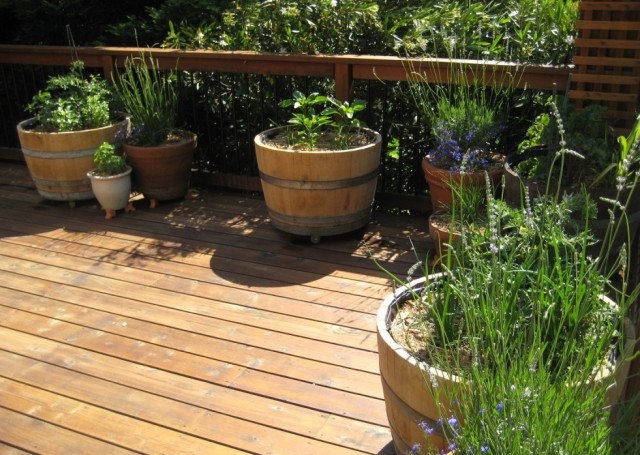 Looking for a way to use that old wine barrel in the garage? Make it into a planter!
Spruce up the barrel itself and make sure it's weatherproof.
Add your favorite flowers, and you're ready to go!
8 — Porch Lighting
Having good outdoor lighting is essential, whether it's on the patio for dinner or the front porch for a good beer.
Instead of having the usual overhead light, get creative, like with this DIY porch lighting tutorial.
9 — Faux Fall Tree
If your green thumb is brown and you want to keep a tree around, try this faux fall tree to keep the house looking festive without killing yet another plant.
10 — Diy Fall Doormat
There are so many great ways to spruce up a door area, and a DIY fall doormat is a great method to use.
This doormat is easy to put together and makes for a great weekend project.
Plus, you can customize what you want the welcome mat to say (if anything).
11 — Church Pew Seating
If you're able to get your hands on an old church pew or bench, this church pew seating DIY tutorial is a great way to provide seating on your front porch without compromising the space.
You can color each pew to fit your color scheme or design, and it's a great way to upcycle if the benches and pews are being given away or auctioned off.
12 — Front Slice Pillows
It's so easy to DIY pillows for any living space, and these front-slice pillows make for a great spring and summer vibe.
They'll freshen up your front porch with juicy scenery making you want a fresh lemonade – STAT!
13 — Screen Porch Ideas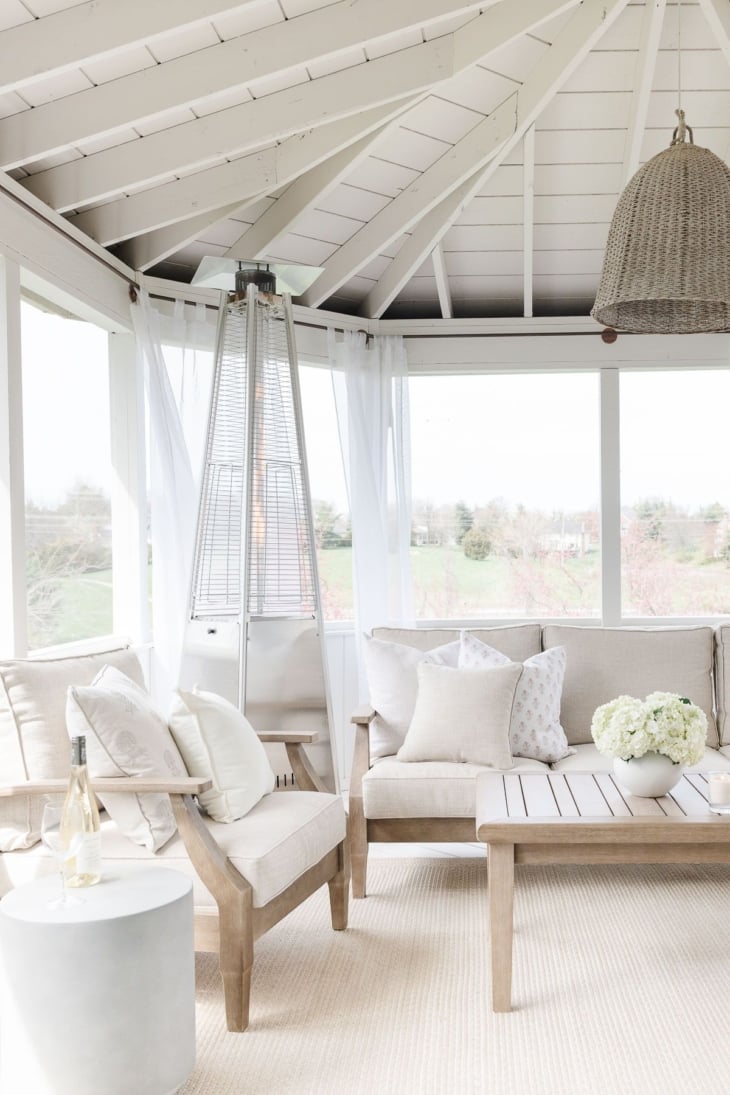 Having bugs creep into your house is never fun, but it's also not fun sweltering from the heat when your AC is broken.
Having a screen porch is a great way to keep your outdoor areas free of bugs while also enjoying the beautiful outdoors.
Do the little buggers still creep in?
Try DIY citronella candles or this DIY outdoor entertaining hack.
14 — Small Front Porch Decor Idea
If you have a small porch, don't let that stop you with these small front porch decor ideas.
For example, keep your decor white to open up the space and make it feel bigger than it is.
Keep it clean, and the paint touched up.
Try a wall planter instead if a ground planter takes up too much space.
If you have a run out there, layer them up to create a visual hack making the space look spacious.
15 — Hanging Chairs
Love hanging chairs and swings but never have had one on your own or don't feel willing to dish out the bundle of money they cost these days?
Make your own hanging chairs with this DIY tutorial so your porch can be a pleasant place to swing by.
Front Porch Decor for Every Season
If you get into decor each season and holiday, don't forget your front porch and outdoor areas!
16 — Spring Front Porch Decor
Spring into action with this tiled patio idea.
It's great for those wishing to do more spring cleaning than actual on-the-ground cleaning.
These tiles keep the front porch looking kept together but also make it easy to sweet and mop up in case it gets dirty.
17 — Easter Front Porch Decor
View this post on Instagram
Make your outdoor areas cozy for the Easter bunny this year with this Easter front porch decor.
Use leftover party balloons, ribbon, paper, and anything else pastel you have on hand to make this festive front porch decoration.
Looking for ways to style your outdoor Easter table?
Try A Perfectly Pastel Easter Table Idea or a Simple Pastel Easter Table Setting. Don't have the time? Try this last-minute Playful Easter Dessert Table Idea.
18 — Fall Front Porch Decor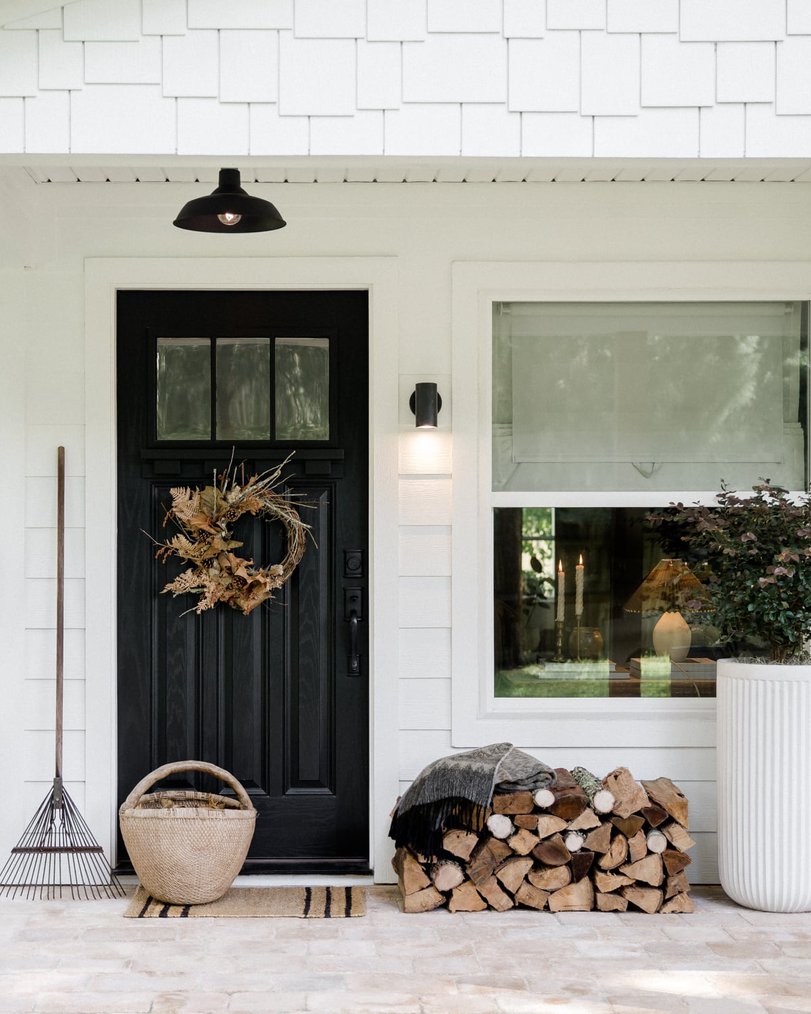 There are so many ways fall front porch decor can go.
So to break it down, here are a few tips to keep your front porch from falling down on the job this fall.
— Use wicker and straw baskets to hold items and flowers.
— Pumpkins and squash as decor that can later be eaten.
— Go rustic and use old wooden items around the house.
— Keep natural, earthy colors.
— Keep a blanket on the porch for warmth.
— Make wreaths from fall foliage.
— Keep the decor simple. Don't over decorate.
Looking for more ways to decorate your place this fall? Try these DIY decorating ideas and fireplace makeovers to keep you cozy and classy.
19 — Halloween Front Porch Decor
The Halloween front porch decor is fun to put together because you can keep the decoration simple and not scary, make it very spooky but classy, or find a perfect middle ground.
But if you're a fan of candy and ghosts, this Halloween front porch decor is for you.
Take a weekend in September and make some jumbo styrofoam candies, shop for some black wreaths, and make your own (or buy them if you prefer) friendly ghosts.
20 — Christmas Front Porch Decor
'Tis the season to be merrily… decorating your front porch!
This Christmas front porch decor will make your home unique thanks to the DIY Wood Lights Christmas Garland, wreaths, and many other Christmas decorating ideas of your choosing.
A big plus of this garland is that it saves money and electricity since the lights are wooden, and you won't have to string extra Christmas lights around them (unless you want to, of course)
You've already got the lights up!
Have an outdoor pool? Decorate that up to Santa's liking too!
21 — Winter Front Porch Decor
Want to stay festive without getting too into Christmas decor?
Try this winter front porch decor instead.
This style of decoration combines basic frosted wreaths with a pink and gold backdrop (substitute pink with your home's base color).
The colorful trees in the wreaths and to the side add a great pop of color to your home without making everything red and green.
More Easy Outdoor Makeovers