There are few things more satisfying than a before and after of a painted brick house. This is why you should use limewash paint on porous brick exteriors for an eco-friendly, luxury finish…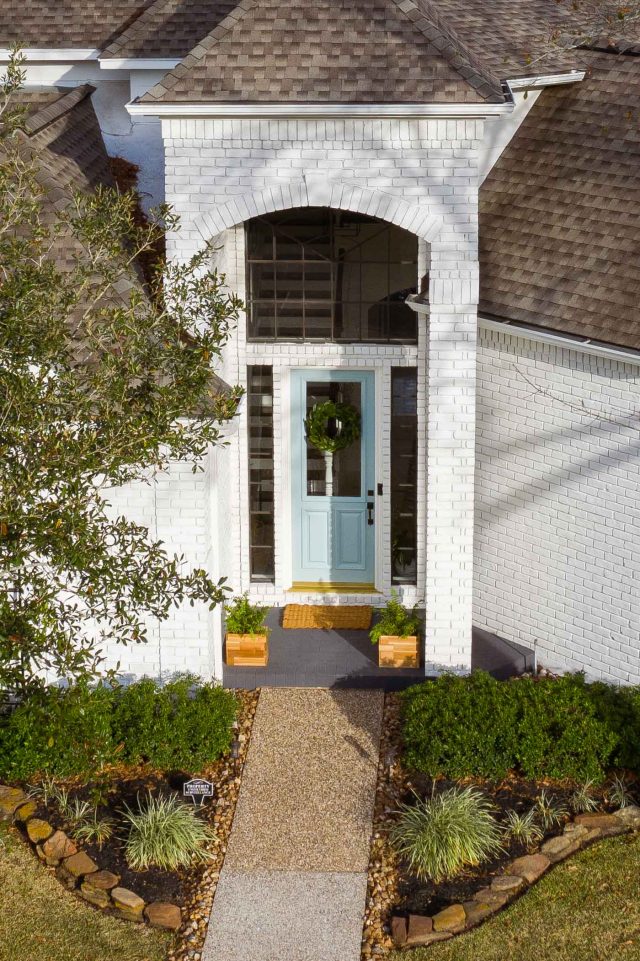 Aside from a front door makeover, one of the quickest ways to modernize a home is by painting the exterior.
When we were working on this curb appeal design, lime based paint was our first choice for the raw brick exterior.
Not only does limewash never crack or peel, but it's also eco-friendly and a natural anti-fungal to deter pests. It's also fade resistant and comes in just about any color you can imagine.
To make lime washing less intimidating, we're sharing everything you need to know…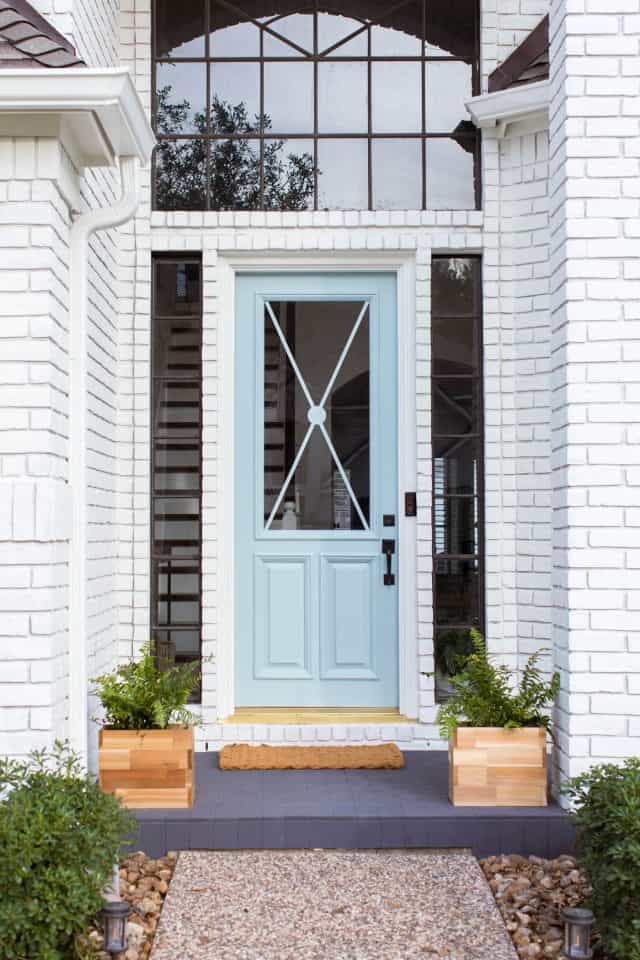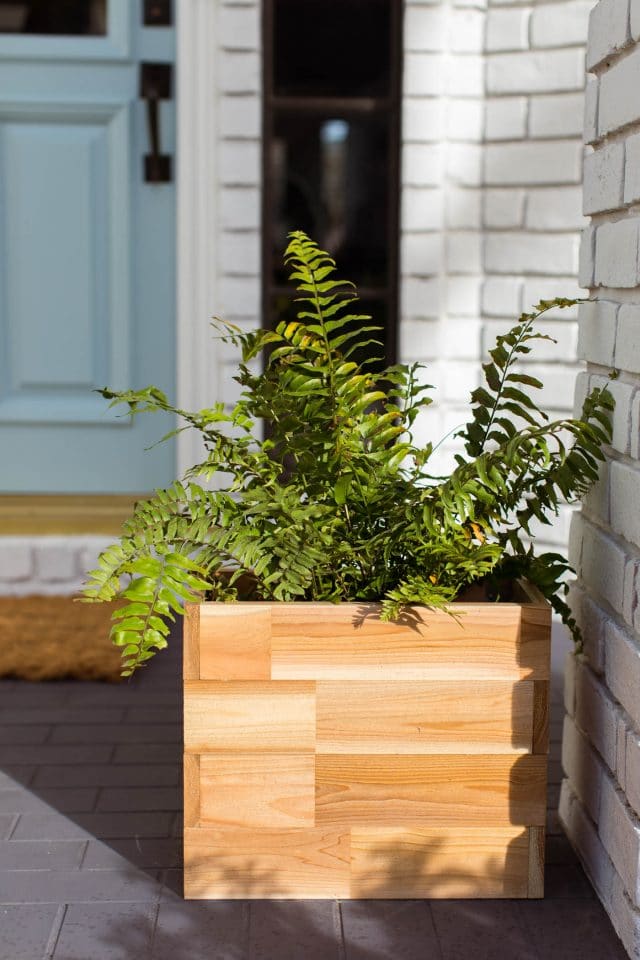 What is Limewash Paint
A lot of people tend to confuse "limewash" for "whitewash". In fact, they're very different things.
Limewash is a non-toxic paint, not a type of application like whitewashing. It can only be used on porous surfaces such as brick, stucco, cement, or plaster.
Traditionally lime wash has been limited to go over only porous surfaces such as brick, stone, concrete and plaster.
JH Wall Paints has developed a Mineral Primer that creates a micro porous surface for the lime wash paint over new drywall and interior and exterior previously painted surfaces.
It's made from crushed limestone that's heated and diluted with water to make a thick paste used for painting.
You can also tint limewash in just about any of your favorite paint colors, like Benjamin Moore or Sherwin Williams.
Because of the thick consistency, the completed lime paint will have a matte, suede finish once it's dry. The darker the lime paint color, the more you'll notice the patina over time.
Limewash paint has been around for centuries and is a very popular paint for adding subtle texture and color variation to walls overtime.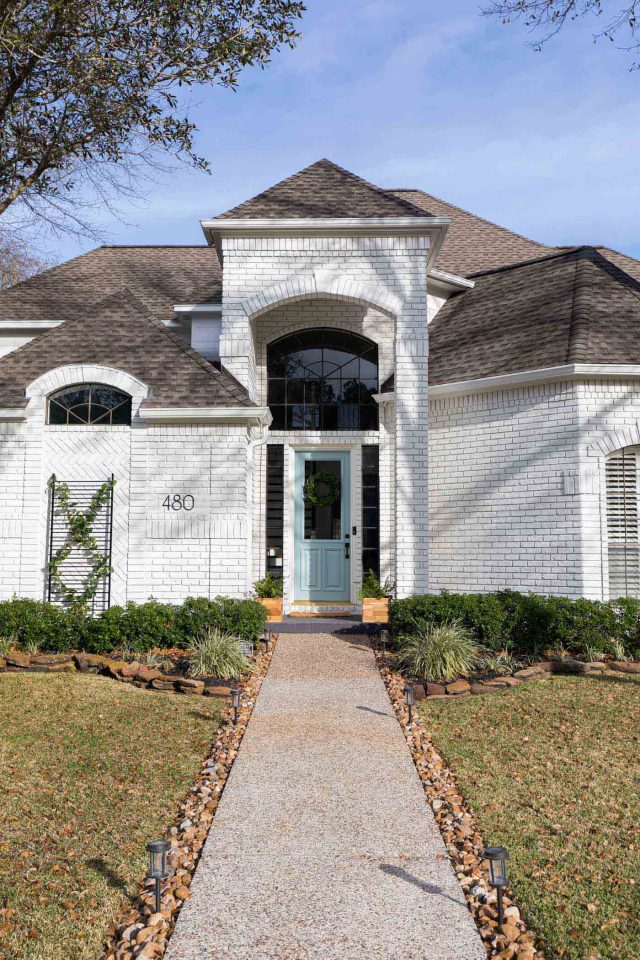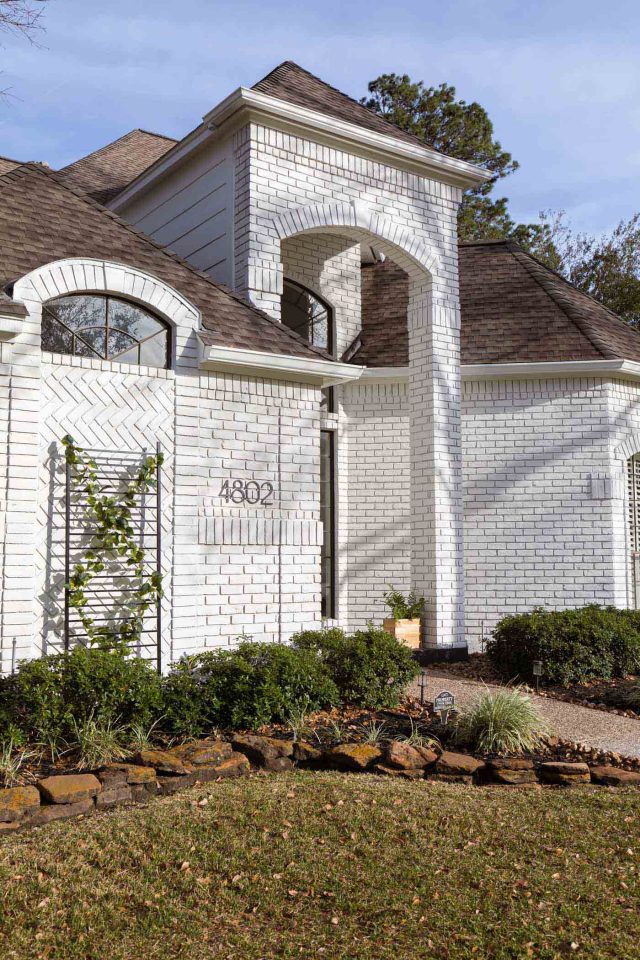 Why Use Limewash Paint on Brick
There are several major benefits of working with limewash paint.
The first is that it will never crack or peel like traditional paint because the unpainted brick absorbs the color into the surface.
Benefits of a limewash painted brick house —
— Limewash paint is very durable and will never crack or peel like latex paints.
— It has a high UV resistance so the color won't fade from consistent sun exposure.
— The paste-like paint is made with crushed limestone, so it's non-toxic and eco-friendly.
— Since hydrated lime has a high pH level, it makes for a natural anti-fungal that deters pests.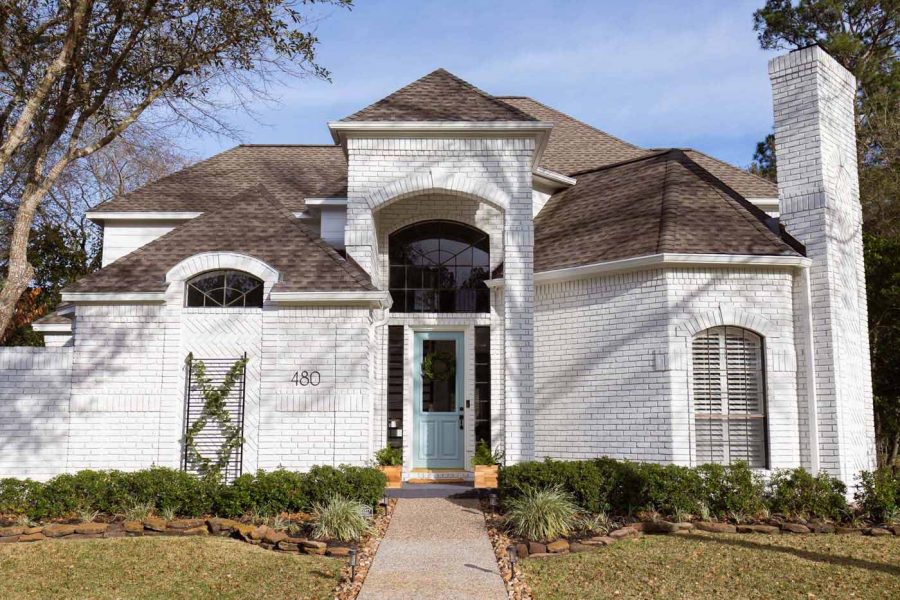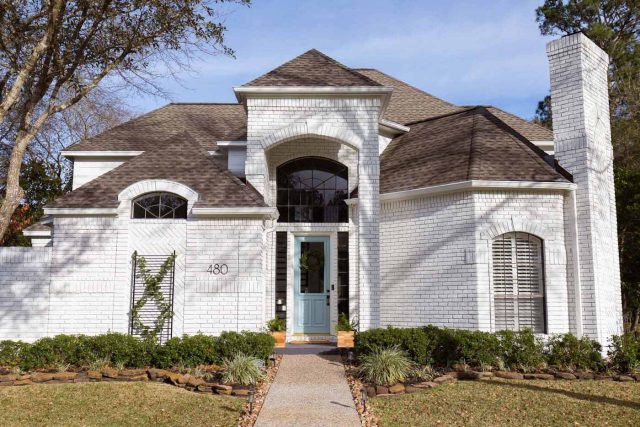 How To Choose An Exterior Paint Color
Classic white brick was our first choice for this house makeover. We opted to use JH Wall Paints in a custom tint to match Benjamin Moore's White Dove.
Being able to custom tint your paint means you can easily match the house trim and other non-porous surfaces to the limewashed brick.
For instance, the wooden white trim is painted with latex paint that perfectly matches the white painted brick.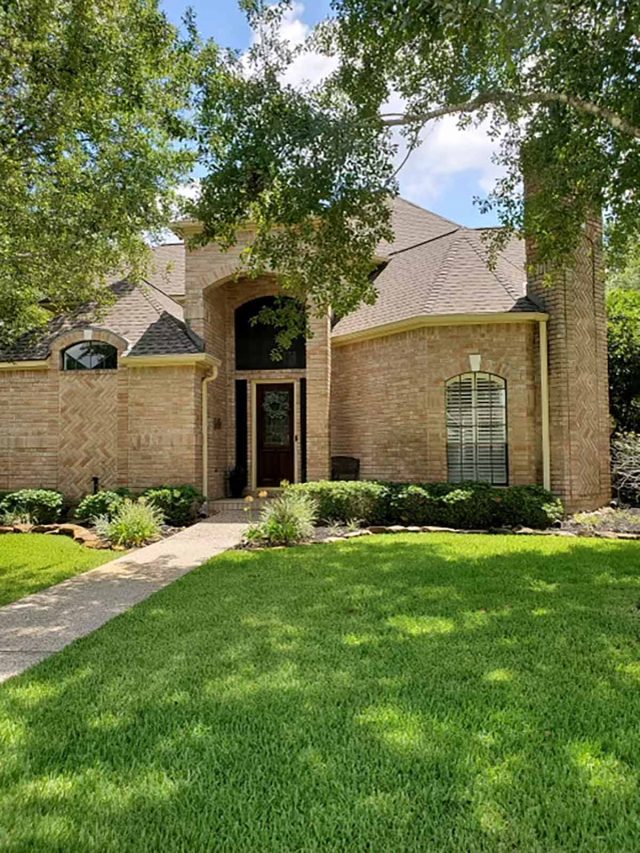 How To Apply Limewash Brick Paint
It's common to spray or roll traditional exterior paints. But with limewash, it's meant to be brushed on using a block brush or masonry brush.
There are plenty of how-to videos for limewash painting, and once you understand the basics, it's a very easy process to adopt.
While brushing on the paint can take a bit longer to apply, it's very easy to DIY on your own. You can even get the hang of it when painting samples for your white color options.
Testing out white wall paint colors will also allow you to see how the limewash takes to your specific type of brick.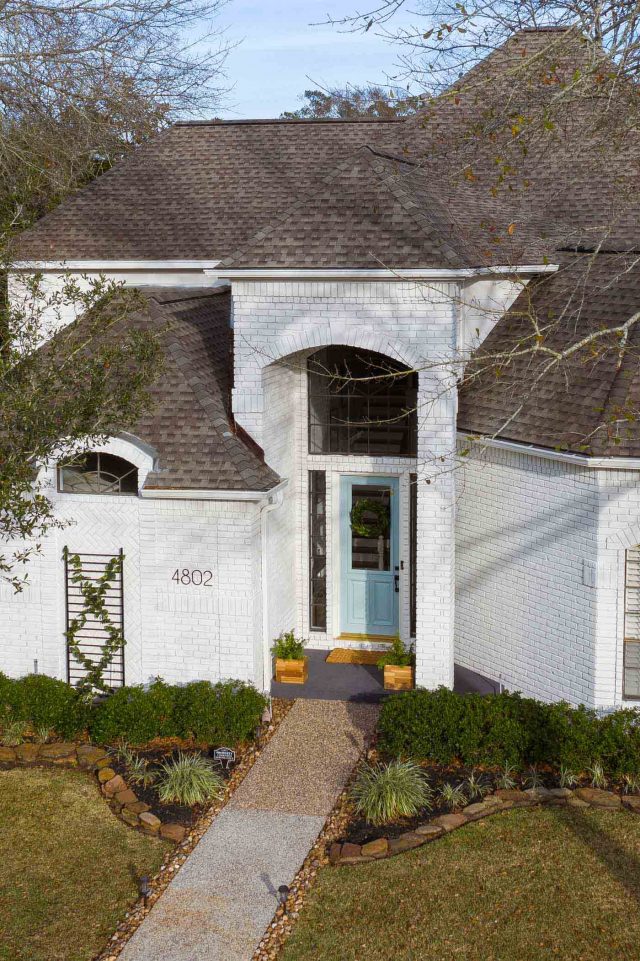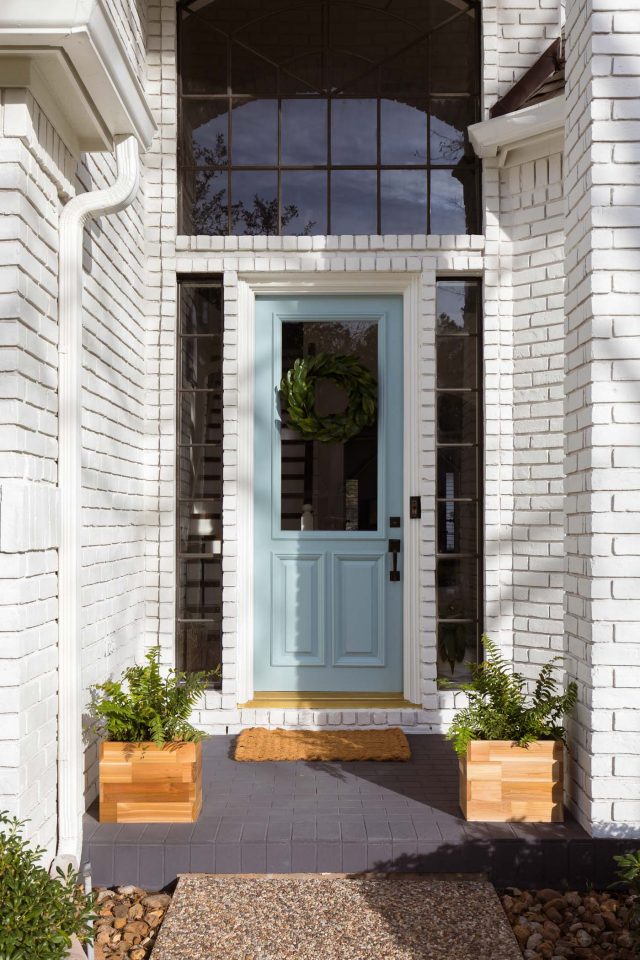 Tips & Frequently Asked Questions
— When choosing a color, keep in mind that lime paint will dry much lighter than the wet color.
— You can paint over top of a limewash paint job, but you will need to use a mineral primer.
— If you're painting in a high-traffic area, you can seal the paint with an interior and exterior sealer for easier cleaning.
— To add depth, you can get creative with how you brush on the paint for added texture and dimension.
— Limewash paint can be used on both interior and exterior surfaces.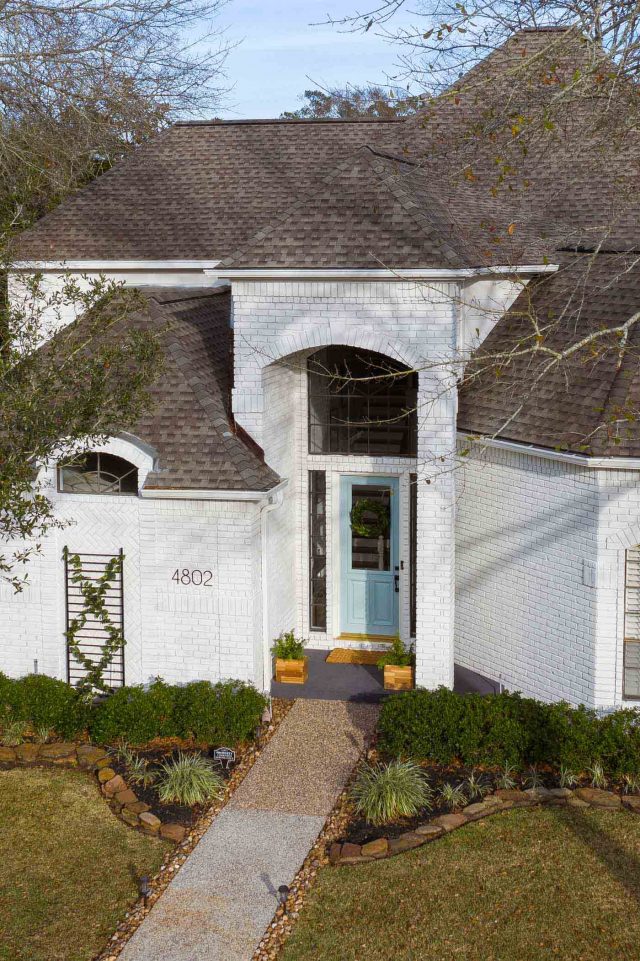 You can also add a pop of color to your front door as we did with this blue-grey door (color is Sherwin Williams Racing The Rain) makeover.
Pair it with modern house numbers, cedar planters, a decorative trellis, and a woven doormat to complete the outdoor makeover!
Find more how-to projects and house updates below —