DIY Geometric Accent Wall — Add a colorful modern (and quick) touch to a wall with our DIY Geometric Accent Wall tutorial.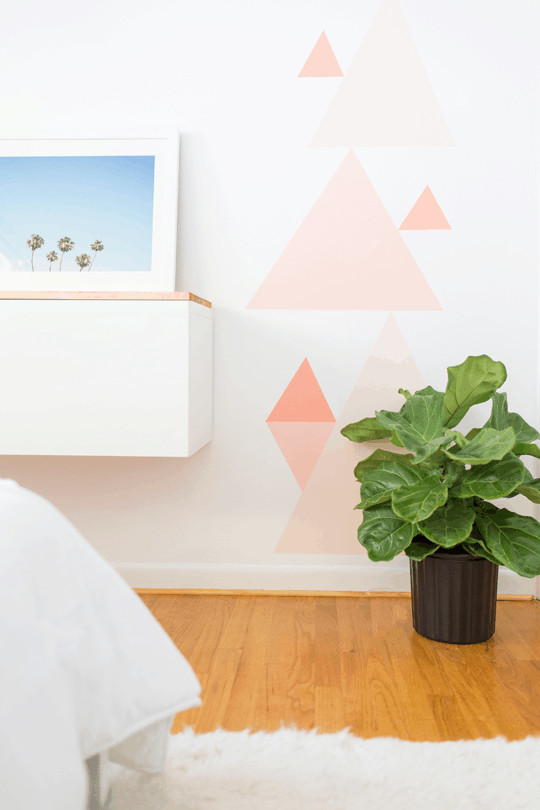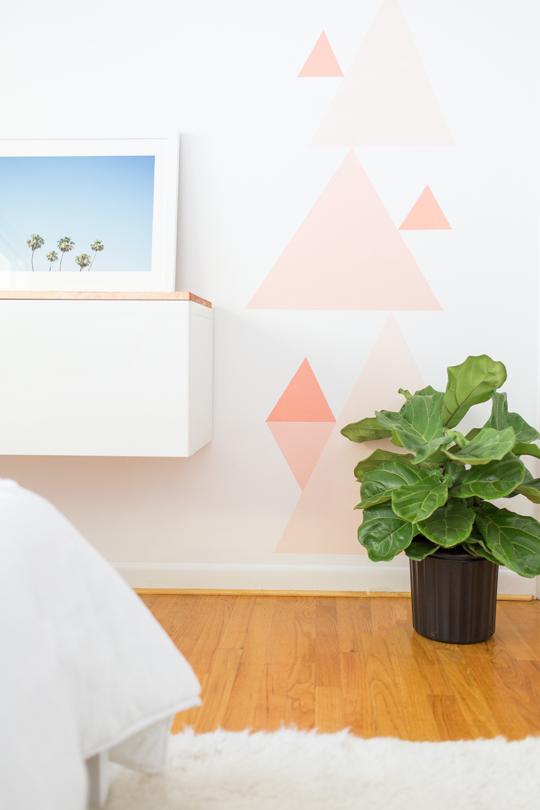 For the second installment (before the full reveal!) of Ainsley's room makeover with Valspar, I present to you my take on the ever-faithful DIY geometric accent wall.
You already all know that I love a good white bright room. But for a little girl, I wanted to punch it up a bit with a colorful modern touch in her favorite colors.
This project is perfect for a quick weekend update because you don't need to go full-force on a whole room.
It's more like a quick table-runner version of an accent wall by just highlighting a small section and leaving the rest of the color up-to the pretty accessories.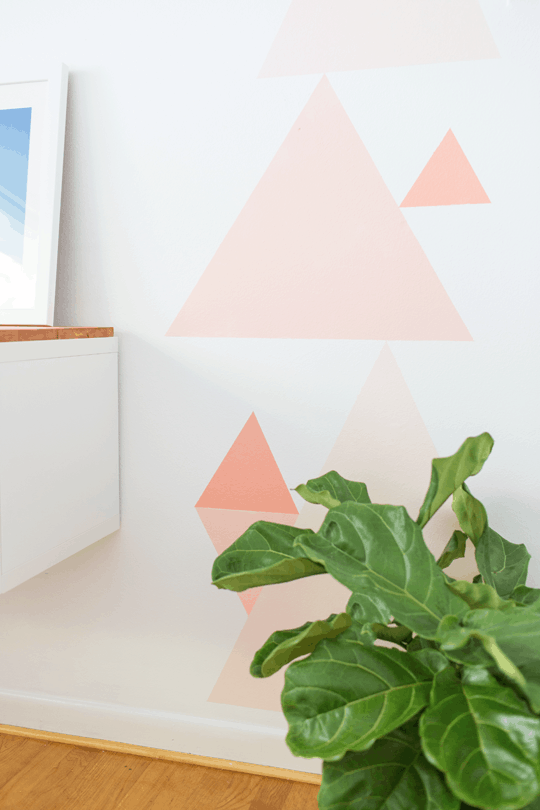 Materials Needed For A DIY Geometric Accent Wall
Mini paint rollers (one for each paint color for quickness)
Painter's tape
Valspar Reserve paint in colors Simply Coral 2001-2A, Coral Mist 2001-2B, and Apricot Ice2001-2C (exclusively at Lowe's)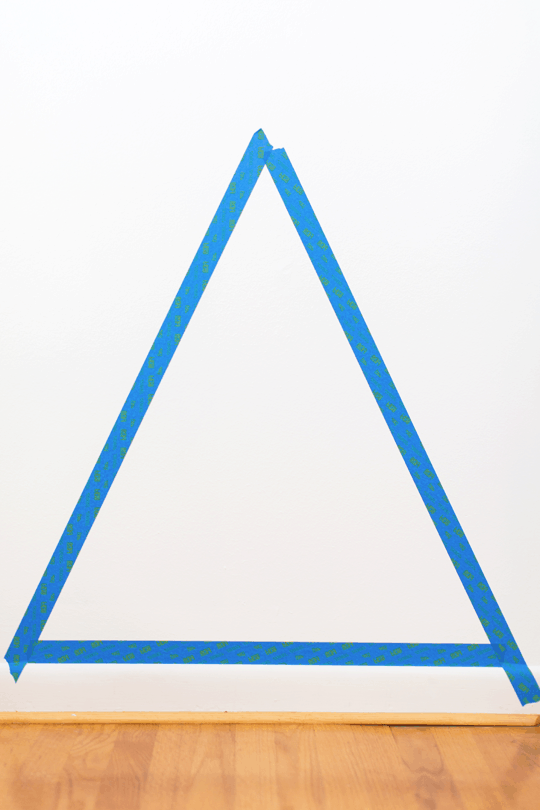 How To Make A DIY Geometric Accent Wall
1 — Starting at the bottom of the wall, use the painter's tape to tape off a large triangle. Use the level to make sure the bottom tape line is straight.
2 — Painting the bottom triangle first will allow you to build up the wall from there and be able to visualize the end product better, especially with all of the Valspar Reserve color options in case you're choosing your own color combinations to mix and match.
By using multiple Valspar Reserve colors from the same color family you're not only keeping the accent wall toned down by not being too contrasting. But you also get to skip the trouble of having to pick just one favorite.
Plus, it's stain and scrub resistant which makes it a great choice for redoing spaces with littles ones that might get a little over-zealous with crayons here and there.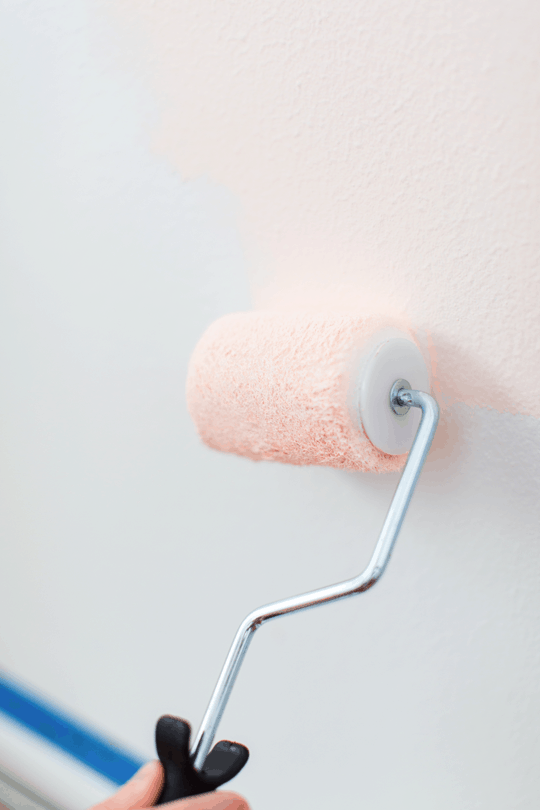 3 — Paint your first color choice in the triangle.
4 — Then, remove the taped edging. Let it dry to the touch
5 — Next, use the top of the first triangle as the base point to your next (somewhat smaller) taped triangle. Make it slightly off-centered from the first triangle so that they stagger up the wall as you go.
6 — Repeat the painting process for all of the larger squares. Let them dry and then using them to move on to the next triangle making sure they all touch.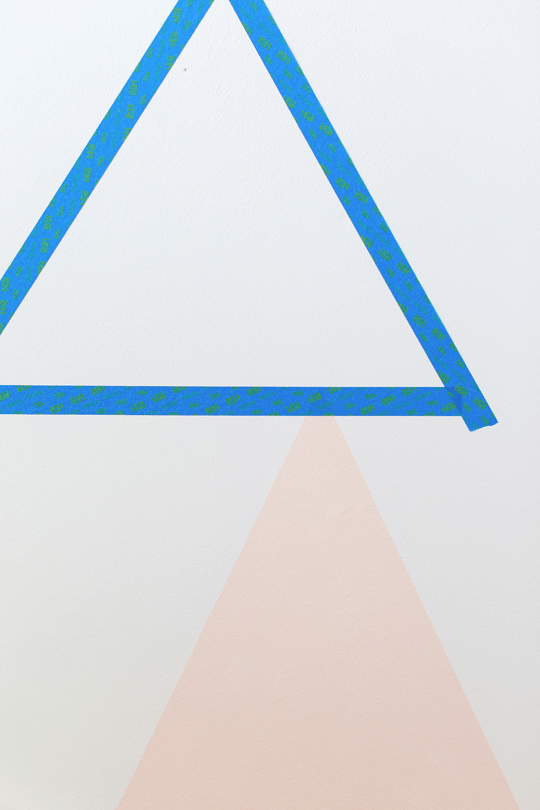 7 — Use the painter's tape and level to make a small triangle on either side of select triangles. You can create more, but we wouldn't recommend creating too many triangles since they are just small points of interest.
8 — Paint the small triangle(s) the colors of your choice. Let dry.
9 — Tape off a triangle that's mirrored upside down on the small triangles to make color blocked diamond shapes.
10 — Paint the mirrored triangle. Allow to dry.
Now you're ready to style and enjoy your quick and easy new geometric accent wall!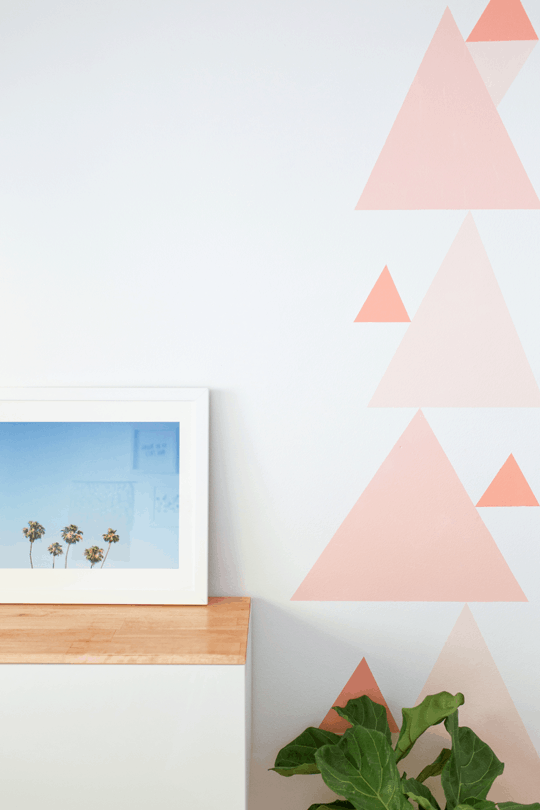 I also really love the idea of doing an ombre version of this project. I toyed with doing so for Ainsley's room. But I wanted to use the colors evenly to create a full wall as opposed to your eyes being directed toward just one section first.
I really love the way it turned out. And it's just the perfect amount of girly for her while still being neutral for when they use the room for guests!
What's your favorite weekend paint project that you've conquered? I'll be honest. I'm always a sucker for quick satisfaction when it comes to room makeovers!
This makeover series is made possible in partnership with Valspar. Find Valspar Reserve, exclusively at Lowe's. Thank you for supporting the brands that allow us to bring bigger and better content to you!