Discover these easy DIY wall painting ideas that will transform the vibe of your space.
Looking for a way to renovate your home without making any structural changes?
Paint offers the easiest and most dramatic transformation, as seen with this painted brick home. And painting your interior can provide just the same refresh.
So we gathered 17 of our favorite handmade easy wall painting ideas to transform your home.
From painting whole walls to just a section, there are plenty of wall painting ideas to make your space unique.
And whether you want to go with a modern, bold or whimsical style, we have you covered in finding the perfect design for you to DIY.
All you need to do is head to the store and personalize these ideas with a color scheme that best matches your space and vibe.
Just don't forget a roll of your trusted painter's tape to make sure your final peel-off is as satisfying as can be!
Easy DIY Handmade Wall Decorating Ideas
1 — Sponge Wall
Give life to any blank wall in your house on a budget. For this easy DIY sponge wall, just take any sponge and paint color you wish to create any design of your choice. We love these classic vertical lines of this particular makeover.
2 — Faux Brick Design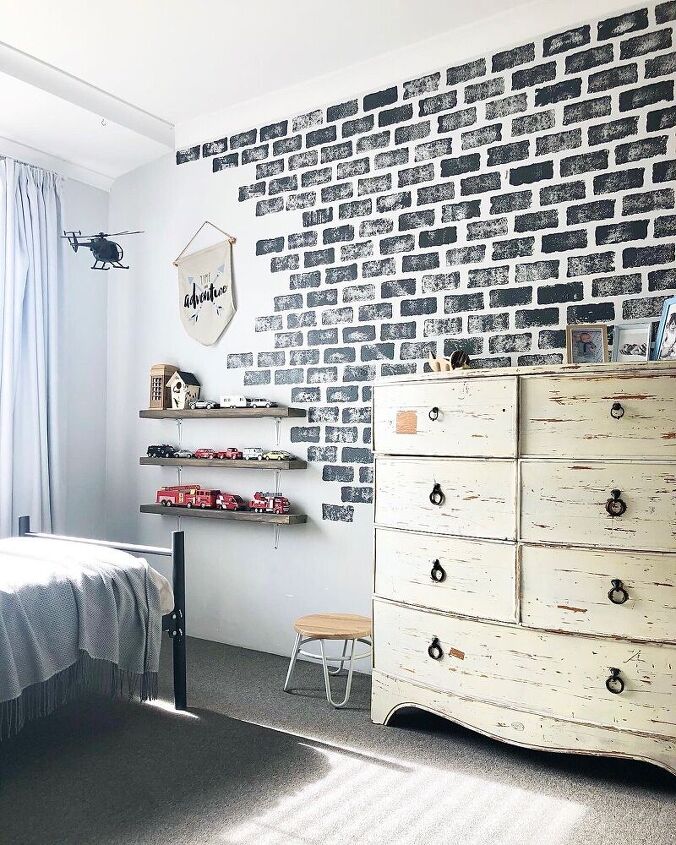 The sponge is here to save the day again. This classic DIY brick design with paint is perfect for a boy's room or even your husband's office.
You can cover a whole wall or just partially. This quick DIY project only takes three supplies too!
3 — Gold Leaves
Gold is shimmery and shiny and just makes everything prettier. Liquid gold leaf paint and freehand leaves create an eye-catching nature wall painting.
This DIY Gold leaves wall mural will elevate any space, and you get to express your creative side simultaneously.
And there are so many other DIY projects that you make with gold paint, like this DIY fringed mirror wall hanging.
4 — Abstract Shape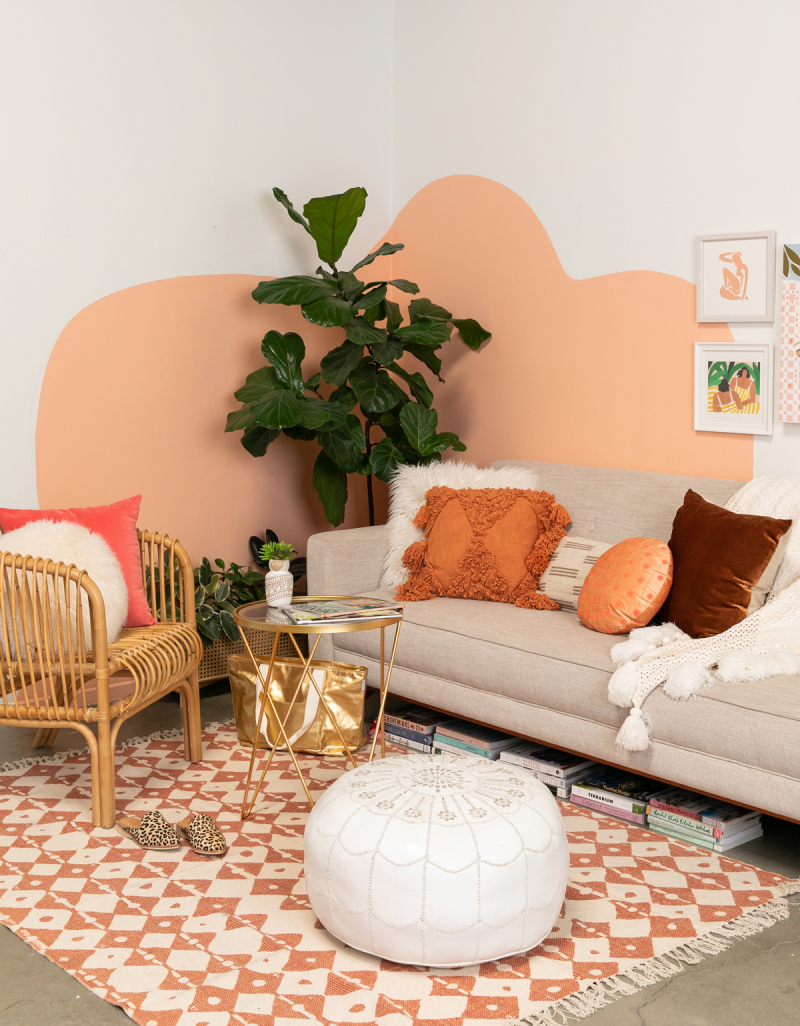 A single abstract shape painted in the corner of Oh Joy's living room makes such a big statement. It makes for a unique focal point without having to paint your whole wall.
5 — Geometric Shapes
This fun geometric shapes mural was created by taping out geometric shapes and tracing household objects. What's great about an abstract piece is that nothing has to be "perfectly" lined or shaped.
6 — Handwriting Statement Wall
This DIY handwriting statement wall is a unique way to personalize your space. Pick out your favorite phrase and break out your favorite painter's tape (to make sure you write in a straight line).
7 — Geometric Triangle Wall Art
Add a modern touch to your space in just an hour with this tutorial for a DIY geometric triangle wall. The wall art design is very gender-neutral, so it works well in any room.
8 — Mountain Mural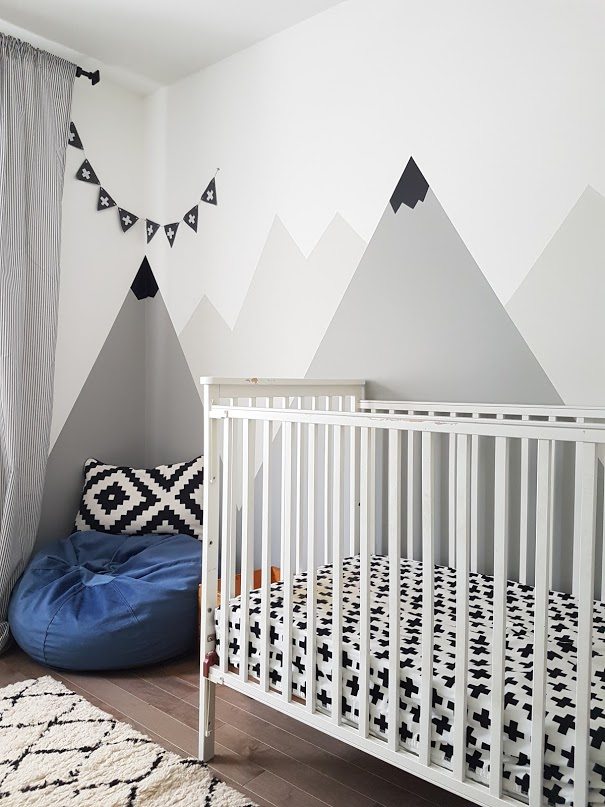 The decorating ideas for nurseries are endless, but this DIY mountain mural is one of our favorites. All you need is some painter's tape and a little bit of patience. You can further this natural theme with some DIY animal knobs.
And though the original idea was meant for a kids' room, it could actually work for any space.
9 — Drippy Wall
A little extra color will cheer up any mood and room. This DIY Rainbow Drip Wall is an easy way to brighten up a space. Syringes were used to apply the drip effect to this creative wall.
DIY Creative Wall Paint Ideas and Designs
10 — Honeycomb Design
This honeycomb design has stayed in style for years, and it is not going anywhere anytime soon! This DIY Ombre Hexagon Wall is an easy low-cost project. You don't even need a stencil to create this look.
11 — Random Rectangles for a Color Block Accent Wall
Painting a DIY Color Block Accent Wall is a quick wall to transform your living room. Just tape off random rectangles and get to painting. You can even paint over your colored block if you ever change your color scheme.
12 — Line Arch Accent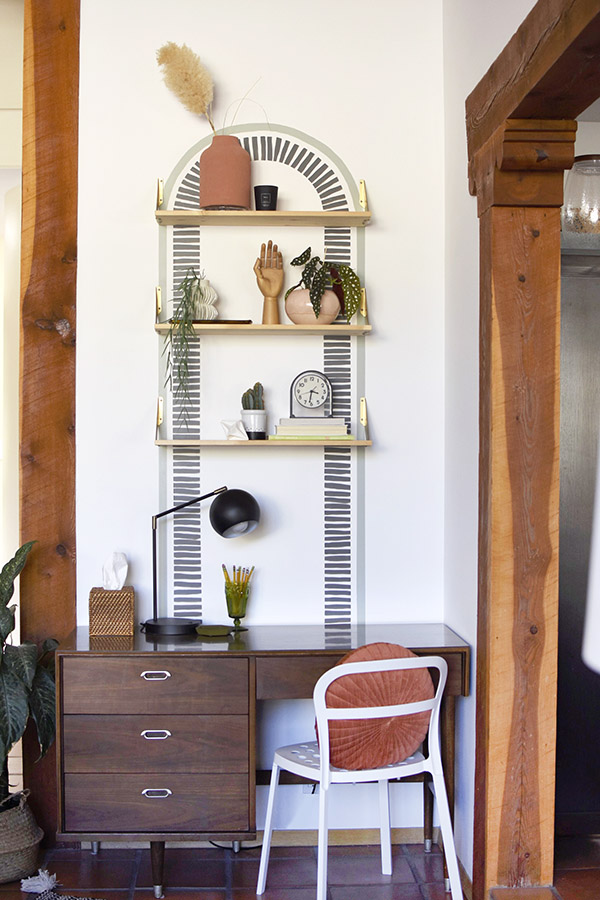 Arches came in style recently, and we are loving them. This DIY arch accent wall is a great way to transform a narrow space with just a can of paint.
They even added shelving to maximize storage space, which you can also do so with some Ikea hack wooden distressed shelves.
13 — Polka Dots
This whimsical polka dot paint design was achieved by none other than sweet potato halves! We love idea since stamps create different textures. Not all the polka dots are alike is shape and shade. So start stamping away!
14 — Circle Ombré Wall Painting Design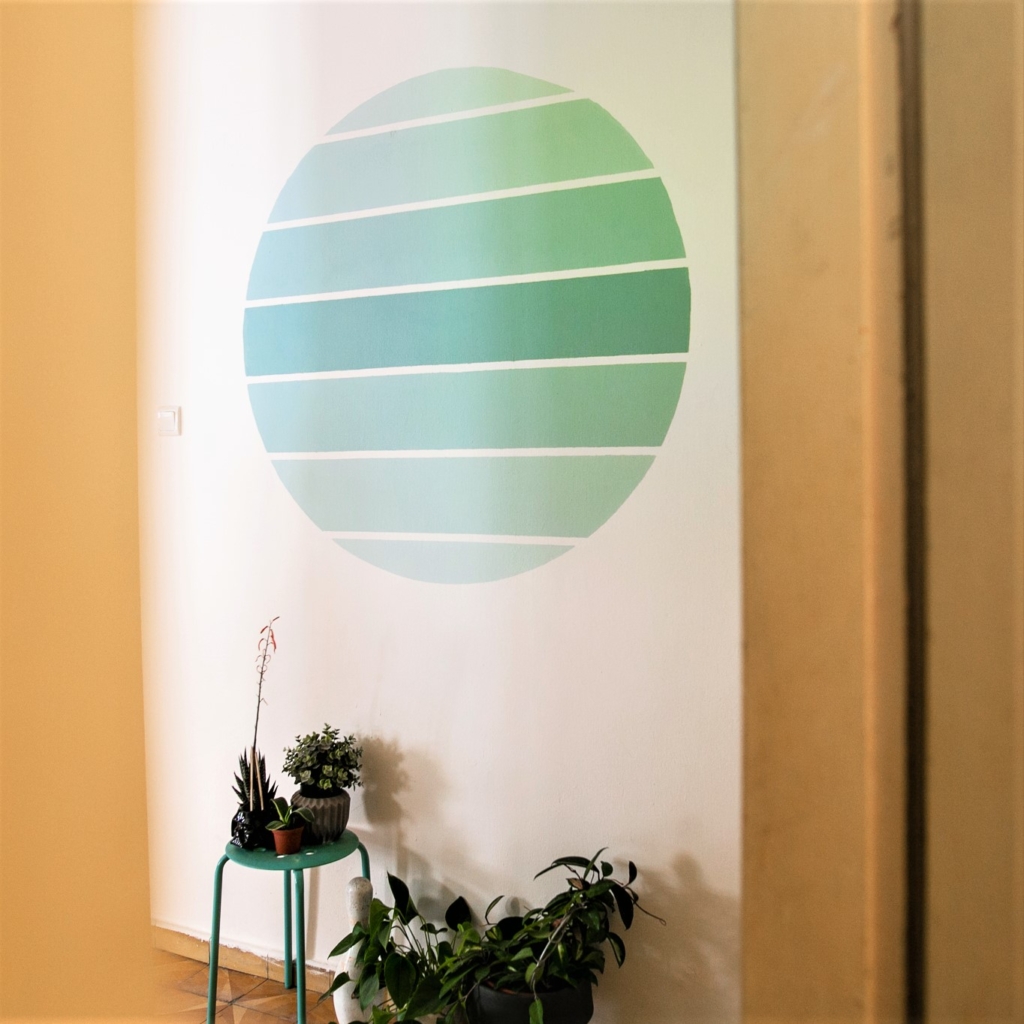 This DIY Circle Ombré Wall Painting is a unique twist on a classic accent wall. Buy a roll of nice painter's tape to ensure you have crisp lines after the satisfying final peel.
15 — Flower Accent Wall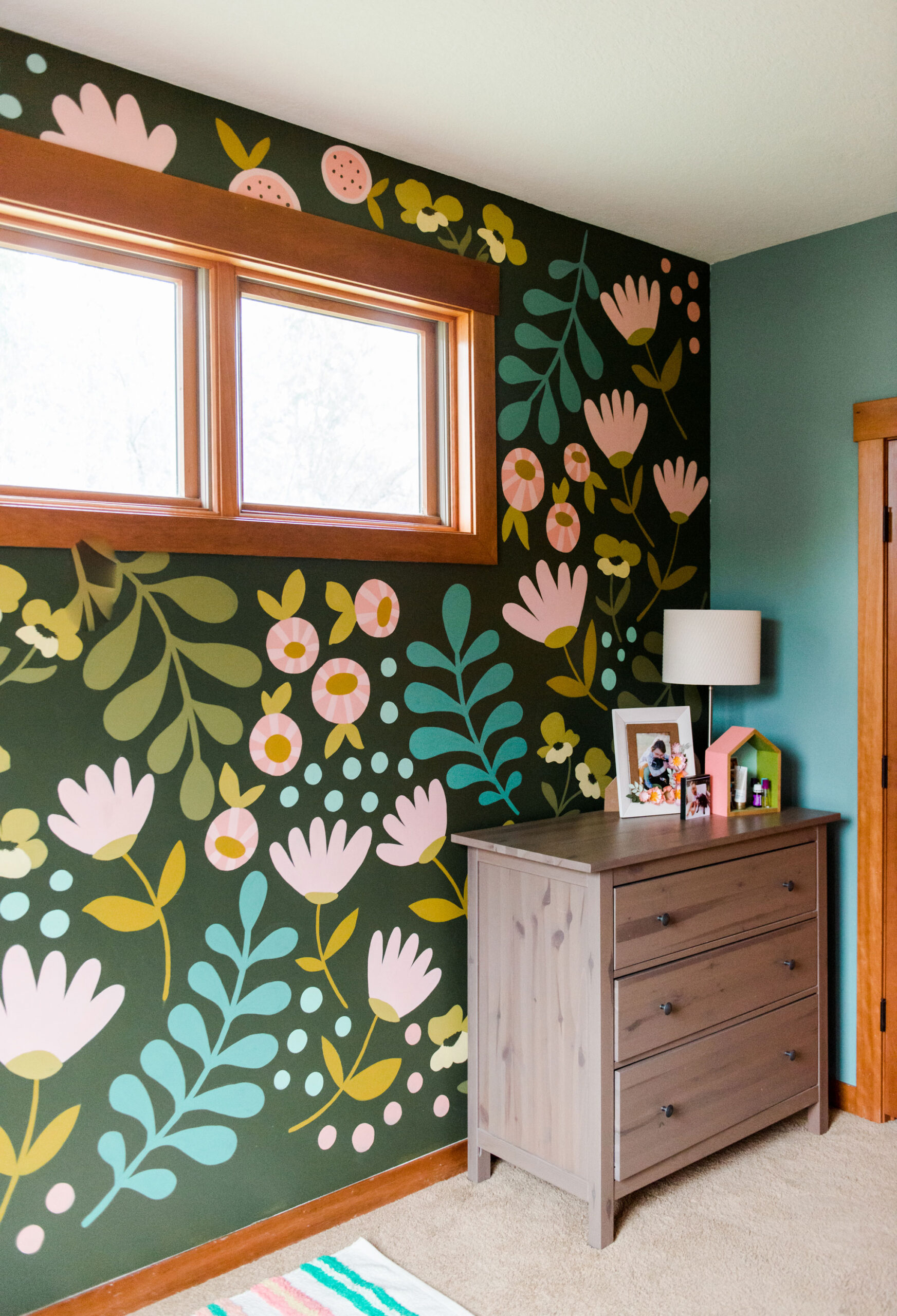 Florals are always a classic. This colorful DIY Flower Accent Wall is perfect for a little girl's bedroom. Even customize every single color to match your personal style!
16 — Hand Painted Dashes
This DIY hand painted dashes Accent Wall has to be one of the simplest accent walls you can create. Just use a level to make sure your lines are straight and get striping. We did this to elevate our guest room, and it did just that.
17 — Vertical Lines
Something as simple as painting DIY vertical lines will make a room feel one of a kind and proves that you don't need to be an artist or designer to renovate a space.
18 — Boho Stencil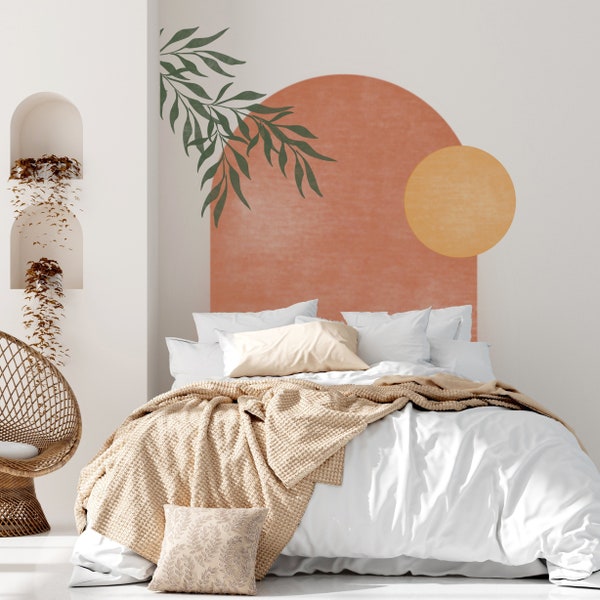 If the thought of painting your own designs is terrifying, then opt for stencils like this Boho stencil kit. It includes a stencil for the arch, sun and leaves. Plus, it's reusable! Paint designs behind a bed for stunning a headboard effect or behind a sofa or nursery crib.
More Decor Ideas
And once you're done with these handmade easy wall painting ideas, check out more walls to decorate your walls —
Easy Wall Art Projects to Try at Home