Little Girl Room Ideas — This very colorful toddler girls bedroom is actually super simple to recreate and a fun color scheme that they can grow into! Plus, there are plenty of DIY room decor ideas to go around…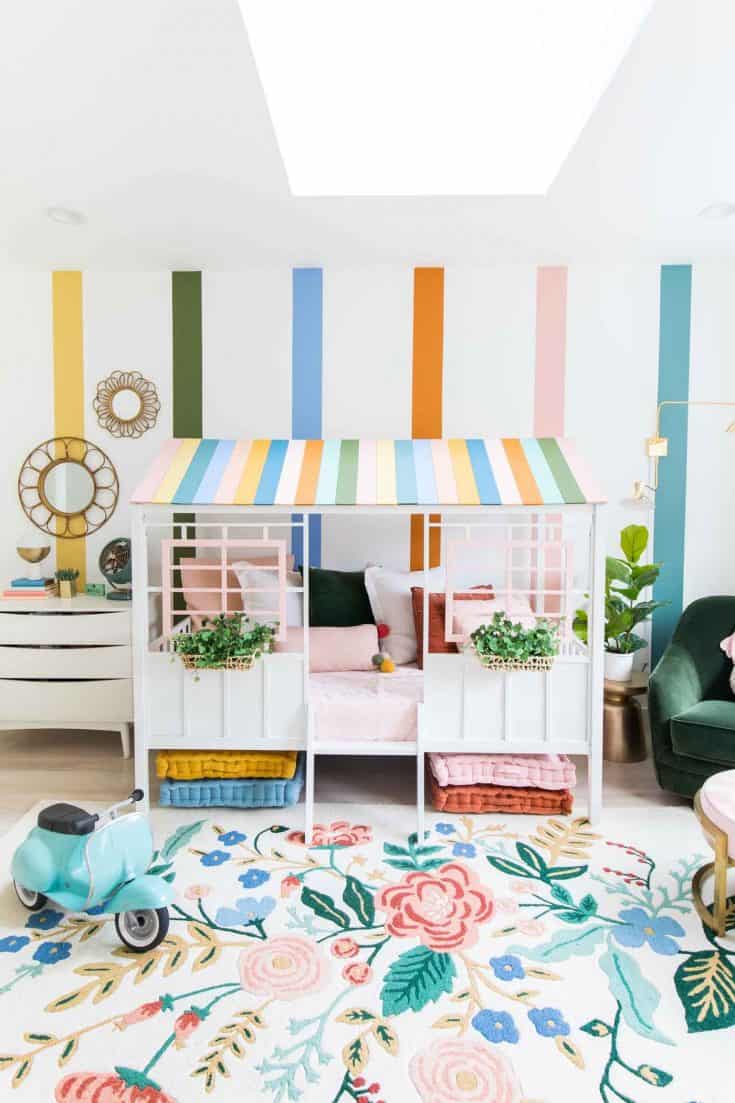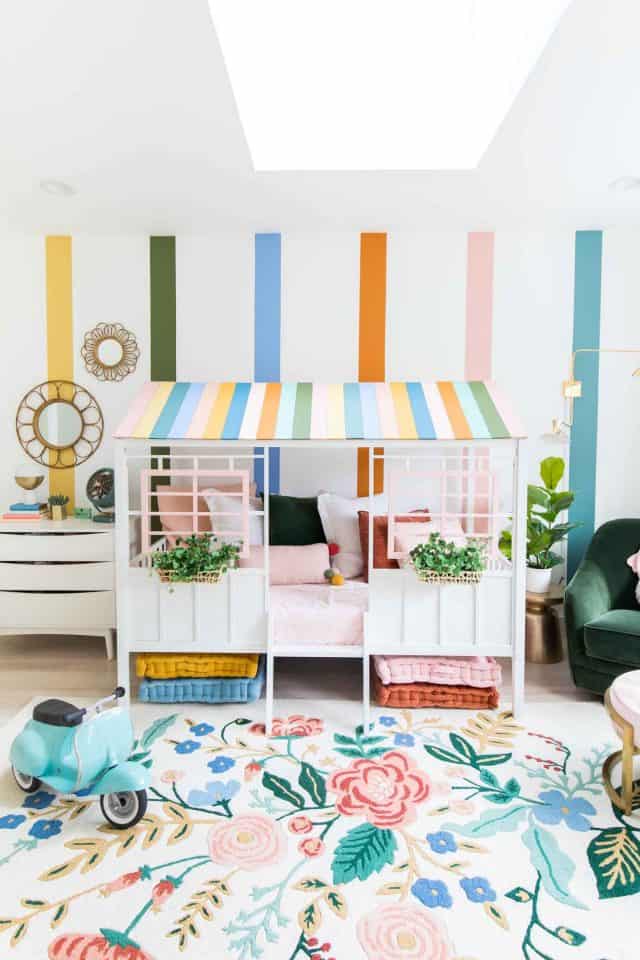 To be honest, my color-loving heart is aching over how cute Gwen's bedroom turned out! I can barely stand it!
Needless to say, this is by far the most fun room in our new house if you ask me.
We partnered with Behr to feature their 2020 Color Trends and really bring her room to life. The before and after photos will seriously make your jaw drop. Trust me!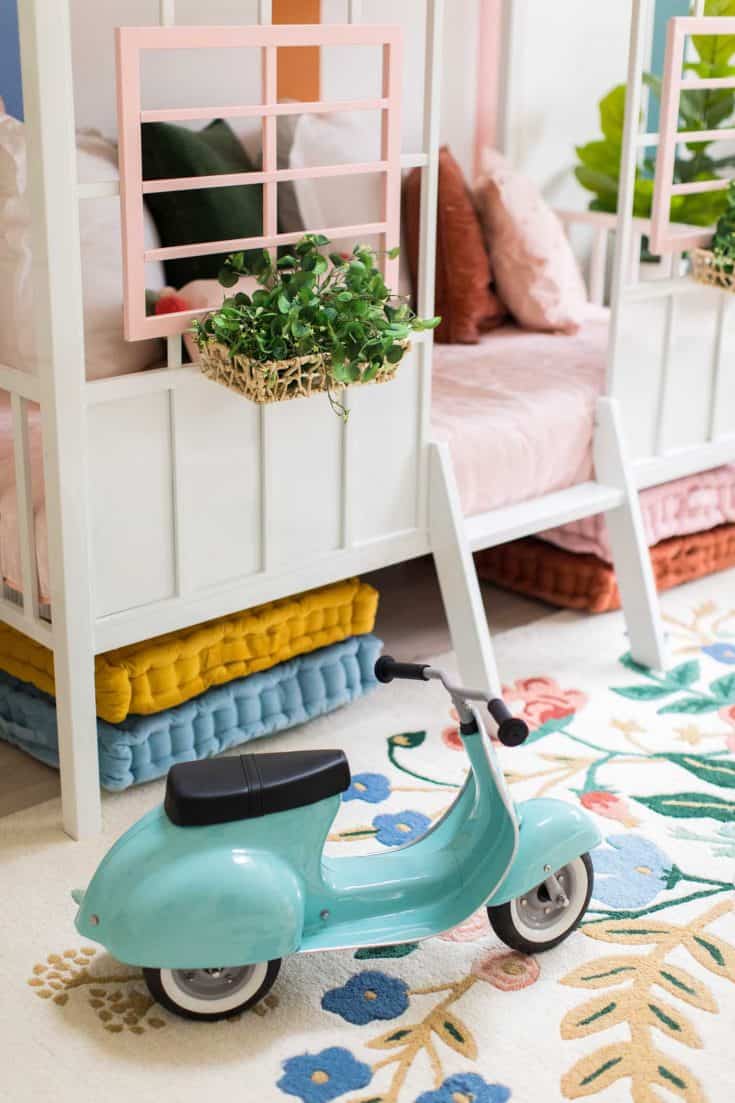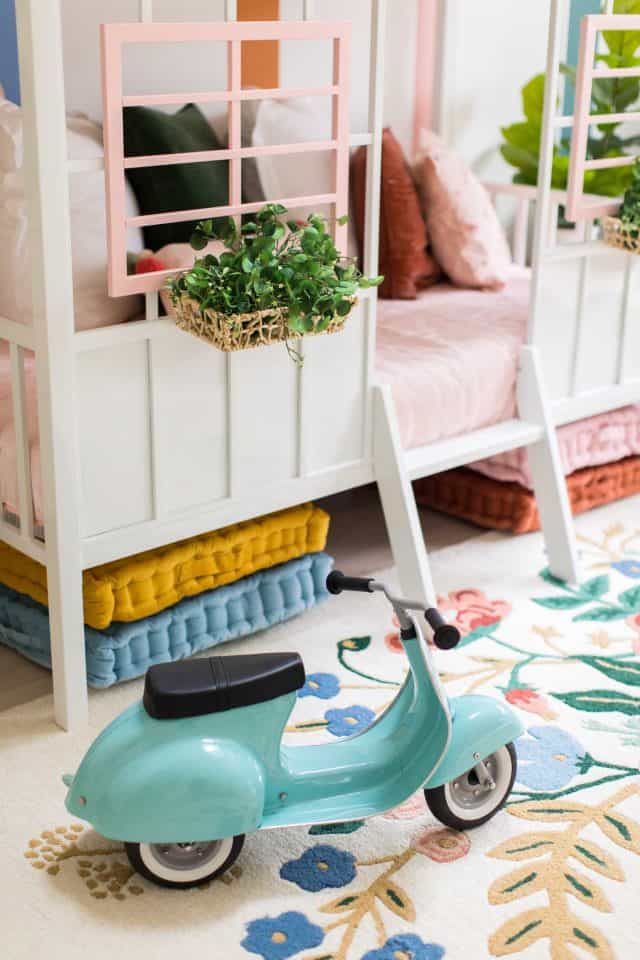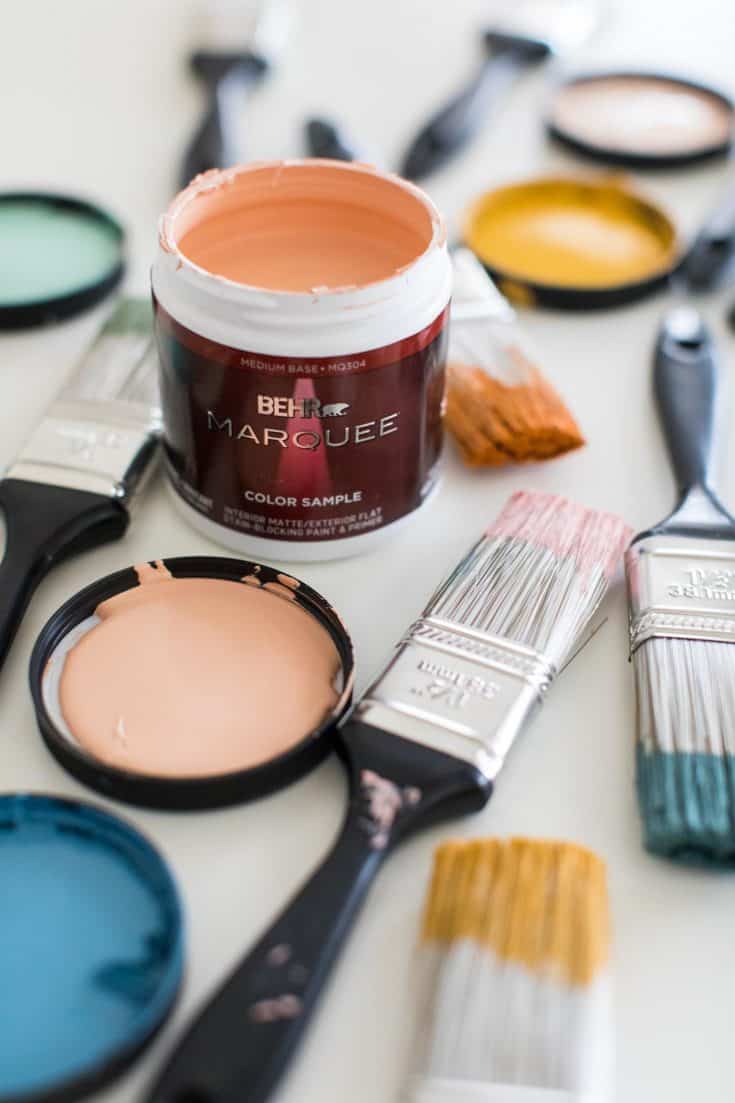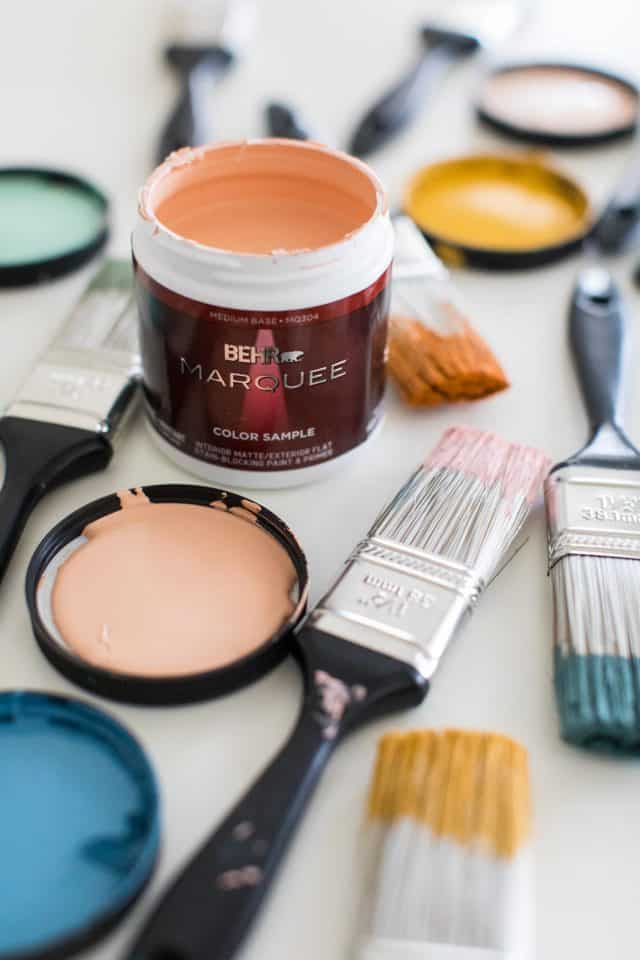 Before we get into the design details, let me just say that if I could go back in time, I wouldn't have bothered designing a true nursery.
I would've just skipped straight to designing for a toddler room, and save the money.
Infants don't care what's in their room. And they spend most of their time in a bassinet near Mom and Dad to begin with anyway!
That's why we're not decorating a nursery for baby girl number two. And instead, we really invested in this little girl room design to last.
Now, brace yourselves for these before photos…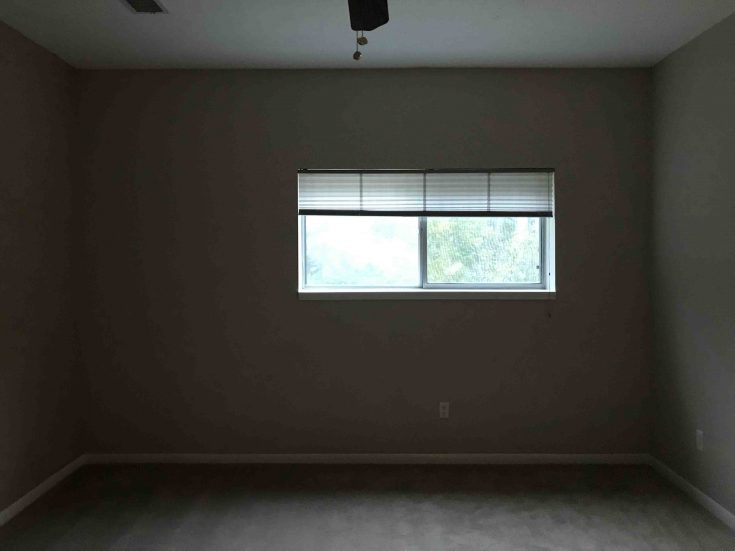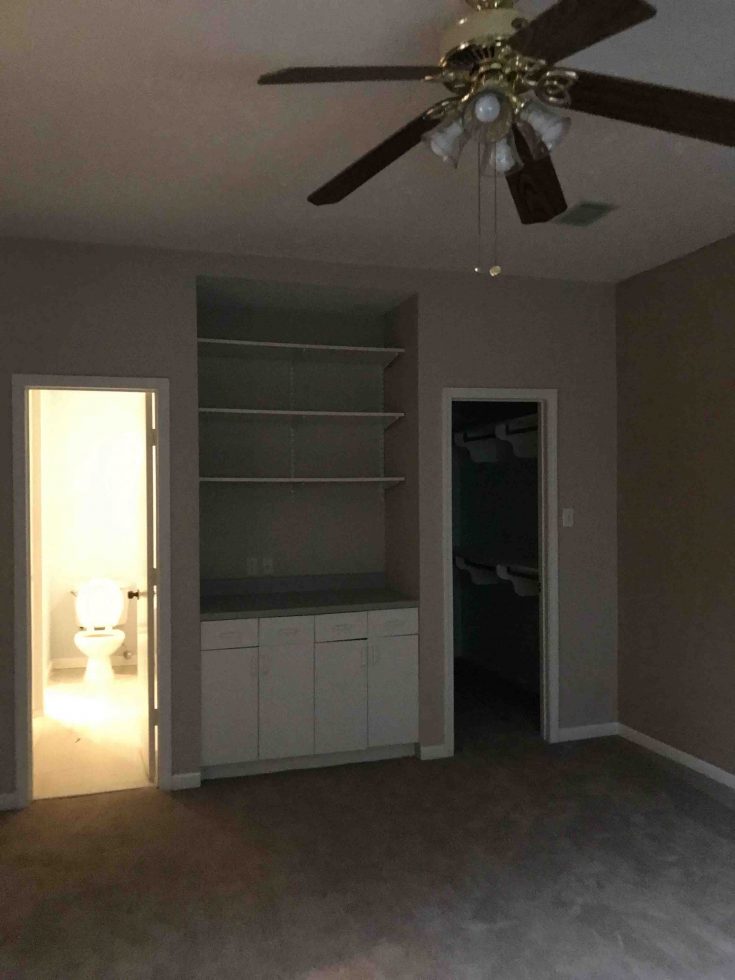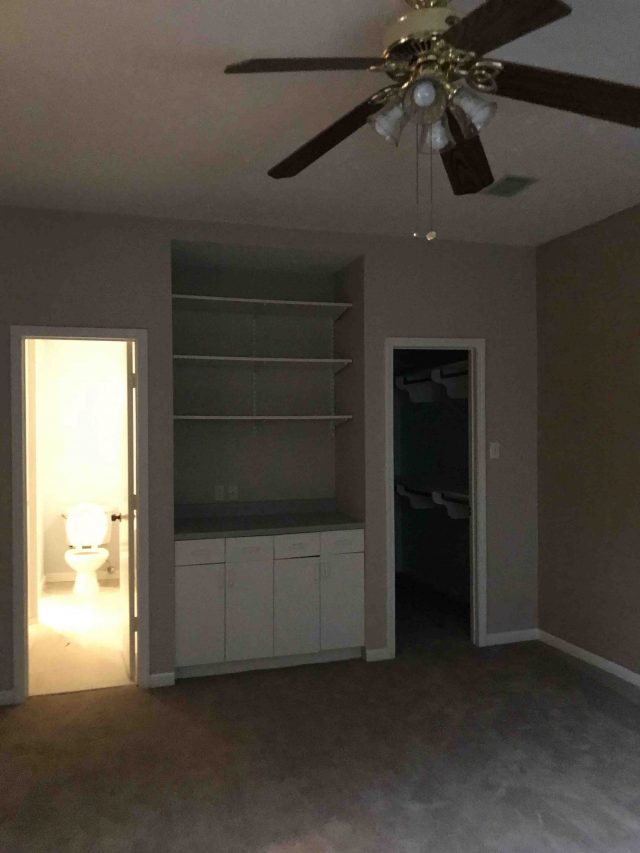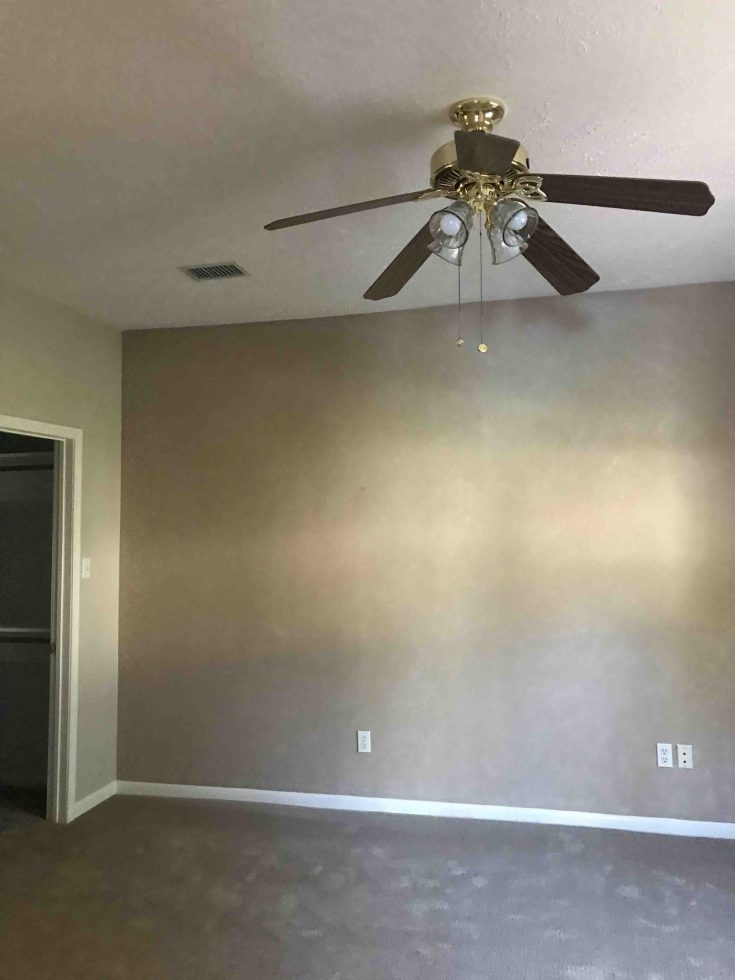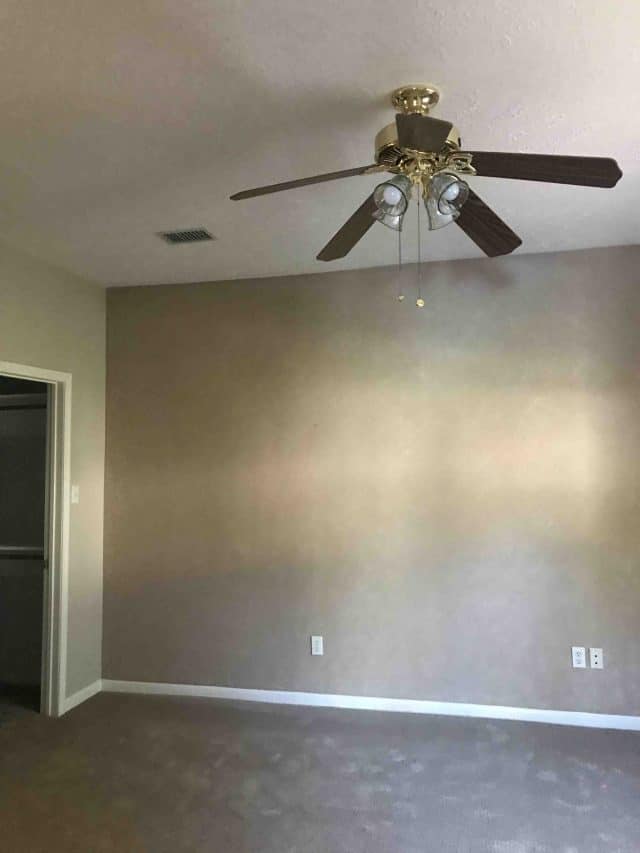 Girls Bedroom Renovation
Picking out the paint color scheme and decor is obviously the fun part. But we had QUITE a lot to conquer before we got that.
Believe it or not, the above photo of Gwen's room when we bought this house was actually taken during the day! It was SO so dark all the time.
Our renovation process for the new house started last November. And we've come a long way since.
First, we had our construction team, Genesis CP, replace was the old carpet with Stuga Studio Elderflower flooring and gut the weird built-ins.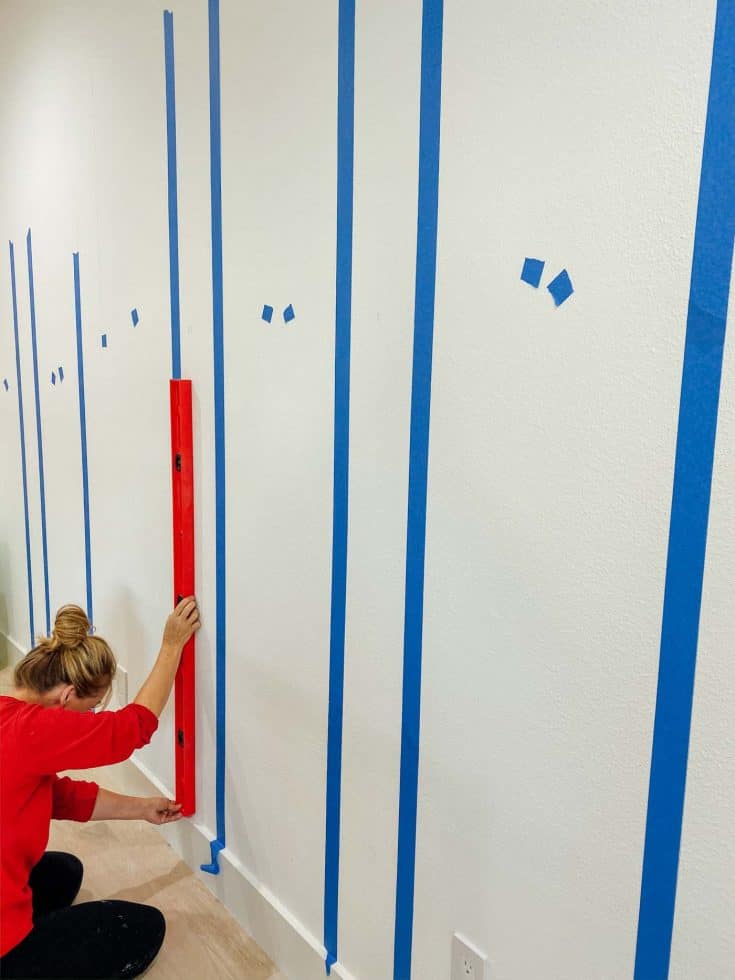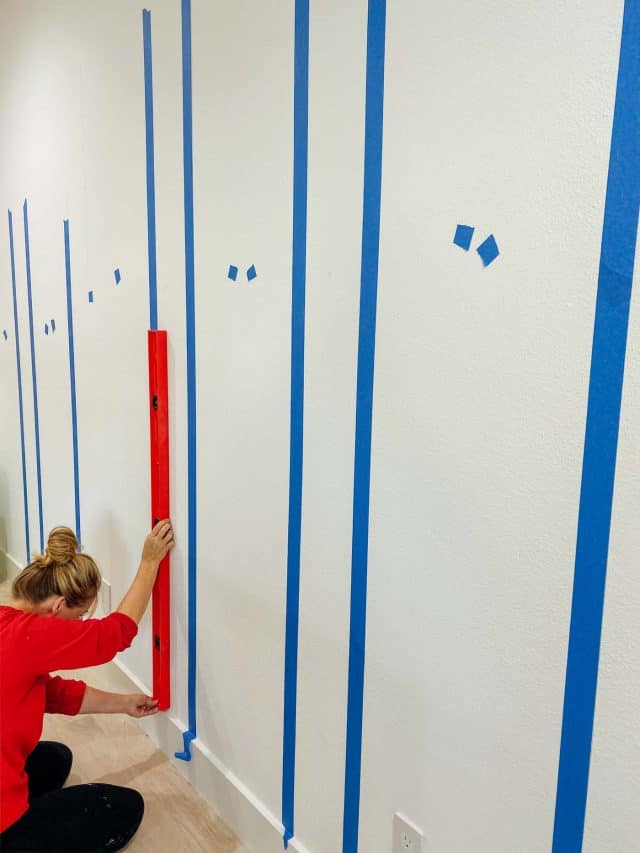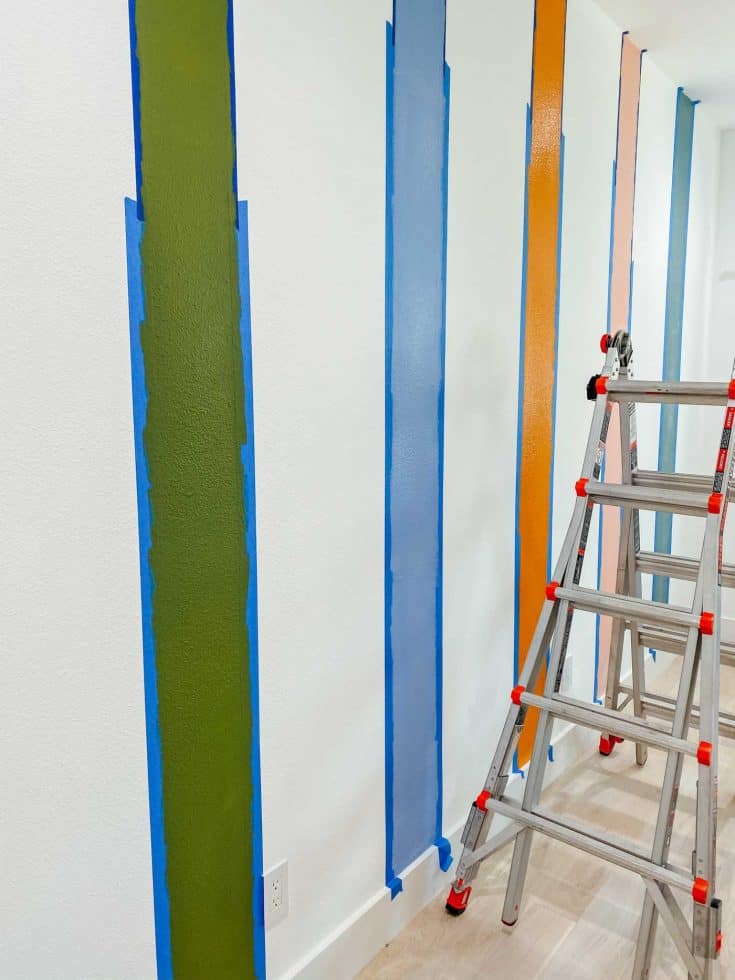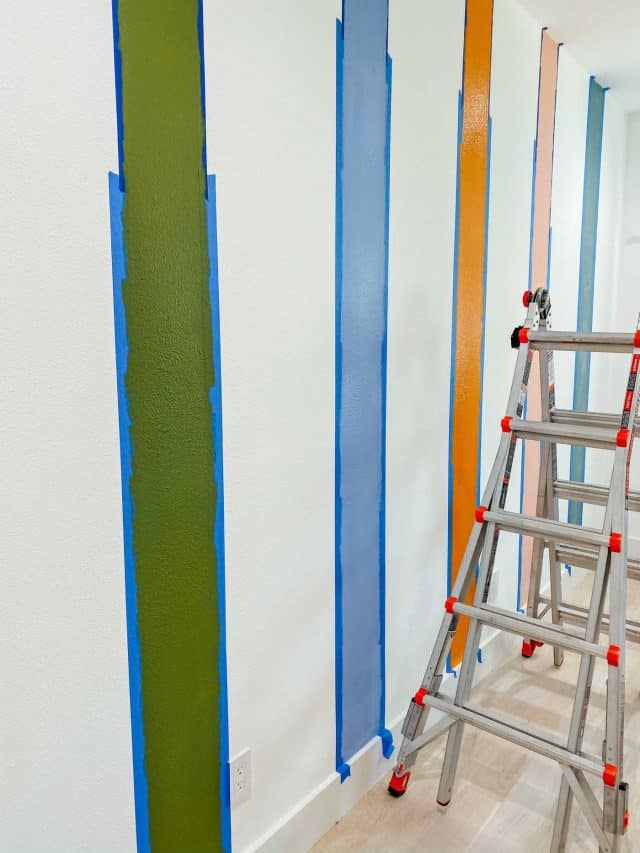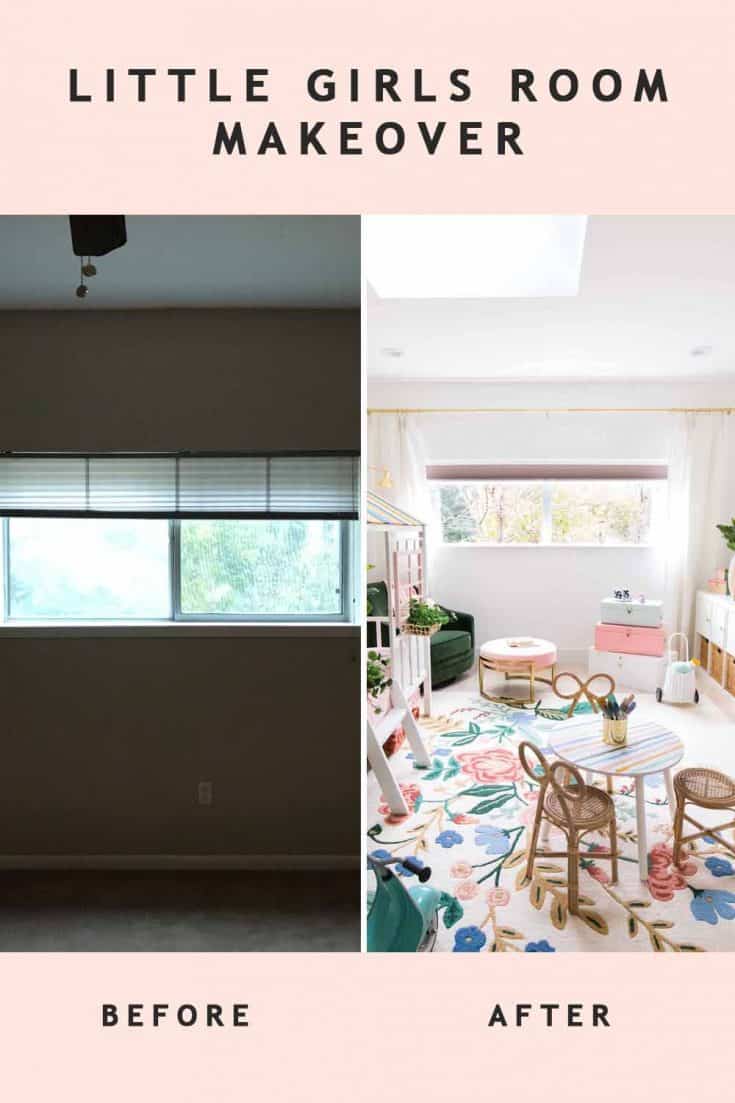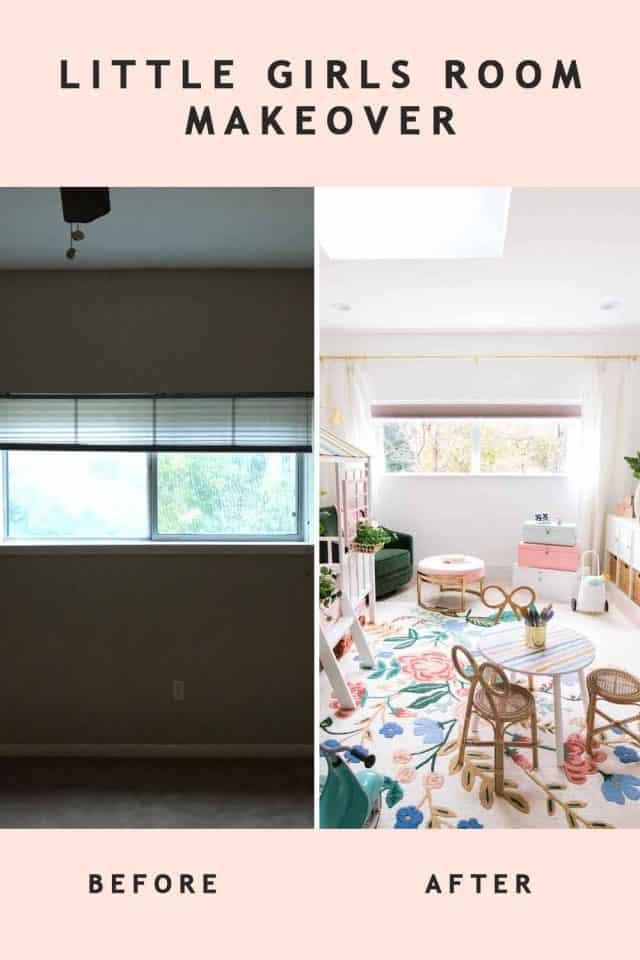 How To Brighten Up A Room
Removing the dark carpet helped brighten the space a ton. But we still had only one small window of light to work with.
To really brighten the room up, we installed a Velux solar-powered, fresh-air skylight (with a room darkening shade because naps!).
It was pretty exciting seeing all the natural light in Gwen's room for the first time. And we love that the skylight can be opened with a smartphone app to bring fresh air into the room.
Also, Genesis replaced the small old window with a picture window double the size.
Installing the skylight meant that we had to get rid of the ceiling fan. So it was then replaced with four recessed lights.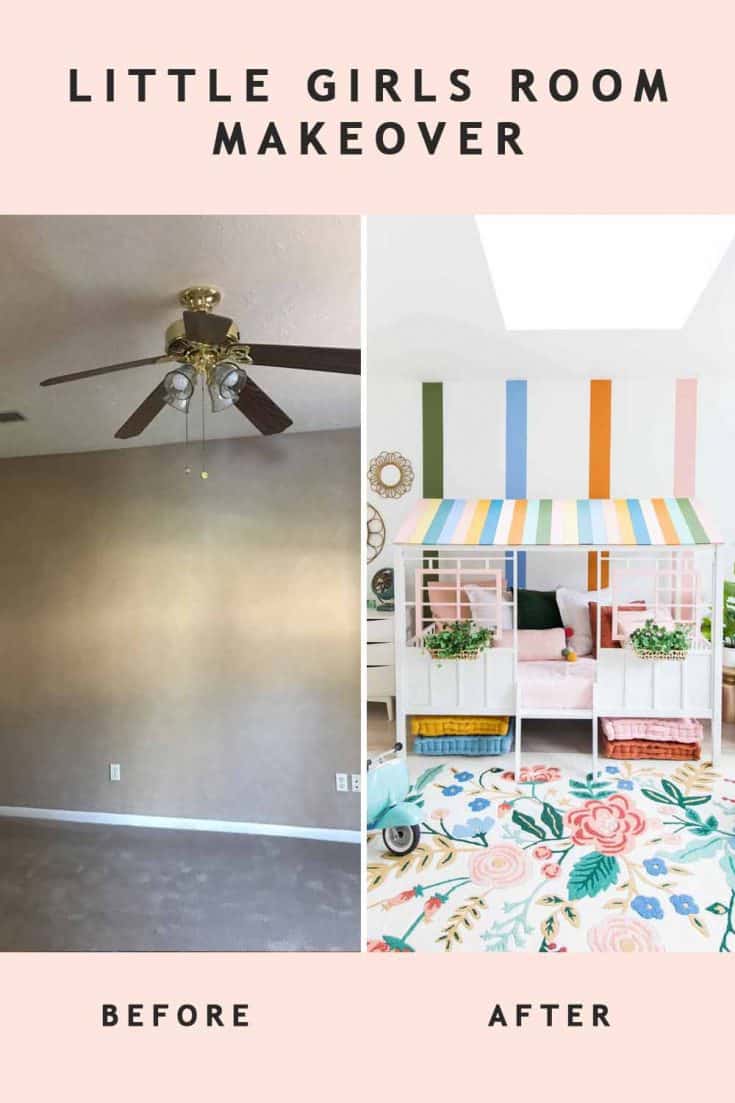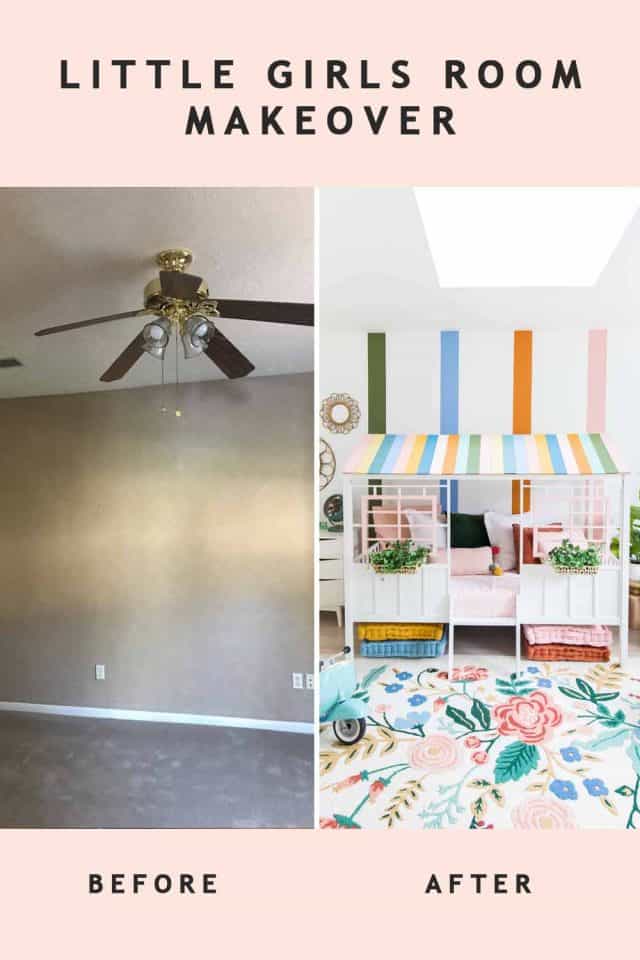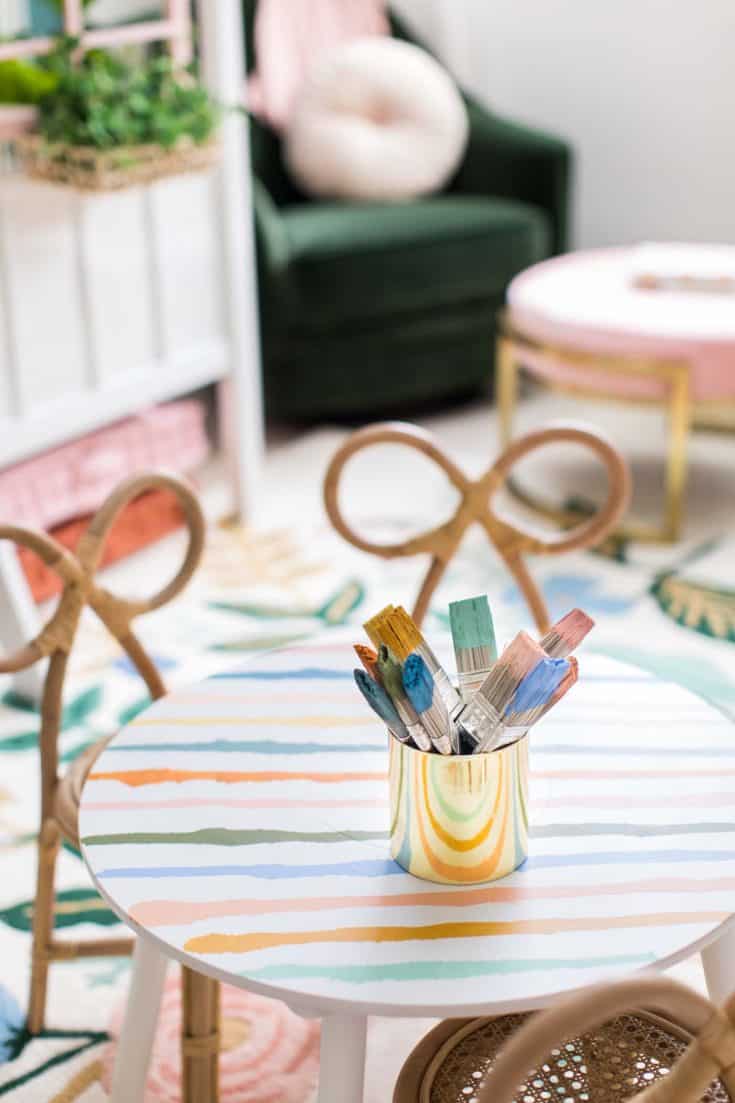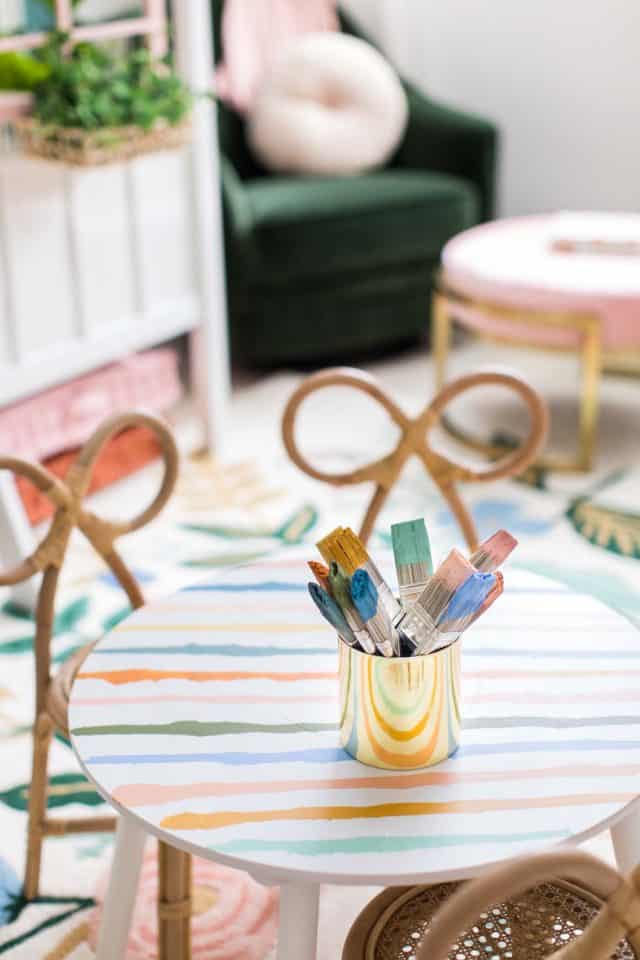 Little Girl Room Ideas | Our Paint Color Scheme
Once we had those elements knocked out, picking out our paint color scheme and decor elements began!
I literally designed the entire room around these Behr paint 2020 Color Trends for the wall stripes— Dragonfly, Bubbleshell, Rumba Orange, Bluebird, Charismatic, and Secret Meadow.
Since I planned to have a lot of fun decor elements in this room design, I decided to keep the base of the walls neutral by painting them with Behr Ultra Pure White before applying the painted stripes in the six color trend colors.
In case you're renting or afraid to commit to the wall color, you can easily make the wall stripes from custom wall decals by painting plain wall removal wallpaper too!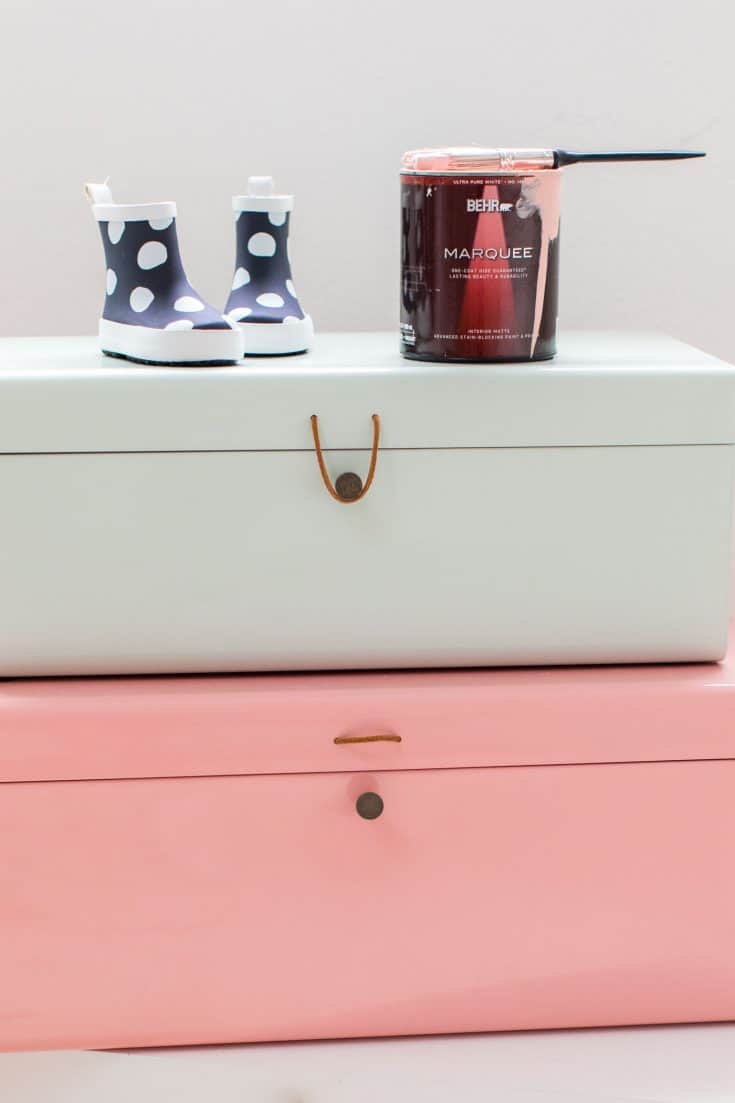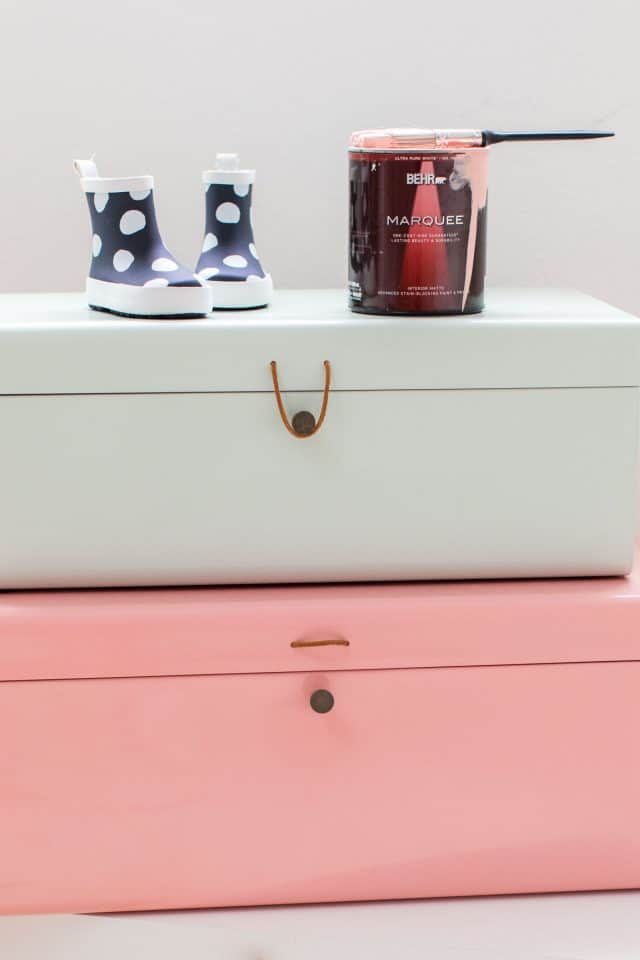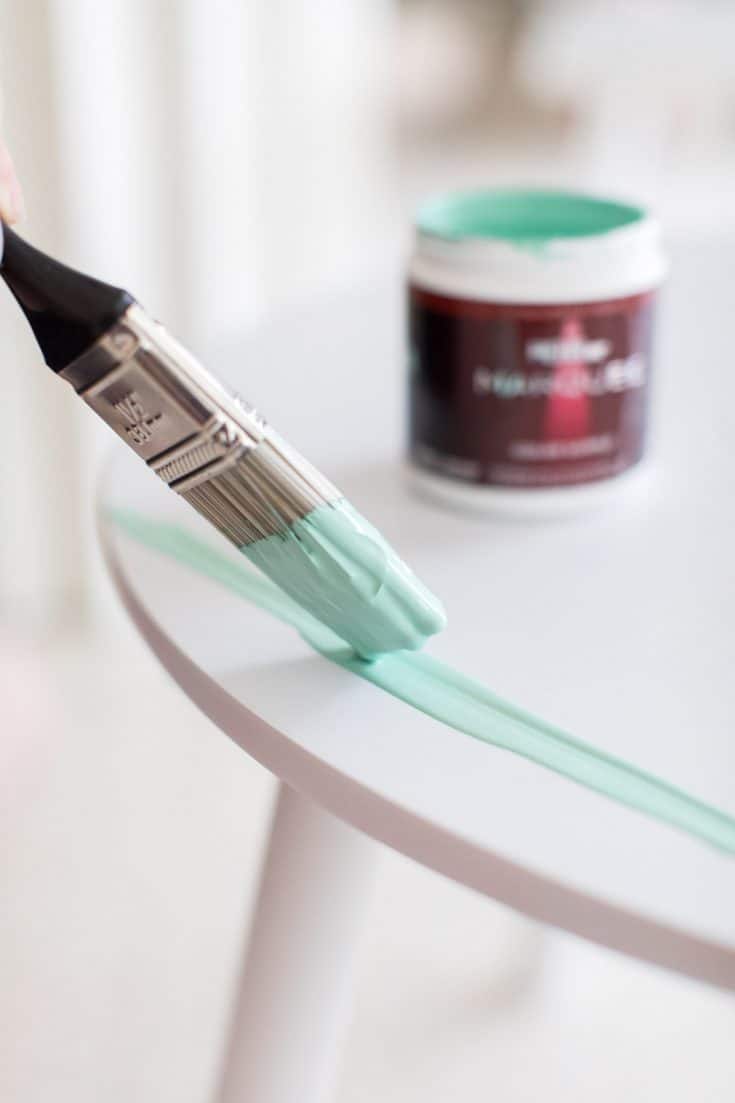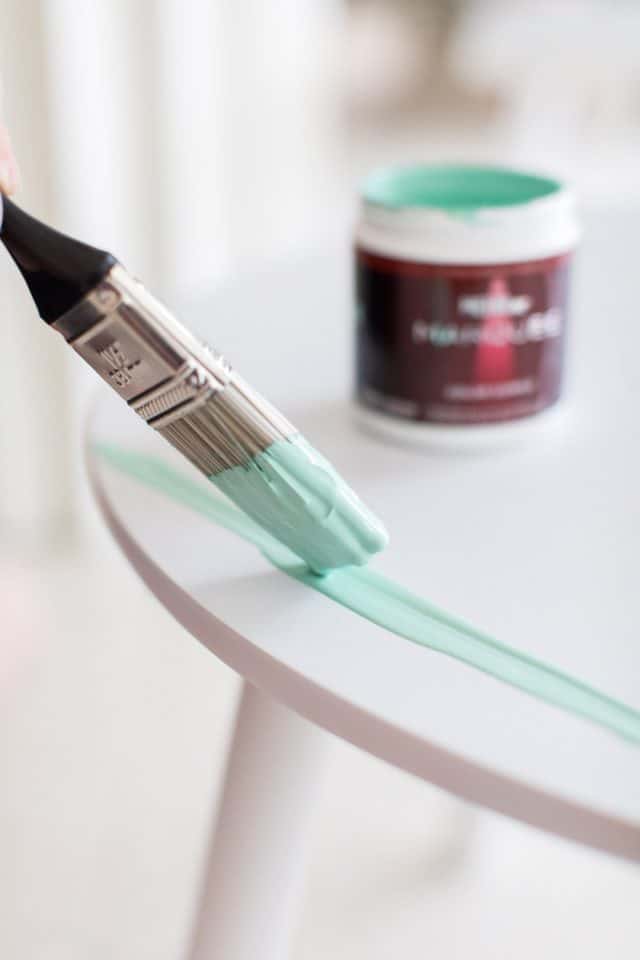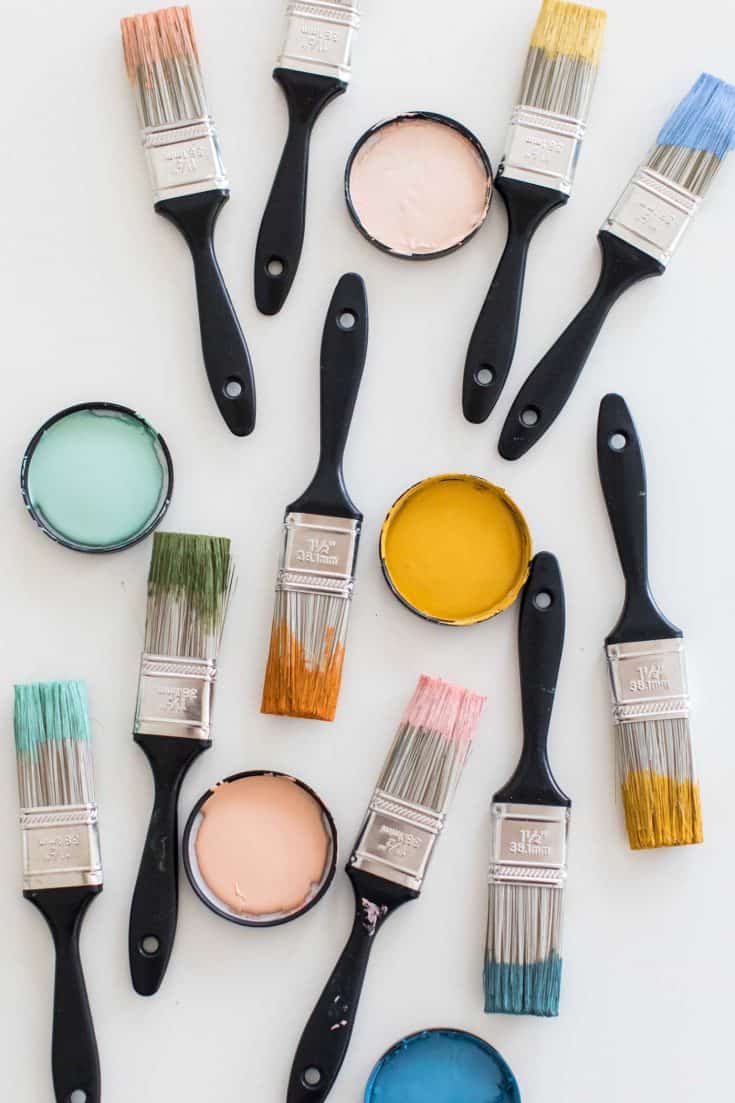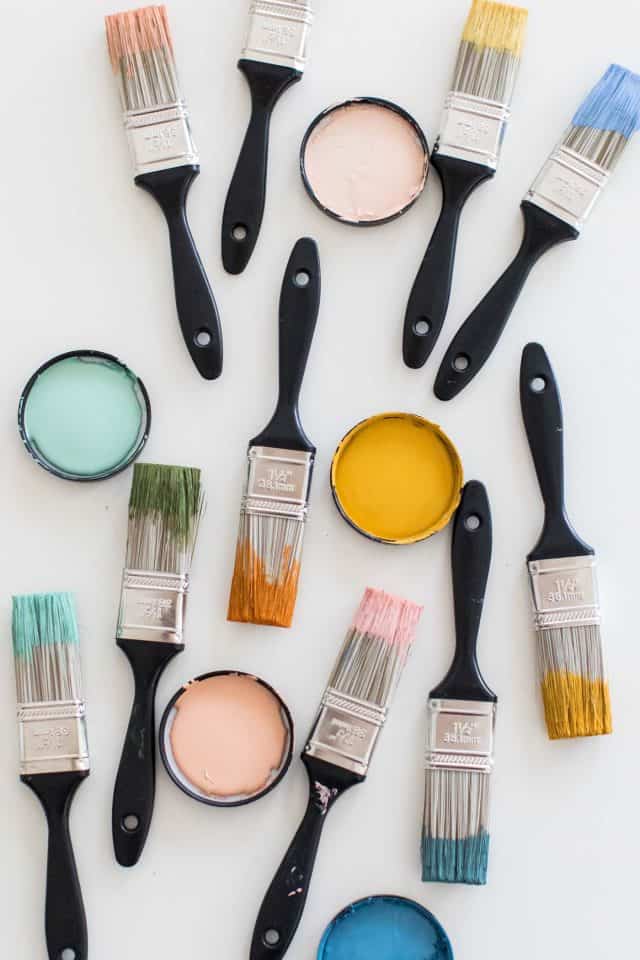 I snagged this Rifle Paper Co. rug for Loloi that tied in our Behr colors perfectly but also added a few contrast colors.
To tie the bold colors together, we created a painted DIY slat roof for Gwen's new house bed. It combined the 2020 Color Trend colors along with — Fruit Salad, Blue Moon Bay, Jade Mountain, Coral Cloud, and Saffron Strand.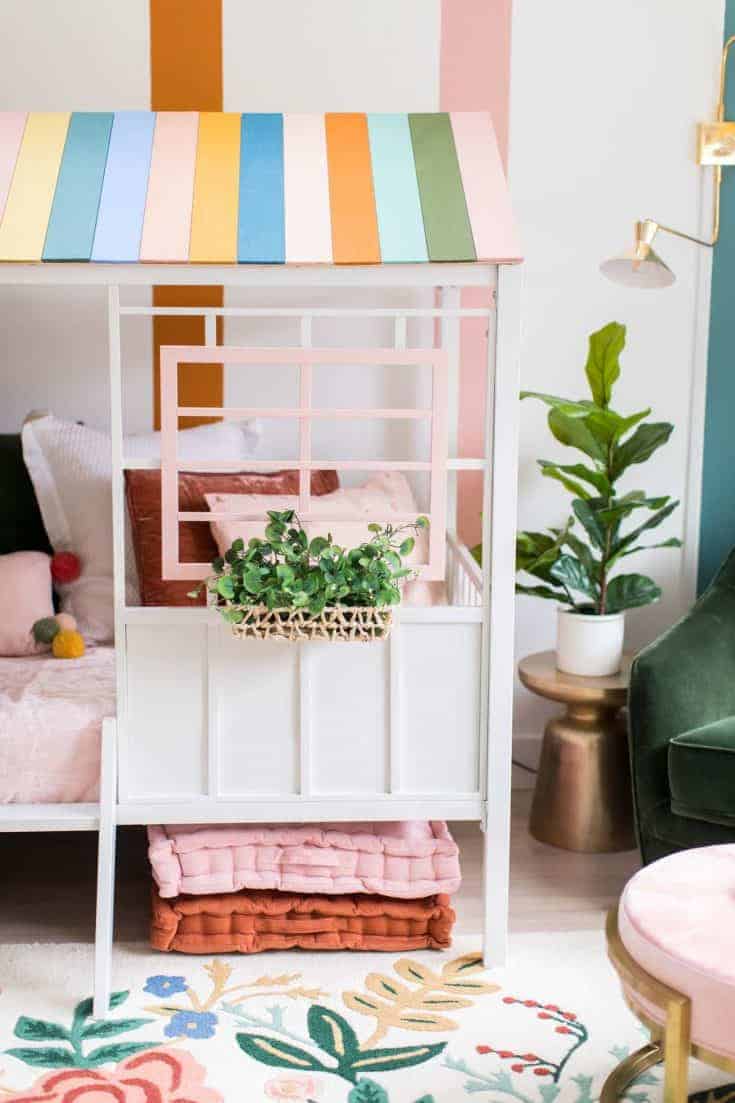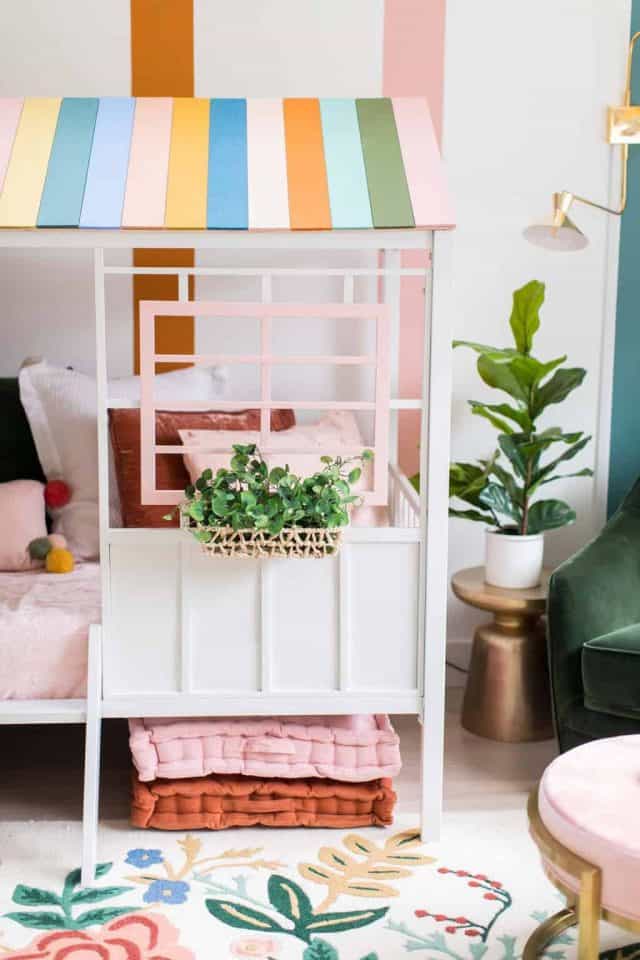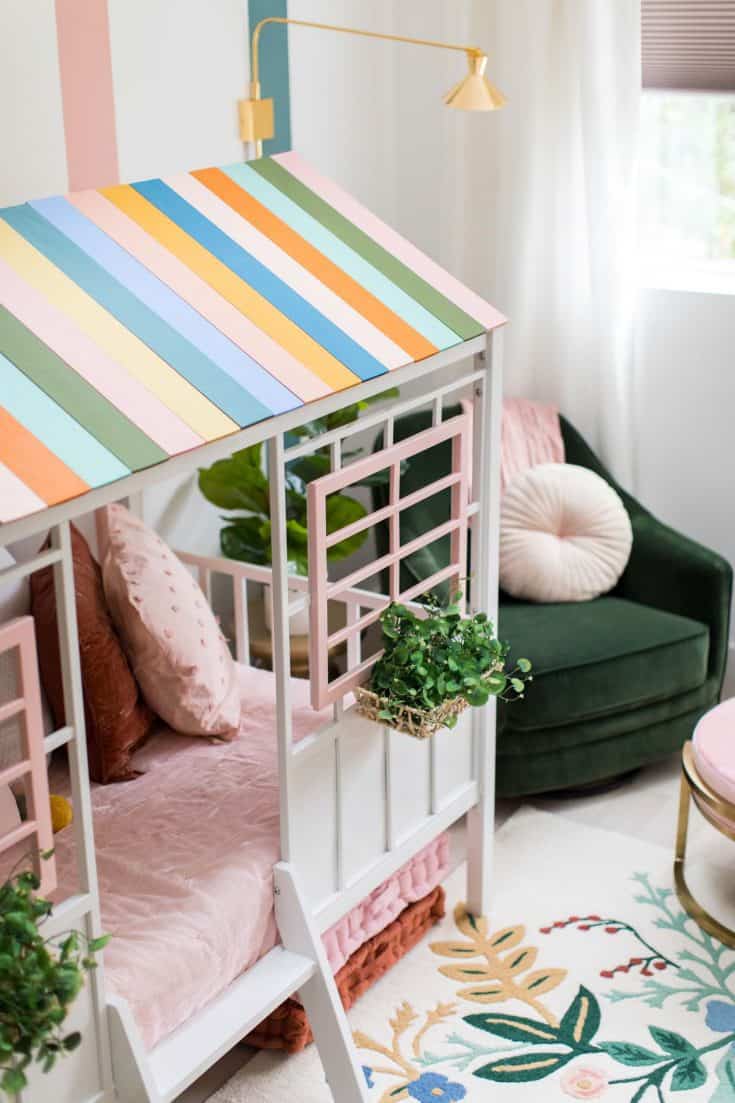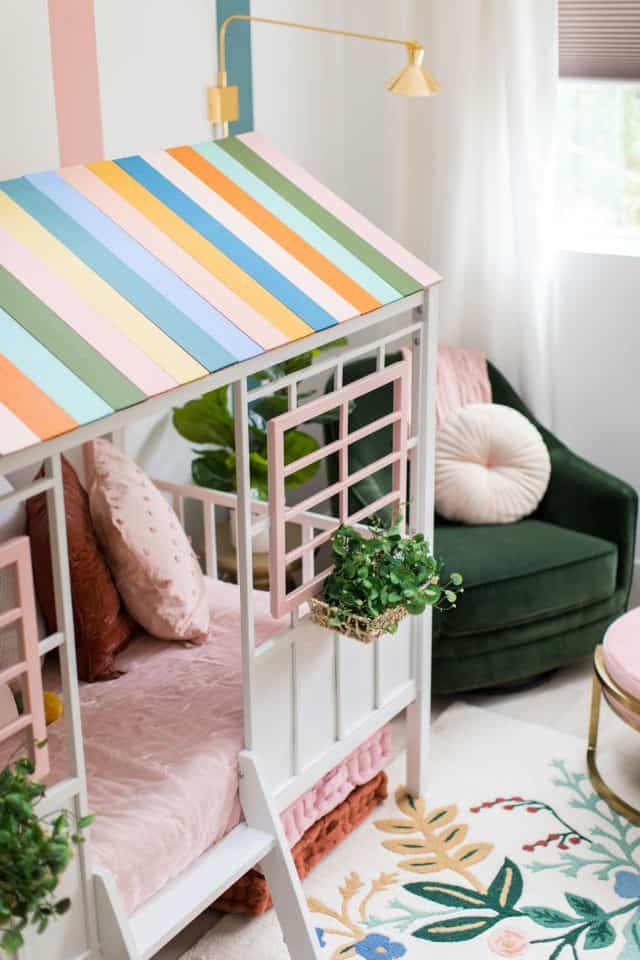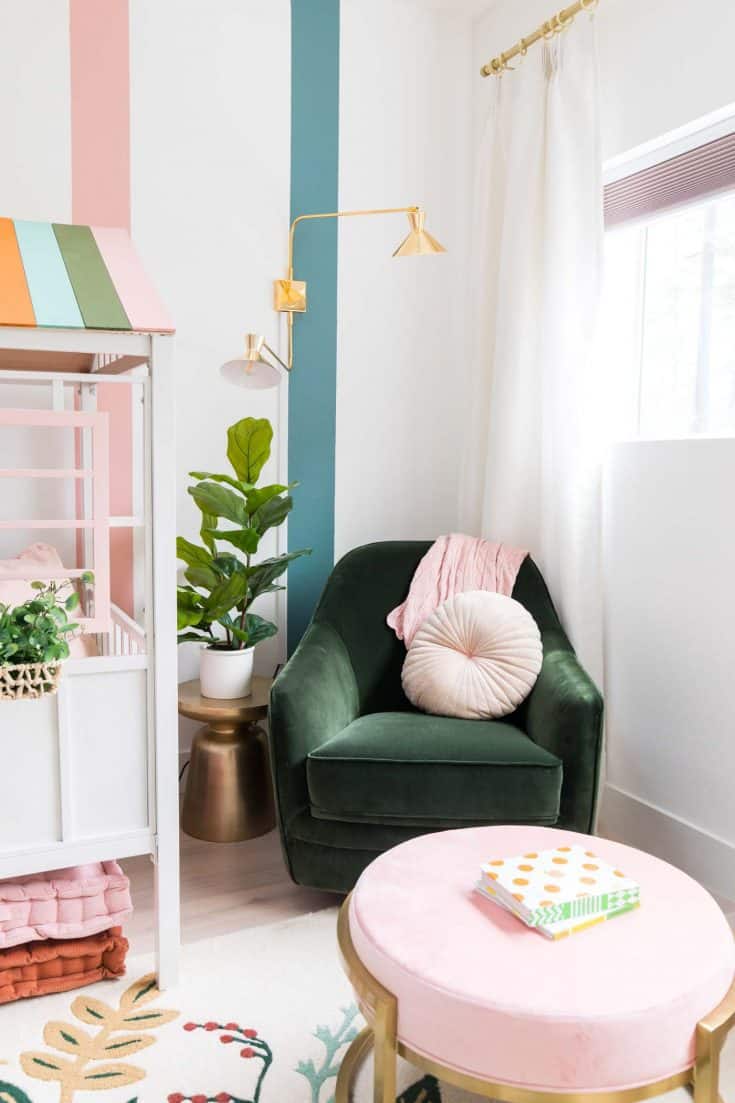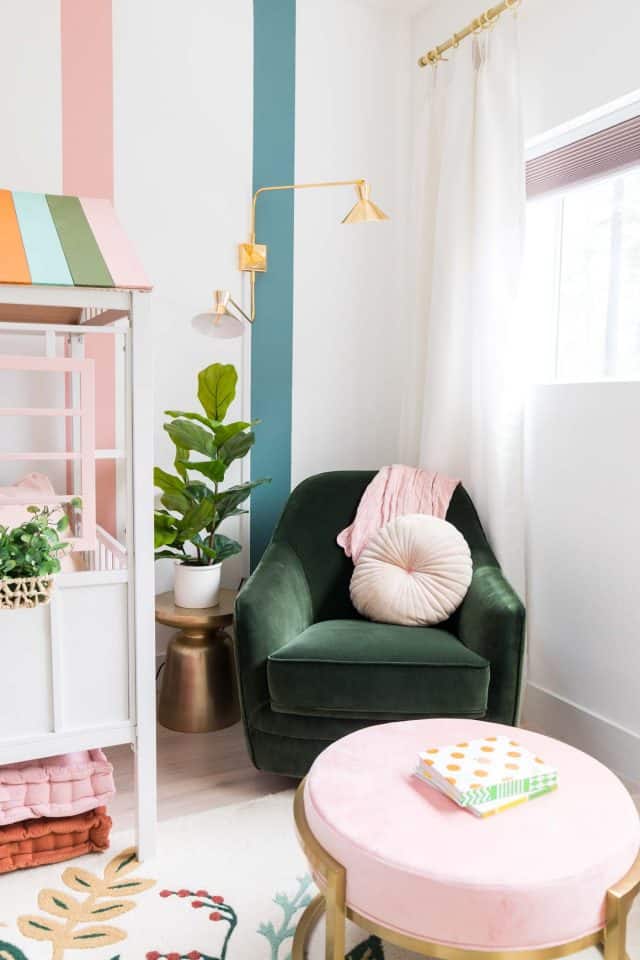 I'm going to share the full tutorial for how to build the DIY flat roof for her house toddler bed in a separate post so I can give you the full photo step-by-step process.
It's a substantially less expensive, custom toddler house bed option than most. We bought the main bed plus all of the DIY supplies for a total cost of $500.
Plus, you can easily use the same idea for a house bunk bed concept if you have more than one little one, too!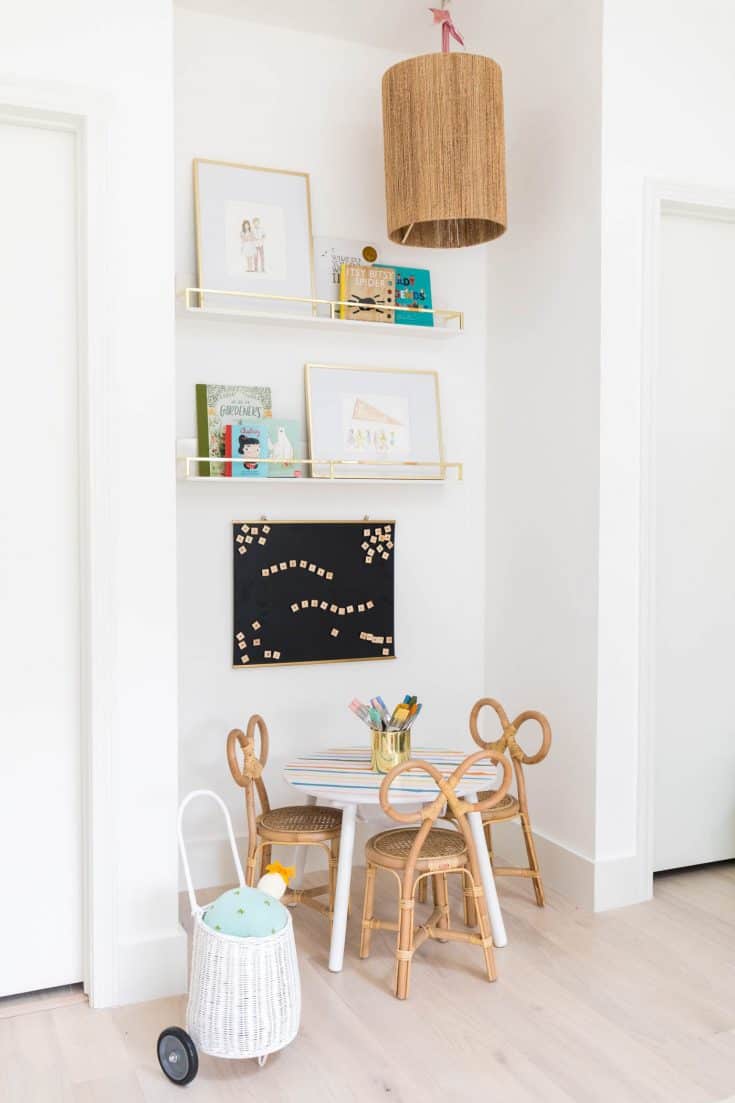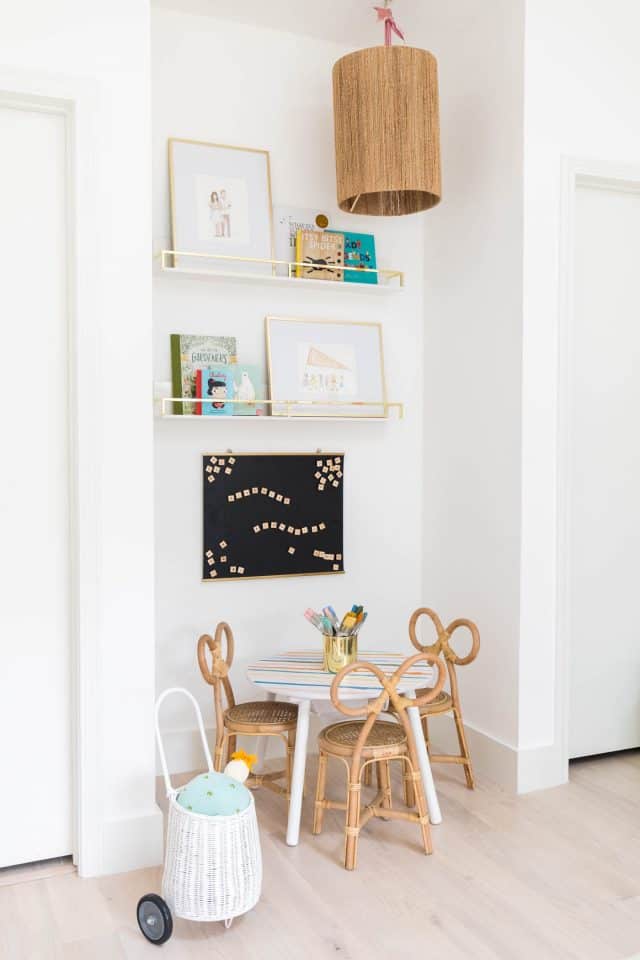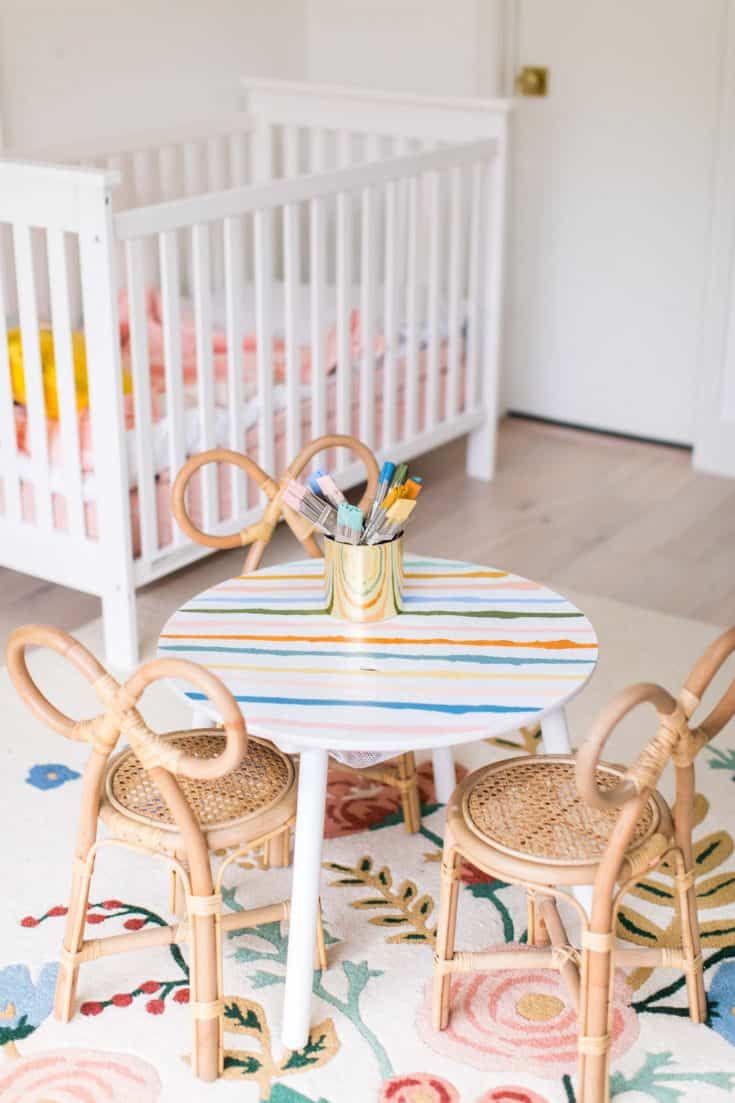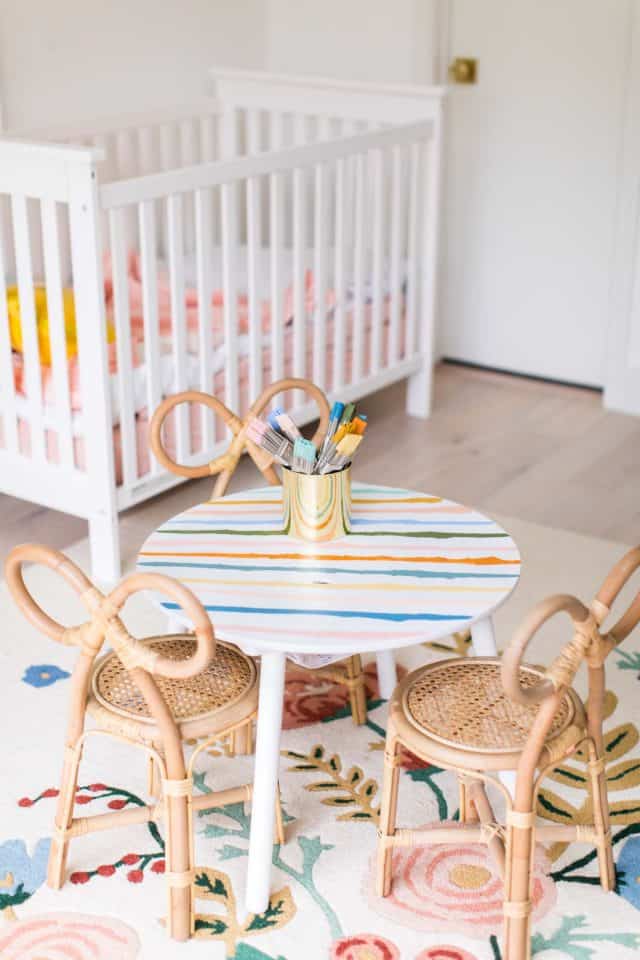 On top of painting the Behr colors on the house bed roof, we also used the pink for painting the windows of the bed and an accent top for her kids table.
I debated if I should do polka dots on her tabletop but decided to stick with the stripe theme. I feel like it turned out so cute, especially with the rattan bow chairs!
They're definitely not your typical kid room decor. And I love that it has a mature vibe that she can grow into.
The table area has a magnetic letter chalkboard, kids book shelves, and a pendant lamp shade that I turned into a battery-operated lighting fixture.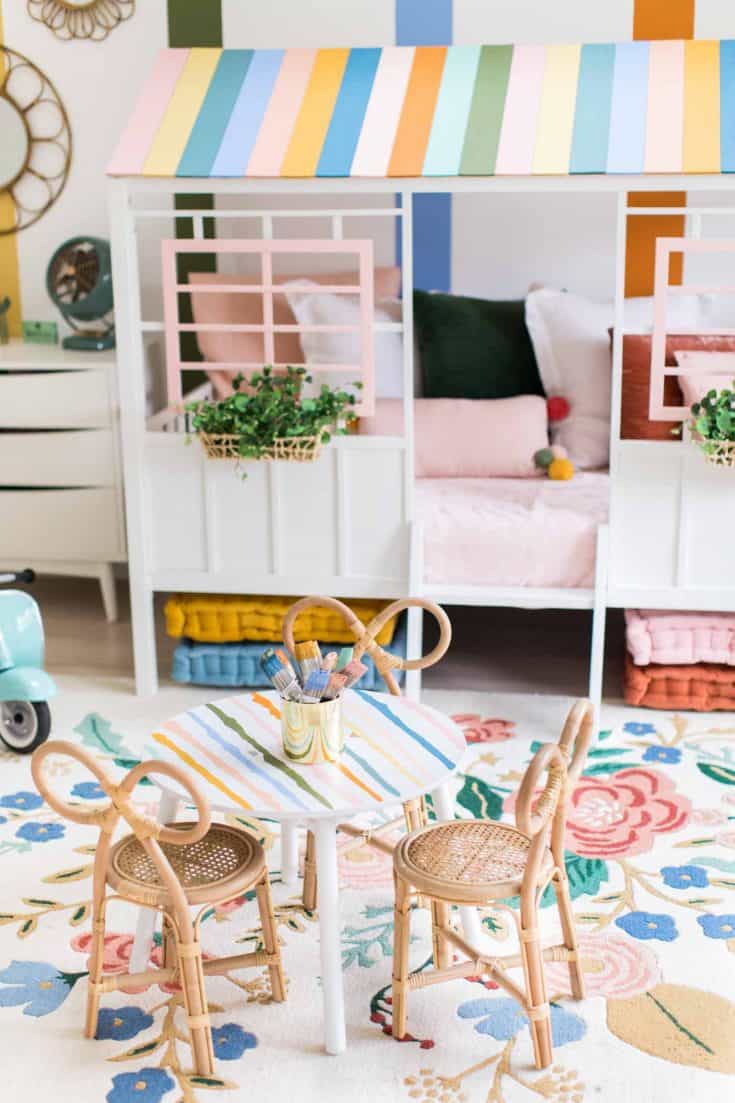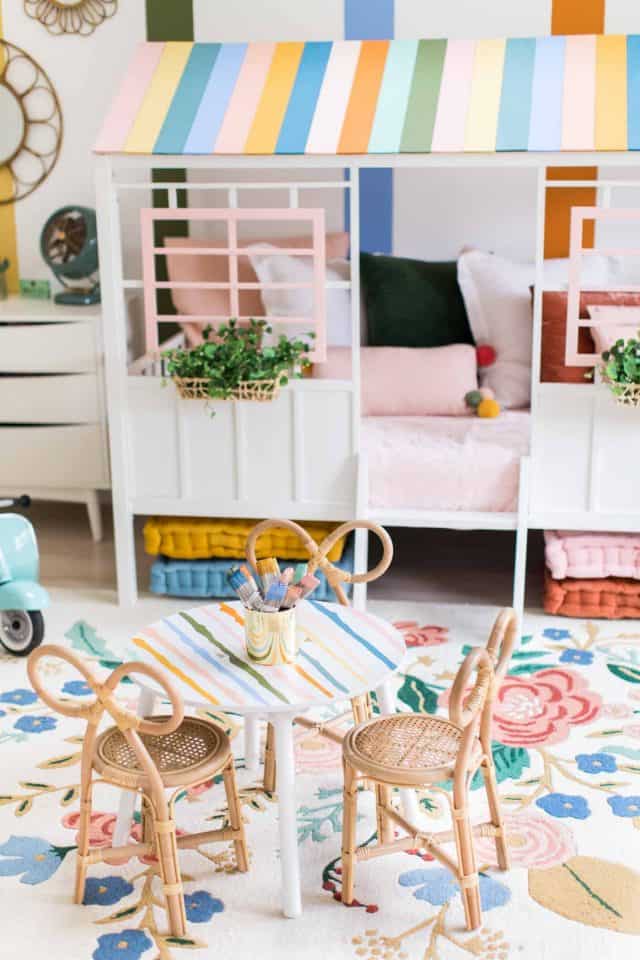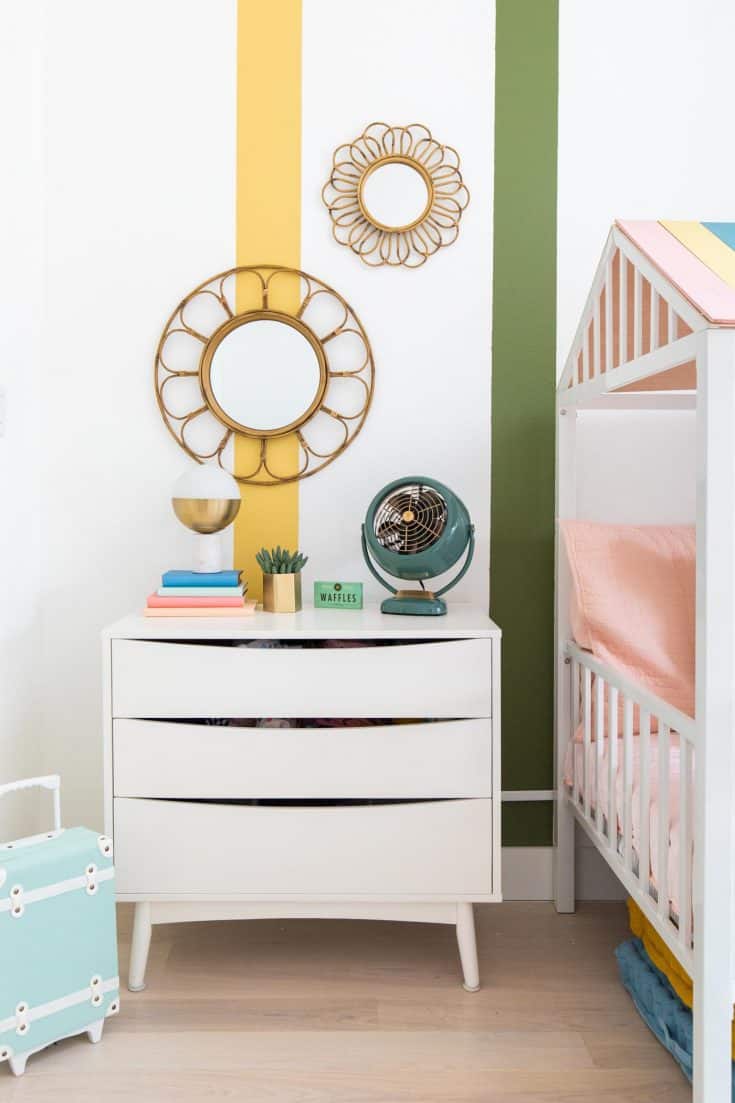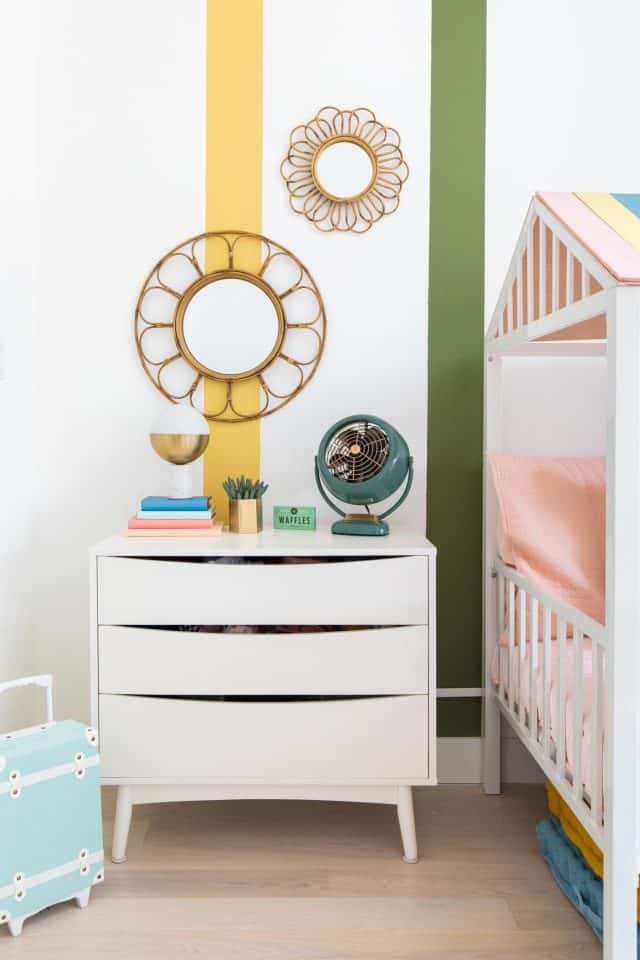 Decor Ideas For A Young Girl Bedroom
Since the colorful Behr paint stripes are really the hero of this room, we didn't do much in the way of wall art.
Instead, I opted for a few rattan mirrors and a wall-mounted sconce over the reading chair.
If you have a toddler, then you know nap time is something to decorate around, haha! We ordered a custom blackout blinds in Dusty Rose from Blinds.com to go with white pinch pleat curtains for the window treatments.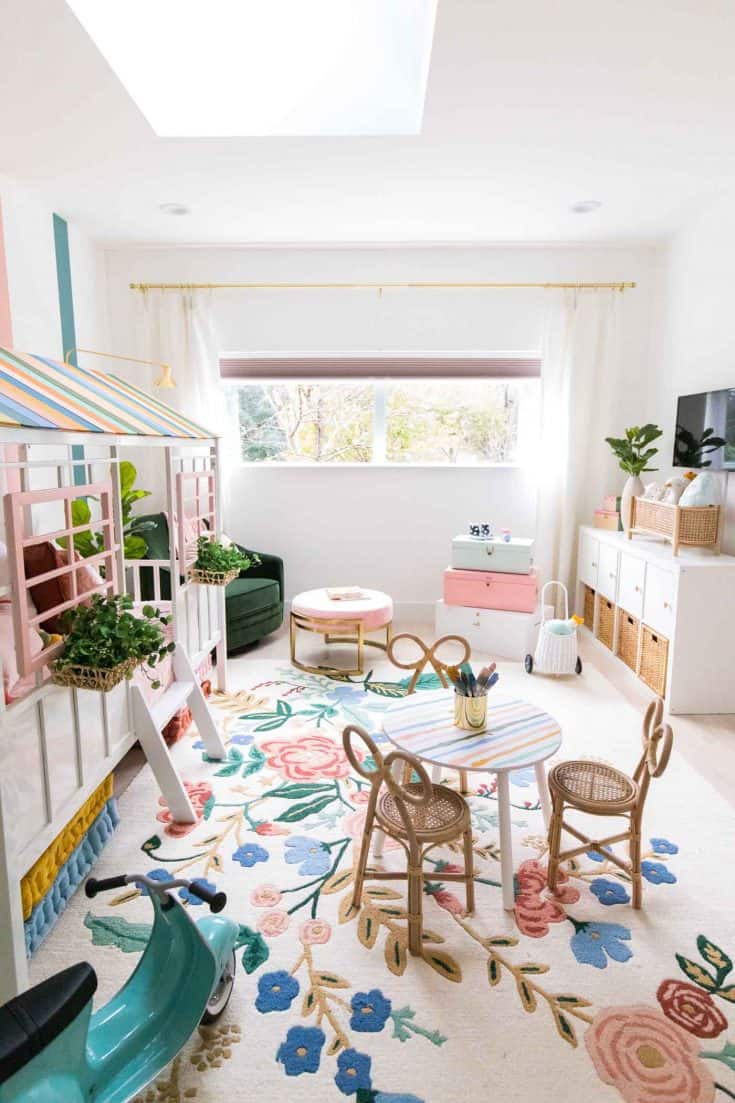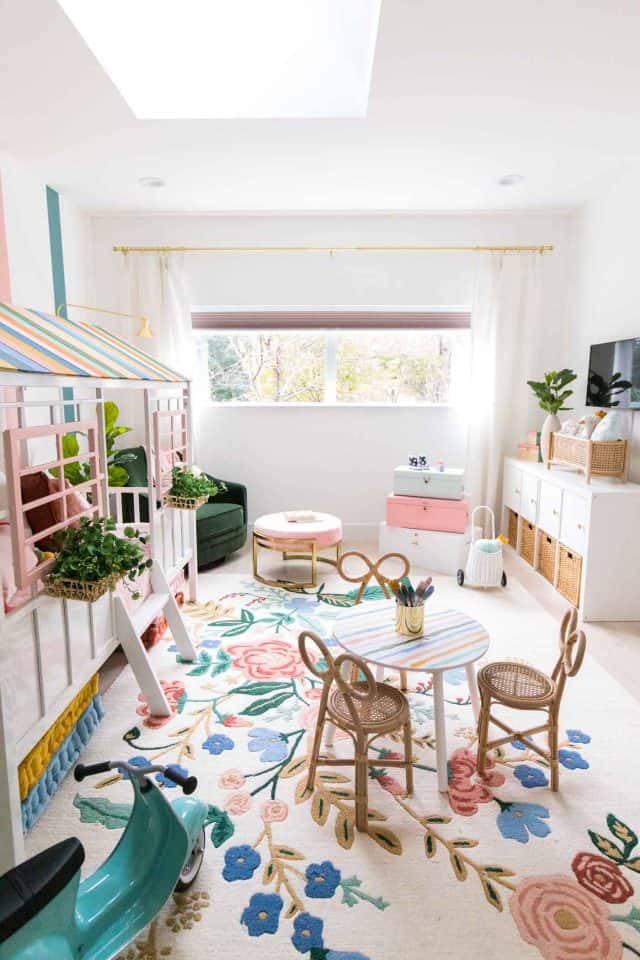 To help hide all of her toys and little knick-knacks, I got colorful trunks from At Home along with a Kallax bookcase.
Rather than having the open shelving, I used rattan bins and the Kallax door inserts with a gold handle pull to dress it up and hide the clutter.
That combined with her dresser gave us plenty of storage to work with and I just let her other cute toys serve as decor. Like the teal push scooter, white luggy basket, suitcase, and colorful velvet floor cushions.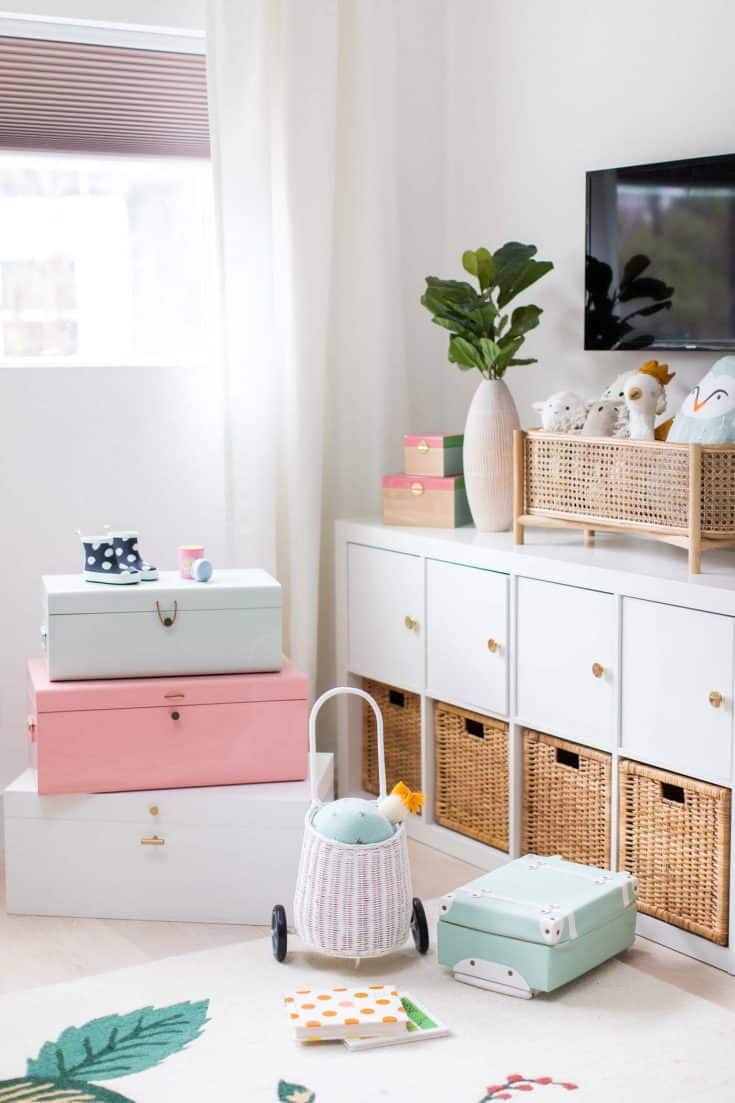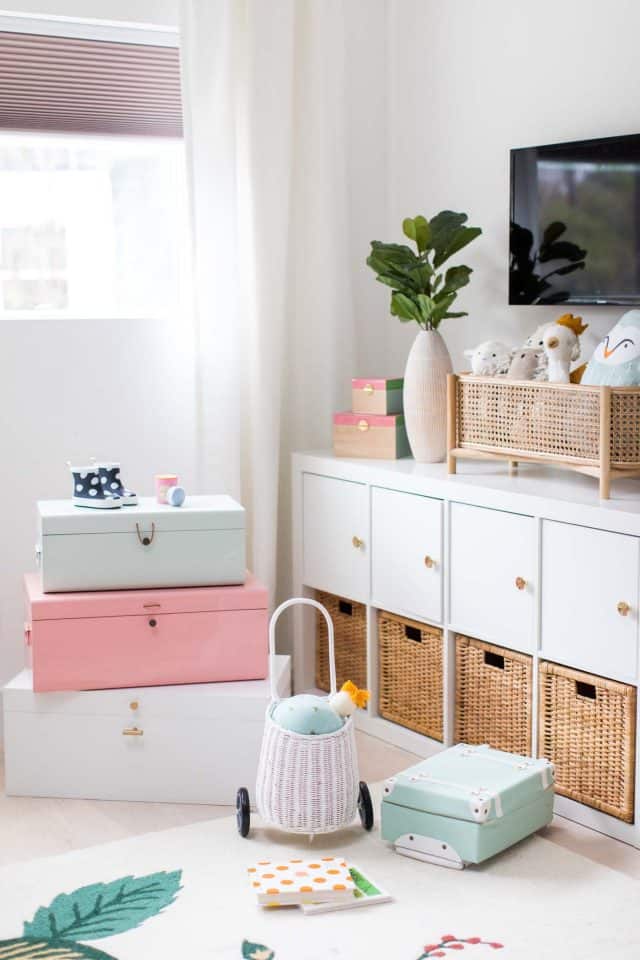 More Home Renovation Ideas
I was so excited to finally find the perfect use for this rattan bin to use as a place to store her stuffed animals, too!
We spend a lot of time reading with Gwen and generally just need a place to sit and lounge while she plays. So this velvet green swivel glider from High Fashion Home and pink ottoman was a comfortable necessity.
I absolutely love how it turned out and can't believe what it used to look like just a year ago!
It's crazy what a different paint and lighting make in a room, don't you think?!
You can see more of our house renovation posts here —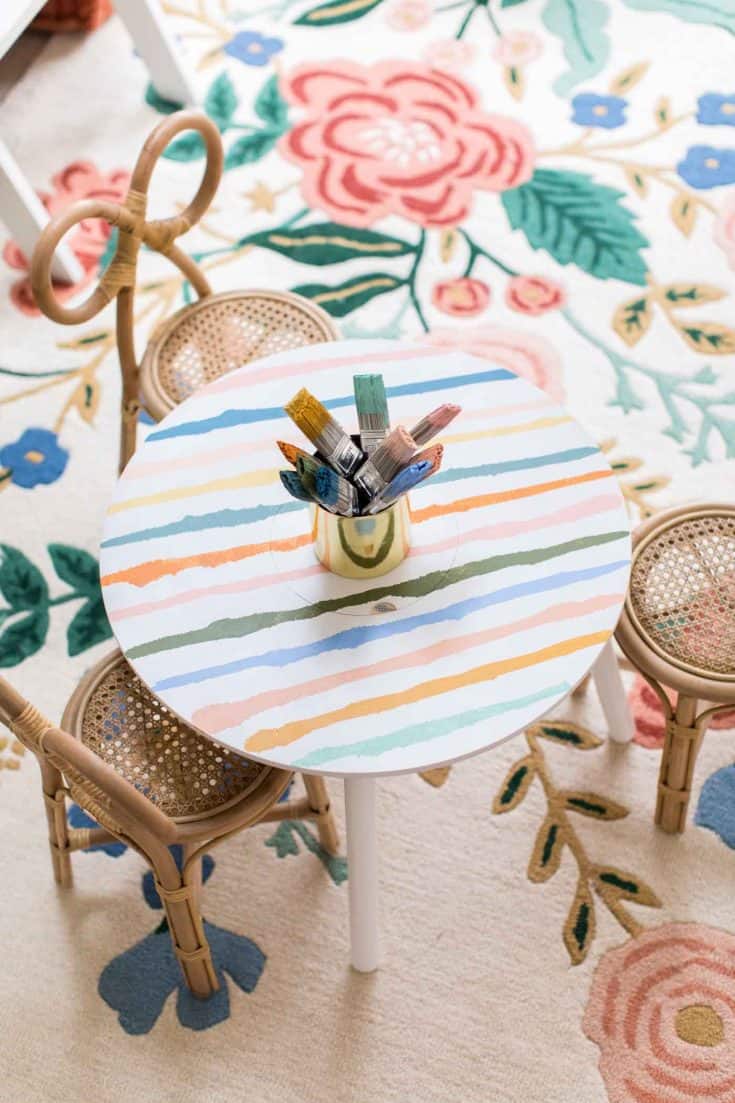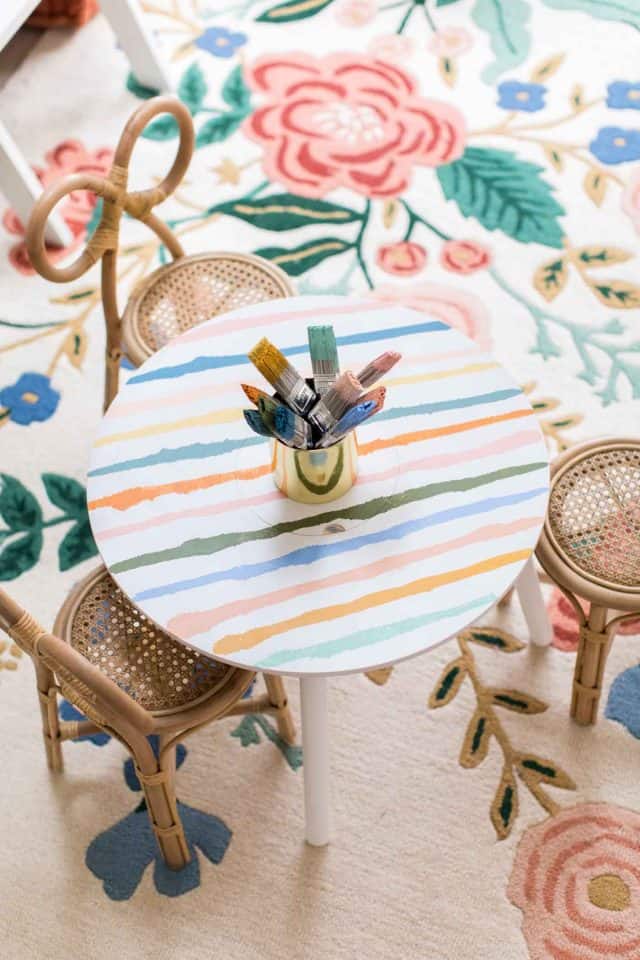 Little Girl Room Ideas + Sources
— Behr paint colors: Fruit Salad, Blue Moon Bay, Jade Mountain, Coral Cloud, Saffron Strand, Dragonfly, Bubbleshell, Rumba Orange, Bluebird, Charismatic, Secret Meadow, and Ultra Pure White
— Construction by Genesis CP in Houston
— Stuga Studio Elderflower flooring
— Velux solar-powered, fresh-air skylight
— Toddler bed, painted with custom DIY wood slats
— Rifle Paper Co. rug for Loloi
— Rattan bow chairs from Design Life Kids
— Toddler table, painted with Behr color trend colorful stripes
— Velvet green glider chair from High Fashion
— Blackout cordless shades in Dusty Rose from Blinds.com
— Colorful metal storage trunks from At Home
— Colorful velvet floor cushions
Our House Renovations
You can see more of our recent house renovations and design ideas from our 1970's remodel below...
This post has been sponsored by Behr, but all opinions are my own and we're happy to work with them since they're a platform we use regularly! Sugar & Cloth has chosen to donate 5% of all sponsored campaigns to charity, which you can read more about right here.