DIY Basket Pendant Light — On the hunt for an easy DIY pendant light to make? I'm sharing how to make a basket light fixture. And it's so simple!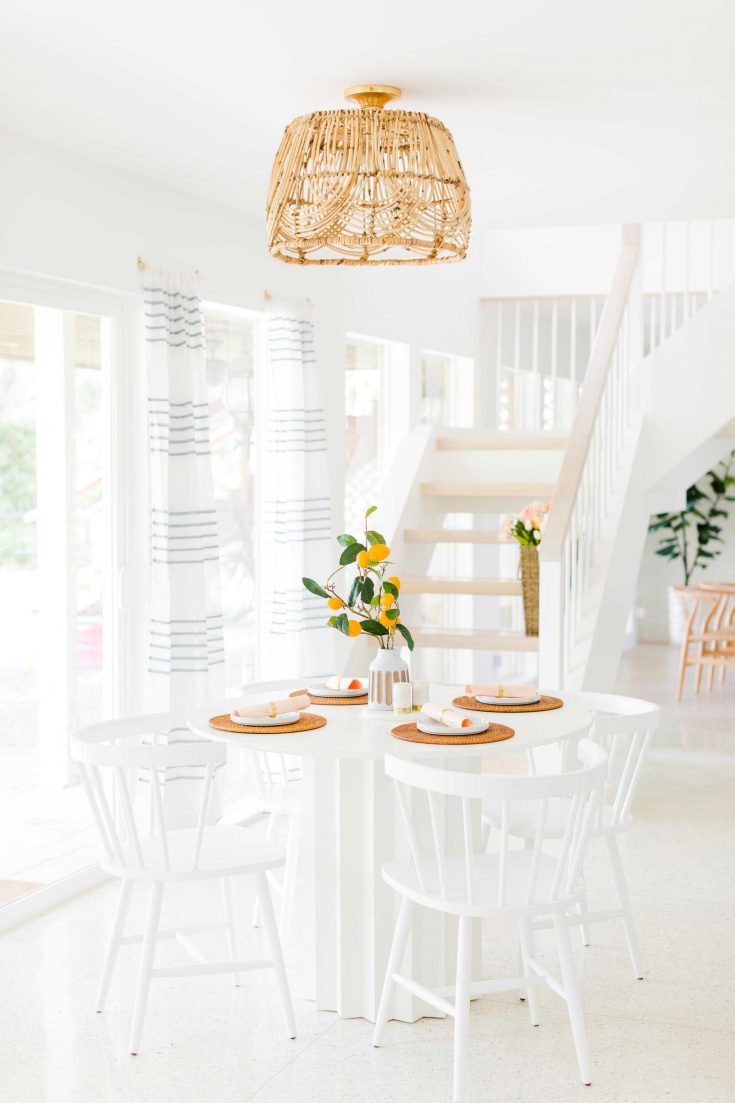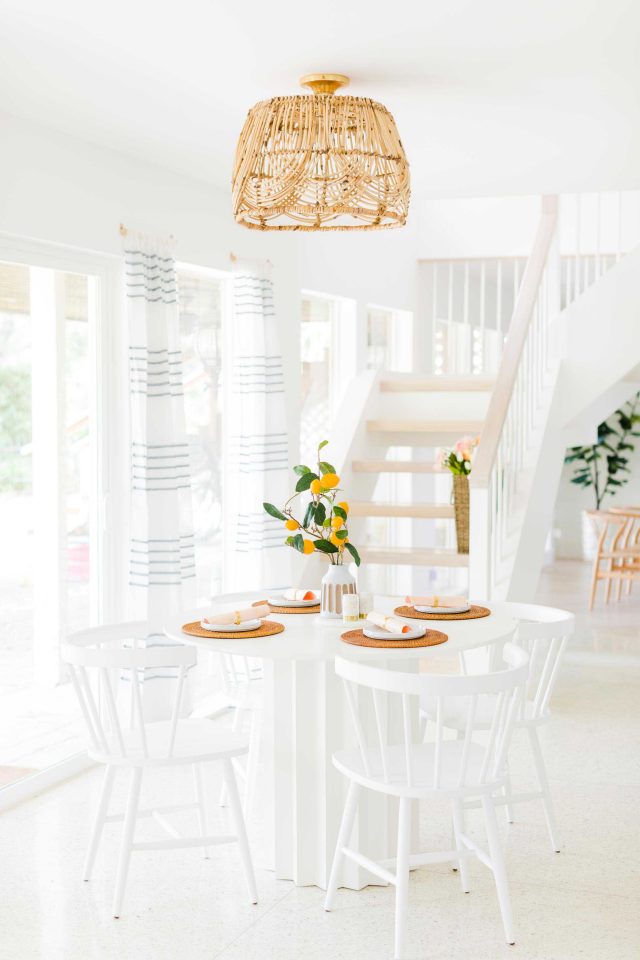 Hello, hello from the breakfast nook in our new house! I'm finally making this house feel more like home one DIY Basket Pendant Light at a time!
Okay, so not really via DIY pendant lights, but you get what I'm saying. We've officially been living in the new house for about two months now.
And I try to balance the fact that we still have WAY too many boxes lying around with a few styled corners.
We still have a ways to go with the breakfast area and how it flows to the connecting spaces such as the family room and our renovated kitchen. So this isn't a true before and after of this space just yet!
That said, it does look DRASTICALLY different than it did in the original listing photos gallery in this post.
For now, I'm just focusing on sharing how to recreate this woven basket pendant light by using a plain old basket from the store and a few key supplies.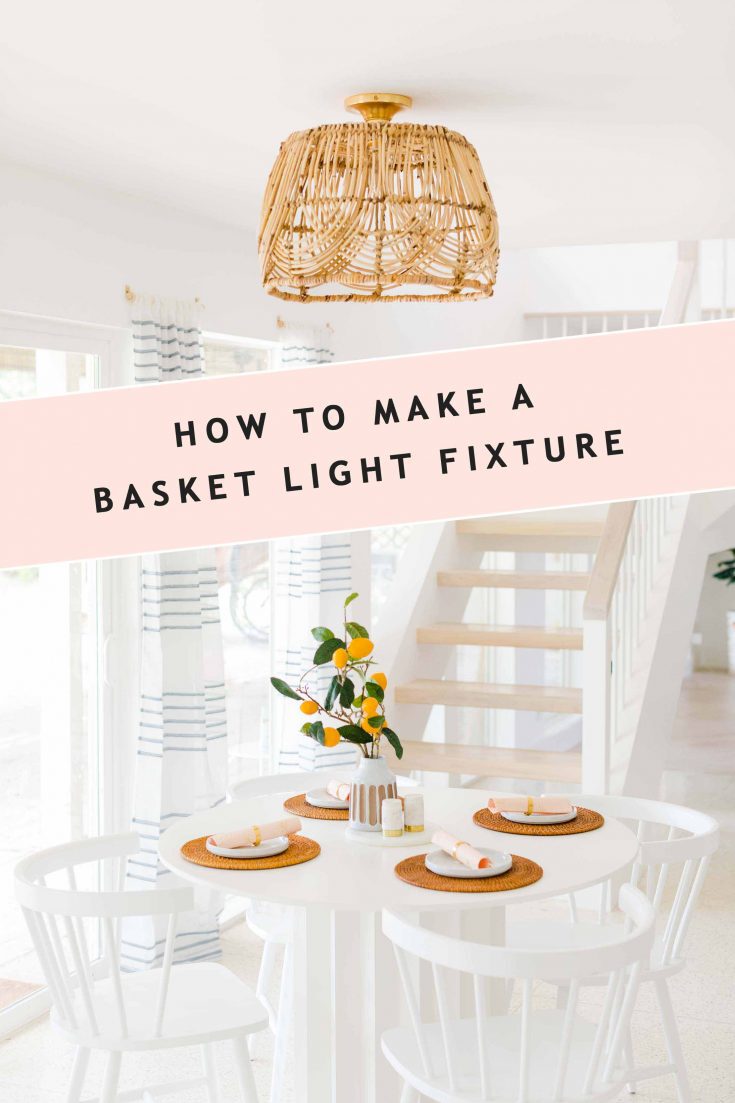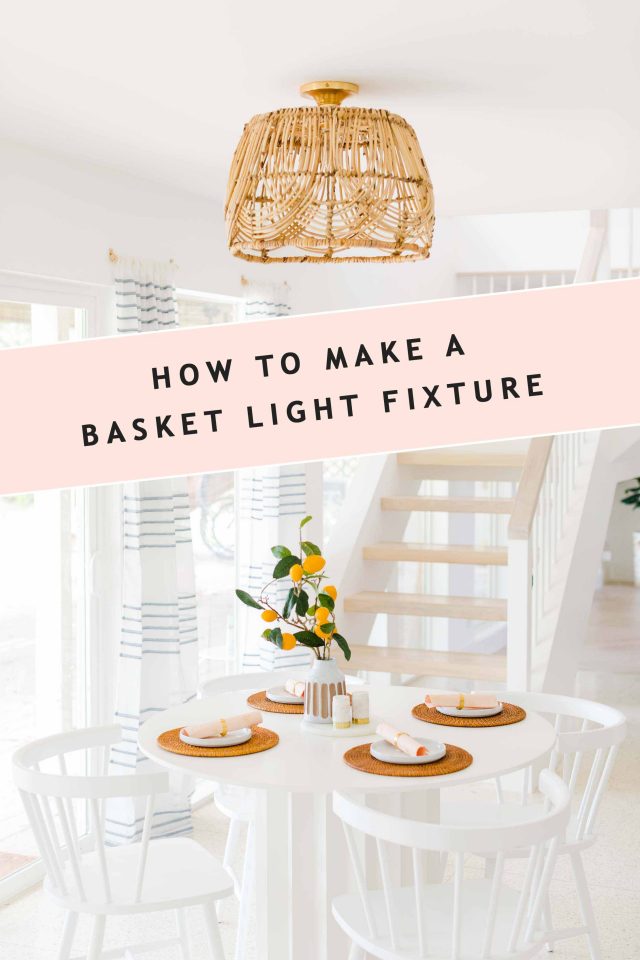 As you can tell, this isn't a TRUE pendant light per se. But you could easily lengthen it as much as you'd like using the same DIY idea!
Our ceilings in this room are just at eight feet, so I didn't want to make the ceiling feel shorter by having a low hanging pendant light.
I opted for essentially creating a semi-flush DIY pendant light instead. This is also a really great option if you're just looking to update an old light fixture because it's easy to swap an old one out for this hanging basket light!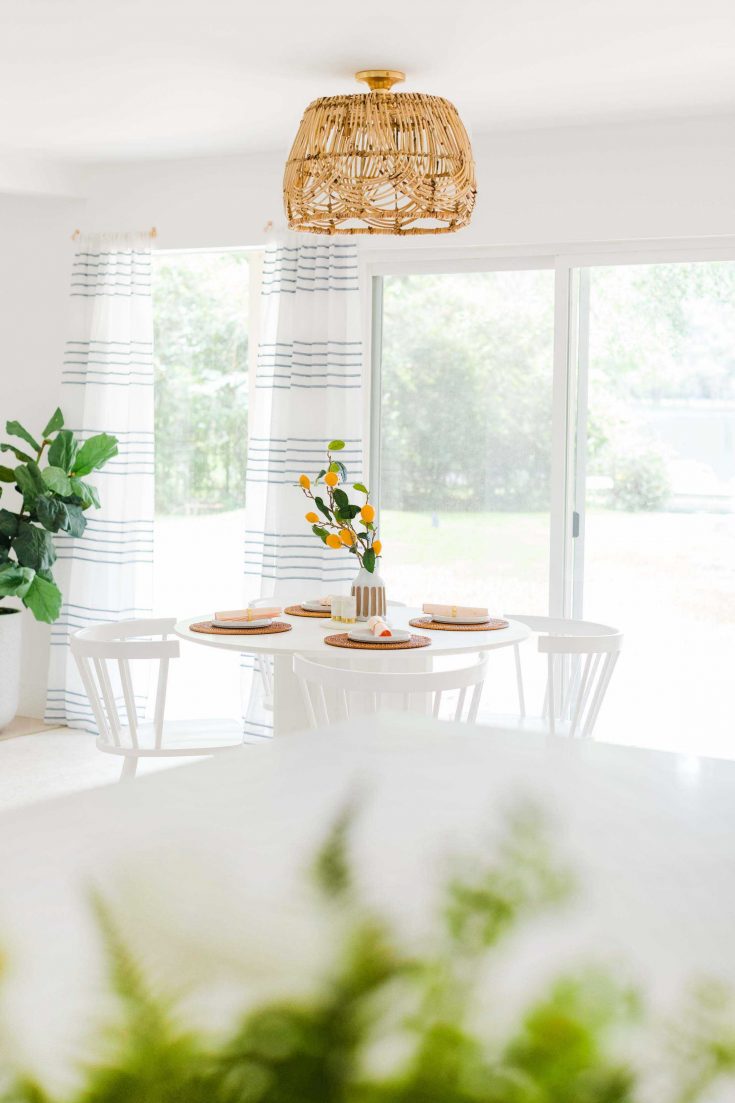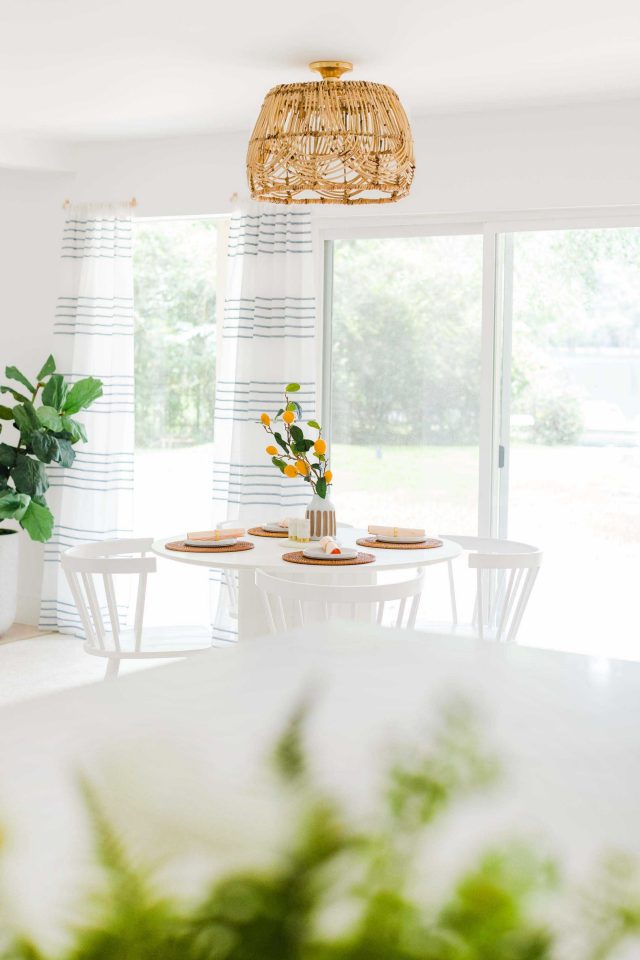 Breakfast Room Decor
Since the light fixture is relatively short, I styled the finished product with a faux lemon plant stem to add height to the table (which is currently on a limited 20% off). The lemon stem also gives it a really modern, clean feel while still staying classic, too!
I also tied in the basket light fixture with the woven placemats for the table settings as well. I wanted a pop of color (that was still neutral) since the table and chairs are white.
The hunt for curtains was a long search. But I finally found ones that I liked from At Home.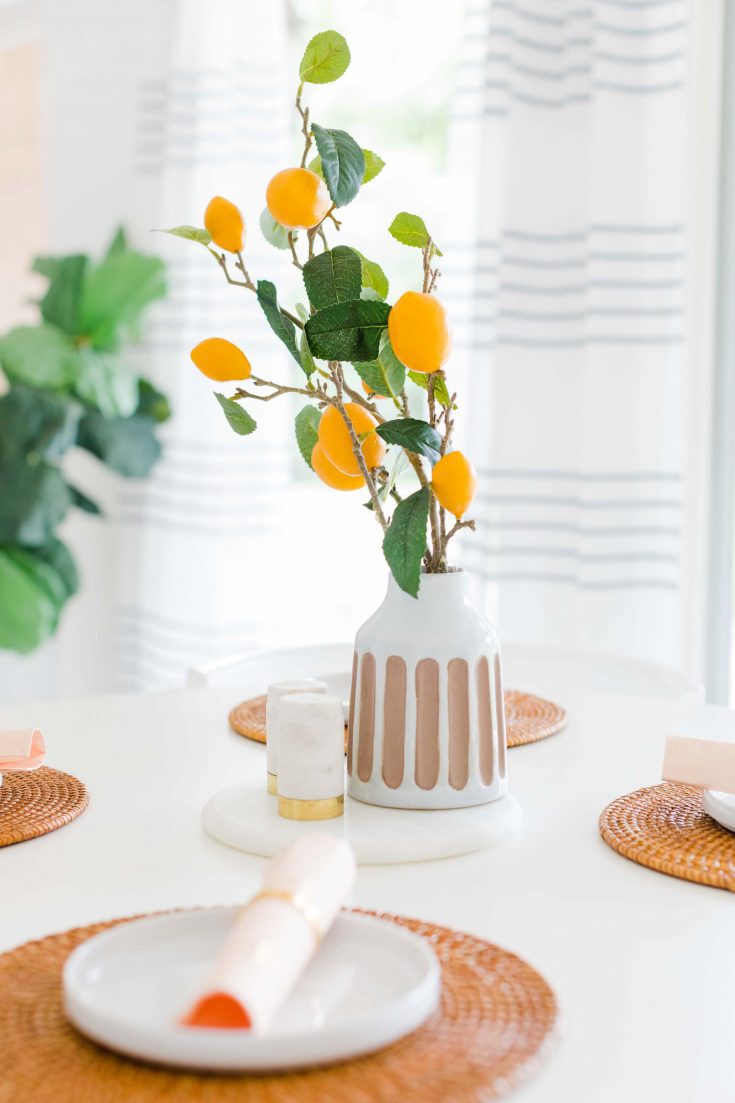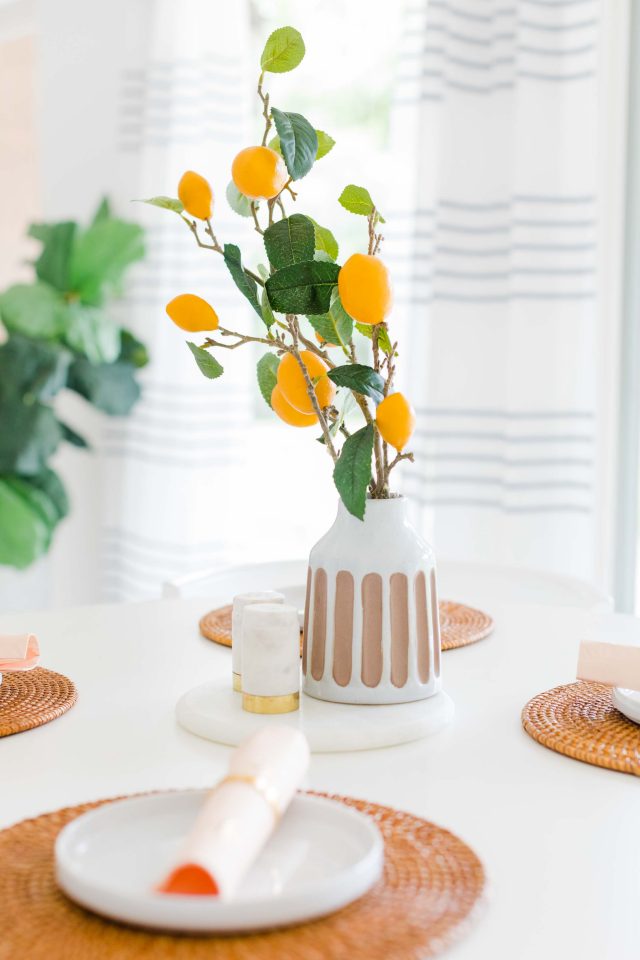 Materials Needed To Make A DIY Pendant Light
Woven basket of your choice — I used this one from At Home Stores, but this one is similar and this set is spot on!
Semi-flush mount light kit — Here it is in black or silver or here in gold if you're installing new instead of repurposing an old light
Choosing Your Basket
I originally snagged this basket from At Home to serve as storage for our living room blankets. But my friend Shannon mentioned repurposing some similar to our hanging floral baskets and I loved that idea!…
Having a basket with a defined center at the bottom is really helpful when it comes to this DIY. You can easily still recreate this light fixture either way, but wanted to at least give you that tip!
I also preferred using a basket that didn't have handles, but you could easily use this rattan basket as a DIY Ikea Hack version!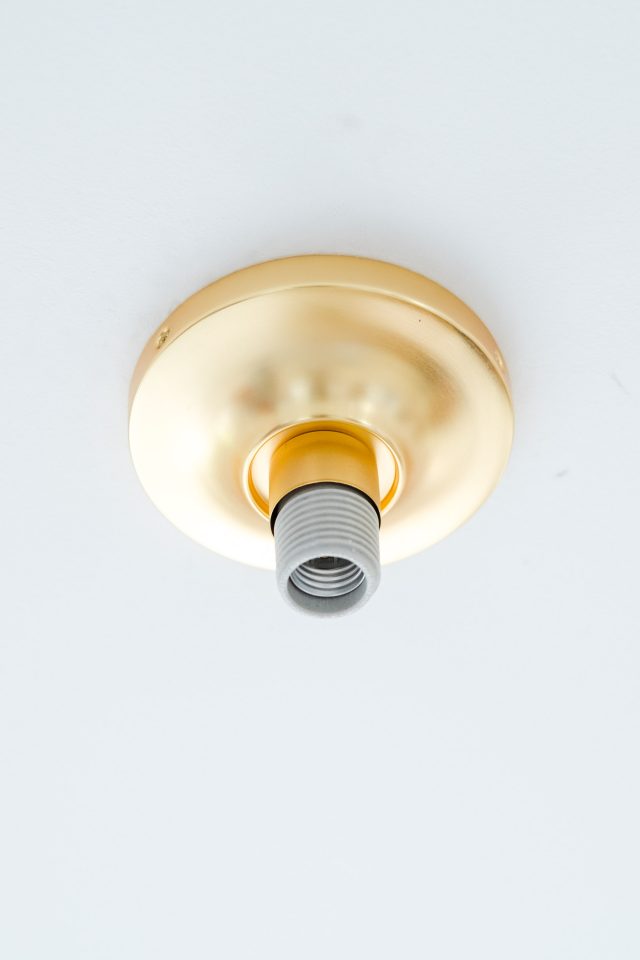 How To Make a Basket Pendant Light Fixture | How To Wire a Basket Pendant Light
Again, I used the base of a semi-flush mount light. There are a lot of fixture options out there for this. And most will have some sort of shade already included.
I linked to several options in the materials box above. But the how-to photo gives you an idea of what it looks like installed on the ceiling without a shade.
If you're buying one of the ones I linked to, you'll essentially install everything BUT the shade that comes with it.
This is an easy video tutorial for switching out a ceiling light to follow along with. I know electrical wiring can be intimidating though!
I've used Task Rabbit for having a quick light installed several times!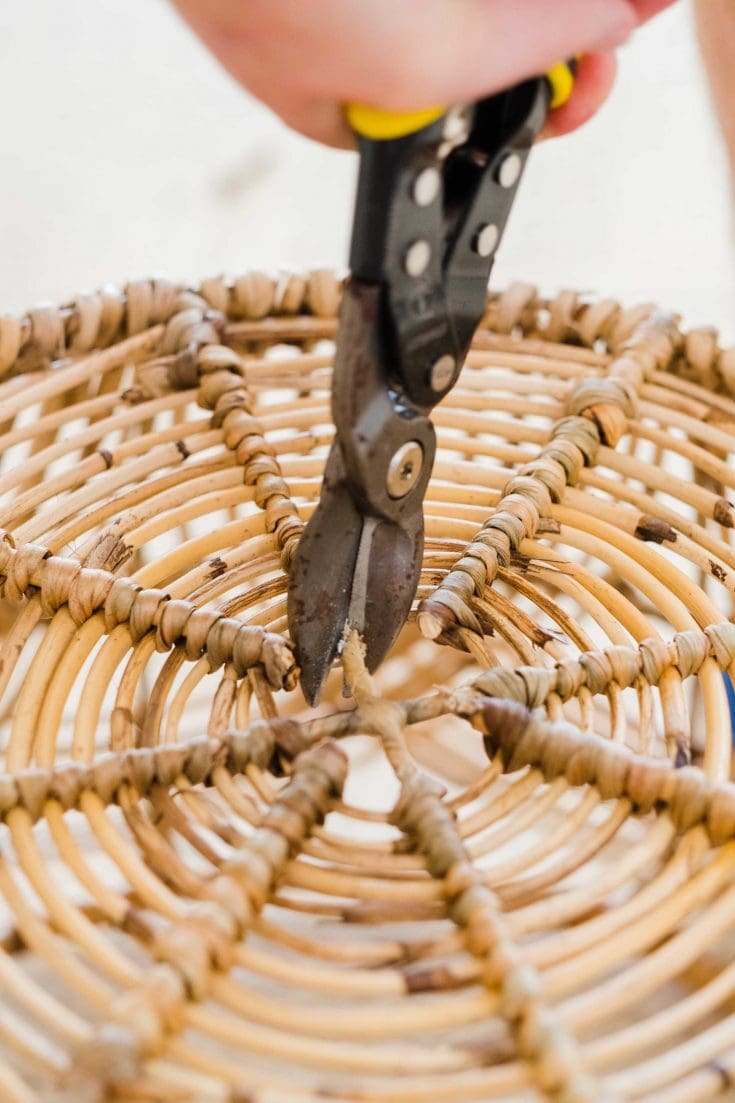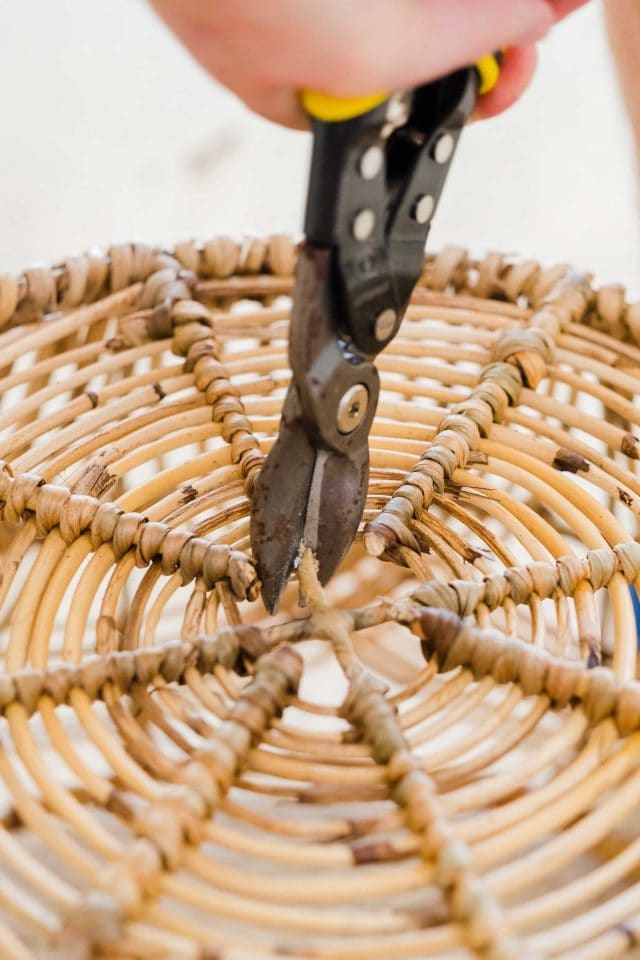 1 — Once you have the wiring for the light complete, use cutting pliers to create a hole in the bottom of the basket.
Make sure that the hole is just wide enough to slip over the light bulb socket. However, you also want it to be a hair smaller in diameter than your shade ring. A shade ring looks like this.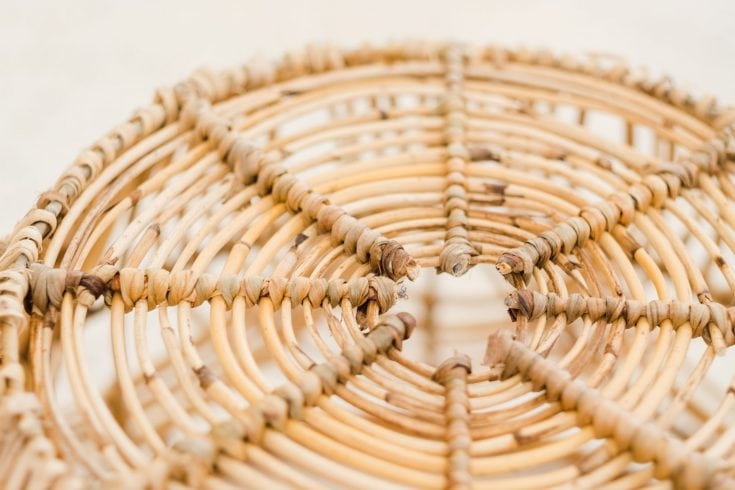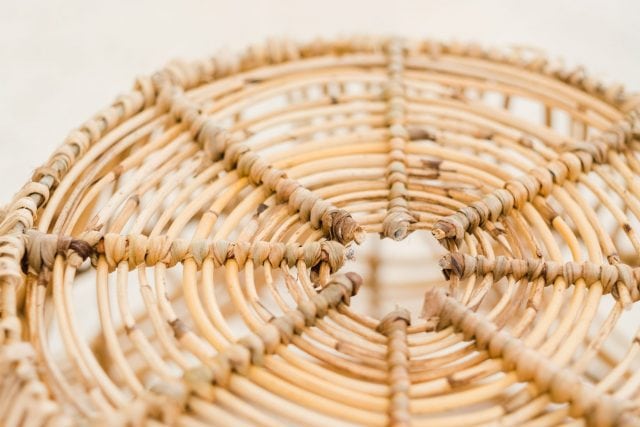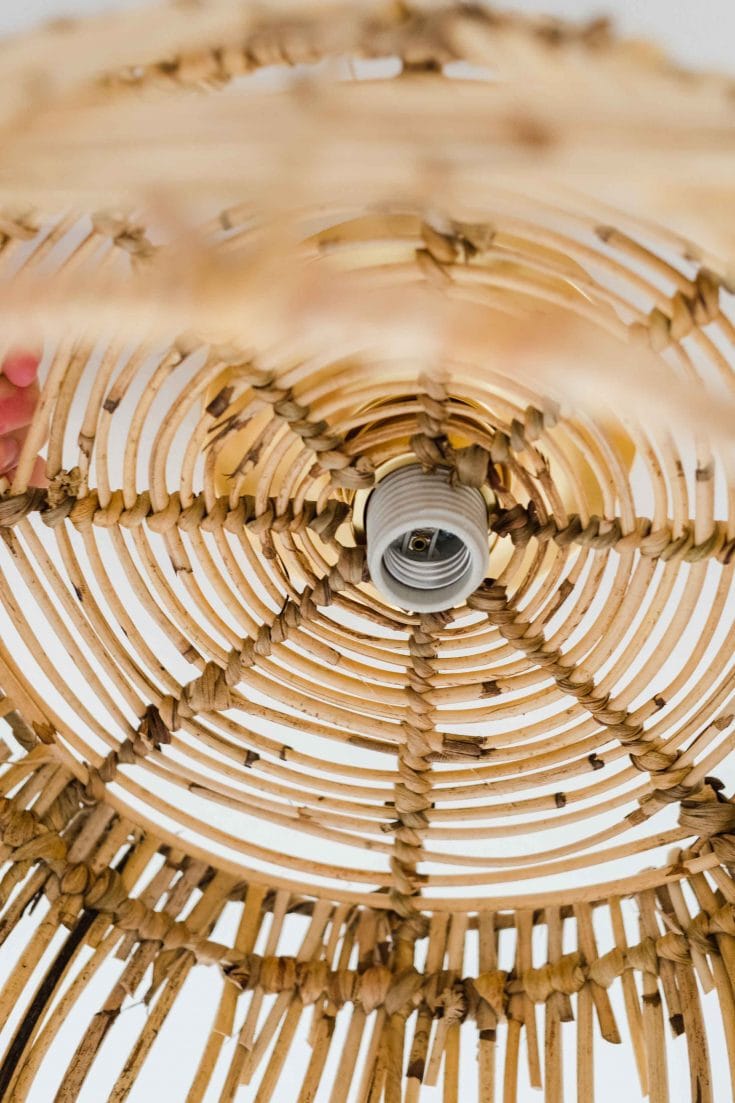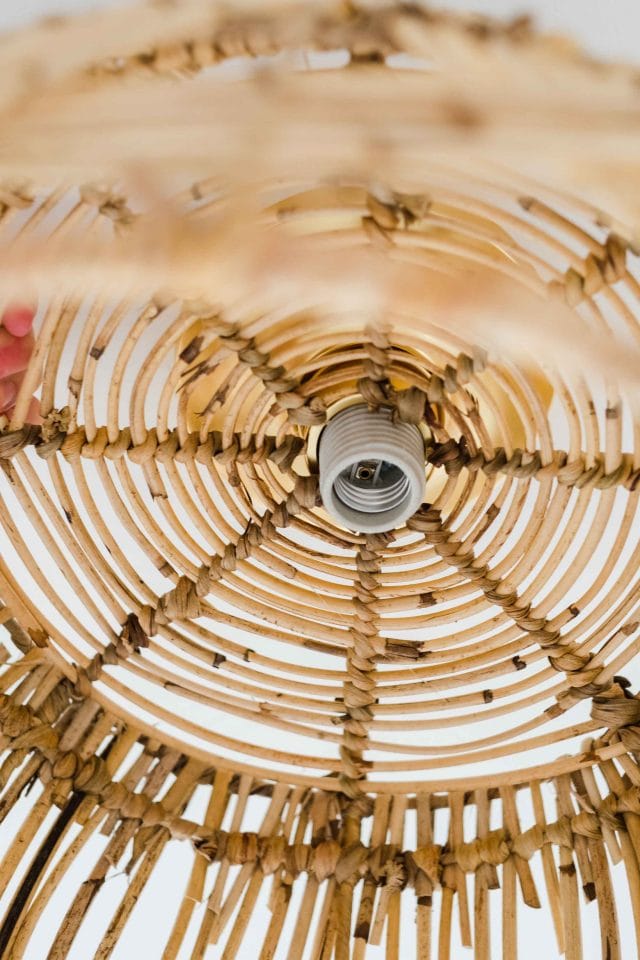 2 — Once the hole is cut, slip it over the bulb socket until it reaches the base of the mount and screw the shade ring onto the socket to hold it in place.
Essentially you're allowing the mounted light to hold the weight of the basket in between the shade ring and the top of the bulb socket.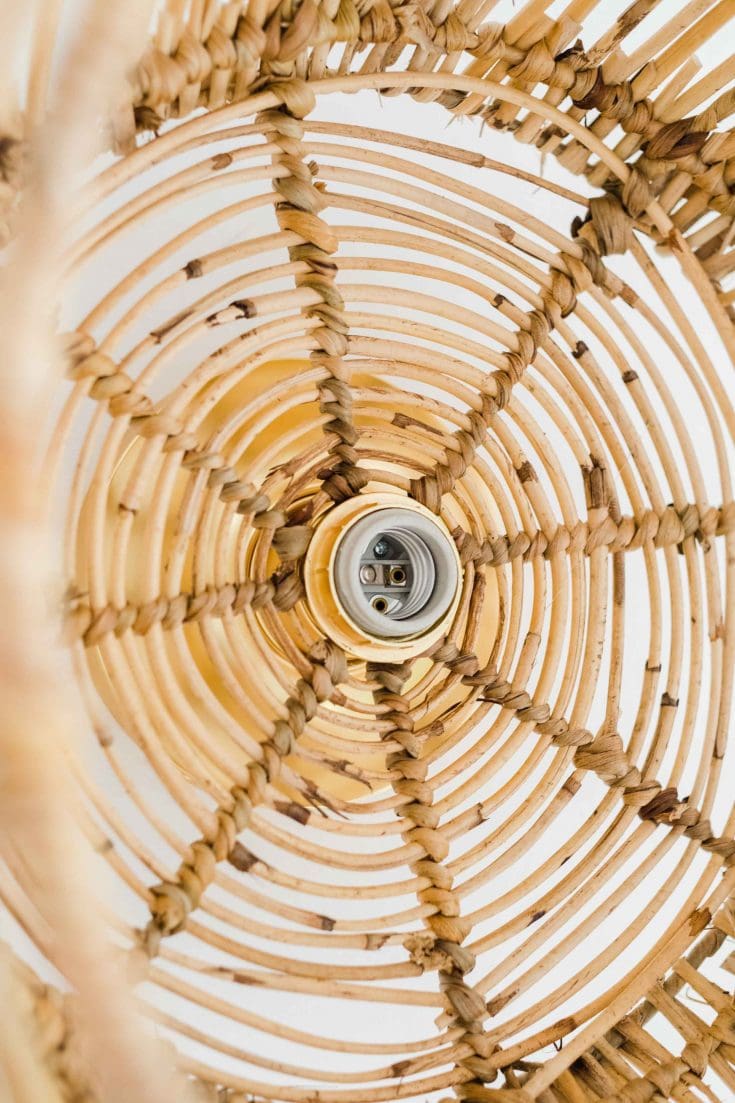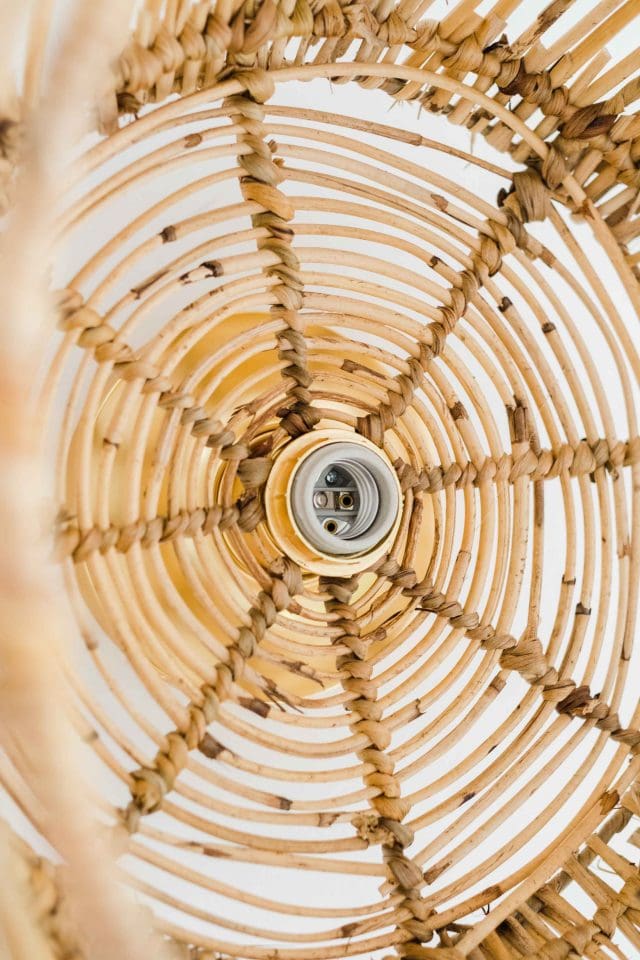 You'll see in the photo above that the basket is now securely held in place with the shade ring.
3 — Once you have your basket securely in place, all you have to do is insert a cute round bulb and you're all set!
What do you think?! I LOVE the way it turned out! It's also really pretty when it's lit up at night and the light is shining through the design!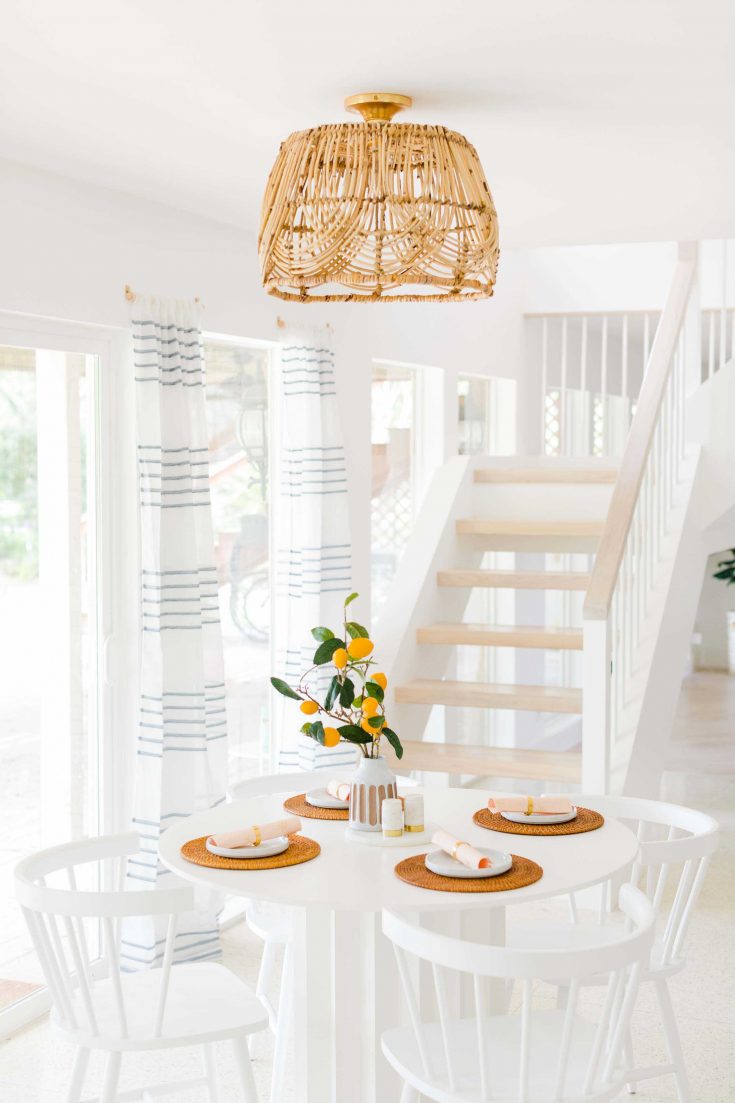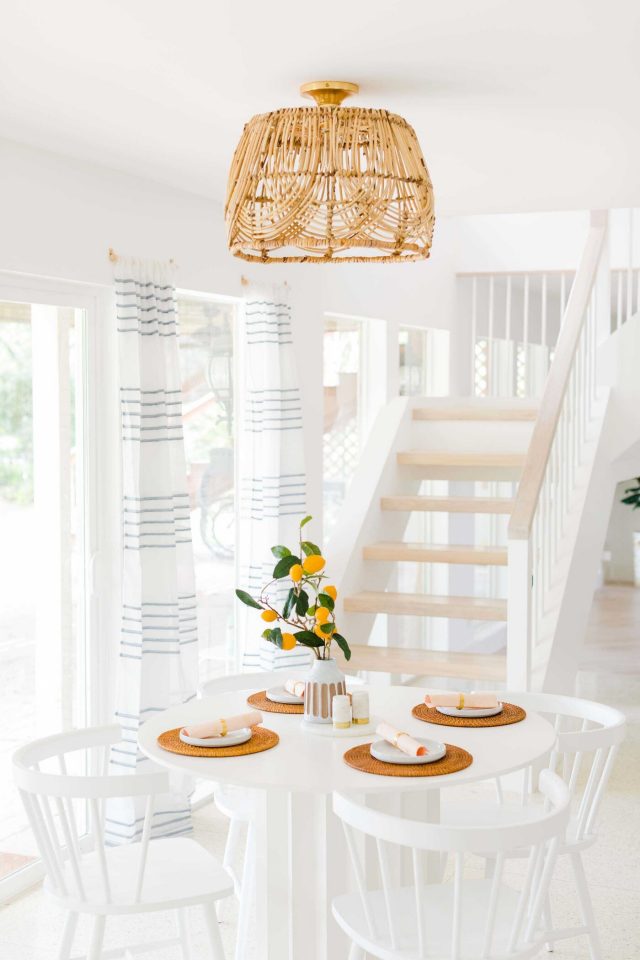 More DIY Home Decor Projects
Like the idea of repurposing everyday home decor items as DIYs's Here are a few other projects I've made!