Transform your girl's room into a vibrant and stylish space with these creative girls' room paint ideas.
It's no secret that we live for a good room makeover. We are passionate about home design and nothing elevates a space quite like paint colors.
A new color scheme can transform any room and nobody loves and appreciates a colorful room more than little girls.
Pink, blue and everything in between, there is no shortage of room colors or bedroom painting ideas when it comes to decorating a little girls' bedroom.
If you are feeling overwhelmed with all the choices for a bedroom design, have no fear. We rounded up the best girls' room paint ideas to get you inspired and motivated.
And none of these simple wall painting ideas require advanced painting skills!
Creative Girl's Room Paint Ideas
1 — Colorful Striped Little Girls Room
Not to toot our own horns, but this colorful little girls room we did for Gwen at our previous lakeside house is one of our faves.
The colorful stripes and light and bright accents totally transformed her once dark and depressing room. Plus, the color scheme is ageless for kids and teens to grow into.
You can base the color ideas off of her favorite colors. Or we went the interior designer route and opted for that year's color trends.
2 — DIY Wavy Wall
View this post on Instagram
For the girl's shared bedroom in our cottage home, we wanted some fun and whimsical so opted to make an easy DIY wavy wall that was inspired by Hot Pink Pineapples.
Instead of using painter's tape to create the wave outline, we formed the pattern with peel and stick tile trim. The backsplash trim is flexible enough to be molded into any shape. Then, chaulk any gaps and paint your wall color of choice!
3 — DIY Wall Mural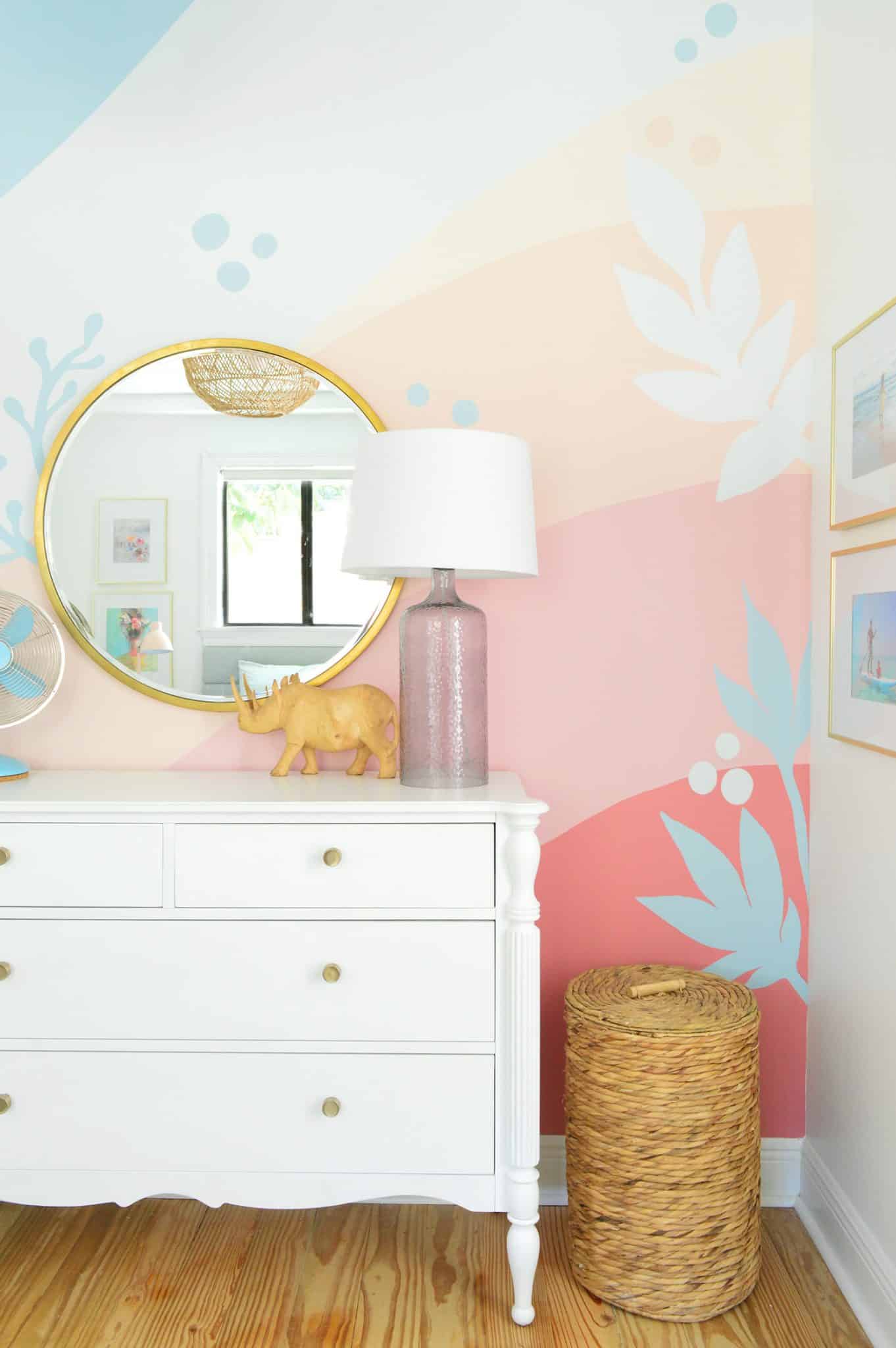 Young House Love knocked it out of the park with this DIY wall mural. The color scheme is absolute perfection, and we love how they got creative and really made it their own.
4 — Scalloped Wall
When we hear the word scalloped we are all in. This tutorial on scalloped walls is one of the bedroom paint ideas we can totally get behind. Scalloped walls and a girl room makeover are a match made in dream home heaven.
5 — Rainbow Wall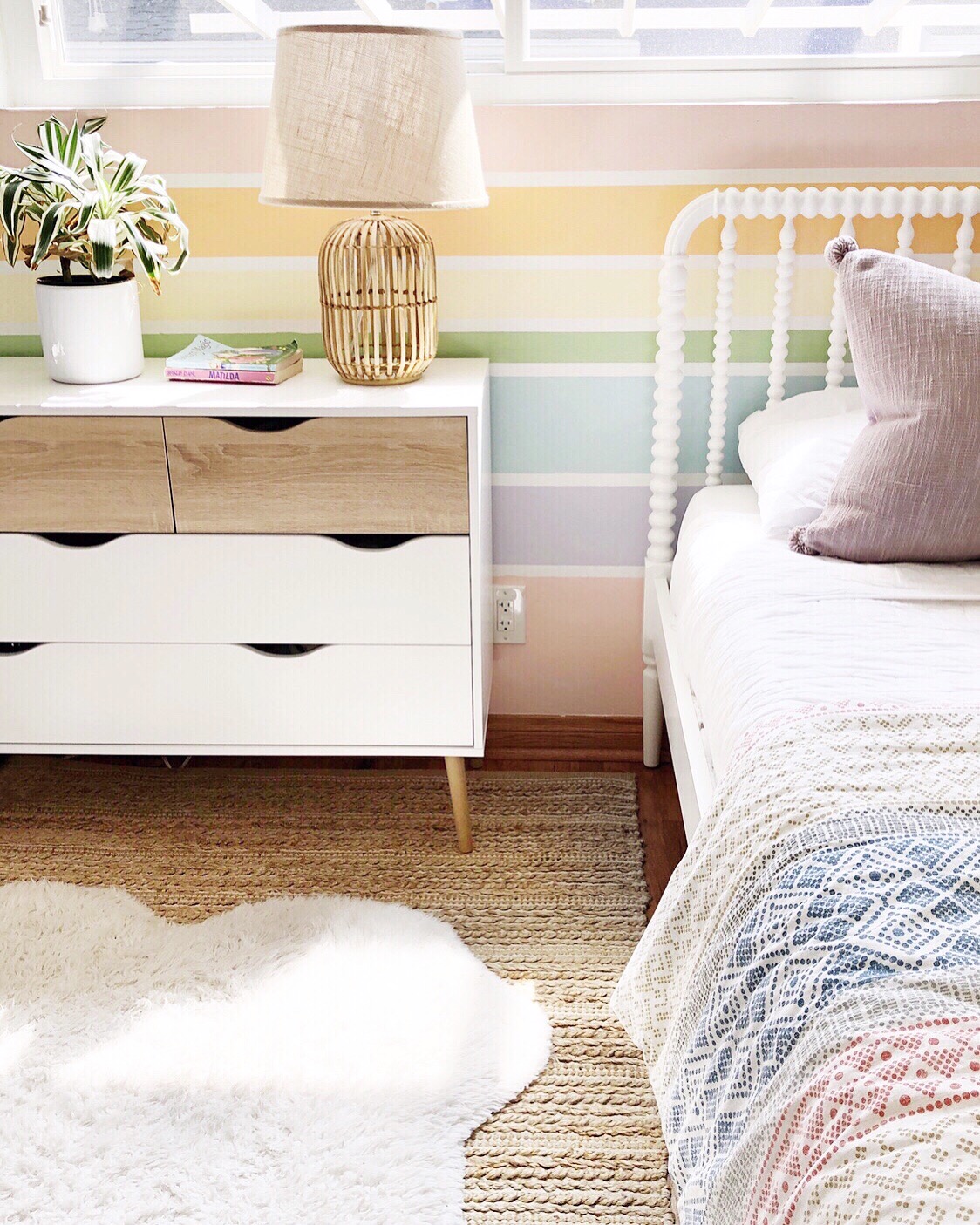 Can't pick from all the bedroom colors? No problem. This rainbow wall is the perfect solution to get all her favorite colors in one room.
6 — Painted Daisy
Playful and pink, this painted daisy design is giving us a fun 70's Daisy Jones & The Six vibe. It can be customized with any color. Thus, making it a great option for a room refresh.
7 — Rainbow Mural
We are obsessed with the muted colors of this adorable rainbow mural. While it could be painted any color of her choosing we love the fun take on the muted colors.
8 — Two Tone Colors
Sometimes going the simple route for girl room wall ideas can still make a dramatic change. This easy two tone paint idea is the perfect modern upgrade for your pre-teen and teen girls bedroom makeover.
And honestly, it's probably one of the easiest projects in our girl bedroom painting ideas roundup.
9 — Geometric Mural
The pops of color in this DIY geometric mural give a fun whimsical look that would be precious as an accent wall in a little girl's nursery or room.
10 — Ombre
These calming ombre walls are a great option for bringing peace to her space. Ombre can be versatile from choosing blue hues like the ocean or warm colors like the sunset.
11 — Hand Painted Dashes Wall
This pattern gets our stamp of approval because it's our own hand painted dashes accent wall. We painted it in our old guest room but it could be incorporated in any bedroom.
12 — Terrazzo Confetti
Pop the confetti on this colorful terrazzo confetti design. You could easily snag some Benjamin Moore paint samples to complete this DIY. Create a matching DIY terrazzo table to complete the room.
13 — Sunburst Color Block
Here comes the sun with this stunning sunburst color block paint idea. We are living for these green tones with a pop of pink (which is the perfect combo for a green bedroom).
This design would be so cute coming from a corner of the wall behind her bed or in a corner of her room.
14 — Color Block Painted Arch
Arch walls are all the rage in interior design, and this DIY painted arch is sure to elevate any girls room. In fact, it is one of our favorite wall painting ideas. You could make the arch a headboard or paint over a desk or bookcase.
15 — Honeycomb Design
This honeycomb wall is big and bold and totally fun. When the bedroom colors for girls, let your kids be the decision maker.
In the end, it's their room, right? We love that parents incorporated the citrus color palette that their daughter picked out for her honeycomb wall.
16 — Hand Painted Floral
This hand painted floral wall adds so much whimsical color. We also love how the design frames the bed.
17 — Checkerboard Pattern
This checkerboard pattern is giving us skater girl Van vibes. This girl's room paint idea is perfect for a teen room makeover.
18 — Paint Over Wallpaper
We had to do a double take because we were certain this was wallpaper. And it's actually a bit of both, wallpaper and paint. If you want to update your outdated wallpaper, but don't want to go through the time consuming removal process, then check out this tutorial on how to paint over wallpaper.
This particular paint idea with a DIY stencil is giving us major Secret Garden girls room inspo. The greens and blues and yellows are so calming.
19 — Boho Painted Wall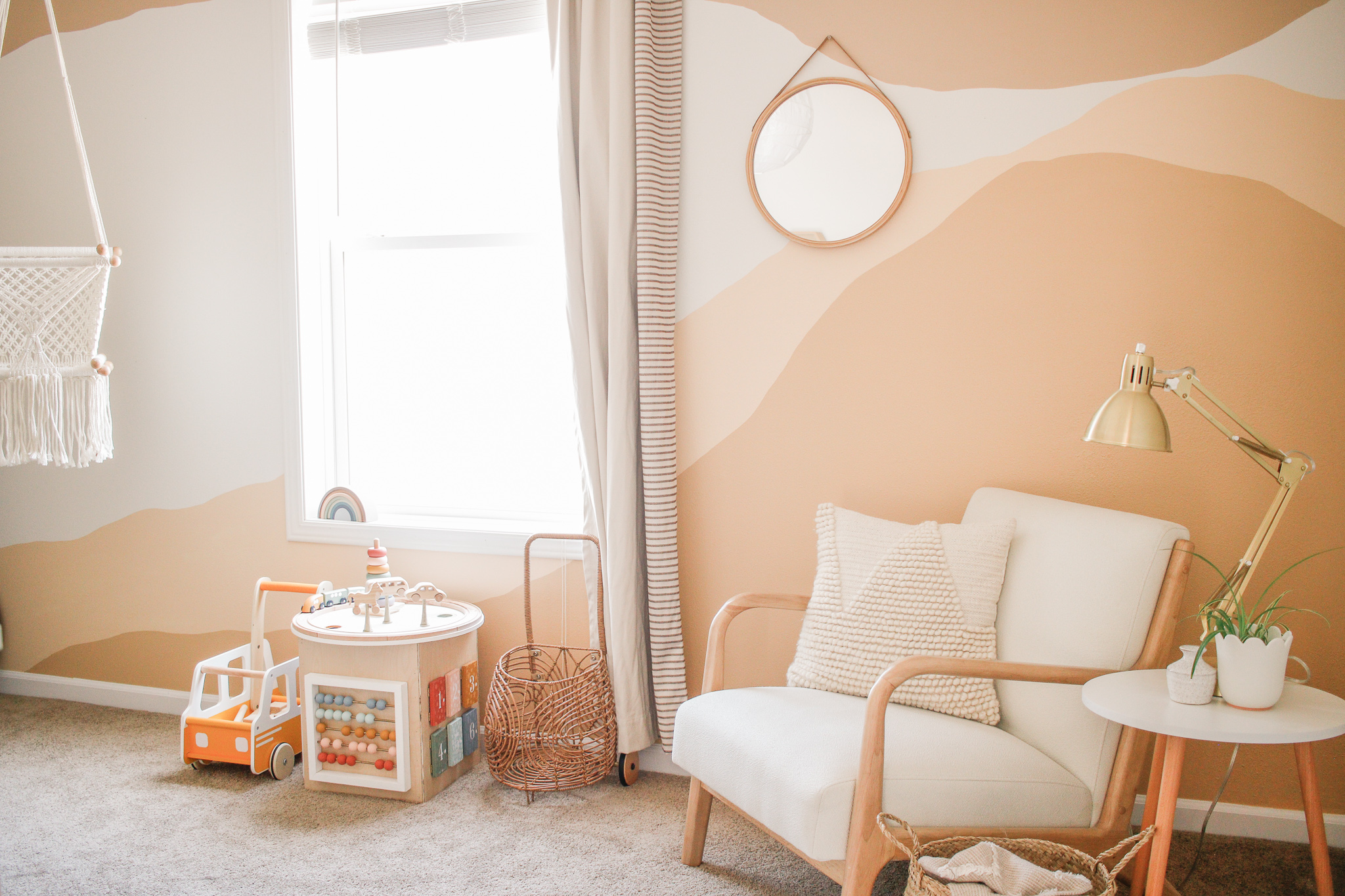 This one is for the boho princesses. This Boho accent wall packs a big punch and makes quite the statement. We love the dusty rose and neutral color palette. Soft and perfectly boho.
20 — Clementine Stamps
How sweet is this precious clementine stamp wall? While this wall is technically in a kitchen makeover, we think it would be oh so sweet in a little girls room too. This handmade easy wall painting idea is achieved with craft foam stamps.
21 — Hand Painted Symbols
This hand painted symbol painting idea is such a fun way to personalize a little girl's room with all the things she loves. It's hip and stylish and would work for a nursery all the way up to a teenagers room.
22 — DIY Watercolor Mural
While searching the interwebs for creative bedroom ideas, we came across this stunning watercolor mural that stopped us in our scrolling.
Watercolors are so calming and serene, making it ideal for a bedroom, especially a sweet baby girl's nursery. And the beauty of this paint idea is that it's meant to look "messy" and "imperfect".
Our Home Improvement Projects
For more home design ideas, check out some of our home makeovers below —