Lacking space for a dedicated home office? This creative office bedroom redesign makes working from home a lot more bearable and fun.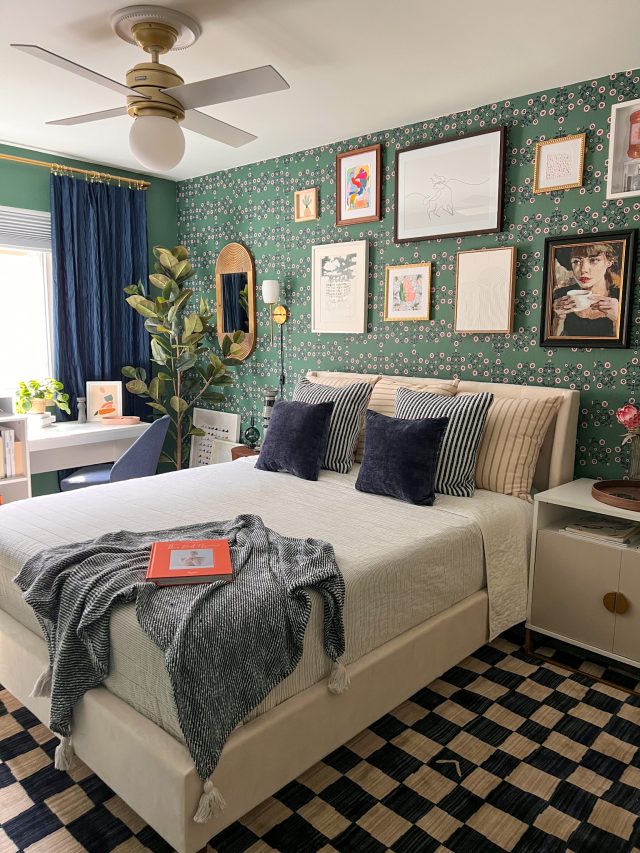 WFH life is now the new norm that's here to stay for the foreseeable future.
Ideally, we'd all like an extra room that's dedicated just for the office. However, for most (like us) the lines between work life and home life are often blurred.
So it's quite common to find a hybrid office in the living room, master bedroom or in this case, the guest room.
We had quite the challenge designing our recent home office. (But what's a renovation without a few bumps, right?!)
Our previous office gave us the advantage of being a large and spacious space with tall ceilings and lots of windows and natural lighting.
Even our townhouse study room had its own separate nook in our home.
However, our latest makeover was a lot more restrictive than the others.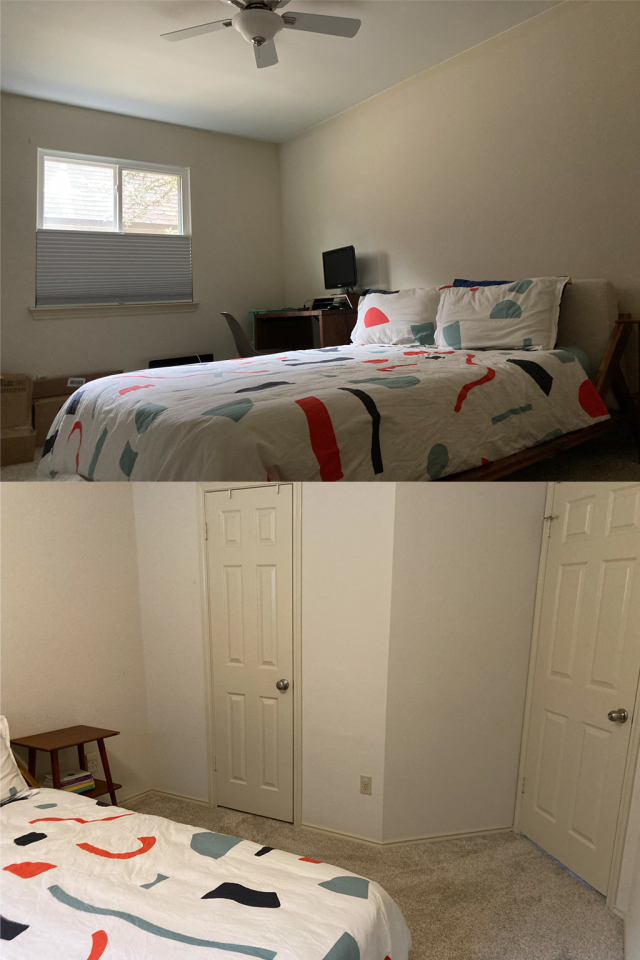 The Before and Our Design Goals
The original room felt like a bedroom with a desk shoved in the corner as an afterthought.
We wanted the office bedroom to feel like it was both a functional work area and still be a relaxing sleep sanctuary.
But we didn't want one taking over the other.
Getting that balance was tricky with the small narrow rectangle railroad layout.
Natural light was also limited. Much of the room was darkly lit. Yet, if you moved in front of the window, the sunlight was glaringly direct and intense.
Nonetheless, the great thing about a guest bedroom is that you can have more fun with it.
It's the one room in a home that you can go a little crazy with the design since it's not a room that is being slept in everyday.
And because this room was for someone who worked in the creative industry, we had no limitations to stick with a "subtle professional" backdrop for video calls.
So we decided to go the extreme transformation route!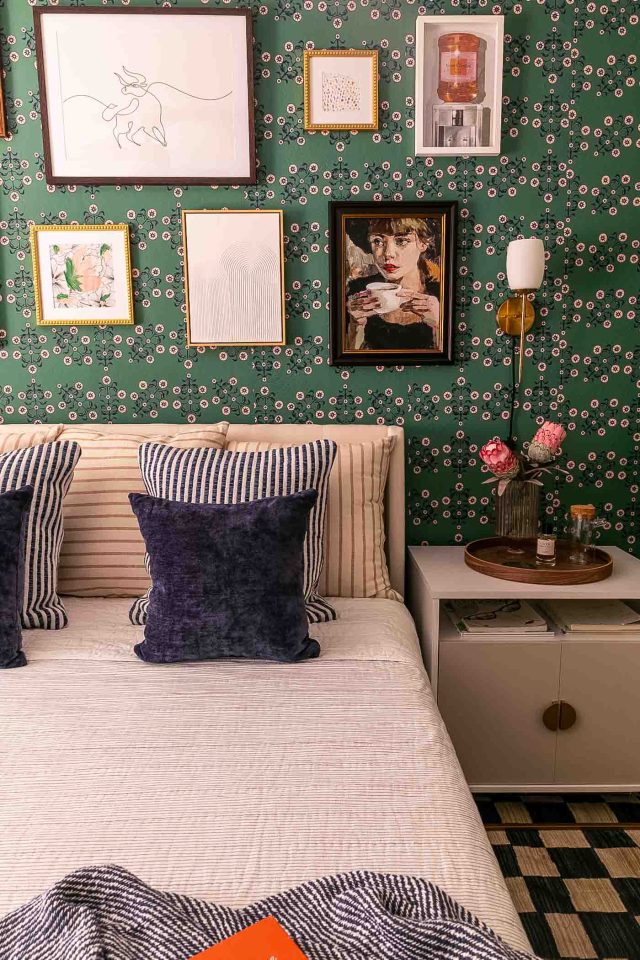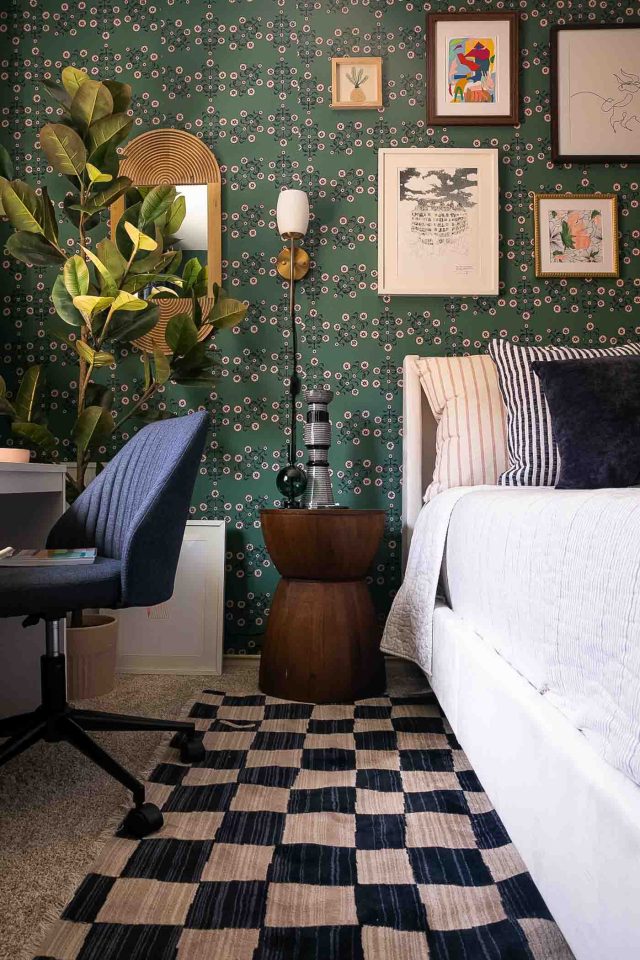 Temporary Wallpaper Accent Wall
We opted for a dramatic accent wall which was achieved with floral peel and stick wallpaper.
Peel and stick wallpaper is easy to apply. There's an adhesive backing so you literally just peel and stick the wallpaper to the wall.
It's something you could definitely apply yourself as a weekend DIY project.
Peel and stick wallpaper is also temporary.
Thus, it's ideal for rental properties or if you like to do the occasional room refreshes.
If you really want dramatic change, a quirky bold wallpaper design is the way to go.
We also said goodbye to those stark beige walls and painted the remaining room a matching green.
You could easily do the same by taking a sample of your wallpaper to the paint store to have paint mixed and color matched.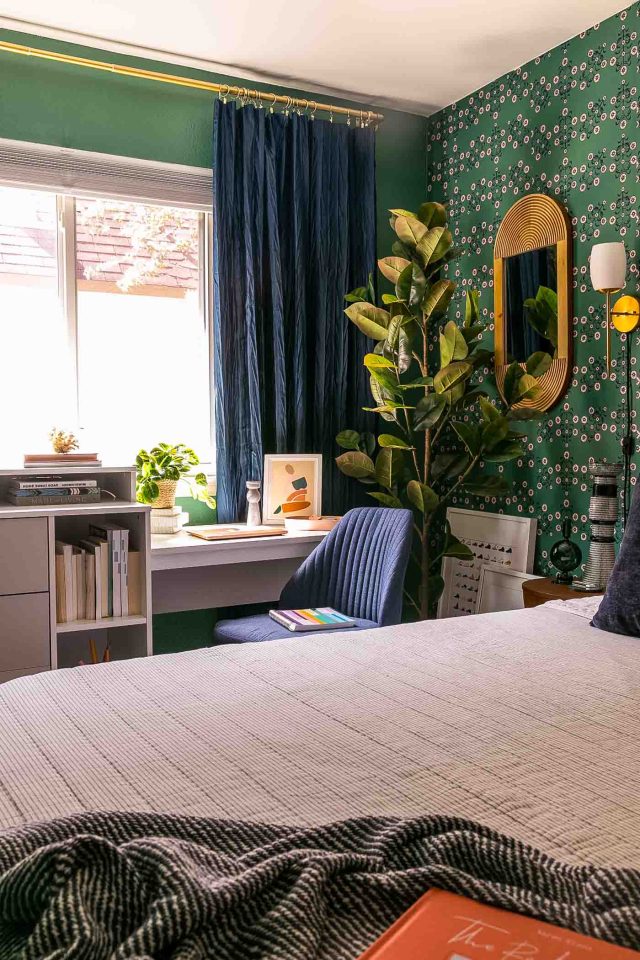 How Make a Room Seem Taller
Making a room seem taller also makes the room seem bigger. Here are ways to fake it.
1 — Raise the curtains.
We created an illusion of height by raising the curtains to the ceiling. It's a trick that we've utilized countless times like in our transitional living room and emerald green bedroom makeovers.
2 — Opt for vertical design elements.
Vertical designs divert your sight pathway up and down.
It can be something subtle like selecting ripple fold curtains, vertical sconces and stripe throw pillows to emphasize vertical height.
We also strategically selected a wallpaper with a vertical design.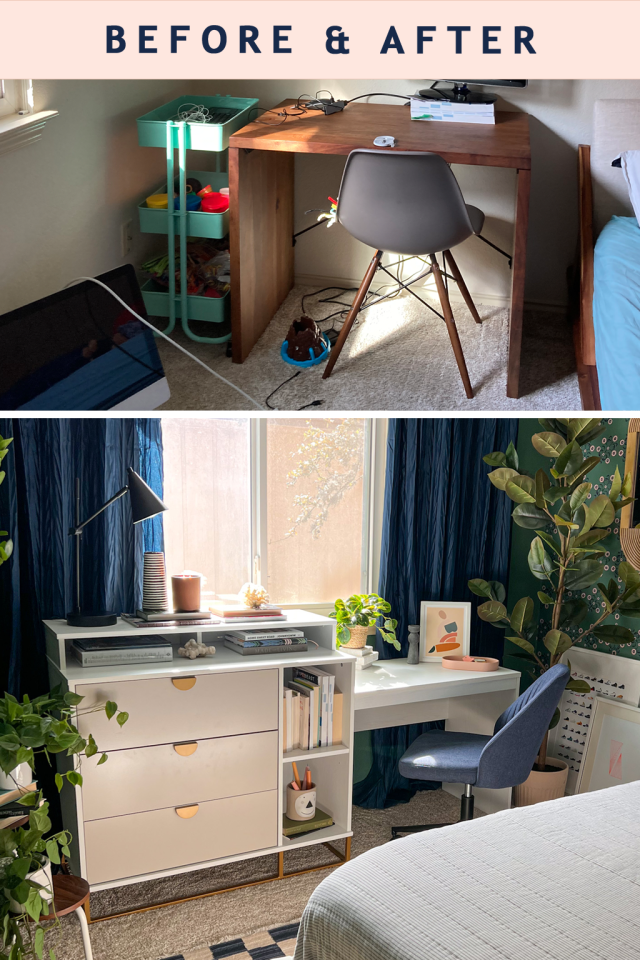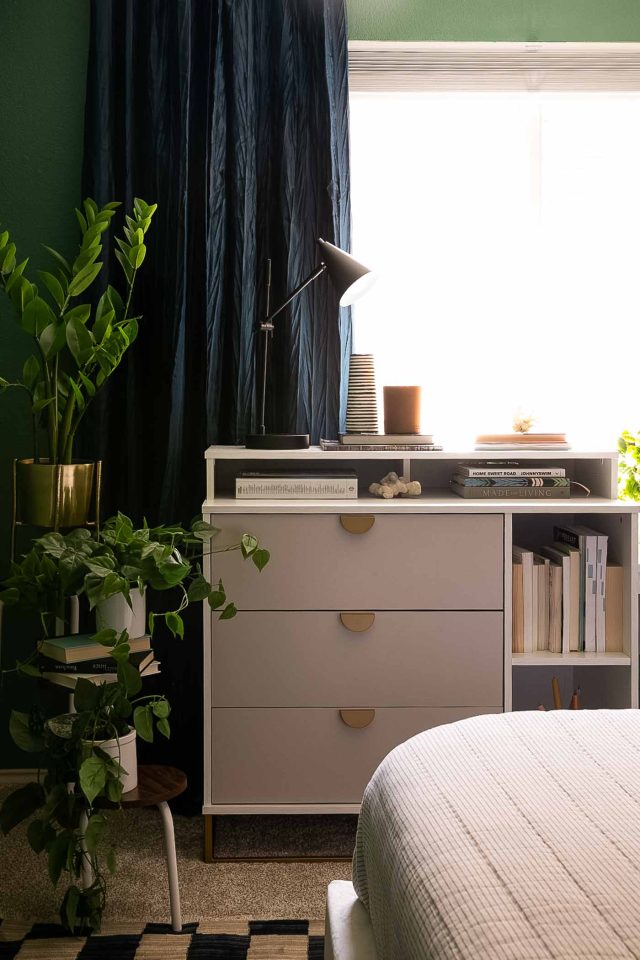 Selecting a New Functional Office Desk
It was crucial for the new desk to be practical and functional.
We toyed with the idea of a standing desk.
But we wanted something with lots of storage that could easily hide and organize all those office supplies and electronic cords when guests stayed over.
The Kelly Collection Media Desk is perfect for an office bedroom set up.
The stylish desk plays double duty (or more like quadruple duty) as a TV stand, dresser, bookcase and computer desk all in one.
We definitely had to shuffle this furniture piece around to make it fit, but it was totally worth it.
And to make a desk feel less like a desk we added decorative accessories and candles.
Moving the desk out of the corner definitely strikes a work life balance to the room.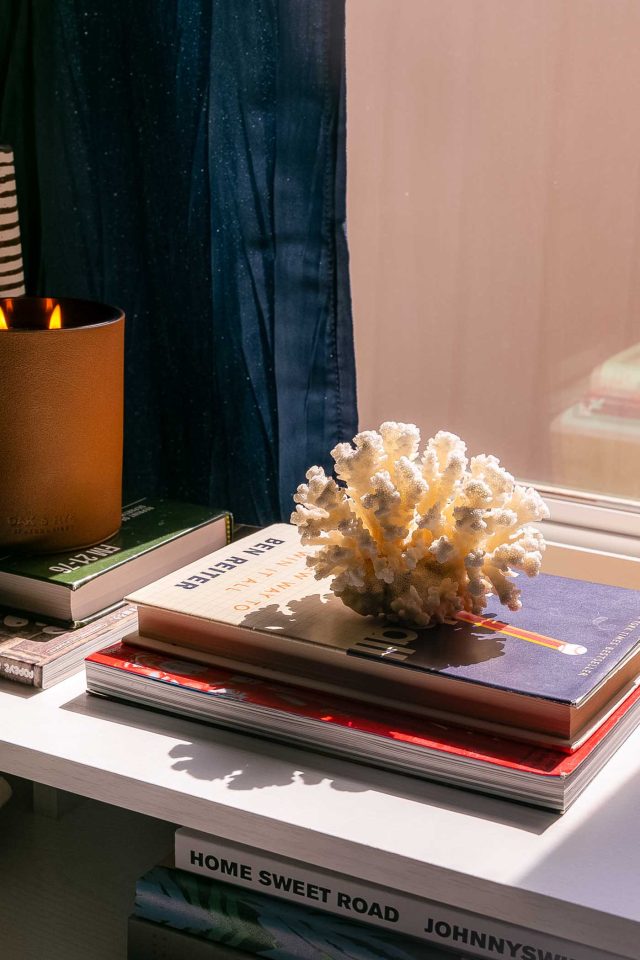 Lighting a Small Home Office Space
Since this still is a bedroom space, we relied on the lighting to create a cozy vibe.
The room isn't well lit at night so we followed the three point lighting method, a traditional interior design styling guide.
The ceiling light was still going to serve as our general top layer lighting.
But we updated the old light with the Hepburn Light Fan which featured dimmable light function to control whatever ambience you wanted.
Does the ceiling light fan look familiar? It's a personal favorite of ours that we also installed in our lakeside living room.
Next, we installed brass sconces on each side of the bed as our accent lighting. This particular fixture can be plugged in or hardwired if you want a cordless look.
For task lighting, we picked a modern metal desk lamp placed at the desk space.
We also hung up the Arch Mirror adjacent to the window to reflect off sunlight.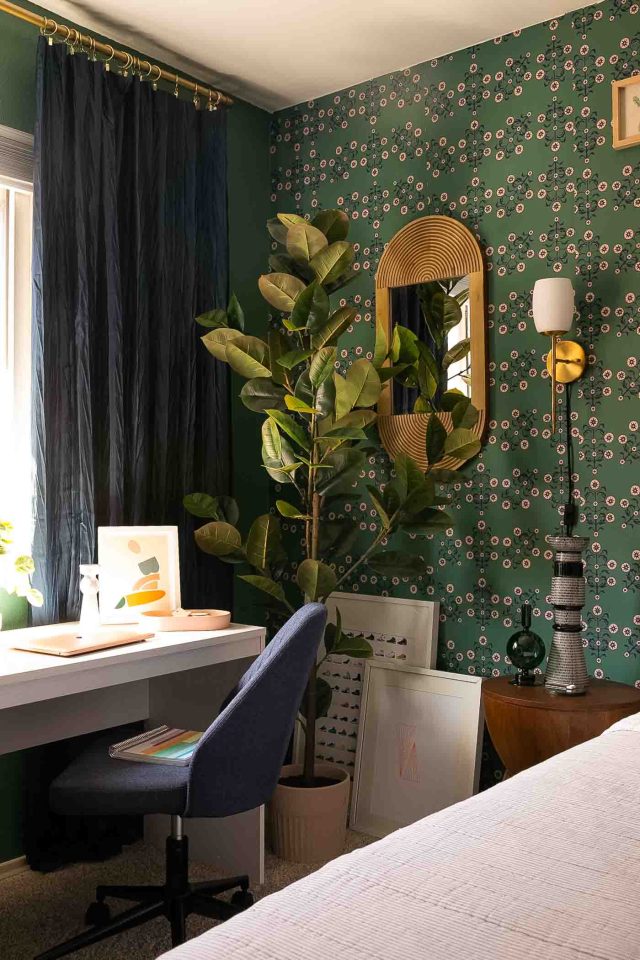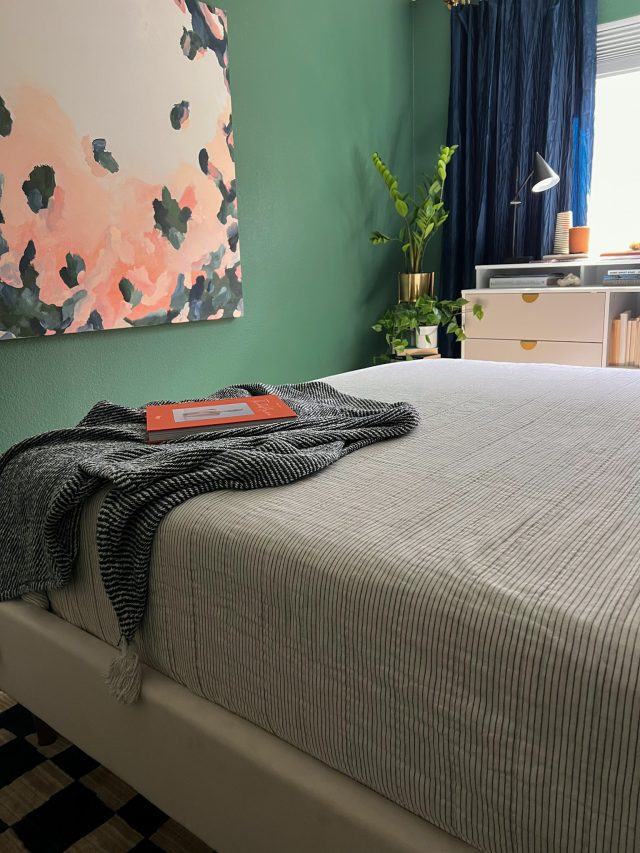 Decorating Our Bedroom Home Office
The patterned wallpaper is bold enough so we could've left it alone to be solely an accent wall.
But because the wallpaper design is very feminine and vintage, we wanted to balance the room's aesthetic to also be modern and contemporary.
So we turned the accent wall into a gallery wall and hung up abstract minimal and abstract artwork.
On the opposite side, we had had a big bare green wall.
Another gallery wall would've made the room feel too clutter.
So we painted an abstract piece with the same pink, green and navy color scheme from the wallpaper to tie in the art.
We're not huge fans of beige carpet so we picked a checkered rug that covered the floor but still matched the carpet for another layer of coziness.
Office Bedroom Sources
What do you think? This now feels like a home office designed for working and relaxing. You can view a video transformation of our bedroom office idea on our Instagram.
Floral peel and stick wallpaper
Her Majesty Upholstered Bed Frame
Kelly Accent Bedside Table Cabinet
Oversized stripe throw pillows
Hepburn Fan with a Bradford Split Ceiling Medallion
Custom Sugar & Cloth painting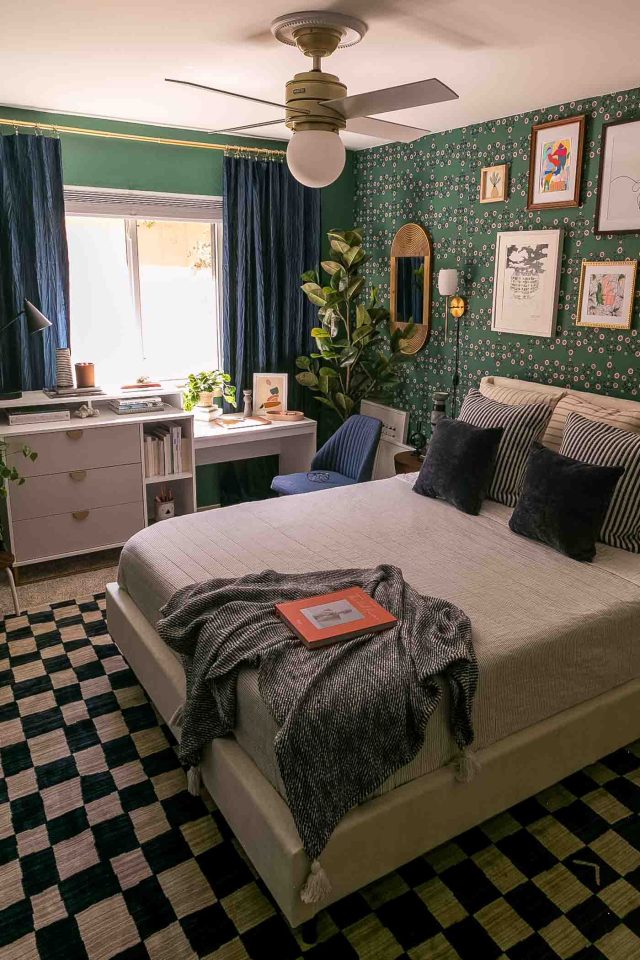 More Home Renovations
For more of our bedroom makeovers, check out a few of our favorites below —