Emerald green is a luxurious and refreshing shade to include in your interior decor. So get inspired by our selection of emerald green bedroom ideas.
Named after the precious gemstone, emerald green is a vivid green with a slight hint of blue.
This jewel tone hue symbolizes balance and harmony and thus, is a popular color choice in interior design, especially in bedrooms, where one wants to rest and relax.
For some, emerald green can feel intimidating to incorporate into a home because it's such a bold and rich color.
However, there are so many easy and creative ways to bring in emerald green. You can make a statement with it or you can subtly integrate it into your home decor.
What Colors Pair Well with Emerald Green?
Because there are many shades of emerald green, it's actually quite easy to find a color to complement it. Its shades range from bluish emerald greens (which are more deep greens) to yellowish emerald greens (that are more earthy greens). Therefore, this color works well with:
— Rose and other peach and pink tones
— Neutrals and off whites and warm whites like beige and ivory
— Greys
— Other greens like yellow-green and lime green
That being said, here are our favorite bedrooms that showcase emerald green and that hopefully will give you ideas on how to design your own emerald green bedroom.
Emerald Green Bedroom Ideas
1 — Emerald Green Office Bedroom with a Wallpaper Accent Wall
This office bedroom makeover is a true testament to how selecting an emerald green color scheme can completely transform a room. Its previously all-white and stark walls were painted green.
However, this particular room already had little square footage so we knew that if we went dark with all four walls, it would create an illusion of feeling even smaller.
To break it up, we created an accent wallpaper wall showcasing a matching floral print.
The wallpaper design features complimenting colors of pink and navy that gets incorporated throughout the room through the bedding, pillows, curtains and tabletop decor.
This was definitely a full scale emerald green makeover, but the wallpaper is actually a temporary peel and stick design. So if you don't want to be committed to one look, the best choice is to use wallpaper.
2 — Emerald Green Bedroom with a Painted Accent Wall
If you're opting for an accent wall, make it more dramatic by matching the curtains as done in this emerald green bedroom.
First, start with finding your emerald green curtains. Then, go to the paint store for a color match since it's a lot easier matching your paint to the curtain versus hunting down a curtain to match your paint.
3 — Two Tone Emerald Green Bedroom
If you are wary of committing to full floor to ceiling green walls, then a two tone emerald bedroom would probably be more ideal for you. This way, you'll be less overwhelmed with all the color.
These color block walls are a simple wall painting idea that only requires painter's tape to achieve this design.
We love how this particular bedroom makes the pairs emerald green with a high contrasting bright white. The color blocking allows the emerald green to shine, while the white doesn't overpower the statement artwork.
4 — Every Shade of Green Bedroom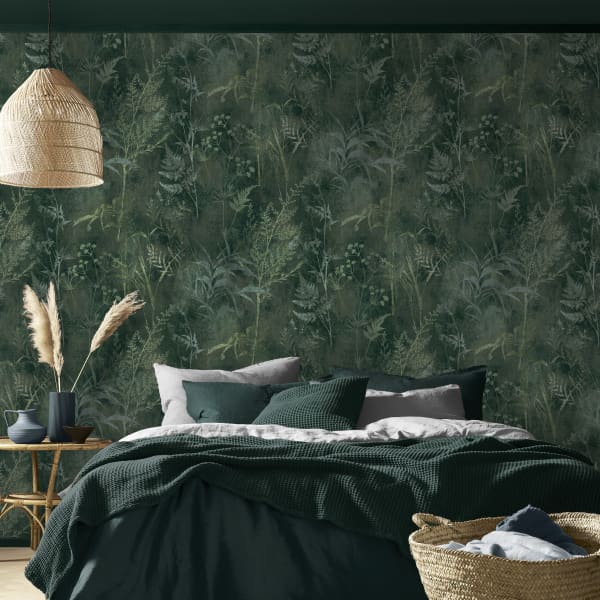 On the opposite spectrum is to go all in with the emerald green theme as done with this statement bedroom.
The walls, wood trim, ceiling, decor and bedding showcase every shade of emerald green. And we love it sets the mood for a relaxing oasis with a dark and mysterious ambiance.
5 — Boho Guest Bedroom
We've seen the regal side of emerald so now here's the bohemian side. The color washing technique used to paint the walls lends to the room's carefree and effortless style.
The textural plaster effect is easy to achieve by combining lighter green tones over a dark emerald base. Then, decorate the room with indoor plants, earthy and textile pieces like woven baskets and rattan decor.
6 — Pink and Emerald Green Bedroom
The classic pairing of pink and emerald green is popular because of they're complementary colors. To contrast the moody dark green, pink brings charm and playfulness to a bedroom, especially if you don't want one that is so serious.
7 — Chalk Paint Kids Room
View this post on Instagram
We've always loved the idea of a chalkboard wall in a kid's room. And nowadays, chalkboard paint comes in many colors. However, the classic chalkboard is emerald green.
So it is the perfect color choice for a chalkboard wall. Plus, it's a gender neutral color that will work in either a little boy's bedroom or little girl's bedroom.
And don't forget that because green has a calming effect, it's an ideal color in a kid's room to get them to wind down before bed.
8 — Jungle Themed Bedroom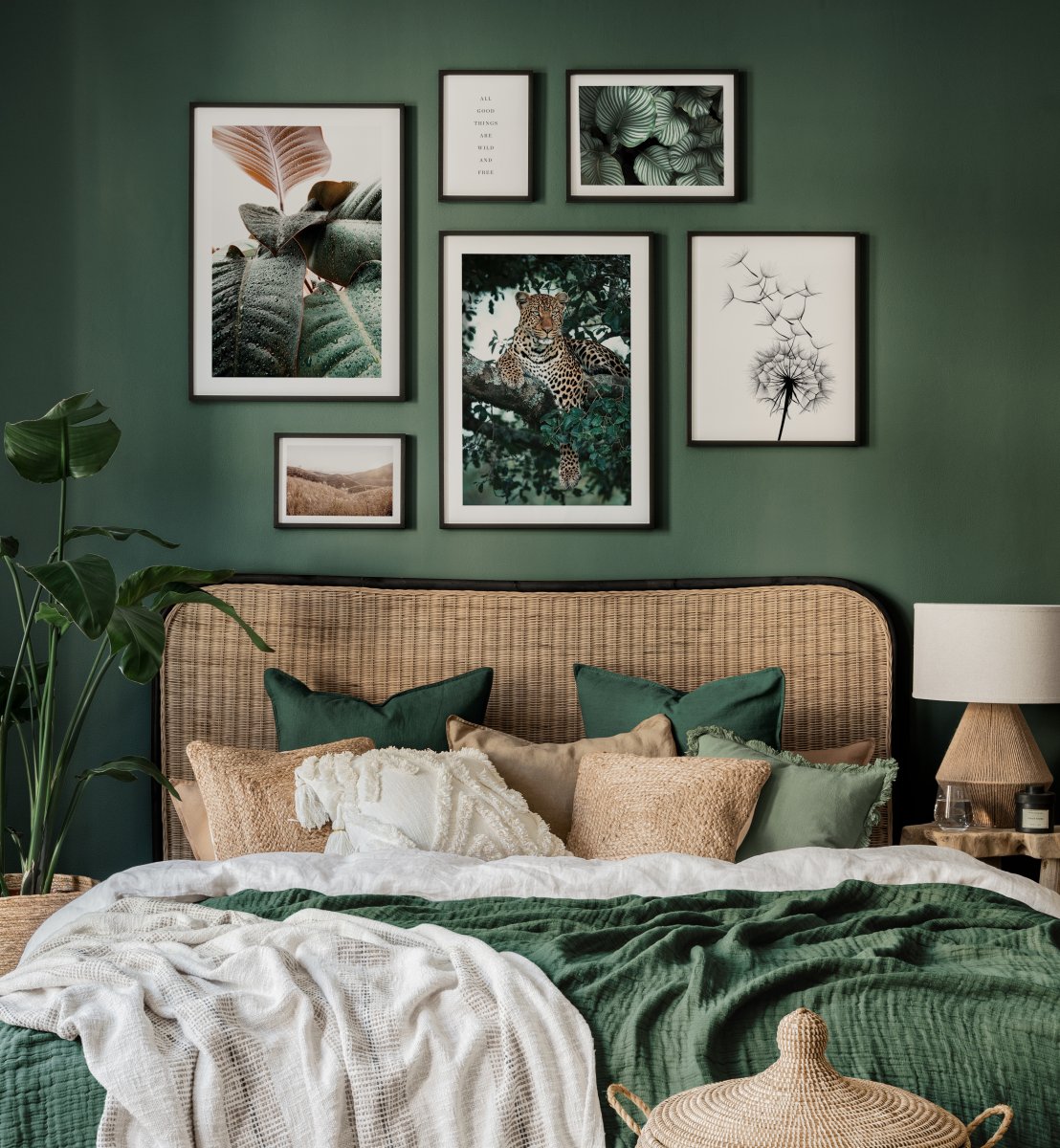 A prominent color of the jungle, emerald green is definitely a color scheme to include in a jungle themed bedroom. You can then incorporate safari inspired artwork, animal prints and plants like ivy.
You can really have a lot of fun with this theme, which is why we went for a jungle themed guest bedroom.
9 — Luxe Art Deco Emerald Green Bedroom
The Art Deco period was a time of elegance and decadent glam. So it's only fitting to feature lots and lots of regal emerald green with exotic woods like teak, marble finishes, ornate lighting and geometric lines.
10 — Emerald Green Accent Decor and Accessories
If you don't have the time or the budget for a full blown bedroom makeover but still want an emerald green bedroom, then simply just decorate with emerald green.
It's a more subtle approach to a room refresh. A quick dramatic change would be to select an emerald green bedspread and pillows. Go for emerald green accent lighting or even a rug.
Even the smaller accessories like candles, trinket trays, and picture frames will help achieve that emerald green look.
Our Bedroom Makeovers
For more bedroom inspirations, check out some of our favorite bedroom redesigns below:
DIYs to Try for the Bedroom