Here are some of the best bold wallpaper designs. From cool, colorful geometric prints, fun animal graphics, and more, they'll surely transform your space.
As interior design lovers, we're always looking at how people use color, furniture, light, and objects to create a fun environment.
Admittedly, we are easily wooed by bold design decisions that we don't always have the space, the cash, or (most of all) the guts, to make ourselves.
For us though, there's wallpaper.
Things have come a looooong way since the kitchen wallpaper in your family home growing up, your grandmother's current hall bathroom, or that horrid motel you had to stay at because it had the only vacancy.
Rest assured, things have changed!
The decorative paper that adheres to walls has regained popularity after taking some time away for self improvement.
We've spotted some very attractive wallpaper in living spaces, baby and kids' rooms, the hippest hotels, and the coolest restaurants.
It's a great way to add a punch with an accent wall or cover an entire room for a very dramatic finish.
We did our very own in Sugar & Cloth's guest bedroom makeover (and actually other renovations that you'll see below).
Designs can be subtle, textured, patterned, or mural-style (where multiple pieces go edge to edge to make one large image).
And if you're worried about how permanent these changes can be, don't.
There are tons of great removable wallpapers for renters or people like us who like to keep things changing around the house.
Now that we're all on board with this revitalization, let's take a look at some gorgeous ways to dress up our walls.
And remember, most of these wallpapers come in different color options!
15 Bold Wallpaper Designs
1 — White Grid Contact Paper Peel
The bold white grid pattern is perfect for adding a touch of modern flair to any space.
Our contact paper is also waterproof, oil-proof, and moisture-proof, making it ideal for use in the kitchen, bedroom, or bathroom.
Plus, it's easy to clean – just wipe it down with a damp cloth.
2 — Watercolor Spill Wallpaper
This quirky wallpaper from Olivia & Poppy is sure to make a splash in any room!
The pink watercolor design is perfect for adding a touch of fun and personality to your space.
Whether you use it in your living room, bedroom, or home office, this wallpaper is sure to make a statement.
3 — Palm Jungle Wallpaper
Check out Palm Jungle, a fun and funky wallpaper from Cole & Son. With its bold palm print, this wallpaper is sure to make a statement in any room.
Whether you use it as an accent wall or go all out and cover every wall, Palm Jungle is sure to add personality to your space.
Does the wallpaper look familiar? We used it in our guest bedroom!
So go ahead and make a bold statement with your decor, with Palm Jungle wallpaper from Cole & Son.
4 — Animal Silhouettes Wallpaper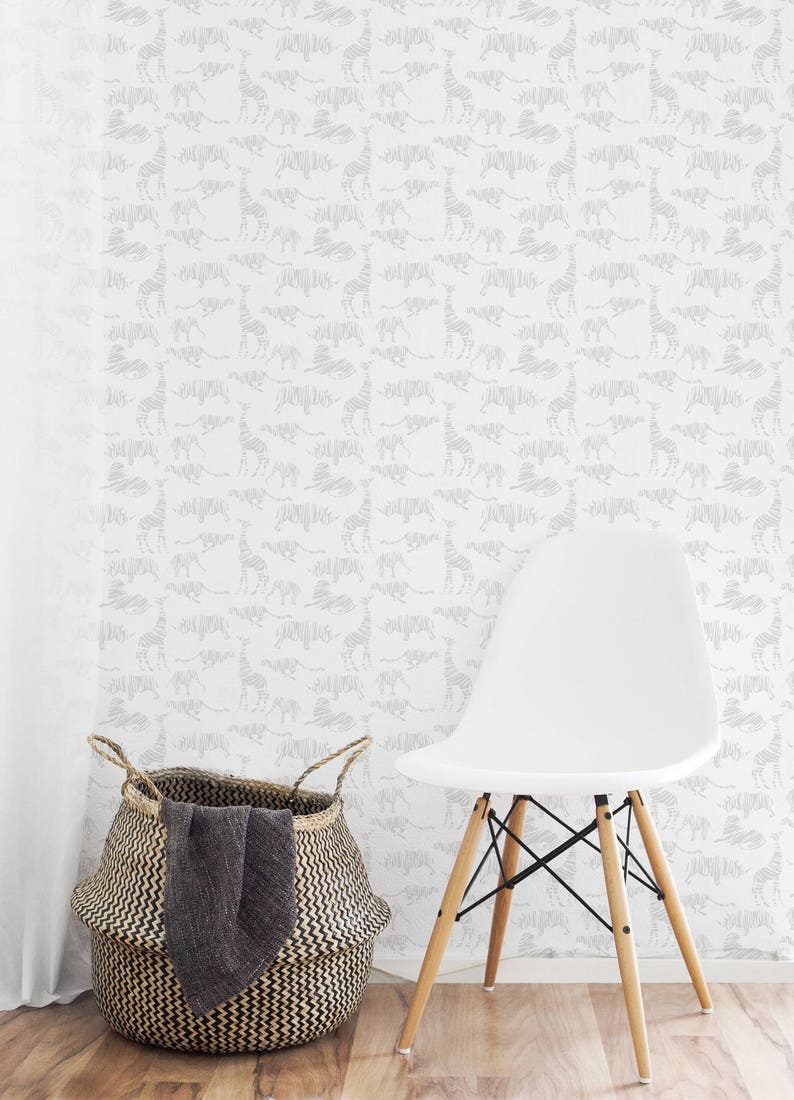 If you're looking for quirky and unique wallpaper, animal silhouettes are a great option.
Etsy has a wide variety of animal silhouette wallpapers to choose from, so you're sure to find something that fits your style.
From birds to mammals, there's an animal silhouette wallpaper for everyone.
5 — Agate Wallpaper
Chasing Paper's Blue Agate design is a quirky and unique wallpaper that is perfect for adding a pop of color to any room.
This design is inspired by the beautiful blue agate stones found in nature.
Each piece of wallpaper is hand-drawn and then printed on high-quality, self-adhesive paper.
Chasing Paper's Blue Agate wallpaper is easy to apply and remove, making it a great option for renters or anyone who likes to change up their space often.
6 — Flamingos Wallpaper
This quirky wallpaper from Cole & Son is sure to make a statement in any home.
Featuring a fun pink flamingo design, it's perfect for injecting some personality into your space.
Easy to apply and durable, it's ideal for high-traffic areas like kitchens and bathrooms. Plus, it's sure to brighten up any room!
We actually selected this wallpaper for Gwen's nursery room.
7 — Pastel Speckle Wallpaper
If you like pink and polka dots (but want something subtle and ethereal), then this design is for you.
It's perfect for a kid's playroom or powder room. The line is also available in your traditional application or the easy stick and peel option.
8 — Abstract City Plan Wallpaper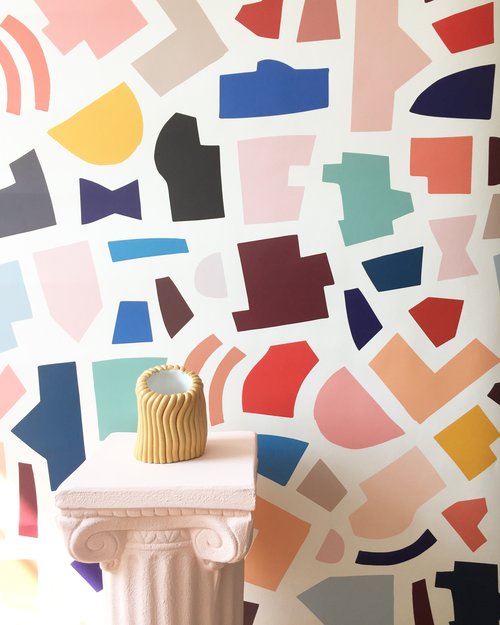 Kate Zaremba's quirky and colorful abstract city plan wallpaper is the perfect way to add a touch of personality to any room. With its bold colors and playful patterns, this wallpaper is sure to make a statement in any space. The hand drawn custom print is inspired by the snaking streets of many European cities.
9 — Retro Shapes Wallpaper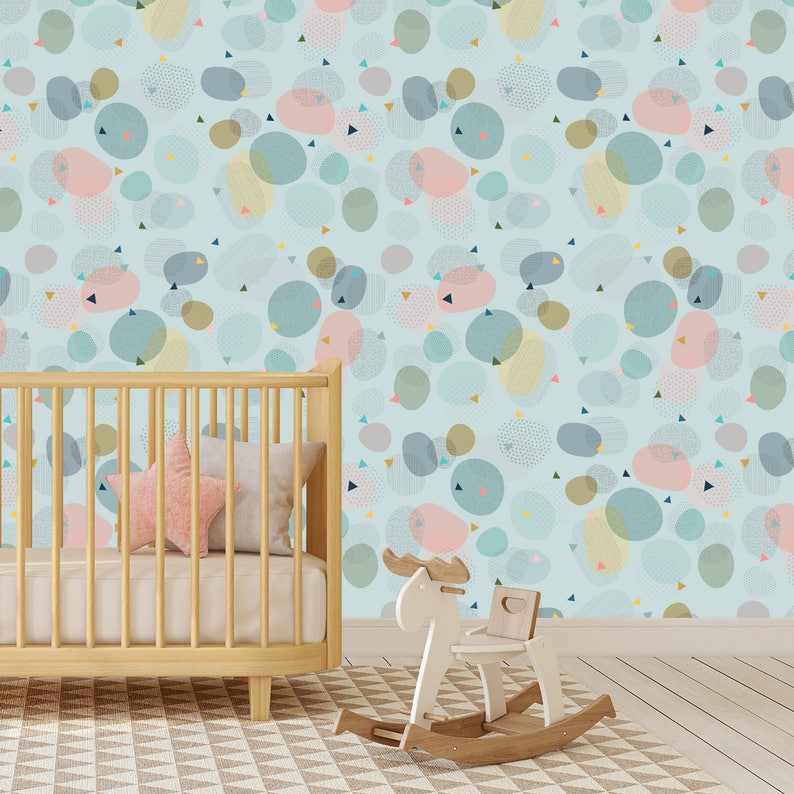 This quirky wallpaper is perfect for adding a touch of retro style to your home.
The multi-color design features a variety of shapes in different colors, making it perfect for creating a unique and stylish look in any room.
With its easy-to-apply design, this wallpaper is perfect for DIYers of all levels.
10 — Macarons Wallpaper
Nathan Turner's Macarons will surely put a smile on anyone's face, especially on any dessert lover or Francophile.
And considering how we are obsessed with macarons, we would order a sample just to frame this illustrated design.
The wallpaper pattern is a perfect way to add some personality to your home. We also love that you have the option to purchase it as a removable panel or wallpaper roll.
11 — Marble Wallpaper
Lulu & Georgia's Pink Marble wallpaper is the perfect quirky addition to any space.
This pretty pink design is sure to make a statement in any room.
And if you're not a fan of this hue, there are other color options available.
12 — Watercolor Drops Wallpaper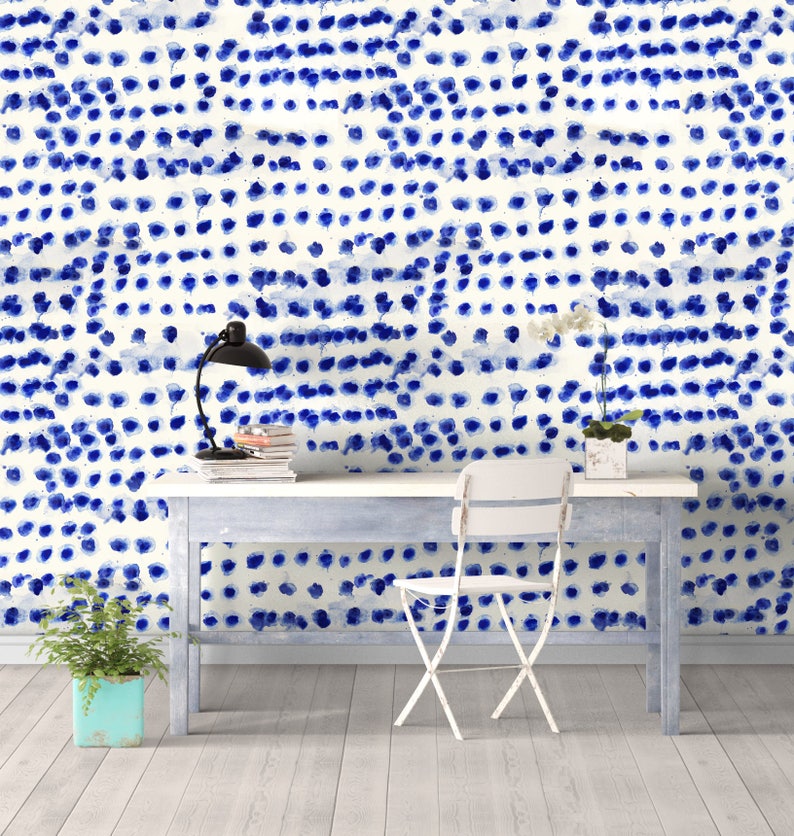 Looking for something quirky and unique for your walls?
Check out these Indigo Watercolor Drops from Etsy. They'll add a touch of whimsy to any room in your home.
13 — Starburst Wallpaper
Teal Starburst is a fun wallpaper design by Chasing Paper.
It features a bold teal background with white starburst patterns (with other color options available).
This design is perfect for adding a pop of color and patterns. This wallpaper is perfect for adding a touch of fun and whimsy to any room.
This bold print would also be fun to not just decorate your walls but to spruce up your stair risers.
14 — Watercolor Floral Wallpaper
This watercolor flower bouquet design on a white background makes the flowers look so special and attractive. The floral print is clear and large, with a grid and measurement on the backing paper.
You can easily cut it to your desired size.
15 — Retro Floral Peel & Stick
If this floral peel and stick wallpaper by Novogratz looks familiar, it's because we used it in our office bedroom makeover.
A couple of wallpaper rolls and a couple of hours later, the office bedroom was completely transformed.
This fun design totally gives off a cozy library (yet) modern vibe. Add we love the little pop of pink.
It's also steam and moisture resistant so this could totally work in a bathroom or kitchen.
More Wall Art Projects and Ideas
Easy Wall Art Projects to Try at Home