Get your shelves looking their best. Here are some shelf decor ideas and tips to help you spruce up your home!
Are your shelves looking a bit mundane, and you're looking for ideas to breathe new life into your home decor?
Then it's time to add some sparkle to your shelves with our 20 best shelf decor Ideas.
All you need is a few simple touches.
And you'll turn any dull shelf in your living room, bedroom, office, kitchen and more into a vibrant display of your personality.
So let's begin transforming that boring shelf into a glowing dynamic centerpiece!
Shelf Decor Ideas
1 — How to Style Your Books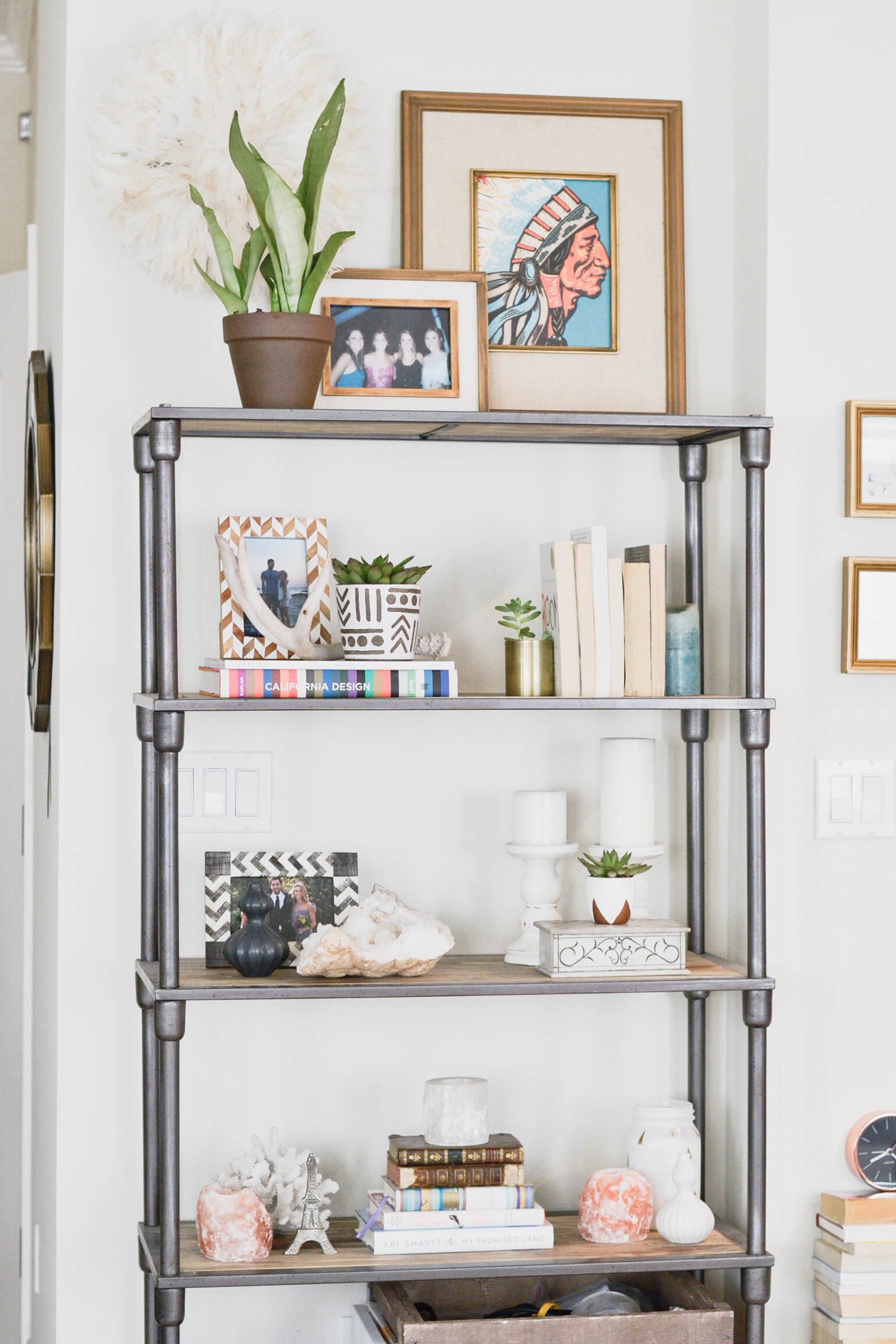 Transform your bookshelf into an extraordinary feature by styling your books.
This innovative system provides a unique and creative touch to your shelves that will make them stand out in any room.
By splitting up each area of shelving into 2-3 sections, you can showcase every part uniquely while simultaneously crafting captivating vignettes.
Organize one section by arranging all of your books facing the spines outward.
In the next section, place a collection of small items on each shelf and arrange your knick-knacks in creative formations.
And finally, add a few decorative pieces to complete the look, such as a vase or small sculpture.
2 — Monochromatic Look
If you have a lot of items that you want to display, then sticking to a monochromatic look will make your space seem less busy.
We love the all white palette at The Juliana.
3 — Open Shelves Styling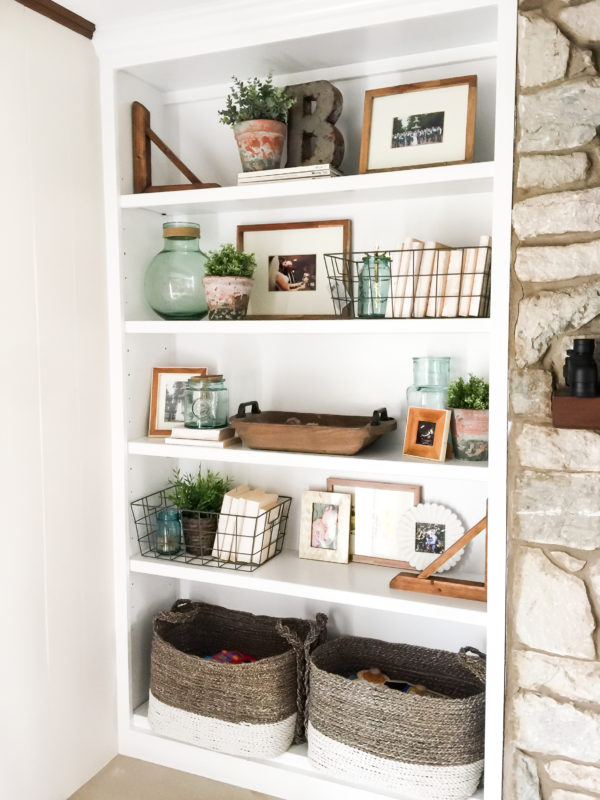 Declutter your open shelves with this open shelving style guide.
To make the most of this look, incorporate smaller accents with larger pieces while playing around with varying heights
Feel free to repeat patterns or colors, as this helps create an inviting atmosphere that will draw people in!
4 — Geometric Shelf
Instead of the traditional shelf, why not make a statement by using something unique?
A geometric frame creates an eye-catching yet symmetrical display when filled with plants, books, and other decorative items.
It's sure to be the centerpiece in any room!
5 — DIY Color Coded Bookshelf
Get creative with your home library and organize the books by color coding them.
Choose a distinct color for each genre, then arrange them according to size.
Don't be afraid to use a rainbow of colors.
6 — Display Art Shelf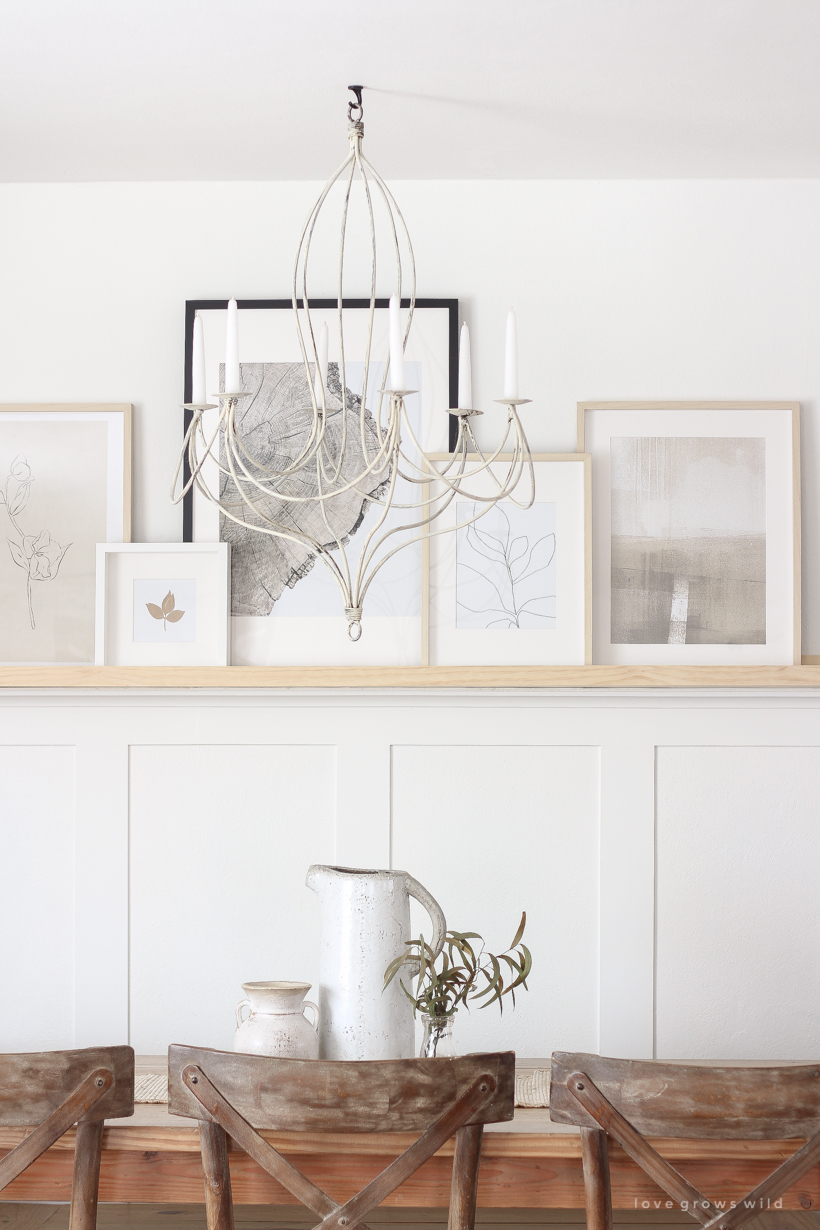 Use your shelves to display your art collection!
This shelf will bring all of your beloved pieces together, creating a beautiful wall of eye-catching artwork.
7 — Floating Open Shelves Decor
Elevate your decor with a captivating floating open shelves display!
Adding extra height, texture, and visual interest to the space will create an impactful focal point.
Opt for wooden shelves in earthy tones, then fill them up with plants, books, or even framed photos.
Experiment by mixing different sizes together to achieve a layered look.
8 — Large Shelf Styling
Large shelves are sure to transform any space, adding character and personality to any room.
Plus, it allows you to display large decor pieces.
9 — Multi Storage Solutions
This multi storage solutions guide shows you how you can incorporate storage, family photos, decor pieces and greenery all in your shelves without the cluttered look.
11 — Neutral and Subtle Shelf Décor
View this post on Instagram
Create a peaceful, inviting environment in your living space with a neutral and subtle color scheme.
Incorporate soft fabrics and neutral hues to make a statement without overpowering your decor.
Add some glamor by installing gold swing arm sconces above built-in corner shelves, brass floor lamps with white shades and framed artwork.
12 — Modern Living Room with Rustic Accents
View this post on Instagram
If you are searching for a cozy, rustic feel or an elegant and refined style, then rustic accents will achieve that look.
From the counter stools to the buffet table or faux fur rug, these rustic accents will elevate any living environment.
Accessorize by hanging vintage lanterns over your fireplace for a timeless and warm feeling.
13 — Arched Shelving Unit with Cabinets
View this post on Instagram
Arched shelving brings an art deco retro flair to any interior design.
14 — White Floating Shelves
View this post on Instagram
Transform your home into a stylish and organized sanctuary with the white floating shelves.
Showcase white cabinets and trendy floating shelves create a snug nook full of character.
15 — Firewood Storage
View this post on Instagram
Looking for an attractive yet unique way to store your firewood?
Store your chopped wood in your living room shelves!
Living Room Shelf Decor Tips
1 — Decorate the shelf with plants.
Add a touch of welcoming warmth to your living room decor by decorating the shelf with plants!
Whether you opt for fresh flowers or vibrant succulents, adding some greenery is the perfect way to complete any shelf display.
To really make your plants stand out, consider using wooden pots and frames for a more rustic feel.
Add in metal vases or metal candle holders to create a balanced, cohesive look that your guests will love.
2 — Less is more.
Avoid the urge to overstock your shelves.
Instead, opt for a small number of items that will make an impressive impact because less is more.
Piling up the shelves with clutter won't create a pleasing visual effect.
So strive towards balance by including standout elements that bring character and intrigue.
Group items with basic shapes in limited monochrome hues for a sophisticated and stylish aesthetic.
3 — Arrange in odd numbers.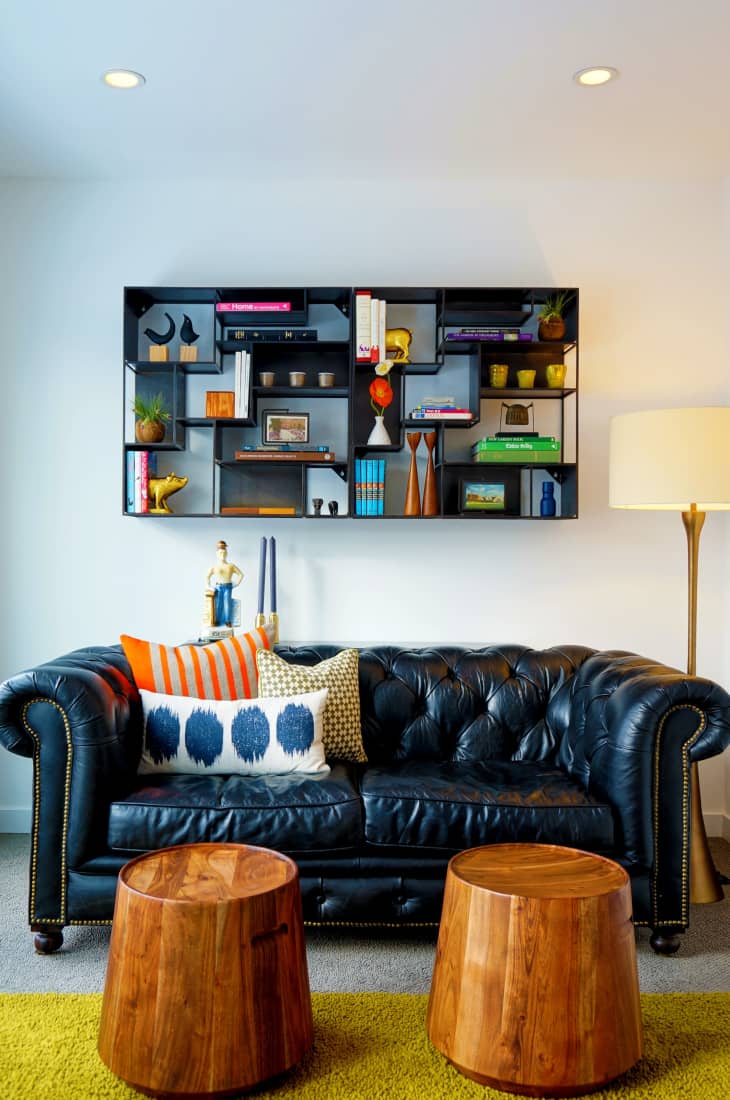 Whether it's books, candles, or ceramics, arrange in odd numbers for a greater visual impact.
Not only does this create a more organized and pleasing look, but it also creates balance, making your shelf display appear more intentional than random.
Start by choosing a few key items that you want to be the focal point of your shelf.
Once you have chosen these main elements, group the remaining items in odd numbers around them to create a more attractive and balanced look.
4 — Create groupings.
When decorating a shelf, remember that creating groupings of like items is essential.
Not only will this make your display look more organized and uniform, but it will also draw the eye to what really matters.
Extenuating the things you want to show off!
By grouping similar objects together, you can create an aesthetically pleasing arrangement without overwhelming viewers with too much clutter.
5 — Include decor with varying shapes.
To enrich the look of your shelves and make them stand out, consider adding decor with varying shapes.
This will add dimension to your display and help it become more eye-catching.
Particularly great for introducing contrast is using geometric decorations on the shelf, which can create a really interesting effect.
Bathroom Shelf Decor Tips
1 — Incorporate fresh flowers or greenery.
View this post on Instagram
To instantly infuse your bathroom with a touch of freshness and warmth, consider incorporating fresh flowers or greenery on your shelf.
Plants combat that sterile atmosphere so often associated with the bathroom.
Try grouping small plants or succulents together in simple glass vases and bowls.
For a more modern feel, opt for muted colors and simple designs, such as white ceramic pots or metallic buckets.
2 — Opt for adjustable shelves.
View this post on Instagram
When decorating your bathroom shelf, consider using adjustable shelves to customize the look of your space.
This allow you to easily change up your display as your tastes evolve over time.
Plus, it also makes it easy to incorporate new items into your current setup.
3 — Use containers as bathroom decor.
Create a stylish and useful bathroom shelf with the addition of containers as decor.
By filling up baskets, jars, or boxes with items like toiletries or bath salts, you can turn your humble bathroom shelf into an aesthetically pleasing masterpiece!
Containers make it possible to organize smaller items while adding color and texture to any room.
4 — Add scented candles.
Enhance the atmosphere of your bathroom with a scented candle on your Shelf.
Pick up fragrances like lavender or vanilla, which give off vibes of calmness and comfort.
Then, take it one step further by finding an equally fitting candle holder.
5 — Group items together.
Crafting a stylish and well-organized bathroom shelf is easy with the right approach.
Grouping items together can help produce an attractive, unified look while keeping your space from looking jumbled or cluttered.
Remember to add some of your own ideas to it in order to make it truly unique.
DIY Shelf Decor Ideas – What to Put on Your Shelves
1 — DIY Wooden Artwork
Unleash your creativity and express your individual flair with a DIY Wooden Artwork for the bathroom shelf.
2 — DIY Color Glazed Stacked Vases
Upgrade the aesthetics of your bathroom shelf with DIY Color Glazed Stacked Vases that are made from thrived glassware.
3 — DIY Flip Photo Album
Transform a plain wooden photo frame into your own unique memory book, just like the Flip Photo Album.
4 — Mini DIY Plant Pots
Give your air plants the perfect little home with these Mini DIY Plant Pots.
They're incredibly easy to make.
Simply roll out some clay and shape it into a bowl before you paint it.
5 — Patterned DIY Candle Holder
Create your very own DIY Candle Holder with a few simple modifications.
Start by drilling two holes in the rectangular wooden block, and then paint it with an eye-catching checkerboard pattern.
Once dry, sand off some of the pigment for a well-worn look that will bring sophistication to any space.
6 — DIY Mini Face Planters
Add some fun and whim to your bathroom shelf by creating these DIY Mini Face Planters!
Their playful expressions are sure to bring a smile to anyone's face, and you can customize your designs by way of paint or sculpting with clay.
7 — Painted Decorative Book Covers
Transform an outdated book and make it a centerpiece of your home design with Painted Decorative Book Covers.
8 — DIY Paint-Dipped Mugs
Update your kitchen with a set of paint dipped mugs!
With just a mug and some ceramic paint, you can coat one-half of the mug in vibrant colors.
9 — DIY Stacked Books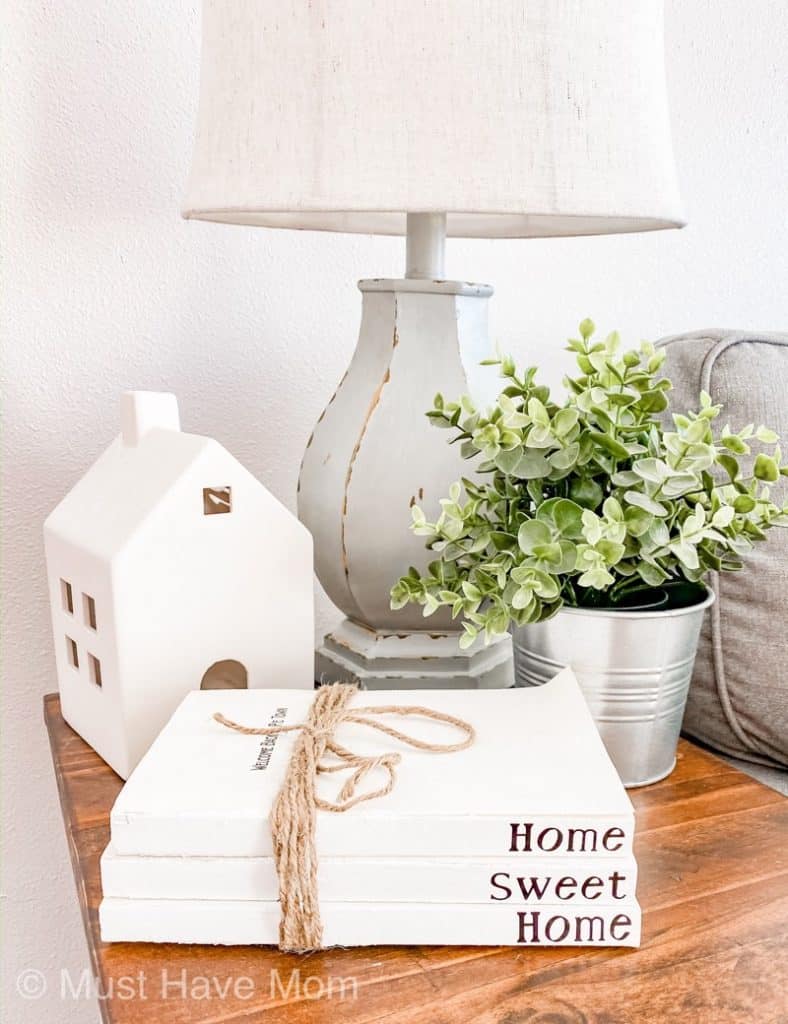 Revitalize your pre-loved books with this inventive DIY project.
All it takes is stacking the books and tying them together with jute twine to lock them in place.
10 — Decorative Storage Box
Organize and display your things in these functional decorative storage boxes!
More Decor Ideas