DIY Mini Face Planters — Created from egg cups, these DIY face planters really are that easy to make! And would work really well as gifts (if you can part with them that is).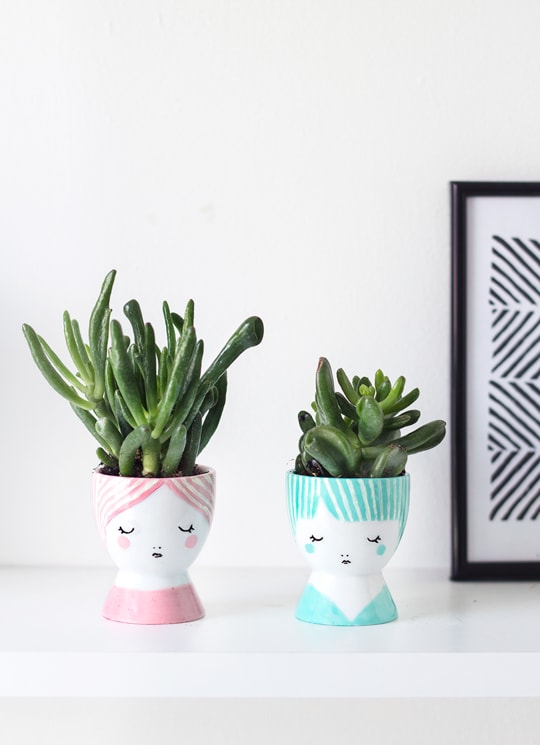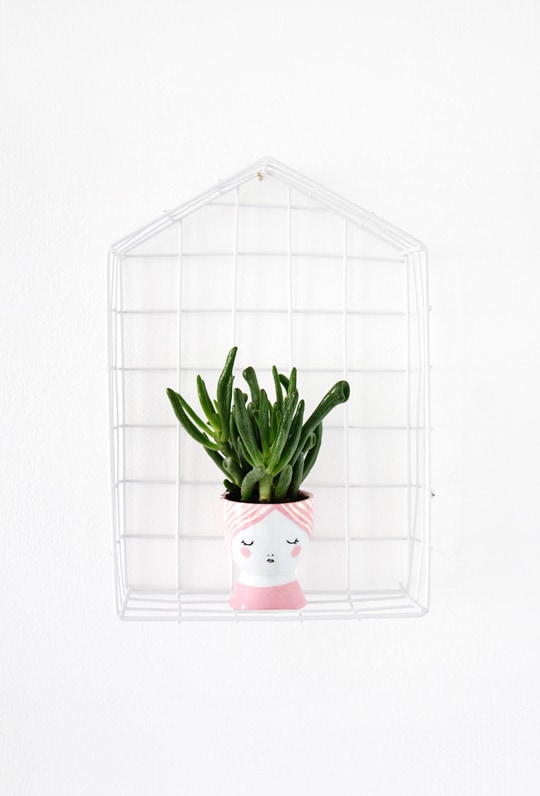 I, Teri, am a little planter obsessed at the moment! Any excuse to bring a bit of green into the house and create a pretty pot to go with it, is a good one.
For this project, I delved back into my childhood memories of poached egg and soldiers, and growing cress plants in egg shells.
I had a moment of rediscovery (deep, I know) since not having any use for them since childhood, and I'd totally forgotten about egg cups, which make the perfect little DIY mini face planters!
It sprang to mind that the cups needed faces because, of course everything looks better with a face on it these days, right?
This tutorial is so simple to follow and gives you scope to get creative and choose all manner of crazy plants for the hair.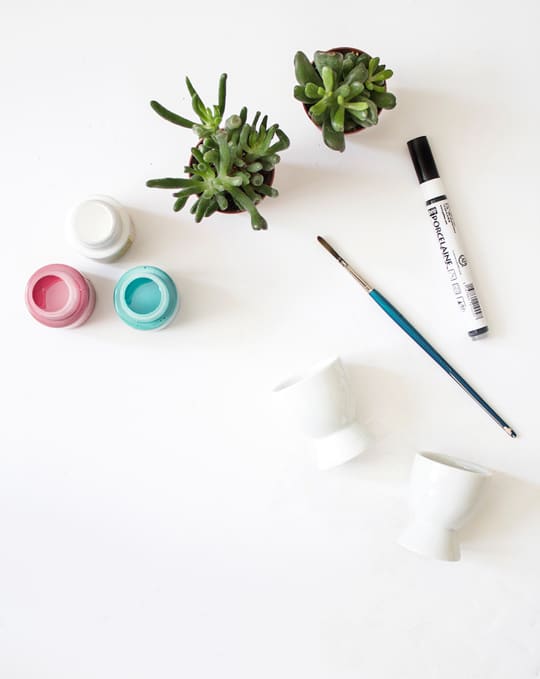 Materials Needed To Make DIY Mini Face Planters
The great news is you need very few materials to make these DIY mini face planters. But do make sure you use a fine porcelain pen for the features rather than a paintbrush. This will make it so much easier to get the details nice and neat.
Once baked, the paint is set onto the egg cups and should be dishwasher resistant dependent on the make of paint you use…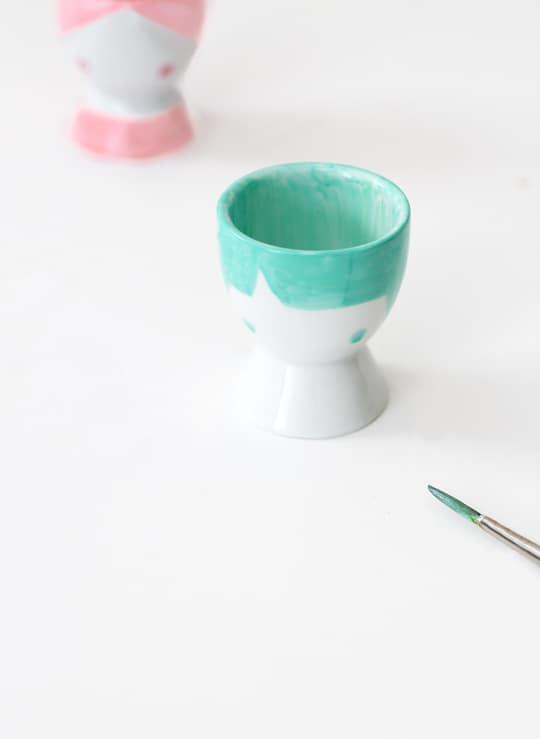 How To Make DIY Mini Face Planters
Preheat the oven to the suggested temperature on the porcelain paint instructions.
Firstly, paint on the base of your hair with one of your colors. Creating bangs or whatever style you want.
Then, paint on two cheeks fairly low down and far apart. Add in a neckline of your choice at the bottom of the egg cup.
When this is dry, use the paintbrush with some white paint to create the lines in the hair/bangs.
Now use your black porcelain pen to draw on the eyes, just above the cheeks.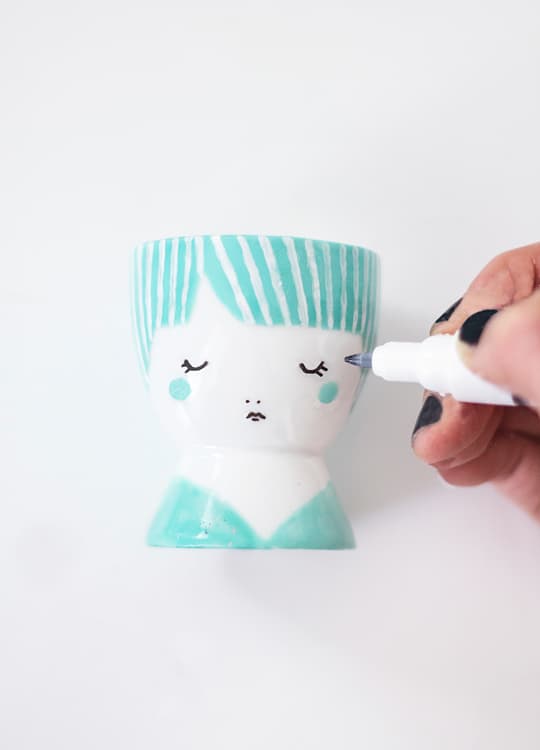 To create the closed eyes, just draw a shallow 'u' shape and add two lines for eyelashes.
Create nostrils with two little dots and some lips. You could even give them a smile if you'd like.
Leave to dry completely. To be safe, leave for up to 24 hours.
Place on a baking tray and bake for the time suggested on the paint instructions.
Once baked, allow the face planters to cool.
Then, you can plant up your greenery and give them a fancy hairdo.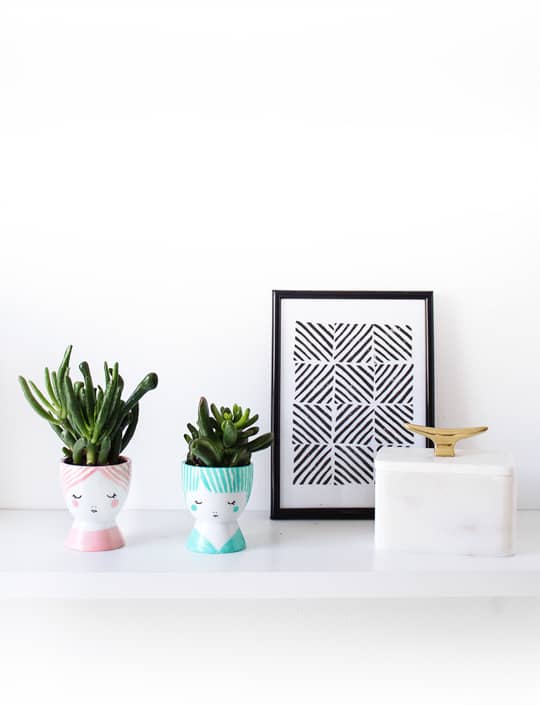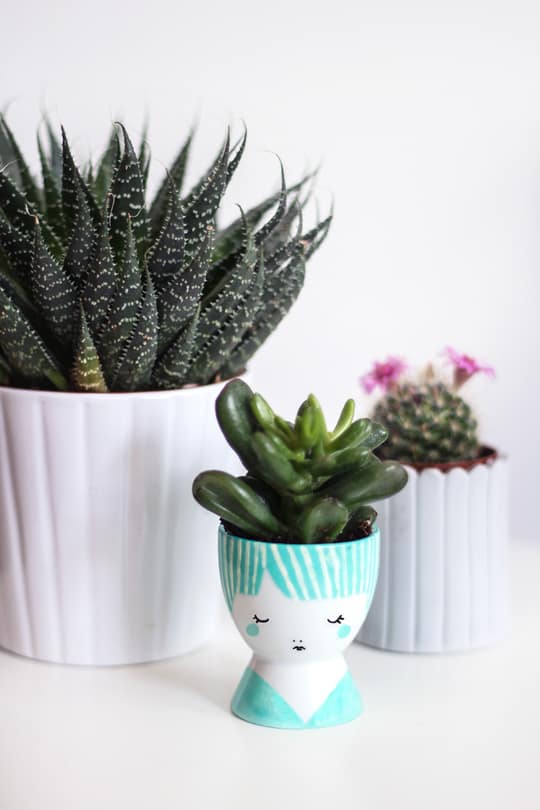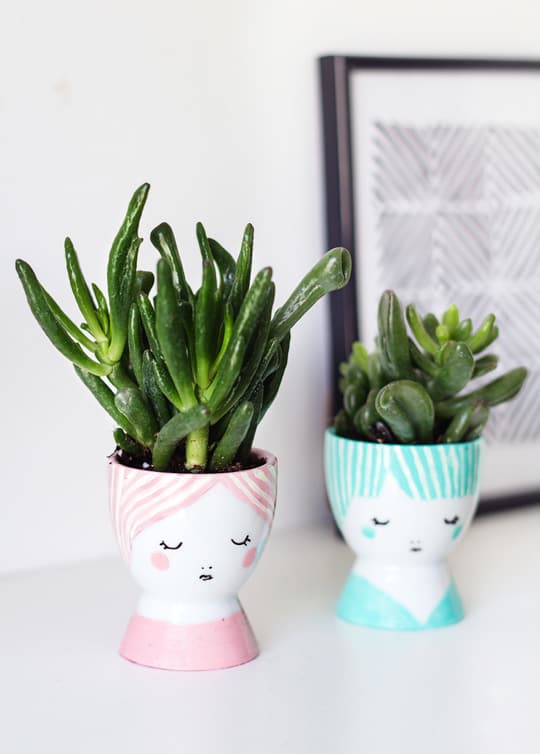 These DIY face planters really are that easy to make! And would work really well as gifts (if you can part with them that is).
Try out different colours and facial expressions or make a family! Basically go crazy and have fun making these not so edible little treats.
More DIY Planters & Vases Projects
Teri Muncey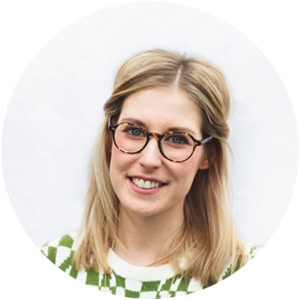 Teri Muncey is a designer, illustrator, stylist, crafter. Originally trained in print and surface pattern design, she has since had five years experience designing in-house for a greetings card company, and now creates The Lovely Drawer full-time from her little London flat.