All it takes is one good Christmas tree cactus project to set me off on a cacti DIY frenzy… and I'm loving it. I've decided to put them in alllll the places. Two year olds beware when it comes to visiting the new Sugar & Cloth studio, that's all I have to say.
Don't worry though, I've made sure to put them on the pedestal they belong on with these DIY Mid Century Planters that you can make on a budget (thank goodness! "mid cenutry" and "budget" rarely go together). We even made what I've now deemed a "drive-thru" version of this project with a spin-off that you can make in less in ten minutes that has no legs at all. We figured that one out when we accidentally busted the bottom out of the planter and needed to glue a new one in place, but hey, we made some delicious lemonade out of those life lemons, if you know what I mean!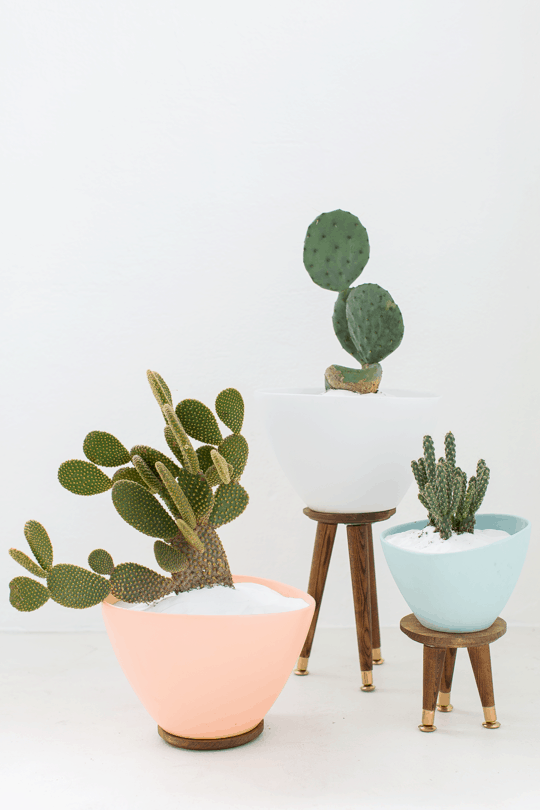 DIY MID CENTURY MODERN PLANTER | PASTEL MID CENTURY MODERN STAND
Planters: The Ikea ones pictured are currently sold out, but you can use these similar ones.
Gold spray paint for the feet
Spray paint (optional for the planter color)
Bulldog Grip glue or large screw (optional only if you want to adhere the planters to the stand)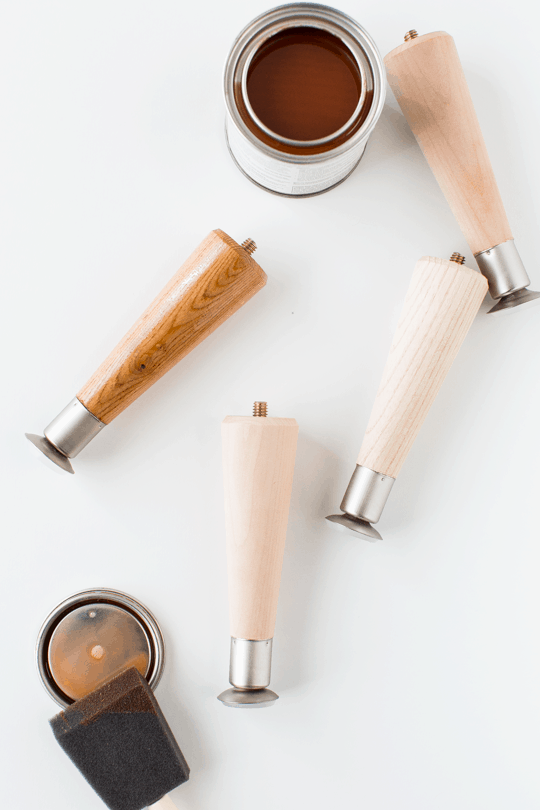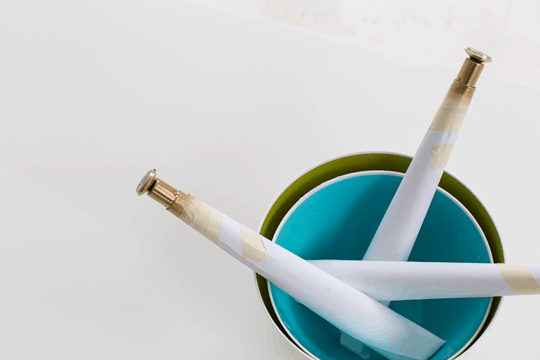 To prep the legs and wooden plaque base, use a foam brush to stain the unfinished wood, then let dry completely. Next, tape off the stained wood section, leaving only the feet exposed so that you can spray paint them gold and let dry over night.
To prep the planters, I spray painted them in brighter hues as well to go along the bright studio, but I think the black and white would look awesome with this tutorial as well.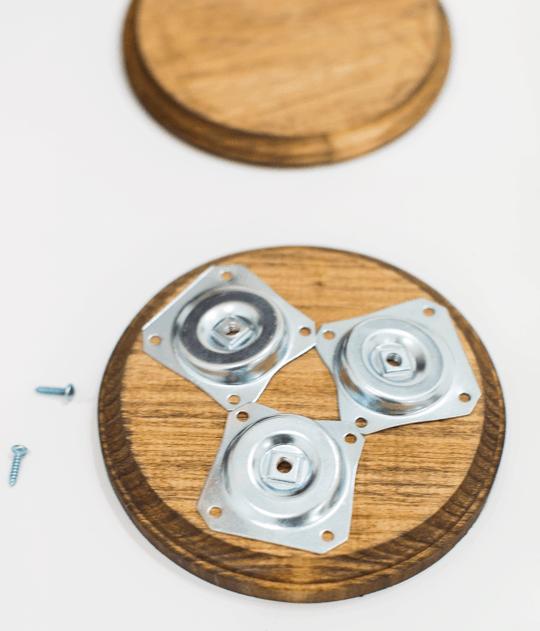 Lay three angled plates in a triangular shape on the bottom of the wooden plaque, and screw each into place (being sure that the angle is facing outward from one another), then twist the finished base legs into each plate.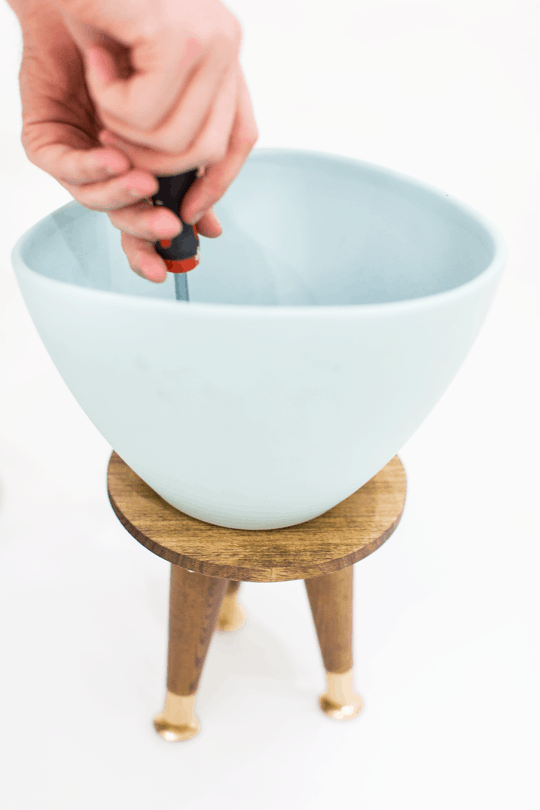 If you're adhering the pot to the base, you can use Bulldop Grip glue to adhere wood and ceramic together, or you can drill a large bolt or screw through the drip hole of the planter into the center of the wooden plaque.
You can also just skip the legs altogether and just do a simple wooden bottom for a quicker version of this project, and I actually like it a teeny bit more than with legs but don't tell!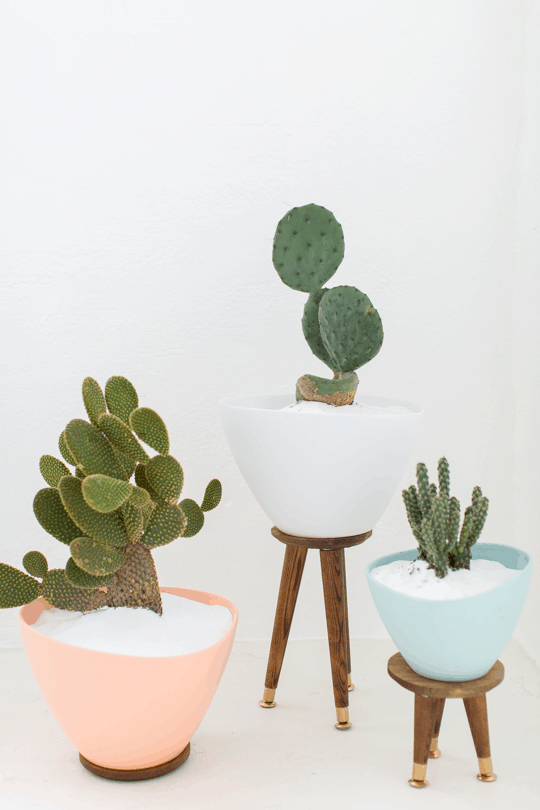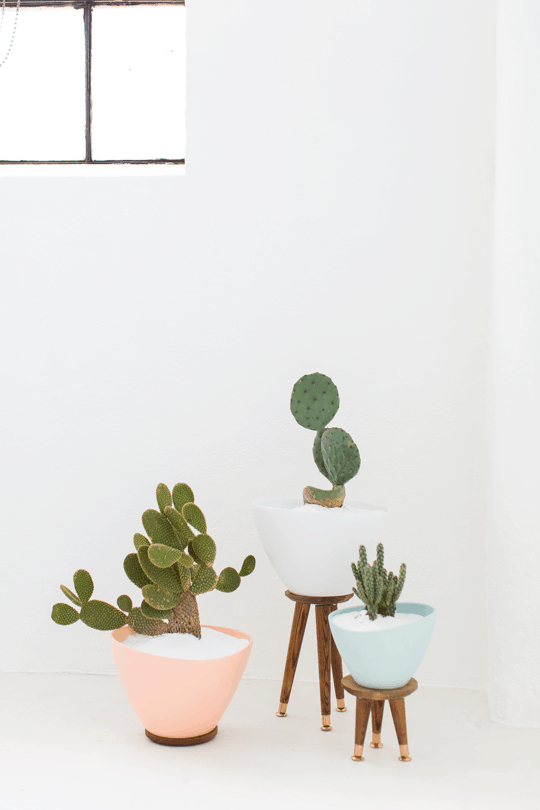 To make them a bit brighter, I actually used white sand on top of the cactus soil to make them not so stark.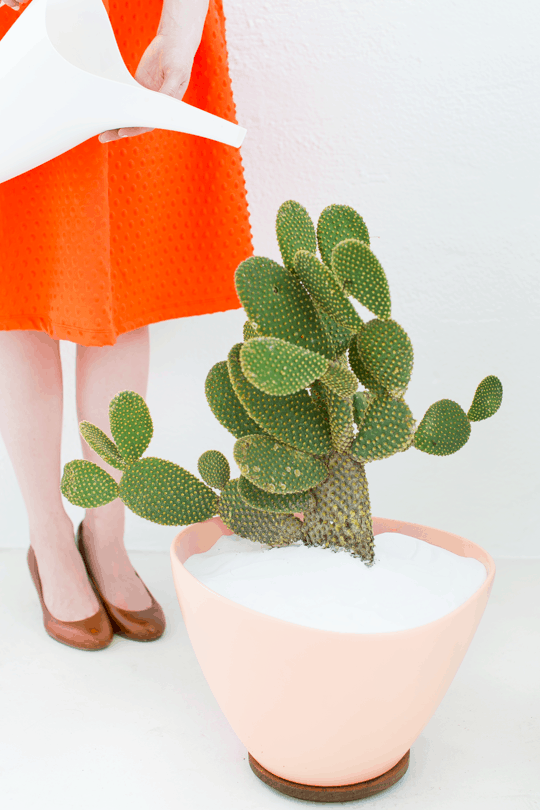 What do you think?! I'm thinking these little DIY Mid Century Planters definitely need to be in your house this Spring!