Just because you live in a small space doesn't mean your love for houseplants should be restricted. These eight unique plants have been taking our eyes (and Instagram feeds) by storm!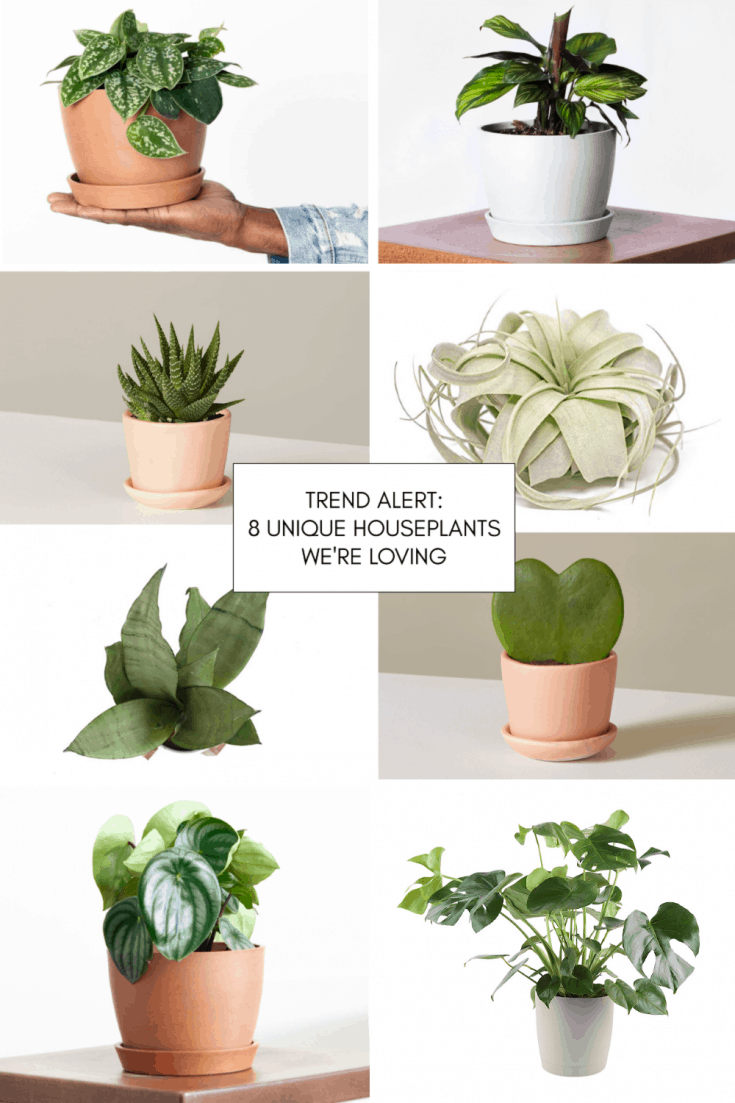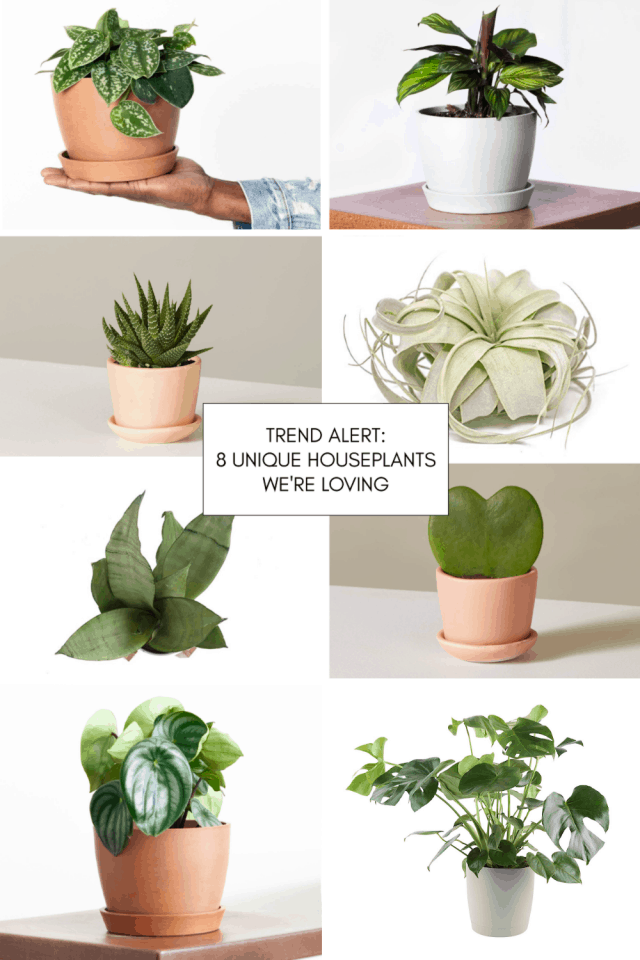 It's no secret that houseplants are all the rage these days. You can't scroll through Pinterest or Instagram without seeing them everywhere.
And here's a pro tip: Add a plant to one of your styled squares and the likes will start pouring in!
Whether you're an experienced plant parent or a self-proclaimed black thumb desperately wanting to be green, I have some beautiful houseplants to share with you
I, Erin am a lover of all plants, but I do play favorites from time to time. Right now I have my eye on a handful that I just can't stop thinking about.
From maroon-laced foliage to heart-shaped cuties, here are 8 unique houseplants we're loving!
Unique Houseplants for Your Home
1 — Scindapsus Pictus
Scindapsus Pictus are easy to care for and quick to grow. Silver spots make this plant extra special!
They look seriously amazing hanging baskets, you should definitely try one in your living room!
2 — Calathea 'Beauty Star'
Beauty stars are a show stopper with their dark maroon and green foliage.
This beauty loves high humidity and bright indirect sunlight.
3 — Haworthia Fasciata
Referred to as Haworthia 'Zebrina' because of the white stripes on its leaves, they are drought tolerant and require bright indirect light.
It's a perfect small plant for anyone starting out!
4 — Tillandsia Xerographica
An air plant requires no soil to live. Cool right?
Tillandsia Xerographica grows well indoors, so just place them anywhere in your home for an instant statement piece!
You can even display them in these pretty Mini DIY Plant Pots that we made for our air plants
5 — Sansevieria
Sansevieria are available in many different varieties.
Commonly known as Snake Plants, their snake-like leaves grow tall making them perfect for those empty corners in your home.
These DIY Plant Stands make it easy to display them.
6 — Hoya Kerrii
Hoyas have these adorable heart-shaped leaves and shops are starting to sell just one sweet little heart in a pot.
It doesn't get any cuter than that!
7 — Peperomia Argyreia Leaves
Peperomia argyreia leaves look like little round watermelons and if that's not a perfect addition to your home for summer…I don't know what is.
8 — Monstera Deliciosa
Monsteras bring the best kind of tropical vibes into your home.
They come in a variety of sizes so choose the best size for your space.
No matter what plant you bring into your home, be sure to research care on your specific plant for the best results.
I like to refer people to my book, How To Raise A Plant and Make it Love You Back.
In the book you will find easy to follow care for houseplants, DIYs and decor inspo.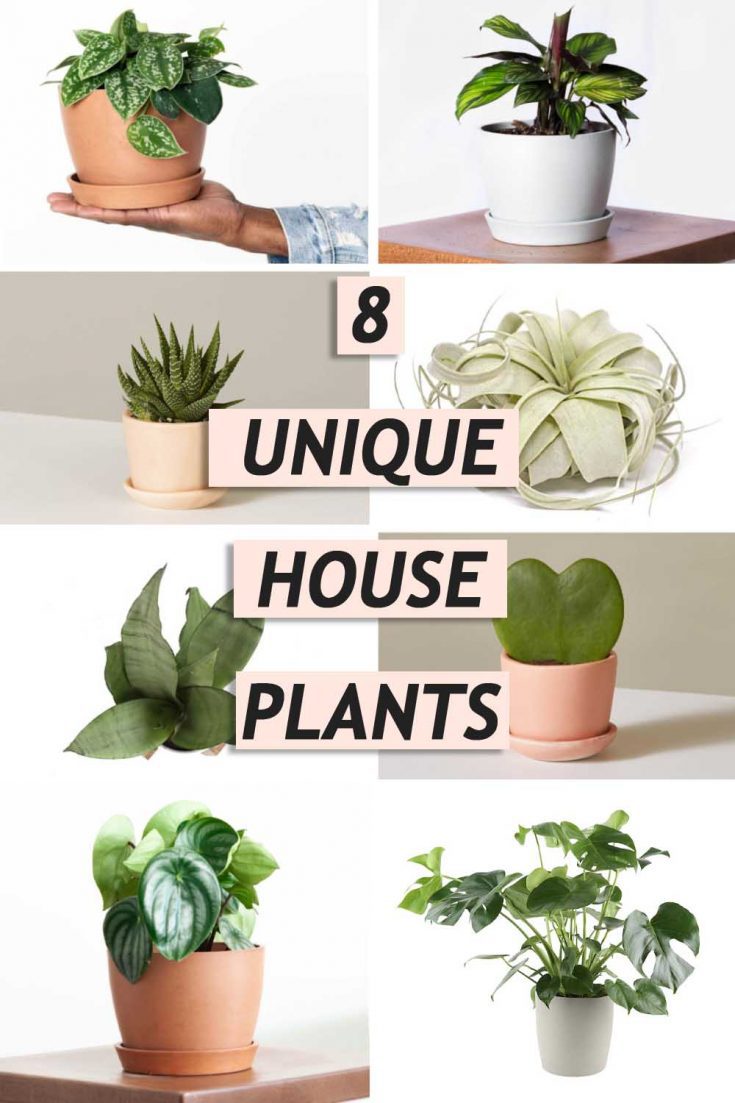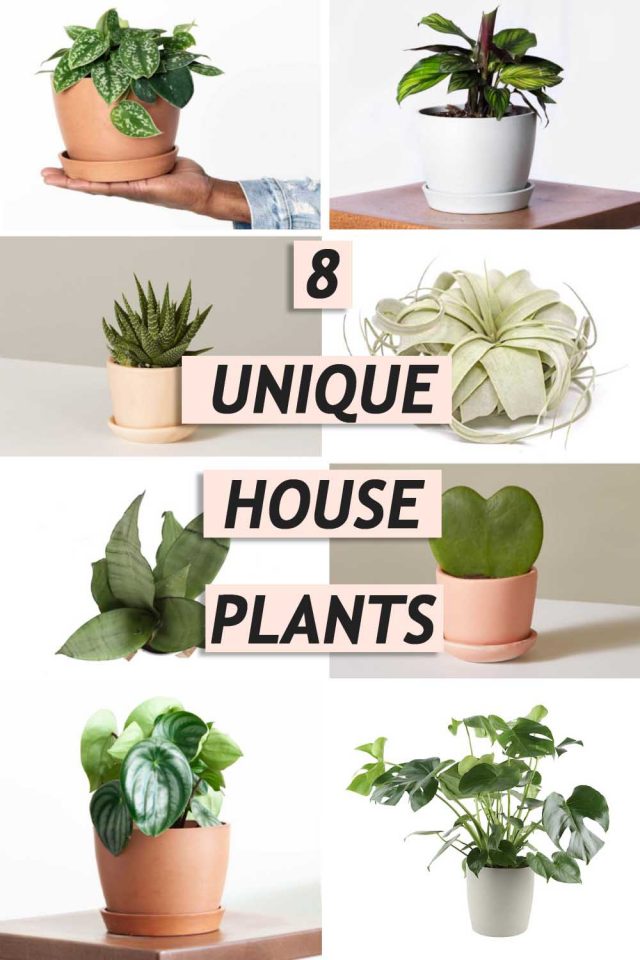 And if you're searching for planters for your houseplants, check out the plant-related posts below. We've also got a gift guide for all the plant lovers in your life!