To help you organize your cluttered makeup accessories and get ready for the day, we've compiled some DIY vanity ideas.
Do you find yourself struggling to get ready in the morning due to a bunch of beauty products scattered everywhere?
If so, it's time for a vanity makeover! We've gathered together 22 innovative DIY ideas that will help you organize and efficiently arrange your makeup routine.
Want a luxurious vanity station chock-full of storage? Or just prefer a small corner with the essentials? We have DIY vanity ideas to fit any budget!
You'll be overwhelmed (in a good way) by the variety of tray, table, and mirror options available. So get ready to express your creativity and design an unforgettable experience.
DIY Vanity Table Ideas
1 — DIY Dressing Table Ikea Vanity Hack
When it comes to making a dressing table, Ikea is a great place to start. Their furniture is affordable and easy-to-assemble.
So it's no wonder why so many people turn to them for their DIY vanity needs. Transform your Dressing Table Ikea Vanity in just 24 hours with this Ikea hack.
Not only does it offer a sleek and stylish look, but the wood top adds an extra touch of sophistication.
2 — Wooden Makeup Vanity
Wooden furniture always adds a touch of warmth and elegance to any room. So why not use it for your DIY vanity too? This Wooden Makeup Vanity is the perfect project to get started with.
Consider painting your vanity a gentle pastel shade, or go timeless with its natural color. Enhance the look of this area by placing a round mirror and plush chair beside it.
3 — Flip Top Vanity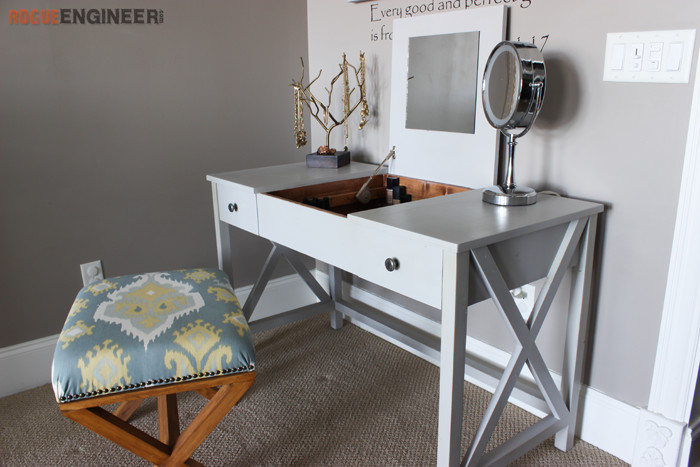 Looking for a way to save space in your bedroom? The Flip Top Vanity is the perfect project for you. The mirror is hidden within the makeup storage drawers. This is the perfect way to add a touch of modern elegance to any small space.
4 — Makeup Vanity Desk with Lights
If you want to achieve your best makeup look, the Makeup Vanity Desk with Lights is sure to make it happen. With perfect lighting and the right desk, your eyeshadow blending and eyeliner application can be effortless.
It provides a great surface area to store all your makeup and beauty products. And it also comes with lighting fixtures that will help you apply your makeup with ease. Plus, its modern design and sleek black finish add a touch of sophistication and glamor to any room.
5 — DIY Corner Vanity Table
6 — DIY Vanity From a Vintage Sewing Table
Transform an amazing vanity with old sewing table, some paint, and a few basic tools. This DIY vanity project will effortlessly add an eye-catching and stylish vintage touch to any bedroom.
7 — Wall Mounted DIY Makeup Vanity
This Wall Mounted DIY Makeup Vanity is an ideal craft if you're hoping for a classy and polished organizing system.
With the use of just a few simple tools, you can create your own unique vanity in only a few hours! Start by constructing and painting an easy-to-install wall drawer.
Then, adorn it with a mirror placed directly above the rectangular base. Elevate your creation further with several shelves for added storage space.
The result will be a jaw-dropping beautiful makeup vanity. It's the perfect way to maximize your vanity space while providing convenience and easy access to all your beauty products. Moreover, its modern design adds a hint of refinement and allure to any room.
8 — DIY Vanity Under $40
What better way to save money than to DIY your own vanity at a pocket-friendly price? This amazing project is under $40, allowing you to make a stunning and distinguished makeup vanity without breaking the bank.
Simply assemble two brackets on either side and place a piece of wood above them.
9 — DIY Glass Top Makeup Vanity
Drawers and cupboards have been the standard for makeup storage and organization. But take it up a notch and make a sophisticated DIY Glass Topped Vanity instead.
10 — DIY Vintage Door Vanity Desk
Who thought a door could look so stylish? With this DIY Vintage Door Vanity Desk, you can turn an old wooden door into a beautiful vanity.
Just add some retro-style shelving unit, and store all of your beauty products in an organized fashion. It's easy to attach shelves, so you can instantly upgrade any room with its original design.
11 — DIY Pine Make Up Vanity
Elevate your morning routine with this DIY Pine Makeup Vanity tutorial, where minimal and modern meets practical elegance in a step-by-step guide to crafting a personalized beauty station that adds warmth and functionality to your space
DIY Vanity Mirror Ideas
12 — DIY Concrete Vanity Mirror
Vanity is incomplete without a mirror. Make yours stand out with this modern and unique DIY Concrete Vanity Mirror. Customize the size and shape of the frame to fit your space perfectly. It will give any room an edgy and eclectic touch, and it's sure to be a conversation starter.
13 — DIY Small Vanity Mirror
Perfect lighting is essential for applying makeup, and no one likes a cluttered surface. With this DIY Small Vanity Mirror, you can get both!
This straightforward design is a breeze to put together. Plus, you can embellish it with LED lights for comfortable, natural-looking illumination. Exclusively designed with an adhesive backing, the LEDs are effortless to install.
14 — DIY Minimalist Vanity Mirror
Often less is more. This DIY Minimalist Vanity Mirror proves that with just a few basic tools, you can create something beautiful and practical.
In a few easy steps, you can create an effortlessly stylish mirror. Begin by cutting some wood to form the stand and place a circular mirror on top.
For that extra oomph of glitz, add some glamorous decorations, then voilà! An eye-catching mirror is yours in no time at all.
15 — Vanity Mirror with Lights
Take your vanity experience to the next level with this Vanity Mirror with Lights. It combines classic elegance with modern sophistication, allowing you to create a stunning look for your beauty routine.
You can easily slide the adjustable light settings to create different looks and achieve an ultra-glam look in no time.
16 — DIY Rustic Hollywood Mirror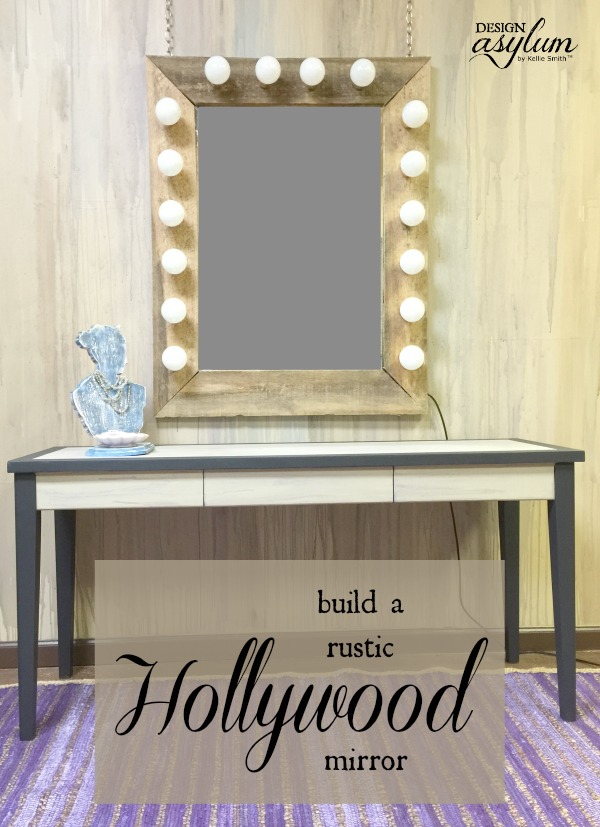 Get ready with a touch of Hollywood glam with this DIY Rustic Hollywood Mirror. This alluring vanity style is a timeless classic that can easily be recreated with a few basic supplies.
Create a wooden border, install LED lights, and you'll be ready to strike a pose. This mirror style is perfect for anyone who loves vintage and classic styles.
DIY Vanity Tray Ideas
17 — DIY Vanity Tray with Storage
Transform your vanity from cluttered to chic with this sleek DIY Vanity Storage Tray. It will add some extra counter space that wasn't there before. It's perfect for anyone who values orderliness as well as style.
18 — DIY Leather Hexagon Vanity Tray
With its distinctive hexagonal form, store all your beauty needs in this DIY Leather Hexagon Vanity Tray. All it takes is a robust craft card, some scissors, leather and glue for this easy DIY project.
19 — DIY Patterned Matches Vanity Tray
This DIY Patterned Matches Vanity Tray is perfect for anyone who loves to stand out with unique and creative ideas. Your friends will envy its vibrancy, design, and creativity. It's perfect for anyone who likes their home decor to stand out from the crowd.
20 — IKEA Hack Vanity Tray
With just a few simple steps, you can create an elegant yet glamorous jewelry tray that expresses who you are.
21 — DIY Marble & Gold Vanity Tray
Give a luxury feel to your vanity area with this DIY Marble & Gold Vanity Tray without having to spend a lot. Crafting this lavish tray requires minimal steps and supplies (just marble paper, gold spray paint, and an IKEA tray).
22 — DIY Mirrored Vanity Tray
Mirrors have such a timeless, elegant beauty that they can easily add an air of sophistication to any room. This DIY Mirrored Vanity Tray is the perfect example.
Its mirror-like design adds brightness to your vanity, and it's perfect for arranging all of your cosmetics or fragrances. Even if you're not the most experienced DIYer, this project is still achievable! Gather a mirror and frame it with a wooden base.
Then all that's left to do is attach silver handles on two sides of your masterpiece. Now you have an eye-catching home decor item created by none other than yourself. It's a great way to add some extra glamor and sparkle to your vanity.
More DIY Projects to Try
Our Bedroom & Bathroom Makeovers