Discover how to use common wood pallets to create amazing indoor and outdoor projects. Get inspired by these awesome DIY pallet ideas.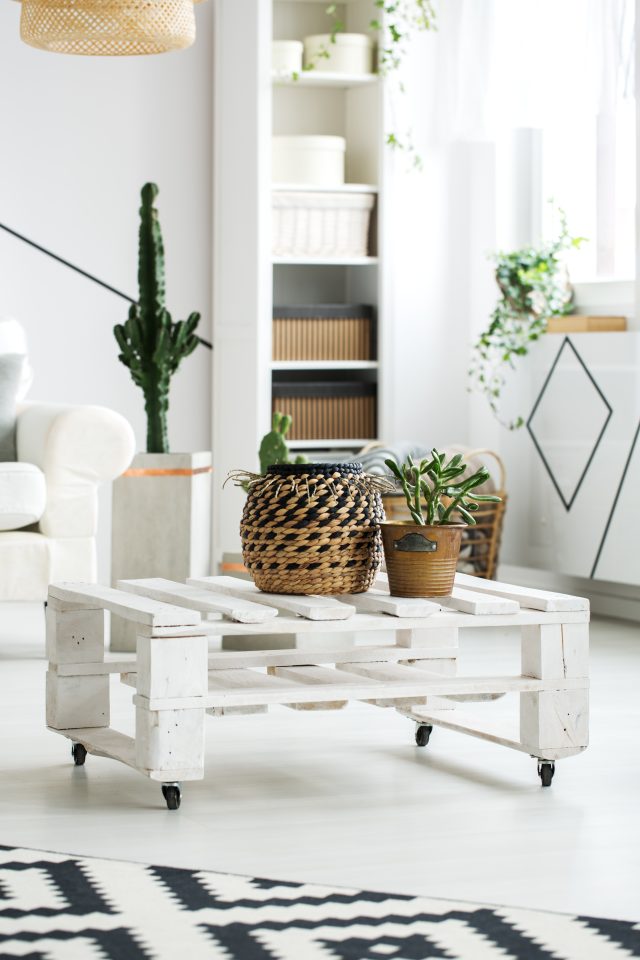 Discover how to use common wood pallets to create amazing indoor and outdoor projects. Get inspired by these awesome DIY pallet ideas.
Home decor projects, especially ones that utilize wood can get pricey. So we love budget friendly DIYs that recycle wood like scrap wood projects and pallet wood projects.
There are so many creative things you can make out pallets for your home. So get inspired with these 30 DIY pallet ideas.
Safely Selecting Your Pallet
Before you start any DIY pallet projects, make sure you know which pallets are safe to use.
Only pick pallets branded with an HT symbol, which signifies that the wood has been treated with heat and not chemicals.
Avoid pallets labeled with MB stamps, which are the initials for Methyl Bromide fumigation.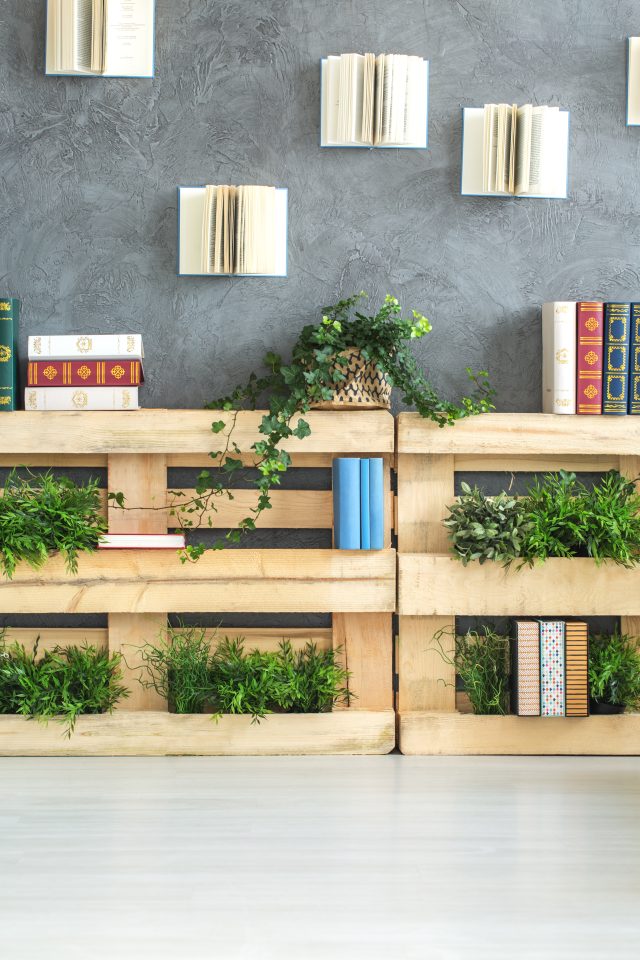 Indoor DIY Pallet Ideas
1 — DIY Pallet Coffee Table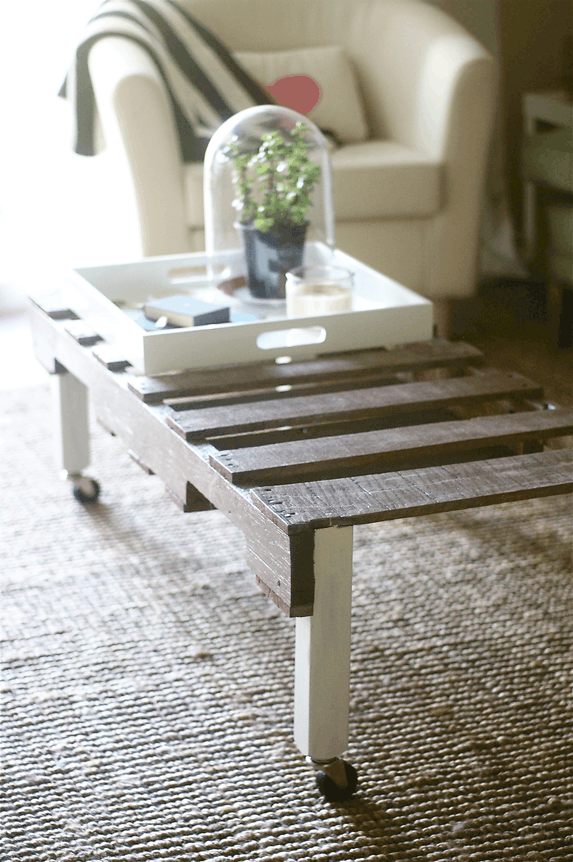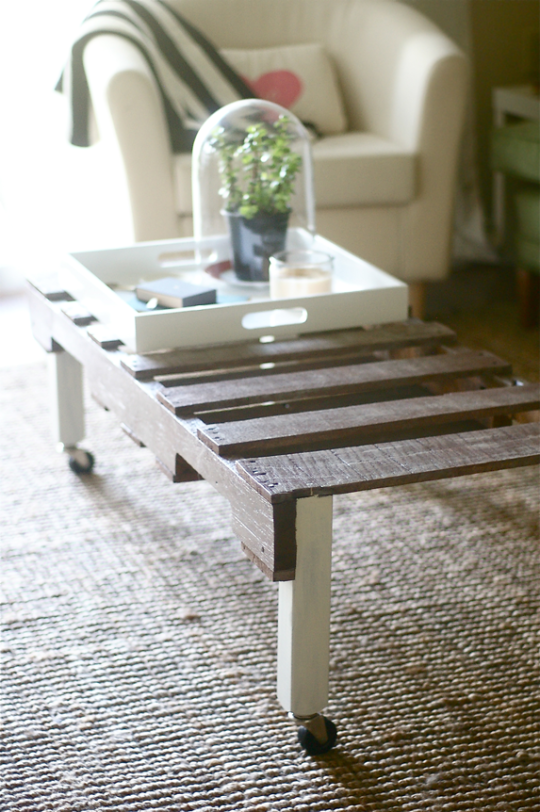 Add some legs and wheels, and then you've got yourself a DIY pallet coffee table. This pallet idea is also one of our favorite DIY coffee table ideas.
2 — Pallet Headboard
Spruce up your bed with a unique pallet headboard. A lot of times you can source free wood pallets from business or as with this project, their pallets were found on Craigslist.
DIY headboards are definitely more affordable than purchasing one pre-made!
3 — Wood Pallet Bookshelf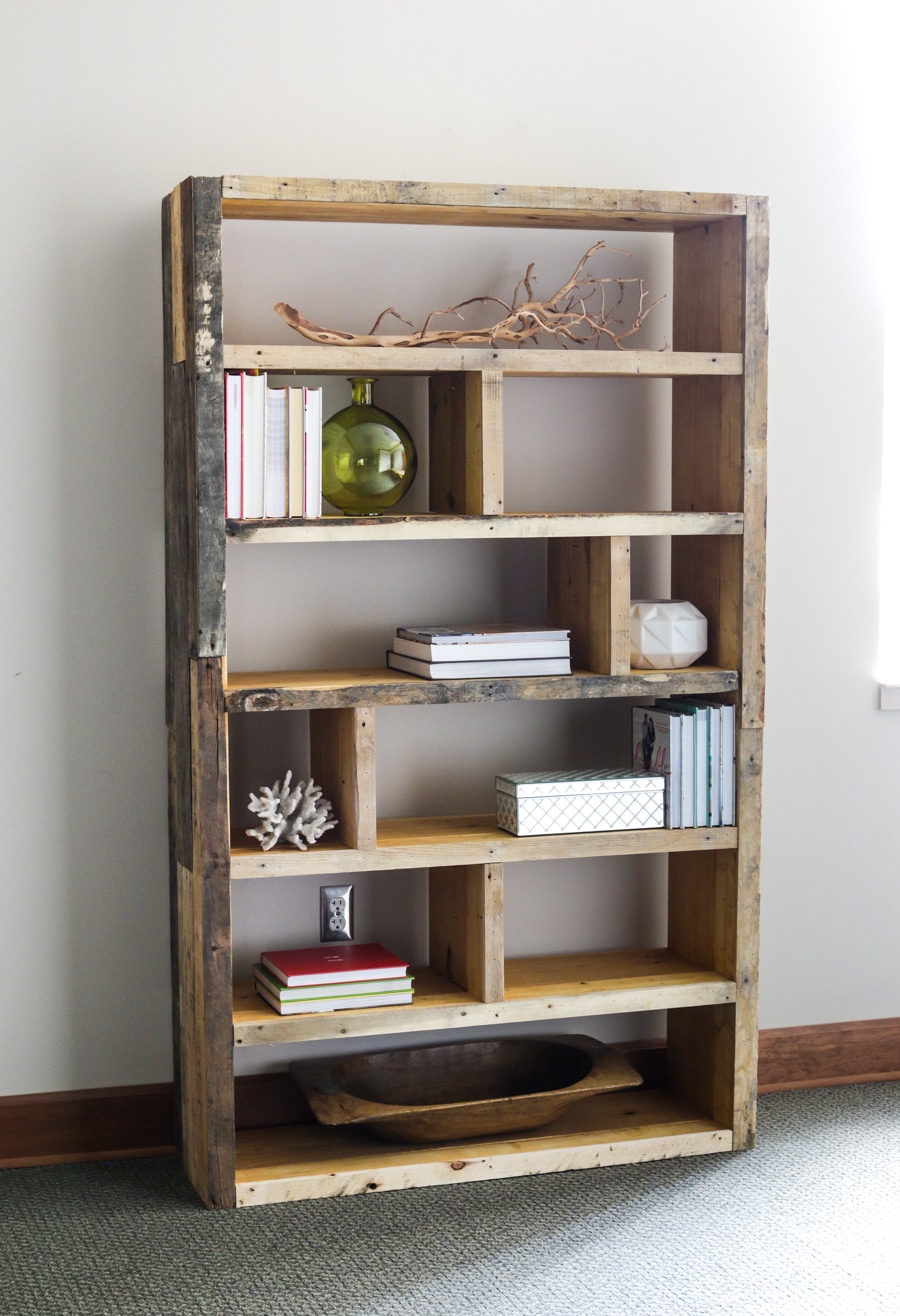 Keep your books and decor finds organized with this DIY wood pallet bookshelf. We love its rustic and ethereal look.
4 — Wood Pallet Table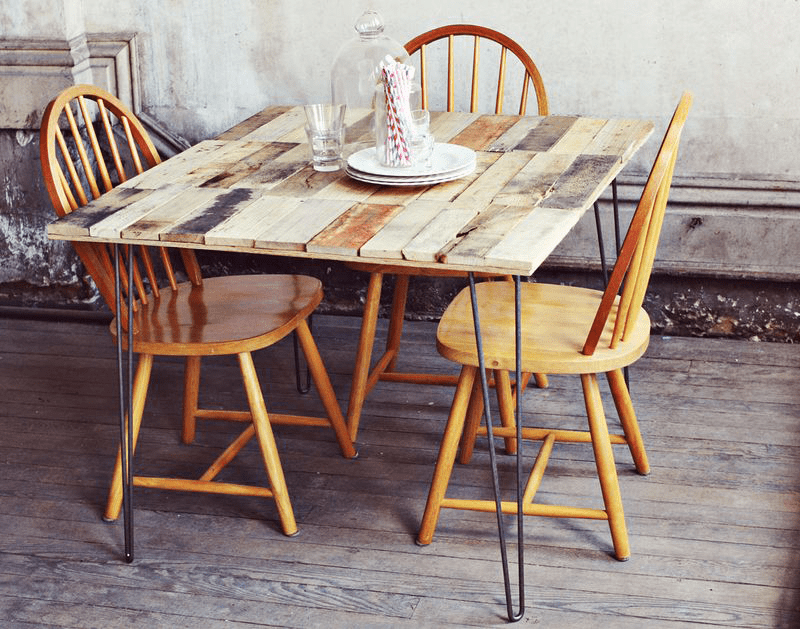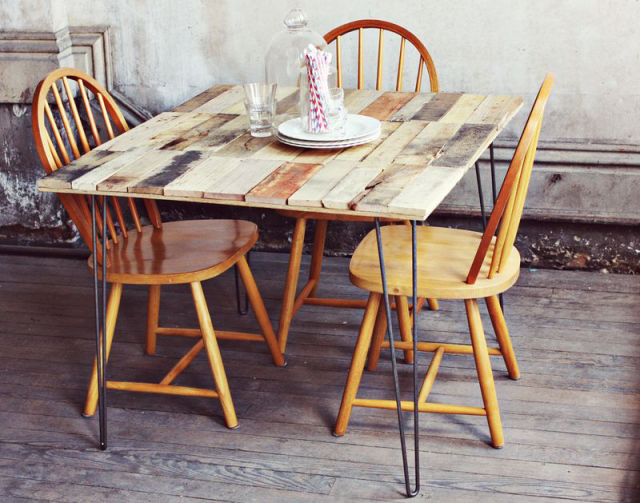 This unique DIY wood pallet table adds character to any kitchen or patio. If you don't want to change the color or look of the pallet wood, simply apply heavy duty matte polyurethane.
5 — Pallet Bathtub Tray
Keep your bath time essential nearby on a DIY pallet bathtub tray. This easy step by step tutorial is worth the time to keep your soaps, book, wine and more organized during an evening soak.
6 — Pallet Accent Wall
A home improvement project that's basically free? You can't beat that, especially with this stunning DIY pallet accent wall. This DIY project provides tips on sourcing pallet wood, cleaning it properly, staining it and how to build an accent wall with it.
7 — Pallet Coffee Cup Holder
Hang your mugs on this one of a kind DIY pallet coffee cup holder. This is the perfect project if you are lacking in cabinet space or have a collection of fun mugs that you want to display.
8 — Wood Pallet Clock
Adorn your walls with a stunning DIY pallet clock that serves as a functional and pretty farmhouse style decor. We also love the clock's cheeky message.
If mid century is more your style, check out this DIY Mid Century Clock. And if boho is more your vibe, then you'll love this DIY plate clock.
9 — Pallet Desk
If you need a big workspace, recreate this DIY pallet desk for your home office. It's sturdy enough for multiple monitors or as a craft table.
10 — Wood Pallet Kitchen Island
Refresh your kitchen on a budget. This beautiful DIY pallet kitchen island from Better Homes and Garden shows you how you can completely transform your kitchen for less than $400.
11 — Pallet TV Stand
Though you'll need a saw, drill and sandpaper, you don't need to be an expert woodworker to recreate this DIY pallet tv stand. It even features a glass top display case.
12 — Reclaimed Pallet Wood Nightstand
This pallet wood nightstand utilizes a couple of pallets, scrap plywood, and $30 in lumber. It's got a reclaimed look but still a modern style.
This chic DIY nightstand idea will surely give your bedroom some added flair.
Outdoor DIY Pallet Ideas
13 — Pallet Potting Bench
An outdoor way to recycle wooden pallets is to turn them into a DIY pallet potting bench. Add caster wheels to make it mobile or give it a bright paint job. You now have a place for your gardening needs.
14 — Outdoor Pallet Sofa
For outdoor lounging, make a DIY pallet sofa for your patio. This pallet couch is modular so it can be retrofitted to any space. Plus, the cushions are no-sew.
15 — Pallet Porch Swing
We love a good porch swing, so much that we even installed two on our front porch. But we know firsthand how pricey they can get.
You can make your own DIY striped porch swing at the fraction of the cost of a store bought one. And though the project may look daunting, this is hands down the the most detailed tutorials.
16 — Pallet Hose Holder and Planter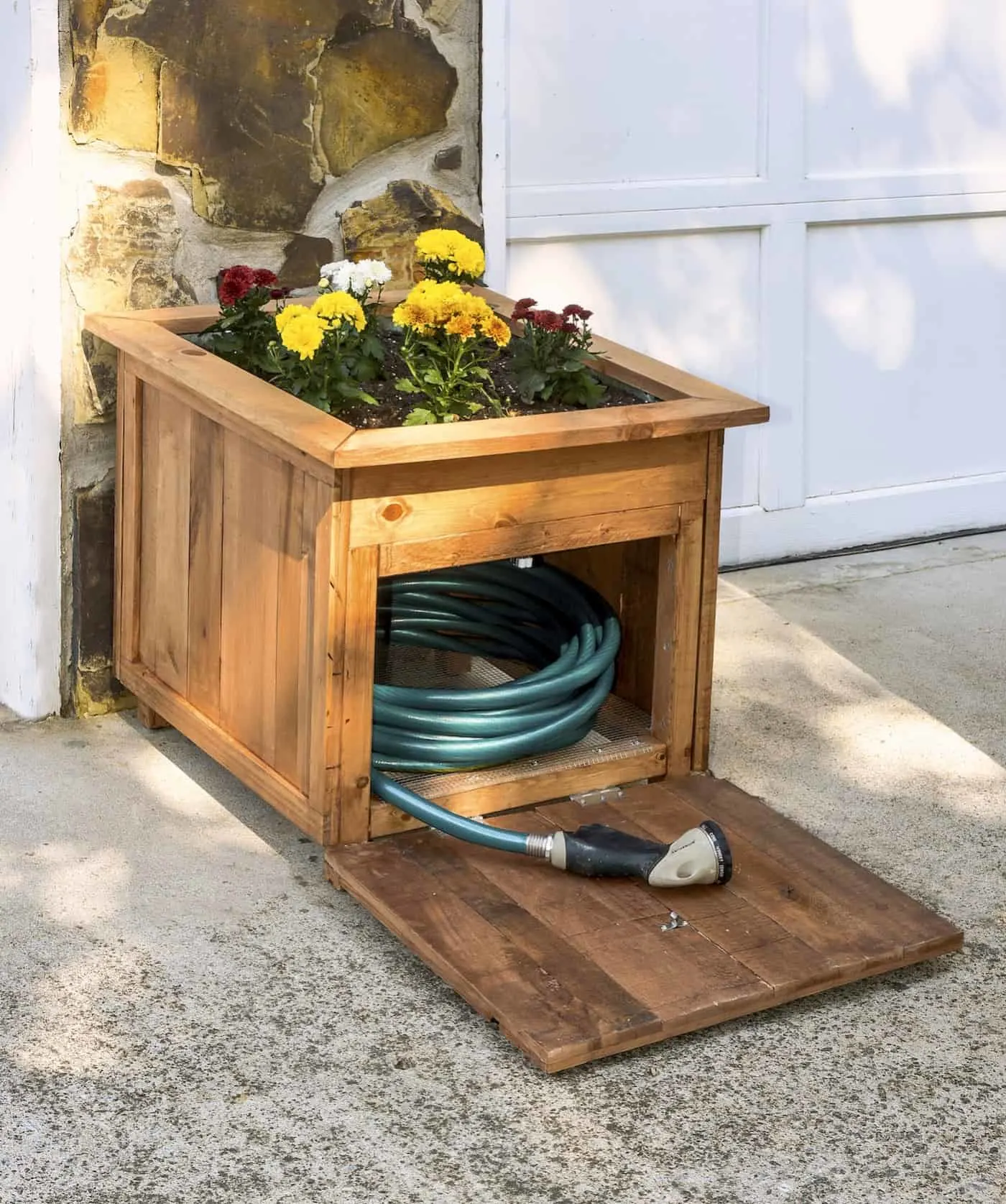 Disguise your garden hose with a DIY hose holder and planter. We love that this has two functions.
17 — Freestanding DIY Vertical Garden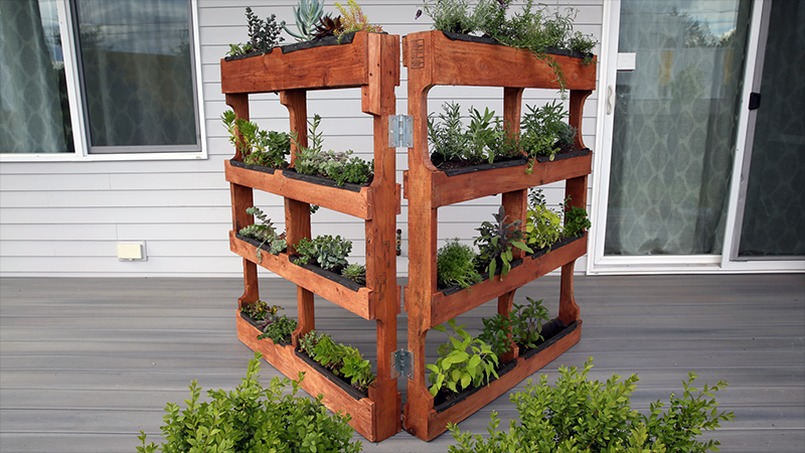 This DIY vertical garden with wood pallets is very similar to our DIY vertical garden with a ladder because both recycle simple materials, and both are freestanding and moveable.
Both are also ideal for small plants and succulents.
18 — Pallet Herb Garden
Make your own DIY pallet herb garden in merely two hours with just some pallets and a staple gun.
Pallet gardening projects are ideal because this particular wood is durable and can withstand any outdoor weather.
19 — Outdoor Pallet Coffee Table with Drink Cooler
Guests never need to leave their seats for a drink with this DIY pallet coffee table. The center drink trough insert can also be used as a planter instead.
20 — DIY Pallet Bar
If your backyard is in need of additional tabletop space, you can easily make a DIY pallet bar. A coat of paint will completely make it over as a spot for holding drinks and snacks when entertaining.
More Easy Decor Projects