Need some inspiration to make your own headboard? These DIY headboard ideas are insanely creative, cheap, and easy to do.
The bedroom serves as a sanctuary — a place to unwind and rest. But it doesn't mean it can't still be trendy and appealing.
The right design, furnishings, and styling can transform your bedroom into the retreat of your dreams. If you're looking for a quick and easy way to update your bedroom, then opt for a new headboard.
It is a great way to bring some new life to it. Adding both design and comfort to your place of well-deserved sleep. We compiled a list of our top 20 best DIY headboard ideas to get you started.
DIY Headboard Ideas
1 — DIY Faux Brass Headboard
Make your plain white bed frame glamorous with this simple faux brass headboard DIY project. It's so simple that all you need to do is paste a sizable metallic gold foil sticker on your headboard. What an excellent way to add a splash of color and style to your bedroom.
2 — DIY Wooden Headboard Using Stikwood
Looking for something that would complement your wooden floor? Then, go ahead and try our budget-friendly wooden headboard DIY using Stikwood.
This fantastic idea is here to save the day! There's no need for drywall screws anymore with Stikwood. Stikwood is not only easy to work with but also has a stylish appearance.
For this project, you simply apply thin horizontal pieces of Stikwood onto the headboard, and you're all set.
3 — DIY Pegboard Headboard
Pegboards are inexpensive and adaptable, so why not use them as headboards?
This simple DIY pegboard headboard is perfect for anyone who wants to have the added utility accessible from their beds.
Measure a pegboard panel that extends a few inches beyond the width of your bed. Then, paint it a neutral color to complement the rest of your room's decor. You may use pegboard accessory hooks or shelves to keep your materials organized.
Make your space more appealing by adding some mood-lifting decorations, such as plants or candles. This is one of many pegboard ideas besides using it for organization.
4 — Simple DIY Tufted Headboard
Who doesn't adore a classic tufted headboard design? This headboard adds elegance and sophistication to your space.Aside from being cost-effective, they are also easy and simple to make.
Whether you're a beginner or an experienced woodworker, this project is perfect for you. You can make your own DIY tufted headboard by following all of the provided step-by-step instructions.
5 — DIY Fabric Headboard
It's possible to make a unique DIY headboard that appears to be more costly than it actually. And to do so, you just need to use inexpensive materials in innovative ways.
You can now make your own headboard by personalizing it to match the decor of your bedroom. This DIY fabric headboard project is incredibly simple, and you can do it in a few hours by following basic instructions.
Choose whatever fabric you desire to build a slipcover for an existing wooden headboard that will create an eye-catching statement.
6 — DIY Rope Headboard
Want to spruce up your bedroom to make it cozier? Then, this DIY rope headboard idea will come in handy.
Many different design aesthetics, such as cottage, and farmhouse, would look fantastic with this macrame-inspired headboard.
A rope is a long-lasting material that can be customized to complement any bedroom design. With this DIY, you can quickly transform rope and plumbing pieces into a personalized headboard in the afternoon.
7 — Wooden Woven Headboard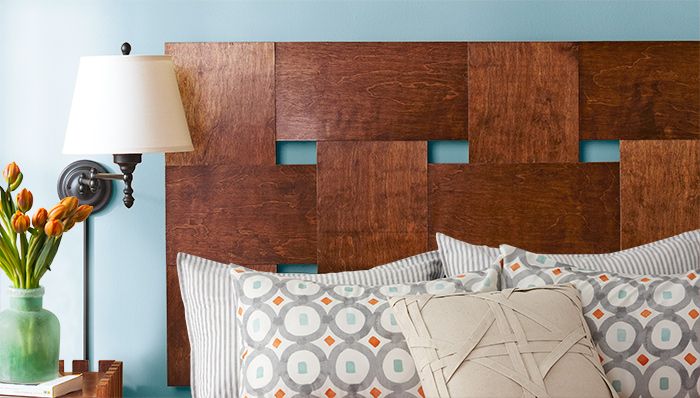 A wooden woven headboard is an excellent way to improve the look of your bedroom without breaking the bank.
Even if you are not a good woodworker, this project is perfect for you. With a little bit of creativity, transform a large piece of plywood into a woven headboard.
It looks wonderful on any size bed, from a twin to a king-size headboard. Plus, it's a really easy process.
8 — Patchwork Headboard
If you have ever wanted to add a personal touch to your bedroom, this project is for you. A patchwork headboard is a beautiful and unique way to add character to your bed.
Using a variety of different fabrics, you can create a one-of-a-kind headboard. Not only will this project add personality to your space, but it will also save you money in various ways. Your local fabric store should have everything you need for this project.
9 — DIY Vintage Shutter Headboard
When you think beyond the box, anything may become a headboard. A pair of shutters are an excellent substitute for a basic headboard.
This DIY Vintage Shutter Headboard will help give your bedroom a nostalgic feel. To achieve this effect, select two shutters that are around the width of your mattress.
The shutters can then be hung on the wall, with the bed directly in front of them and Ta-Da! You're done.
10 — Diamond Tufted Headboard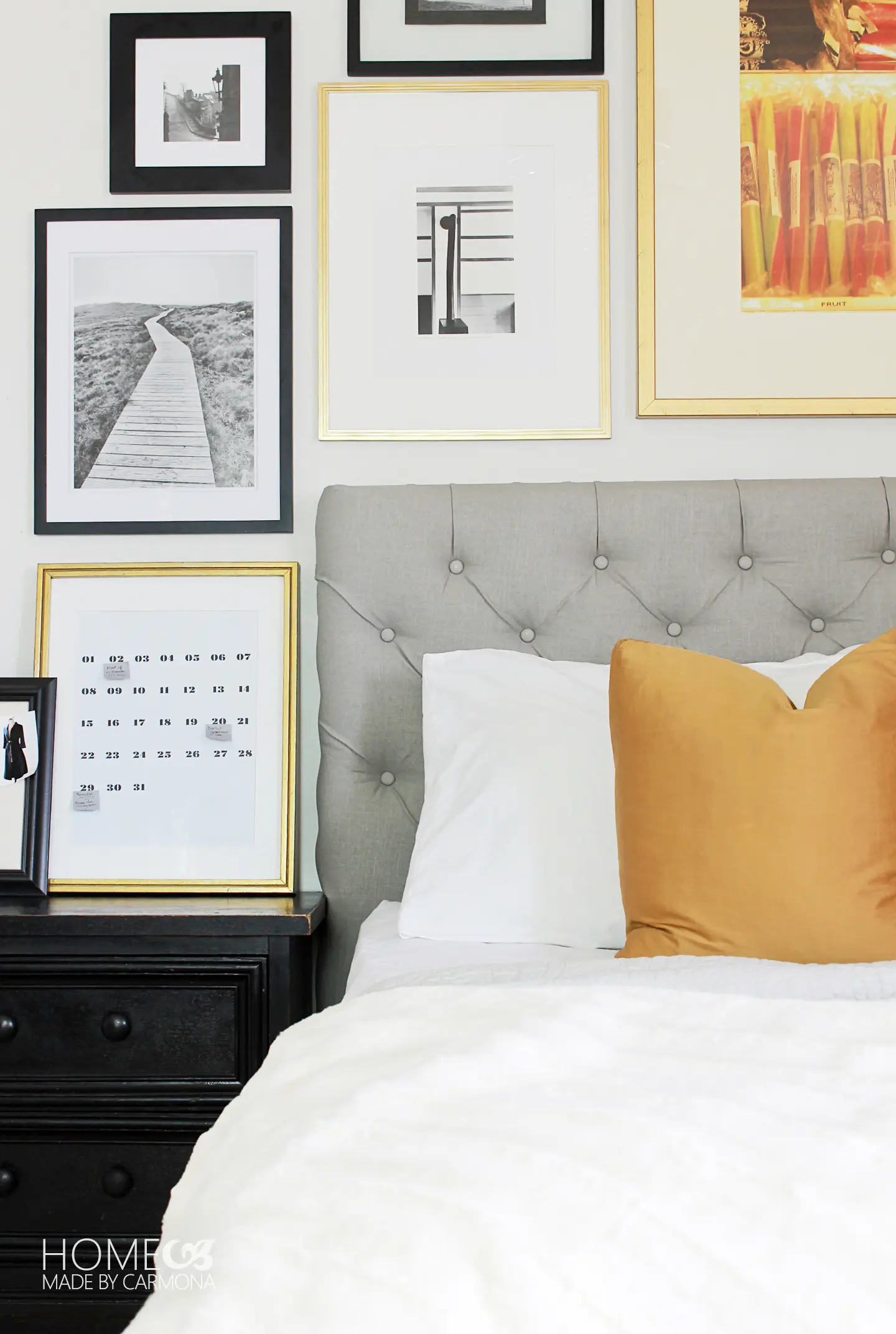 This diamond tufted headboard gives your bedroom an elegant touch and makes a big impact in a small space. The best part? You can make one yourself in a matter of hours.
You'll only need to use wood, cloth, buttons, and a few other basic supplies that might be available in your house or shed. All you have to do is follow the instructions provided, and you should be able to achieve the fruits of your labor.
11 — Faux Tiled Headboard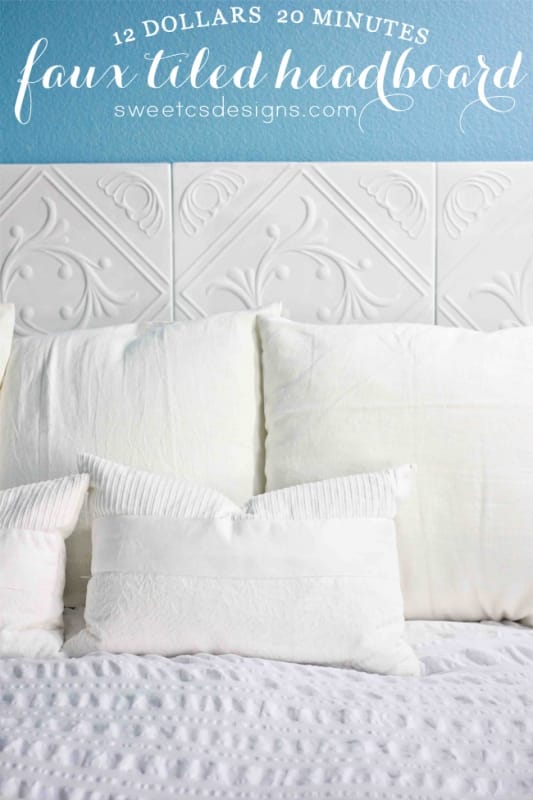 Budget-friendly DIY headboards don't have to be complicated. This faux tiled headboard idea will have you saying no to expensive upgrades and yes to a colorful, original headboard that you built yourself.
This could make your headboard look like it's made out of custom tiles when it's actually made out of faux foam tiles!
The idea is so simple that you will only need to cut and paste the faux tile onto the wall using mounting tape. However, before you stick the tiles, make sure your bed is positioned in a place you're happy with.
12 — DIY Wallpaper Headboard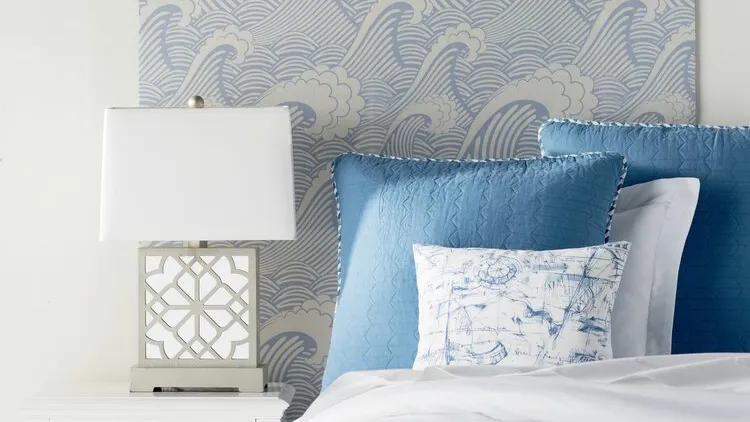 This DIY wallpaper headboard is a simple way to give your room a fresh and laid-back yet polished look. This DIY idea transforms your bed into its own work of art. Simply cut and paste a spare roll of wallpaper onto the headboard.
13 — Macrame Headboard
If you're into macrame and want to include it in your bedroom, then this Macrame Headboard is an excellent way to do that.
By simply repurposing curtain rods or a thick branch, or even ropes for a rustic look. Plus, it's fun to make! Put on some good tunes and settle in for an afternoon of knotting.
14 — Picture Frame Headboard
How do you ensure that your bedroom space is both stylish and modern? Of course, with craft store supplies. Achieve that and much more by making a DIY picture frame headboard.
You can make a gorgeous headboard by utilizing cheap picture frames and painting them as you like. Before hanging the frames side-by-side, choose some artwork or pictures that complement your color scheme. Insert it into the frame, and you're done!
15 — DIY Furry Headboard
If you want to brighten up your bedroom, check out this simple and easy furry headboard DIY. This plush textured headboard complements your bedroom decor, adding fun style to your space.
You can simply get this look by following the instructions step by step. Add some faux fur pillowcases to tie the whole look together.
16 — DIY Pillow Headboard
You might be surprised to learn that you can use cushions as a headboard. This inexpensive DIY pillow headboard will add a pop of color to your bedroom decor.
First, you have to sew leather straps on the large floor cushions. Then, slide the copper pole through the leather straps and secure them to the wall, and you should be done!
17 — Cheap DIY Cardboard Headboard
If you're looking for a budget-friendly headboard idea, then this cardboard headboard is one of the best options available. Use empty boxes lying around in your garage for a cheap but effective bedroom headboard.
Inserting a layer of batting between the cardboard and upholstery fabric will give the headboard a more plush appearance.
18 — DIY Headboard with Shelves
Who doesn't enjoy having a little extra space in their bedroom? This DIY headboard with shelves is a great bedside addition.
Anyone who likes woodworking will love this project. By following the procedure, you can create a one-of-a-kind headboard with built-in storage using wooden planks.
Then, give your headboard a few coats of paint and some decorative elements. And, it'll stand out from the rest of your normal everyday furniture.
19 — DIY Upholstered Headboard
This upholstered headboard DIY idea is a super easy way to create a high-end designer look-alike headboard over the weekend. The best part about this DIY is that you don't need to sew anything.
By following a few simple steps, you'll be able to create a beautifully upholstered headboard. Make it interesting by using bright fabric to give a welcoming feel to your room.
20 — Door-Turned-Headboard
A solid-pine door makes a bold statement as a headboard. This door turned headboard idea will surely spice up your bedroom decor.
To create this headboard, all you have to do is paint the wooden door to complement your theme. Then, put the door horizontally against the wall and place the bed precisely in front of them, and you're done! This idea is sure to add a ton of character to your bedroom space.
21 — Painted Arch Headboard
Elevate your bedroom decor with this ingenious DIY painted arch headboard tutorial, offering a budget-friendly way to create the illusion of a stylish bed headboard without the need for a separate piece of furniture.
More Easy Bedroom Projects
For more DIY projects for your bedroom, check out a few of our favorites from the archives below —
Bedroom Ideas You'll Love