DIY Neon Macramé Jars — This DIY Neon Macramé Jars is the perfect addition to a coffee table, shelf, or counter! Easy as pie to make and almost to cute to be practical…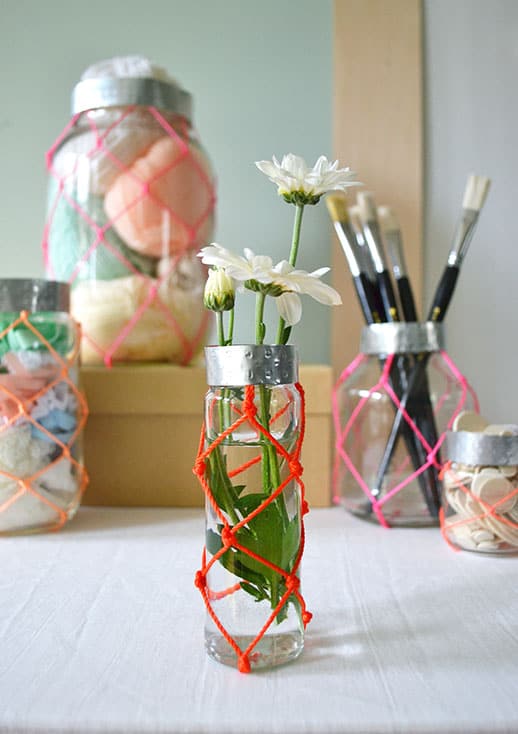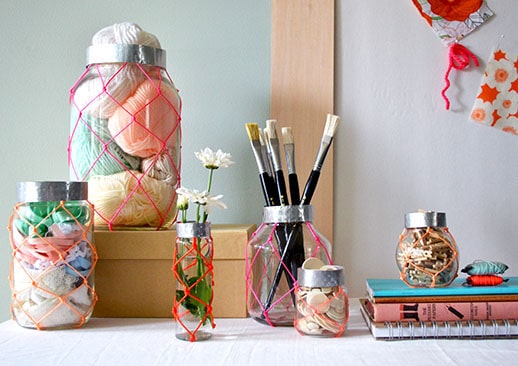 I, Kathleen have a confession to make. I am a glass jar hoarder. Once I empty a jar, I can't help but add it to my stash.
Not only that but I've been known to buy food simply because I want the empty jar afterwards. If you're anything like me, today's DIY Neon Macramé Jars is a great way to put some of those jars to use.
A fun and nautical way to spice up your craft storage, neon cord adds a summery splash that makes even organization something to look forward to.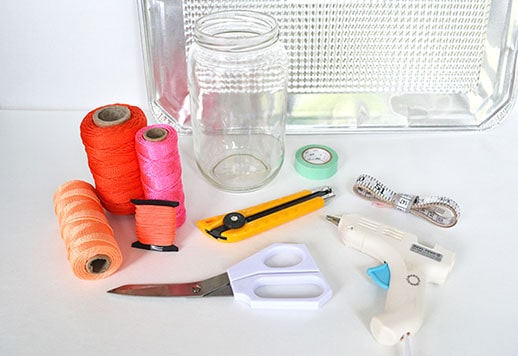 Materials Needed To Make DIY Neon Macramé Jars
Neon cord
Empty jars
Aluminum foil pan
Washi tape
Scissors
Exacto knife
Hot glue gun
Measuring tape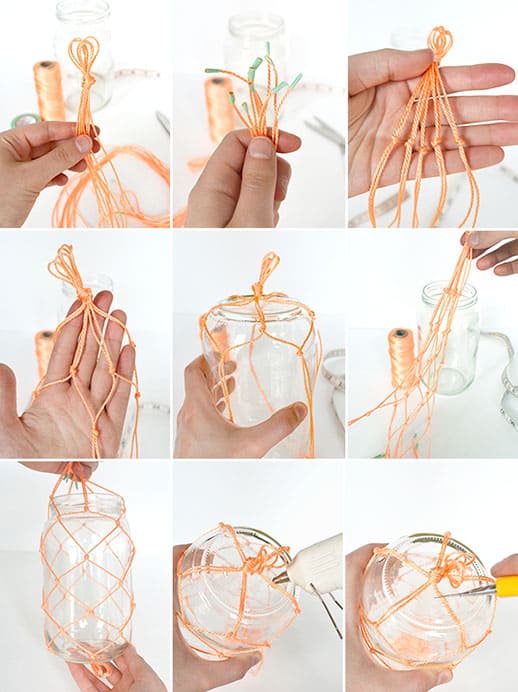 How To Make DIY Neon Macramé Jars
Step 1: Cut five strands of cord each about 6'. Fold them at the center and tie an overhand knot; you should now have ten 3' strands of cord. This should be more than enough for a pickle jar – if your jar is smaller/bigger adjust these lengths accordingly. You can also experiment using fewer strands for smaller jars and more strands for bigger jars.
Step 2: If your cord tends to fray once cut, use tape or a lighter to prevent further fraying.
Step 3: Using your measuring tape, tie two strands together about 2" from the original big knot. Repeat for the other strands.
Step 4: Repeat step 3, but separate the joined strands and tie strands from neighboring knots together, also about 2" apart, creating a net as seen in the image.
Step 5: Every once in a while, it's a good idea to check how your macramé net is fitting over the jar. If you want to change the way the net looks, simply untie the knots you're unhappy with and retie at a different measurement.
Step 6: Continue tying knots and checking that it fits your jar.
Step 7: Stop once your macramé net reaches the mouth of the jar.
Step 8: On the bottom of the jar, hot glue the double-strands of cord onto the jar. It's best to do this in the concave area that won't touch the table – this allows the jar to stand flat.
Step 9: Using the exacto knife, cut off the big original knot.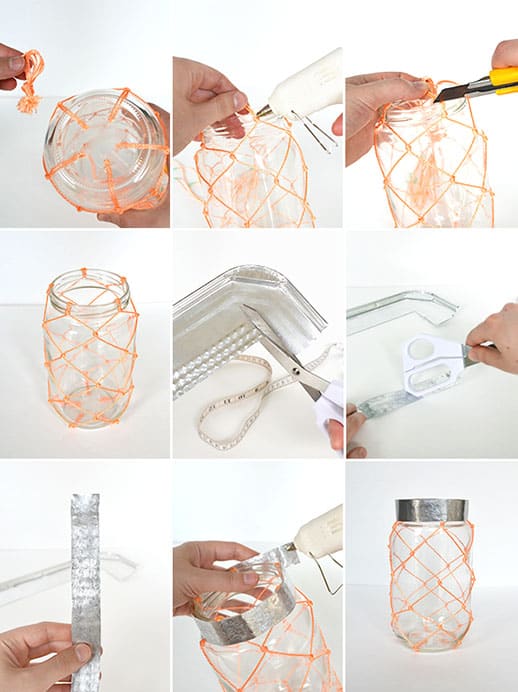 Step 10: Once the big original knot is cut off, the jar should stand flat on the table. If your cord frays a lot, use additional hot glue to seal the raw edges you just cut.
Step 11: At the mouth of the jar, hot glue the cord into the threads of the jar.
Step 12: Use the exacto knife to cut off any excess cord.
Step 13: As before, hot glue any raw edges to prevent fraying.
Step 14: Measure the circumference of the mouth of the jar and cut a strip of aluminum ½" longer; the width should at least cover the threads of the jar.
Step 15: If your aluminum strip has raised bumps on it, flatten them by rubbing the handle of your scissors on it back and forth until smooth.
Step 16: There may still be some texture when you're done, but this adds interest to the rim!
Step 17: Use hot glue to secure the aluminum strip to the mouth of the jar.
There you have it – repeat on as many types of jars as you please!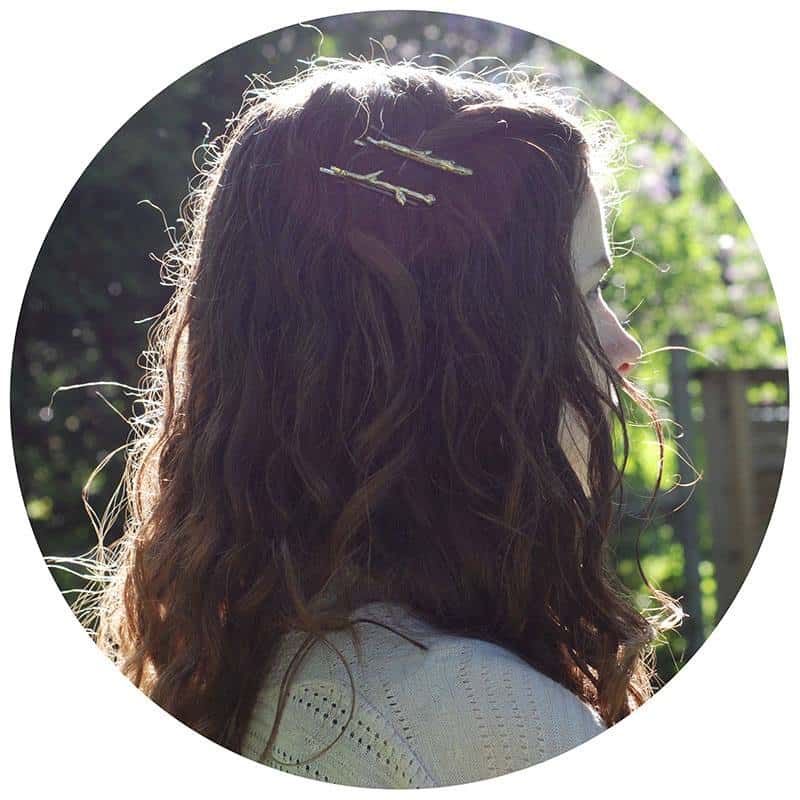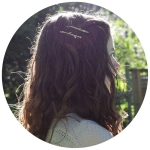 project and photos contributed by Kathleen of Snowdrop & Co.