DIY Diamond Decor — Whether it's for a nursery, New Year's party, bridal shower, or engagement celebration, this DIY Diamond Decor is a fun metallic accent to any room and event!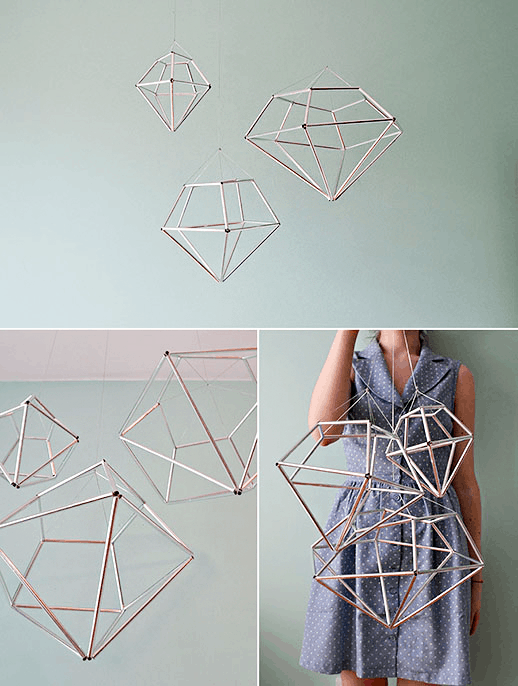 Now that June is upon us, it's beginning to really feel like summer.
This DIY Hanging Diamond Decor tutorial is a great way to offset that summer heat. Don't they remind you of ice cubes floating mid-air?
Plus, with all the diamond-shaped products out there these days wouldn't it be a blast to throw an icy cool diamond party this summer?
I hope you won't forget to send Sugar & Cloth an invitation!
These DIY metallic diamond mobiles are fun to hang as an overhead table centerpiece or for photo backdrops, but you could easily leave off the string for modern tabletop décor.
Materials & Tools Needed To Make A Hanging DIY Diamond Decor
Silver muffler tape — You can purchase it online, but it's also available at hardware stores and some dollar stores.
Washi/masking tape
Additional string/thread if desired — For hanging completed diamonds
How To Make A Hanging DIY Diamond Decor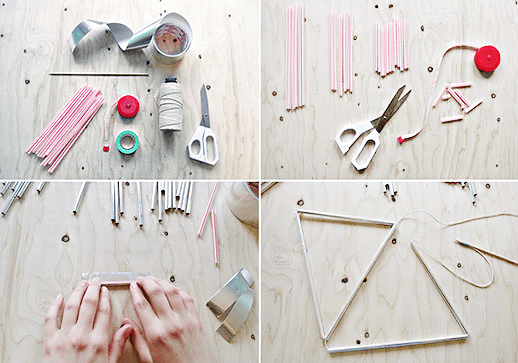 Step 1 — Prep your straws.
Cut your straws to the desired lengths. The step-by-step photos for this tutorial show the largest of the three diamonds pictured. The lengths of the straws used are: six — 7 1/2″ straws (long), six — 5 3/4″ straws (medium), twelve — 3 3/4″ straws (short).
If you want to replicate the other diamonds in the photo, the medium five-sided diamond used: five — 6 1/4″ straws, five — 5 1/2″ straws, ten — 3 1/2″ straws.
And the smallest five-sided diamond used: five — 4 1/2″ straws, five — 3 1/4″ straws, five — 2 1/2″ straws, five — 1 3/4″ straws. You can always play around with straw lengths and make whatever size best suits your space.
Step 2 — Cut your muffler tape.
Cut pieces of muffler tape in corresponding lengths to the straws. Because the tape is so wide, cut each piece length-wise; therefore one 6″ piece of muffler tape will cover two 6″ straws.
It isn't a bad idea to cut the tape a tiny bit longer than your straws – you can trim the excess later.
To cover the straws, the best way to ensure a wrinkle-free covering is to carefully peel off the tape backing, lay the tape flat on your work surface, place the straw along one edge of the tape, and then roll forward smoothing the tape as you go.
If you have excess tape extending past the end of the straw, trim it off.
Step 3 — Connect your straws.
Time to connect the straws! Tape the end of your string close to the pointy end of your wooden skewer – this will be used as a needle to make threading the straws easier. Slide two long and one medium straw onto the string.
Pull the string taut so that the straws form a triangle and tie a double knot where the two straws meet. Cut off excess thread.
Step 4 — Rethread your straws.
"Rethread" your needle if necessary. To create the next five sides, simply slide the needle through one of the long straws on the existing triangle (leaving a few inches of thread to tie off with) and add another long and medium straw; tie off as before.
Repeat, rethreading as needed. For the sixth side, slide the skewer through the two long straws and add the final medium straw; tie off. You should now have a six-sided pyramid.
Step 5 — Construct your upper trapezoidal facets.
To add the upper trapezoidal facets, slide the needle through one of the medium straws on the pyramid and add three short straws.
Pull tight and tie off. Slide the skewer through the next medium straw, the adjacent short straw, and add two short straws; tie off.
Continue to add facets in this way, two short straws at a time, tying off after each new facet. For the last facet, slide through the short, medium, and short straws, and then add the final short straw. Tie off.
Step 6 — Hiding your knots.
To tidy up the diamonds, use the skewer to push any knots visible at the intersections into the length of the straw.
How To Hang Your Mobile
If you want to use the diamonds as tabletop decor, then you're done!
If you would prefer to hang them, use string (silver cord is pictured, but you can use clear thread or whatever you like) and tie 6″ pieces to the exposed strings at the top intersections of the diamond.
Tie these six strings together, and then tie a long piece of string onto this knot. Tape the string to your ceiling and trim any excess string.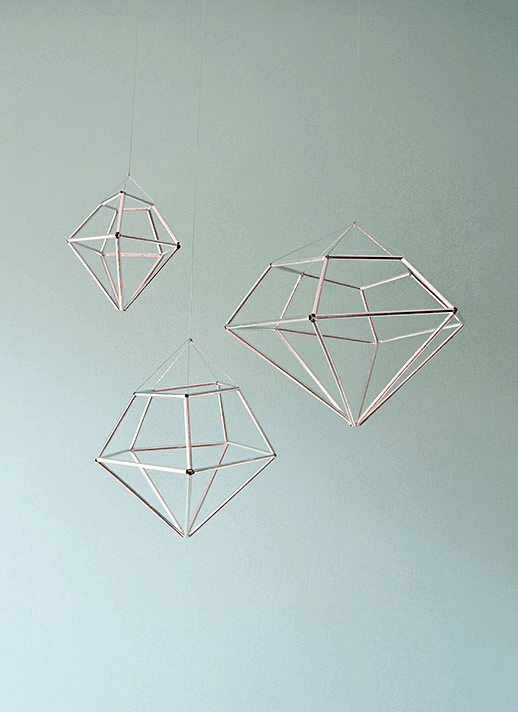 If hung in direct sunlight the diamonds reflect onto nearby walls, disco ball style.
In lower light, they can make gorgeous shadows if hung near a wall!
In case you're looking for more home decor projects, you can see more of my favorites right here!